Japan's Rabbit Island is a must visit. It's a beautiful little island where thousands of rabbits roam free. But that's not all… it also has a seriously dark past. This guide will explain what the island is, how the rabbits got there, what you'll find as well as a load of other useful info.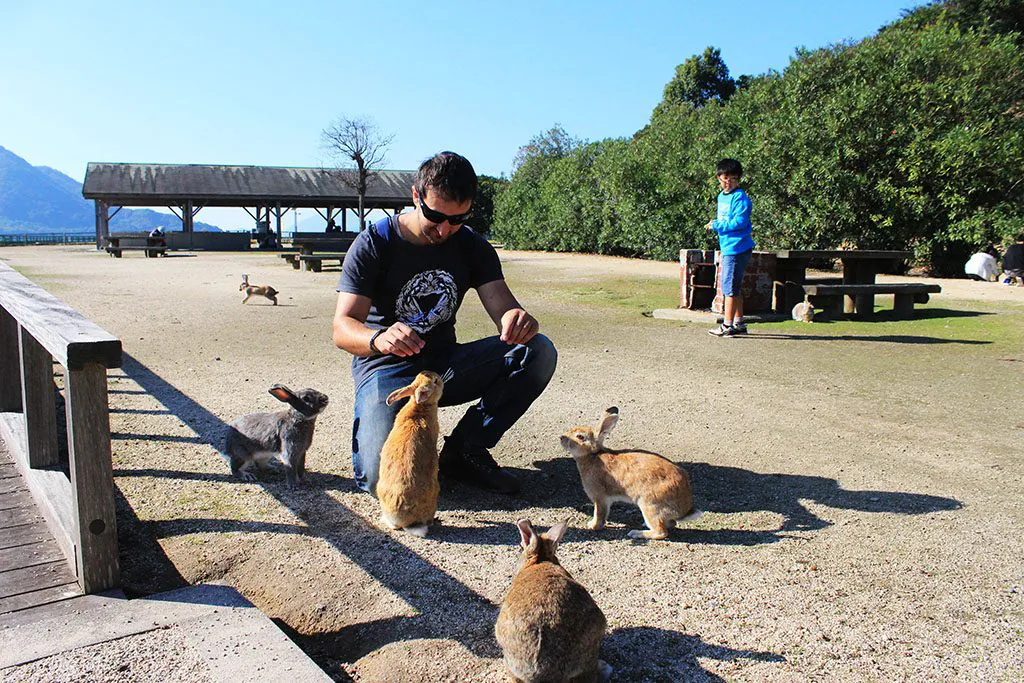 Rabbit Island Japan Guide
What is it?
Rabbit Island is the name given to Okunoshima island, a tiny but beautiful little Japanese island about 60 km and an hour's drive for Hiroshima. You can visit the island by taking a ferry from Tadanoumi (ferry crossing takes about 15 minutes) and spend the day on the island, walking around stroking and feeding friendly bunnies! But the island has a serious and secret history. Exploring the island is like walking around the TV series 'Lost'. Abandoned chemical factories, bunkers, hatches, turrets, secret towers and offices… all left to decay.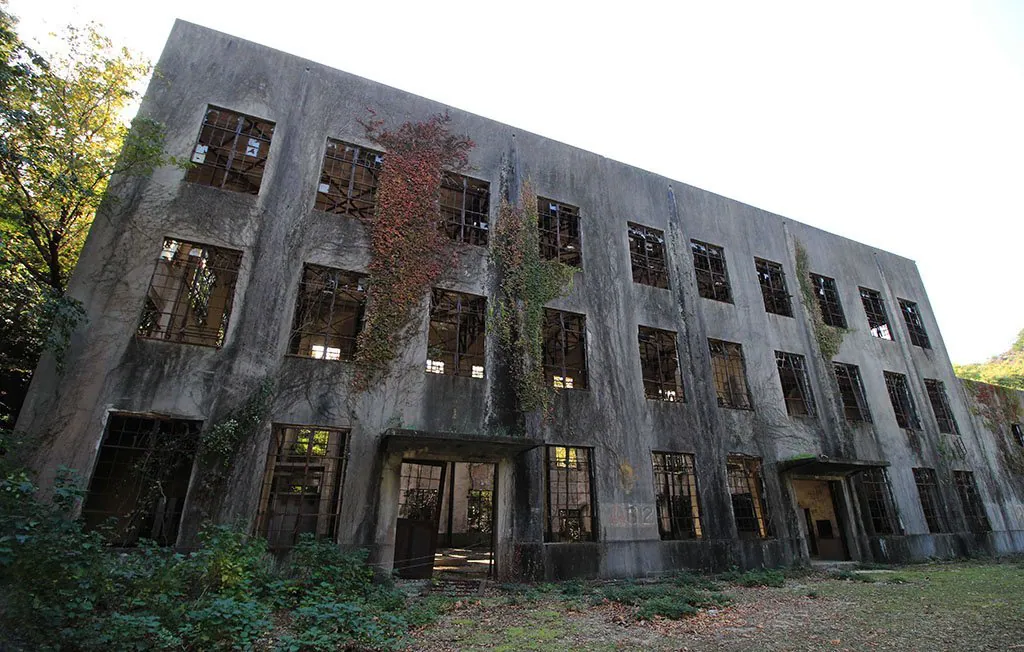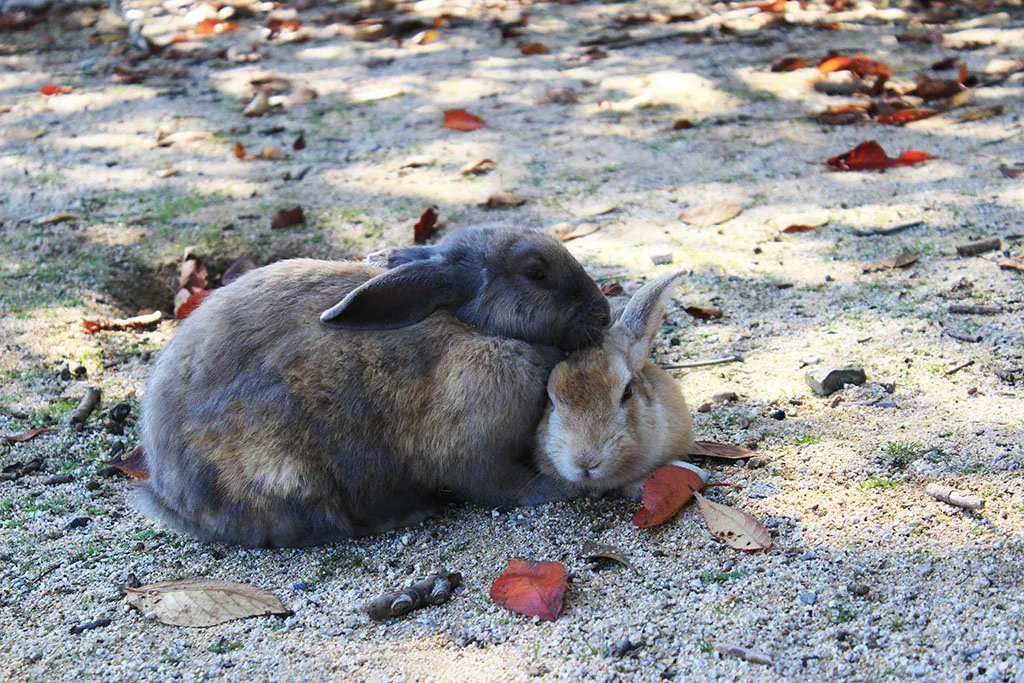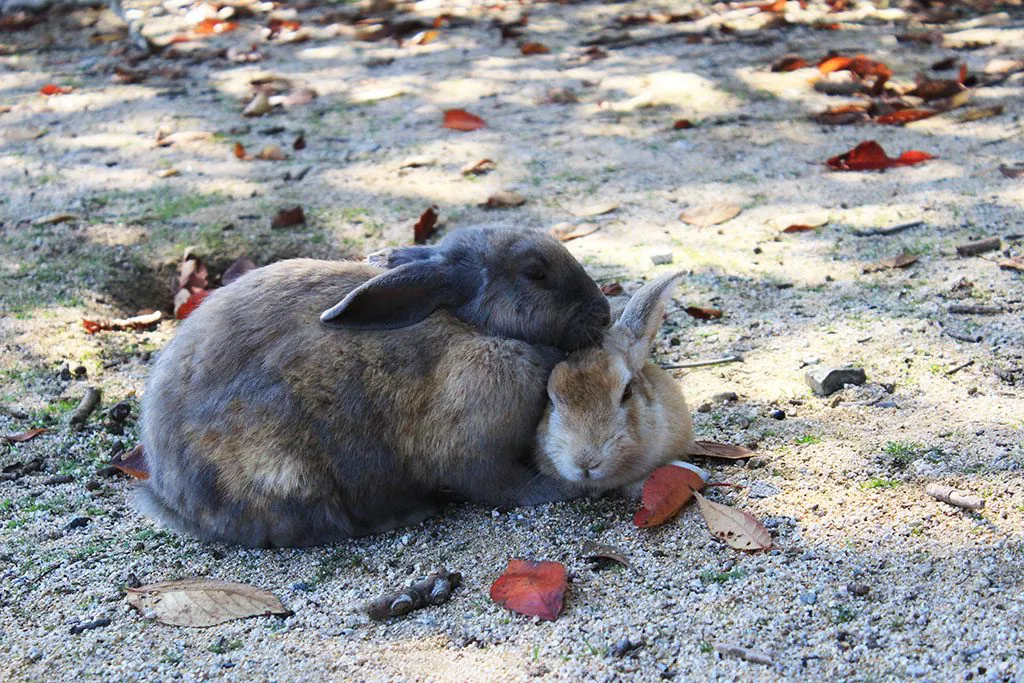 Why are there so many rabbits on this island?
In 1925, the Imperial Japanese Army started a top-secret chemical weapons program and based it on Okunoshima island.
As Japan was a signatory of the Geneva Protocol, which banned chemical warfare, it meant Japan had to produce the weapons and chemicals in secret. So Japan erased Okunoshima from maps and books and got to work building over six kilotons of mustard gas for use in war against China and later during World War II.
But when Japan lost in WW II, the government needed to hide all evidence, so they burned the books and abandoned the island. The workers and Generals in charge fled as they feared being arrested for the illegal production. However, before the workers fled, they released the rabbits that were used for chemical testing…
With no predators on the island, the rabbits quickly bred and populated like crazy… Rabbit Island.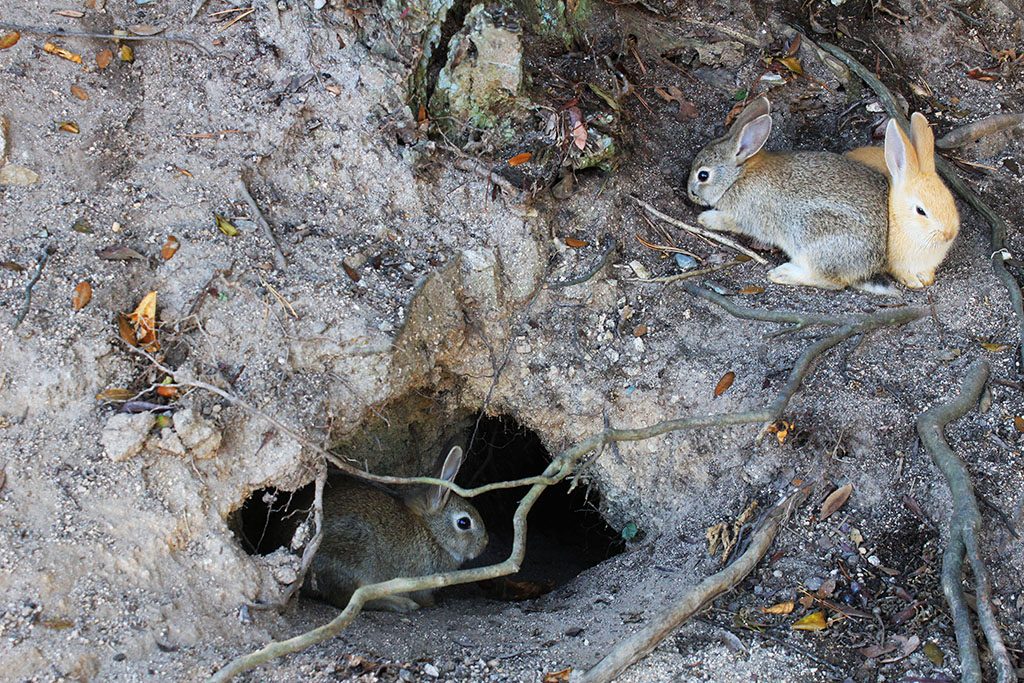 What ruins are on the island?
Power station ruins – the power station provided power to the entire island during World War II. It was used to store ammunition during the Korean War.
Nagaura poison gas storehouse ruins – this was the largest poison gas storehouse on the island. Its six rooms stored around 100 tonnes of poison gas.
Central battery ruins. There are three artillery batteries that were made to defend the island during the Russo-Japanese War.
There are a number of other ruins peppered across the island including pump chambers, air raid shelters for generals, gunpowder storage, and experiment rooms … creepy!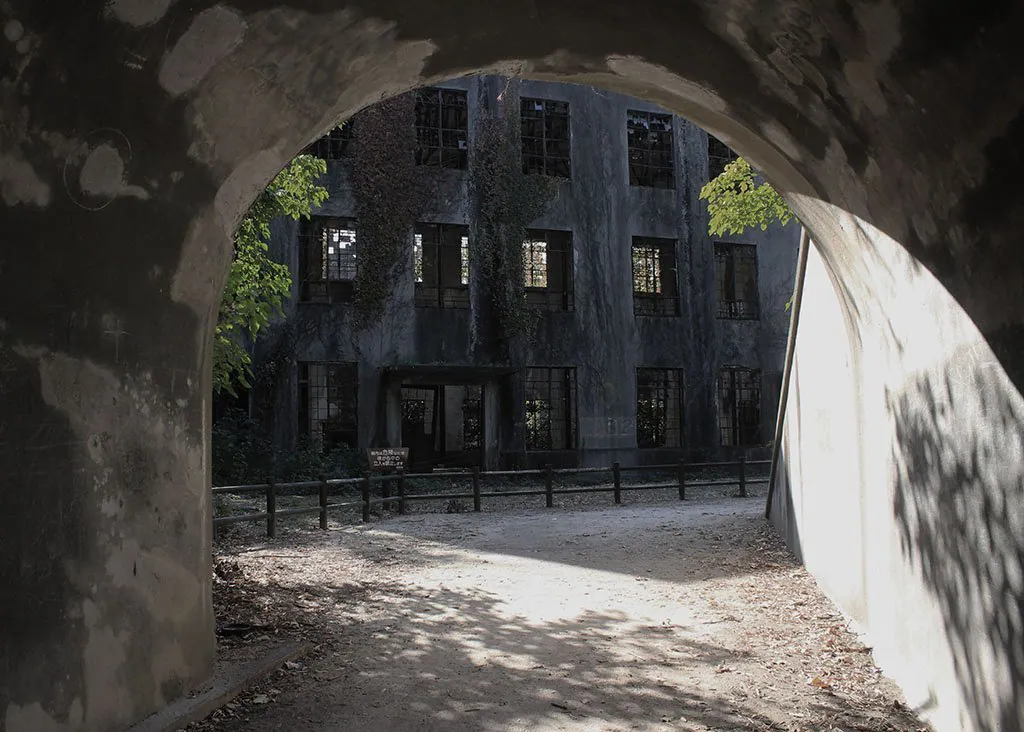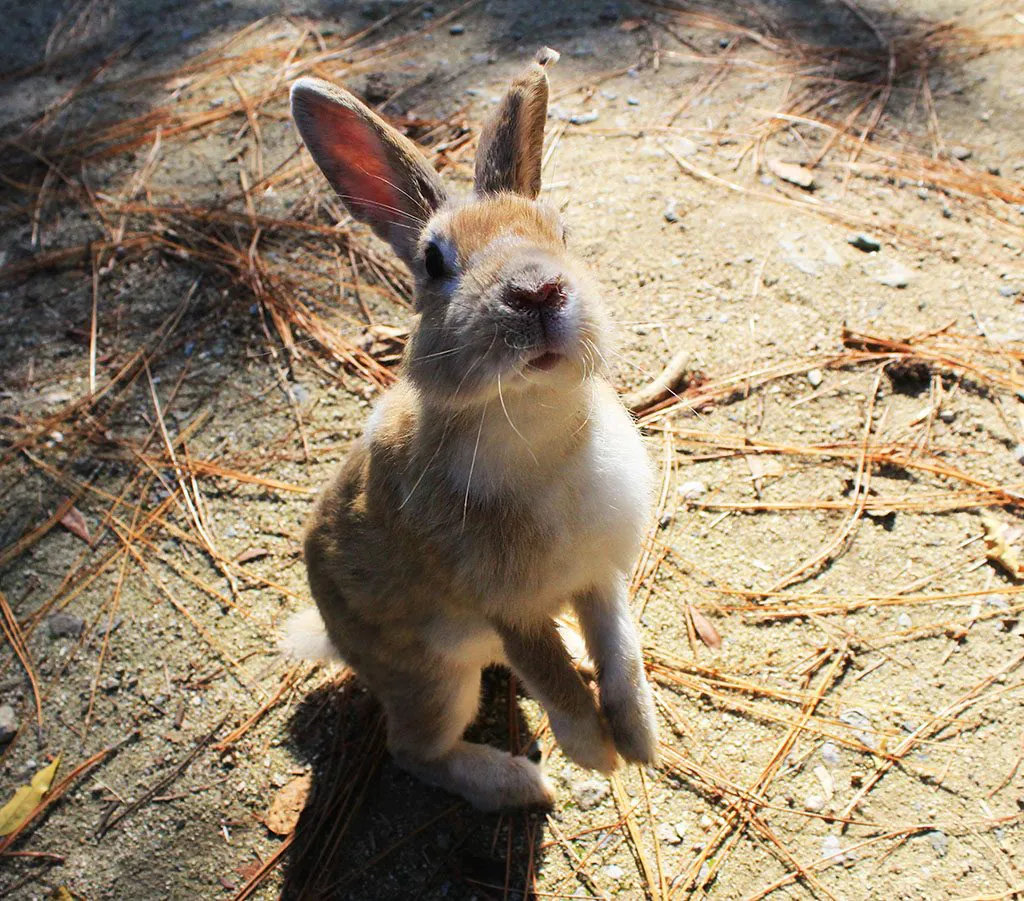 What else is on the island?
Poison gas museum
There is a very pretty lighthouse, dubbed Lovers Lighthouse
Beach area
Island museum
Shrine
Pretty viewpoints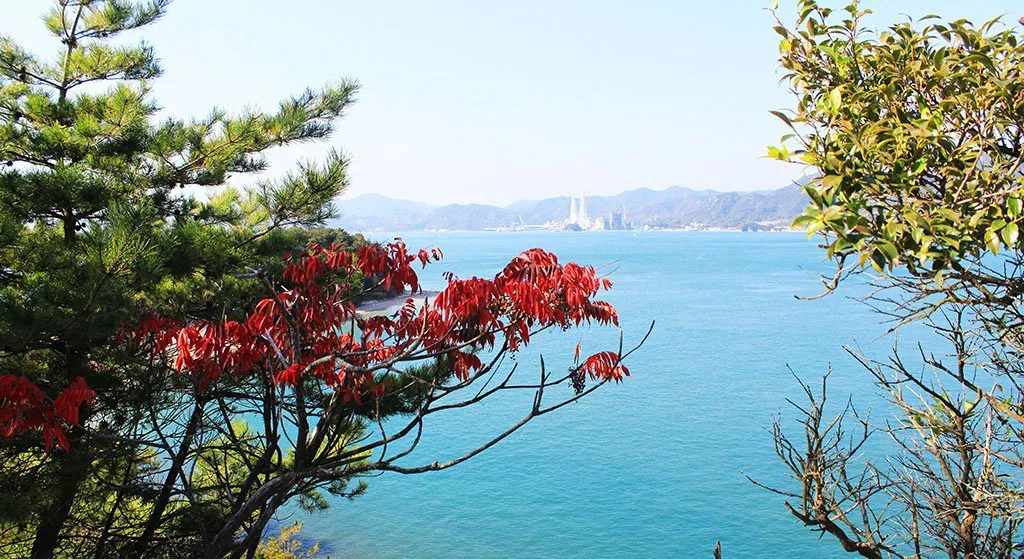 So how do I get there and how much does it cost?
Get yourself to Tadanoumi and then walk to the ferry port. You'll see a big building with a 'Rabbit Island' sign on it. It's impossible to miss and close to the train station. Head in there and buy your ferry ticket for the island.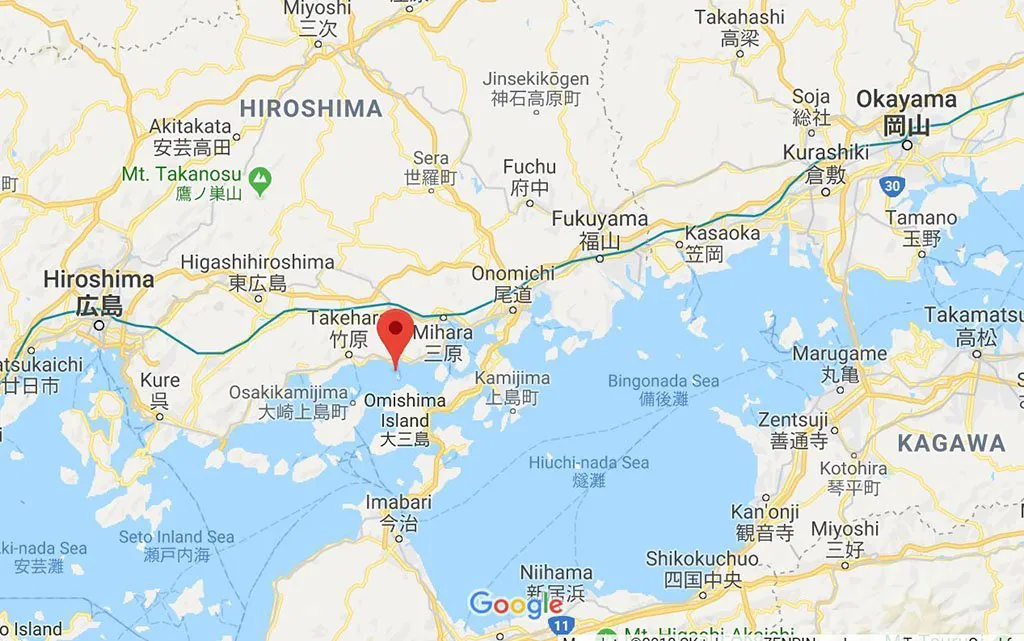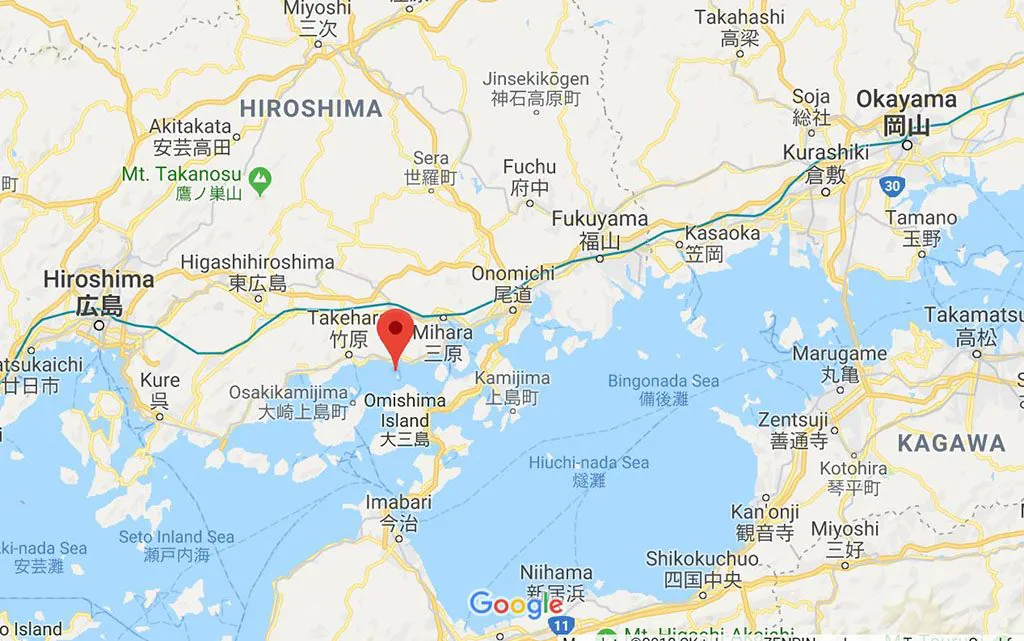 Expect to pay about £3 per person and make sure it's a return. You can take your vehicle across but will need to pay more for the ticket. There's not much point in taking your own vehicle as it's mainly foot paths and you can cycle round the entire island in 30 minutes. There are no other fees once you arrive at the island. That's it! Just take your ticket to the ferry port and wait for the next boat. They run approximately every half an hour until about 7pm.
Is it touristy?
Yes, but it won't affect your bunny time. You will find a lot of tourists waiting to cross on the boat and there are boats going all day long. Of course, it's busier in summer season. Don't be put off by the amount of people getting on the ferry. Once you arrive on the island there will be a bunch of people feeding rabbits, just keep going. The entire island is filled with rabbits, they're everywhere. Just take a walk up one of the paths and you'll be alone in no time and surrounded by them!
Be prepared to get to the ferry early for your return crossing as they can fill up fast and you'll need to wait 30 minutes for the next one.
What do I need to take with me?
You will need food and water for yourself as there are no cafes or restaurants on the island.
If you want to feed the rabbits (who wouldn't) then you will need to purchase food from the ferry ticket building. They sell pellets but rabbits prefer fresh veg! There is nowhere to buy food for rabbits on the island.
There are toilets on the island but no other facilities
You can rent a bicycle on the island and it takes 30 minutes to cycle around it.
Can I sleep on the island?
You can sleep there. There is a lovely campsite right by the water that we'd definitely recommend and there's also a hotel.
The hotel is called Holiday Village Okunoshima and typically costs about £60 a night including two meals. But this depends on the season
The campsite will cost about £10 a night plus £3 per person.
Accommodation
There aren't many hotel options close by on the mainland, so if you are planning on staying close by, check out this handy booking.com map to see what's on offer.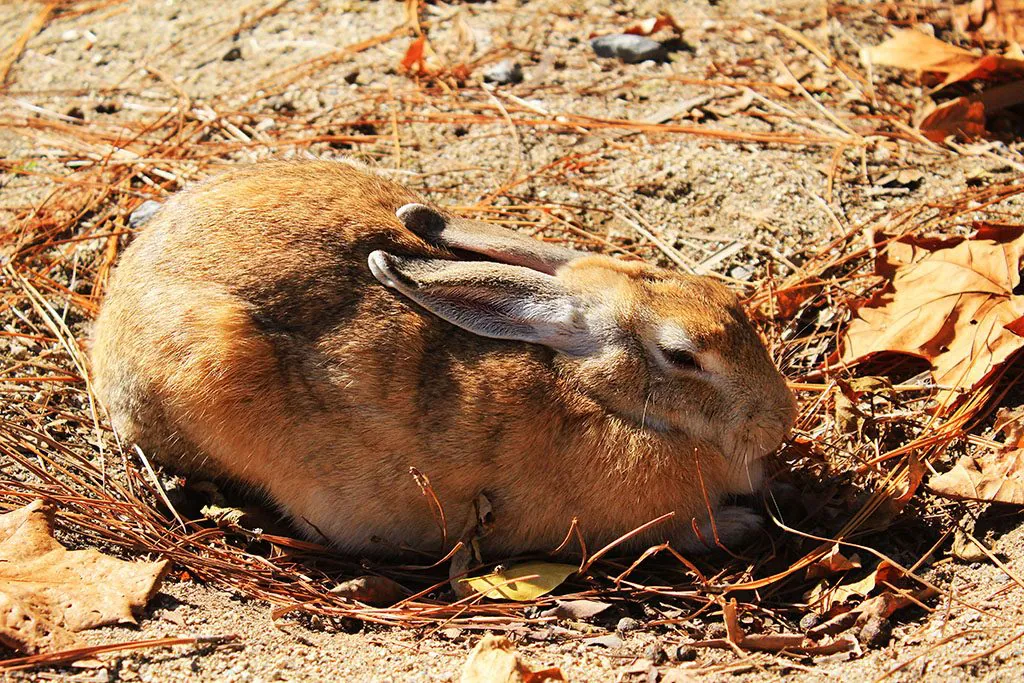 Are there any rules?
Yes, but they're common sense rules and you'll see them when you arrive. For example, don't pick up the rabbits, don't put your fingers in their mouths, don't feed them on the main road as they'll get used to being on the road and be very careful if riding a bicycle or driving.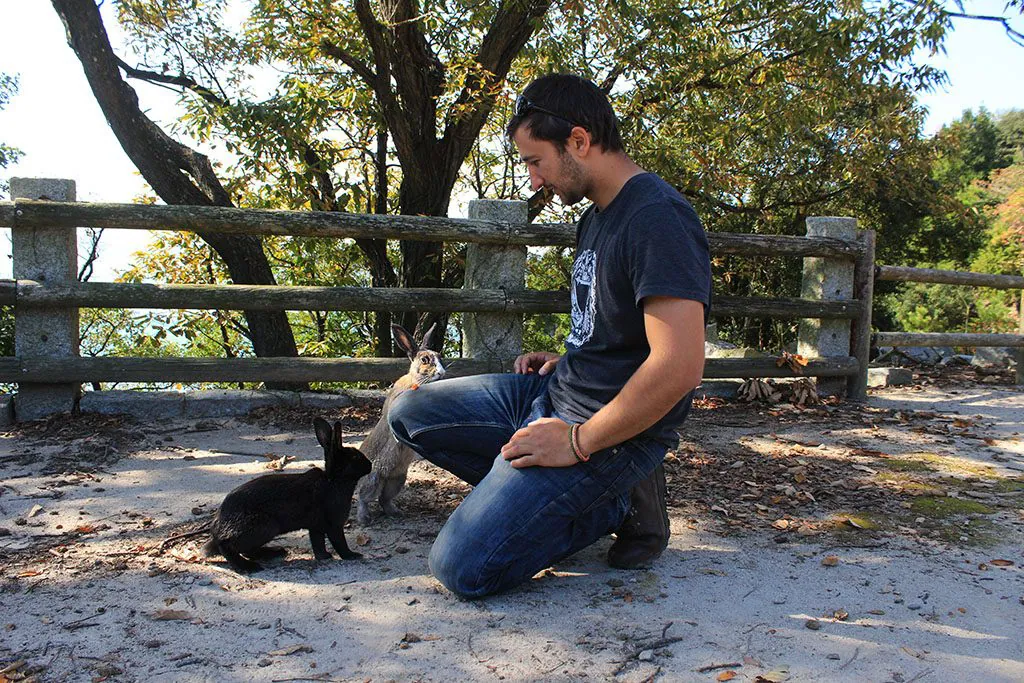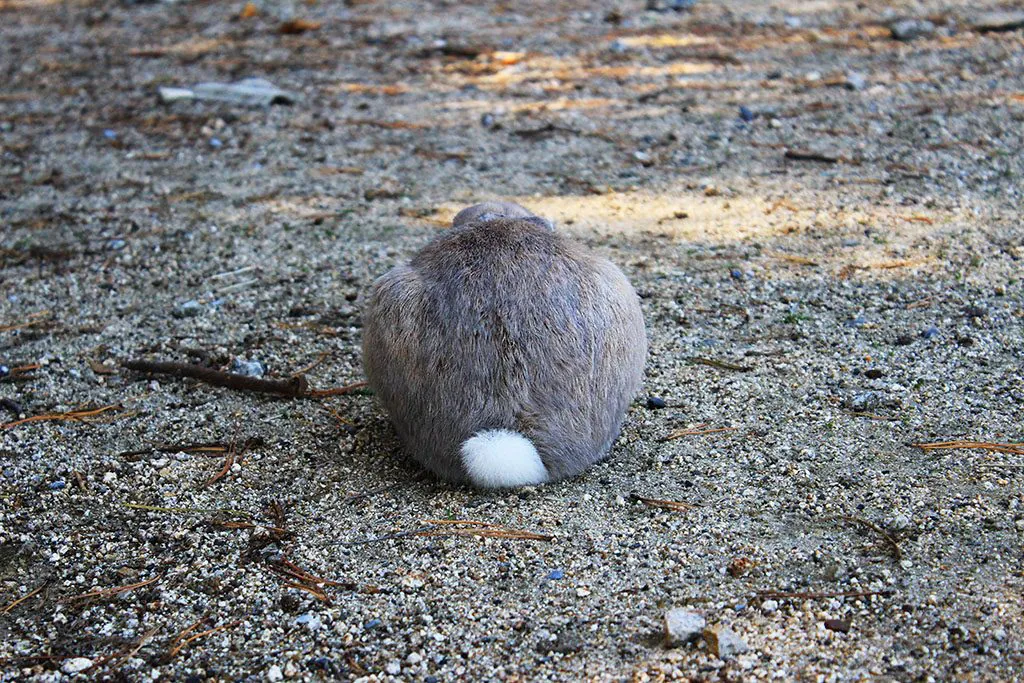 Read more on Motorcycle Travel in Japan
Thanks for checking out our Motorcycle Travel in Japan Guide. We hope you enjoyed it! Here's a few more articles on motorcycling in Japan that we recommend you read next.