Edo Wonderland is an incredible, interactive, cultural experience where you're dropped slap bang in the middle of a beautifully crafted 17th century Edo Village. It's seriously action-packed and the only place to really immerse yourself in living history of Japan's legendary Edo Period. This is a must-visit and here's why…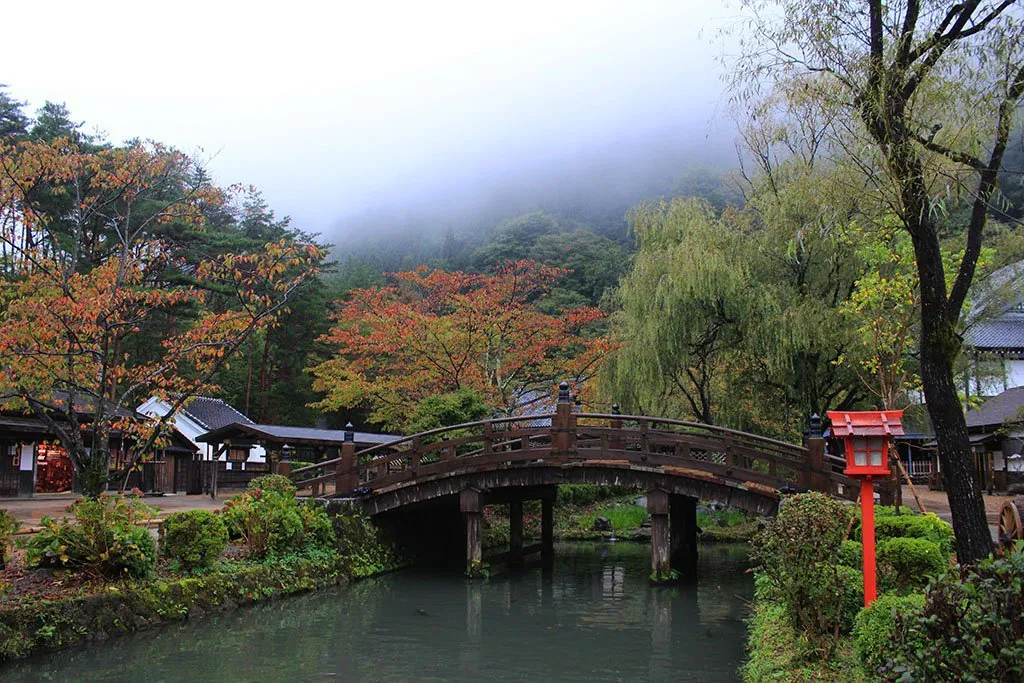 Why you should visit Edo Wonderland
Ninjas fight in rooftop battles, samurais strut the streets, gorgeous geishas parade with their apprentices and the entire village is brimming with stunningly authentic architecture. Everything and everyone there are historically re-enacting life from the Shogun period (1603-1867). It's realistic with high and clever attention to detail and packed with live action theatres, craft studios and cultural activities. It's perfect for families or anyone with an interest in the Edo Period.
We visited in November 2018 (two adults, 31 and 29 years old) and thought it was amazing. After six months of exploring every nook and cranny in Japan, Edo Wonderland has got to be my favourite place. There's so much to see and do (for both adults and children). Luckily, when you enter the staff provide you with a timetable and a map so you don't miss any of the shows and performances. It's worth spending a few minutes before you get started to plan your day according to the timetable.
You are going to love Edo Wonderland! So, to help you out before you go, we filled this guide with a bunch of information on what to expect, what you'll find there, prices, opening hours, how to get there and a few tips!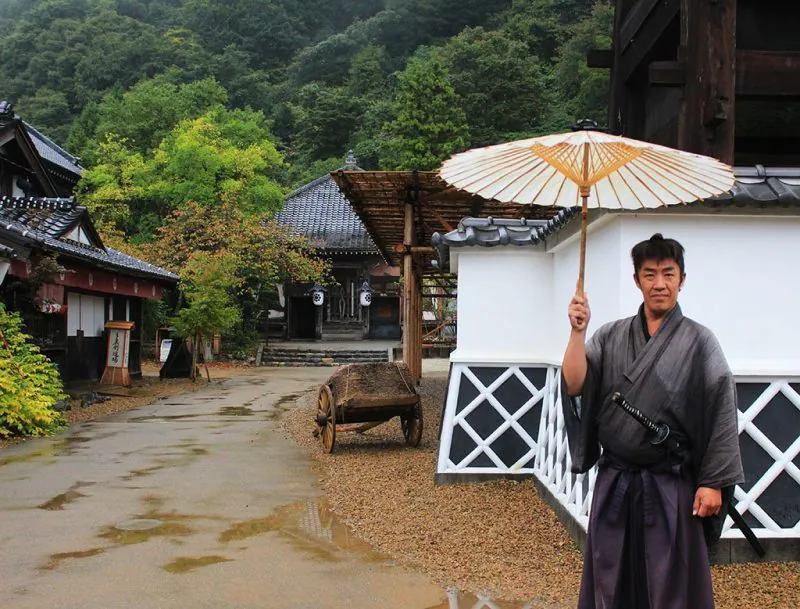 What to expect
Ninja Battles
Ninjas are the famous stealth assassins of Japan. The Grand Ninja Theatre puts on a spectacular high-speed-action-show. We didn't know what to expect but it was actually really impressive. The sword fights are well choreographed and it had us hooked. It's usually on twice a day, and it's so good you'll probably want to watch both performances.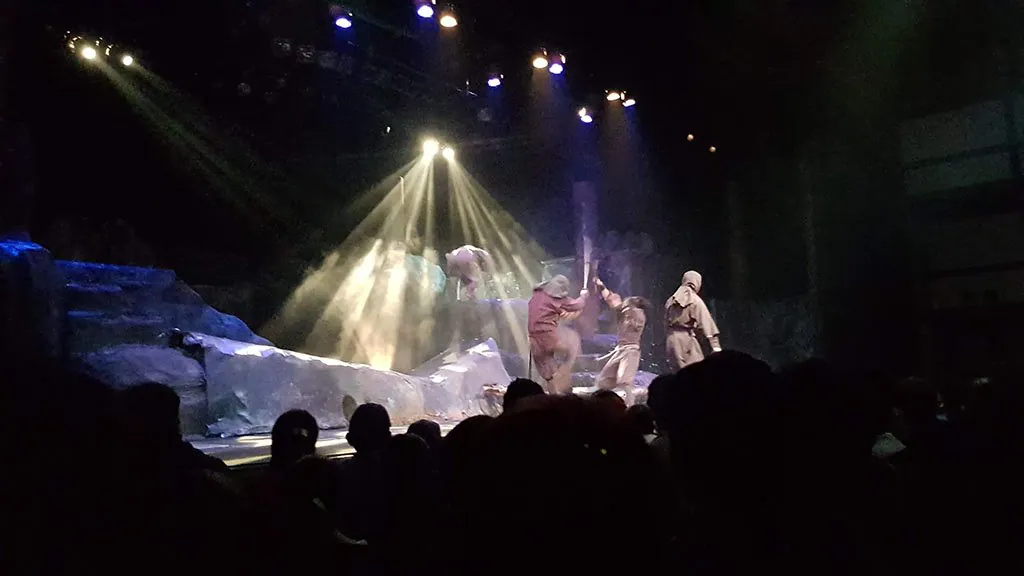 Oiran Dochu Parade
The Oiran Dochu (ultimate geisha) walks the street in a parade through the main street, surrounded by her apprentices and staff. It's a stunning show of flamboyance.
Outdoor live performance
The outdoor Hinomi Yagura Outdoor Stage is at the centre of the village and holds a sword fighting performance.
Water Magic Show
Ladies dressed in Kimonos perform a water magic show. It's an ancient Japanese performance art created to give thanks to the gift of water.
Get into character
You can dress in traditional Edo fashion with costumes. There's samurai, princess, townspeople, geisha or ninja outfits to choose from.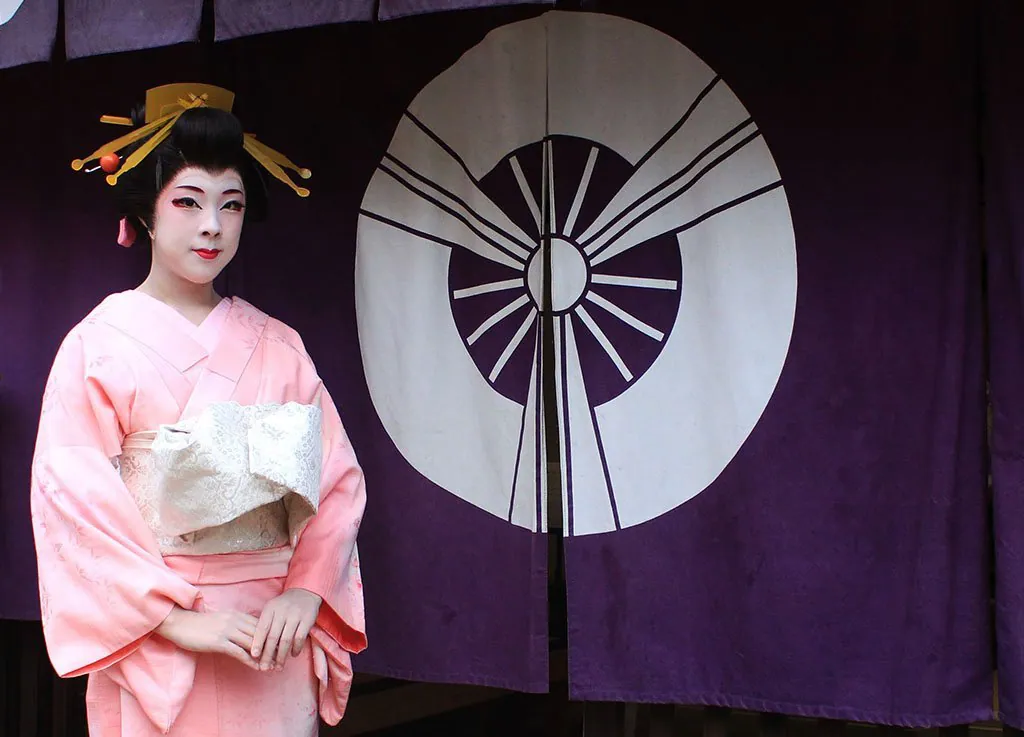 Learn the culture
Brush up on your reading and writing skills. During the Edo period there were Terakoya schools, which offered calligraphy classes to anyone who wanted to learn. You can try your hand at brush writing in the local Edo school.
There's also a music room where you will be taught how to play the Japanese Biwa (like a guitar) by a teacher.
And you can also have lessons in how to wield a samurai sword and ninja training!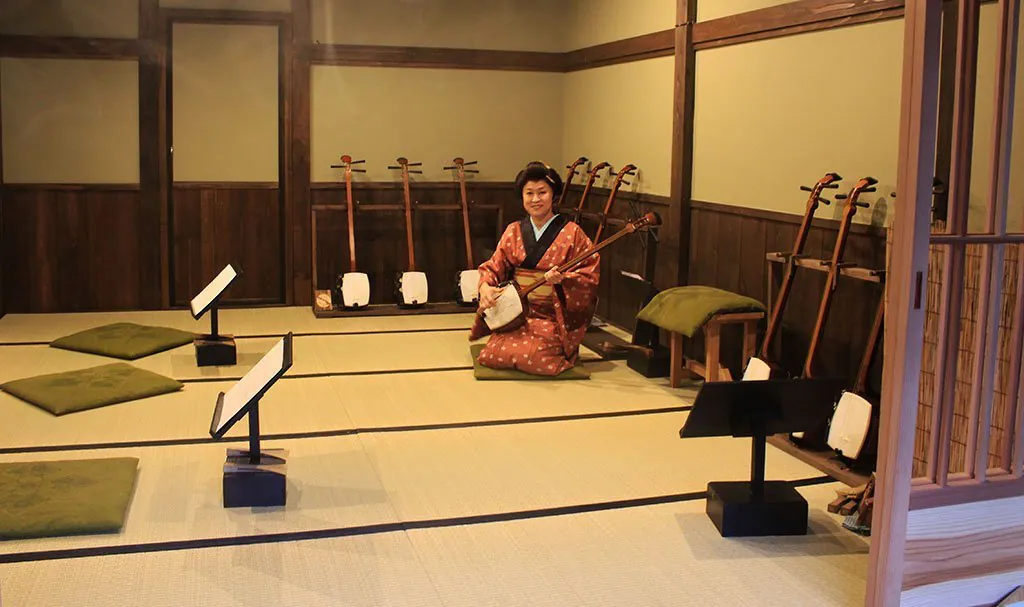 Ninja house and maze
The Ninja Kai Kai Tei is a ninja house filled with illusions, slanted floors, and wonky stairs. And the Ninja Trick Maze is a pretty tricky maze (to be fair, it's a lot harder than we thought it was going to be)!
What else?
11 restaurants
10 shops for souvenirs and other products
3 museums – Blacksmith museum, House of Fireman Masagoro, Edo Town Fire Brigade Museum
3 Amusement spots – Yakata Boat Cruise, Yaba archery range, Shuriken (throwing star) training hall)
Street performances
Choshu Domain Daimyo Residence – Traditional samurai mansion
Kodenma-cho jail house – Wax museum and torture house
Water Mill House/ Hatago Inn/ Edo style man-powered taxi/ Golden tea ceremony room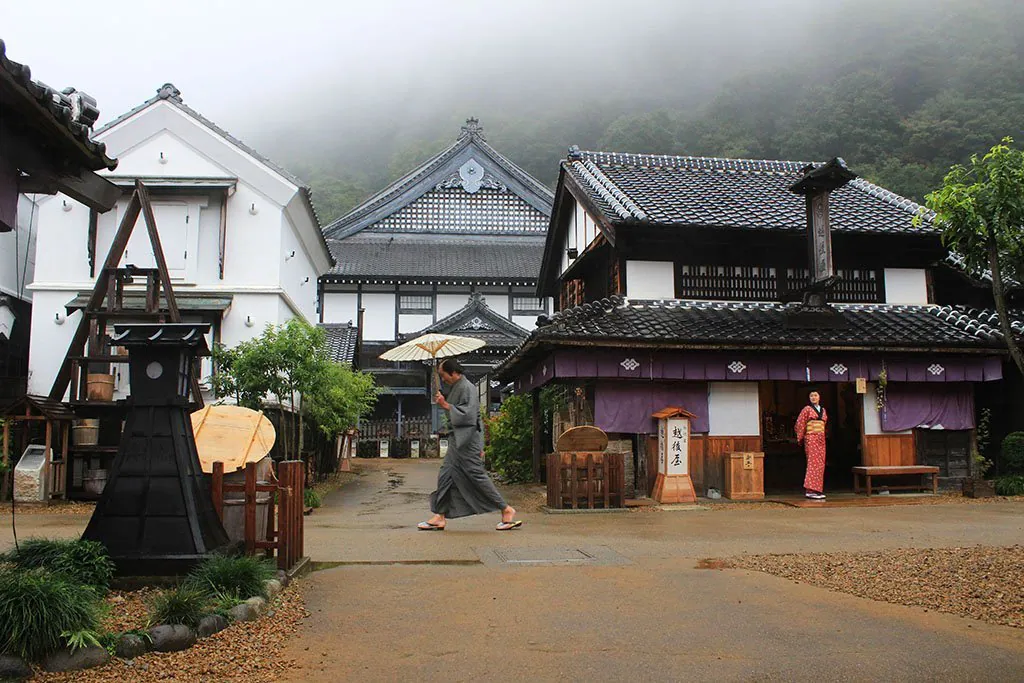 Location, opening hours and prices
Opening hours
Summer hours March 20 – November 30 – 9:00 – 17:00
Winter hours December 1 – March 19 – 9:30 – 16:00
Last entrance is one hour before closing time.
The park is closed on Wednesdays (except during holidays and periods below).
The park is also closed from December 8 – December 21
It is open on National Holidays including December 29 – January 5, March 25 – April 7, April 29 – May 5 and July 21 – August 31
You will want to spend the entire day there so arrive early.
If it's raining at Edo Wonderland then the outdoor performance and the parade will be cancelled, but the park stays open.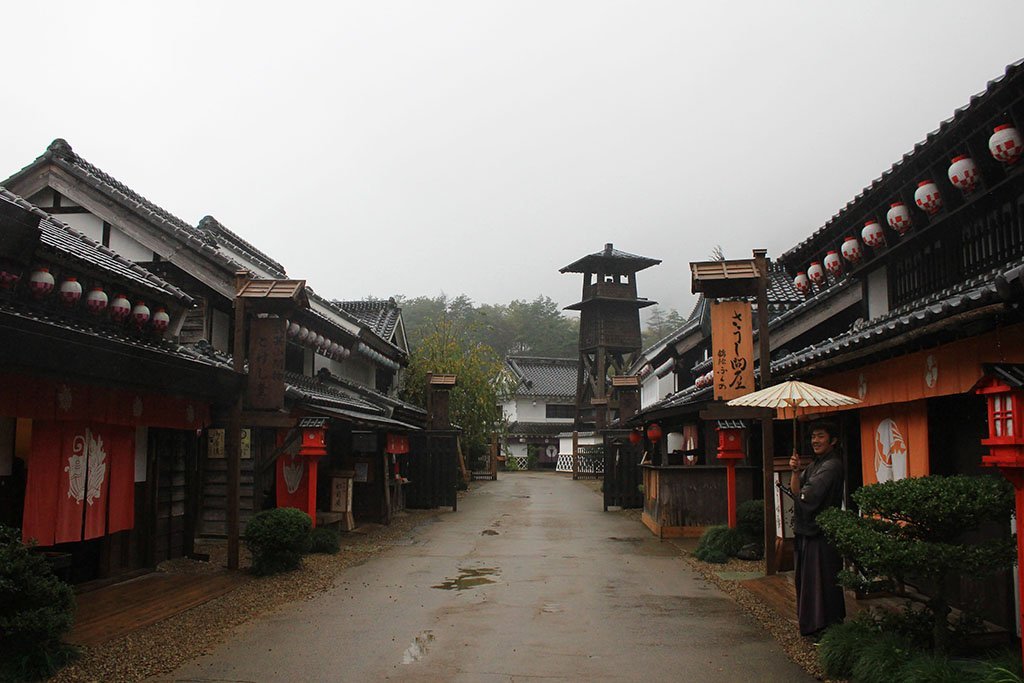 Prices
One day pass
Adults (13 and over) – 4,700 Yen
Children (6-12 years) – 2,400 Yen
Children 5 years old and under go free
Afternoon pass (from 14:00 in summer season and 13:00 in winter season)
Adults – 4,100 Yen
Children – 2,100 Yen (The Edo village is large and shows and events play throughout the day. You really do need a full day here to experience everything and enjoy all the shows. We wouldn't recommend only coming for the afternoon. Make a day of it!)
There are discounts for people with disabilities and senior citizens.
There are parking charges for cars (800 Yen) and motorbikes (400 Yen)
For more information visit www.edowonderland.net
Location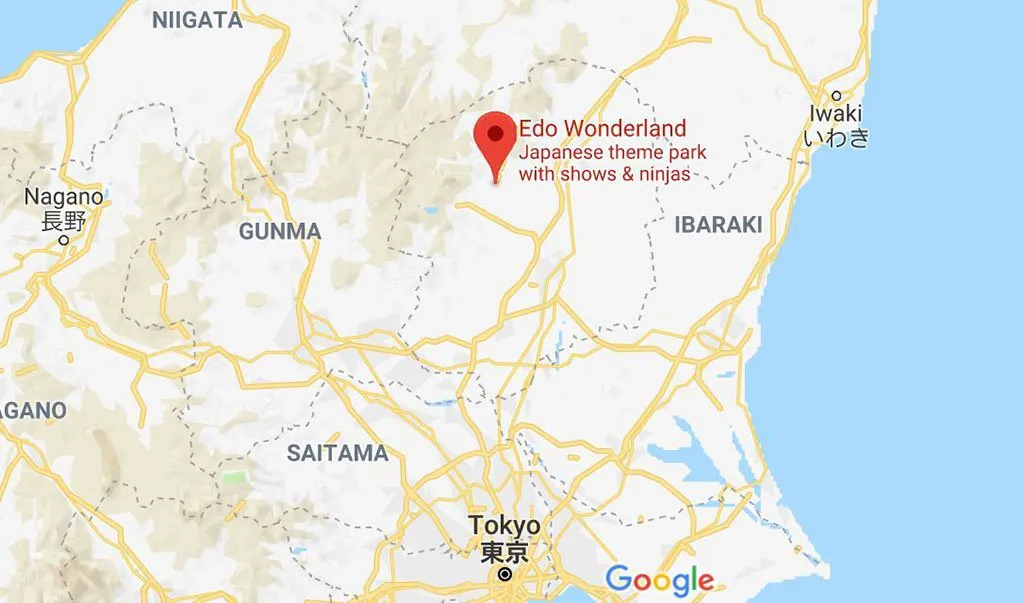 The Edo Wonderland coordinates are 36.790777, 139.697455
How to get to Edo Wonderland Nikko Edoumura if you don't have your own vehicle
There's a free shuttle between Edo Wonderland Nikko and JR Nikko Station with five round trips per day.
There's also a free shuttle bus between Edo Wonderland and Fujiya Kanko Centre
You can opt for the train which takes 2 hours from Tokyo.
There are Tobu operated buses running between Kinugawa Onsen Station and Edo Wonderland. It takes 20 minutes, costs 410 one way and leaves every 30 minutes.
Accommodation near Edo Wonderland
There are quite a few accommodation and hotel options very close to Edo Wonderland. Here's a handy map from Booking.com so you can get an idea of what's on offer nearby.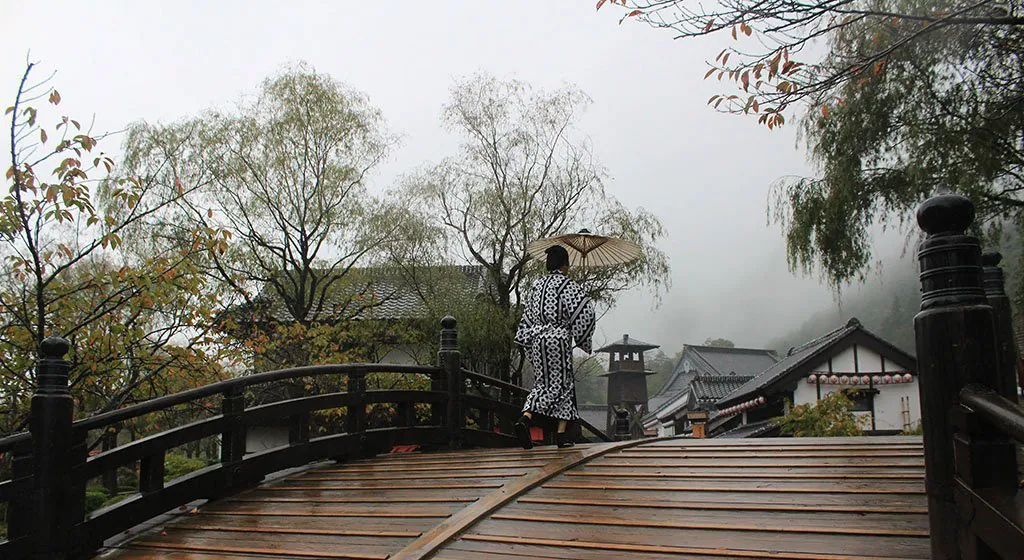 Tips
In Japan, Edo Wonderland is called Edo Wonderland Nikko Edomura. The Japanese just call it Nikko Edomura, so look out for that at train stations and bus stops
Don't be put off if it's raining. Sure, the outdoor performance and the geisha parade are cancelled, but there's still so much to see and do. The rain coupled with the misty surroundings make it even more eerie and it's likely it'll be quieter too.
You don't have to dress up, but it's definitely part of the fun and really lets you immerse yourself in the village. The cosplay outfits can be expensive, so if you already bought a kimono while out shopping, just wear that!
Arrive early and spend the entire day there. There is a lot to do, so take five minutes to plan your day using the timetable and map. There's a lot of shows going on and it's easy to miss them if you don't have a plan!
In the shows, you will be given a small square of tissue paper. That's for putting coins in and throwing on stage after the performance to tip the actors.
Read more on Motorcycle Travel in Japan
Thanks for checking out our Motorcycle Travel in Japan Guide. We hope you enjoyed it! Here's a few more articles on motorcycling in Japan that we recommend you read next.