Welcome to the Best Adventure Motorcycles Guide. Here you'll find our top adventure bikes of the year, and a selection of excellent machines from the light, middle and heavyweight categories. Here are the best adventure motorcycles on the market today.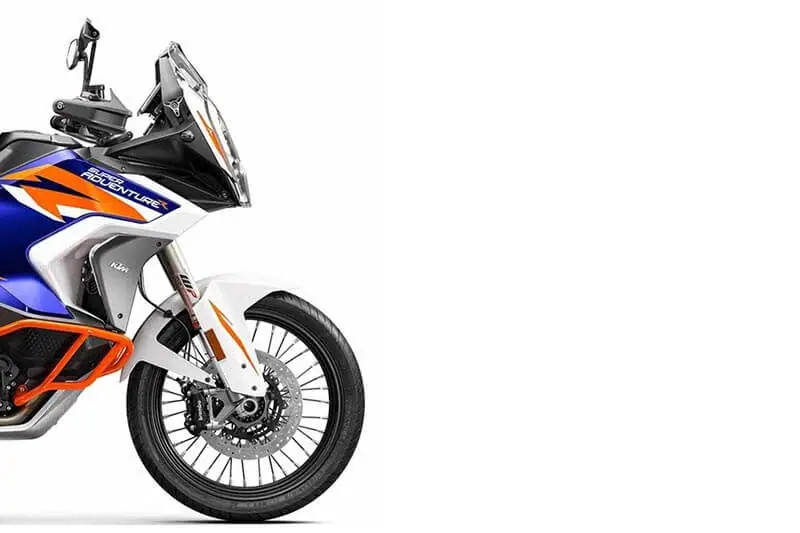 What you'll find in this guide
Welcome to the best adventure motorcycles guide. There are so many excellent machines out there, if we included every one this article would go on forever. So, we've condensed it to showcase the best adventure bikes of this year and what's currently in production. We will update the article every year with the latest offerings. And have also included an 'older models' section for worthy bikes that have been discontinued.
To keep things simple, here's what you'll find in this guide.
Our favourite bikes for this current year (2022).
Our overall selection of the best adventure bikes (currently in production) split into three categories: lightweight, middleweight and heavyweight.
A selection of older adventure bikes (no longer in production).
What we mean by 'Adventure Motorcycles'
Mad or Nomad focuses on adventure bikes for round the world travel. So, our motorcycle articles are on bikes that are well suited and up to the challenge of overlanding long distances, can be easily used off-road, can take a battering and have a readily available supply of spare parts and are fixable the world over… But, this article isn't.
If you're specifically after RTW bikes, have a read of our best RTW bikes article. If you need a hand choosing an adventure bike for travelling, then we have a comprehensive and packed guide explaining all of the considerations and things to look out for to help you find the right bike for your needs. And if you're after the very latest adventure bikes released this year, check out the New Bikes guide. And for all our adventure motorcycle guides in one place, have a look at the Guides section. 
This guide, however, takes all two-wheeled machines with the 'adventure bike' sticker into consideration – whether you're a road going adventure rider or dune demon. Here's the best of the bunch…
The Best Adventure Motorcycles of 2022
Here's our selection of the best adventure bikes in production and on the market today. You'll find why we chose them and more info in their corresponding sections below.
The Best Lightweight Adventure Motorcycles
Single-cylinder, 125cc-600cc, >190kg
Honda CRF300L
Released: 2021, Engine: 286cc single-cylinder, Power/ torque: 27bhp/ 26.6 ft-lb, Tank: 7.8L, Seat height: 880mm, Weight: 142kg, Suspension: front 43mm USD forks non-adjustable/ rear monoshock preload-adjustable, Tyres: 21/18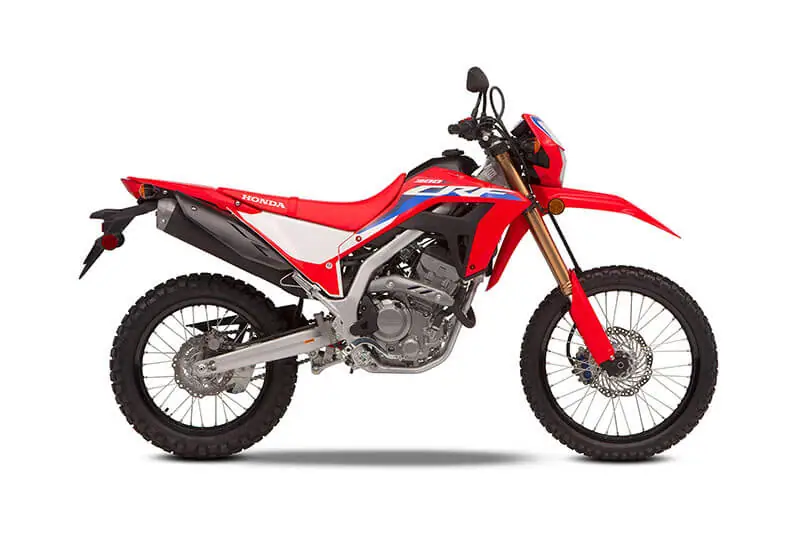 Despite its small size, the Honda CRF250L packed a huge punch and quickly cemented itself as more than just a new trailie. It became a proper adventure bike – harking back to the days where overlanders would travel the world on lightweight, simple and small capacity motorcycles. And people loved it for that, it turned into a go anywhere, do anything machine and its popularity rose the world over. 
I tested the CRF250L on the UK press launch for MCN back in 2012 and knew it was going to be special, but had no idea it would be this successful. Fast forward 10 years and it's only gone from strength to strength.
Honda capitalised on the bike's success by releasing the 250 Rally and in 2021 the upgraded 300L and 300 Rally succeeded the 250 range.
And Honda didn't just slap on a few new stickers and try to sell us a 'new bike' either. The 300 range gets a big bag of improvements…  
The 300L has been treated to a 36.4cc engine capacity increase, a little bump in bhp and torque and a boost to the midrange. The gears have been reworked so it's comfier cruising in 6th and quicker at accelerating through the rest – and there's a new slip-assist clutch too. The chassis has been tweaked by improving the frame's thickness and a redesign of the swingarm for off-roading and it's also made the bike 2.15kg lighter. The suspension stroke has been increased up front and at the rear by 10 and 20mm for dirt riding too – meaning Honda has put a lot of effort into making it even better off-road.
Honda's single-cylinder CRF range may be small, but it's the real deal when it comes to adventure riding and travel. Light, easy to work on, Honda reliability, go anywhere and do anything machines and the CRF300L deserves the top spot in this list.
Honda CRF300 Rally
Released: 2021, Engine: 286cc single-cylinder, Power/ torque: 27bhp/ 26.6 ft-lb, Tank: 12.8L, Seat height: 885mm, Weight: 153kg, Suspension: front 43mm USD forks non-adj/ rear monoshock preload-adj, Tyres: 21/18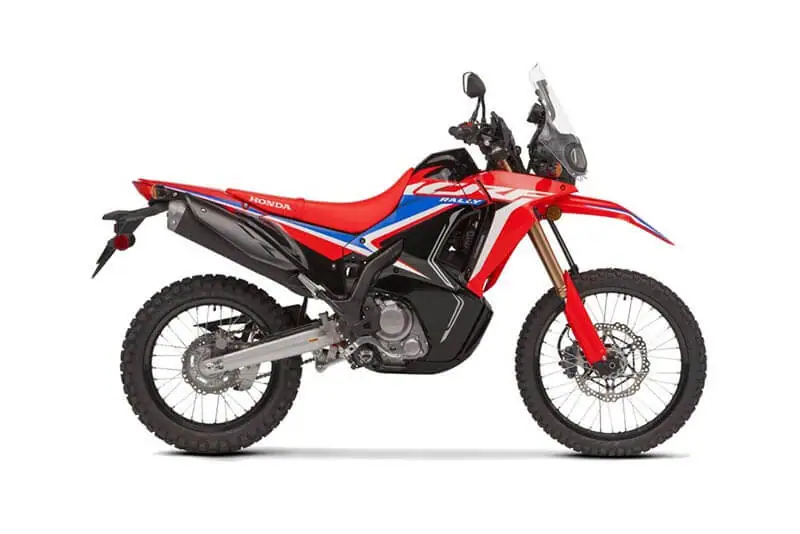 While the 300L is geared more towards off-roading, the Rally version takes on long-range riding and comfort. It's beefier and bigger with a larger tank, wider seat, stronger brakes, higher ground clearance and also gets treated to its own set of goodies like a proper alloy bashplate and a 4kg diet.
Royal Enfield Himalayan
Released: 2016, Engine: 411cc single-cylinder, Power/ torque: 24bhp/ 23.6 ft-lb, Tank: 15L, Seat height: 800mm, Weight: 185kg, Suspension: front 41mm forks / rear monoshock, Tyres: 21/17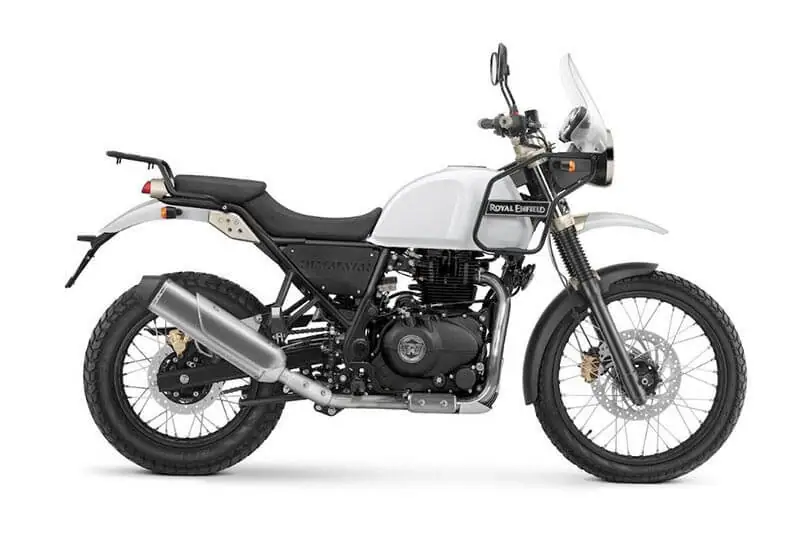 Back in 2015, I flew to India to test ride the Himalayan for MCN. Except, it wasn't a normal new bike launch – instead, Royal Enfield arranged for two weeks of riding the bike through the Himalayas – that's how confident Royal Enfield were with their latest offering. And they hit the money on the head with this one because there's nothing else like it…
Adventure bikes today veer on the heavy side, are dripping in electronics and are expensive – so expensive that riding them off-road will have you wincing over every rut and stone chip. But the Himalayan is something else; it's incredibly simple, does away with all the complicated gizmos, is competitively priced and, due to its simple design, it begs for off-road action with next to zero consequences.
It's back to basics and that's why people love it. The Himalayan isn't going to rip your arm of or have you grinning from ear to ear on fast roads, but if you want an adventure bike to travel on at an easy pace, take you anywhere and do away with all the mod cons. Then this one's for you.
READ MORE: Royal Enfield Himalayan Review
AJP PR7 Adventure 650
Released: 2019, Engine: 600cc single-cylinder, Power/ torque: 48bhp/ 42.8 ft-lb, Tank: 17L, Seat height: 920mm, Weight: 165kg, Suspension: front 48mm USD forks fully adjustable / rear progressive fully adjustable, Tyres: 21/18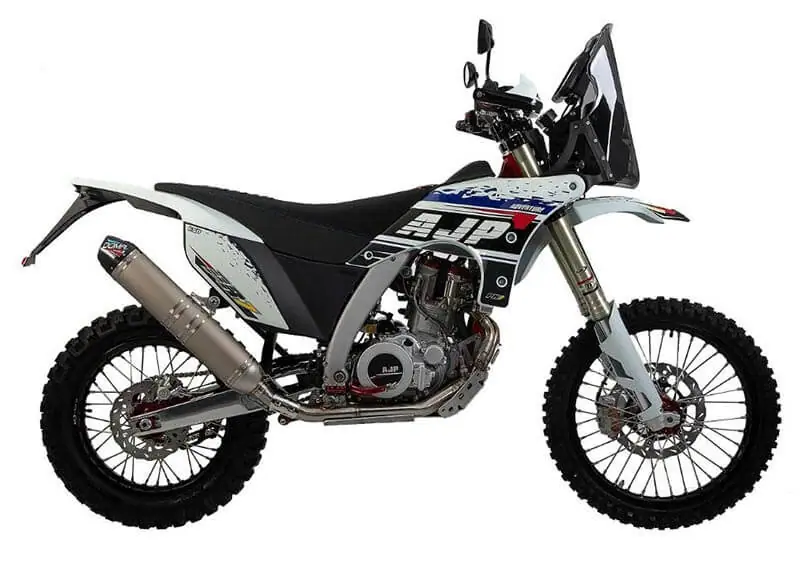 The AJP PR7 Adventure is a no-nonsense adventure bike with its loyalties tipped way in favour of off-road enthusiasts. The Portuguese firm have been producing enduro and supermoto bikes for the last 30 years, and have finally decided to turn one of their bikes into something a little different… the PR7 Adventure.
Why is it a little different? Because it's the only bike like it on this list. There are no other new adventure bikes in production today that are as off-road focused as the PR7. The AJP is packed with dirt riding goodies like the fully adjustable front and rear Sachs suspension, Dakar rally style setup, throbbing single-cylinder motor and there's no unnecessary for off-road electronics like traction control. 
If you're off-road focused, fancy a crack at the Trans Euro Trail or want to explore serious dirt trails on your adventures, consider the AJP.
READ MORE: AJP PR7 Adventure Review
Honda CRF250L / CRF250 Rally
The Honda CRF250L and Rally aren't exactly 'older models' having only been released in 2012 and ceasing production around 2020. But they have been succeeded by the new CRF300L and Rally, which are bigger and better.
But that doesn't stop the 250 from being a formidable adventure bike – whether you want to ride round the world, tour Europe or explore your local green lanes – the CRF250 is a do-it-all adventure bike.
READ: CRF250 Rally Review
No adventure bike list would be complete without a mention of the Suzuki DRZ400. The DRZ is practically adventure bike royalty because it's cheap, simple, easy to work on, packs a punch, is lightweight and can handle itself off-road.
The Suzuki DR650 makes it onto this list for the same reasons as the DRZ400, though they're nowhere near as common today. But it'd be rude not to include it.
READ: Suzuki DRZ400 Review
READ: Suzuki DR650SE Review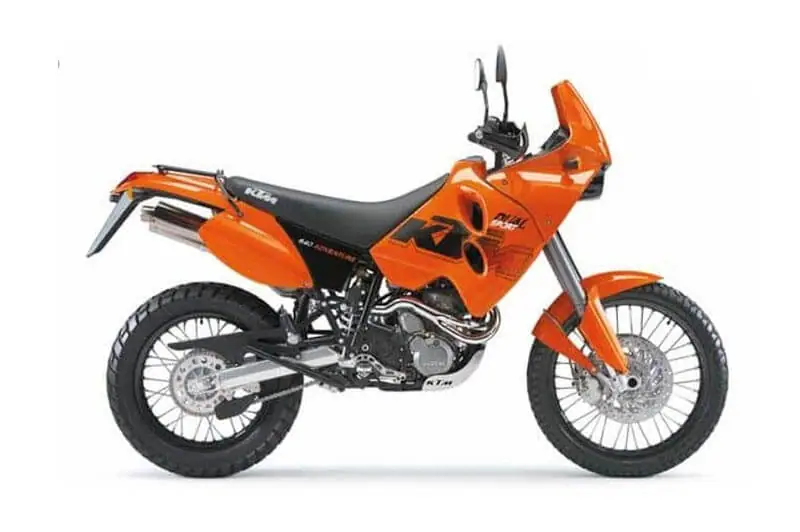 KTM's 640 Adventure is what I'd call a proper adventure bike. Single-cylinder, mountains of ground clearance, light, excellent off-road and well setup for long distance travel too. If the KTM 690 Enduro R is the CRF250L, the 640 Adventure is the CRF250 Rally.
The Best Middleweight Adventure Motorcycles
Two cylinders and up, 600 – 900cc, 190kg – 230kg
Honda CB500X
Released: 2013, Engine: 471cc parallel-twin, Power/ torque: 47bhp/ 31.7 ft-lb, Tank: 17.7L, Seat height: 830mm, Weight: 199kg, Suspension: front 41mm USD forks preload adjustable / rear monoshock preload adjustable, Tyres: 19/17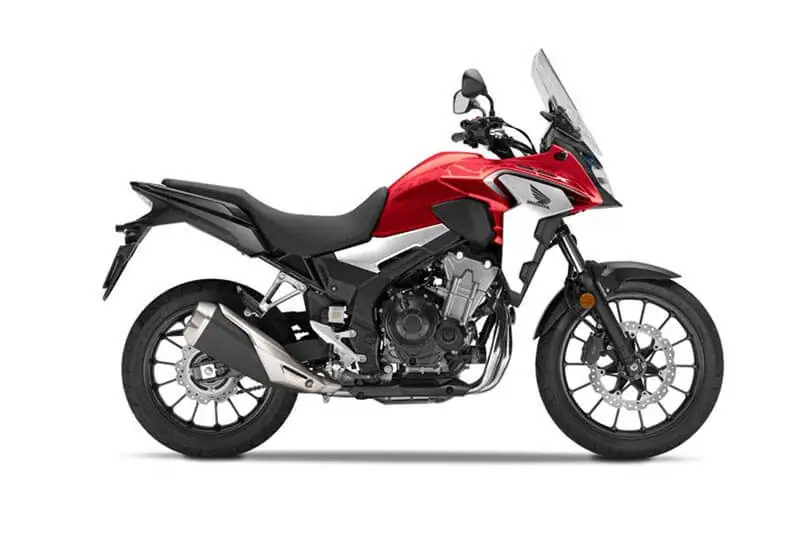 Yes, the CB500X has an engine under the 600cc middleweight threshold we've set for this guide. But more importantly, it has two cylinders and weighs 200kg so it has to start school a year early and go in with the middleweight boys.
Upgraded and relaunched in 2022, the new Honda CB500X is an entry-level, smooth motorcycle geared more towards road riding than off-roading. But that's okay, because with its 19-inch front, decent enough ground clearance, new big Showa USD forks and dual twin piston callipers up front it can still easily and comfortably take you off-road.
If you're looking for your first big bike (it's A2 compliant), will mainly be riding on road with the occasional trails and want to cut your teeth on an easy going and fun twin, then this is it.
READ MORE: Honda CB500X Review
Yamaha Tenere 700
Released: 2019, Engine: 689cc parallel-twin, Power/ torque: 72bhp/ 50 ft-lb, Tank: 16L, Seat height: 880mm, Weight: 205kg, Suspension: front 43mm KYB USD forks / rear sachs monoshock, Tyres: 21/18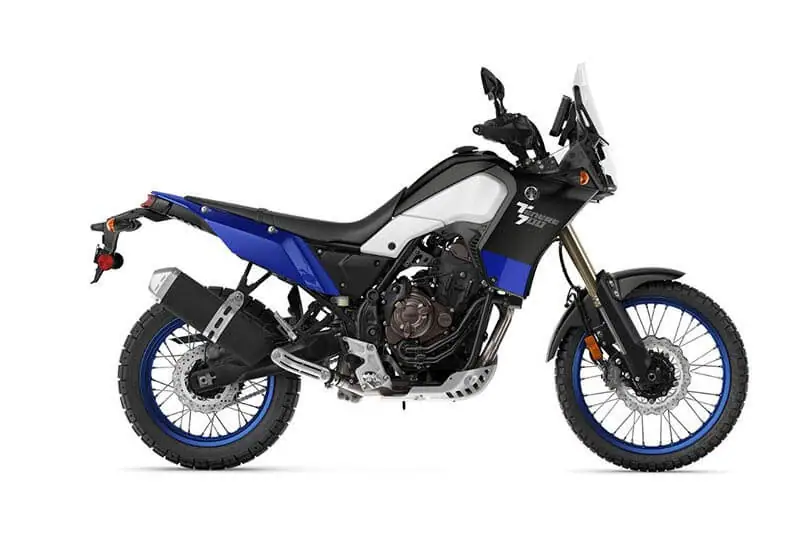 One of the most hyped up and marketed motorcycles to be released in years is the Yamaha Tenere 700. It's still a new player on the adventure bike scene but already the bike has made a huge impact. People love it as its off-road focused, beautifully styled in rally clothing and takes a step back towards the simplicity of pure adventure bikes with its lack of electronics and rider aids.
Built around the fun twin-cylinder MT-07 motor, the Tenere is kitted out with a proper off-road focused chassis with long travel, adjustable springs, more than enough power and torque and heavy-duty brakes.
If you're going to be riding on the rough stuff just as much as asphalt (if not more), want a twin, are happy without all the electronics and want an affordable proper adventure bike, the Tenere is the one for you.
READ MORE: Yamaha Tenere 700 Review
Triumph Tiger 900 Rally
Released: 2020, Engine: 888cc in-line three-cylinder, Power/ torque: 94bhp/ 64.17 ft-lb, Tank: 20L, Seat height: 830mm, Weight: 220kg, Suspension: front 45mm Marzocchi USD forks – rebound and compression adjustable (manual) / rear Marzocchi – preload and rebound adjustable (electronic), Tyres: 19/17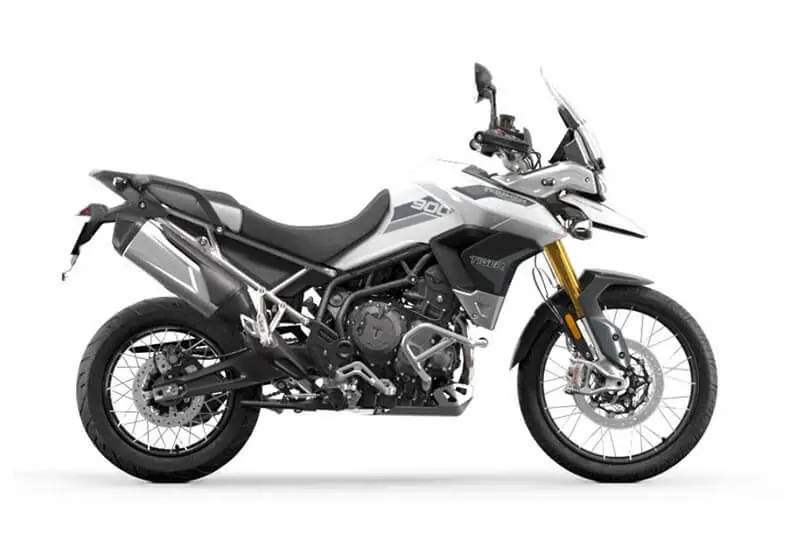 The excellent Tiger 800 range was replaced in 2020 with the new Tiger 900. It comes in four iterations. The Rally and Rally Pro are both intended for off-roading and the GT and GT Pro for road riding. So, much like the previous 800 X range, but the difference is, the 900 isn't a redesign – it's a completely new bike from the ground up with a huge spec list of improvements.
You've got a new (88cc bigger) beautifully tuned, silky smooth and torquier three-cylinder engine with its new T-plane crank. There's a new chassis, swish dash with rider modes, adjustable suspension and it's lighter and better on and off-road. If you're a fan of the Tiger range, then you'll want to try one of these.
Suzuki V-Strom 650XT
Released: 2017, Engine: 645cc V-twin, Power/ torque: 71bhp/ 45 ft-lb, Tank: 20L, Seat height: 830mm, Weight: 216kg, Suspension: front telescopic forks / rear monoshock – preload adjustable, Tyres: 21/18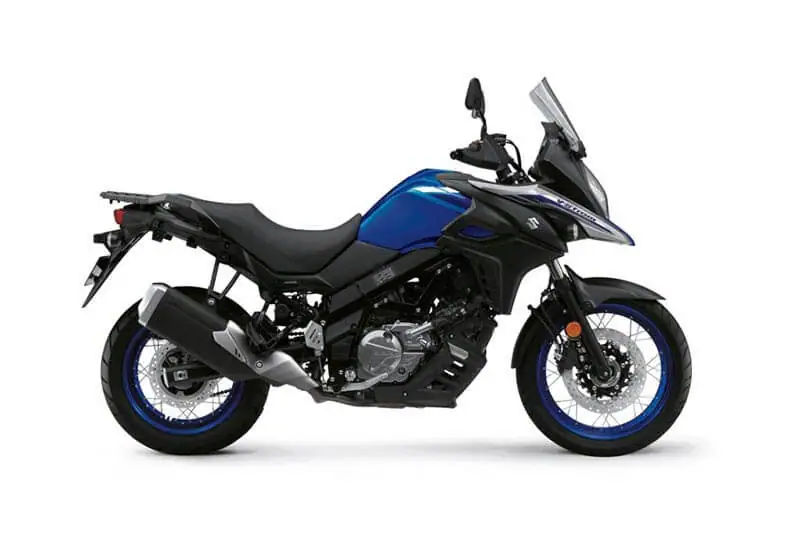 The Suzuki V-Strom is not going to knock your socks off. Twisting the throttle won't rip your arm off either and you're not going to be entering any off-road rallies with it. But that's not what it's for, nor what it's pretending to be. Instead, you've got an incredibly easy to use and simple machine that does everything well.
It's well priced with a dependable and proven engine, excellent fuel consumption, big tank and enough power to stick a smile on your face. It's a versatile workhorse and when you slap goodies on it like the wire wheels, luggage racks and crash protection – that makes it an excellent all-round adventure bike too.
READ MORE: Suzuki V-Strom 650 Review
KTM 890 Adventure
Released: 2021, Engine: 889cc parallel-twin, Power/ torque: 104bhp/ 73.8 ft-lb, Tank: 20L, Seat height: 880mm, Weight: 210kg, Suspension: front 48mm WP XPLOR forks – fully adjustable / rear WP XPLOR shock – fully adjustable, Tyres: 21/18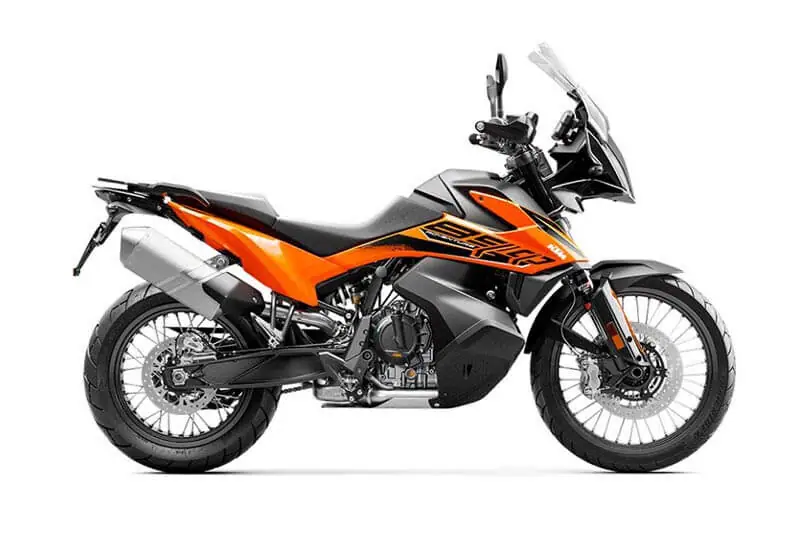 KTM released the 790 Adventure back in 2019 in response to Yamaha's Tenere 700. But now KTM have taken things a huge step further with the 890 by producing a roided up middleweight bursting with power (103bhp!) and an exquisite range of premium extras.
There are three 890 options: the Adventure, R and R Rally. They all come with rider modes including cornering ABS, posh TFT displays and excellent suspension setups. But the Adventure model is arguably more road focused while the Rs get premium, fully adjustable suspension and a range of extras – the eye-watering price tags match the packages.
Make no mistake, even the standard Adventure is a cut above the rest in this section. If you're after the baddest, newest, most tech savvy and off-road hungry middleweight adventure bike then this is it.
BMW F850GS Adventure
Released: 2018, Engine: 853cc parallel-twin, Power/ torque: 94bhp/ 68 ft-lb, Tank: 15L, Seat height: 835mm, Weight: 229kg, Suspension: front 43mm USD forks / rear single shock – preload and rebound adjustable, Tyres: 21/17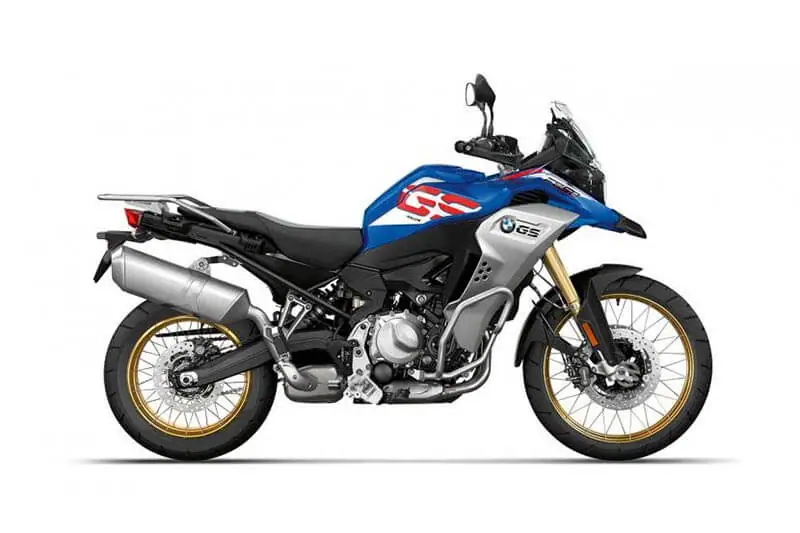 The original F800GS came out in 2008 and has been going until 2019 when the F850GS Adventure replaced it with an all-new bike.
First up is the obvious 55cc engine capacity increase and engine tweaks for a smoother ride, especially in the low to mid-range. It gets a trickle more power and torque and better fuel consumption too (note the fuel tank has been moved from under the seat to up front).
It's also treated to a new frame, better suspension and a host of other tweaks and mods to make the new F850GS Adventure more user friendly, smoother and better off and on road. Want a big BMW GS but without all the weight and expense? This is your middleweight option.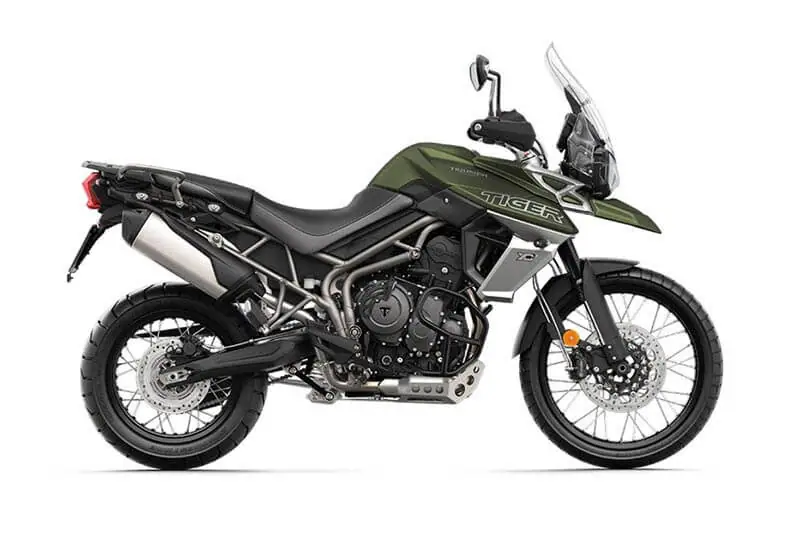 It's strange having the Tiger 800 in the older model list. I test rode the new 800 range on the UK press launch back when it was released in 2019 and it feels too early to have it discontinued. It's a brilliant bike and especially good on road. There's nothing like that smooth creamy triple. And taking it on the rough stuff is just as impressive.
READ: Triumph Tiger 800 Review
The Yamaha XT660R (enduro) and Z (adventure) have been taking travellers round the world for a long time. The motor is ancient, but bullet proof, the bikes are simple and easy to work on, reliable and tough. They're not off-road racing machines and they're also not the best road going bikes either with their big thumping single-cylinder motors. But they are reliable, fun and do it all adventure bikes.
READ: Yamaha XT660R Review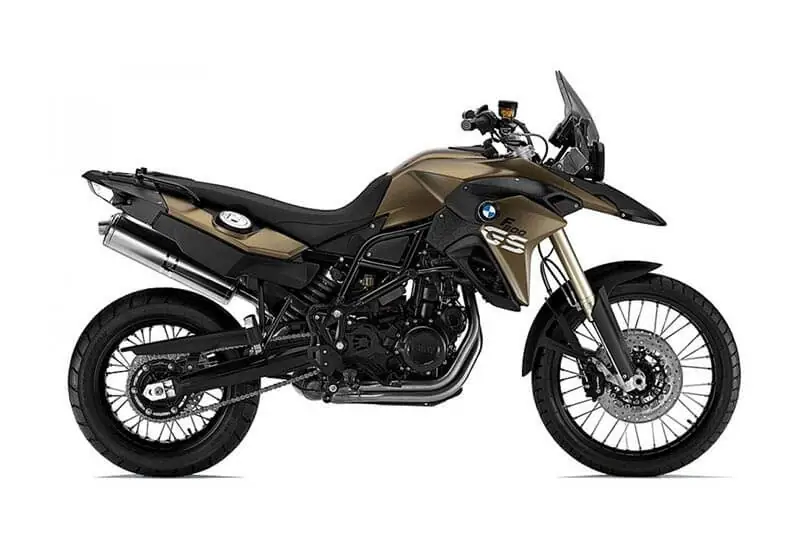 The BMW F800GS was replaced in 2019 with the F850GS Adventure. The outgoing model has been a hugely popular choice for adventure riders since its inception in 2009 and has held a top seat in the middleweight category since. It's more than capable off-road and is an excellent long distance road bike with decent tractable power delivery and an absolutely huge range of customisable extras.
The Best Heavyweight Adventure Motorcycles
Two cylinders and up, 900cc +, 230kg +
BMW R1250GS Adventure
Released: 2019, Engine: 1254cc boxer-twin, Power/ torque: 134bhp/ 106 ft-lb, Tank: 30L, Seat height: 890mm, Weight: 268kg, Suspension: front 37mm telelever – optional dynamic ESA / rear paralever – preload and rebound adjustable and optional dynamic ESA, Tyres: 19/17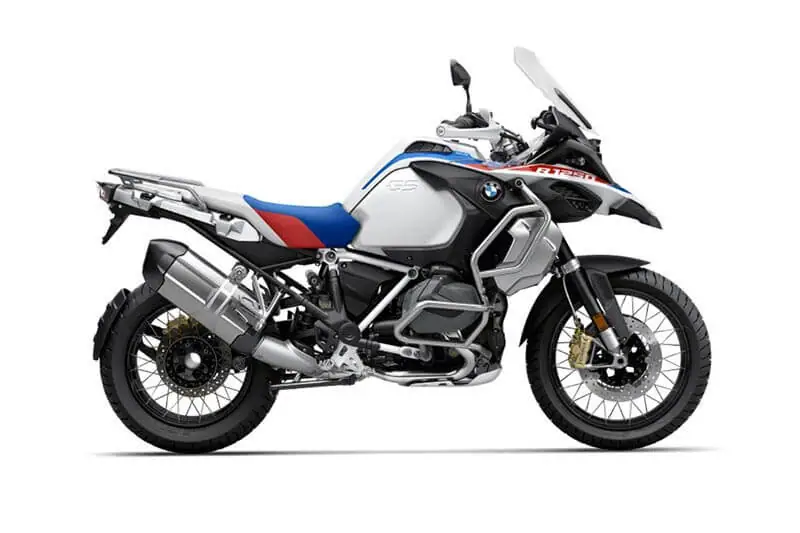 I'm sure you've already been introduced. The mighty GS pretty much invented the adventure bike market as we know it today and BMW have been fine tuning their flagship model since the 1150 in 2002. The latest iteration released in 2019 is the 1250. With it, you get a bigger motor (84cc increase), 11bhp more power and a 14% increase in torque over the previous R1200GS model thanks to BMW's state of the art ShiftCam technology.
Even though the suspension, chassis, rider aids and general layout remain the same, the changes to the engine make a huge difference to the riding experience. So, if you're after a new heavyweight adventure bike, are considering the GS – and can stomach the hefty price tag, then it's worth going for the 1250.
KTM 1290 Super Adventure R
Released: 2015, Engine: 1301cc V-twin, Power/ torque: 160bhp/ 103 ft-lb, Tank: 30L, Seat height: 860mm, Weight: 229kg, Suspension: front 48mm WP USD forks – semi active / rear WP monoshock – semi active, Tyres: 19/17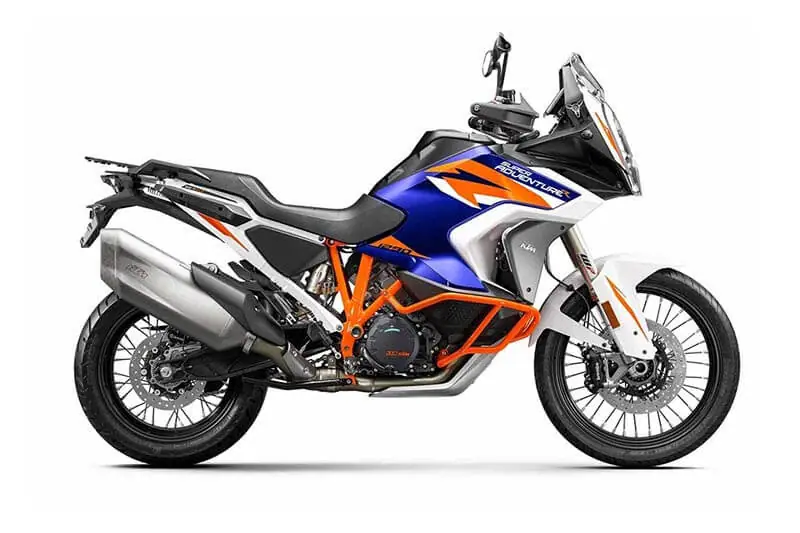 Remember the KTM 990? The original carburetted version before the new fuel injected model took over? What a bike! Then the 1090 and 1190. Well, they've all been replaced with KTM's biggest ever machine – the 1290 Super Adventure R. This is a behemoth of a bike and takes on BMWs mighty GS Adventure.
And KTM aren't messing about… the 1290 is a serious machine capable of anything you throw at it. It's well setup for road riding (if you're predominately going to be on tarmac then opt for the 'S' model instead of the more off-road focused 'R') with a comfortable riding position, hefty fuel tank, swish electronics and riding modes including cornering ABS and semi-active suspension as well as heated seats, grips and much more.
If you're wondering where this bike stands, it's a lighter and more powerful and torquier motorcycle than the R1250GS – and it's cheaper too. So if you've got an itchy wrist and like getting on the gas, but want a heavyweight bike for adventure motorcycle touring with off-road capabilities, then this might be for you.
Honda CRF1100L Africa Twin
Model: 2020, Engine: 1084cc parallel-twin, Power/ torque: 100bhp/ 78 ft-lb, Tank: 18.8L, Seat height: 850mm, Weight: 226kg, Suspension: front 45mm Showa USD forks – fully adjustable / rear Showa monoshock – fully adjustable, Tyres: 21/18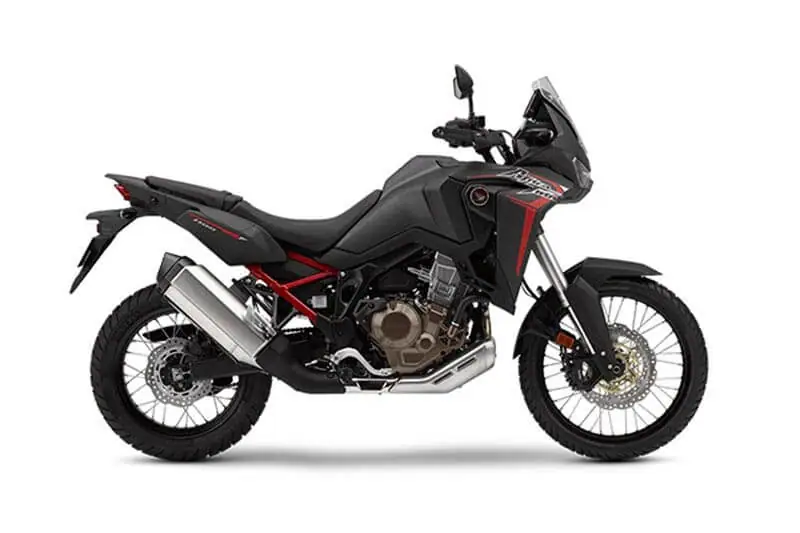 The Honda Africa Twin takes a step back from the conventional heavyweight spec sheet. We're now up to Honda's third iteration of the Africa Twin since it was re-launched in 2016 in CRF1000L guise. Now as the 1100L, Honda have taken the bike even further down the off-road route. There is the CRF1100L Adventure Sports model for those who are more road biased, but for the purpose of this article, we're sticking with the off-road focused Africa Twin model.
The new for 2020 Twin gets an engine capacity increase to 1084cc, giving it 6.8bhp more power and 4.4 ft-lbs of torque. It also gets a very slight weight reduction and higher bars, new TFT screen to match its mates in this sector, cornering ABS, cruise control, traction control, riding/power/braking and user modes and the option to switch the rear wheel ABS off.
Overall, the Honda Africa Twin is a lighter and more off-road focused motorcycle than its competitors in the heavyweight division. It used to be a simpler machine too, but with the latest update it has gained a selection of new electronics to bring it more in line with the current range of heavyweights. 
The Honda Africa Twin is well suited for those who like to ride on the rough stuff just as much as the road and aren't after the touring focused luxuries of the GS or the mad power of the KTM Super Adventure. It's a capable adventure bike with a more balanced mix of capabilities from off-roading and trail riding to touring and scratching mountain bends. 
Suzuki V-Strom 1050XT
Model: 2020, Engine: 1037cc V-twin, Power/ torque: 100bhp/ 78 ft-lb, Tank: 20L, Seat height: 850mm, Weight: 247kg, Suspension: front 43mm inverted forks – fully adjustable / rear shock – preload and rebound adjustable, Tyres: 19/17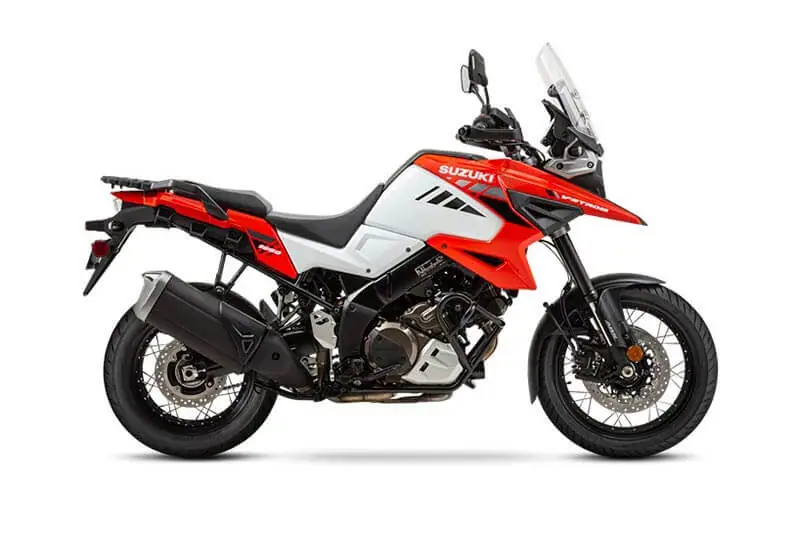 The previous model (Suzuki V-Strom 1000) was a great all-round adventure bike. Much like the middleweight 650XT listed above, it wasn't exceptional in any one area, but instead, was a versatile workhorse – and competitively priced too.
Suzuki have upped their game with the 1050 and treated their new Strom to rider aids to keep it in line with the competition. It gets reworked suspension for a firmer ride. The engine remains the same with tweaks to get it through Euro5 with a slight increase to power and modifications to give it a torquier delivery.
Easy going, fun, punchy motor and well-priced. The Suzuki V-Strom 1050XT is a do-it-all all-rounder.
Triumph Tiger 1200 Rally Pro
Model: 2022, Engine: 1160cc inline three-cylinder, Power/ torque: 148bhp/ 95.9 ft-lb, Tank: 20L, Seat height: 875-895mm, Weight: 249kg, Suspension: front 49mm Showa forks – semi-active / rear Showa monoshock – semi-active and electronic preload adjustable, Tyres: 21/18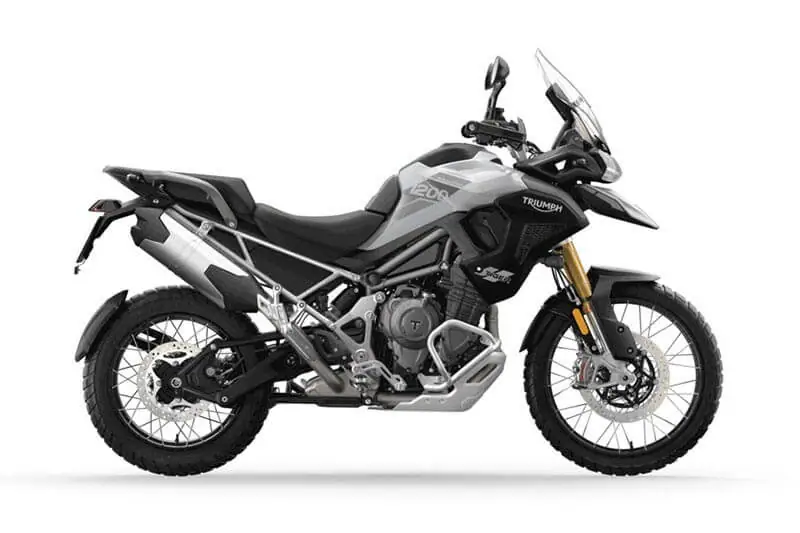 The old top-heavy tourer that was the Triumph Explorer has had a complete overhaul for 2022. It has shed 25kg, has a completely new chassis, posh new Showa semi-active suspension, a seriously classy electronics package and a new motor. The new 1160cc T-plane crank engine is aimed at adventure riders with more low-down grunt. And there's also an 'Explorer' model with a 30-litre tank, which clearly directly targets BMW's Adventure model.
It's too early to say how good this new Triumph Tiger 1200 really is. But if its as good as its spec sheet says it is, BMW might have a serious contender on their hands.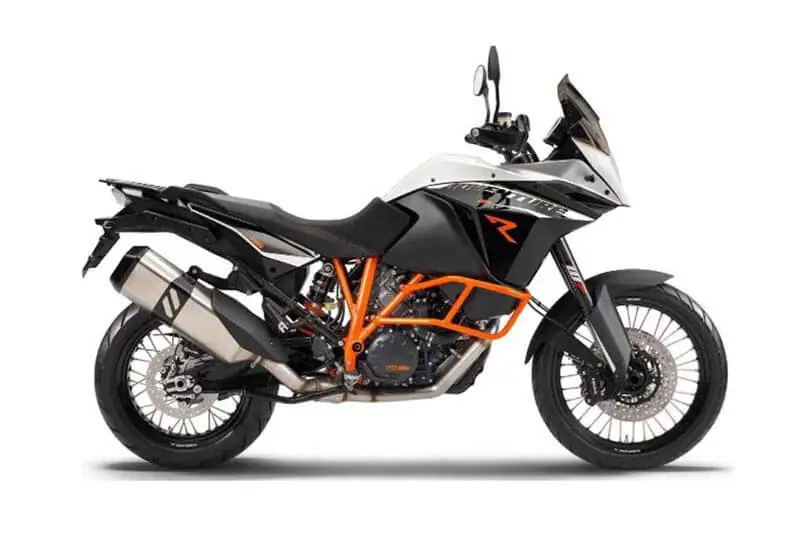 It's a shame KTM discontinued the 1190. It has been going since 2013 when it took over from the excellent 990 Adventure. At 230kg and with 150bhp it was a monster of an adventure bike, quick on road and an off-road weapon.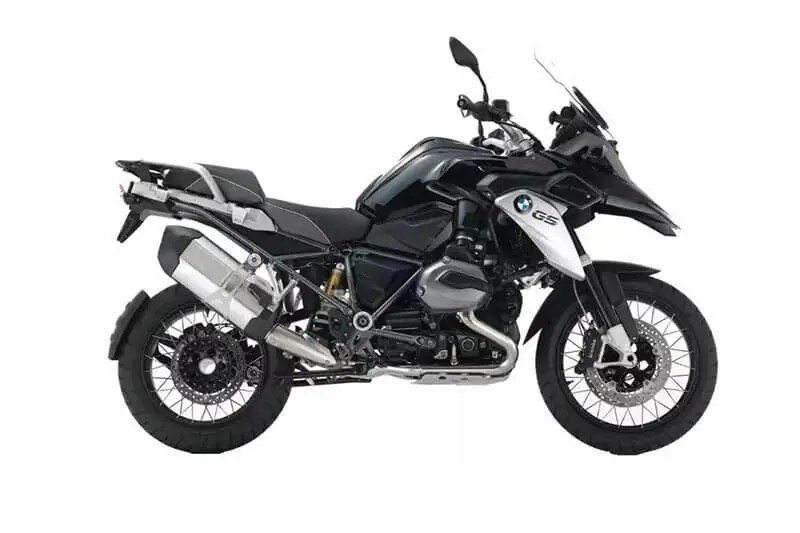 The famed R1200GS from 2013 was an excellent motorcycle, made even better with the 2017 upgrades. This is the bike most people know and love and has opened the world up to many adventure riders and tourers. And even if you don't ride off-road or travel on your bike, the GS is still an exceptional all-round motorcycle and the perfect everyday machine.  
More on Adventure Motorcycles
Thanks for checking out the Best Adventure Motorcycles guide. We hope you enjoyed it! Here's a few more articles on adventure motorcycles that we recommend you read next. 
Liked that? Try these next…