Mongolia is madness! It's a vast emptiness filled with some of the most lonesome, mind numbing and incredible riding we've ever seen…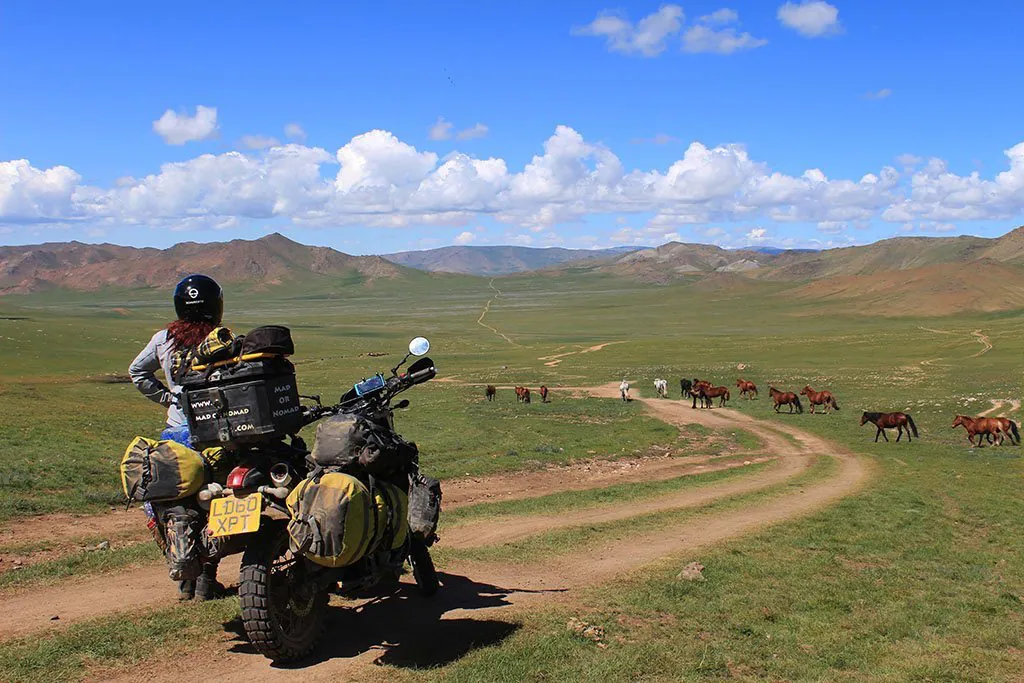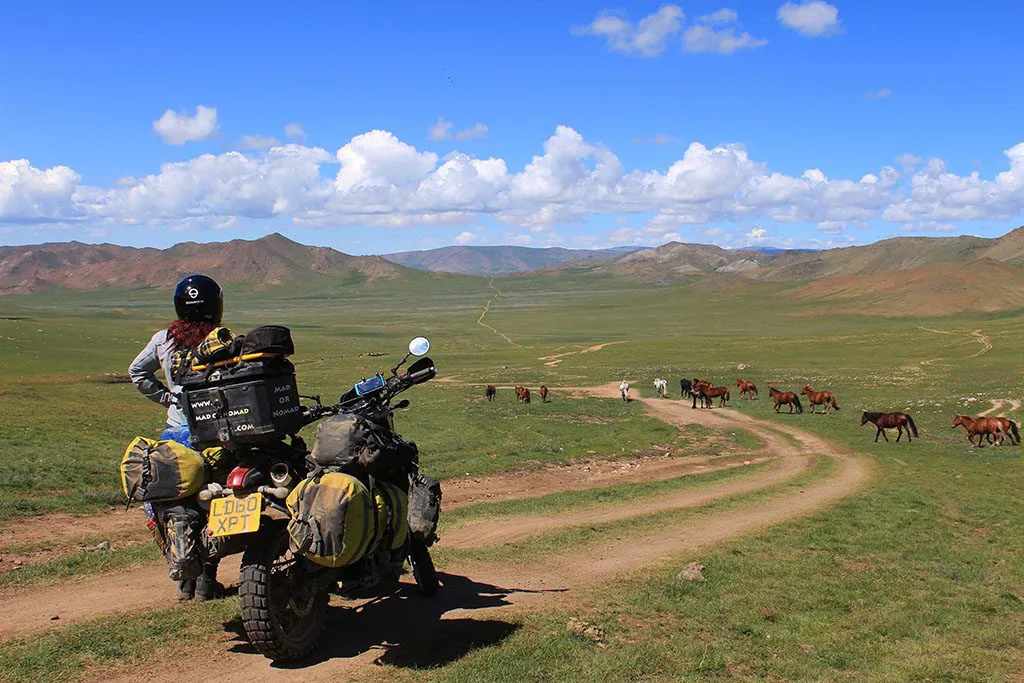 Motorcycle Travel Blog Mongolia
We crest the hill, switch the bike off and soak it all in. A thousand miles of green grassland lay in front of us. Hundreds of dusty trails slice their way across the plains, wiggling their way in every direction until they disappear over the horizon. We pick one, click the bike back into life, and follow the trail into the unknown.
As the sun starts to dip, we pull over, put up the tent, fire up the stove and cook dinner under a billion shimmering stars.
And that's how we spent our time exploring Mongolia. There's nothing to do there but ride… and ride in an attempt to make it to the capital, Ulaanbaatar. The hard part is dealing with whatever Mongolia decides to throw at you – and it thinks up something new every day.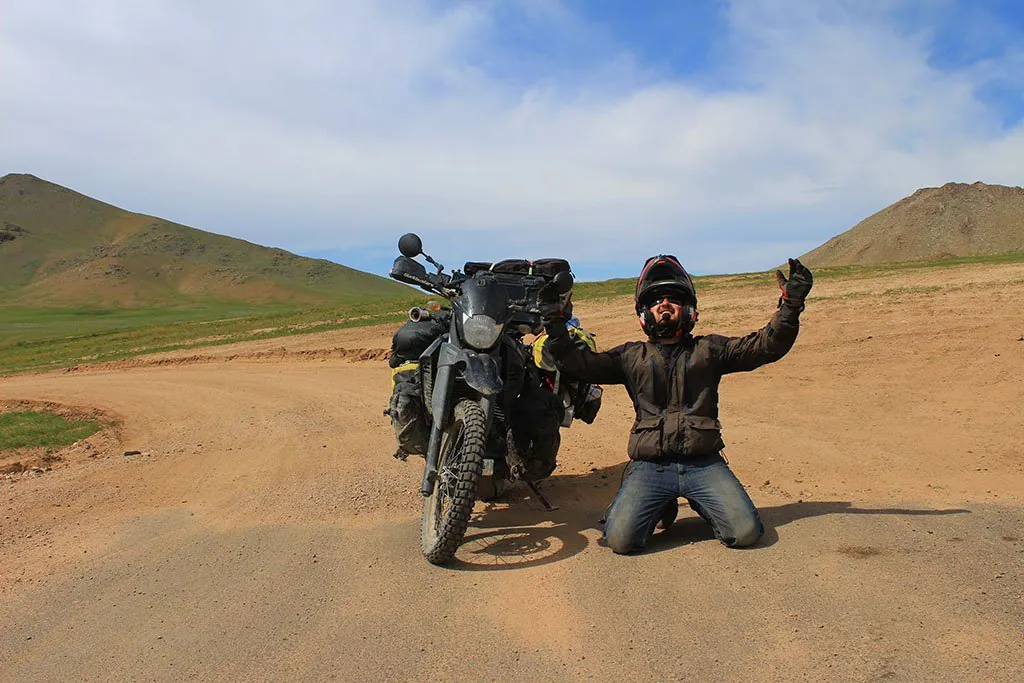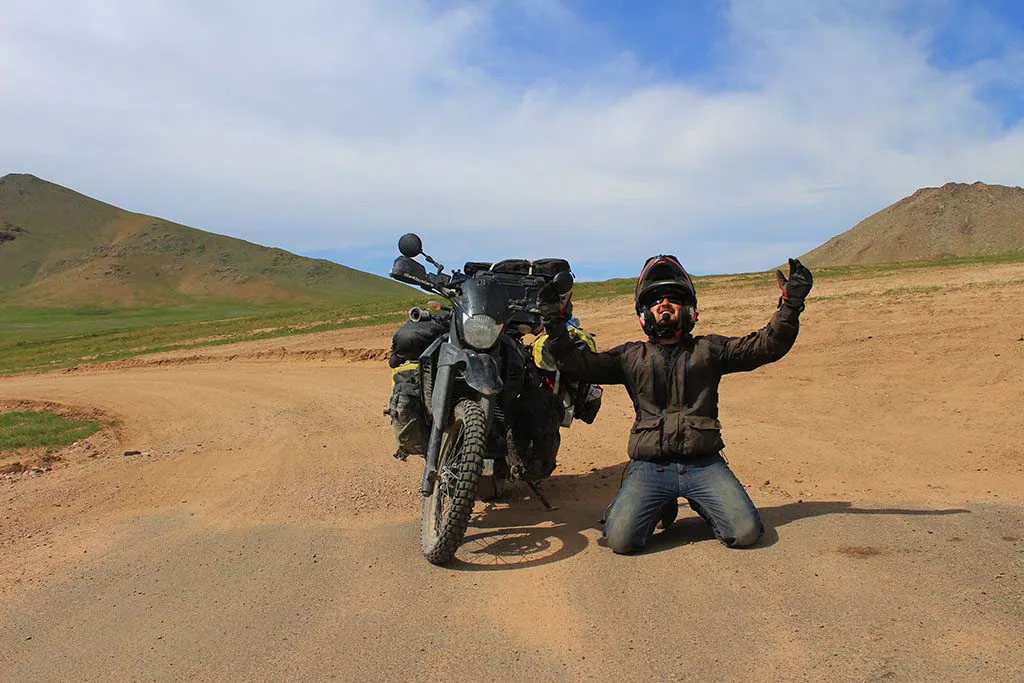 An adventure rider's paradise
The country is a forever rolling back-drop of sometimes mind-numbing, and sometimes pure expansive, wonderment. The vastness is mesmerising. Mountains and red cliffs poke out of the ground one day, and sink into flat grasslands as far as the eye can see the next. Two days later we'll be digging the rear wheel out of a sand dune. The day after we're wading through a river to check how deep it is before slipping and sliding through thick muddy swamps the next. And through it all we'll go from wringing our t-shirts out with sweat to sitting huddled round an oven fire in a frosty yurt, soaking wet and trying to dry our pants.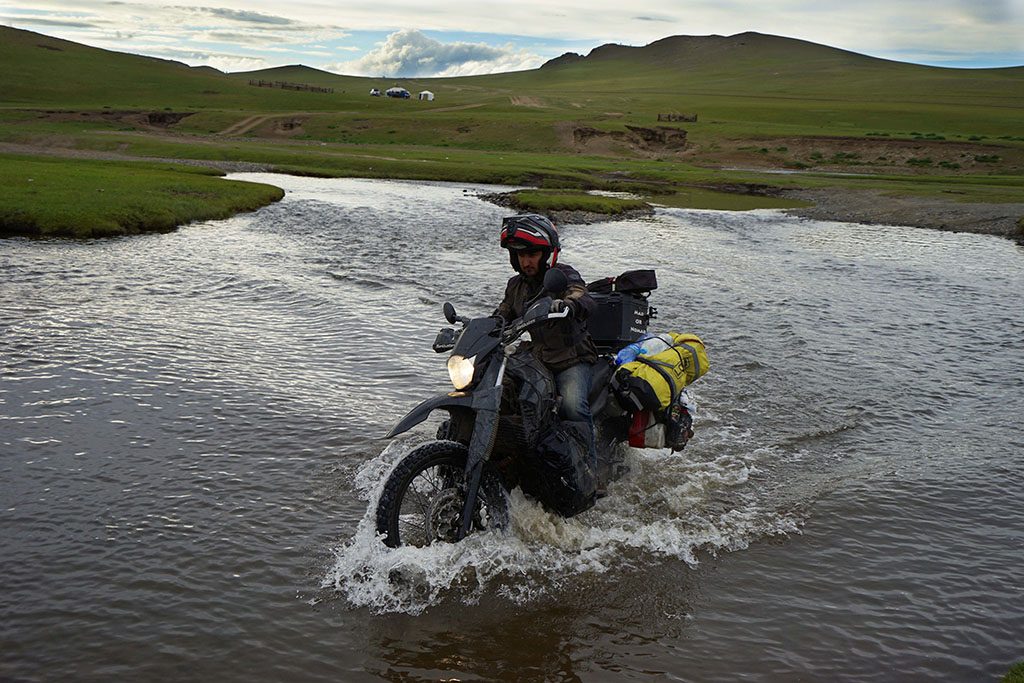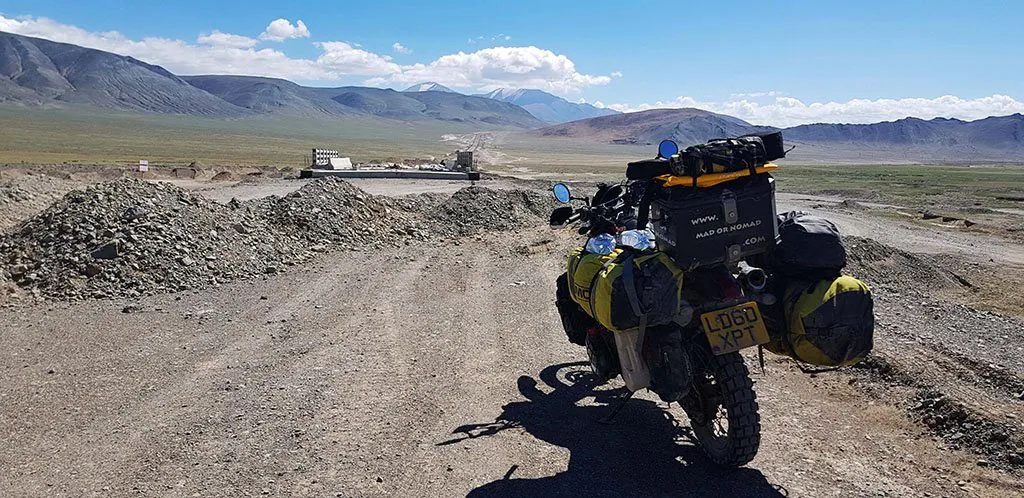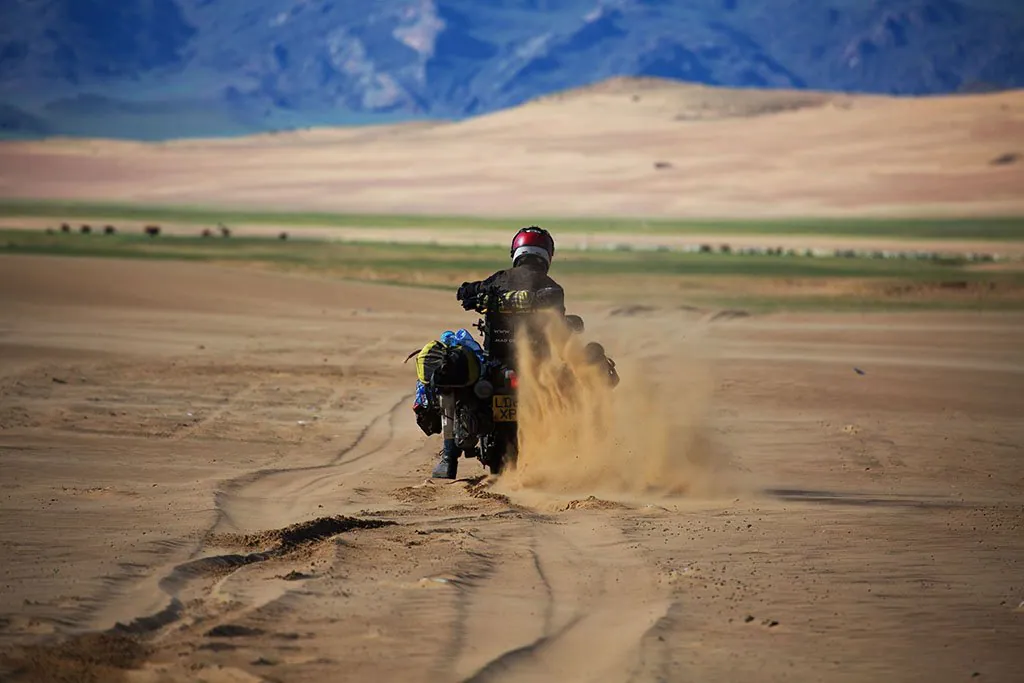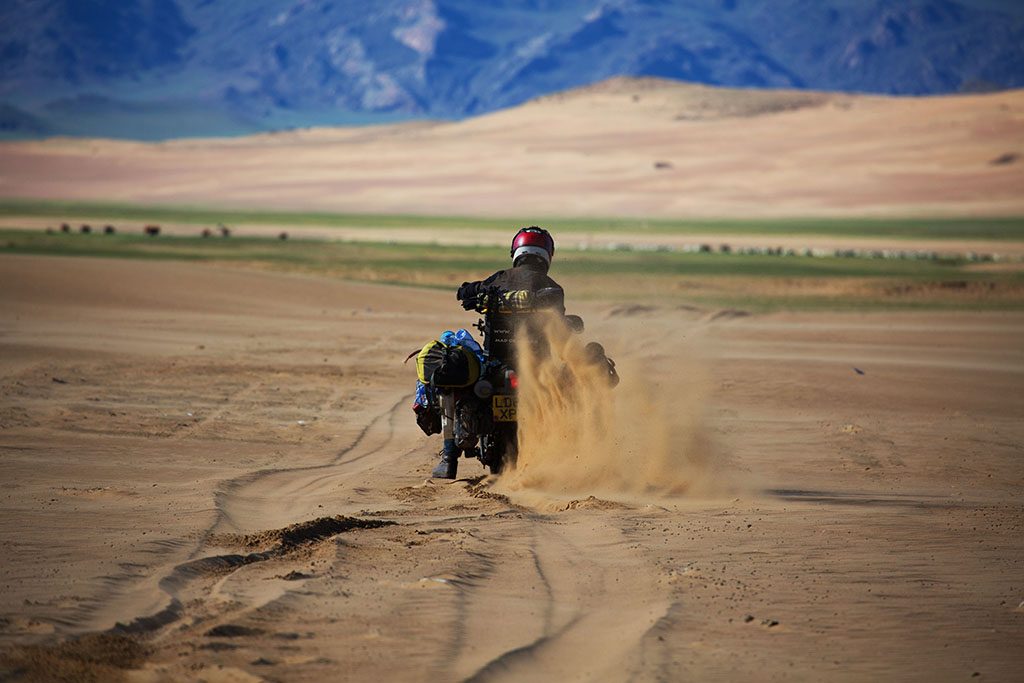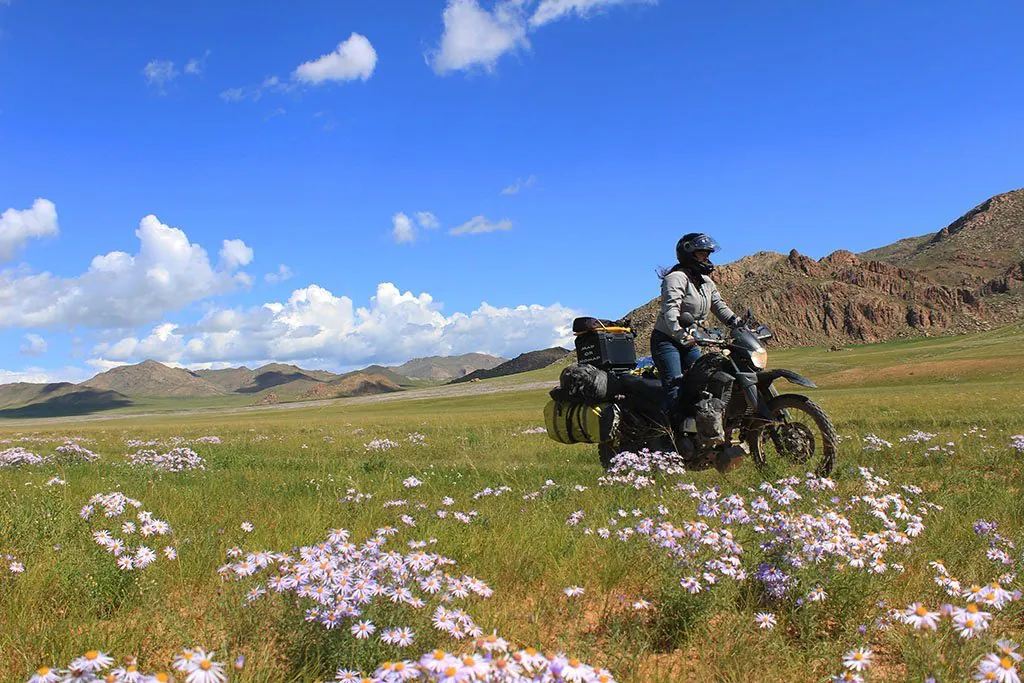 Going Mad
There's no planning in Mongolia. It's just too unpredictable. It can take anywhere from ten minutes to two hours to cover 10 measly miles, dependent on how the roads and weather feel that day. The irregular terrain, broken roads, tricky navigating and temperamental skies can turn an easy day into a long, hard slog. And we had plenty of those. Sometimes the rain would fall so hard it hurt. Sometimes we had to lay by the motorbike for shade. Sometimes the days would never end and we longed for the dark – just to give us a break from the monotony. And sometimes it felt like we were going mad – we'd ride all day and feel like we hadn't moved an inch because everything looked exactly the same.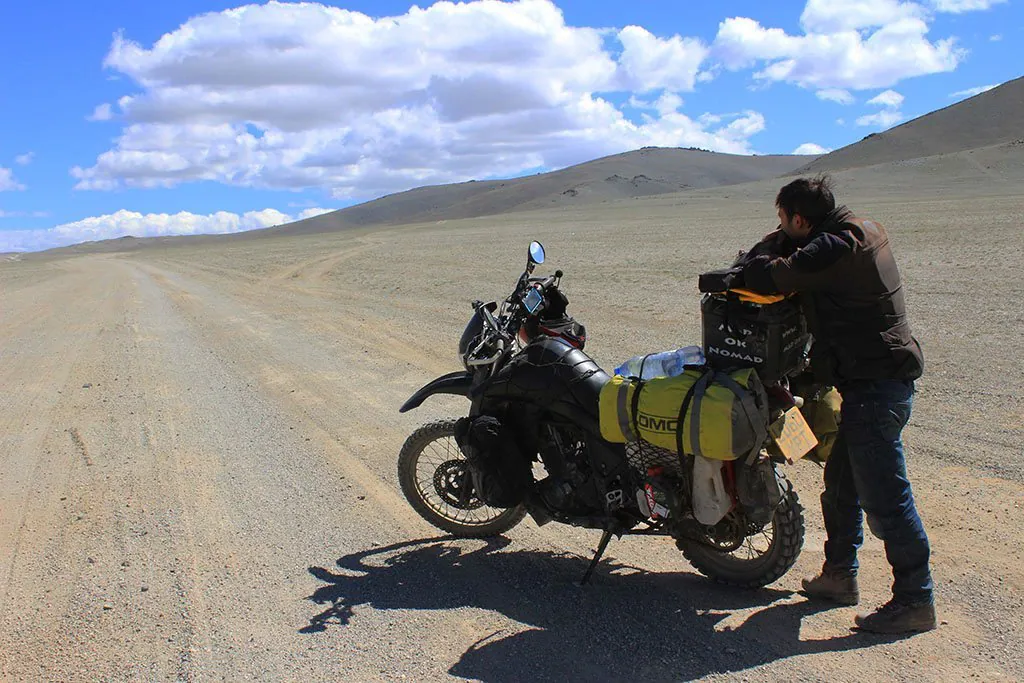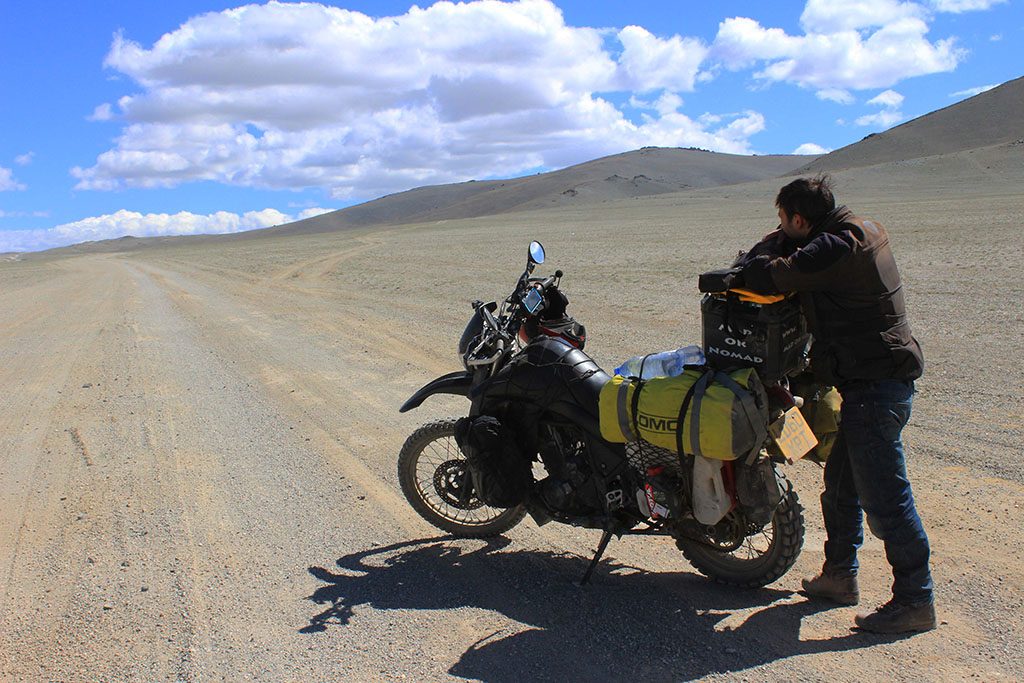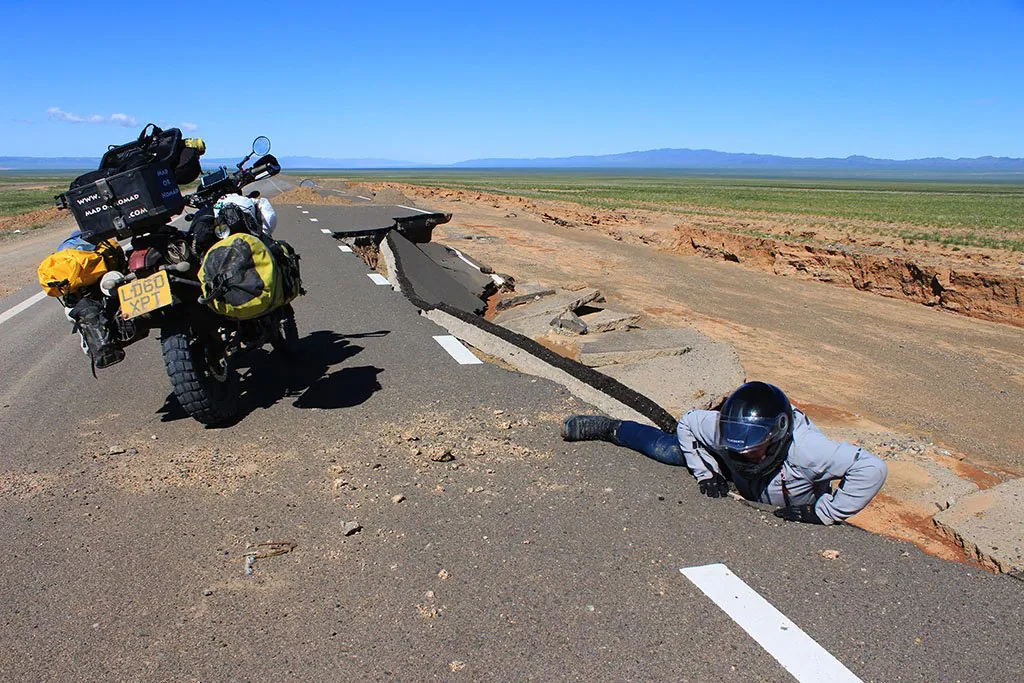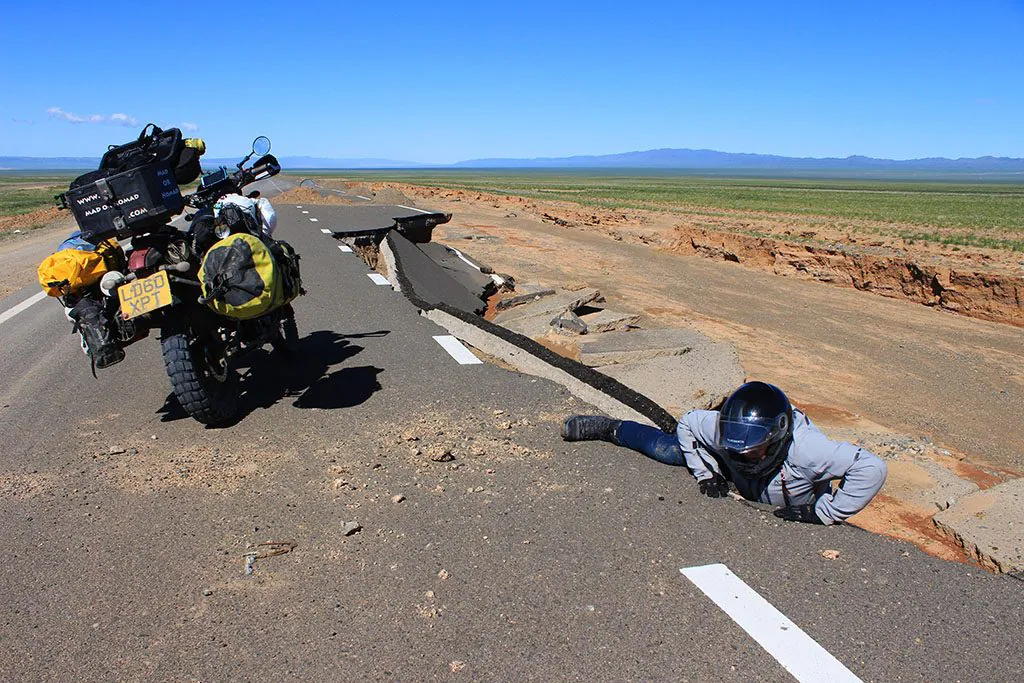 Friendly locals
Luckily, the locals we met along the way made our days easier. People were more distant and warier of travellers than in Central Asia. But they'd still stop for us if we were pulled over and insist on giving us whatever they had – from a bag of tomatoes to a bottle of horse milk. Even in the middle of nowhere we came across nomadic herders and yurts filled with families welcoming us in for buttery tea and cake.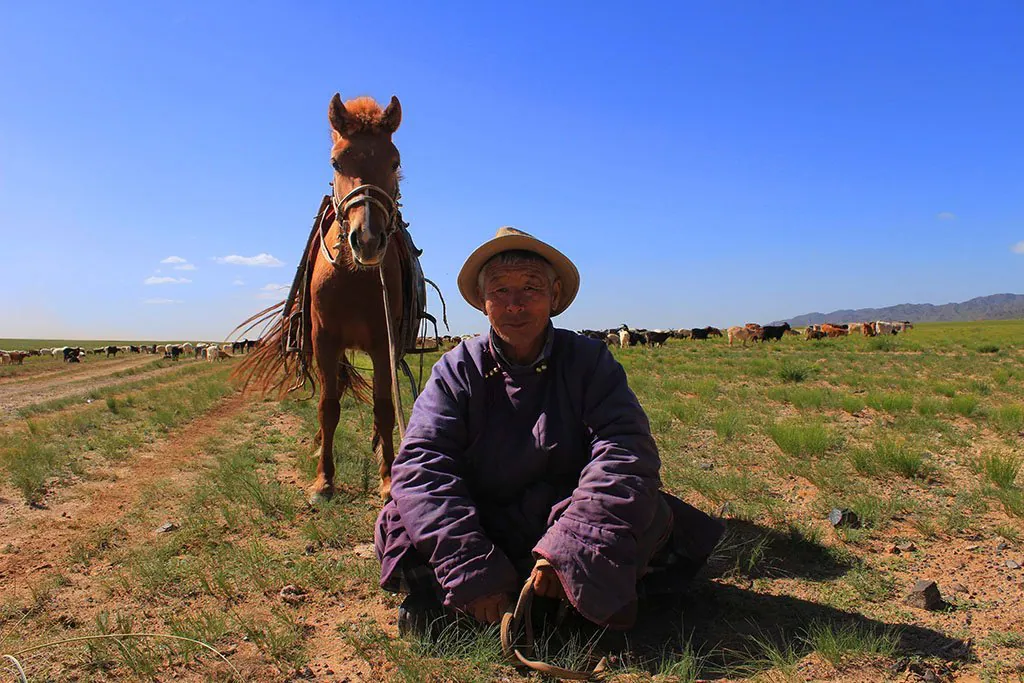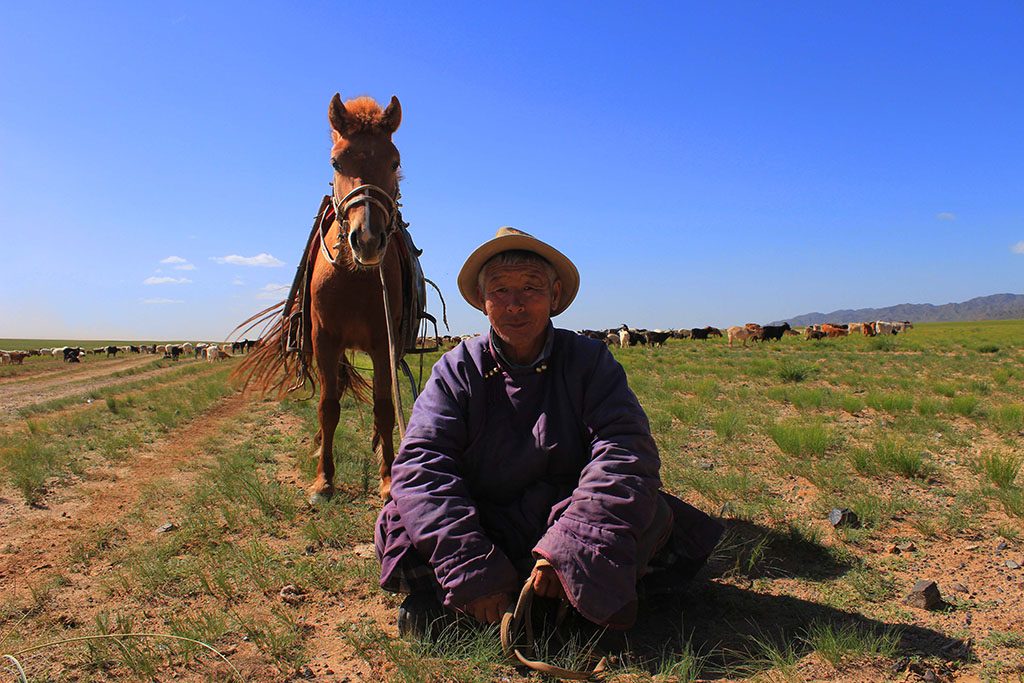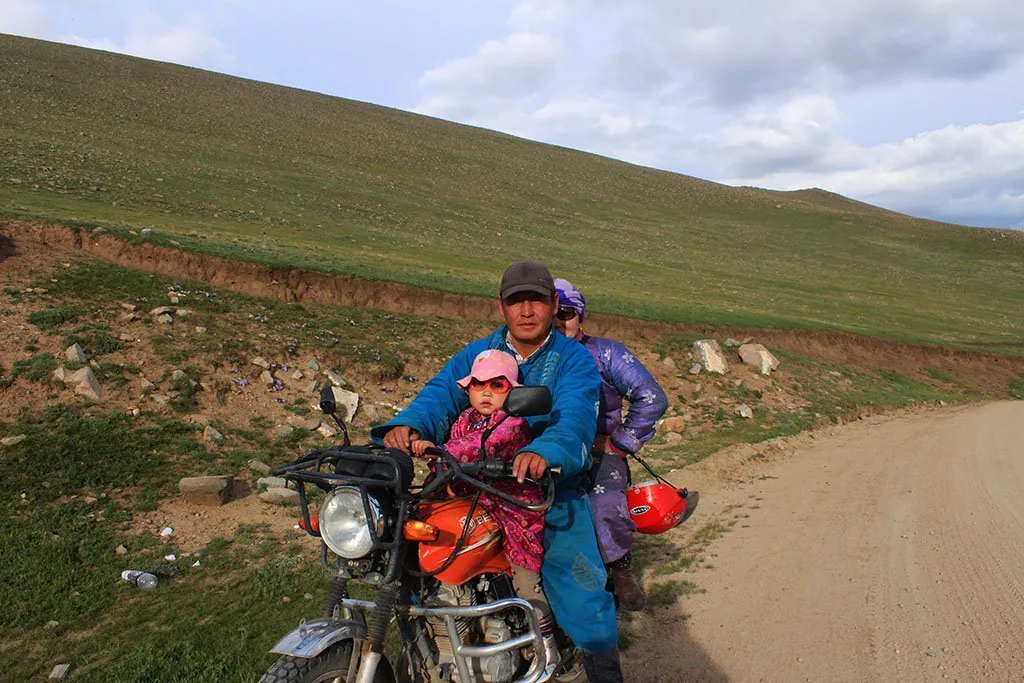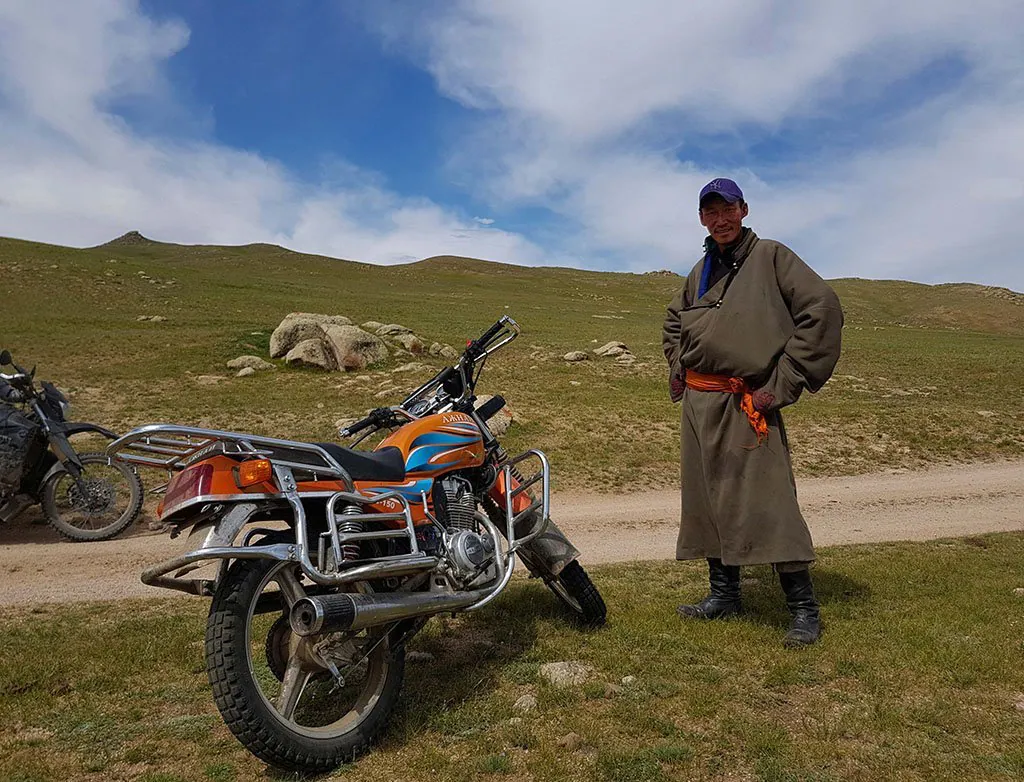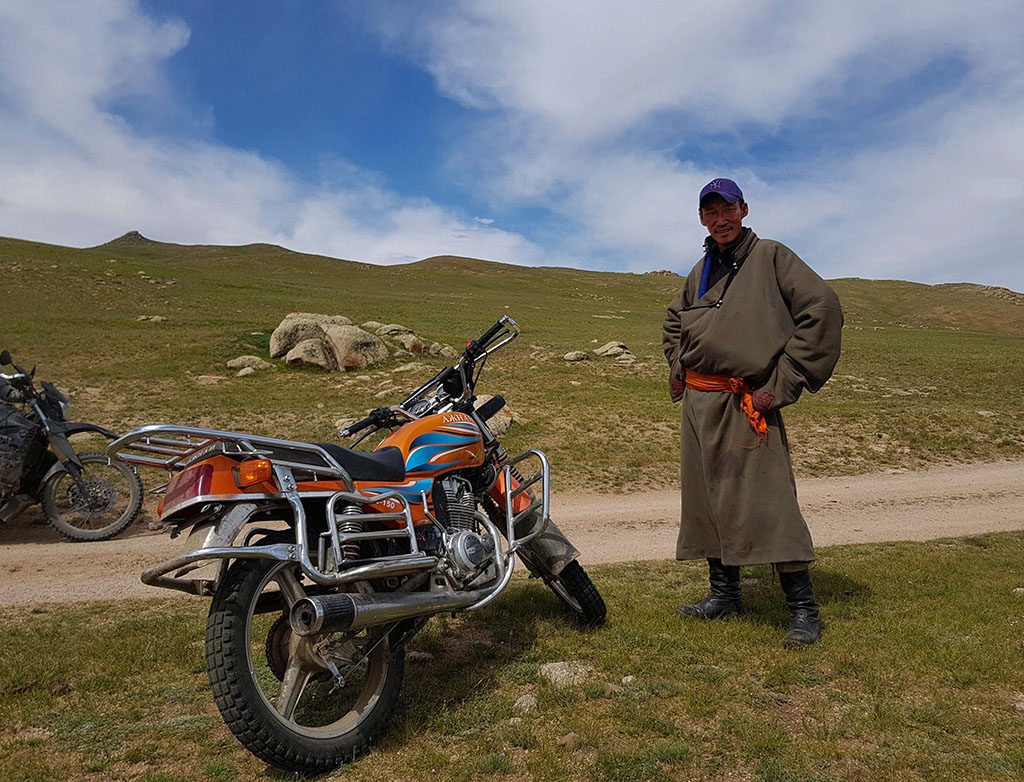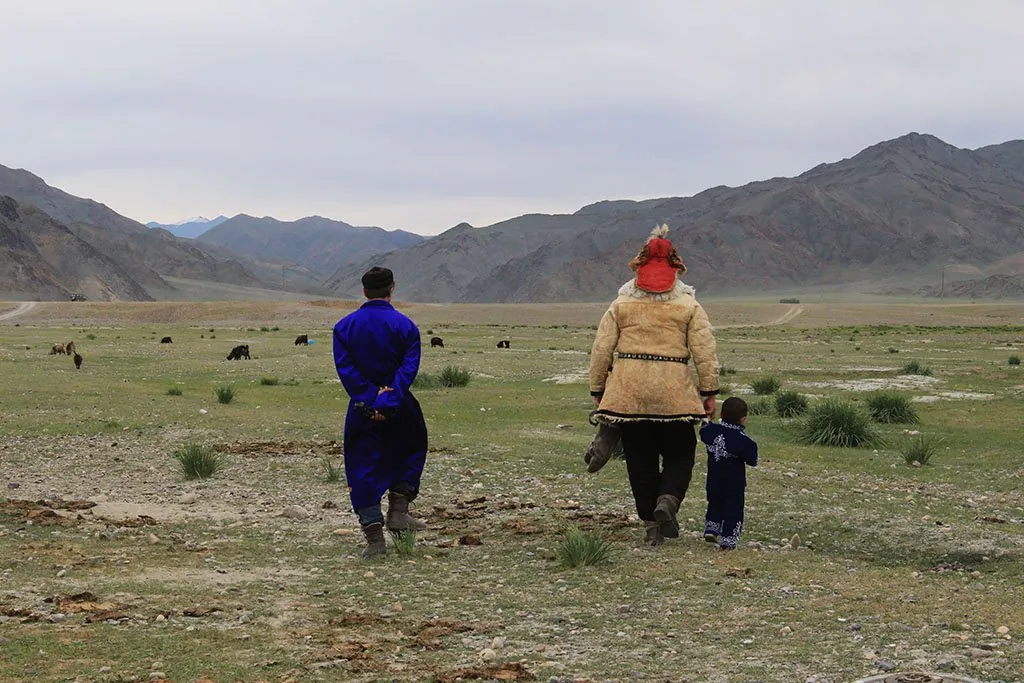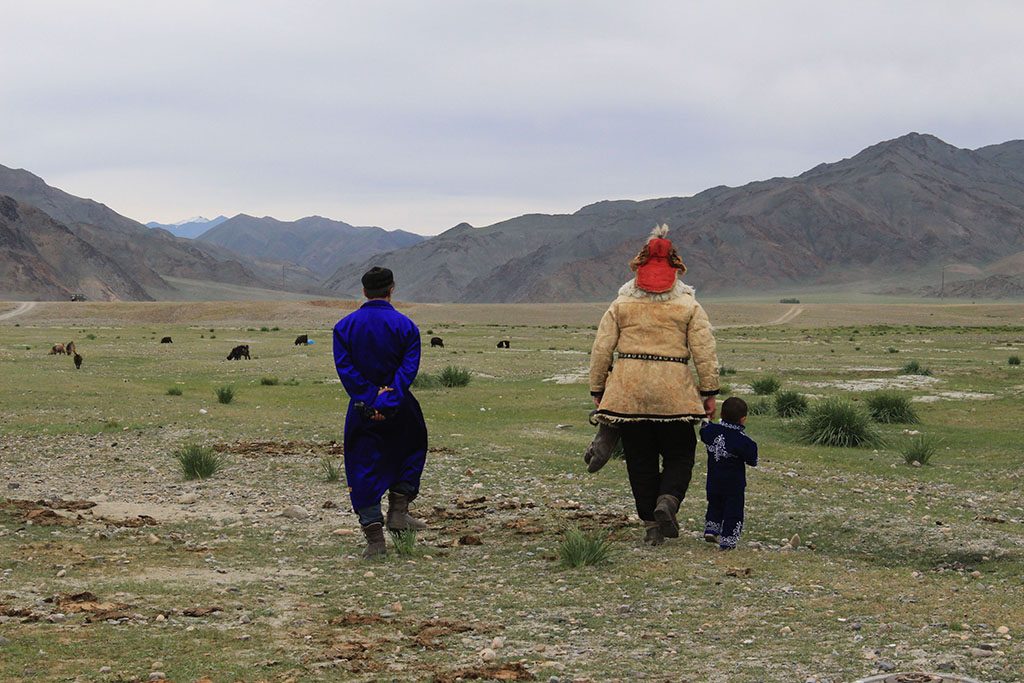 A not so friendly local
There was only one night, in our whole time in Mongolia, where we had a tricky situation. We were woken late at night by a man who insisted we were not allowed to camp there because it was a national park. Fair enough – it was a national park, but we didn't realise, it was late, dark and to get to where we were took some seriously tough off-roading. We explained that we didn't want to leave, it would be dangerous and we'll go at first light. He wasn't happy and a dozen of his mates turned up. The man became more agitated and aggressive pulling at our tent. In a deserted part of a national park, in the pitch black we made the decision to leave, or risk it turning sour. We packed up in the dark and rode a treacherous off-road route back to the main road through knee deep mud pools and slippery slopes which had the Yamaha going sideways.
But we didn't let that bother us. We were probably in the wrong, and just unlucky that night – picking the one place in an endless moonscape of nothingness that we weren't allowed to camp.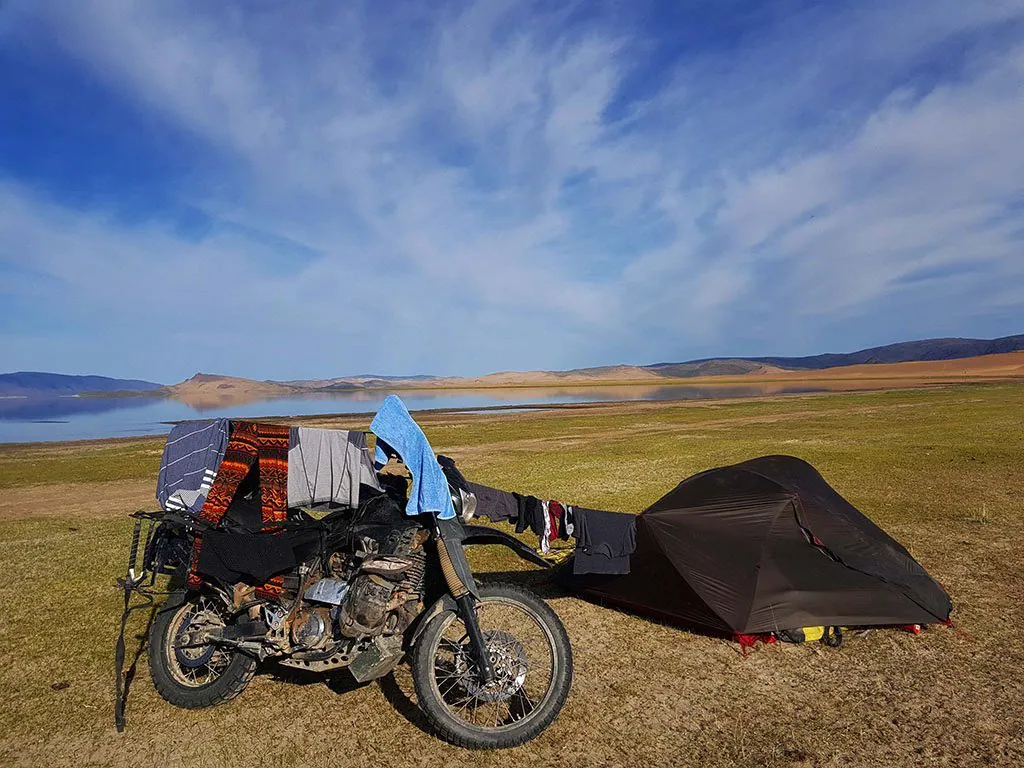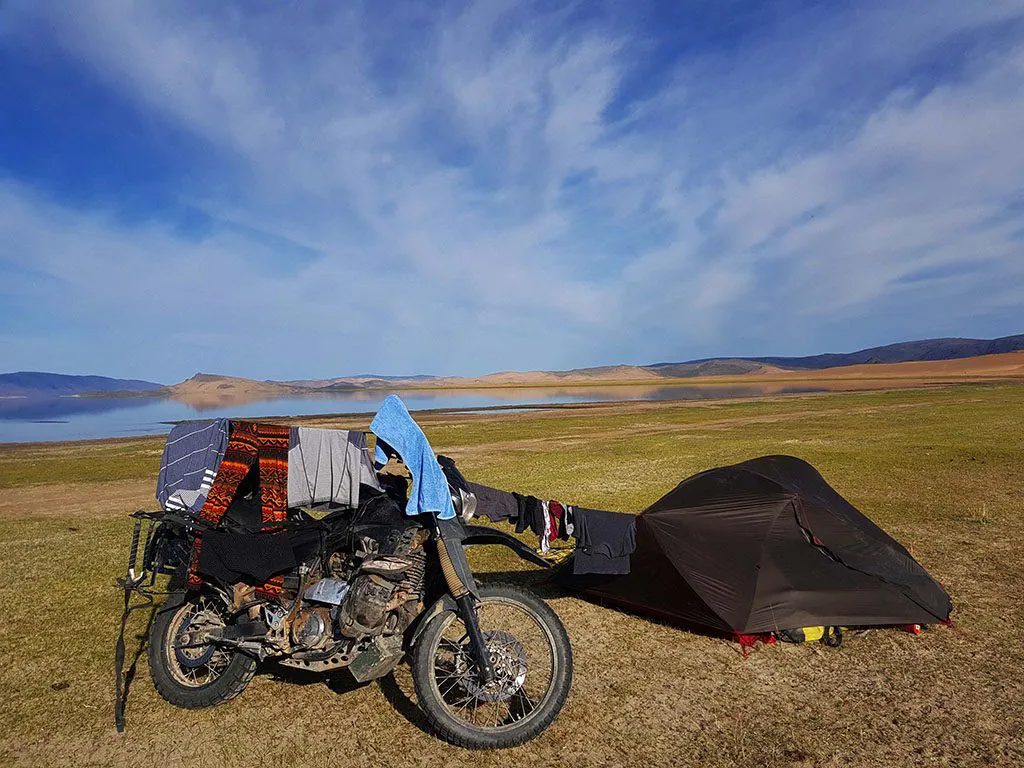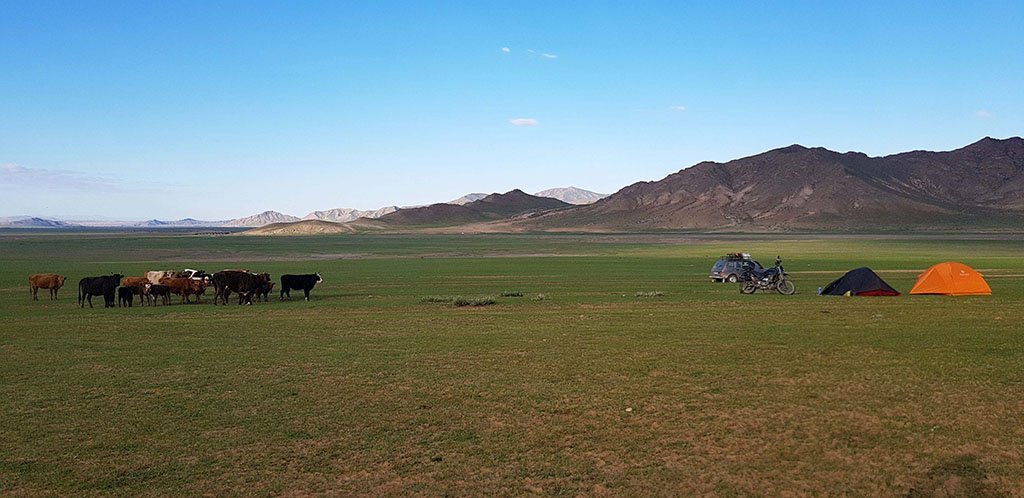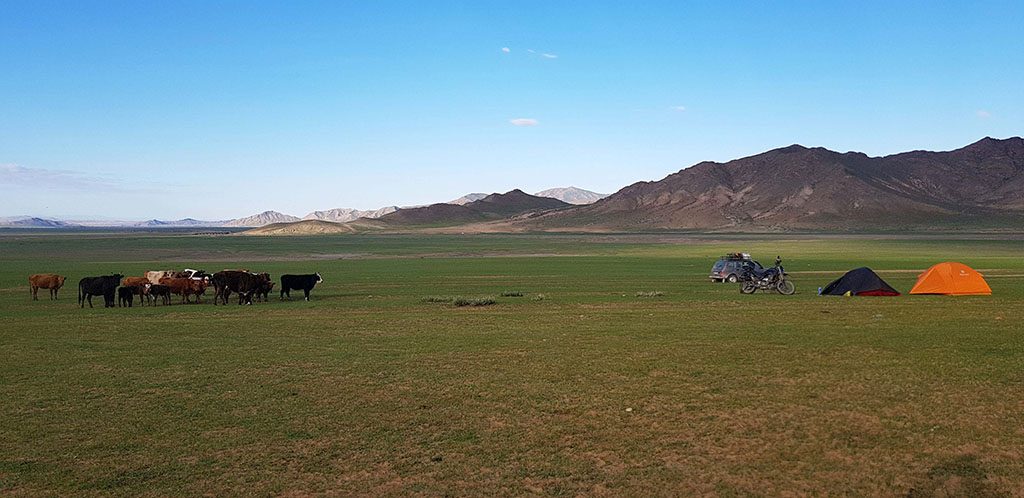 Asia's Wild West
It wasn't only the people who kept us company. It's like an undiscovered frontier, and we're not the only ones making our way through it. Wild camels slowly roam, smiling as we roll past. Herds of horses wonder the pastures searching for water. Eagles soar overhead and vultures circle carcasses and dried up bones – reminding us to stock up on fuel and food in towns. So, we'd slip back into civilization every so often for supplies and showers, and then immediately itch to get back out there.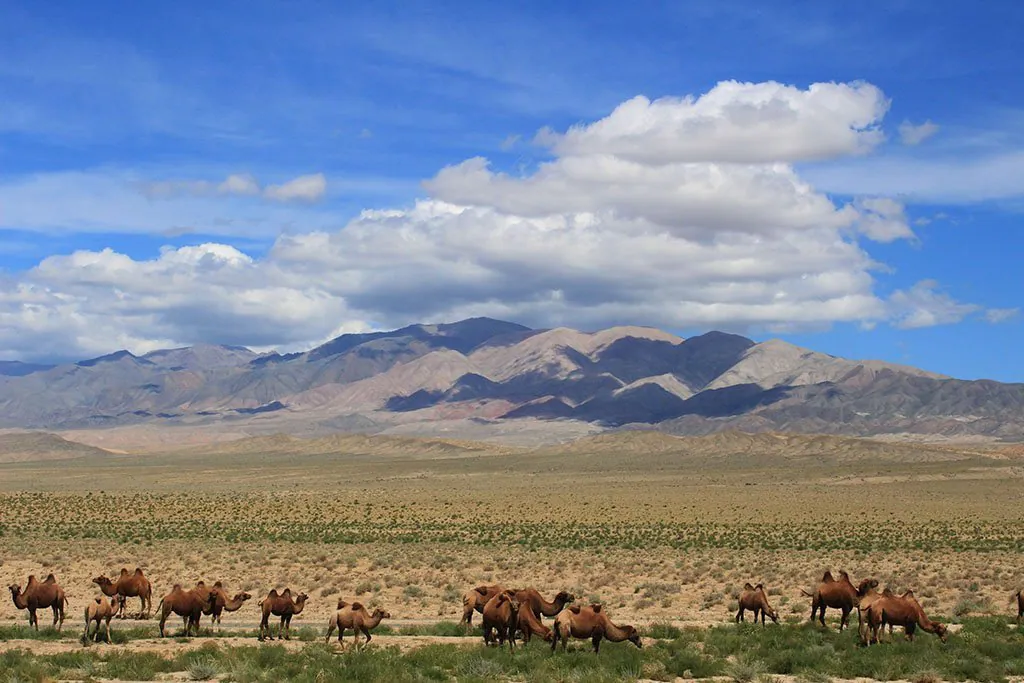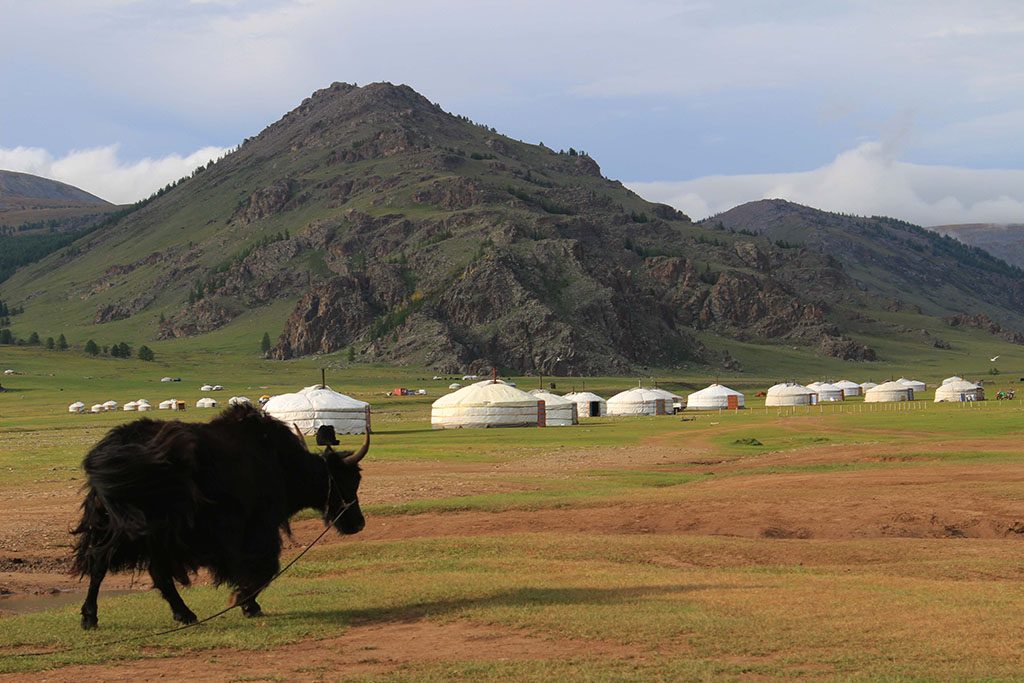 Magic
It was the first time on our trip where we really felt like we were discovering new places. The magic of Mongolia is hard to describe, because it can be whatever you want it to be. Simply, it's an immense emptiness. You can take the primarily asphalt southern route from the Russian border in the west to Ulaanbaatar in the east in about five days. Or you can venture into the country's heart, get lost for weeks and take the roads less travelled by opting for old trails, which run through the country like sandy veins. The trails flit between gooey mud, gravel and rivers, which swallow the road whole, making it as hard or as easy as you want it to be. And that was perfect for us.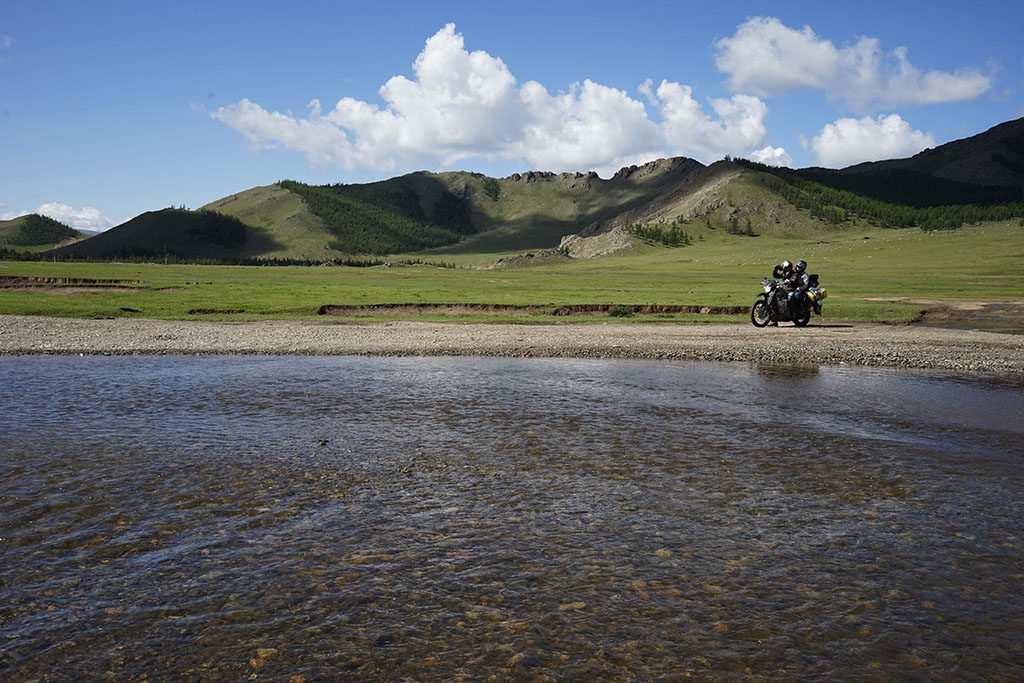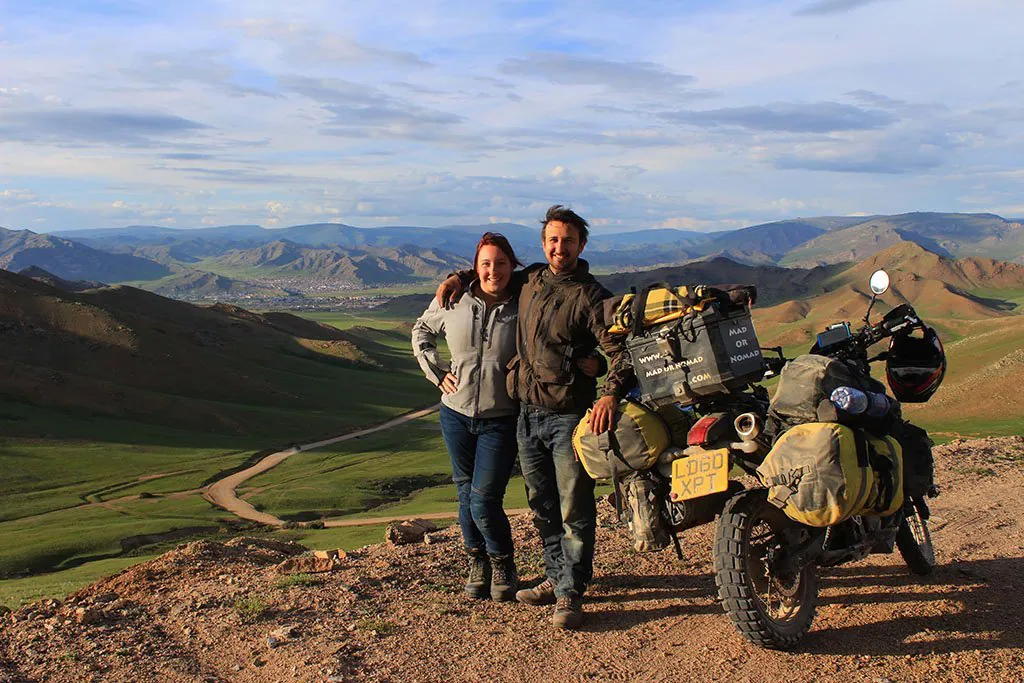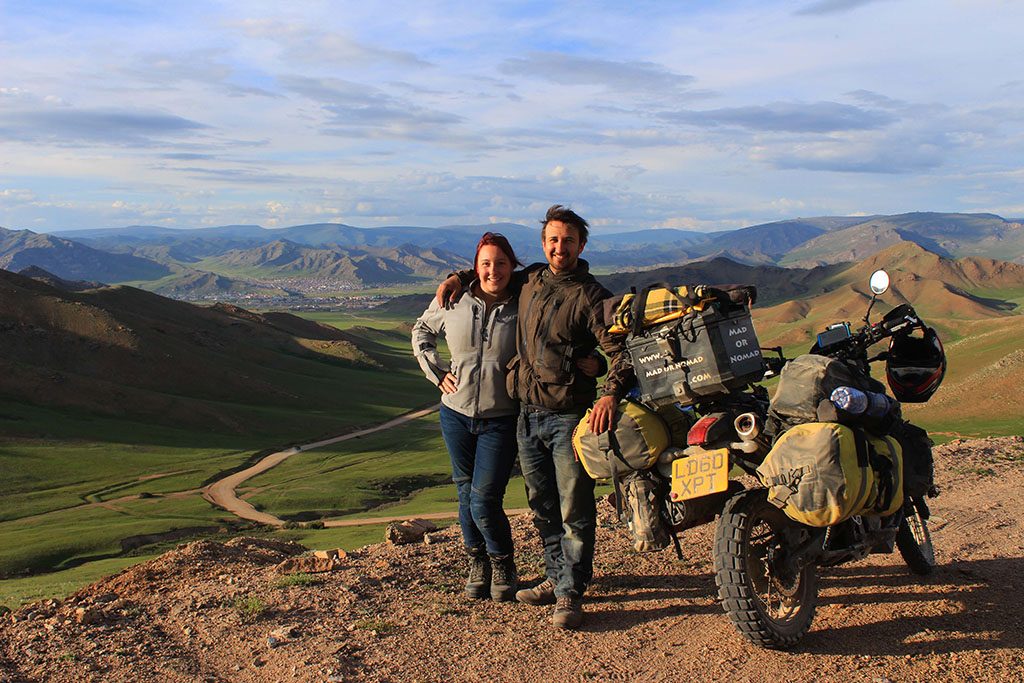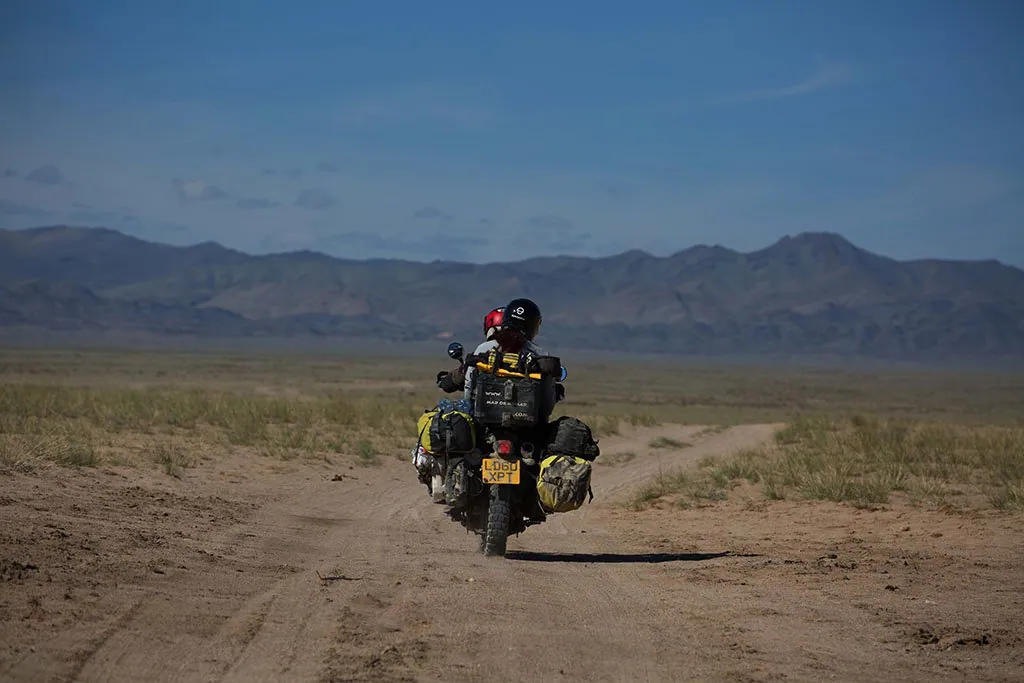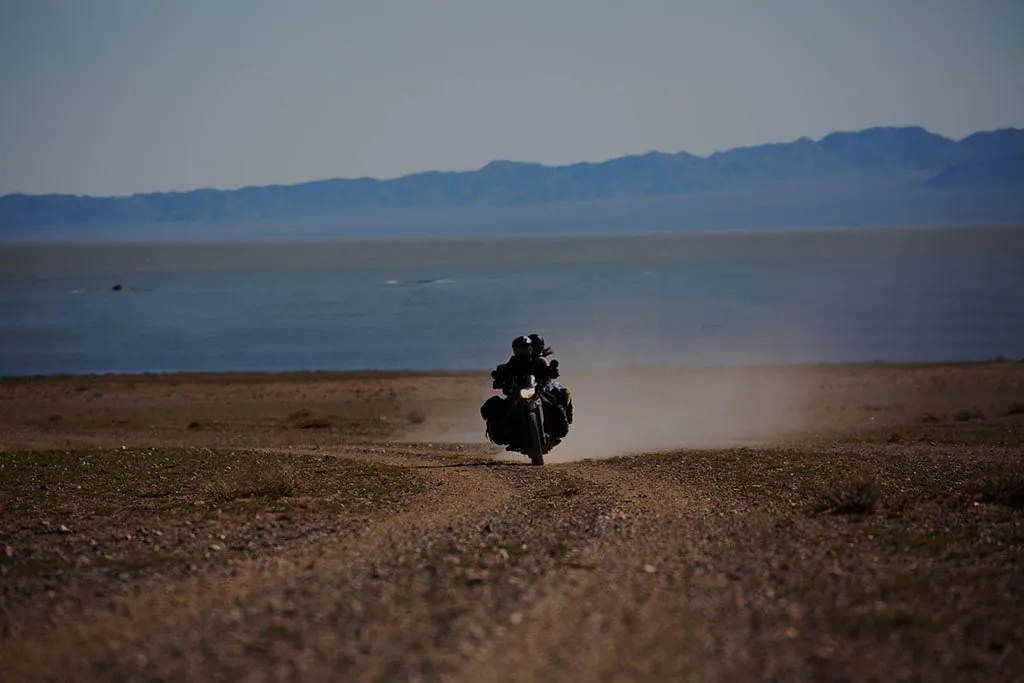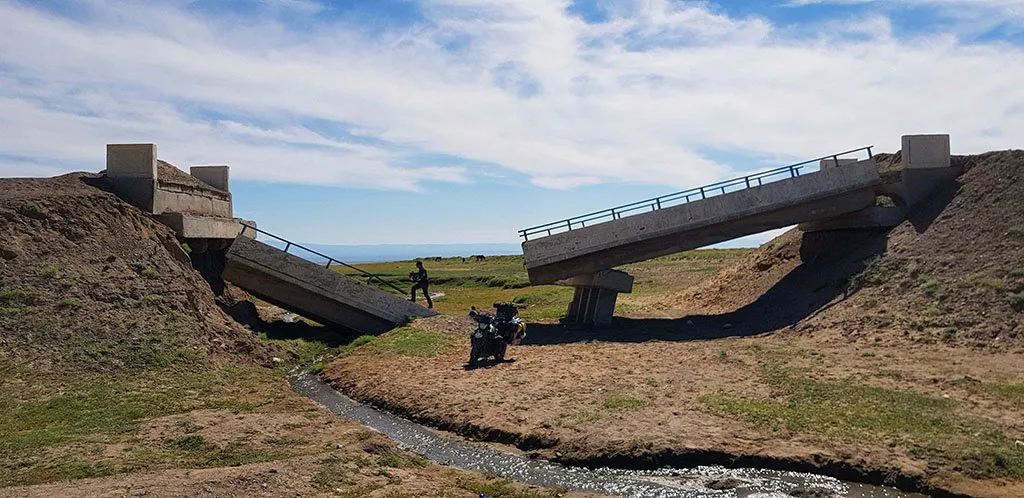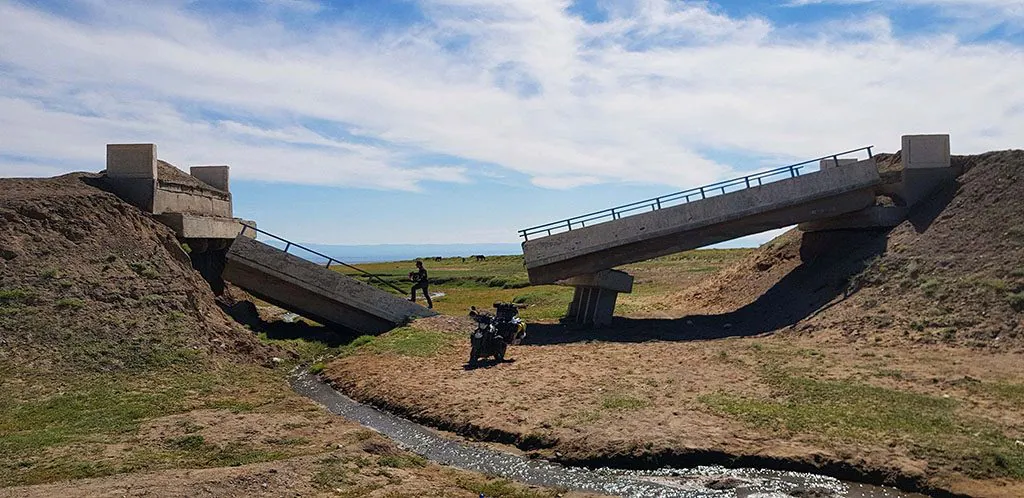 The Gobi Desert
We could explore the heart of Mongolia and take our time to ride the road less travelled, which we both loved and hated at the same time. But we didn't feel like we really got what we wanted until we finally reached the glistening Gobi Desert – something we'd dreamed about seeing for years.
After hours of crashing through dried up river beds, sliding in deep sandy trails and bogging in mucky swamps, we made it to the foot. Transfixed on the towering dunes we climbed to the top and sat staring into the emptiness. As we gazed at the sand sea, we wondered what was next. Again, thousands of trails wiggled their way across the land. We picked one, which we hoped headed north towards Russia, and followed it until it disappeared over the horizon…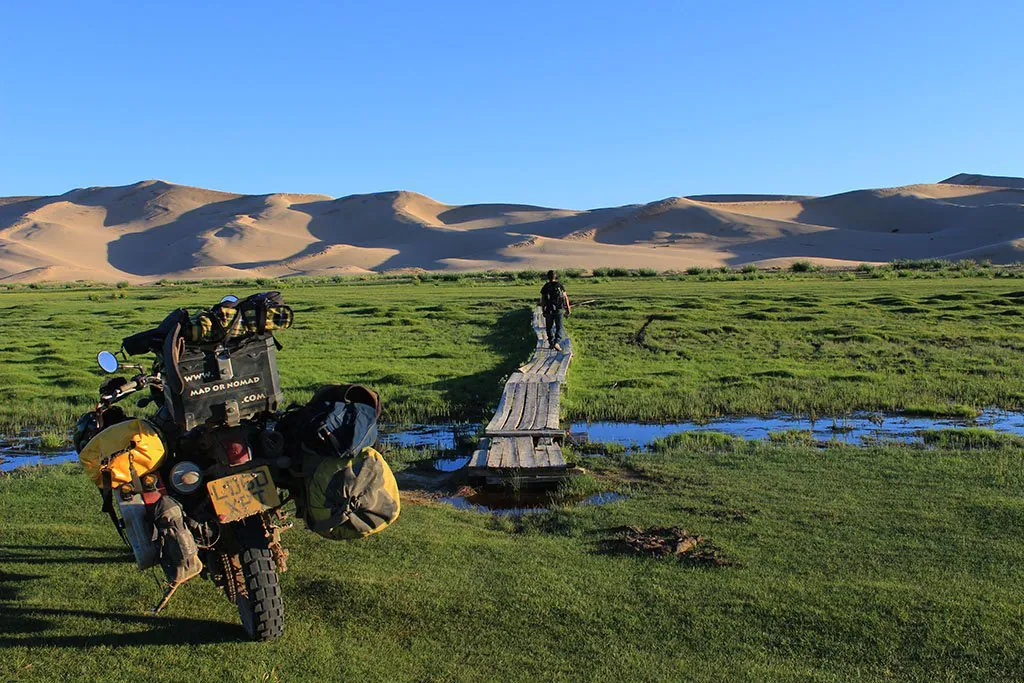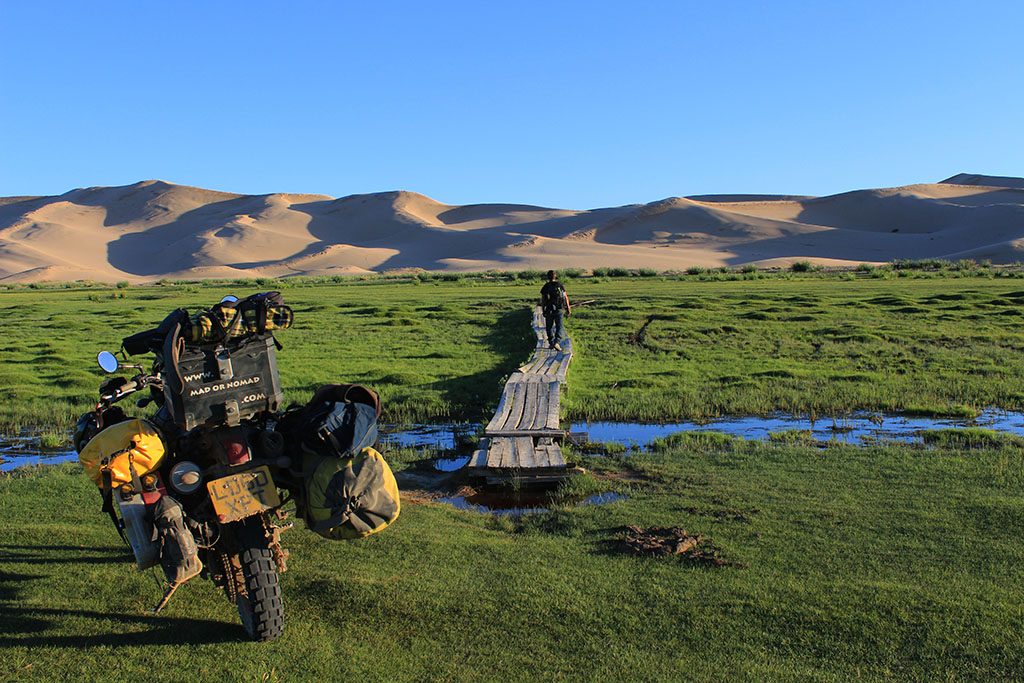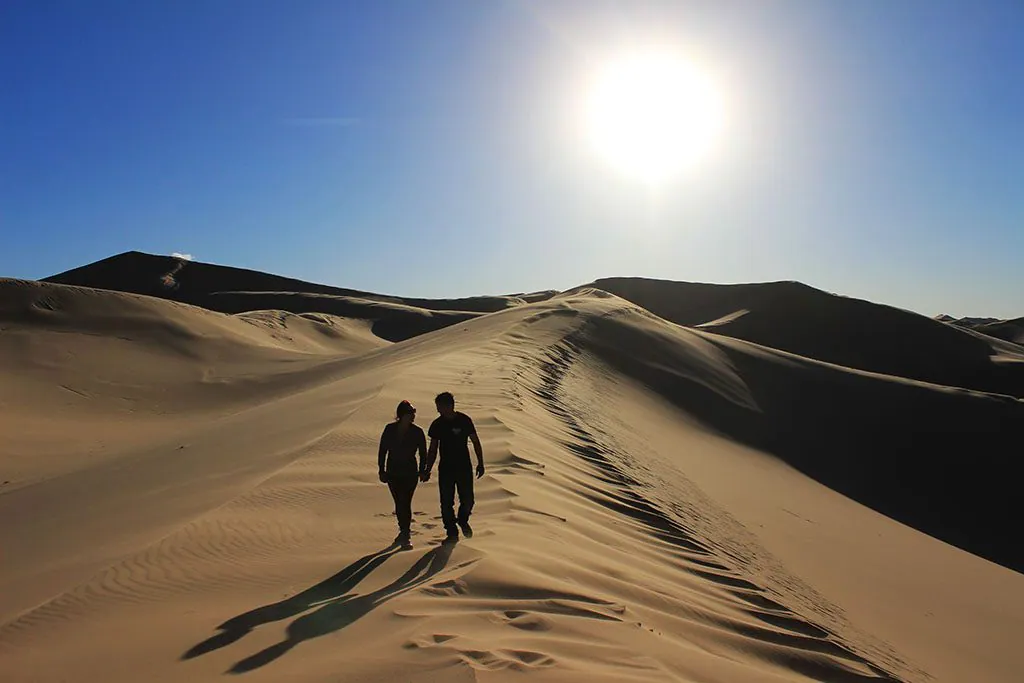 With thanks to
We weren't always alone in Mongolia, and as always, it's the people you meet that have the biggest impact when travelling.
Thomas and Veronica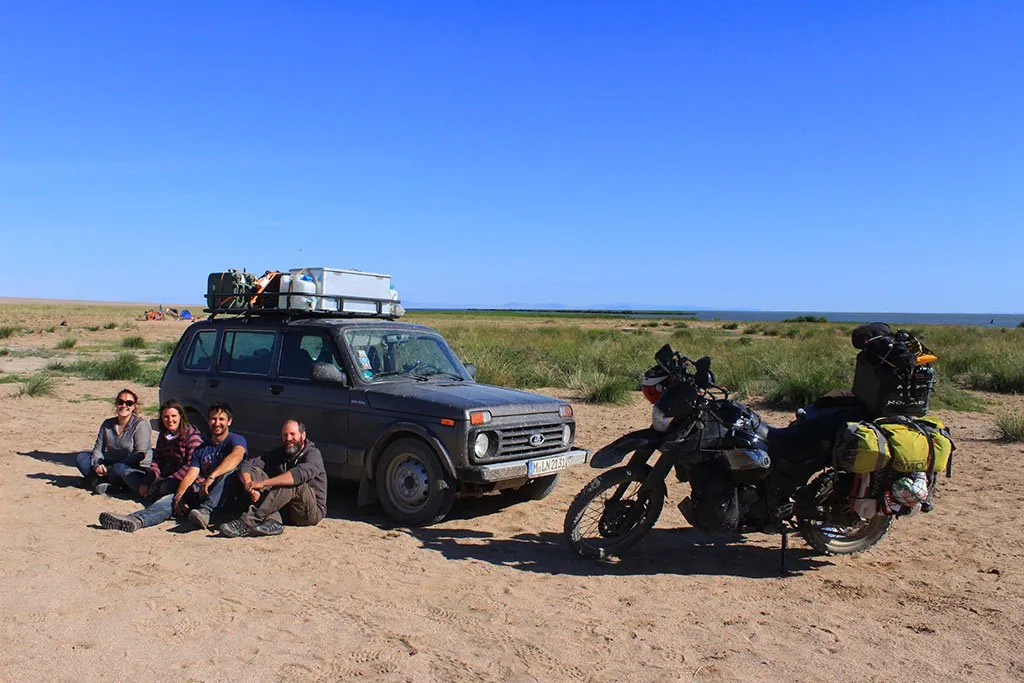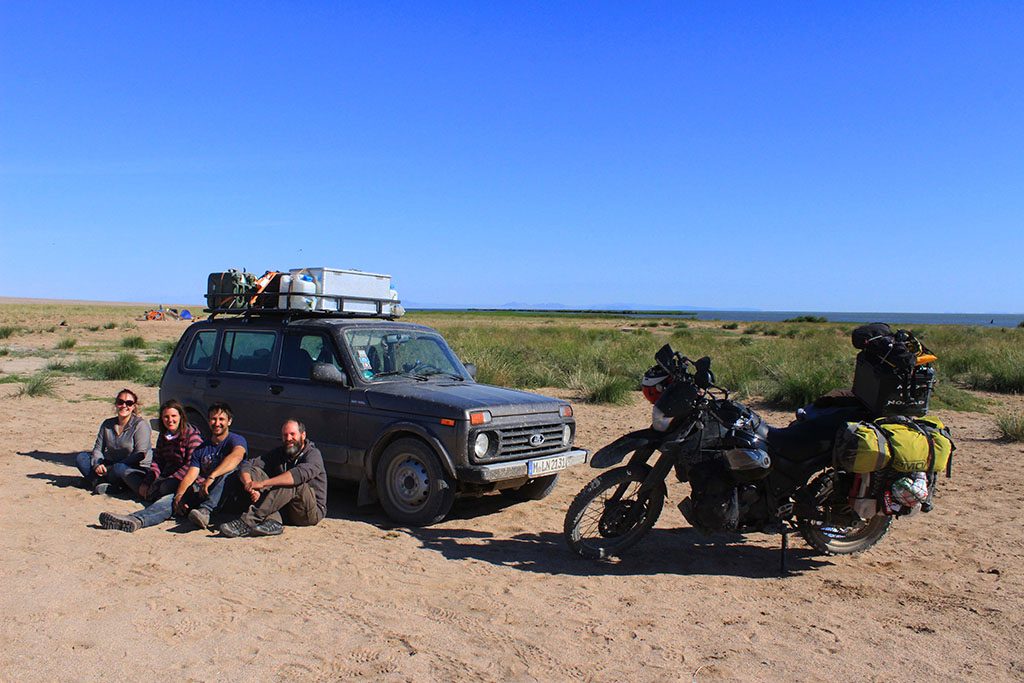 On our second day in Mongolia, in the town of Ulgii. We met Thomas and Veronica, two overlanders who had driven their Lada Niva from Germany to Mongolia (we first saw them as we rode past them on a motorway in Kazakhstan, beeping and waving). Together we went in search of an eagle hunter, who we heard lived in a remote village not far from the town. It was an amazing experience, asking old ladies in yurts if they heard of an eagle hunter who might live close by. Eventually we found the family yurt, were invited in for tea and food and they showed us their magnificent bird.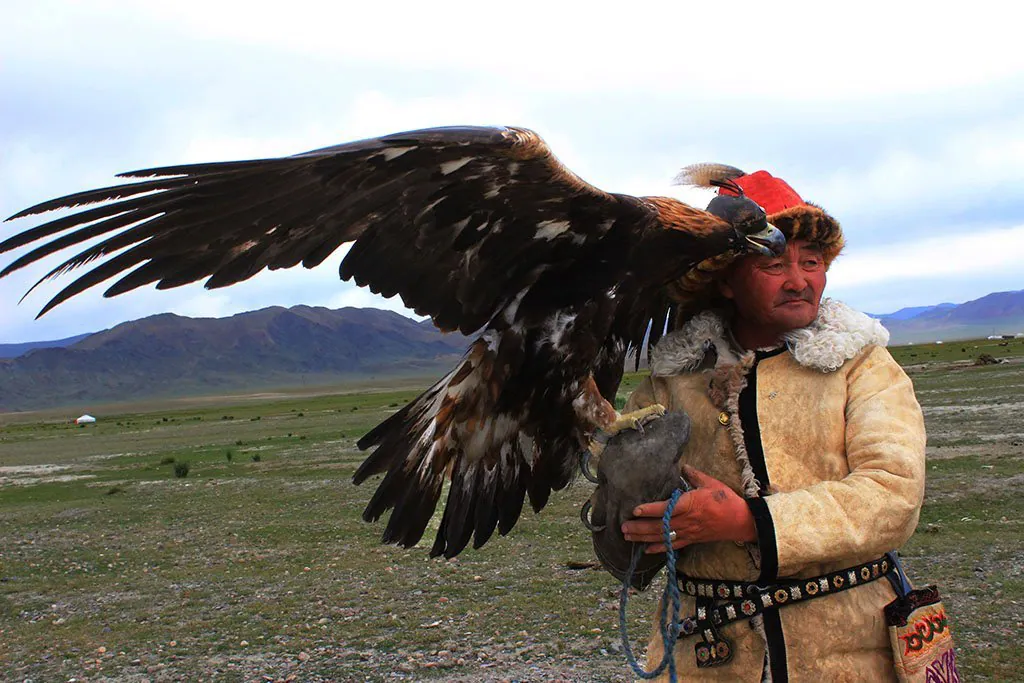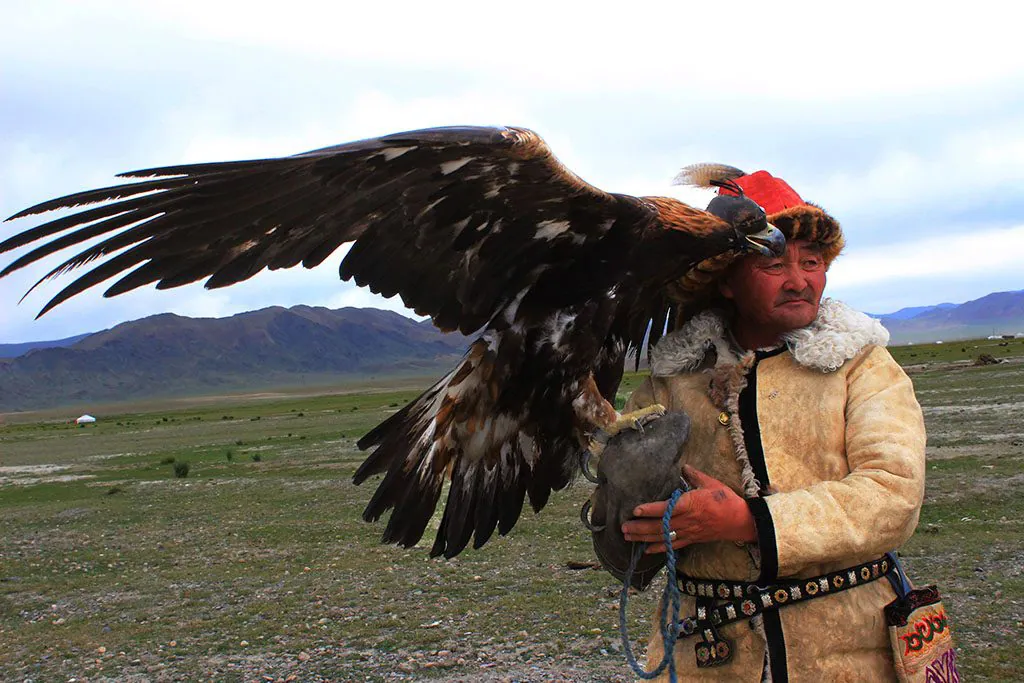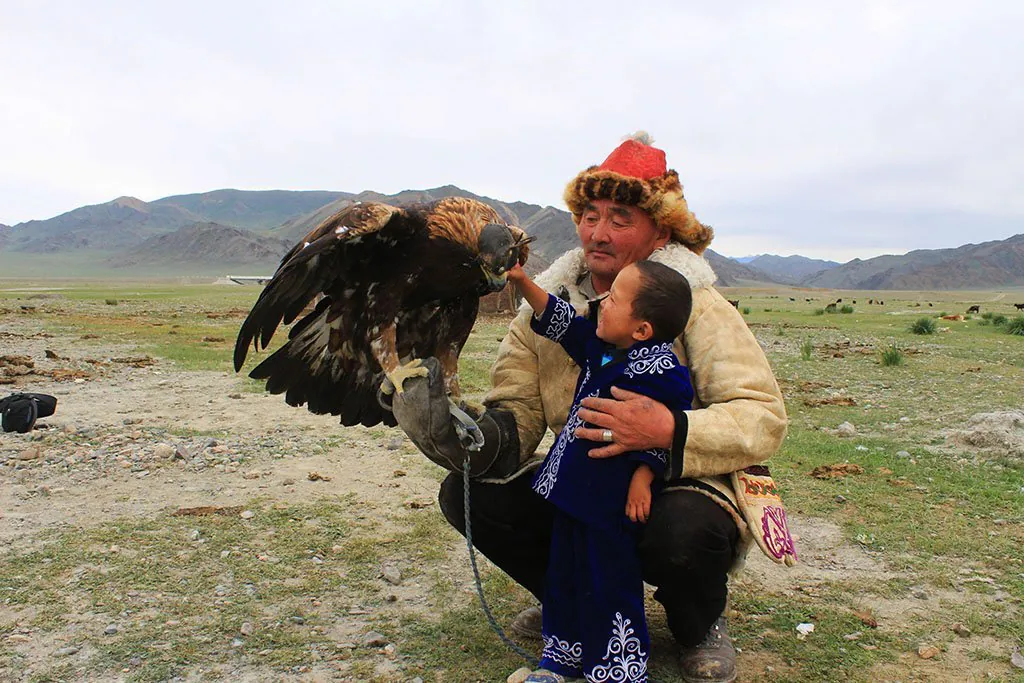 It's not often you meet people when travelling who you can continue to travel with, but Veronica and Thomas are two of the good ones. Funny, kind and brilliant to be around, we got on so well that we arranged our routes together, we'd ride and drive together and plan our days so we met up in the evenings at the same place to camp and cook together. Thomas and Andy even swapped vehicles for a day.
We got stuck in muddy swamps together, found hidden caves, explored volcanoes, drove through the plains, camped by magical lakes, discovered new places and forgotten routes, shared yurts and sipped beers in boiling hot springs after a hard day's ride. They made Mongolia even more special for us.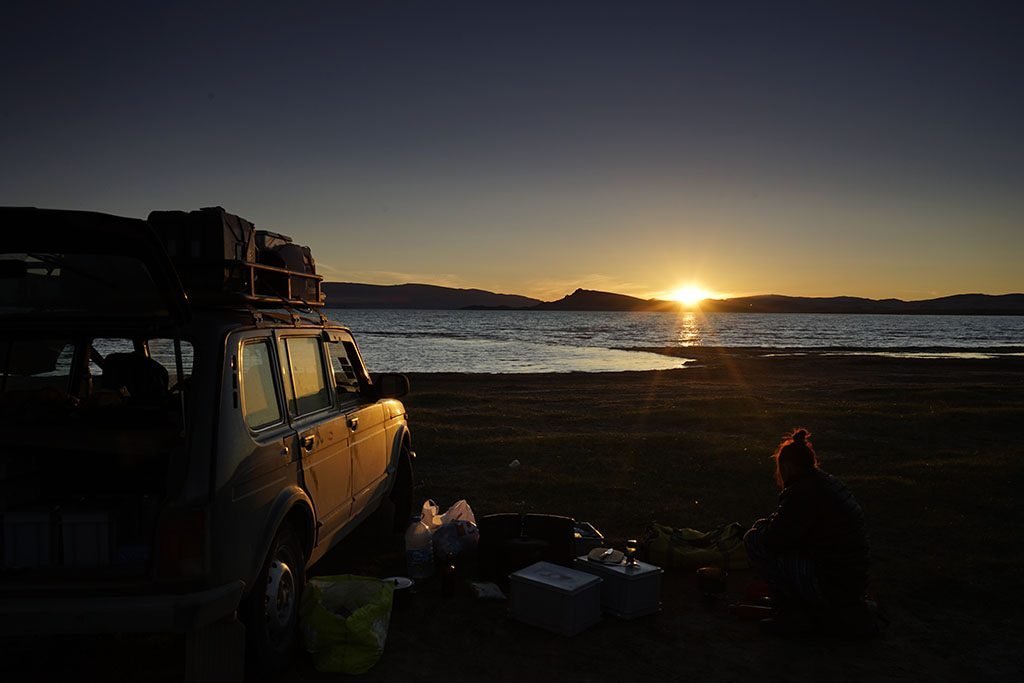 You can check out their amazing photography and story here http://twokrautsinalada.com/
Emmanuel Tissot
Emmanuel Tissot is a Frenchman who we first met at the Mongolian embassy in Kazakhstan, then again at the Russian embassy in Kazakhstan and again at the Russian embassy in Mongolia, as well as about four times in the middle of nowhere in Mongolia including in the desert! We couldn't believe it when we saw his bike coming towards us in the distance. Emmanuel even tried to keep the Russian embassy open for us as we battled through the worst city traffic we've ever seen in Ulaanbaatar. We were riding back from the Gobi and the rain was torrential in the city centre. UB's roads don't seem to have gullies and the water collects in huge, deep puddles, as Andy put his foot down at traffic lights water would come up to his shins.
Emmanuel teamed up with Bart in Mongolia, a cool Belgian dude who we later took the ferry with to Japan. We crossed paths several times with them in Mongolia, and somehow, we were always going in the opposite direction.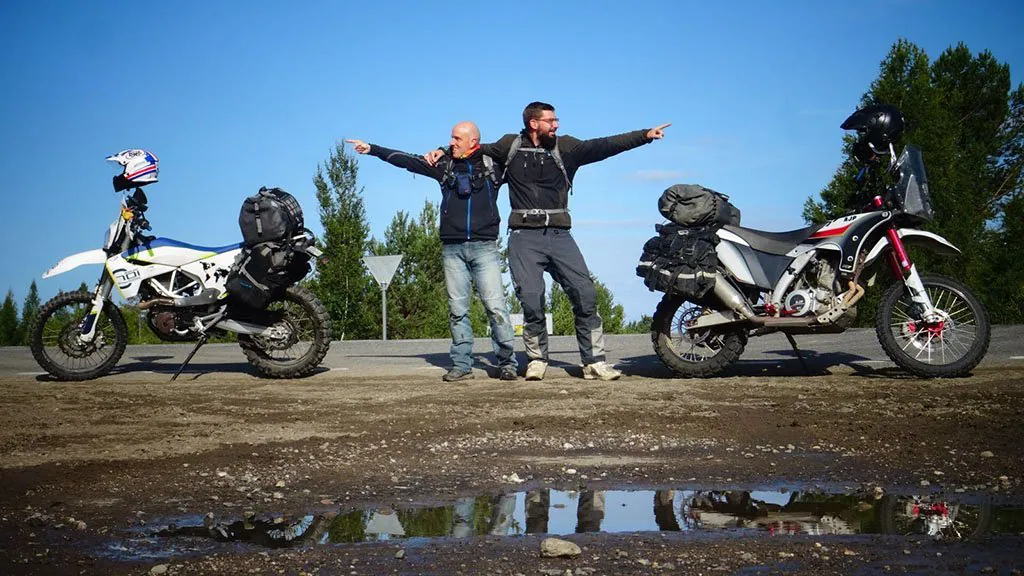 Pol Ribes Pleguezuelo
Pol is a crazy cyclist from Spain, who we first met in Uzbekistan, cycling with his friend Ped from the UK. Pol rode to Mongolia but through China while we went north through the Stans. It's one thing riding on two wheels across these countries, but it's another thing doing it on two wheels without an engine. This guy is hardcore with calves of steel! And we're in complete admiration of him. Imagine how tough it must have been!
We decided to make it a race from Uzbekistan to Mongolia because we kept bumping into him and somehow he was always in front. First one to Ulaanbaatar gets a bottle of vodka. Cheers for the drink Pol!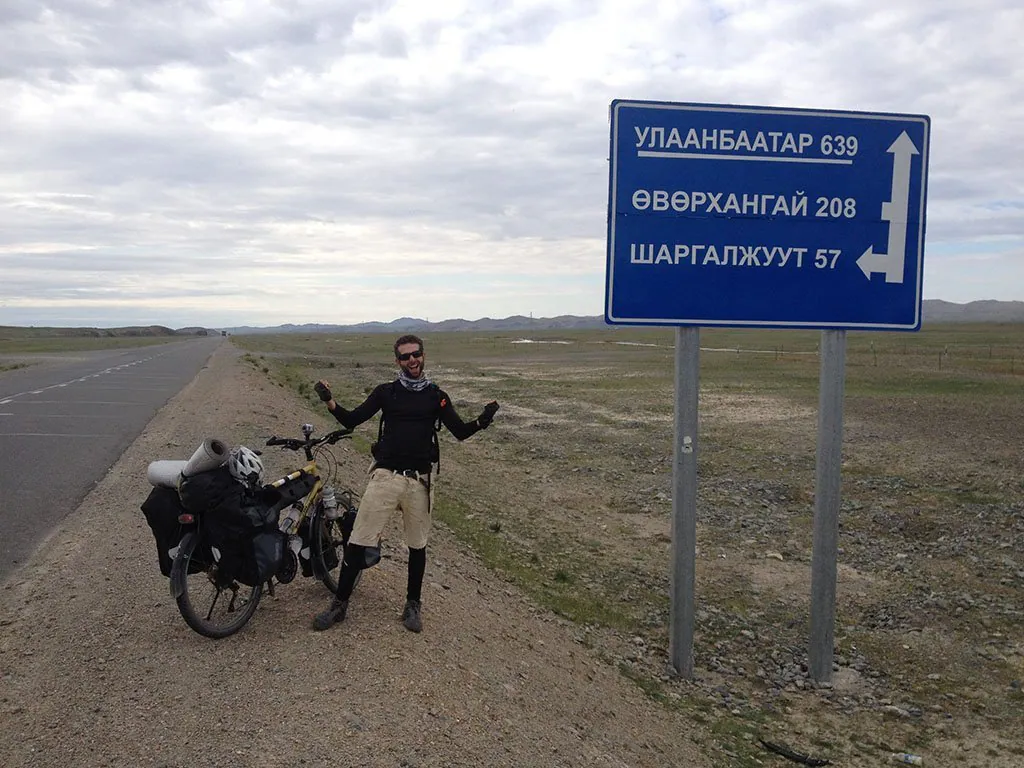 Mongol Rally
We met plenty of people on the Mongol Rally too. A British event where hundreds of participants buy unsuitable cars and drive from the UK to Mongolia and then up to the finish line in Ulan Ude, Russia with no designated route or timeframe. It's an event we always wanted to do but never got round to. But now, meeting participants and seeing them dash through Mongolia on the primarily asphalt road southern route in five days, we're glad we didn't do it as we would have missed everything we loved about Mongolia. But the guys we met were nuts and having the best time, and that's what counts.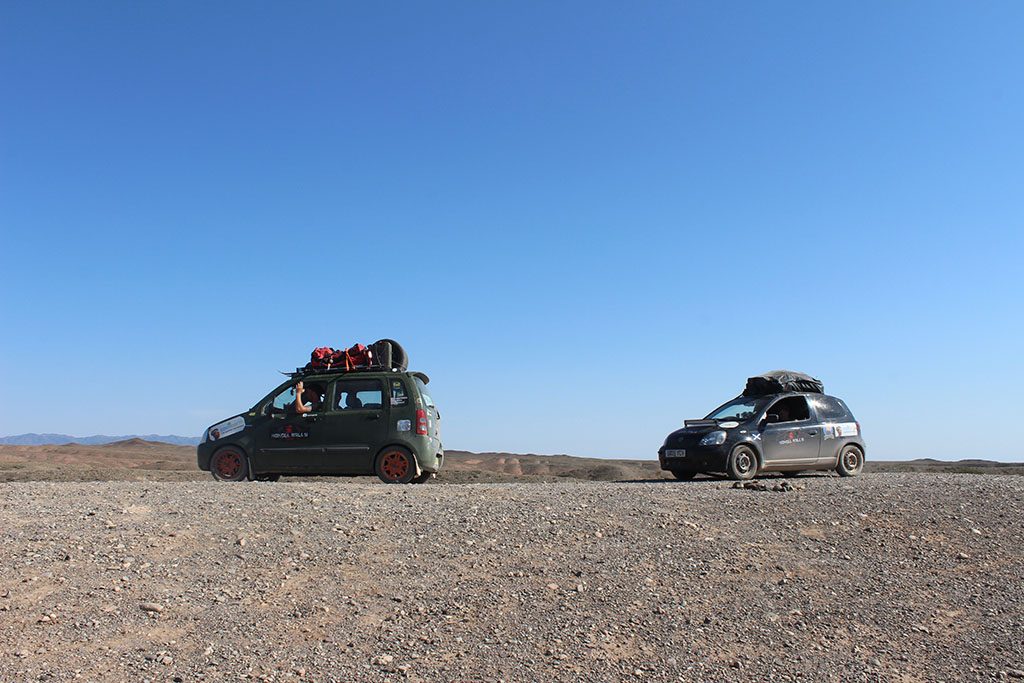 Ghengis Khan
So, Genghis isn't exactly our mate, but it'd be so wrong to not talk about this guy. Throughout our time in Mongolia, we couldn't help but ponder what it once was.
The Mongol Empire was the largest empire in history, thanks to Mr Genghis Khan. He unified the nomadic tribes of Mongolia and became ruler of Mongols. His empire accounted for a quarter of the world's population. It's said that 40 million people were killed under his rule, reducing the world's population at the time by 11% and today 16 million people can trace their genetics back to him.
He developed the first international postal system, was religiously tolerant (not common at the time) employed enemies into his ranks (also unheard of) ensured women had high positions of power (also unheard of at the time), ushered in the Pax Mongolia (a time of peace, cultural and economic prosperity in Mongol controlled territories) took control of and supported the Silk Road (the start of modern globalisation), boosting trade between east and west and his empire was responsible for 15 million square kilometres and over 100 million people.
Genocidal maniac or brilliant strategist, you decide.
What's weird to us though, is that this empty land we're riding through once belonged to the greatest emperor and empire the world has ever seen.
Read more on motorcycle travel in Mongolia
Thanks for checking out our motorcycle travel blog for Mongolia. We hope you enjoyed it! Here's a few more articles on motorcycling in Mongolia that we recommend you read next. 
Liked that? Try these next…
If you enjoyed this Mongolia motorcycle travel blog or have any questions, please post your comments below. We'd love to hear from you.