Adventure motorcycle clothing is big business. There are hundreds of brands out there and a complex world of adventure bike riding gear to choose from, making it hard to know what you do and don't need. If you're getting suited up for a big trip, have a read of this first…
Choosing the Right Adventure Bike Clothing
Forget the catalogues and glossy mags. Sure, the riders look cool in their adventure bike riding gear with sun glistening of their goggles, branded kit drenched in dirt and their KTM's front wheel high in the air as the rear tyre spits dirt.
But that's not long-term motorcycle travel and you don't need top of the range jackets and trousers to go on a motorcycle adventure – no matter how long you're going for. It's seductive marketing and there's plenty of well marketed garments dubbed "Adventure" motorcycle clothing, which are wildly inappropriate for long-term motorcycle travellers. Of course, a lot of that kit is high-quality and good stuff, there's no denying that, but that doesn't mean you need it or that it's right for you. 
So, what do you really need? This guide will help you decide, offer options and provide top tips and advice for picking the right kit for your trip.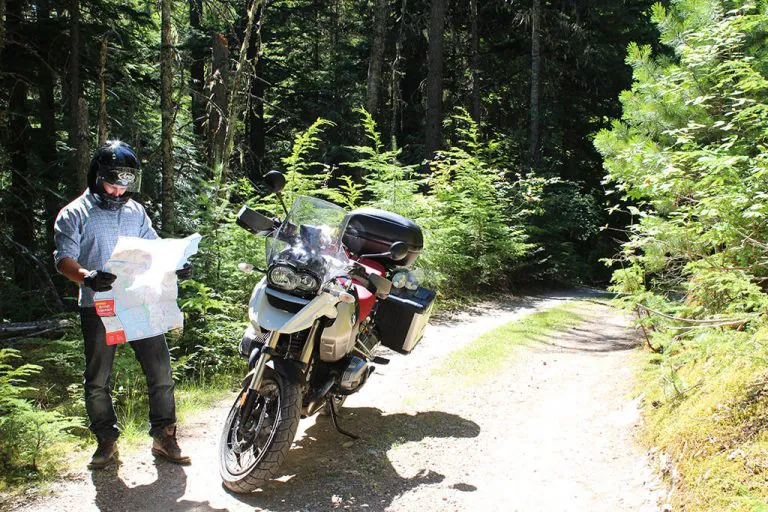 Round the World Motorcycle Riding Gear
Try tapping adventure motorcycle clothing into Google and you'll find an endless sea of super-dooper adventure bike riding gear that's bullet proof, rain proof and nuclear bomb proof… Sounds like you need it, and some people will, but most of it is pretty unnecessary for someone riding round-the-world. Think about where you're heading and the temperatures you'll be facing first, that will help put into perspective the kind of kit you need. 
After 15 years of riding in temperatures ranging from -20C to +48C, I've found the best option is a lightweight jacket and trousers, a pair of military boots and waterproof throwovers. Before you spit out your Cheerios, here's why… 
The reason I opt for that set-up is because of the constantly changing temperature and climate we travel through. It can be freezing cold one month and boiling hot the next. So, it doesn't make sense for us to take Gore-Tex Pro Laminate for example, as we'd swelter in the hot countries and the kit would be unusable. 
If you know you're only going to be riding through South America and it's going to be hot the whole way, then opt for light, mesh kit with plenty of ventilation. If you're planning a ride to Nordkapp and then onto Russia, then Gore-Tex waterproof gear is a must.
But, if you're travelling through multiple climates, keep your kit as light and comfortable as possible. Adapt to the weather by layering over the top or underneath of your adventure motorcycle clothing. When it rains, chuck your throwovers on. When it gets cold, layer up or use a heated jacket. When it gets hot, just use the gear you've got. 
For more info on riding in specific countries, their climates, terrain and paperwork info etc, check out our detailed country guides. And if you're planning a RTW trip, check out our Round the World Guides section.
READ MORE:
Adventure Motorcycle Riding Gear Guide
Now we'll get into the specifics of motorcycle riding gear. This section is broken down into helmets, jacket and trousers, boots, gloves, thermals and extras. We'll discuss the different offerings in each category and their pros and cons before giving examples. After this section you'll find what exactly we use on our round the world trip. 
Check out the adventure riding gear guides section below. It holds all of our top kit lists, buying guides and the best riding gear out there. 
READ MORE: Riding Gear Guides
Adventure Motorcycle Helmets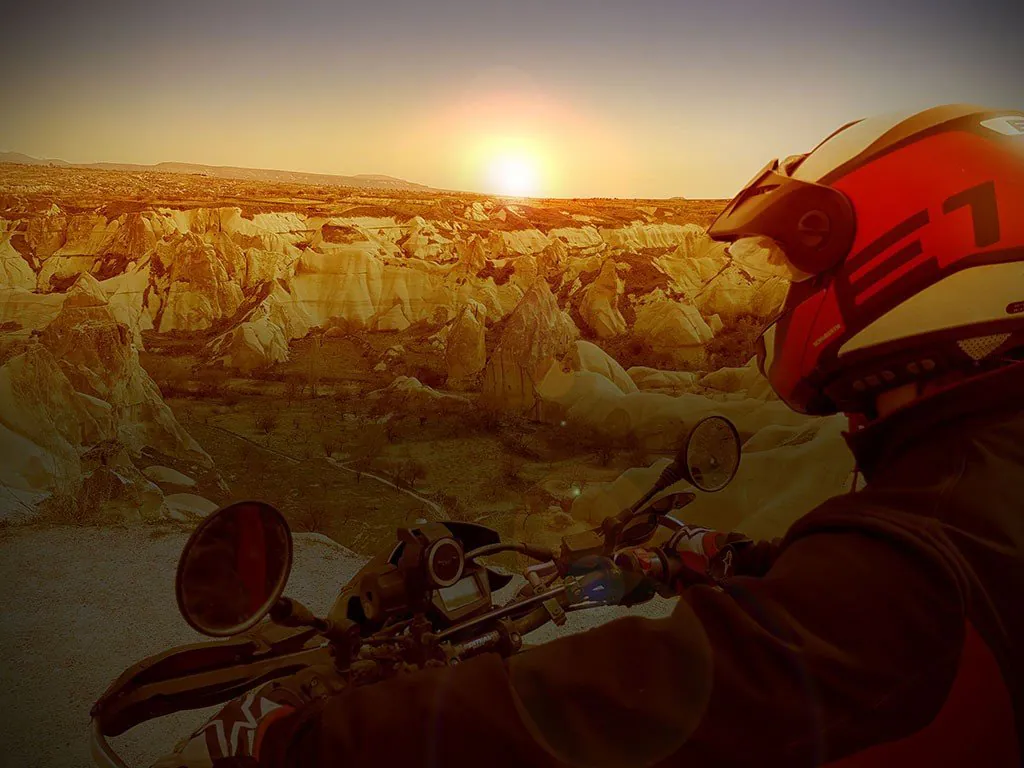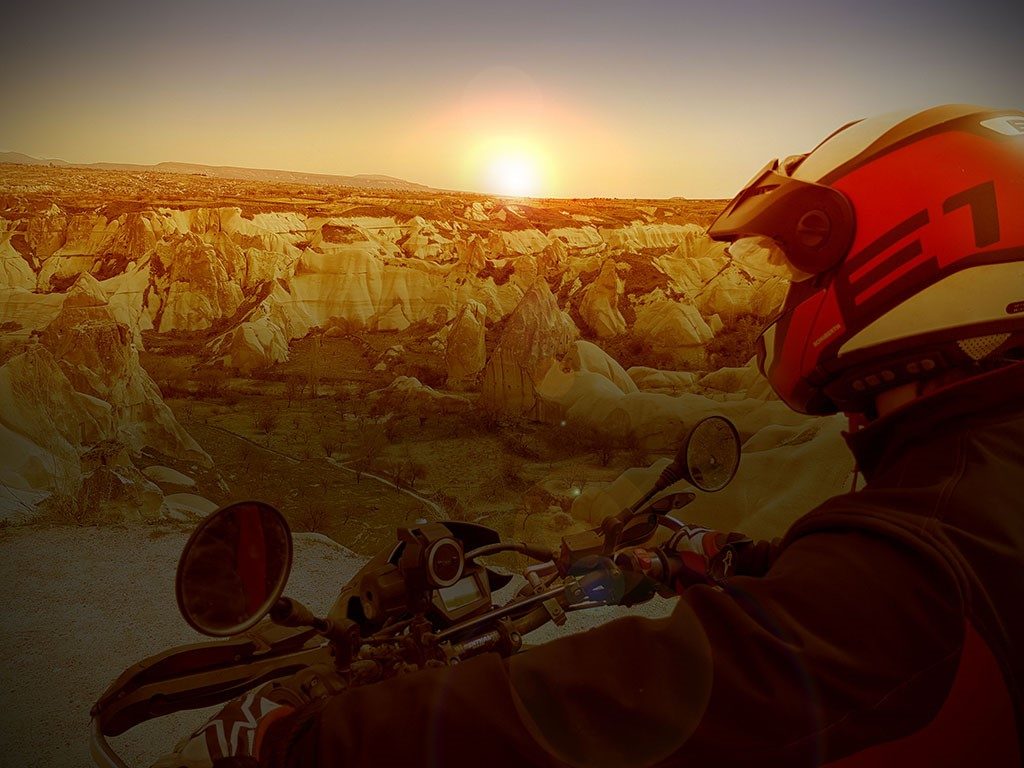 Above all, your helmet needs to be 100% comfortable. If you're buying a new one just for the trip, then test it for at least one-month before setting off. Reading helmet reviews is tricky because what fits someone else might not work on your head shape, so it's worth trying on as many as you can. 
Don't skimp when it comes to buying a helmet, it's the most important bit of kit you'll buy. Your brain is priceless. 
When it comes to looking for lids, you'll be weighing up road, off-road, adventure bike and flip front helmets. Here's an explanation of the pros and cons of each, a few examples and our choice. 
READ MORE:
Touring: Road Helmets 
Road helmets can be worn for travelling. The negative is that they don't usually have as much ventilation as adventure bike helmets, the opening for your eyes is smaller, the mouth piece ventilation is almost always tiny in comparison to an adventure bike helmet, the interior padding isn't made for sweaty rides and they don't come with peaks. Peaks aren't a must, but they're helpful in sunny countries. However, if you're not thinking of riding off-road much, then these are the way to go because they're more aerodynamic and don't have unnecessary extras for off-roading.  
If you're interested in road focused helmets, check out our selection of the best touring lids on the market today. 
READ MORE: The Best Motorcycle Touring Helmets
Off road: Enduro Bike Helmets
Perfect for off-road focused travel. Dirt bike helmets are simply motocross helmets and the lightest lids you can get. They have wide front openings, which take goggles, peaks for protection from the sun and stray stones and let in the most amount of air. The benefit off goggles is that they protect your eyes more than visors and allow more airflow through your helmet. Off-road helmets can vary dramatically in price.
Dual purpose: Adventure Bike Helmets
Adventure bike helmets are specifically made as hybrids between dirt bike and street bike lids. They have wider visor openings, more ventilation, often come with removable peaks and can usually take both goggles and visors. 
Check out the below examples of adventure bike helmets. The Arai and Kilm helmets use visors, but the openings are big enough to take goggles. They're both road lids with more vents, peaks and wider openings. These are two of the most popular adventure bike helmets on the market today, with the Arai Tour X4 as the staple classic. 
Our choice: Flip Front/ Modular Adventure Bike Helmets
We recommend Adventure styled flip front helmets and use the Schuberth E1 helmet. I went for this helmet because I used the flip-up Schuberth C3 Pro for years before our trip and the E1 is the dual-sport 'adventure' version. It's one of the quietest flip-fronts on the market, easy to open and close, high protective ratings and very comfortable.
Because it's the 'adventure' version of the street bike focused C3 Pro helmet, there is more ventilation (especially around the mouth area), it comes with a detachable peak and padding more suited to sweaty rides.
And we also use the Schuberth SRC Bluetooth communications system with our helmets, which is basically a replacement collar with a microphone attached. It's brilliant for those who ride with a pillion.
The reason we prefer flip-front helmets is because they make life so much easier when travelling. Pulling over for directions, taking a photo, having a chat, a quick sip of water, a bite to eat, stopping at petrol stations etc. It's just easier and more comfortable for us, but it's personal preference, so go for what works best for you.
There are normal road bike flip-up and adventure bike flip-up helmets. They both have the same pros and cons as detailed above in the road and adventure lid sections. Below are three example flip-ups from the adventure bike segment. These helmets vary hugely in price and specs. Some of the big spec differences that affect the price are how easy the peak is to remove and reattach, integral sun visor, comms ready and, of course, safety ratings. These three represent a good cross-section from this segment. 
Top tips for buying an adventure bike helmet
Is the padding easy to remove and washable?

Does it have decent ventilation, especially at the mouth?

Does it have a handy flick down/up internal sun visor

Is it lightweight? 

Does it have a peak? 

Is it easy to lift the visor with a gloved thumb?

Do you prefer a Double D or clip strap?

Does it come with a fog free and pin lock visor?

Is the visor easy to take off and clean?

Have you checked the safety rating?

Top Tip: Look at all your helmet's colour options. A different colour could mean saving hundreds of pounds. For example, the Schuberth E1 in Gloss Black is £299 but in Matt Black it's £461!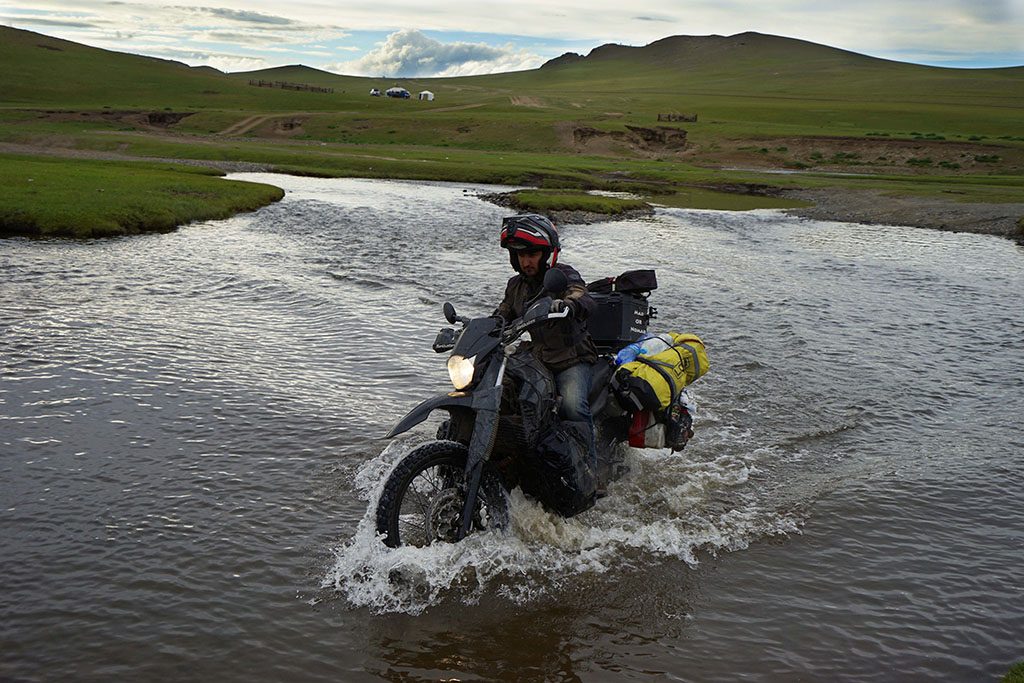 Consider your footwear carefully. If you're going hardcore off-road, opt for either adventure boots or proper off-road boots. But remember, they're uncomfortable for walking and hiking, so you'll need to pack extra footwear for that. 
READ MORE: The 10 BEST Adventure Motorcycle Boots
Top tips for buying adventure bike boots
Ankle Support: Is there ankle support on both the inside and outside of the boot? Your ankle is one of the hardest bones to fix, make sure it's protected.
Waterproof: Nobody likes wet feet, but waterproof boots with thick liners and no breathability can get soggy with sweat too. Rain resistant boots and Seal Skinz waterproof Socks are another alternative. Again, it depends where you're travelling, but for the majority of circumstances, breathable waterproof boots are a good idea.
Shin Protection: Adventure and off-road boots have tougher shin protection because it's far more likely they're going to get a smack when off-roading. The more protection you opt for the less flexible and walkable your boots will be. It's a compromise.
Comfort: Comfort is a very important factor for different reasons. Some motorcycle travellers care more about all day comfort and walking in the boots than about what it's like to ride in. If so, you can go for a lighter style boot with less protection. If you're all about off-roading then this isn't as important, but they'll still need a comfortable sole and to not dig in the shins as you'll be standing on the pegs all day.
Take a look at the below examples. The Richa boots are more road focused, less shin protection and there's not as much hard wearing material, no buckles for keeping your foot strapped in and a softer sole. The TCX Pro boots are proper heavy duty off-road and motocross boots, suitable for hardcore off-road riders. They very uncomfortable to walk in but will keep your feet well protected. The remaining four boots are Adventure motorcycle style boots and a halfway house between the road boot and off-road boot.
Motorcycle Jacket and Trousers
Your adventure riding suit is really important. You'll be wearing your jacket and trousers all day everyday and it's got to do its job perfectly. 
Not only has it got to protect your body from crashes, but also from the elements, keep you both warm, cool and dry, hold your valuables, be comfortable whatever the weather and be able to withstand rough treatment from continuous riding and travelling. So, it's important to choose the right suit for the job. Here's how to pick the right kit…
If you're after some inspiration, we've listed the best adventure and touring jackets on the market today in two easy guides below. And also take a look at our jacket reviews for gear we've worn while riding RTW. 
READ MORE:
Adventure Motorcycle Suits
Motorcycle riding gear and adventure bike clothing comes in three options: waterproof outer shell, waterproof and thermal inner layer, non-waterproof. Let's get into each one.
Waterproof outer shell
These garments are waterproof and shouldn't let water pass through the outer layer. The best of the bunch here is Gore-Tex Pro Laminate, which causes the water to slide off. These garments are best suited for colder weather touring. 
Pro: your jacket and trousers don't feel sodden and heavy after a ride because they won't have retained any water. They're excellent in cold and wet weather.

Con: They almost never have decent or any ventilation, are heavy, very hot and very expensive.
If you are after a laminated waterproof jacket because most of your adventures will be in cold or wet weather, then check out this comprehensive guide:
READ MORE: The Best Waterproof Motorcycle Jackets
Waterproof and thermal inner layer
The 'technical layers' (sales speak for waterproof and thermal liners) is what most people go for. The jacket and trousers themselves aren't waterproof, but they come with a thin waterproof liner that can be buttoned and zipped inside your jacket. Same goes for a thermal layer. Note, not all of these jackets have removable liners, some come with them fixed in.

Pro: If you buy a decent jacket with a decent waterproof liner, it'll keep you dry

Con: You have to take your jacket off and zip the liner inside if it starts raining. If it buckets it down, then your outer jacket will soak up all of the water and be heavy and soaked by the time you stop. Unless the waterproofing in your pockets is excellent, everything will get wet in there. The liners are always sweaty and horrible to ride in if it's not raining. 
Non waterproof
These are simply jackets and trousers that don't have any waterproofing properties. Or, garments which come with inner layers but you just choose to not use them. This is what we do.  If you go down this route, then you'll need waterproof throwovers. 
Pro: You can wear inexpensive lightweight, breathable jackets and trousers without worrying about the climate. If it rains, use your throwover and your kit won't be soaked at the end of the ride. If it gets cold, shove a fleece or down jacket on underneath.  
Con: It is a faff having to stop the bike to put on a waterproof outer layer, but it's less of a faff  than zipping a liner inside your jacket or using a heavy winter suit. It also means that you have a rain jacket for walking about it when off the bike, as you can't really wear a jacket's waterproof liner on it's own. 
Your options
Take a look at the below three examples. The Oxford jacket comes with a removable liner, which you can discard. It has plenty of vents and pockets and is much cheaper than its competitors. The Rev'it Sand also has removable liners. 
For the higher price tag, you're paying for a higher quality garment and probably better waterproof liners. But that's your call. And finally, the Rukka Armaxis is a brilliant jacket (used it for 3 years) for cold weather riding and touring. Rain literally slides away like water off a duck's back. But there's zero ventilation and if you try riding anywhere warm in it, you'll overheat in seconds. 
Top tips for buying an adventure bike suit
Ventilation. Your garments need to be well ventilated on the chest and back. If there are vents on the arms and pits then all the better. Check that the vent zips are sturdy and won't snap as you'll be using them often.
Protection. For some reason, manufacturers have started selling jackets without back protectors and using cheap foam inserts instead. Make sure your jacket has a decent back protector. If it comes with a crappy foam thing then chuck that and get a proper insert for it. You will also want elbow and knee protection and for it all to be CE certified. 
Pockets. All adventure bike suits love a good pocket! You can stuff maps and chocolate and penknives in there, what's not to love? They do come in very handy when you're exchanging money and paperwork at borders and riding all day. Check they're big enough and zipped and have at least one decent waterproof , zipped inside pocket.
Comfort. The suit needs to be completely comfortable and in no way tight. You'll be wearing thermals underneath, maybe even a heated jacket. Make sure it's not tight fitted.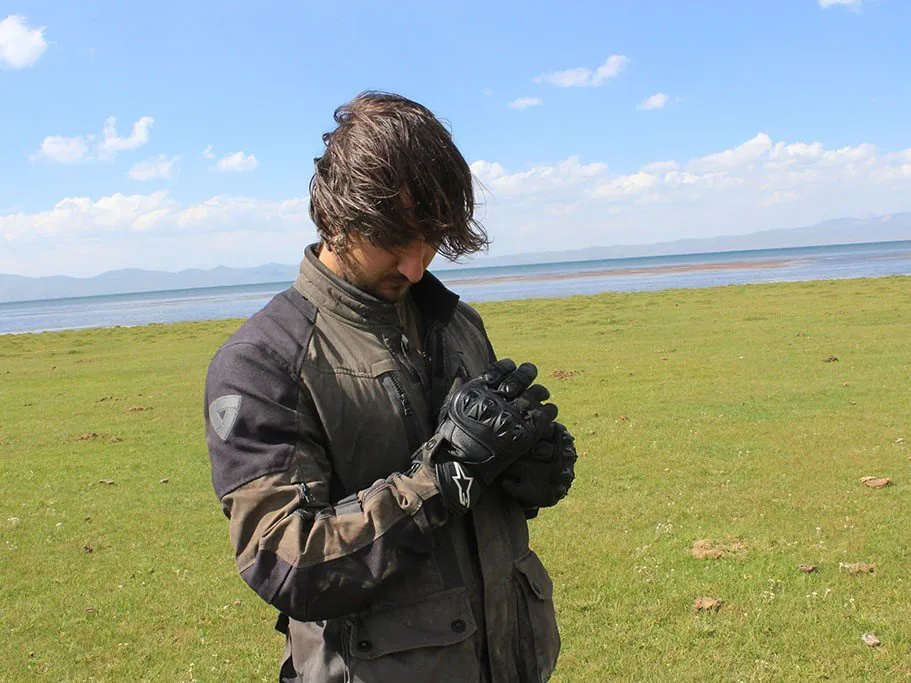 It's a good idea to have a minimum of two gloves, one for cold weather and one for hot. Unless you want to carry a third middle-weight glove, you may as well get a pair that sits at the extreme end of both categories. 
For instance, go for a winter glove with a plush thermal lining and Gore-Tex membrane for cold weather, it's less likely to get sodden and will keep you warm. And choose a lightweight, breathable and flexible glove for summer riding with no waterproofing qualities. 
Top tips for buying bike gloves
Protection. Do your gloves have the bare minimum of knuckle protection?

Touch sensitive. Do you use a sat-nav or GPS? If so, go for a glove that has a touch sensitive fingerprint so you don't need to constantly take your glove off. 

Material. Don't go for leather summer gloves! Your summer gloves should be mesh and stretchy with decent palm protection as you'll be wearing them when off-roading and gripping the bars tight. 
Take a look at the below three examples. The Dakar gloves are more like motocross gloves, with zero protection. They're super light, mesh and let loads of air through. The Alpinestars are the middleweight, short-cuff gloves that are worth taking if you have the space. And the Richa Carbons sit at the opposite end for those cold rides. It's always worth taking a pair of cold weather gloves and if you're heading somewhere very cold, consider bar muffs too. 
Motorcycle Thermals and Winter Gear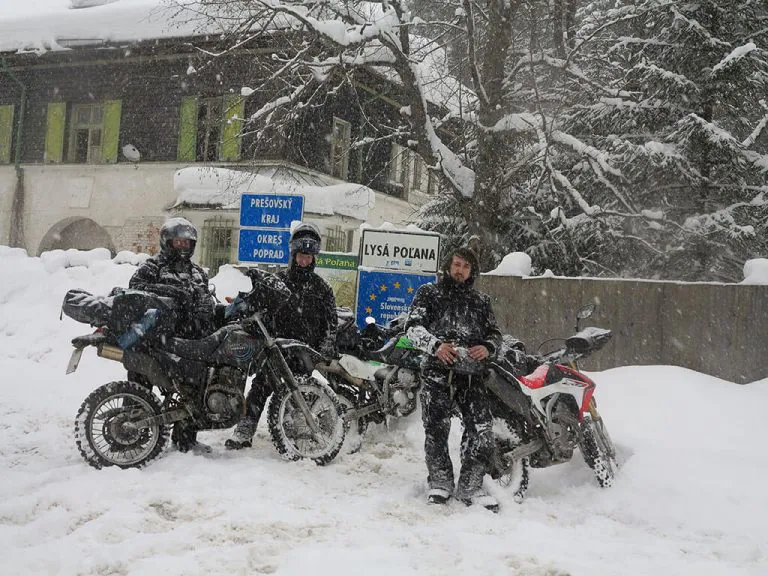 The adage here is wool and synthetics are your friend while cotton is your enemy.
Wool and synthetics help wick moisture away from your skin, dry quicker and don't cling to body odours. Merino wool is especially good at this and well worth the investment. Cotton does the opposite.
Thermals are an option for motorcycle travellers whether you're riding in the sun or through cold climates as they work both ways; keeping you cool in the sun (base layer only) and warm in the cold (base and mid-layer).
If you're going to be riding in seriously cold conditions, then it's worth checking out our dedicated and comprehensive winter riding gear guide. You'll find a lot of information on the different types of layering systems, outer shells and the best cold weather gear out there. 
Cold weather riding with thermals
Consider your layering system when choosing thermals. The general rule of thumb is a skin tight base layer made of merino wool or synthetic. Next up is the mid-layer, this is usually fleeced and warmer. Or you can go for a down lightweight down jacket. Finally, your outer layer is your motorcycle jacket.
It's always better to use multiple layers to trap warm air instead of one big woolly jumper. However, the problem with layering is that it's likely you'll be putting your motorcycle riding gear on in a warm room. By the time you get to your bike you'll be a sweaty mess. Same goes for getting off the bike and going into petrol stations etc. Layers are a huge faff, restrict movement and can be uncomfortable on long rides.
Cold weather riding with heated jackets
Heated garments are the future! You can get heated jackets, vests, trousers, gloves and even socks. It takes away all the time consuming layering and means you have less to pack and more space in your bags. It also does away with the sweating as you just leave it off until you get on the bike, plug in and you'll be toasty in no-time!
Check out the best heated gear guide and our tried and tested heated kit reviews below.
READ MORE: The Best Motorcycle Heated Gear
Neck Buff. Don't leave home without one! Neck buffs are a versatile and handy bit of kit. They keep the wind chill off your neck and chest in the winter and stop your neck from getting sun burn in summer. They're also handy as sleeping caps on those cold nights in the tent.
Hydration Bladder Pack.  These are particularly useful for adventure riders who love to off-road. Stopping every five minutes to open a bottle of water is a pain and you'll likely just skip doing it, potentially leading to dehydration.
Ear Plugs. Your call, but you'll be thanking those little plugs in the future if you wore them.
 Waterproofs. Throwover waterproofs are a great idea if you're not taking waterproof lined kit with you. There's a full suit zip up option (attached jacket and trousers) or separate top and bottoms.
Our Round the World Adventure Riding Gear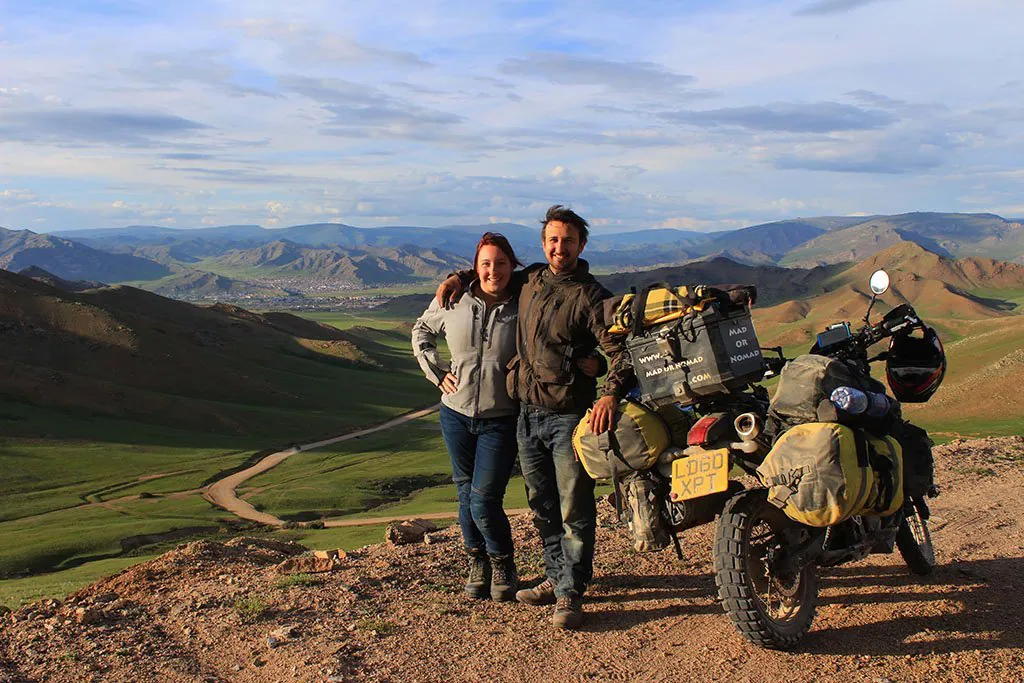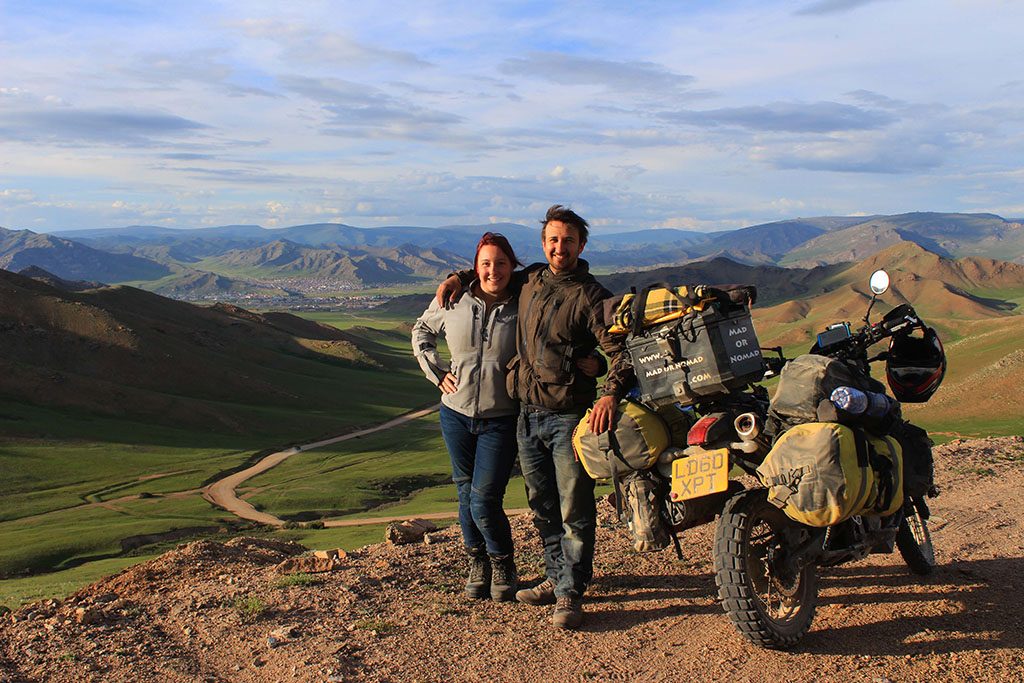 Here's the adventure bike riding gear we use on our long-term, multiple climate, round the world motorcycle trip. 
Helmet: We use a Schuberth E1 flip front helmet. Modular helmets make life on the road easier. And having an adventure styled flip front is the best of both worlds.
Jacket and trousers: We remove the thermal liners from our jackets and trousers. If they're not removable, then we don't use them that kit. The liners are too hot in the sunny countries and they're pretty rubbish when it gets cold anyway. 
We use our own mid-layer instead, which doubles up as our jacket when walking round towns and cities and at the campsite. We use a SubZero thermal down jacket because it's light, compresses under the motorcycle jacket, packs up small and is incredibly warm.
Heated motorcycle clothing: Make sure your jacket and trousers aren't too tight fitting, that way you can squeeze a pair of your own, quality thermals underneath. If you're going through multiple cold countries, then a better alternative to the bulbous and bulky layering option is to go for a heated jacket. It's a lot less restrictive and you don't sweat up every time you get off the bike. We use both the Gerbing and Keis heated jackets and Alissa uses Gerbing heated gloves.  
Boots: We use Altberg Military boots (click here for our review). They've proven a brilliant compromise, we can hike in them, walk around cities and wear them on the bike. They were excellent in the scorching Gobi Desert and kept our feet warm through our Siberian Hell Ride. Altberg also offer a motorcycle specific variant of this boot called the Hogg.
Waterproof throwovers: We use a cheap pair of waterproof throwovers. We prefer a separate jacket and trousers as it's less faff getting into, you can wear the jacket when off the bike and they're usually lighter. If your jacket comes with a hood because you bought it from a sports shop like we did, then either use a rubber band to tighten it up or cut it off as it'll give you a sore neck on motorways.
Gloves: We carry two pairs of gloves each, one thick and waterproof pair for cold days and one lightweight breathable pair for warm days.
If you're interested in what else we take on our adventures and what to pack for yours, check out our packing list guides:
READ MORE: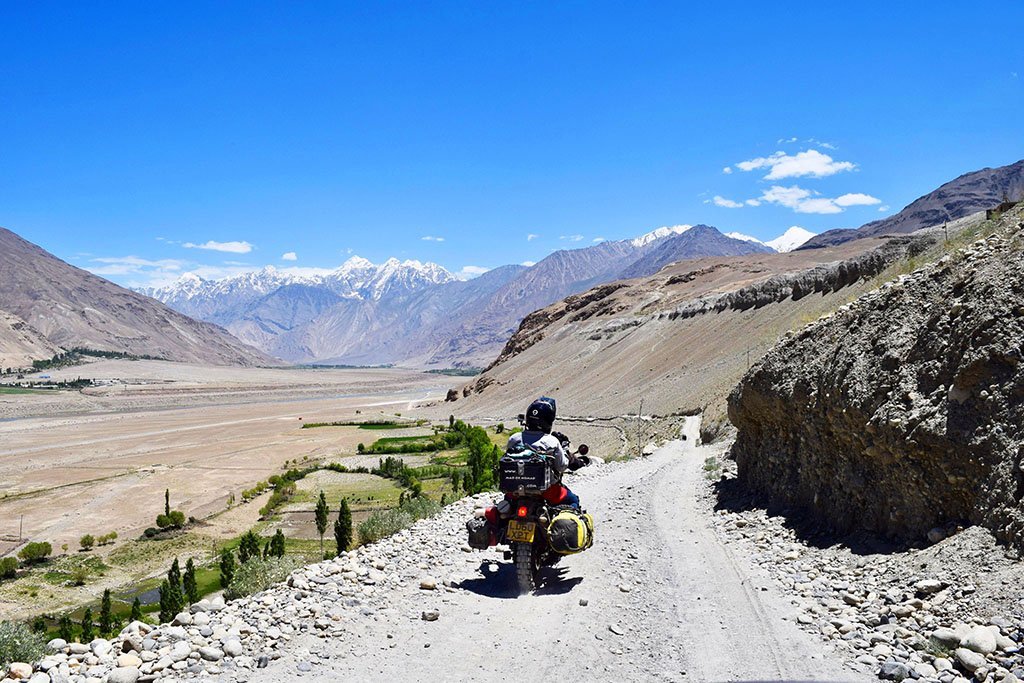 ps. We may receive a small commission, at absolutely no cost to you, if you purchase any products using the links on this page. We're not sponsored by anyone, are completely impartial and don't run ads. So this helps us keep the site running. Thank you for your support.
Read more on motorcycle clothing, gear and kit
Thanks for checking out our How to Choose Your Adventure Motorcycle Riding Gear Guide. We hope you enjoyed it! Here's a few more articles on adventure bike kit that we recommend you read next. 
Liked that? Try these next…