Here's how to pack an adventure bike tool kit for a motorcycle trip, tour or even a round the world adventure. You'll find advice, tips, info and all the tools, spares and equipment we carry and use on our RTW trip here.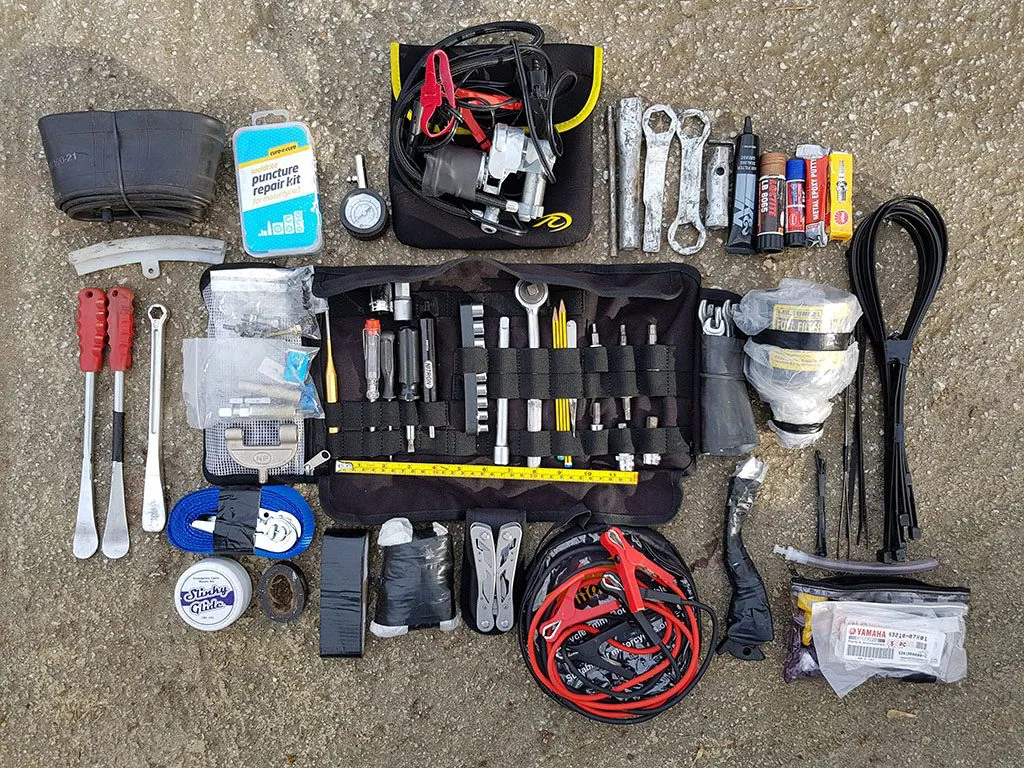 The Ultimate Adventure Bike Tool Kit
Words of Dakar Rally wisdom
Dakar Rally Racer, Simon Pavey once showed me the tool kit he uses on the Dakar – and it's tiny. He once fitted a new engine with his kit and can fix pretty much anything on the bike with it because he has already done so. He's practised with it, taken his bike apart and put it back together, and anything he didn't use he didn't take.
His other bit of invaluable advice was not to tighten anything up on your bike using a tool that isn't in your kit, there's no point tightening the rear axle spindle up with a huge bar if you've only got a ¾ inch driver in your tool kit to undo it with.
Remembering those pearls of wisdom will really help when packing your kit as knowing what tools to take can be daunting, and if you're not careful you can end up pulling a mini workshop on a trailer.
How to build your own motorcycle tool kit
Here's how to build your tool kit. Take your adventure bike to pieces (as close to pieces as you can). Take everything off that you think is likely to go wrong with your bike within reason, there's no point taking the engine apart as you won't be taking it apart on a Namibian hard shoulder. Then put your bike back together, putting only the tools you use into one box.
By the time you've finished you should have all the tools needed to put your bike back together in one container. Now go through that pile and condense even further. You can do this by swapping out attachments, buying 2-in-1 parts and so on.
By doing this, not only will you build a solid and lightweight tool kit, the process will also build your confidence in using those tools and fixing anything that breaks.
Our RTW motorcycle tool kit
Here's a complete list of all the tools, accessories and spares we use on our round the world motorcycle trip. Have fun building your own!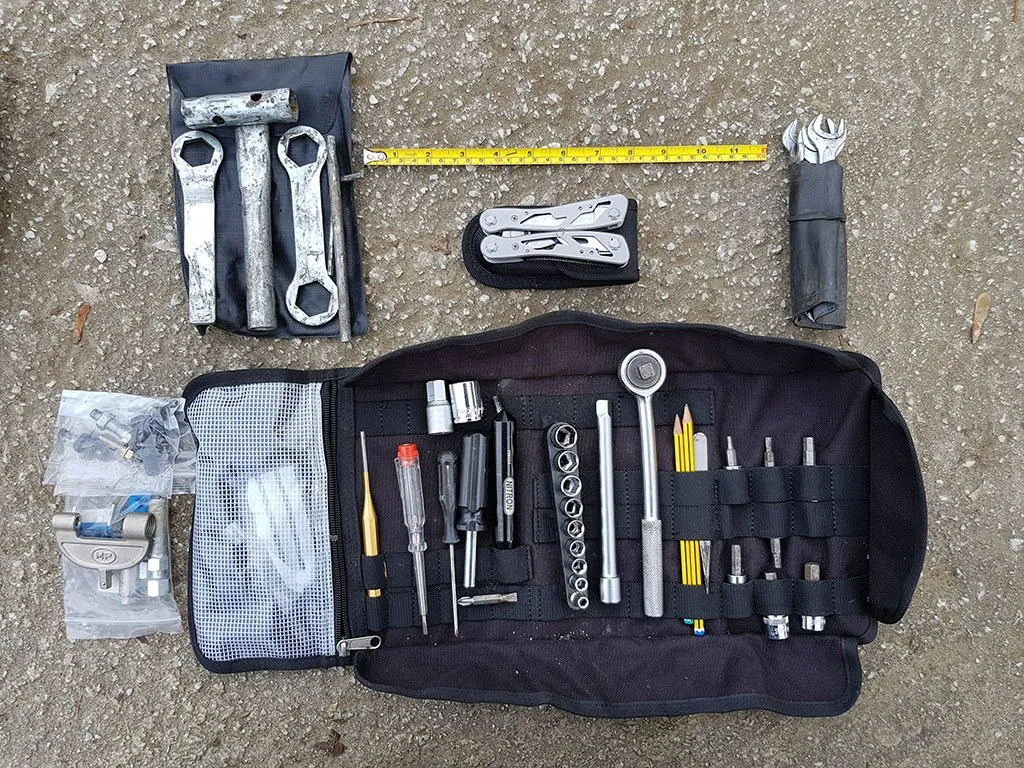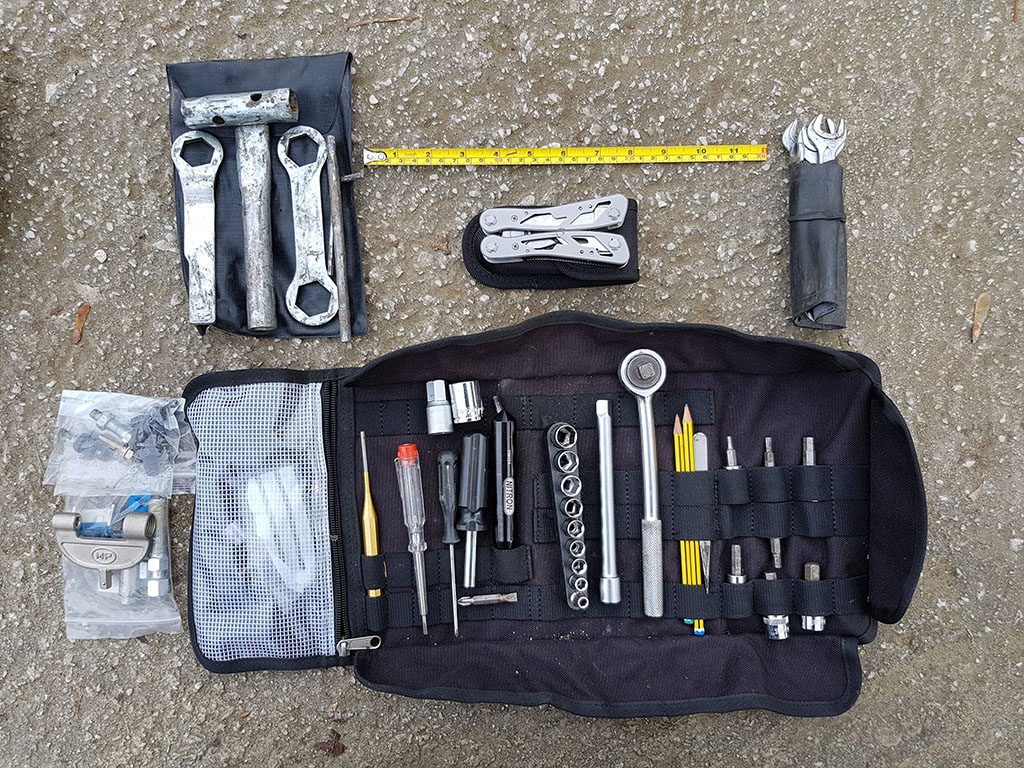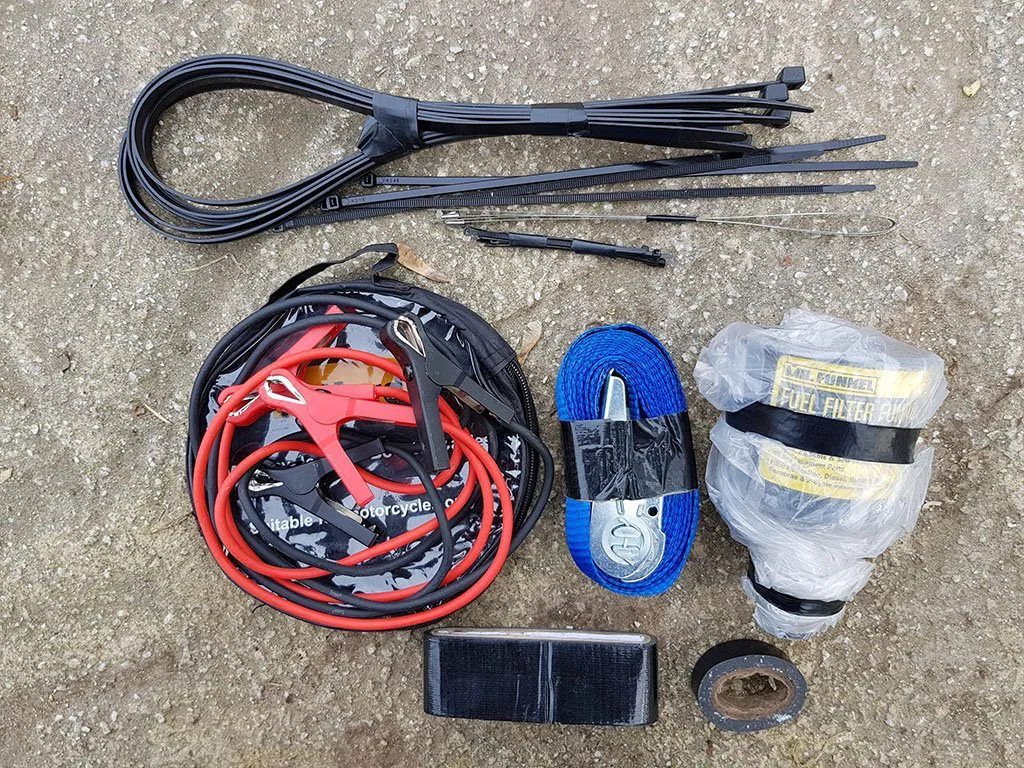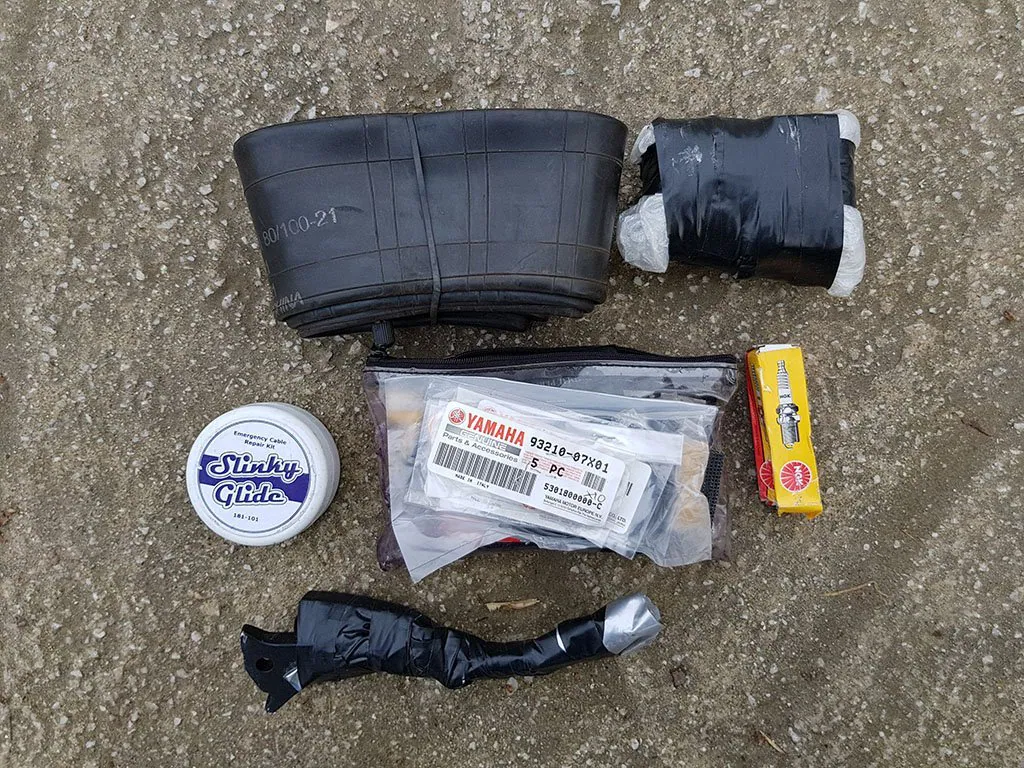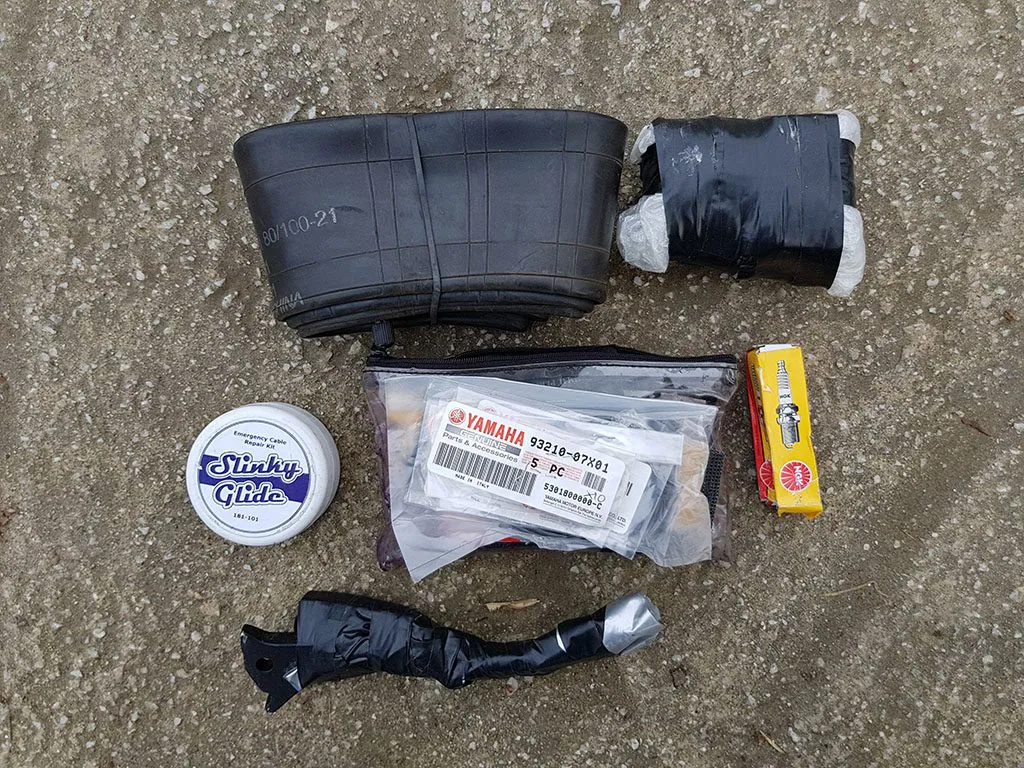 Spares
Bulbs
O-rings and washers for oil filter changing/ nuts, bolts and washers
Clutch and brake levers
Parts for Scottoiler
Universal cable repair kit (for clutch or throttle)
Spark plug
Front inner tube. We don't carry a rear as tubes are heavy and we have a repair kit. The spare front tube can always be put in the rear tyre so we could hobble to a garage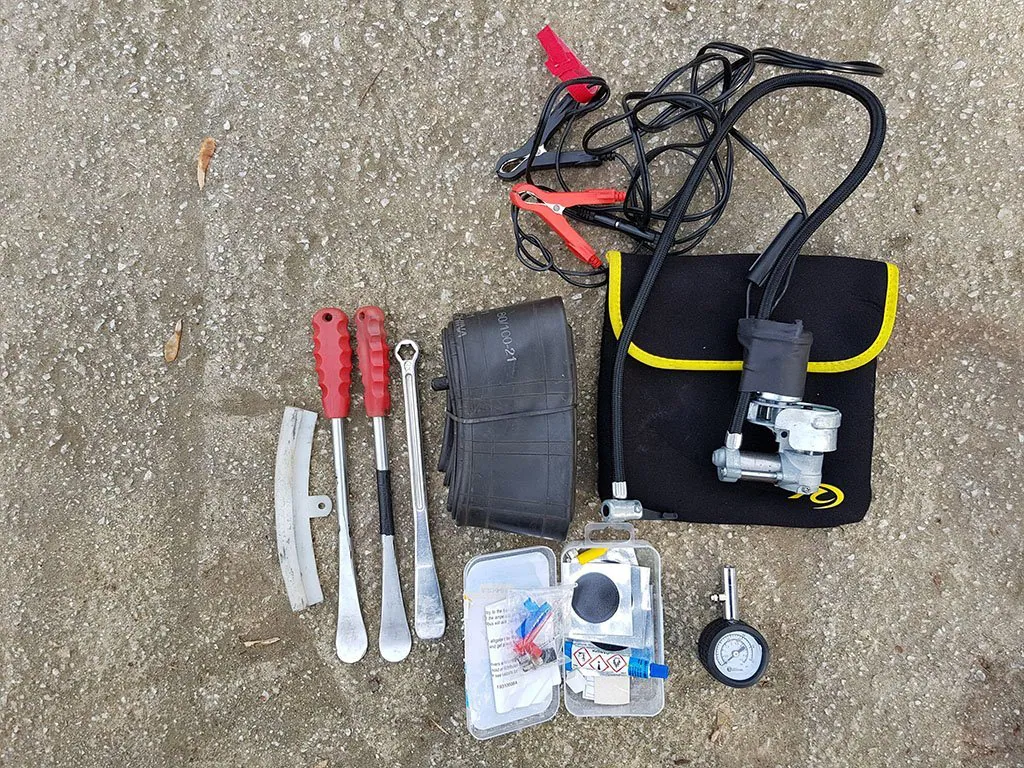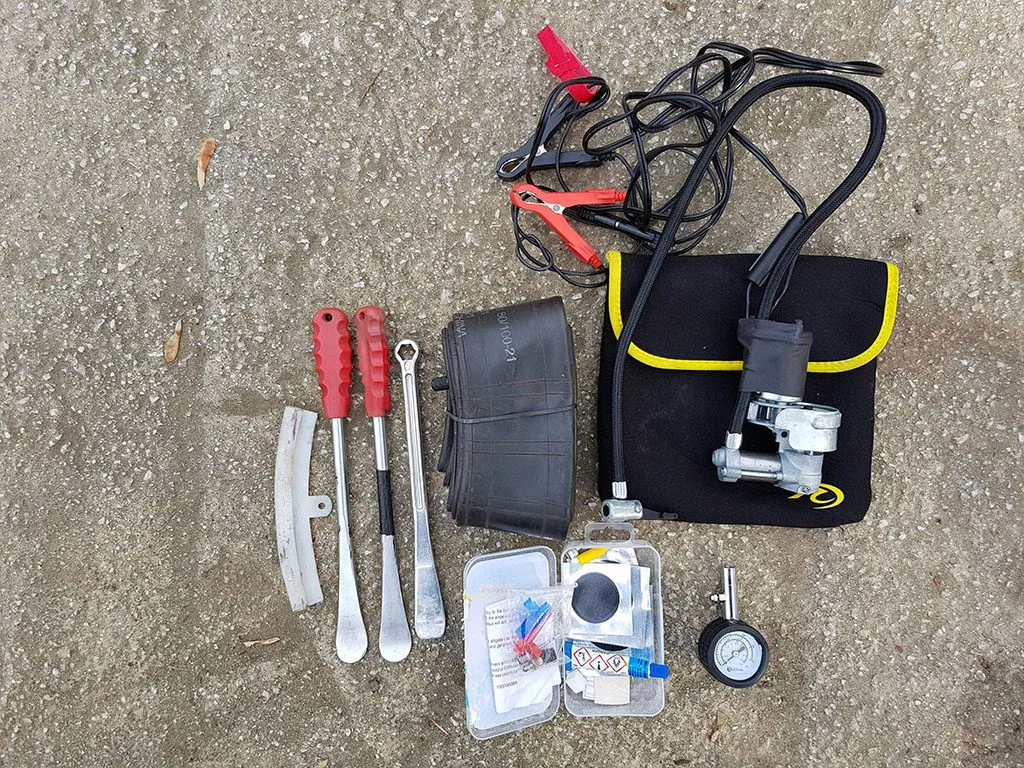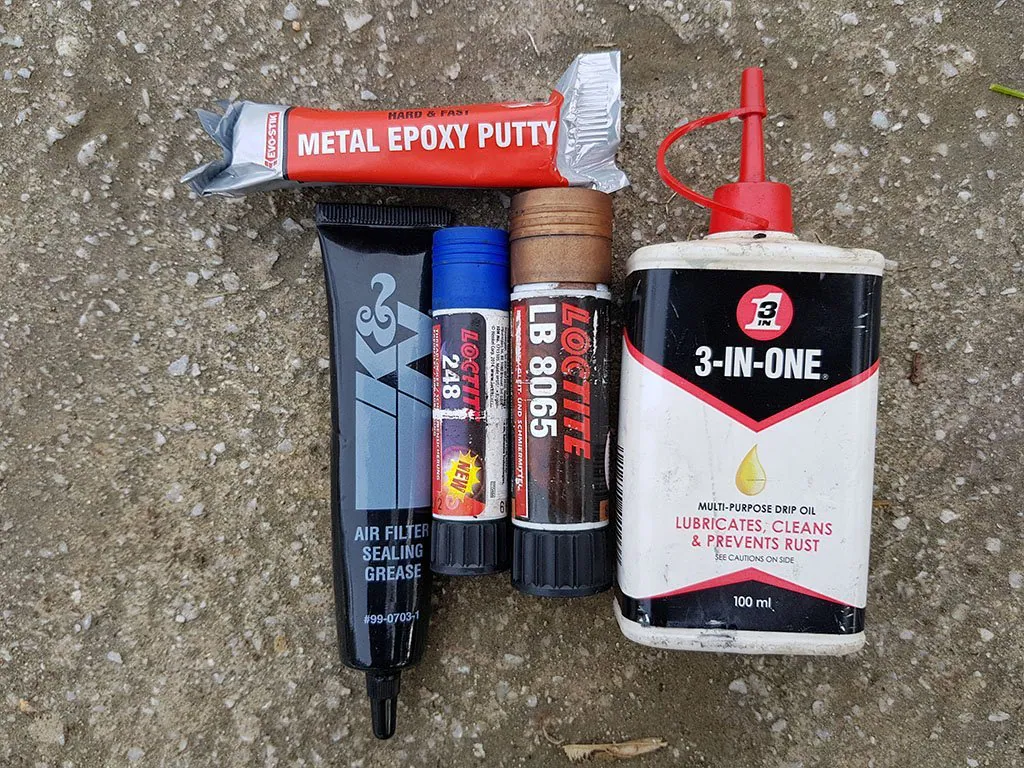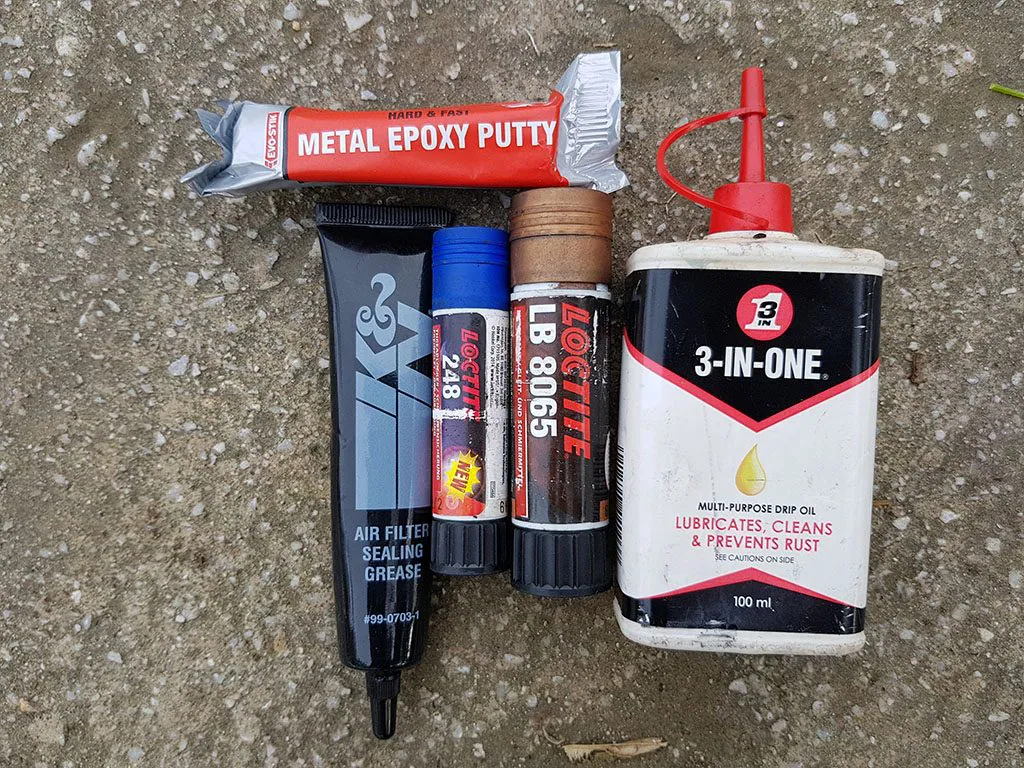 Lubes
Silicone grease for air filter sealing
Standard grease, Loctite and copper grease.
Metal epoxy (cheap one from Halfords, but very effective at sticking metal together)
3-in-one multi-purpose lubrication
We also carry a small amount of two consumables: engine oil and WD40 (we don't carry spare Scott Oil as the reservoir carries 10,000 miles worth of oil).
Preparing a motorcycle tool kit for your trip
The above is what you'll find in our tool kit. You may need a little more or less than we do. It depends on your bike, how much you want to carry, what work you want to or are prepared to do yourself, where you're going and how long for… there are a lot of factors.
But to help gauge the size of your kit… this kit is about as big as you should need to go and that's for a round the world trip that takes in plenty of off-road riding. And at the other end of the tool kit spectrum, if you're heading off on a touring trip to Europe for a couple of weeks and mainly riding asphalt, then this is massively overkill. Just take a puncture repair kit, compressor and a multi-tool with perhaps a few other basics. 
Still undecided?
If you're still not sure what you should take, check out our adventure bike reviews by real world travellers section and see if your bike has been reviewed. Each review lists the type of repair work and spares needed for that specific bike on a big trip. And you could always go for a pre-prepared high-quality tool kit specifically setup for your motorcycle from a company like SBV. 
READ MORE: Adventure Motorcycle Reviews
READ MORE: SBV Adventure Bike Tool Kit Review 
ps. We may receive a small commission, at absolutely no cost to you, if you purchase any products using the links on this page. We're not sponsored by anyone, are completely impartial and don't run ads. So this helps us keep the site running. Thank you for your support.
Read more on Motorcycle Travel Gear 
Thanks for checking out our Ultimate Motorcycle Tool Kit. We hope you enjoyed it! Here's a few more articles on packing for a motorcycle trip and adventure bike gear that we recommend you read next. 
Are you preparing a motorcycle tool kit for you upcoming trip? If you have any questions or tips to share, please leave a comment below. We'd love to hear from you!