Here's everything you need to know about preparing for and going on a round the world motorcycle trip. This is a resource guide, so you'll find loads of links to more detailed and in-depth articles on specific subjects. If you want to know how to motorcycle round the world, start here…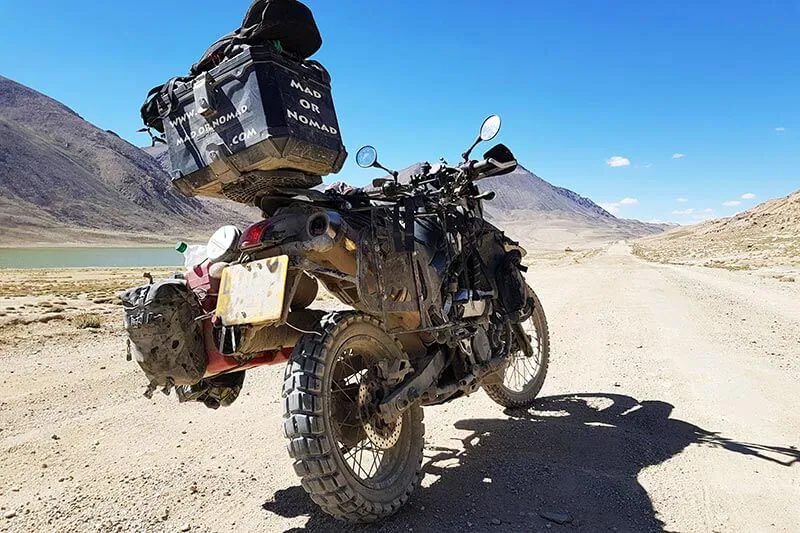 How to Motorcycle Round the World
It can be so confusing figuring out where to even start when preparing for a round the world motorcycle trip. We know the feeling, and that's why we built this website – to help you prepare for and go on motorcycle adventures. But, there's still so much to read and take in, so we created this resource guide to organise RTW specific guides and articles in one place for anyone looking into or preparing for a round the world motorcycle trip.
For more info and for all of our articles relating to RTW motorcycle travel, check out Round the World Travel Guides
RTW motorcycle trip planning stages
This is the fun bit. The pondering, Google searching, copious amounts of coffee, splaying maps across your table and circling far flung city names. All the good stuff and dreaming comes in the early planning stages. But it can be tricky collating all of it and that's often enough to put many people off. So have a read of these two guides first. How to go on a motorcycle adventure covers the basics in more detail and breaks it all down into easy chunks, and What they don't tell you pokes a little fun at all the naysayers out there.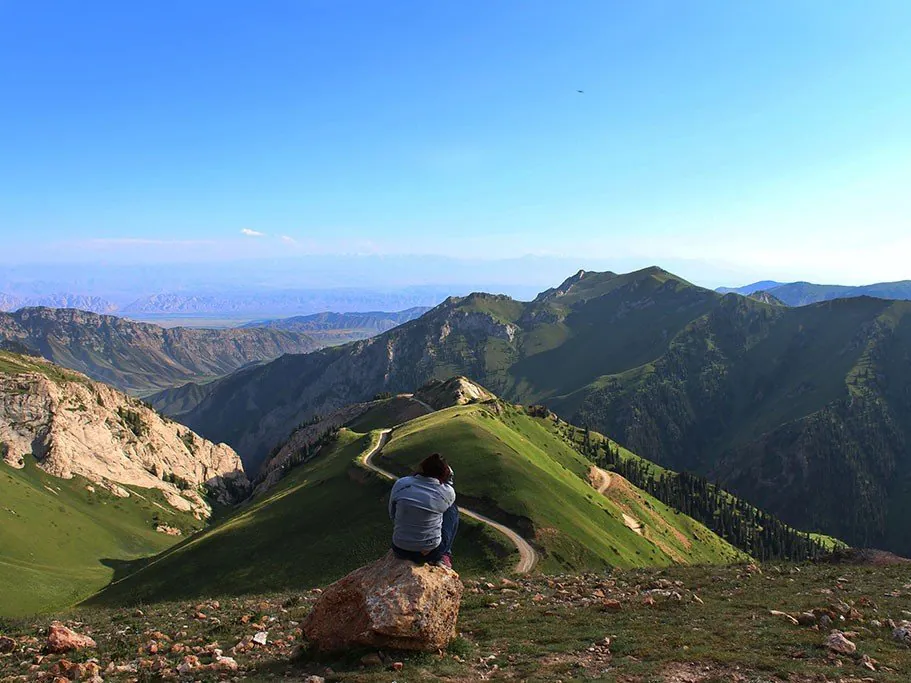 Round the world motorcycle routes
An important and very early stage of preparing for a round the world motorcycle trip is figuring out a rough route, or at least what countries you want to visit. Deciding this doesn't mean it's then written in stone, plans change, you might change and you'll need to adapt to the current climate. But it's still important because paperwork, visas, shipping and budget are greatly affected by where you're going. Figuring out a rough direction will help you plan these important details and what's required for each country.
As things are changing so regularly since the pandemic, it's also worth keeping an eye on Facebook overlanding groups for updates on entry requirements and current situations around the world.
Our Destination guides are packed with info, and we have a Motorcycle Travel Guide for each of the destinations we feature which include info on paperwork, conditions, things to do and much more.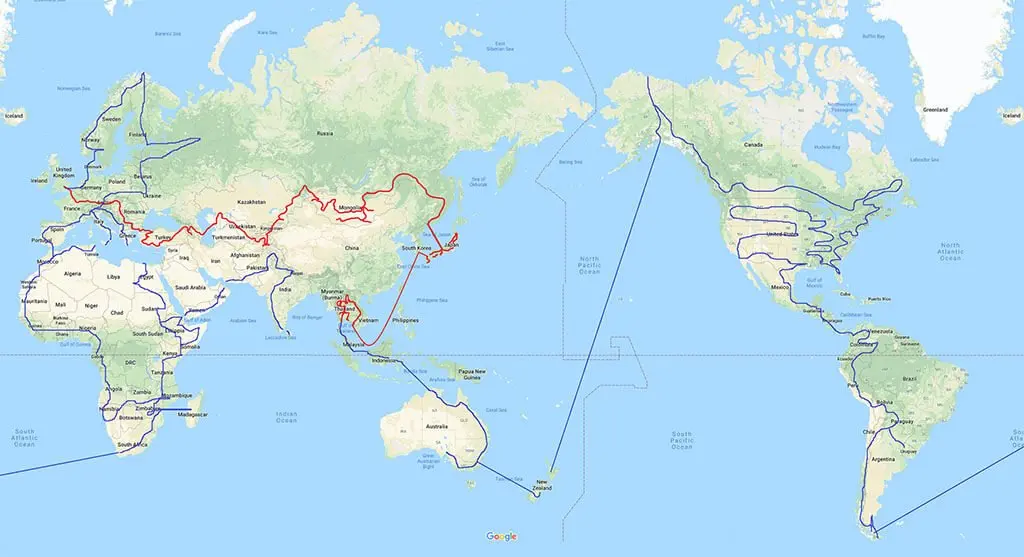 Motorcycle travel paperwork
Paperwork is the bane of a motorcycle traveller's existence. Visas, carnets, temporary imports, insurance… every country has their own rules and they're all constantly changing.  
Doing your paperwork and route research simultaneously is a good idea as you'll hit any snags or restrictions in the early planning stages. You'll find the specific paperwork requirements for each country you're visiting and more information in our Destination Guides, but for a general rundown of the papers you'll be dealing with on a round the world motorcycle trip, take a look at the Travel Paperwork Explained guide. 
How much does it cost to ride round the world on a motorcycle?
Your trip of a lifetime doesn't need to cost a fortune. But how much you spend is completely dependent on you. Your gear, bike and route (shipping, visas, mandatory guides, distances etc) are the initial costs and thereafter it's your living costs and these range massively dependent on how you travel. There are loads of ways to minimize all of the costs involved and budget smartly. We've written a dedicated guide to help you bring down the costs and explain how we budget on our RTW motorcycle trip.
Learning skills before you go
You don't need to be an off-road riding god to ride round the world. In fact, you can have do little to no dirt road riding at all and still go and just learn on the way. But it helps to have some experience under your belt because it will improve your confidence, knowledge and abilities. And learning in your home country makes it far easier to repair any bike damage.
 It's a great idea to put some money aside and invest in yourself and off road motorcycle training before you go. You'll make the most of your time and with expert tuition your riding skills will increase quickly instead of figuring it all out on your own in the middle of nowhere. 
Here's a selection of our favourite schools in the UK. You'll also find schools on this page that offer field mechanic training too. And once you've had your training, it's worth visiting the UK Destination page on this site as there are guides on there for how to go trail riding, great locations and how to ride the UK TET. Practising this will improve your skills further and you'll become even more confident on the rough stuff.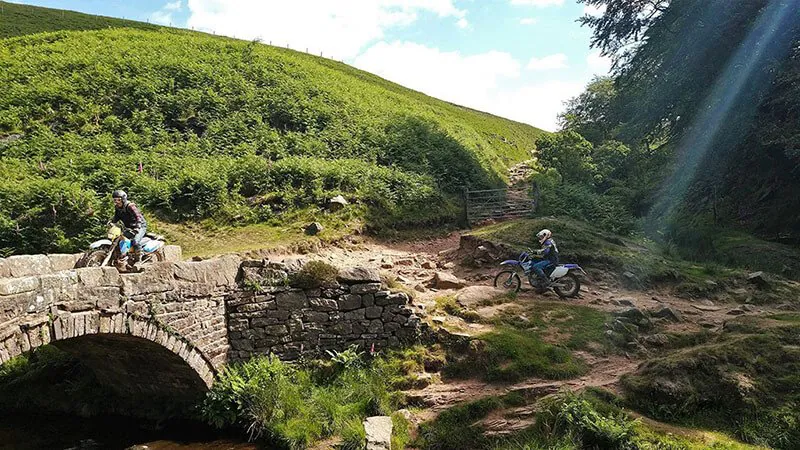 International motorcycle shipping
Shipping ties in with your route and budget. If you're on a round the world motorcycle adventure, then chances are you're going to need to ship your motorcycle and it's going to bite a huge chunk out of your budget, so it's important to look into it first and weigh up your costs because it may affect where you go and where you ship to.
Check out our Ultimate shipping guide first to get your head round the different options available to you and how it's done. Then, when you're ready to start contacting companies for quotes, take a look at our Recommended companies page for a selection of the best and most trusted companies out there. And also check out the Destination guides for shipping articles that explain how to ship to Japan, South Korea, Russia, Cambodia etc.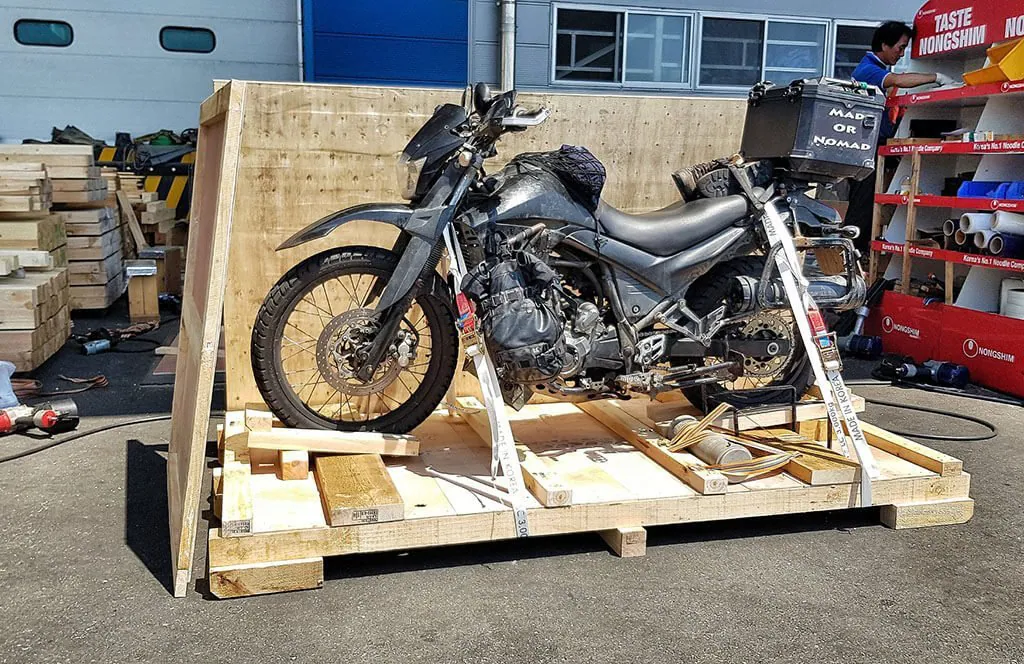 Buying a motorcycle abroad vs taking your own
RTW motorcycle trips are different for different people. For some, it's very important to take one bike and complete their trip on that no matter what, while others may prefer to buy or rent in different countries to save money on shipping and customs etc. It's your call.
To help those interested in renting or buying while abroad, check out our Recommended worldwide rental companies. You can easily get in touch with these firms for quotes to help get an idea of long term rental costs. Many of these companies allow cross border and long term rentals. So for example, you could rent a bike in Kyrgyzstan and ride it to Tajikistan, Uzbekistan and Kazakhstan before returning it.  
Going solo?
You may be heading off into the great unknown alone, or with a partner, friend or a group of riding buddies… or maybe you just don't know yet! Either way, here's a couple of guides to help you decide.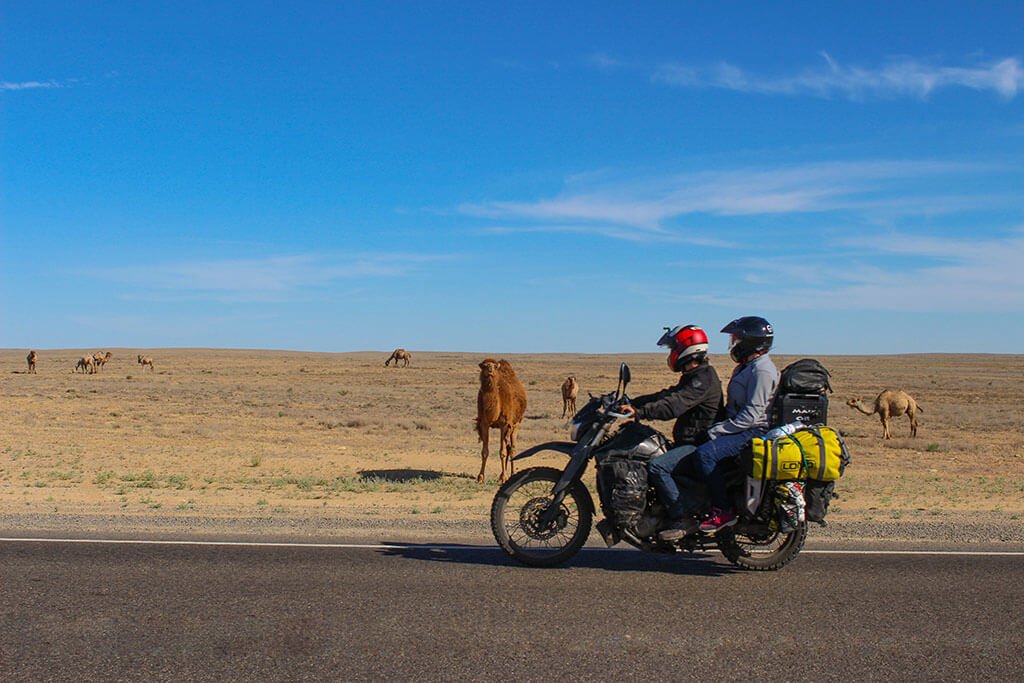 Choosing your RTW adventure motorcycle 
One of the biggest and most exciting questions in the world! What motorcycle shall I ride around the world on? Some will say you need a behemoth adventure bike clad in every accessory imaginable, while others prefer stripped-back, lightweight Mad Max desert warriors. If you visit the Stories section, you'll see people having adventures on a huge range of machines from a Yamaha R1 to the North pole to a Royal Enfield Bullet 500 round the world to a Honda C90 to Africa…
For a run down on the pros and cons of different options and what to look out for when choosing and modifying a RTW motorcycle, check out our detailed How to choose an adv bike guide. Once you've narrowed your selection down, take a look at our motorcycle reviews page where real world travellers review their adventure bikes.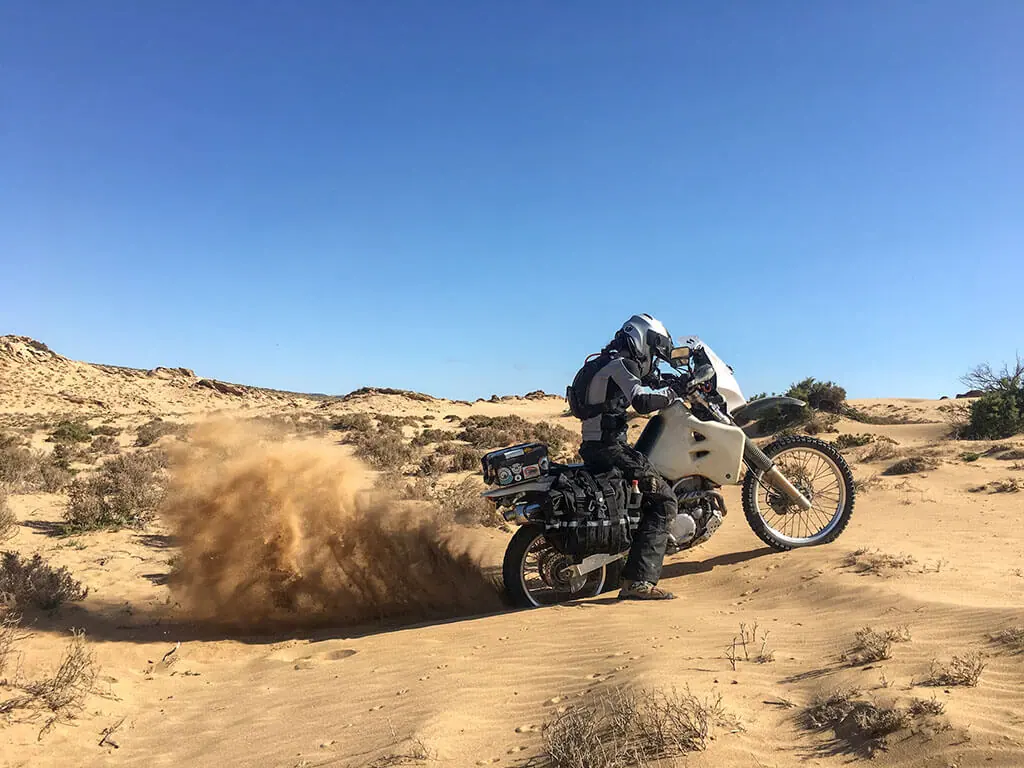 Preparing your round the world adventure motorcycle
Now it's time to prepare your motorcycle for a round the world ride. That means crash protection, tyres, spare parts, hacks, improving comfort and so on. These guides will help you prepare your bike and get it ready to tackle whatever the world throws at it. 
Adventure motorcycle tools and equipment 
You don't need to be a mechanical genius and know how to rebuild your engine on a Siberian hard shoulder with a pen knife and a rubber band. Far from it! You'll get by, no matter your knowledge because you'll learn as you go.
If, however, you want to learn some basics before setting off, we suggest signing up to a field mechanics motorcycle maintenance course. These are specially designed for people looking to travel on their bikes. You'll find great schools in our Off road schools guide who offer this service. 
And, you'll want a tool kit to perform these repairs in an emergency. We've got a tool kit guide below which explains how to pack a tool kit for your bike. Or if you prefer a pre-made set, take a look at our SBV tool kit review.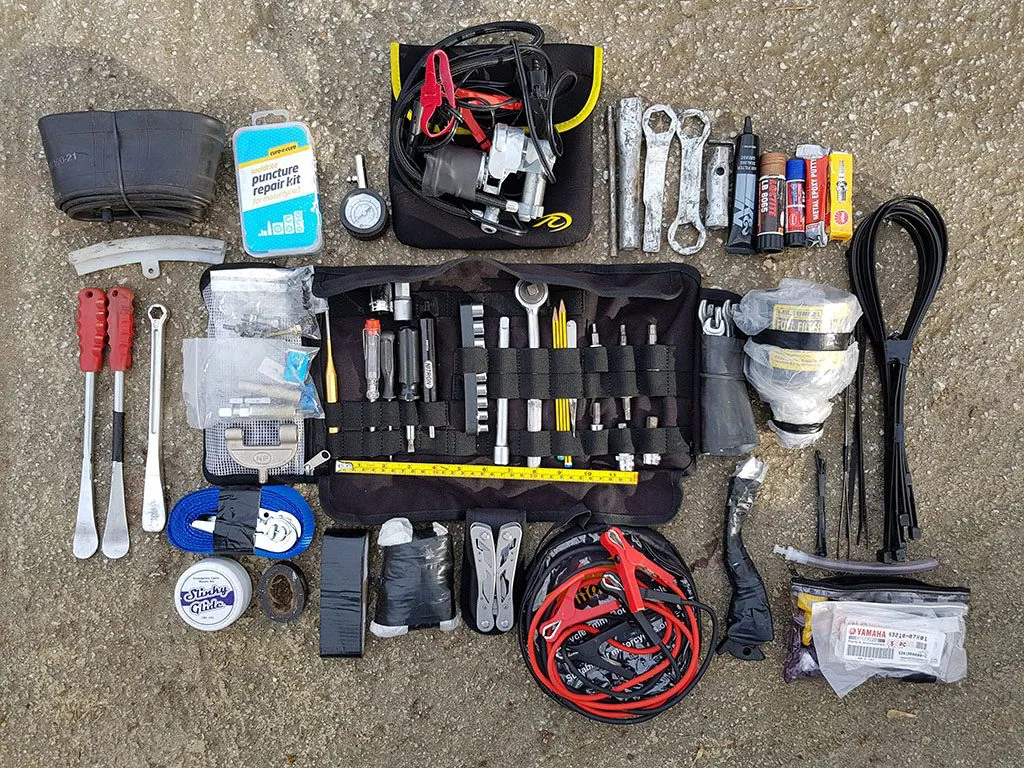 Luggage setup for RTW motorcycle riders
Deciding on how you're going to carry all your gear (your life) on your motorcycle as you navigate and ride around the world is a big decision.
There are different schools of thought here, from hard panniers to soft bags and there's no definitive answer because it depends on the type of trip you're on, the bike you're riding, where you're going and what type of riding you're going to be doing. It also depends on what you personally feel comfortable with. But to help put these points into perspective and explain them in more detail, take a look at our Hard vs soft luggage guide, then move onto the Ultimate luggage guide for info on all the options out there. Then check out our guides on the best luggage available and you'll be packing your bags in no time!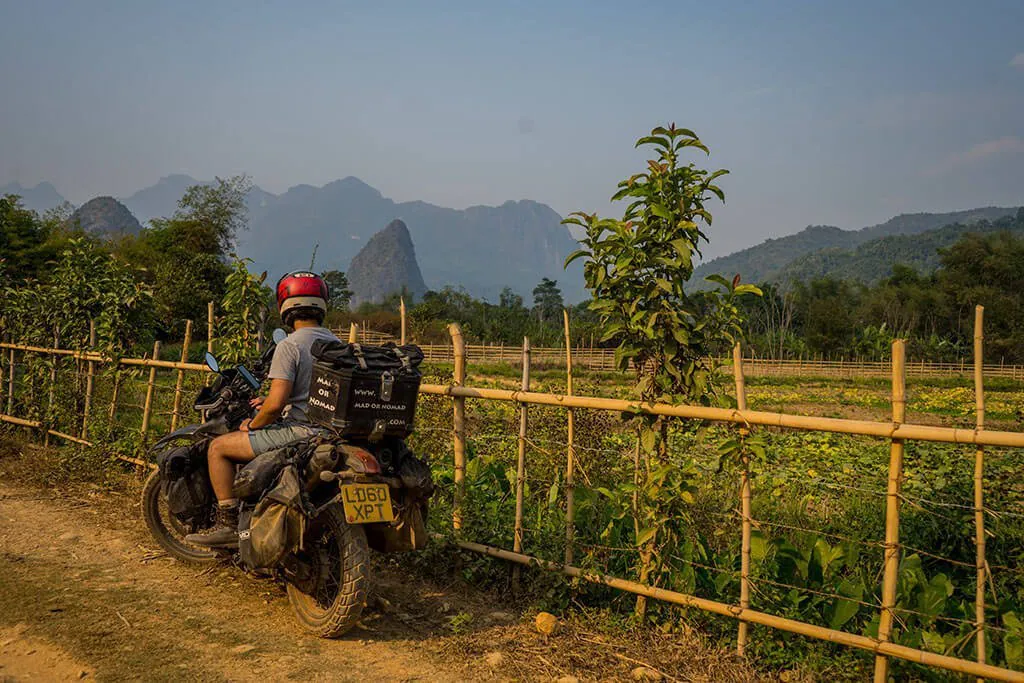 Packing for a round the world trip
Packing for a round the world motorcycle trip is the best bit! It's where you sip coffee and buy cool stuff online. The difficulty is buying too much as overpacking is something everyone does when they first go. We're definitely guilty of that too. After 15 years of travelling on bikes and years spent on the road on our current round the world trip, we've finally narrowed down our packing gear into one easy guide. You'll find guides on these lists and how to pack below. 
Motorcycle camping 
Your camping gear bag will no doubt be the biggest in volume and so it's important to pack this wisely with only the kit you will need. To help, we've compiled a camping gear checklist. You'll also find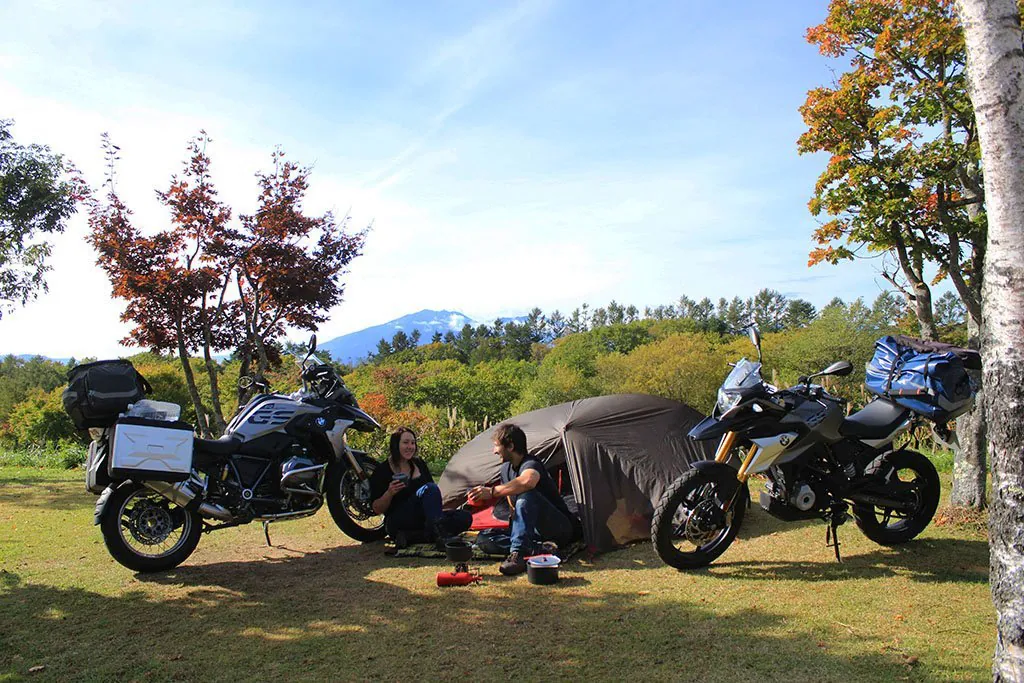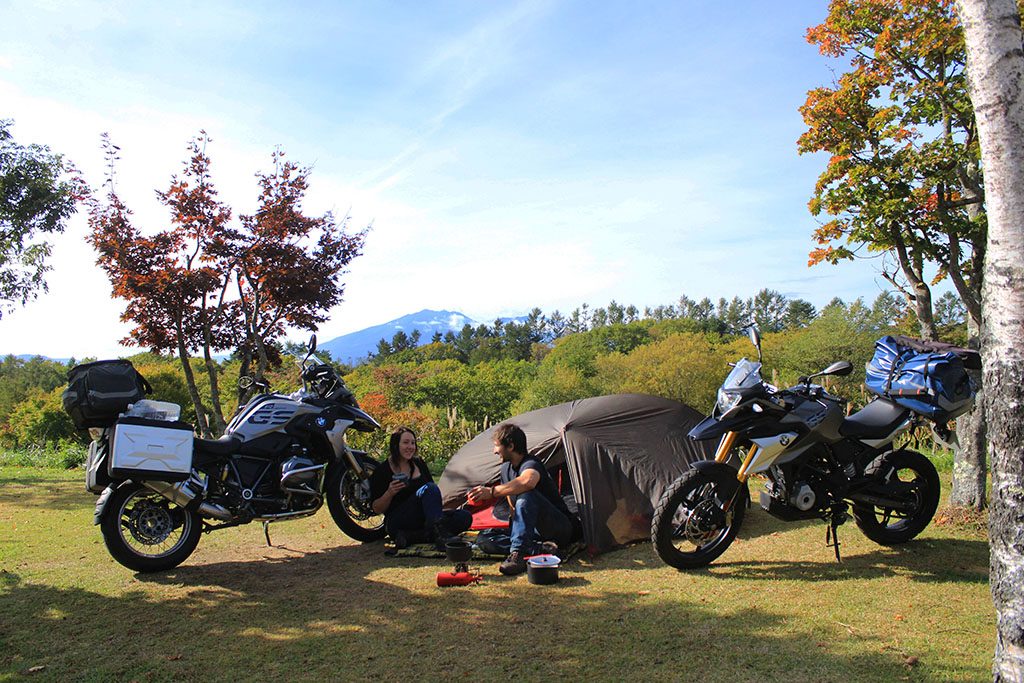 RTW motorcycle riding gear
The first and most important guide we have for clothing is the How to choose your riding gear guide. This explains the different types of clothing (including jackets, trousers, helmets, boots, gloves and extras) available and what to use dependent on what your trip looks like as well as our own suggestions. This is a comprehensive guide to picking adventure riding gear and you should find everything you need in there to decide what type of gear and setup you're going for.
Once you've settled on the type of gear you need, check out the Travel gear guides section because you'll find articles in there listing the best gear on the market today.
Navigation
Finally, we included navigation in this resource guide because it's something we get asked a lot about by people who are planning big trips. This easiest option for RTW travel is to take two mobile phones – one for your personal use and the other to use as a sat nav/gps and stick this in a phone mount on your handlebar (this stops your good phone from getting ruined, because it will due to the vibrations, dust, sand, rain etc). From there, you can rely on apps like Google Maps, ioverlander and Maps.Me to navigate.
However, plenty of people prefer or are more used to a sat nav. Check out our Electronics Guides section below, you'll find the best sat navs and phone mounts on the market today to help you decide on your navigation device.
Health and safety on the road
Staying safe and healthy on the road is your number one priority. Things like personal travel insurance and emergency SOS devices are always an afterthought in the planning stages because, let's be honest, they're boring and we just hope and assume we'll never need them because nothing's going to happen to us. 
We learnt that the hard way regarding an SOS device after a serious crash in Nepal. But luckily we had excellent personal insurance (which covered our £20,000 hospital bill). Make time for reading these two guides below. 
In the meantime, we're working hard on producing a whole new section for the website dedicated to staying safe and watching your health with detailed tips and guides. We will update this section of the guide once it's live. 
Further help
The motorcycle travel community is awesome and incredibly helpful. You'll find some amazing travellers out there more than willing to lend a helping hand. So, if you need further help in planning, preparing or whatever, don't be afraid to reach out to people.
Our aim with this website is to build a huge and free resource to help people travel on motorcycles. You can find lots of info on our site and we write in detail about the places we've travelled to. But if there's something specific that we haven't covered or that you need more help with, please feel free to email us. And if we don't know the answer, we'll find someone that does for you. 
That's it! You've planned where you're going, have chosen and prepped your bike, are all packed, got your gear on, paperwork sorted and are ready to go… now all that's left to do is get out there and have the time of your life!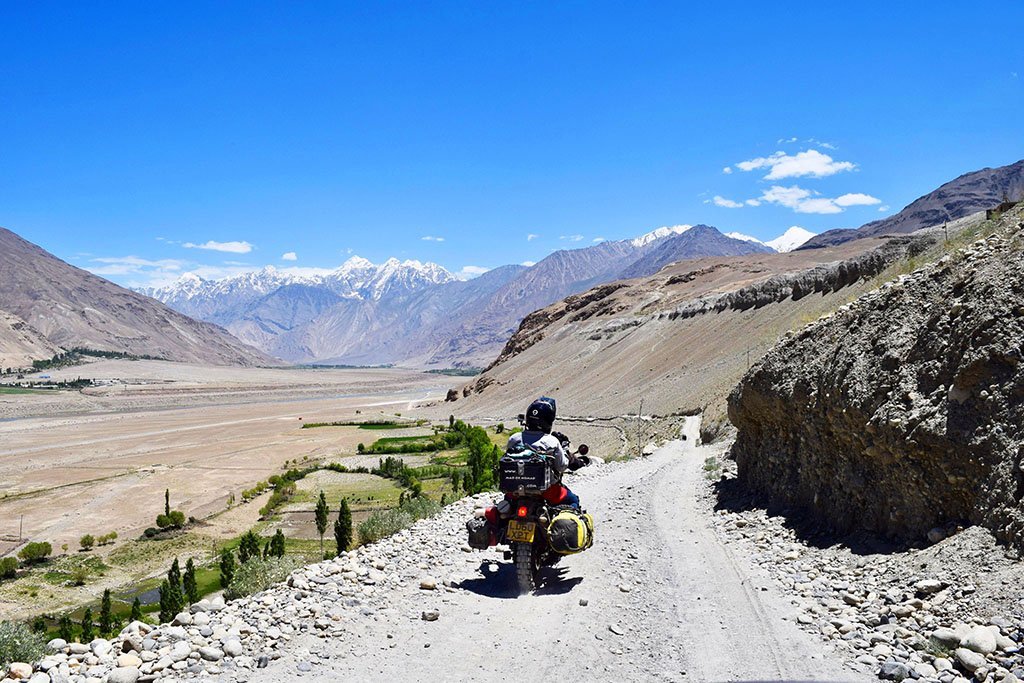 Read more on round the world motorcycle adventures
Thanks for checking out our How to Motorcycle Round the World Resource Guide. We hope you enjoyed it! Here's a few more articles on preparing for and going on RTW motorcycle trips that we recommend you read next. 
Are you planning or preparing for a Round the World Motorcycle Trip? We'd love to hear from you! Please post any questions in the comments below. Thanks.