Five months and 5,000 miles of Shinto Shrines, neon lights, mystical mountains and crazy islands… here's what it's like riding in the Land of the Rising Sun.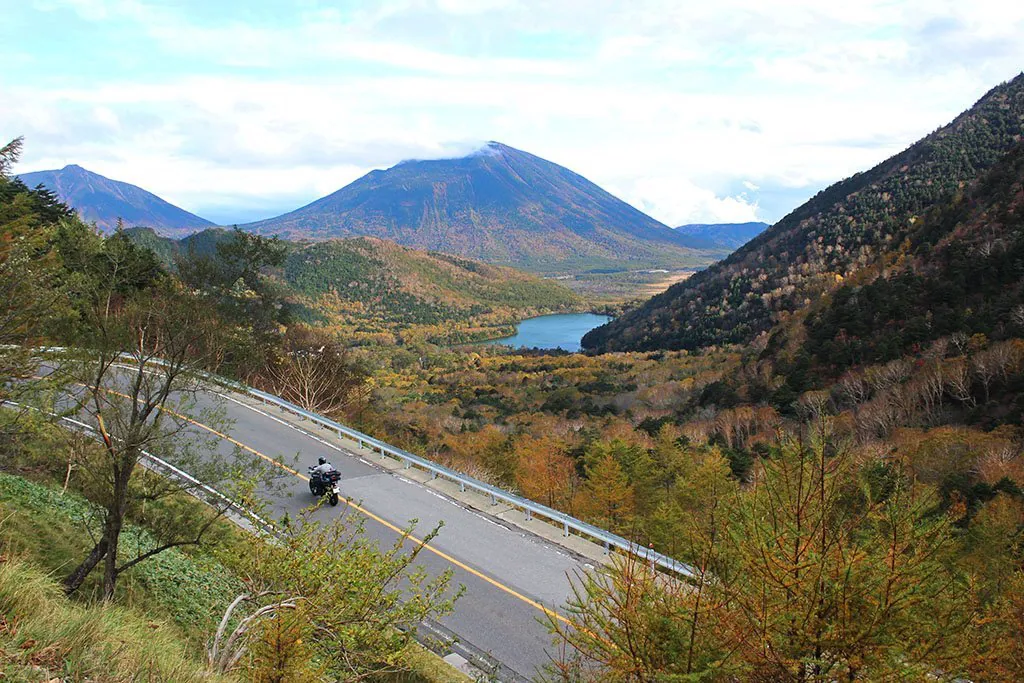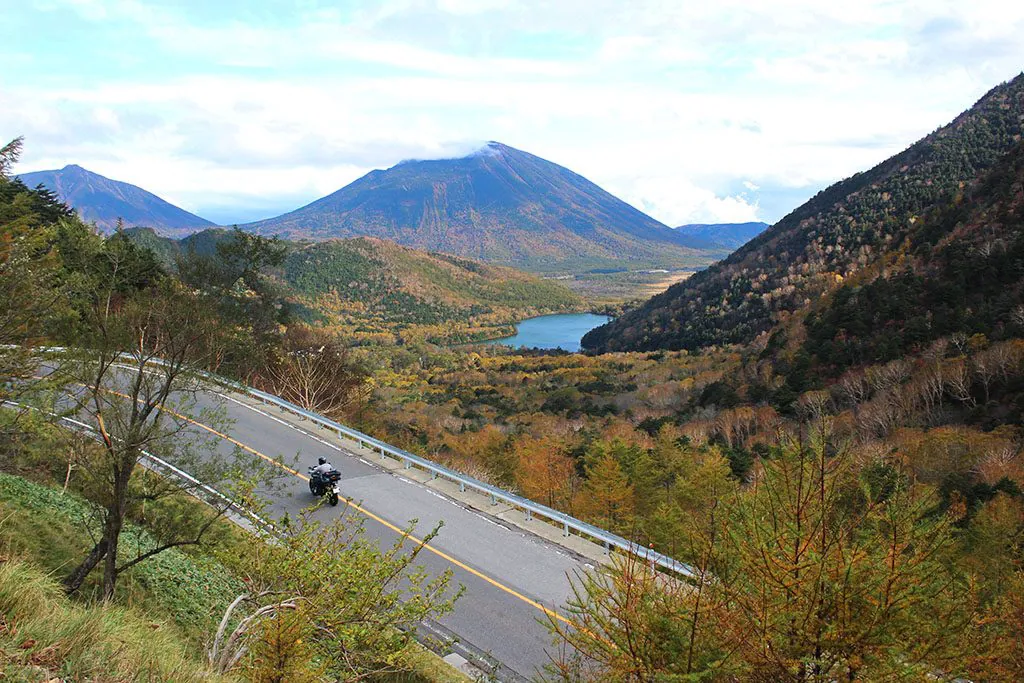 What motorcycle travel in Japan is really like
Japan is bursting with a mesmerising concoction of life that's so distant from what we're used to in the UK… and it's seriously addictive. We spend months learning about its long history, clambering up thousands of steps to uncover Shinto Temples shrouded in mystic incense, fog, and monks clanging religious bells. We walk across ancient vine bridges and gorgeous gorges, gaze at floating shrines in the countryside and explosions of neon lights in the cities. Everywhere we go and everything we do takes our breath away. And there's no better way of seeing it than from our motorbike saddles, because we get to explore all the hidden gems in between as well – and that's what makes it really special.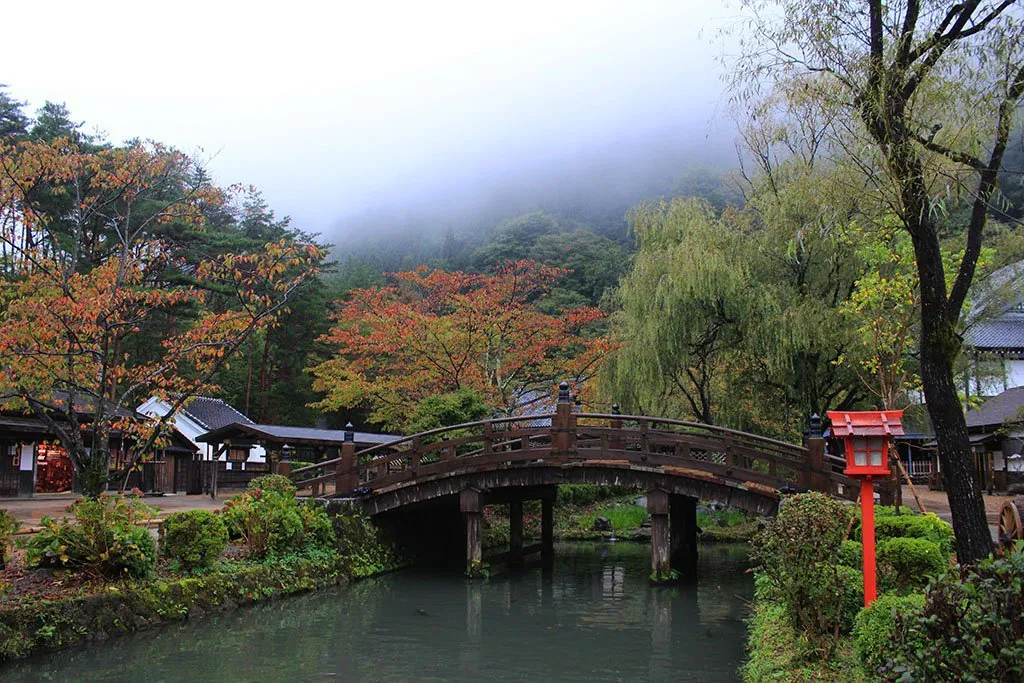 We spend our days on BMWs, chasing twisty backroads lacing their way round cliff edges and flowing along the Pacific Ocean's sparkling blue water. We hop between islands on little ferries, hugging the coast and riding through fishing villages. We stop to chat to other bikers and eat copious amounts of delicious ramen noodles and fresh sushi in steamy backstreet cafes.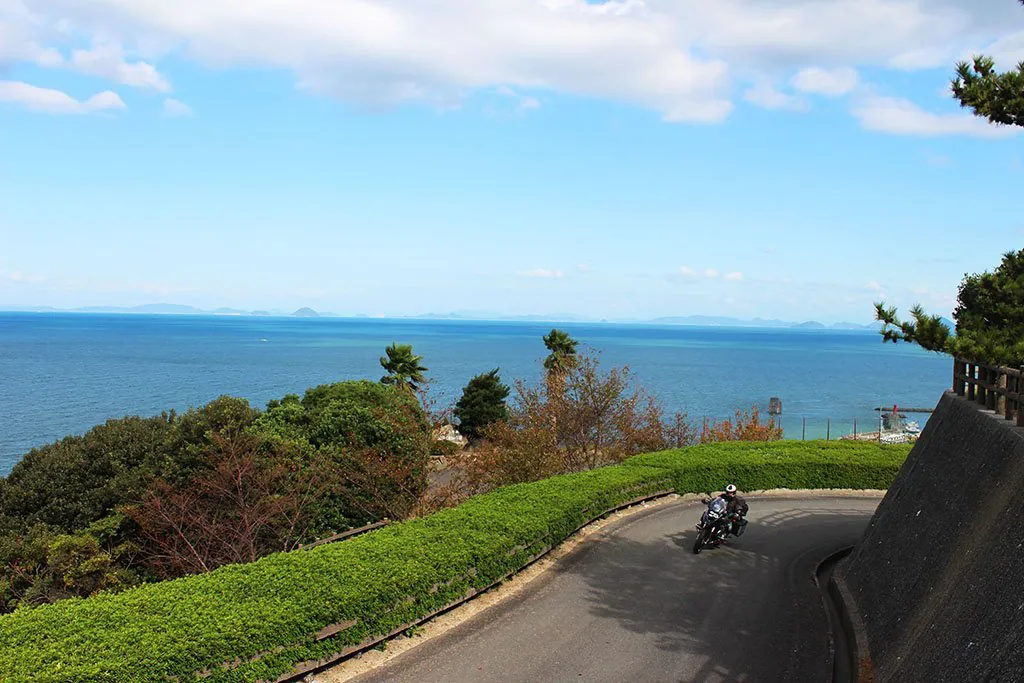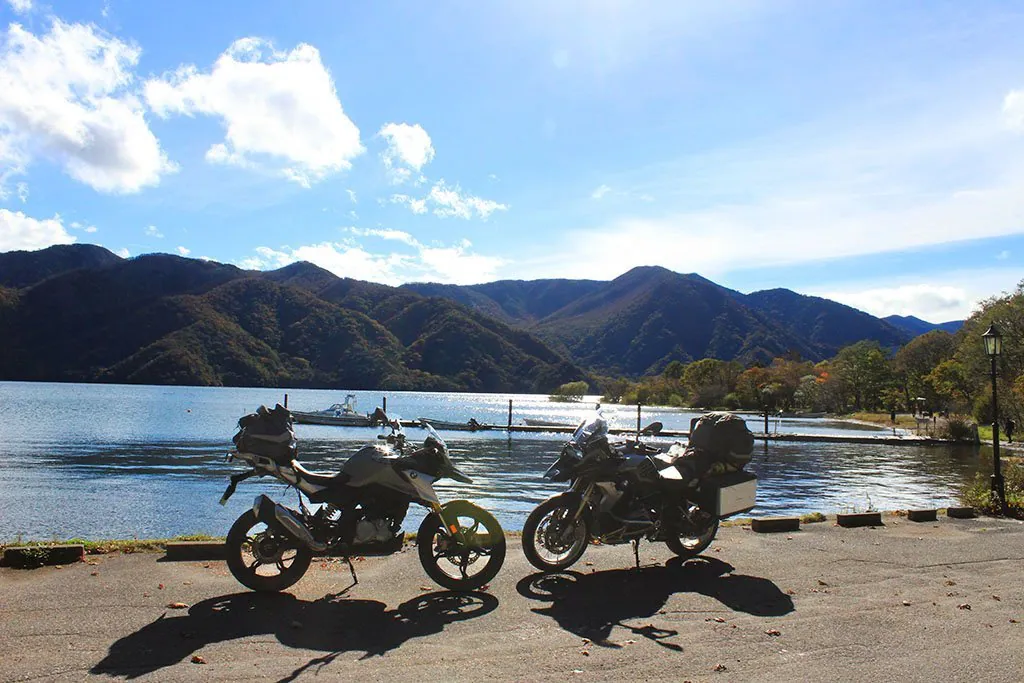 Parents usher their kids to welcome us and offer sweets on ferries, people offer us food and as we stand outside 7⁄11 for the free WiFi, people come out with coffees… all interested in our bikes and what we're doing.
As the sun starts to dip into the Pacific, we head towards the beach and tuck ourselves away for the night. As the red sun rises out of the mountain in the morning, warm light fills our tent and we wake to the peaceful sound of birds chirping and the soft trickle of water from nearby streams. It's everything you'd expect from waking up in Japan – until the eclectic clatter of motorcycles kicks in. We're surrounded by bikers, all cooking breakfast, packing up their tents and revving their machines. They don't know each other and it's not a ride out or club meeting. It's just a typical morning at a free campsite in motorcycle-mad-Japan. We fire up our stove and invite our neighbours for green matcha tea. They bow in thanks and share fresh fruit in exchange – all experiences we wouldn't have sat on a bullet train.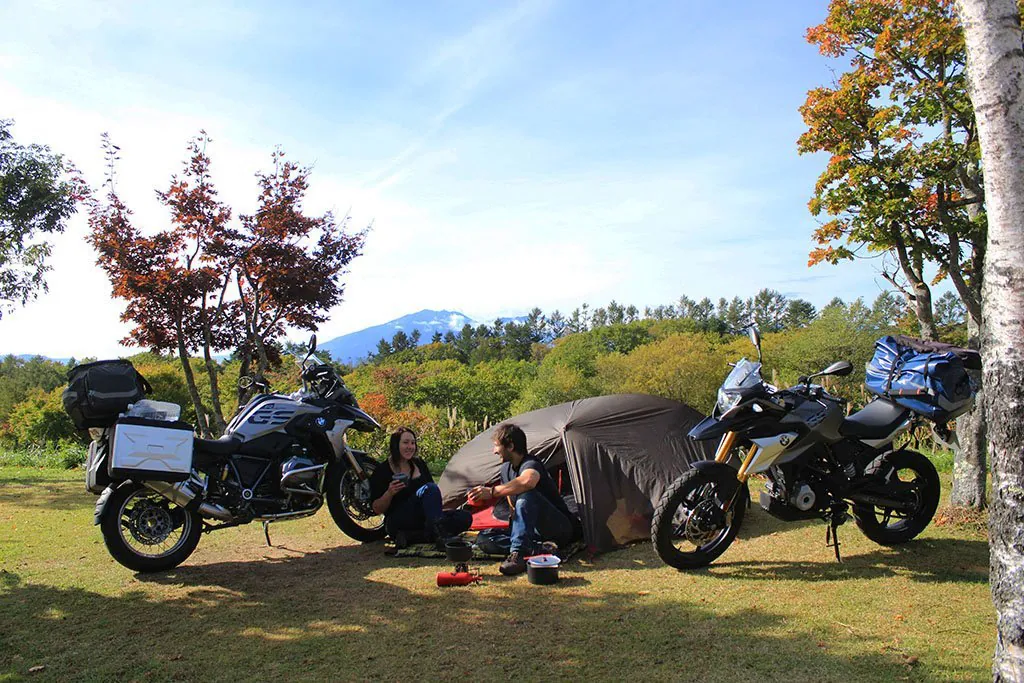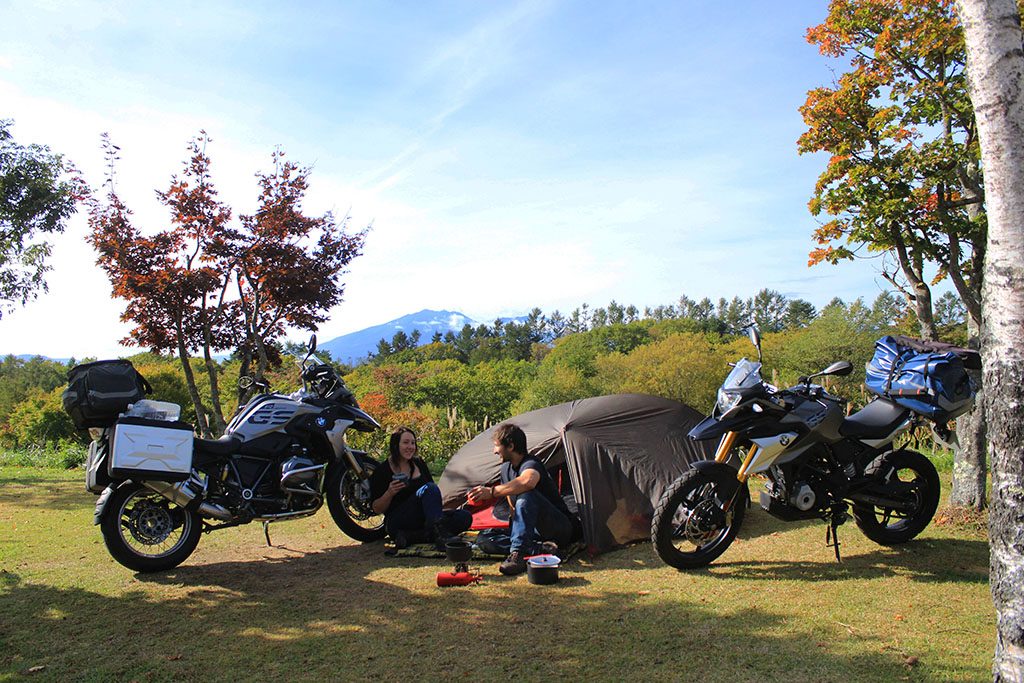 But it's not all easy riding in Japan, and like with any country there are difficulties. Here, it's mainly finding affordable accommodation as you travel around. Unless you're up for wild and free camping, it can get expensive. So, if you want the luxury of a roof then you'll need to plan carefully and potentially book in advance as turning up at a hotel can catch you out.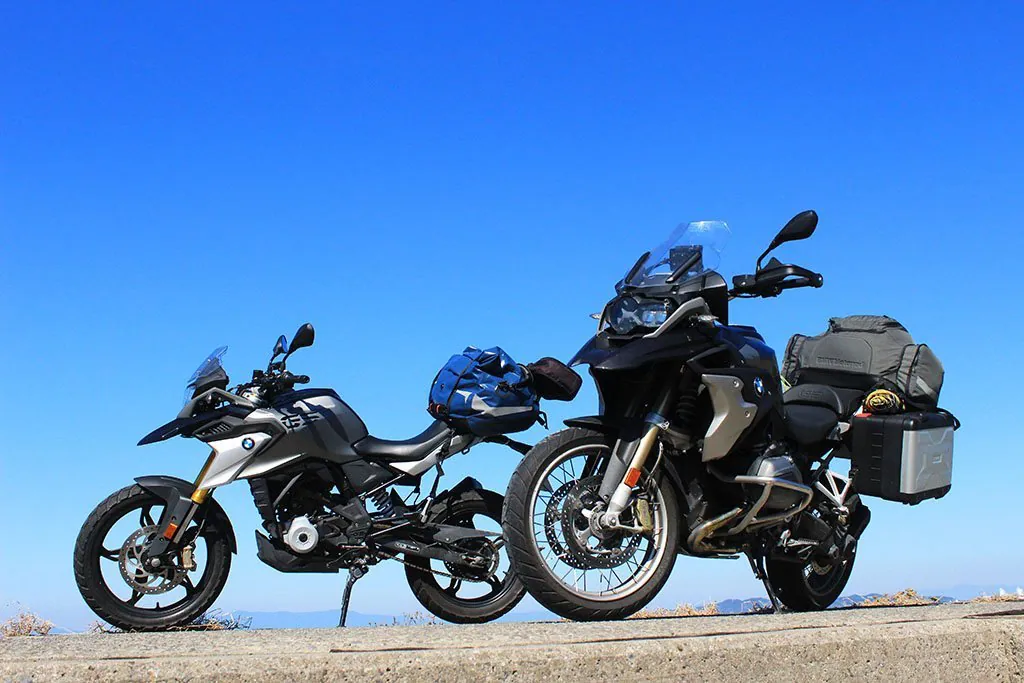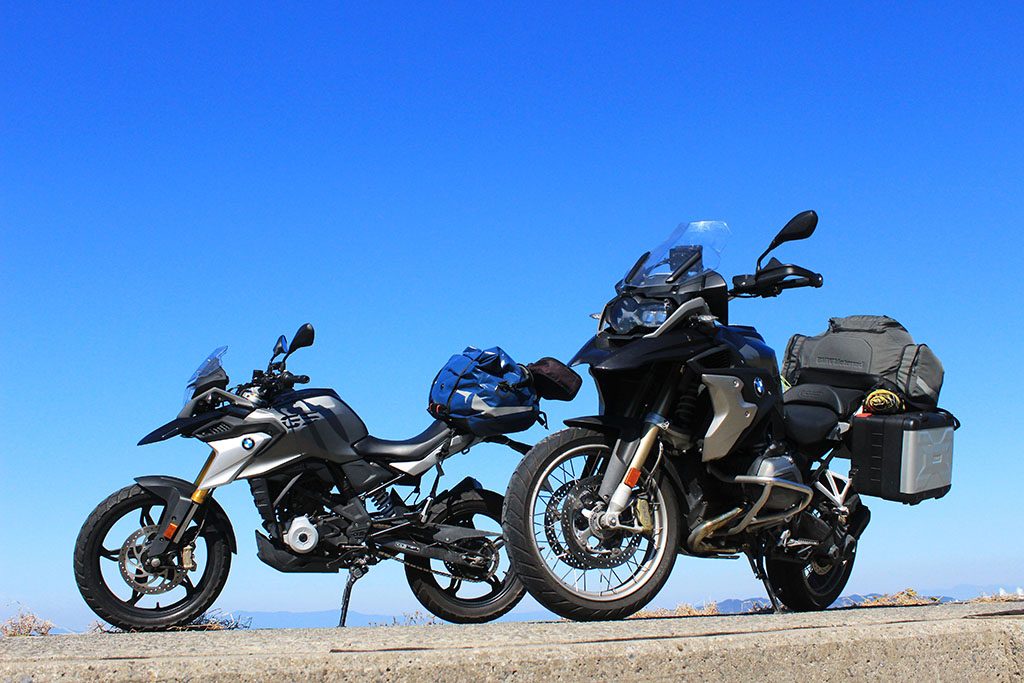 The other thing to consider is that it can either take twice as long or be twice as expensive getting places compared to anywhere else in the world. The national roads are free but very slow and the express highways cost a miniature fortune to use. Of the four main islands, Honshu is by far the busiest. Spend your time on the other three, plot your routes in advance, opt for back roads and you'll be fine.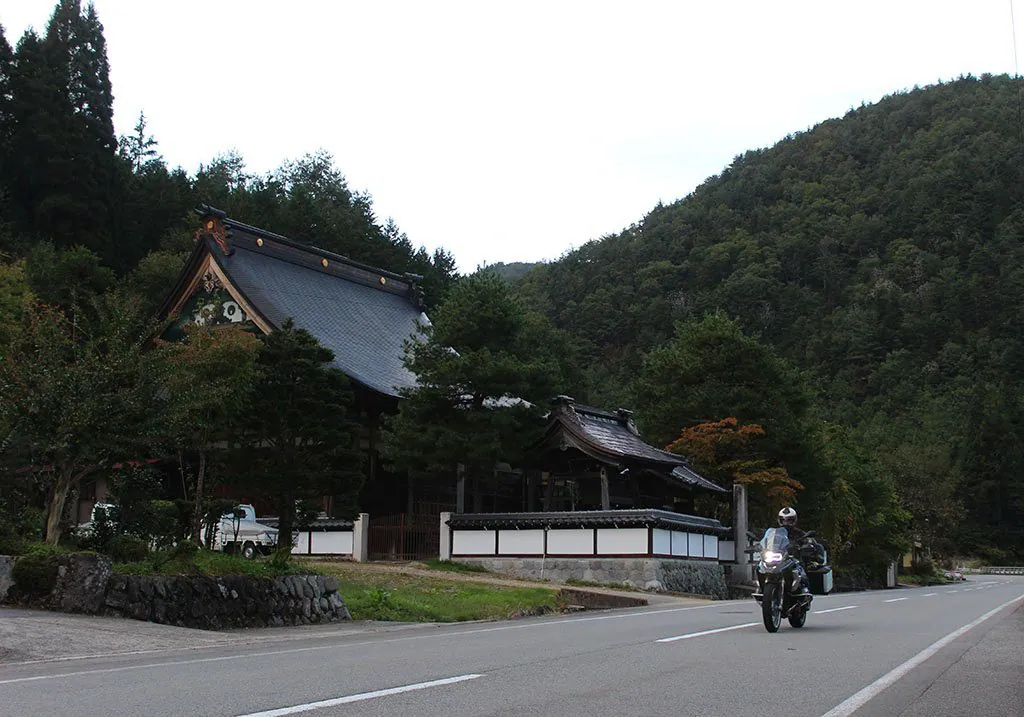 But of all the riding challenges here, the hardest was on Okunoshima island… otherwise known as Rabbit Island. It's a tiny island brimming with thousands of fluffy bunny rabbits, all hopping around near the wheels and it's just not worth the risk! You'd need to be a pro trials rider to dodge them.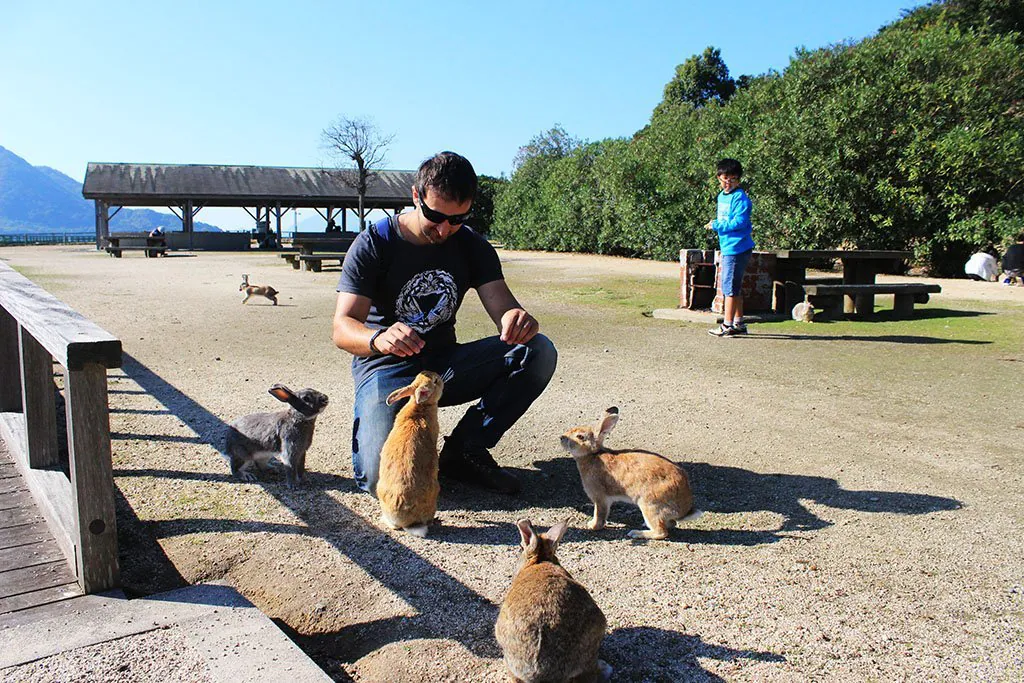 We're no longer surprised by this sort of thing, a few days later and we're riding on another island, this time filled with friendly deer. A few weeks later and we park the bikes to watch wild snow monkeys dipping into steaming outdoor onsens (hot springs). There are thousands of volcanic onsens spread across the country and many of them are free (you don't have to share them with monkeys either).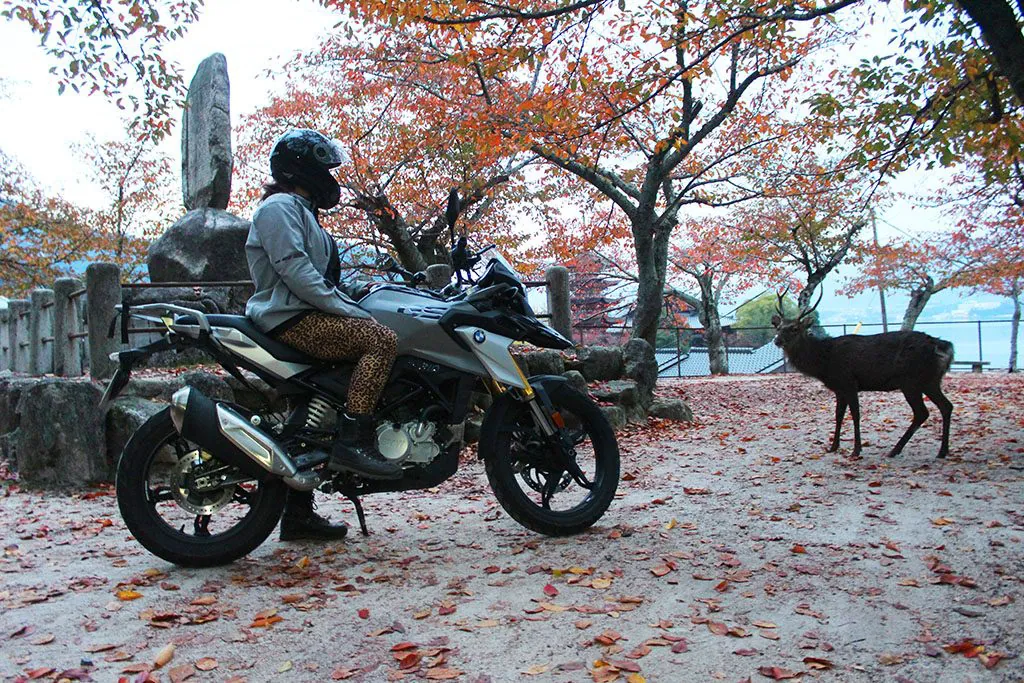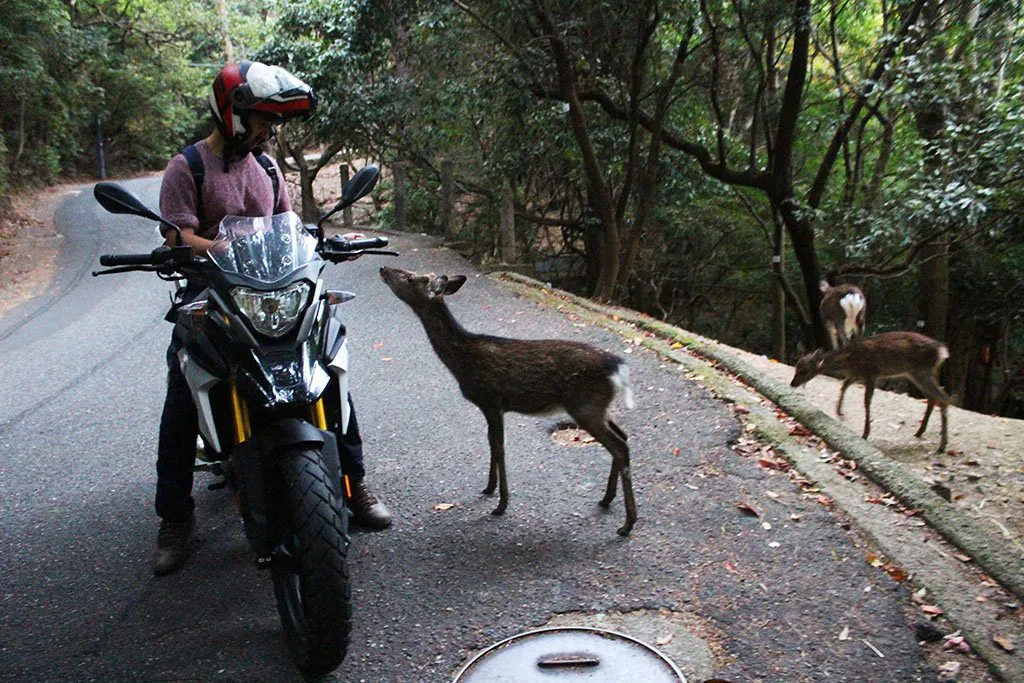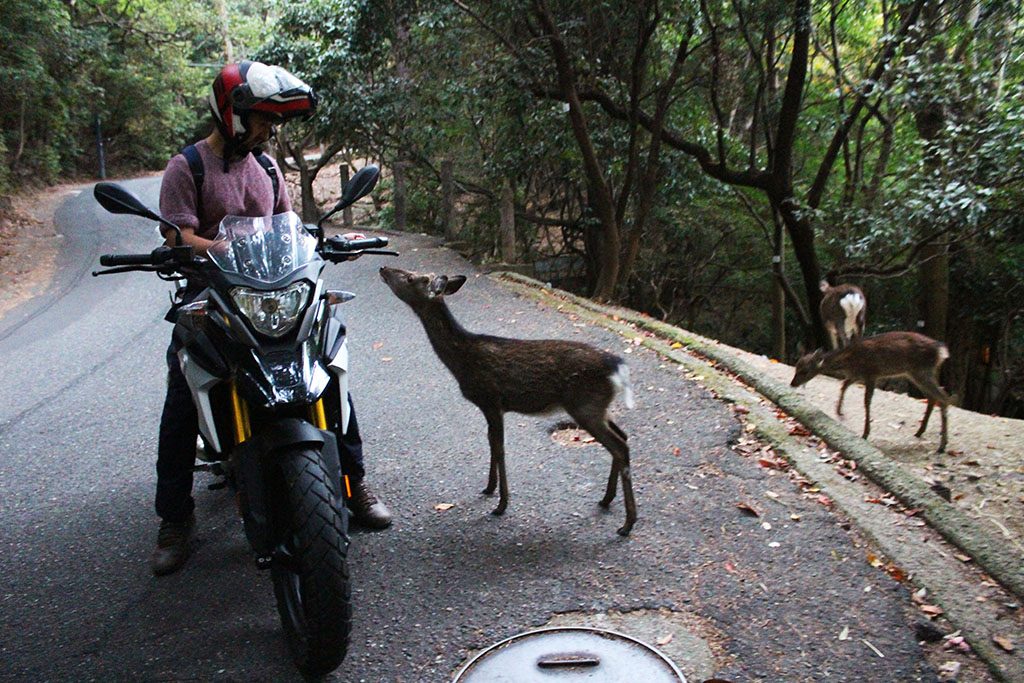 Months pass by, the ocean's summer breeze begins to fade and leaves start to fall from the trees. So, we hook a right and head inland to chase Japan's mystical mountains instead. The colours are spectacular; rusty reds, crispy oranges and warm yellows blanket the valleys and coat the twisty roads that snake their way through them. We wring the throttles and Alissa tears off on her G310GS as I chase on the R1200GS, blasting through immaculate landscapes, clinging to tight cliff-top roads, swerving through bamboo forests and riding through the clouds on pristinely laid tarmac.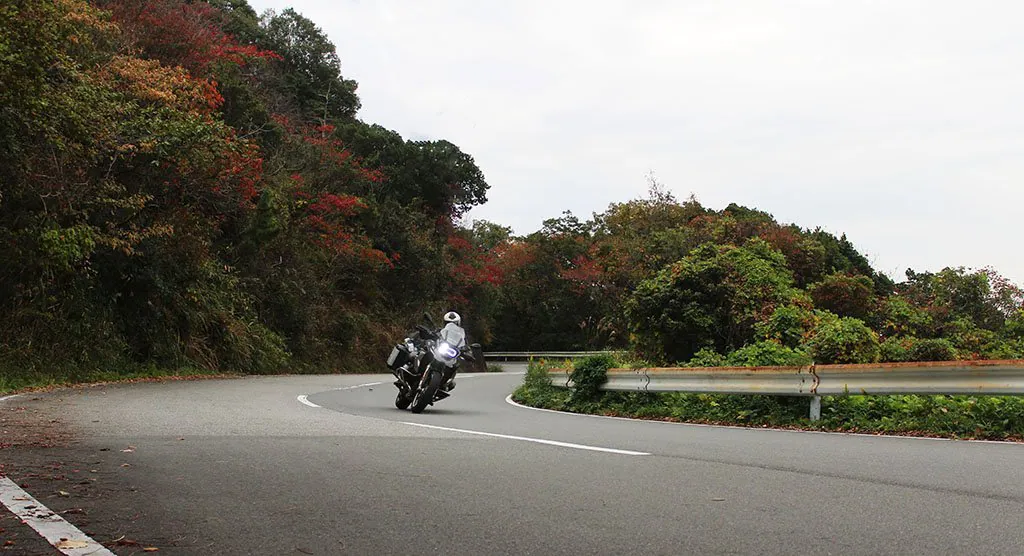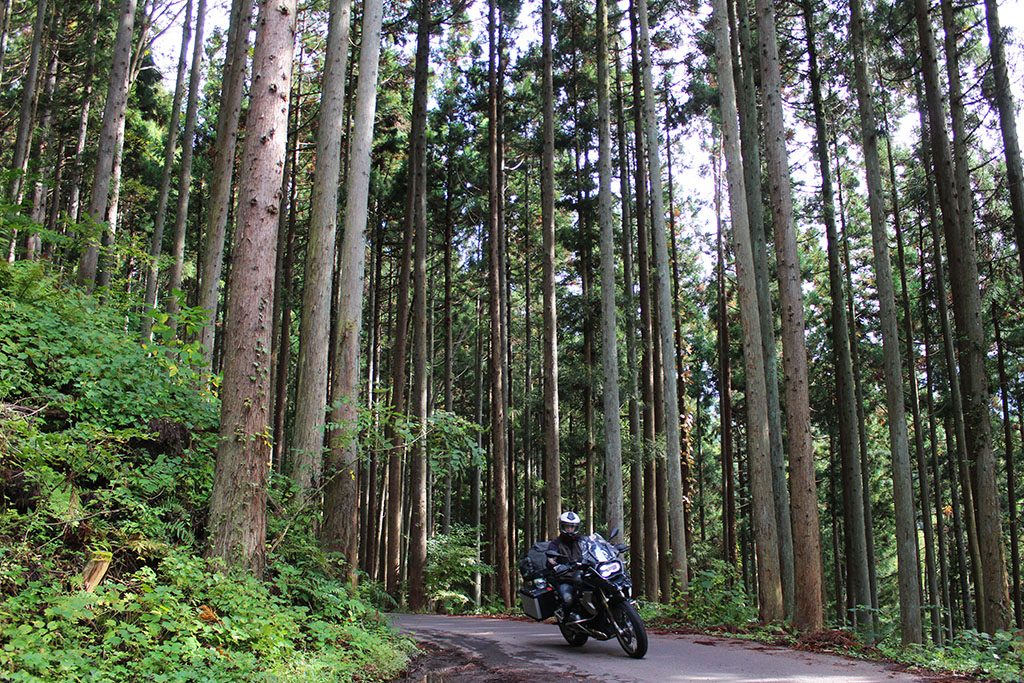 The roads flow through hundreds of traditional villages with friendly faces and waving people tending their crops. Until we ride through a sleepy village where everyone refuses to wave back – a first in our five months of riding in Japan. Turns out the village is populated by over 200 meticulously placed, lifelike and well-looked-after scarecrows … and only 29 humans.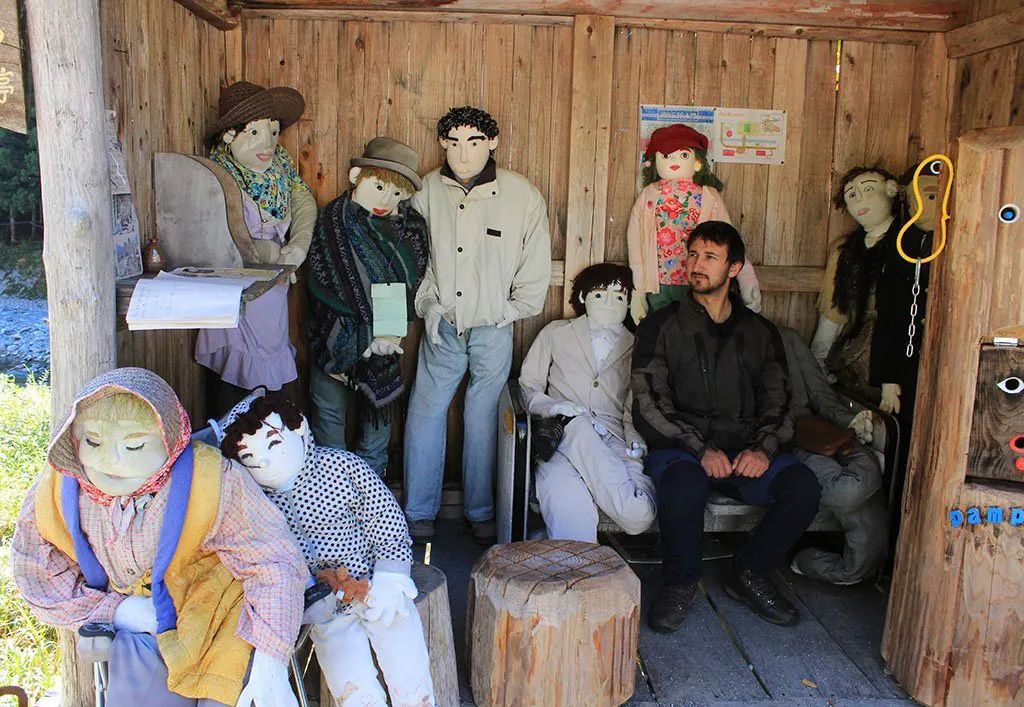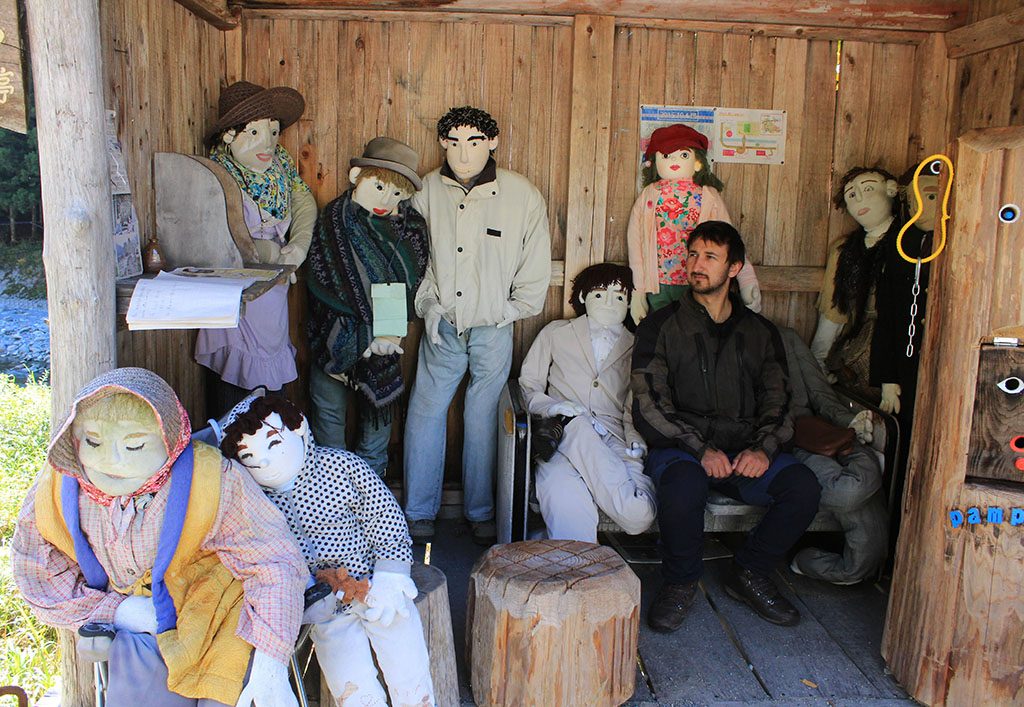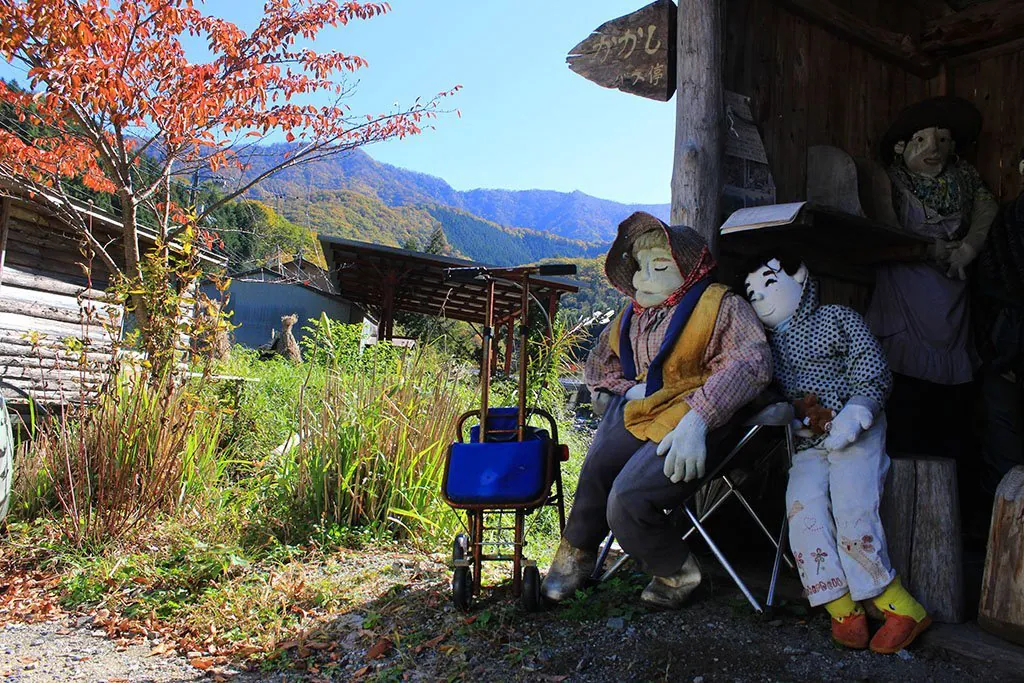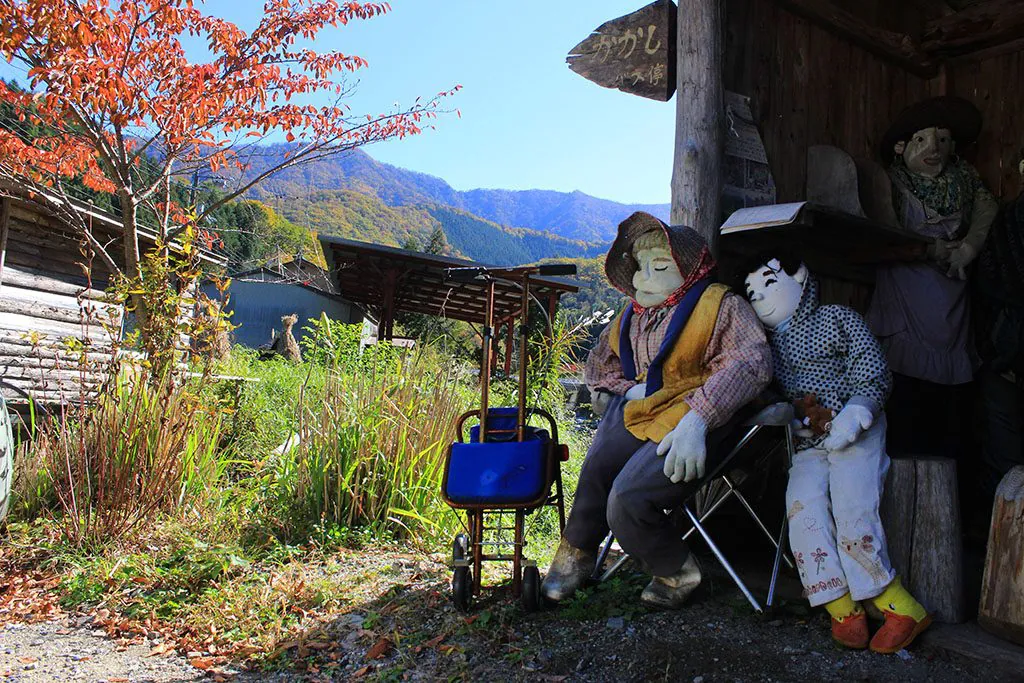 Villages full of scarecrows no longer feel strange either. We've come to expect it. We find something new, unexpected and different every day on our bikes. Wherever you're from in the world, riding in Japan will feel like a million miles away… there is nowhere else like it.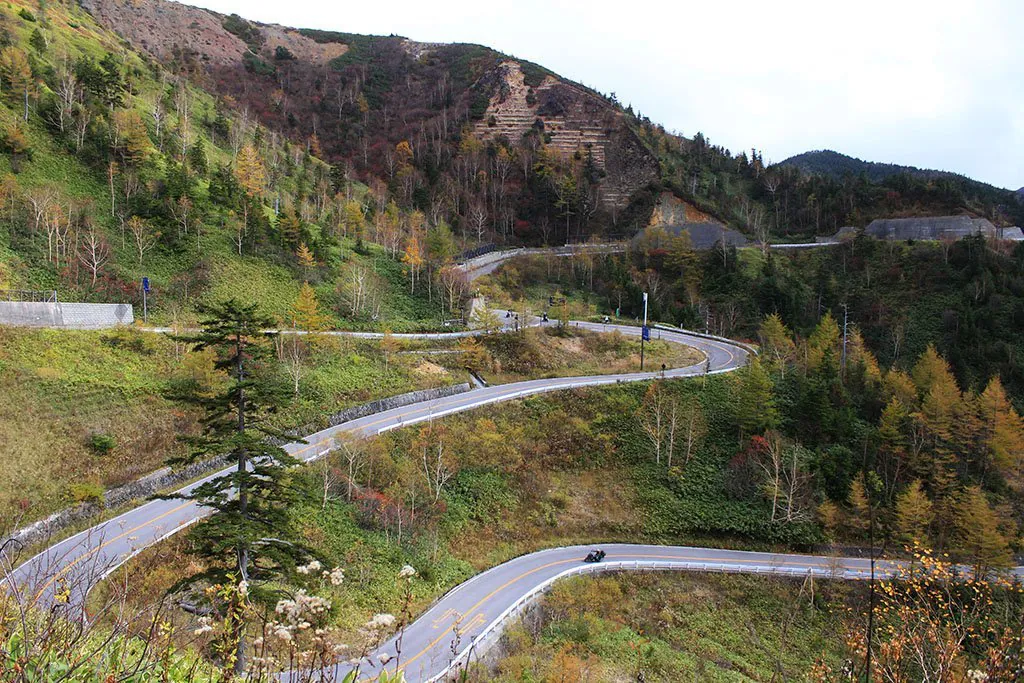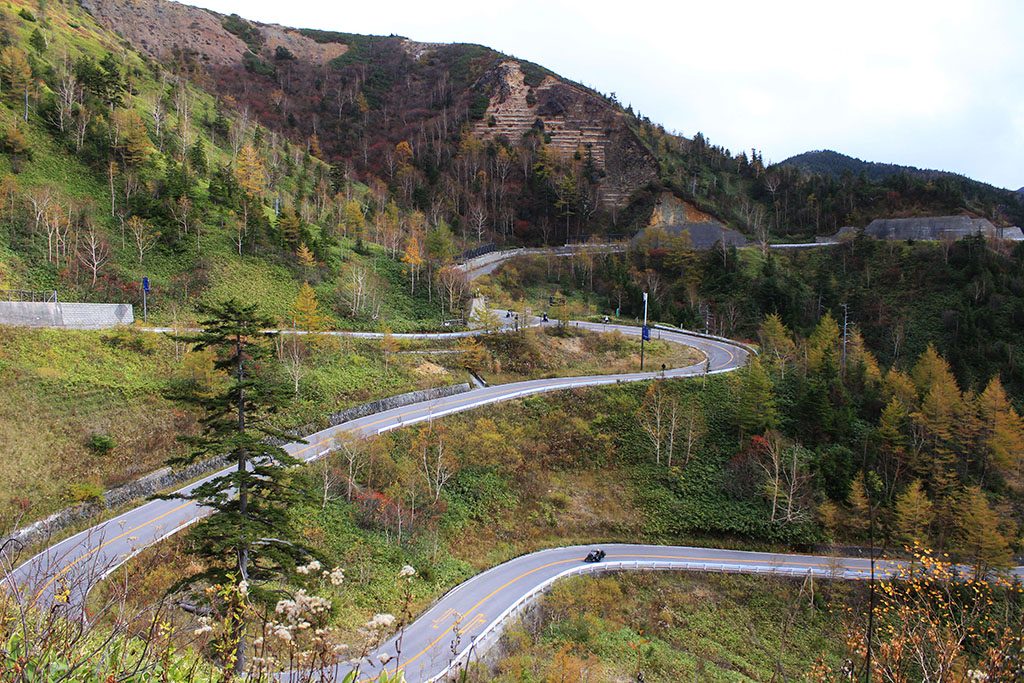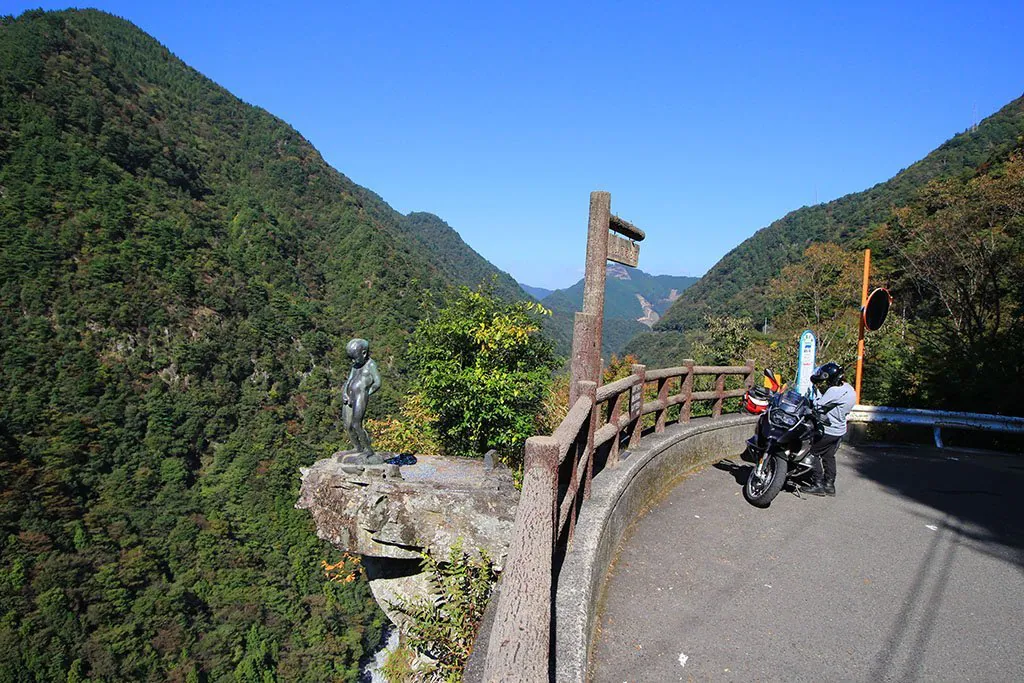 It's serious about its rules and everyone follows them. Riders don't overtake cars, pedestrians wait at lights and riding is easy because everyone drives so slowly – it's far removed from the bustling, barging and beeping streets of Asia. Littering is unheard of, people don't eat while walking, the entire country is immaculate, everyone is ultra-polite, calm and composed and people treat each other with the utmost respect. And on top of that, it's incredibly safe. We never worry about our personal safety, our motorcycles or possessions. We leave everything on our bikes as we stroll through towns – something that's unheard of in Europe.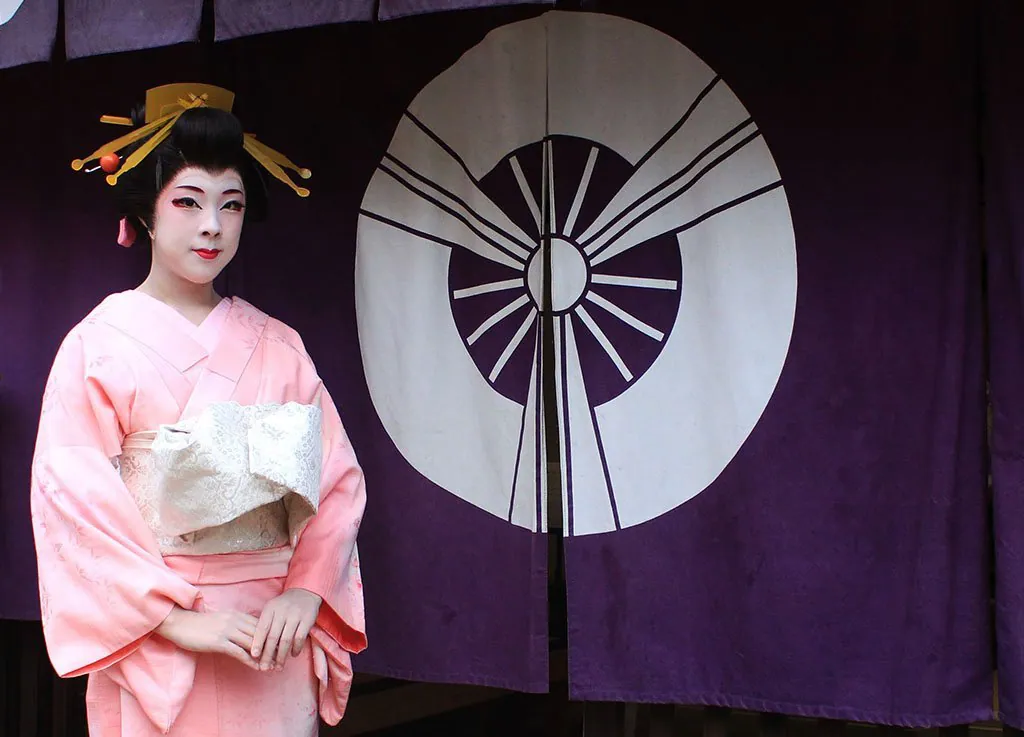 But there is one thing that's not completely different from the West and that's Japan's deep-rooted love of motorcycles. Well, there are some differences… The roads are packed with the most unlikely groups of bikers. A typical gang consists of three sportsbikes, a chopper, two scooters, the odd adventure bike and a monkey bike chasing at the rear. Bikes don't club together here. And you can forget the subtle British nod, the European foot wave and the low-slung American salute – the Japanese throw hilariously huge waves and even bigger smiles at each other. It's brilliant and the biking culture is incredible.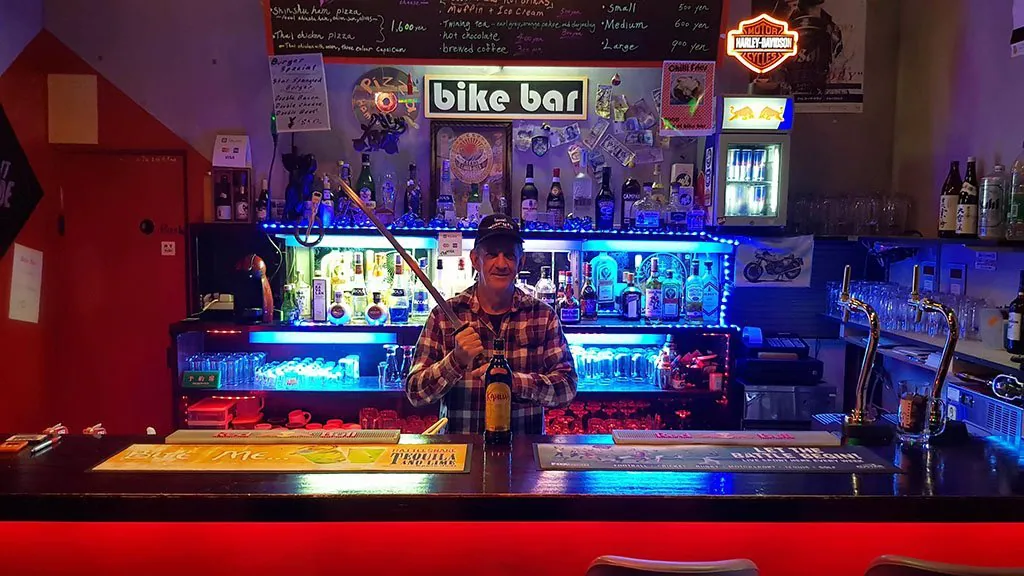 You'll find classic bike shops everywhere, ride into a quiet little town and there'll be a bike bar too. There's even a dedicated Kenny Roberts Cafe… which he has visited! Groups of friendly riders cruise the coasts and campsites are packed with them. It's a motorcyclist's dream and you don't have to be into Japanese bikes to love it either, although it certainly helps. Each of the Big Four (Yamaha, Suzuki, Kawasaki and Honda) have a museum where you can stroll around and soak in exquisite vintage machinery.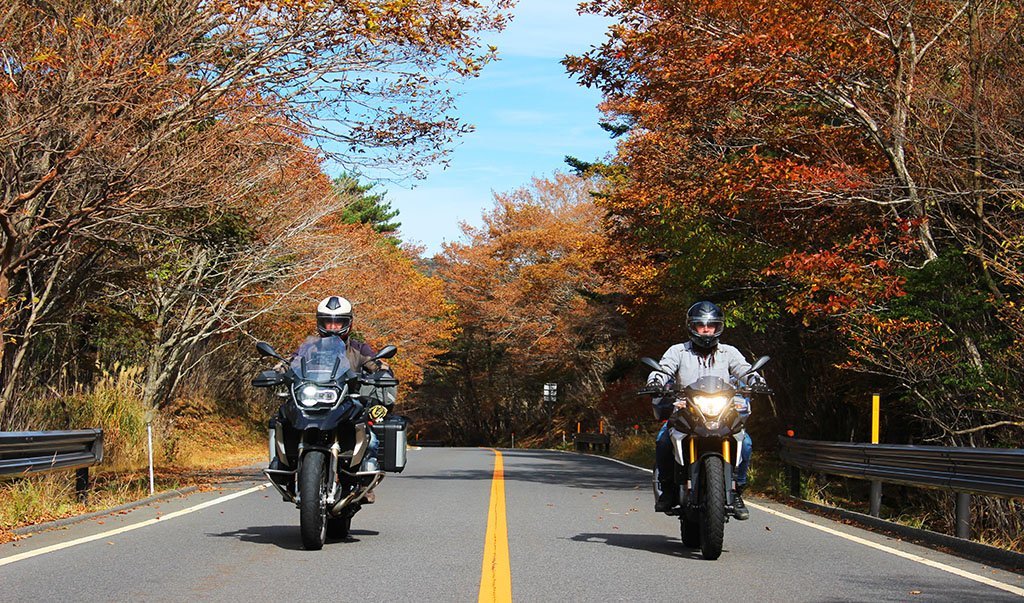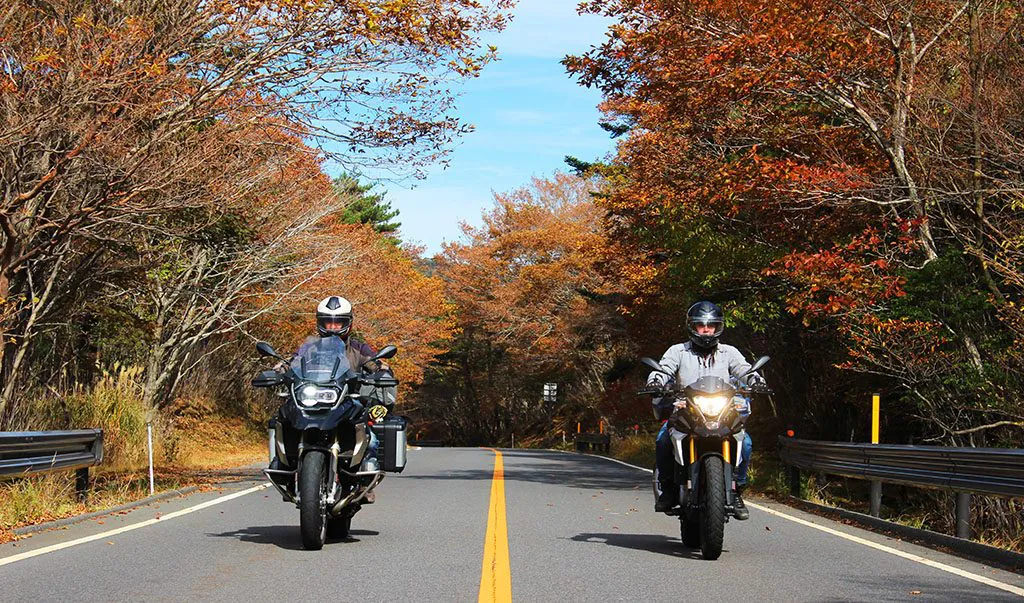 But most importantly, the Japanese are so welcoming, so accommodating and so into their bikes that it always feels as though you have a million friends around every corner. Stay away from the busy cities, pick backroad routes, head into the mountains and towards the sea and motorcycling in Japan can be of the greatest rides of your life.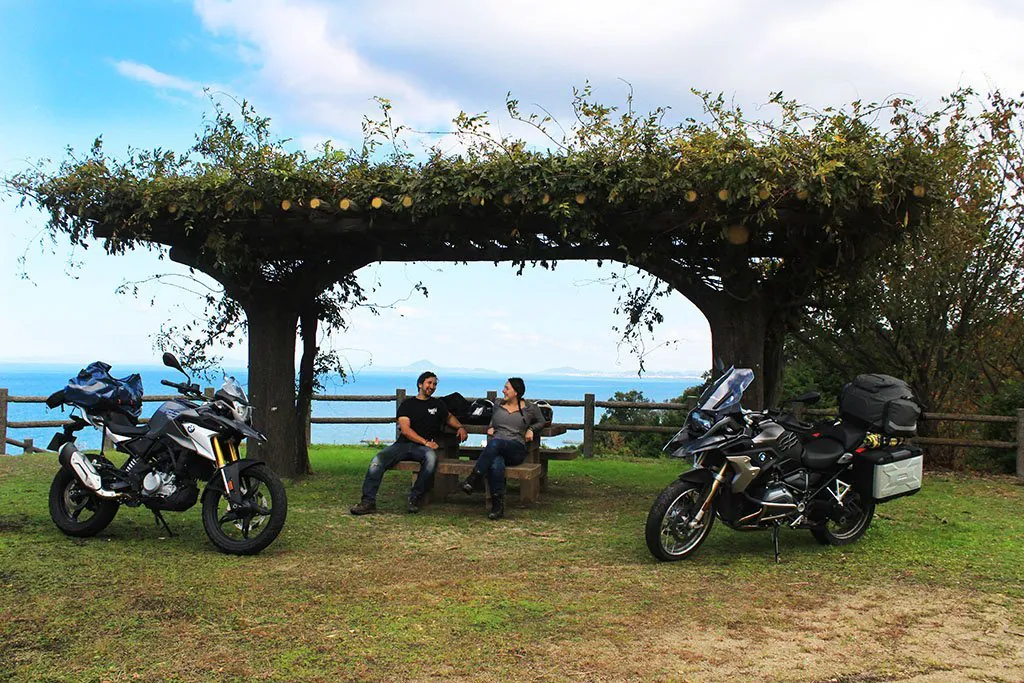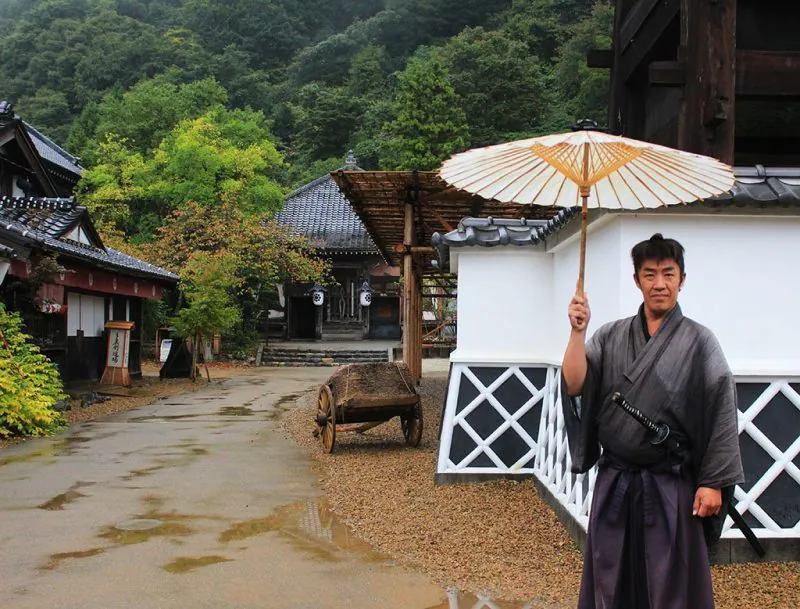 Your turn
Riding in Japan is an incredible experience and you're going to love it! You can either ride your own bike there, in which case you'll either need to take the ferry from Japan or South Korea or you can ship your motorcycle to Japan.
For more info on this, visit our Japan page for ferry services and the Recommended Motorcycle Shipping Companies page for our top company in Japan.  
The alternative is renting a motorcycle in Japan or joining a tour. You can find more info about this on our Recommended Rental and Tour Companies page. And in our Motorcycle Travel Guide: Japan where you'll find all the info you need on riding in Japan. 
Read more on motorcycle travel in Japan
Thanks for checking out our Motorcycle Travel in Japan Guide. We hope you enjoyed it! Here's a few more articles on motorcycling in Japan that we recommend you read next.