Wondering where we're going and where we've been? So are we! Here's what we're doing and how we're doing it with a nifty route map too.
The plan
The plan is to ride round-the-world and explore.
But the world isn't that easy when it comes to vehicle paperwork. Some countries require ridiculously expensive documents and some won't let you in without a compulsory guide (like China and Myanmar).
So, our route is going to be a little messy. We don't want to miss anywhere out and will double-back on ourselves by shipping the bike backwards to start a new route.
We'll also ship our motorcycle ahead and store it so we can buy, sell, and rent other bikes to avoid fees in some countries and backpack through others.
We're going to travel that way because we don't want to just tick countries of a list.
We want to really get to know a place before we move on and that means spending time there and travelling overland.
And we hope the guides, blogs and travel tips we write on each country we travel through will help you explore those places too!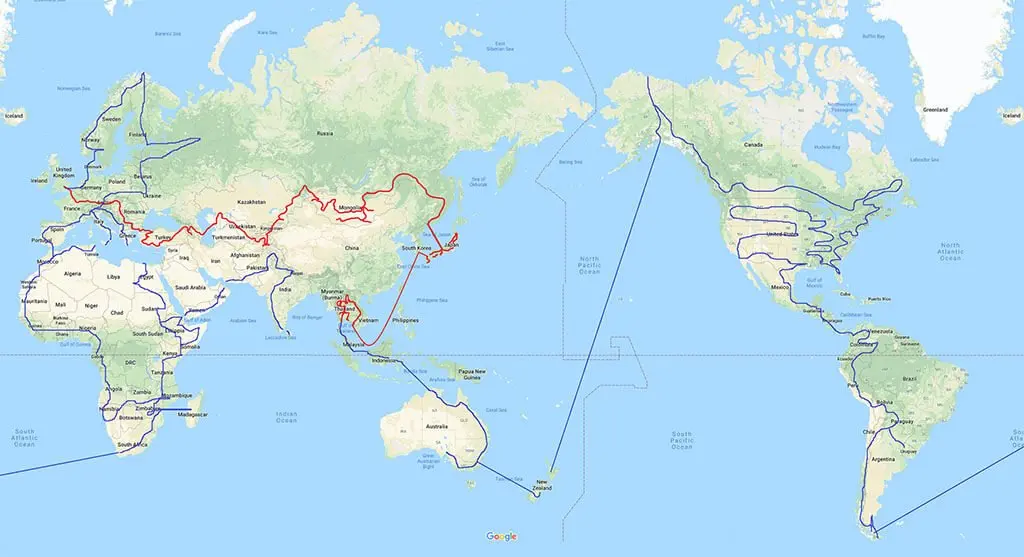 We aim to do the trip in one go, but have split it into sections here to make it easier to follow and plan
STAGE 1: UK to Japan: COMPLETE (January 1 2018 – January 1 2019)
Europe, Turkey, Georgia, Armenia, Azerbaijan, Kazakhstan, Uzbekistan, Tajikistan, Afghanistan, Kyrgyzstan, Russia, Mongolia, Japan, South Korea.
STAGE 2: Cambodia to Australia (The Covid pandemic has put a pause on this section while we're in Thailand)
Cambodia, Laos, Thailand, Vietnam, Malaysia, Indonesia, Australia and New Zealand
STAGE 3: North America to South America
Northern tip of Alaska, USA to southern tip of Tierra Del Fuego, Argentina, South America
STAGE 4: South Africa to North Africa
As many countries as we can in Africa and the surrounding islands
STAGE 5: Spain to Nordkapp
Europe, Balkans, Eastern and Northern Europe, Scandinavia, Russia
Here's some articles we recommend you read next…