Here are our 10 best ways to save money on a motorcycle trip and travel on the cheap. These hard-earned money saving tips and tricks will keep your motorcycle travel costs low and keep you riding further for longer…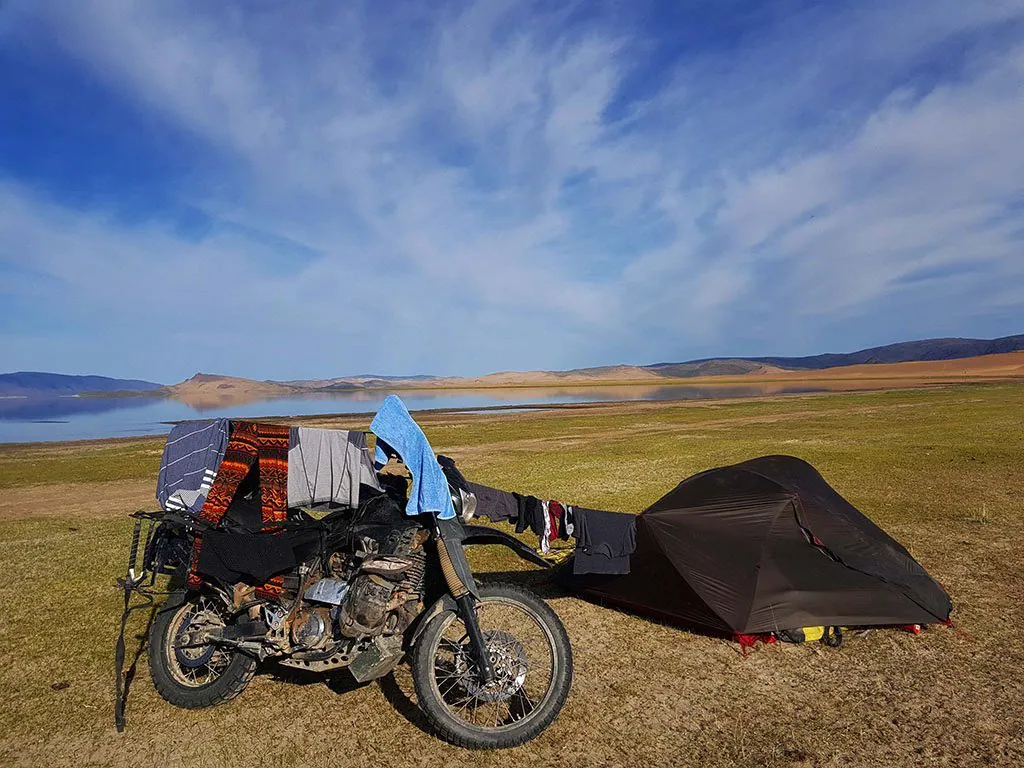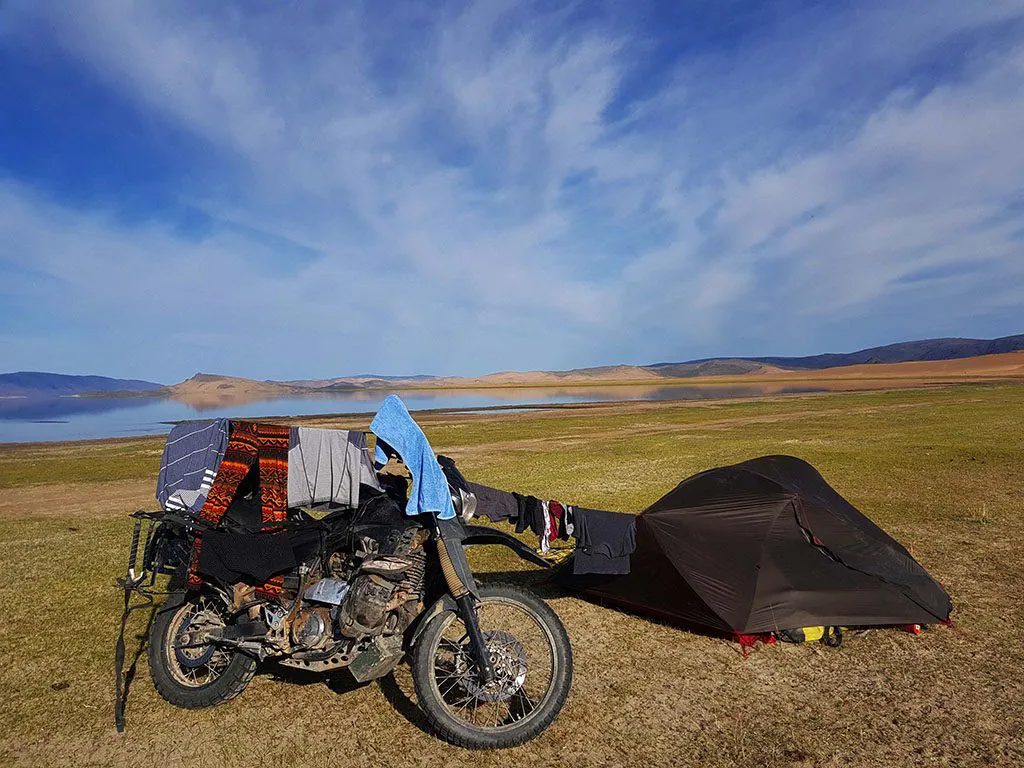 How to Motorcycle Travel on the Cheap and 10 Ways to Save Money on the Road
Motorcycle travel doesn't need to cost the earth and is something anyone can do. And the same goes for whether you're on a two-week European bike tour or riding your motorcycle RTW. The key is to figure out how to keep your expenses low and minimize unnecessary spending. And after 15 years of motorcycle travelling all over the world, we've picked up a few tricks which will help you do just that.
They're all crammed into this comprehensive and packed money saving motorcycle travel guide. This article lists the 10 ways most of your money will be spent on motorcycle trips and easy tweaks on how to cut the costs for each one. Let's get to it!
The biggest continuous expense on a motorcycle trip is accommodation. The cost of hotels, hostels and B&Bs quickly racks up over long-term adventures. Even a relatively cheap £20 a night hotel, every day for two months would set you back £1,120. If you can limit that hotel stay to once a week, after two months you've only spent £160 and saved £960!
Unless you're dripping in money, you will need to camp for the majority of a long-term motorcycle trip. Here's how to not spend money on camping and also how to save cash when you do need a hotel.  
Motorcycle Camping
Camping is the best way to save money on accommodation. There are downsides like carrying more equipment and limited luxuries. But it's a big part of motorcycle travelling and will save the most money on a day-to-day basis. There are plenty of official campsites throughout the world that are far cheaper than staying in hotels, but the best way to save money is by not spending any at all – and that means wild camping.
Check out our dedicated camping guides section for kit lists, how to camp, the best tents and more. And then move over to the packing guides to see what you need to take. 
READ MORE: 
Wild camping
Wild camping simply means to camp anywhere. It's an integral and visceral part of motorcycle travel. It's also really fun and gets easier the more you do it. What most travellers find tricky about wild camping is finding a spot to pitch your tent. You've got two options here:
Out of sight
The best way to wild camp is to find a river on your map/ navigation device in a wooded or secluded area and head for it. Having running water makes all the difference to a camp spot as you can use it to cook, clean and wash. Try and tuck yourself out of the way, out of sight and away from the main road so you don't attract any unwanted attention. If you need to camp closer to civilisation, then locals are usually fine with wild campers so long as they don't leave a trace, set-up their site once the coast is clear and are gone early morning. 
In sight
But wild camping doesn't always mean traversing forests until you find an isolated spot. I've wild camped in people's back gardens (ask permission first, obviously), in a greenhouse, next to restaurants, next to a football pitch during a game, in between trucks, car parks and even parks in city centres. I've had some incredible nights and made great friends just by knocking on a door and asking if I could sleep on a patch of grass. This can be a great option if you feel you need a bit of added security in the area you're staying.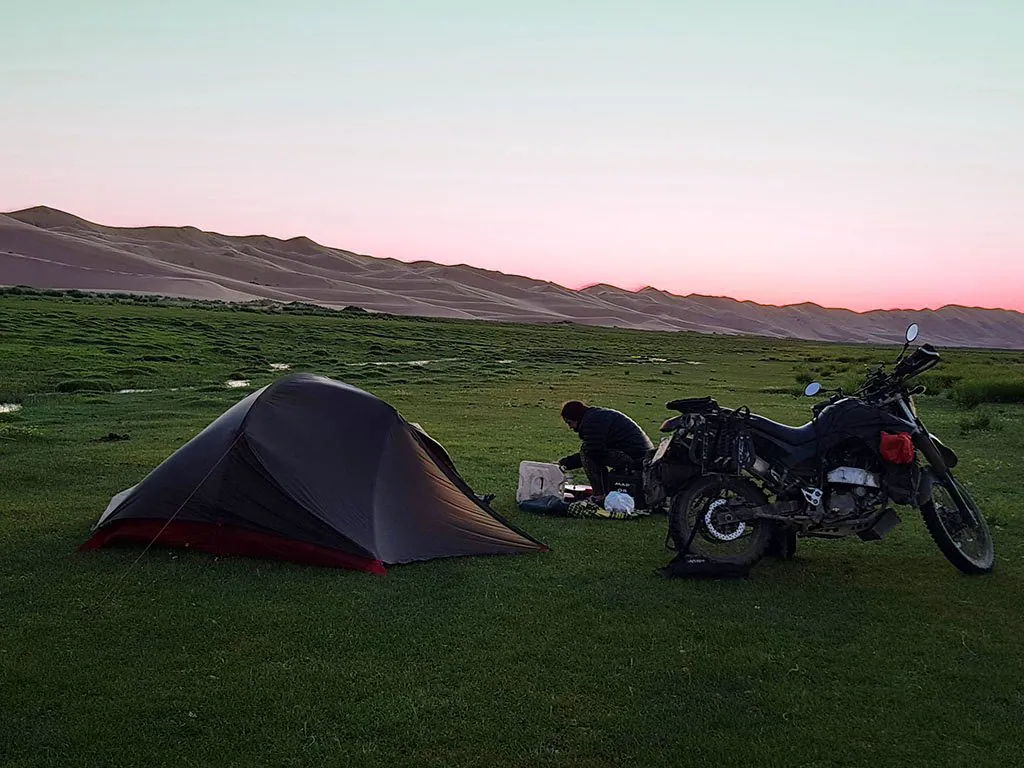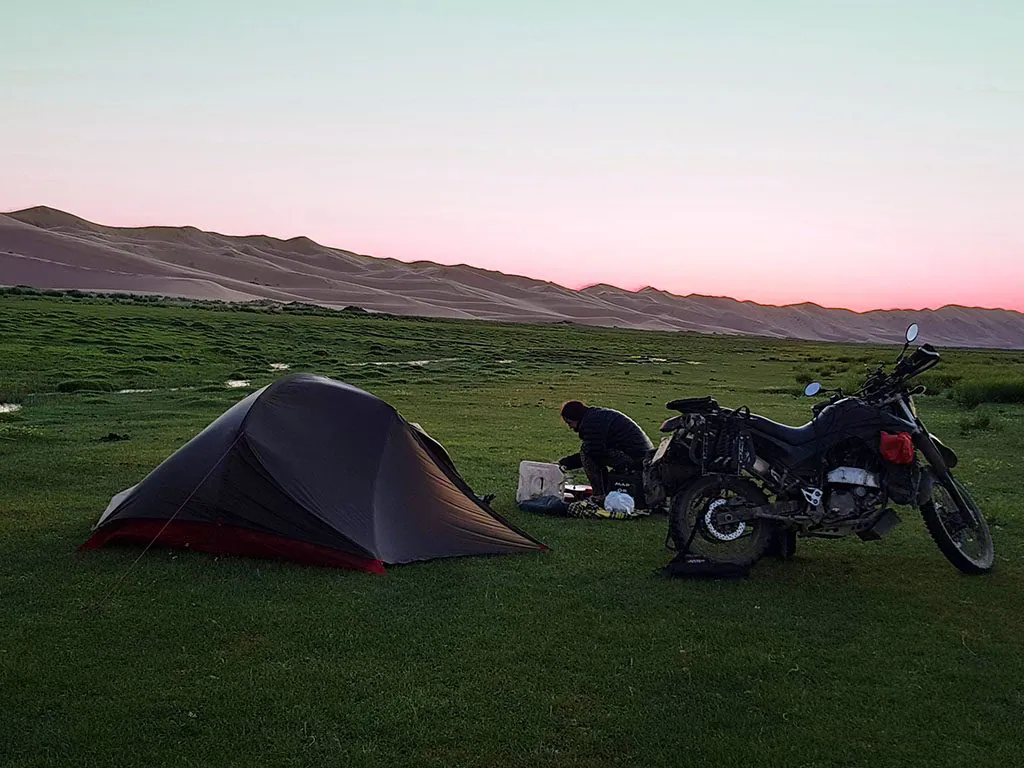 Hotels, Motels and Guesthouses
Camping isn't for everyone and can become tiresome. Even the hardiest travellers need a solid roof every once in a while. Luckily, there are plenty of ways to save money here too. In general: opt for guest houses over hotels, make use of the apps listed below, try online platforms and search around for the best deal.
Hotels
Booking.com is the number one way of booking hotels as you travel. It's easy, has a mobile app and directions transfer to Google Maps or Maps.Me. To save money, find the hotel on Booking.com and then call or email to ask what their direct rate is; it's usually cheaper than the online version. If you use Booking.com frequently, you will get upgraded to 'Genius Level 2' and that gives you discounts on certain hotels as well. But before you book a hotel, try out the apps and options below first.
Ways of Finding Accommodation
Maps.Me
Maps.Me is our primary navigation device. Maps.Me is excellent because it's free and works offline. It also lists smaller hotels and accommodation options that aren't on Booking.com and makes it very easy to find a cheap place to sleep. It lists hotels that users have put on the map and you can read their reviews too. Check out our travel apps guide for more info on Maps.Me and iOverlander.
READ MORE: 
iOverlander
iOverlander is a fantastic tool and a must for motorcycle travellers. It's a community-based phone app that's built using user recommendations and reviews. Users drop pins on the map to a point of interest, leave a review and the exact GPS coordinates for fellow travellers. These pins can be on border crossings, insurance offices, petrol stations, sights, hotels, camp sites, wild camp spots, incredible roads… anything really.
Check the map to see if there are any accommodation recommendations along your route or around your destination. It often lists hidden guest houses which offer a far more personal (and cheaper) experience than the average hotel.
AirBnB
Airbnb.com is another great option for motorcycle travellers and comes in particularly handy when you want to stay in once place for a long time. You'll often find lovely entire apartments all to yourself for very low rates. It's can be cheaper than booking into a hotel and it also means you can save money by cooking and preparing your own food (just make sure you opt for a place with a kitchen). One of our absolute favourites was a beautiful, entire AirBnB apartment in the white-washed coastal town of Kars, Turkey. It was £9 a night with a kitchen and the local hotel was £30 a night!
Couchsurfing
Couchsurfing.com is an amazing and free online service. It's one of the best ways out there to find free accommodation and meet amazing, like-minded people. Log-on, set-up an honest profile and then search in the location you're heading to. Plenty of profiles and users will pop up, click on a profile and read their references, if they sound like someone you'd like to stay with, send them a request and see what they say!
It's a free service and hosts will not charge you for your stay. But remember, it's not a hostel, hotel or turn-up and go to your room type thing. Your hosts will expect conversation and a cultural exchange. If you're up for this, then CS is brilliant way to meet new people and explore new places with a local.
Keep in mind that at first it will be hard to find hosts as you won't have any references. A way around this is to look for people who have not got a couch on offer, but are available to meet up for coffee instead (another option on CS). Meet people like this and write references for each other – it'll make it easier to ask for a place to stay once you've built up your profile.
Bunk a Biker
Bunk a Biker will quickly become one of your best travel buddies. It's a free website, simply visit the site, click on the map button and you'll find an interactive worldwide map filled with pins. This is a global community of motorcyclists who have volunteered to provide accommodation to motorcycle travellers (or are offering to meet up, help with repairs, or show their local sights).
Click a pin in an area you're travelling through and you'll see what they're offering with contact information. Get in touch and see if they're interested in hosting you for the night. 
It's a free website and the accommodation people are offering is free too. But, it's not a way to save money while travelling and shouldn't be used in that way. Their website says it perfectly: "It's not designed to be used purely for the sake of saving money but instead to promote the togetherness and support of a motorcycle-enthusiast community."
We've had some incredible experiences with Bunk a Biker and highly recommend trying it out. 
WikiCamps
WikiCamps – a fantastic and very popular app for Australia, New Zealand, UK, USA and Canada. Absolutely brilliant for camping, finding drinking water, free sites, paid sites, toilets and showers etc. You do need to pay to use the app, but it's a one-time fee and exceptionally cheap. We wouldn't have been able to afford riding through Australia without it.
Summary
Wild camp whenever possible
Opt for guest houses over hotels
Don't be afraid to knock on doors and ask if you can sleep nearby – you'll be surprised how kind people can be
Check phone apps like Maps.Me and iOverlander before booking hotels
Try alternatives like Couchsurfing, Bunk-a-Biker and use camping apps
Banks and cards
Your bank can quietly drain money from your account as you travel if you're not careful. Most high street banks have high charges for withdrawals and exchanges abroad and charge you foreign exchange and transaction fees every time you make a purchase.
Imagine how often you're going to need to withdraw cash, and then slap a fee on that every time. You could easily spend hundreds of pounds on unnecessary bank fees without even knowing it.
You need to research and find either a credit card with a foreign withdrawal and transaction fee waiver or see what deals your current bank can offer you. It's worth spending the time to do this before you leave on your trip as it will save you a lot of money over time.
The best banks for UK nationals
If you're from the UK, you could opt for either a Monzo or Revolut card. These are basically mobile app based bank accounts. We've been using them for years throughout the world and thoroughly recommend them.
Download the app, create an account, transfer money into it and then use it as you would any other debit card (both in the UK and abroad).
The main benefit for a motorcycle traveller is when it comes to using the card abroad.
Withdrawals – You can withdraw up to £200 for free from your account per month. Withdraw over that and Monzo will charge 3% and Revolut 2%, which are both still considerably cheaper than the majority of high street banks (these fees only apply abroad, there's no charge for withdrawing in the UK).
Consider that most high street banks will charge more than 3% for any amount of money withdrawn abroad plus an additional fixed non-sterling transaction fee!
We suggest getting one of each card, then you can withdraw up to £400 without a charge per month.
Transactions – All transactions are free with no exchange or transaction fees. The app will notify you every time you spend, keeps a record of how much you're spending, on what and the exact location. This makes it easier to budget as well. It's also cheaper to pay someone abroad with international bank transfers.
They are extremely useful and secure. If you lose your card just log on to the app and freeze the card. Monzo is Mastercard and Revolut Visa, so they work anywhere in the world.
Exchange rates
Research exchange rates before you cross borders. It's easy to get caught out when foreign money is being thrown around. Know how much you want for your money and what exact number you're willing to go down to before you start negotiations. That way you can't be caught out or put under pressure.
Always carry US dollars and plenty of small denominations. It makes exchanging easier and also helps when crossing borders. For example, when crossing into Kyrgyzstan from Tajikistan, the border guards only accept US dollars and strangely never have any change. Many people get caught out as they only carry large bills. 
ATMs
Do your research on which banks and ATMs charge and what their fees are. For example, in Japan nearly all ATMs will charge you a fixed fee. But, every 7/11 convenience store (and 7/11 is absolutely huge and everywhere in Japan) has an ATM and they don't charge a single Yen.  
And the golden rule is to always withdraw and pay for things in the currency of the country you are in. Never let the ATM use its own exchange rate because you will always be charged more. This is a very common problem that can come up when making everyday purchases too. Anytime you use your card in a shop, restaurant or supermarket, the card machine may ask the cashier if you want to pay in your home currency. Say no and opt for local currency.
Summary
Know the exchange rate and how much you're willing to spend on the exchange before entering negotiations
Carry small denominations of USD
Understand your bank's exchange rates and foreign transaction charges
Shop around for the best credit/ debit card deal before you leave
Know where and how to withdraw cash
Never pay in your home currency
Destinations, Borders, Paperwork and Police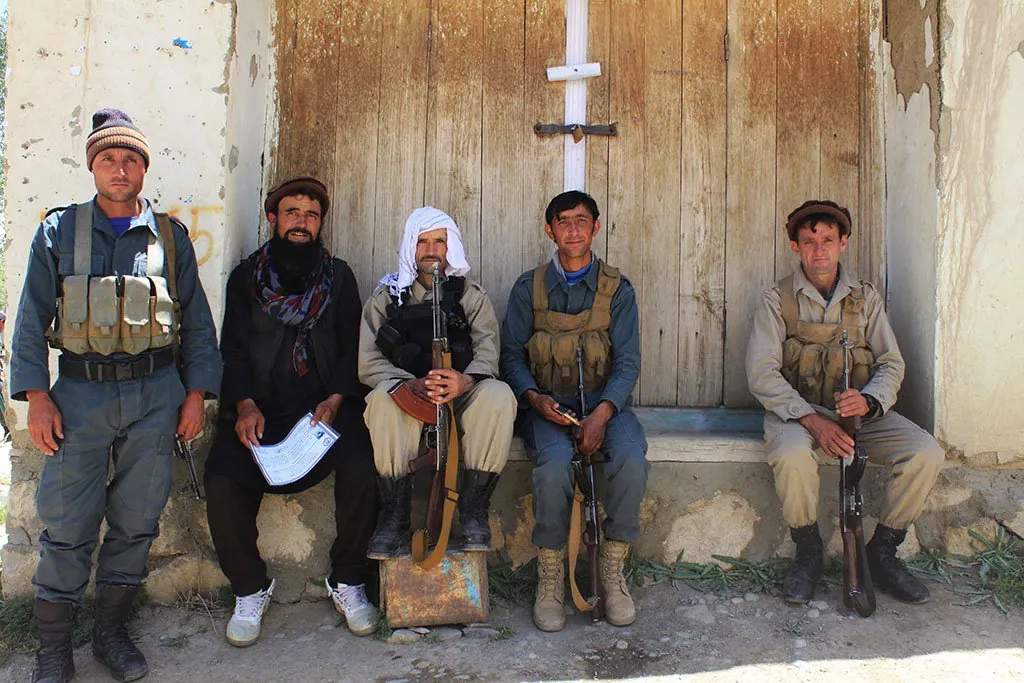 Destinations
When planning your motorcycle trip, remember that some countries require motorcycle travellers to use a Carnet de Passage. If you need this document, then you're going to be leaving a hefty deposit in your home country and run the risk of losing it should anything happen to your bike.
READ MORE: 
Additionally, if money is tight, carefully consider where you are travelling to. For example, countries like Japan and Norway are notoriously expensive. Budget your trip before you go and carefully consider where you want to go. If Japan is at the top of your list but you know it's going to cost a lot, then make concessions for it by spending less in other countries.
People quite often spend small fortunes on going to places just to say they've been there. For example, it could easily cost a few thousand to ship your motorcycle from Malaysia to Australia for just a few months of travel there before shipping out again. We know people who have done so, when they're not even interested in the country and could have travelled in Southeast Asia (which they loved) like kings for another year with that money. Think about where you're going and if it's worth your hard-earned cash.
Borders and Paperwork
It's incredibly easy to get caught out when crossing borders and dealing with paperwork and customs as a motorcycle traveller. All borders are different, with unique requirements, their own rules, regulations and strictness. Unfortunately, there are a few greedy border guards out there who may try swindling you for a few extra dollars.
This is usually harmless and they may say something like it's a 5USD fee for government tax, or inspection fee, or gate fee. Sometimes it's 100USD for some unknown permit. Be aware because guards will try this in many parts of the world. They may even give you a piece of paper as a 'receipt', but unless you know what the requirements are you won't know if they're telling the truth. There have been times where I've called a guard's bluff on a fee. When I laughed and said, "nice try", he smiled and said, "well, it usually works."
The way to save money here is to know what to expect before you get there by doing your research. Check out our Motorcycle Travel Guides for the countries you're visiting as there are 'Paperwork' sections that explain what the requirements and costs of entry are. If you can't find info there, then ask in the many excellent Facebook groups for the regions you're visiting.
Police
Many people worry about bribes. It's not usually something to worry about as bribes tend to be for small amounts, or can at least be negotiated from their initial inflated starting price. The consensus is not to pay a bribe as it sets a precedent and has a knock-on effect for the next traveller. Our Bribes Guide will help with how to handle those tricky situations.
READ MORE:
Summary
Consider how expensive the countries you're visiting are
What paperwork do you need to enter each country?
Know what to expect at each border beforehand
Don't get caught out with bribes
Food
The easiest way to save money on food is to not to splash out on restaurants and cafes. You can only do this by being prepared. That doesn't mean you should become a hermit, eating only scraps, cook every night and not enjoy the culinary delights of the country you're in. Always eat plenty, healthily, often and definitely dine out! But it should be when you've planned to. It's the emergency restaurant visits when hunger sets in and you have nothing in your bag that sets you back.
Pack your own food and make your own lunch. Buy a loaf of bread, hard cheese and smoked or cured meat that doesn't need to be refrigerated for lunch (or jam and peanut butter sandwiches for vegetarians) for lunches. Carry rice and tuna for emergency evening meals while camping. Or buy some meat before you head to your campsite to cook on a fire. Carrying snacks like nuts and chocolates will also help keep you going. Go for local markets over supermarkets, buy fresh produce and help the locals out instead of spending more in a supermarket.
Having your own food will reduce the urge to continuously visit cafes and restaurants. Set aside a few days a week for eating out instead. And make sure to always try local cafes and street food instead of the more expensive western-themed restaurants.
Your camping food doesn't always have to be dehydrated, dry and boring. You can go to town and prepare proper delicious meals on your motorcycle trips and adventures. For more info, check out our dedicated guide to good food below:
READ MORE: The Motorcycle Camping Food Guide (Gourmet Edition)
Water
Buying water every day quickly adds up. Instead, try and reuse your plastic bottle and refill water wherever and whenever you can. You will need 2 litres a day of drinking water and at least another 2-3 litres if you're camping for cooking and cleaning.
Fill up your bottles in cafes, restaurants, at public water fountains, ask in shops and find out from locals where they get their water. For example, in Thailand there's a government run scheme of water vending machines dotted all over the country. You need your own bottle, put in 1THB (0.02GBP or 0.03USD) and it returns 1 litre. Compare that to the 20THB (0.50GBP or 0.63USD) per litre in a shop. Take five litres a day and that's £2.40 or $3 a day! Search for these types of options instead.
Purifying your own water is another option if you're in the middle of nowhere. Boiling water will kill bacteria and toxins in the water. You can also use a purification straw/ stick or a purification tablets.
Also, don't get caught out with 'free bottled water' in restaurants. It's custom in hot countries to put a small bottle of water on your table with your food. It looks complimentary because you didn't order it, but it hardly ever is. Don't be embarrassed to say no thank you. And don't feel embarrassed to take your own water bottle to a restaurant or cafe and ask them to fill it up before you leave (a small water bottle of course).
Summary
Be prepared with your own emergency food
Plan days for dining out
Cook for yourself whenever possible and carry the ingredients to make your own meals
Try not to buy bottled water. Instead, fill up your bottles whenever possible.
Alcohol is one of the biggest pocket burners out there. Try and limit it as much as you can.
Washing and Hygiene on the Road
Hygiene is incredibly important while travelling. You can get all sorts of nasty skin rashes and infections if you don't look after yourself. And it's easy to keep skipping shower time if you're camping in cold conditions or knackered after a hard day's ride. Of course, nobody is expecting you to shower every night, it's just not possible through most parts of the world. But you should make sure you keep on top of your personal hygiene. Here's how to save money while doing so.
Your body
There won't always be rivers or streams to camp by and there'll be countries where that won't be possible at all. Travellers often go to a hotel just to freshen up, but you can avoid that expense by carrying around a shower bag. Fill the bag with water, hang it up and turn the nozzle for your very own portable shower. Baby wipes are another easy option.
Your clothes and gear
The laundrette next to your hotel will always be cheaper than your hotel's washing service. Sure, it's easier to just hand your dirty pants to the receptionist, but if you want to save money, step outside and ask a local where the closest laundrette is. You'll be surprised at the price difference.
DIY washing machine
Wash your own clothes if you really want to save money. Here's the trick… You will need a small pack of washing powder, a running tap and a waterproof compression stuff sack.  Half fill the bag with water, sprinkle some powder in, chuck a few of your clothes in and then roll the top down and clip it up. Hold the bag with one hand at either end and shake the water vigorously from left to right for a minute. Empty the water (repeat the process if the water is very black) and then rinse the clothes with running water. This method works far better than filling a sink and rubbing clothes together. It's easiest to do this when you're having a shower!
Summary
Buy a shower bag if you're in a region with no rivers instead of going to hotels to freshen up.
Look for a local laundrette over your hotel's in-house service.
Wash your own clothes.
Motorcycle Repairs, Spares and Petrol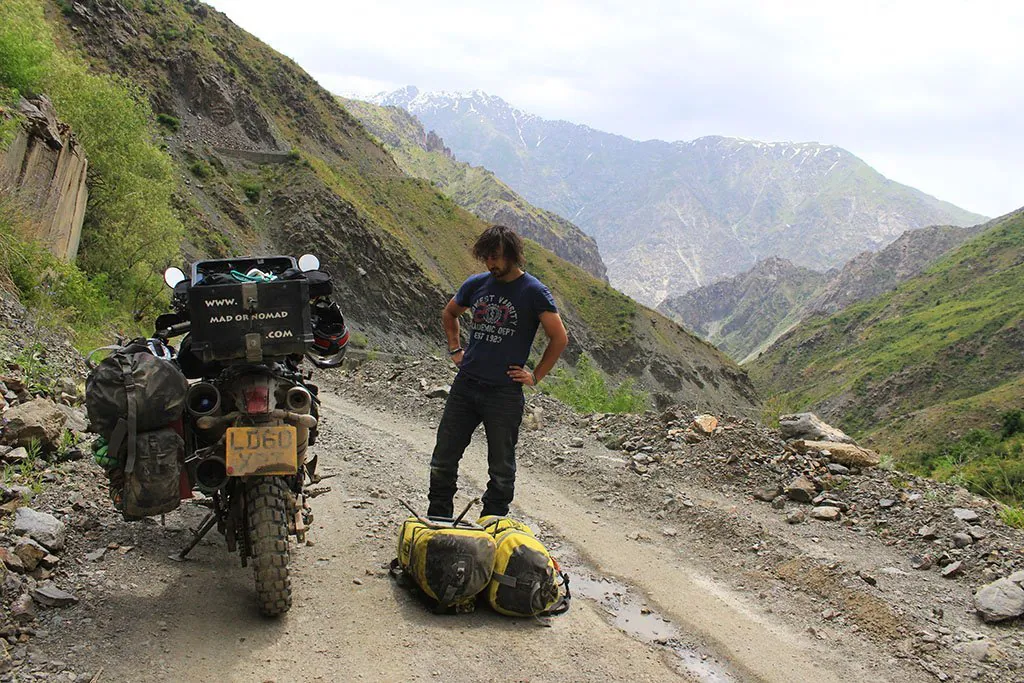 Repairs
You don't need to be a mechanical genius to travel on a motorcycle. In fact, one of the most experienced and well-travelled motorcycle travellers I know doesn't know how to change a tube, oil or even know where his spark plug is.
However, there's a lot to be said for learning the basics before you go. It means you can rely on yourself in tricky situations and, in this context, can save money. Spend time before you leave to learn the basics at least. That means changing tubes, tyres, oil, filters, cables and basic servicing. The best way to do that is to buy the Haynes manual and get to work on performing those tasks before you leave.
If you're not mechanically minded, then you could sign onto a motorcycle maintenance course at a local college. Or pay a local mechanic to teach you. Or, there are plenty of adventure bike schools that run maintenance and basic field repair courses. These classes are great because they'll improve your confidence, you can work on your own bike or one of theirs and they'll teach you the basics so you can get yourself out of a tricky situation. Sure, you'll be spending money on it, but it will save you money in the long run. Check out our best off road training schools in the UK page, as there are a few companies on there who provide this type of training. 
READ MORE: 
Spares
Find a good spare parts company in your home country and supply them with a copy of your Carnet de Passage. If you need to have something sent out to you, they can send this with it to avoid import taxes as it'll prove your vehicle is a temporary import. That will save you money. Carry spares with you on the bike as well as they can often be more expensive and harder to find abroad.
Petrol
Petrol stations on motorways are usually more expensive than in tows. Exit the motorway when you need to fill up and search for a local station instead.
Also, if you're about to cross a border, calculate how much petrol costs in the next country and stock up in the one you're in if it's cheaper. (If you're heading to countries with poor fuel quality like Uzbekistan, you may be interested in our Mr Funnel Fuel Filter Review).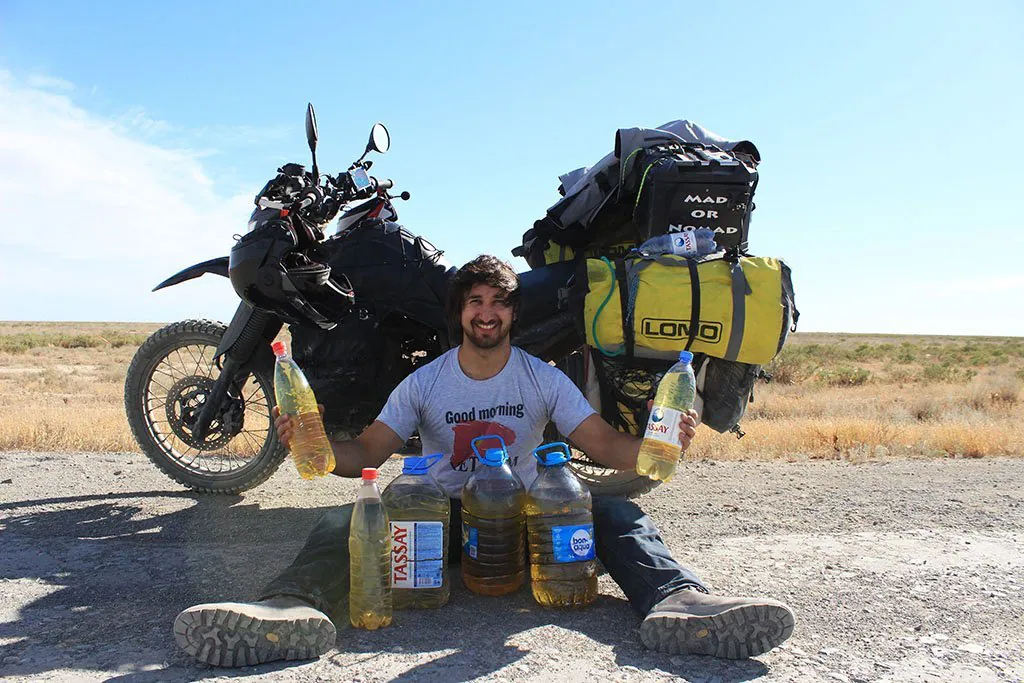 Summary
Learn basic mechanics before leaving.
Carry spares with you and arrange a deal with a company back home.
Avoid more expensive petrol on motorways.
Chances are that if you're on a long-distance motorcycle trip, then you're going to need to ship your bike at some point. This could be if you're crossing continents on a round-the-world trip or even an A to B trip where you want your bike to be shipped back home instead of riding it back due to time constraints.  
Shipping your motorcycle internationally will put a hefty dent in your bank balance. But there are ways to save money on it.
Firstly, you need to search around for a good agent as prices fluctuate. Next up, consider whether you are going to ship by sea or air freight.
What catches most people out is the port costs at the other end. It may cost you £1,000 to ship from South Korea to Cambodia, but then once you arrive in Cambodia you could face an additional £500 charge for port fees and customs. You should find an agent in your destination country to help you navigate these costs before you book your shipment.
For a full guide on international motorcycle shipping, loads of top advice from an industry expert and more ways to save money, check out our comprehensive shipping guide.
READ MORE: Motorcycle Shipping Guides
And if you're looking to ship your motorcycle abroad or want to get in touch with some companies but don't know where to start, then check out our International Motorcycle Shipping Companies Finder. Simply click a country on the interactive map and you'll find the companies we recommend with their contact details and info.  
International Motorcycle Shipping Companies Finder
Click a country on the interactive map for our recommended companies
Summary
Speak to multiple agents for the best deal
Consider the port cost at your destination as well
Weigh up air and sea freight and account for all costs of each
How to Find Cheap Flights
You may be wondering why flights are in a motorcycle travel on the cheap guide. This section will be handy for riders on fly-and-ride motorcycle trips and anyone who catches a flight to a foreign country for a motorcycle tour or rental. Even round-the-world riders usually need to use a plane at some point. 
We have had to fly home for emergencies, weddings and even fly to other countries when we shipped our bike. 
Or, you may want to travel by renting a new motorcycle in each country you travel through, in which case you'll be taking more flights. Either way, here's how to save money should you ever need to catch the iron bird.
Be flexible
The main way to save money on flights is to be flexible with both your dates and where you're going. Here's some top tips:
Weekend flights are more expensive than those in the middle of the week.
Early morning and late-night flights are also cheaper.
Flights are more expensive closer to school holidays and upcoming worldwide holidays like Christmas and New Year's Eve.
Flights are cheaper straight after the above holidays.
Consider what season you're travelling in as every country has a busy time of year where flights are more expensive. For example, December and January are the two most expensive months of the year to fly to Thailand.
Additionally, be flexible with where you're going. Sometimes flying to a different airport and getting a taxi or bus to your final destination can save you hundreds of pounds.
Flight search sites
By far the best websites for checking flight deals are Skyscanner and Google Flights. When using Skyscanner, instead of clicking a specific date, select 'Whole Month' for both the departure and return date. This will show you a calendar of the month you're leaving with a price under each date.
Make sure you delete your cookies and cached data between online searches and look up your flights in Incognito mode.
And finally, always go after air miles and rewards. It could mean considerable discounts or even free flights.
READ MORE: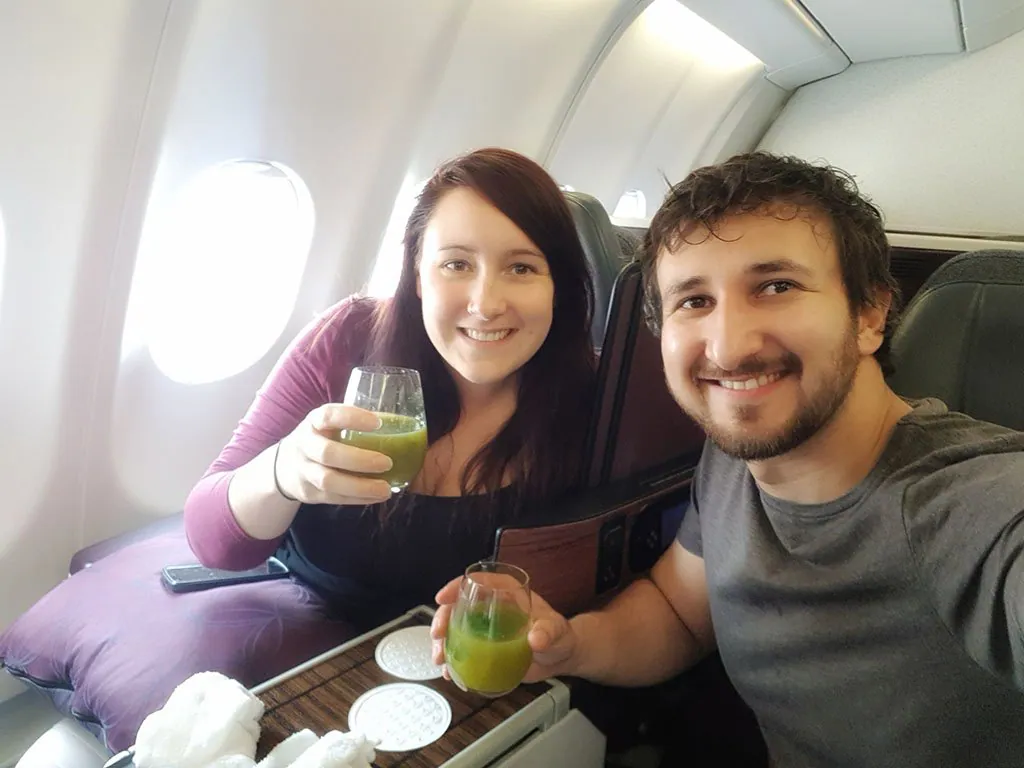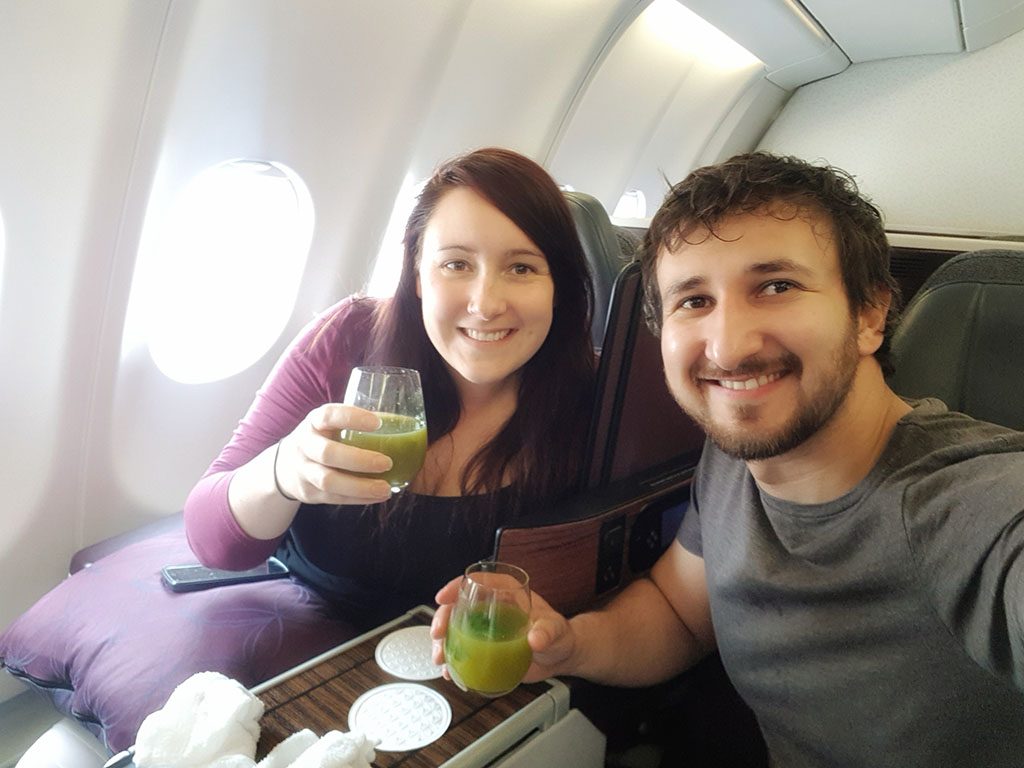 Summary
Weekends are cheaper than weekdays.
Book a late night or early morning flight.
Fly after worldwide holidays, not before.
Consider the season you're travelling in.
Use 'Whole Month' search on Skyscanner.
Delete your cache and search in Incognito mode.
We have met plenty of people who are lucky enough to supplement their travels by working as they go. Most of the time these people are able to work online and remotely. This could be anything from webpage building to graphic design to Skype based English teaching. If you're in this category then that's fantastic! Look into transferring your skill into freelance work and do it while you travel.
That's not the only way though, we have met people who left without the intention of working. They started putting a few YouTube videos up for their friends and family and got really into it. After a while the visitors and subscribers racked up and now they're able to fund their trip from their YouTube channel!
If online work isn't for you, then you can always learn a new skill or apply one you already have. Having a specific skill set while travelling sets you apart and can help you help others. This skill can be anything from building to teaching English. The teaching route is an easy one to go down; sign onto a Teaching English as a Foreign Language (TEFL) crash course and earn some money as you travel by doing private tuition or stopping off in countries and teaching at schools for a few months.
Don't fancy that? There's always bar work, catering, deck hands, working in a hostel or just applying for whatever work is in your area. Make sure you have a valid working visa before applying though.
Finally, there are options like workaway.info. This is another excellent service, but this one is an exchange. You'll need to work a few hours per day in exchange for food and accommodation. It can be a great way to explore new places without spending a penny. Workaway is worldwide and every place has different working hours and conditions. Take a look, pick one you fancy and give it a go!
How to Budget for a Motorcycle Trip
Budgeting sounds boring… and it is. But you'll be surprised at how much you can save if you budget well. To budget while on the road, you will need to record every expenditure every day. You will quickly see what you're spending habits are like, will notice any unnecessary expenses and will be able to effectively set-up and control your overall budget.
Here's how to set-up a rough budget for a motorcycle trip
First, figure out how much you have to spend on your trip and how long you'll be travelling for. Let's say it's £5,000 and 6 months. Set aside an additional amount for unforeseen circumstances like £500 for emergency repairs and don't include this in your budget.
Second, list and add up your big expenditures like Carnets, visas, flights etc. In this example you will need to ship your bike home at the end and it will cost £700. You're left with £4,300.
Third, work out how much fuel you'll be using roughly on this trip. If it's a 10,000-mile trip, your bike averages 60mpg and it's roughly 0.80p per litre then that's £500 on petrol. You're now on £3,800.
Finally, divide your remaining amount by the amount of travel days and you're left with roughly £21 per day to spend on accommodation, food, water and miscellaneous. 
Now, this might not sound like a lot but it is. And there will be days where you will have much more than £21 to spend. Here's how…
Let's say for the first six days you wild camped and only spent £10 per day on food. That leaves you with a surplus of £66 after 6 days. Add that money to a 'surplus pot' and use it to splurge whenever you like.   
The point is, you will figure out and learn new ways to save money while you travel. Over time you will build up a surplus of unspent money which you can then distribute to other things like going on a scuba diving course or a three-course slap-up meal.
You can only go over your £21 daily budget so long as you use your surplus pot. If you use up your surplus pot then revert to the £21 a day budget.
Budgeting like this will mean that you will never spend more than you originally planned for, you won't go over budget, you'll learn loads of new ways to save money and will appreciate the little things far more. This will help you travel further and for longer. Good luck!
Read more Motorcycle Travel Guides and Tips  
Thanks for checking out our How to Motorcycle Travel on the Cheap Guide. We hope you enjoyed it and found it useful! Here's a few more articles on motorcycle trip planning, guides and tips that we recommend you read next. 
Are you planning a motorcycle trip and want to ask a question about money, budgeting or travelling on the cheap? Let us know in the comments below.