We've been dreaming of the Pamir Mountains for years. We were expecting it to be rugged, raw and beautiful… but we weren't expecting one of the toughest rides of our lives.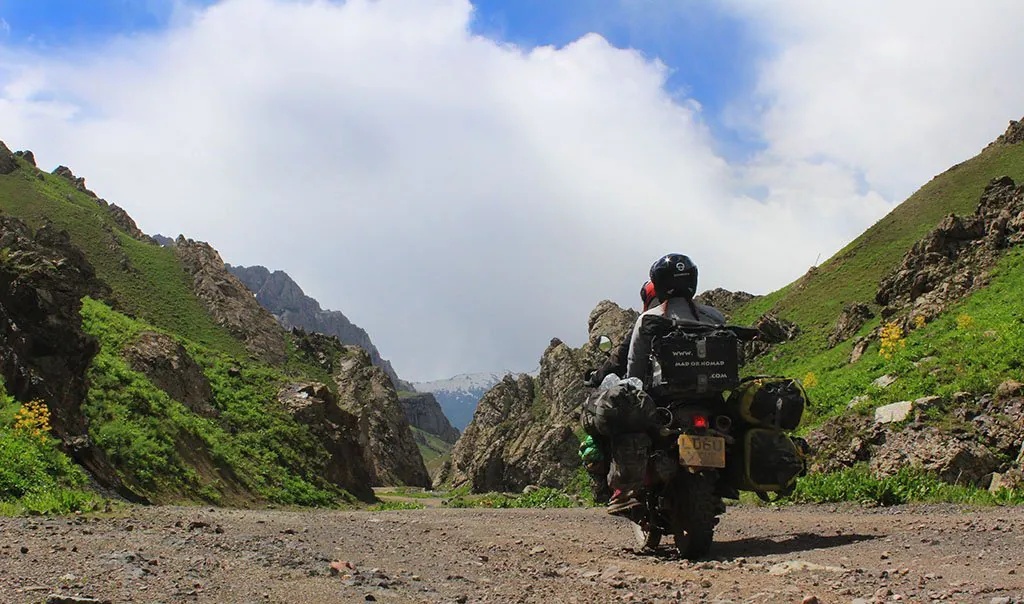 A Tajikistan Motorcycle Adventure 
The Tajik border guard stamps our passports and waves us through. We say bye to the flat, arid deserts of Uzbekistan and race towards the pretty peaked silhouettes in the distance and the legendary Pamir Mountain range.
Once part of the fabled Silk Road, the Pamirs were the link between China and Persia for ancient merchants. It lies amidst the Hindu Kush, Karakoram, Himalayas and Tian Shan mountain ranges – all whispering to and luring adventures for thousands of years. But now it's our turn.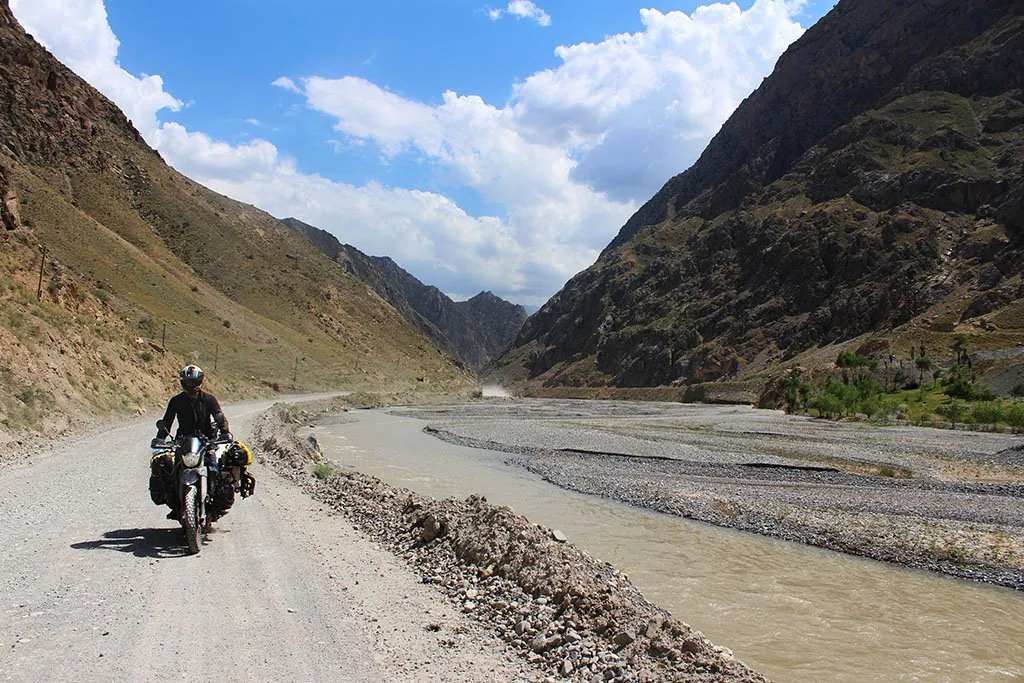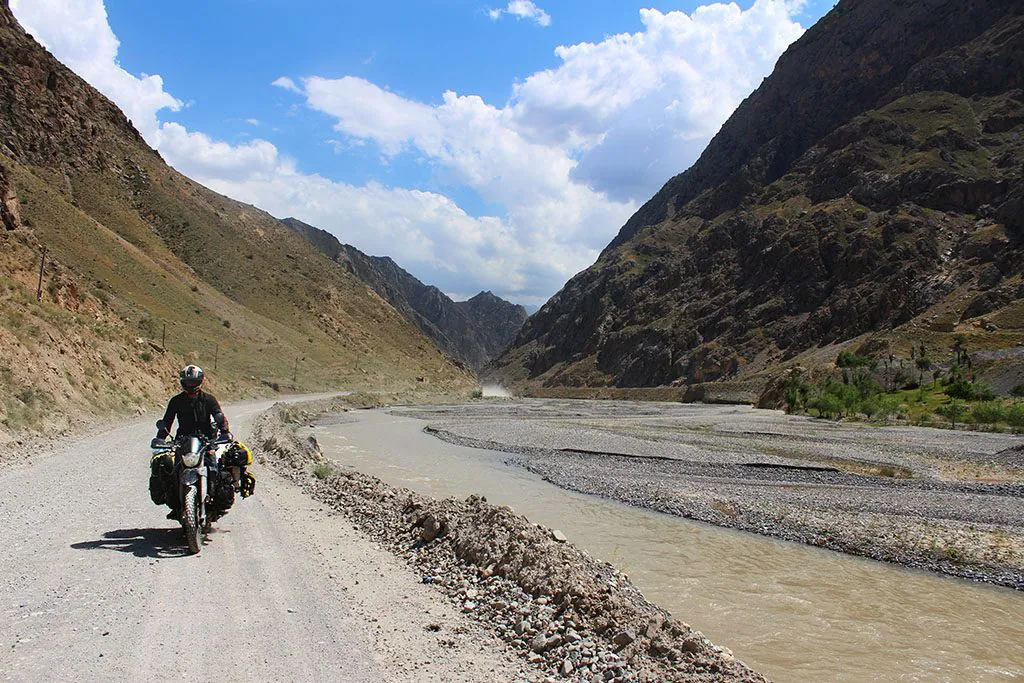 The Seven Lakes
We pull over just after the border to look at our map and see seven pale blue droplets dotted in a line. We swing a right and head south for Tajikistan's Seven Lakes. As we crest the dusty hill the first emerald lake appears. As the gravel tracks worsen the lakes swell, deepen and become even more magical. We're hooked on lake hunting and make it to the last lake, where a group of Tajiks grab us, shove us inside their tent and force feed us watermelon and milk cake.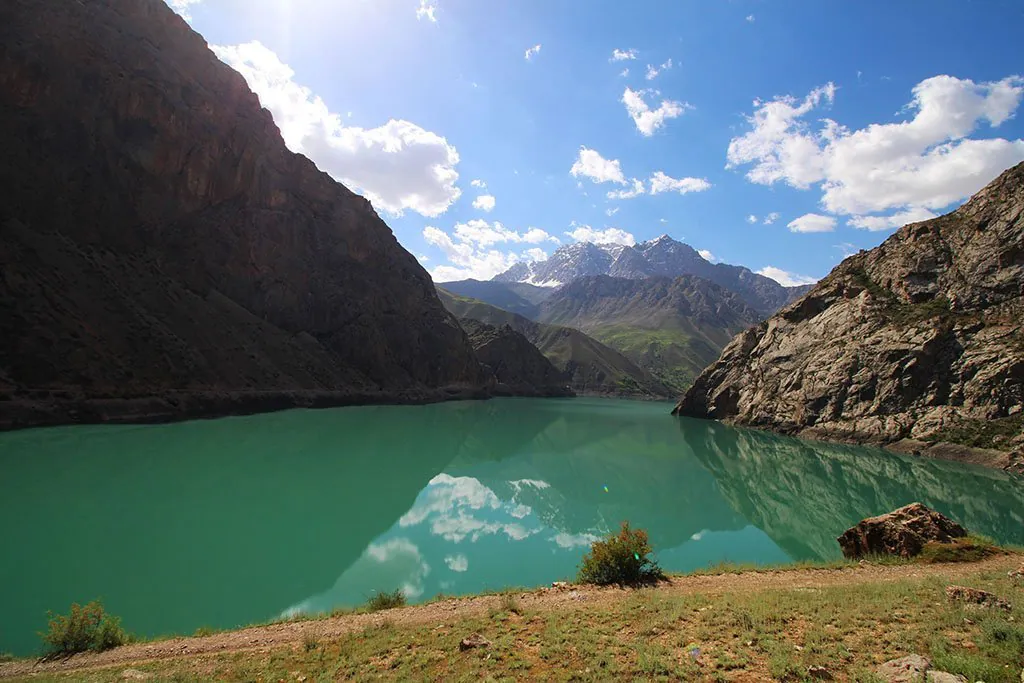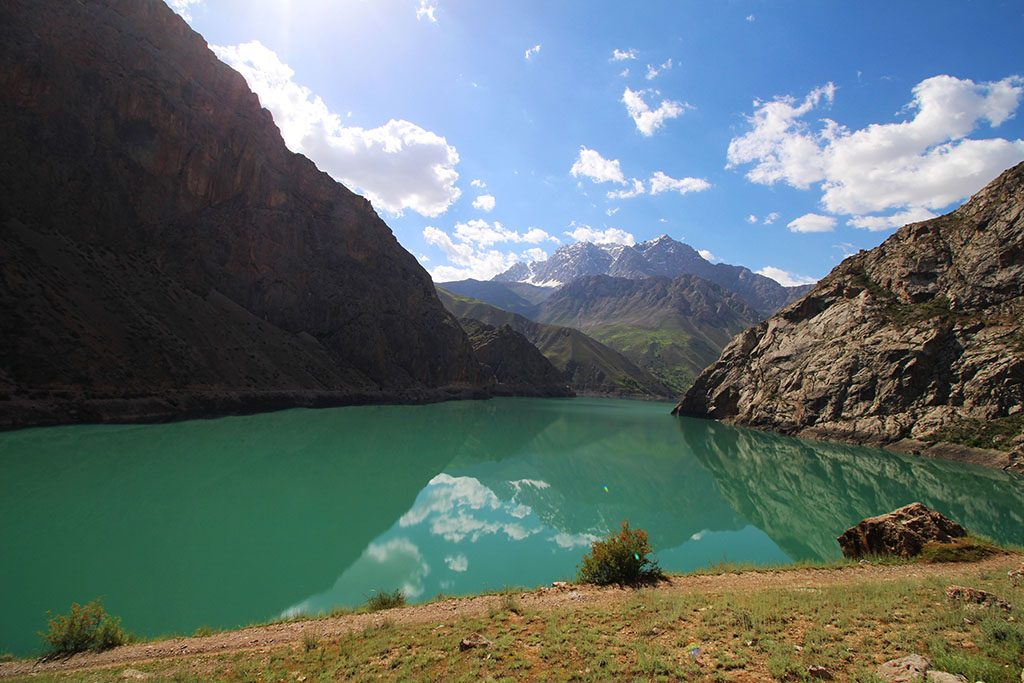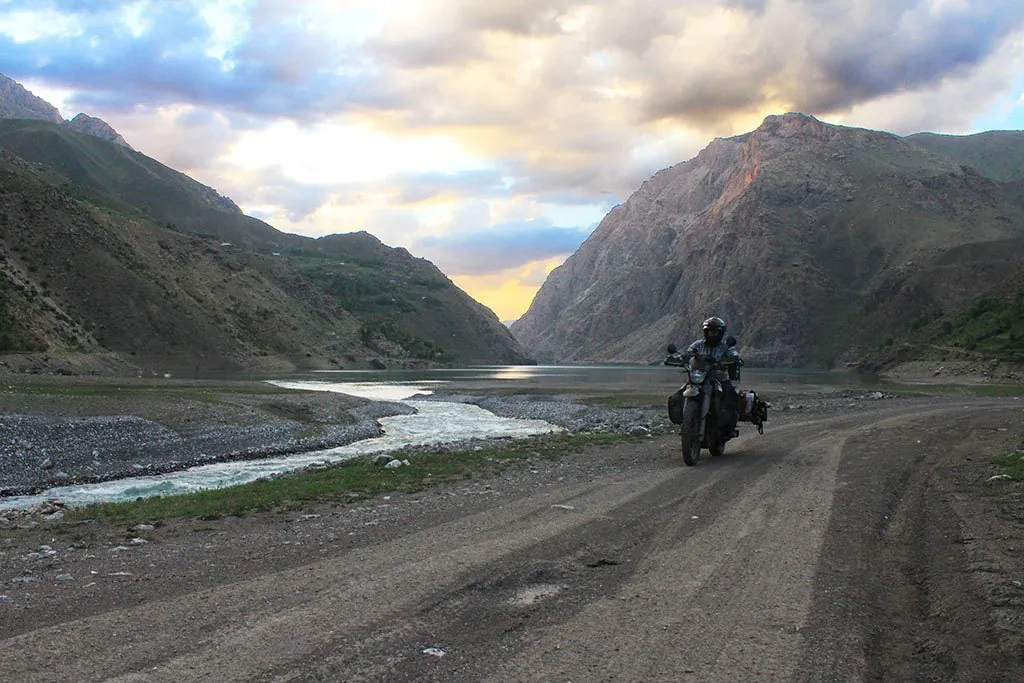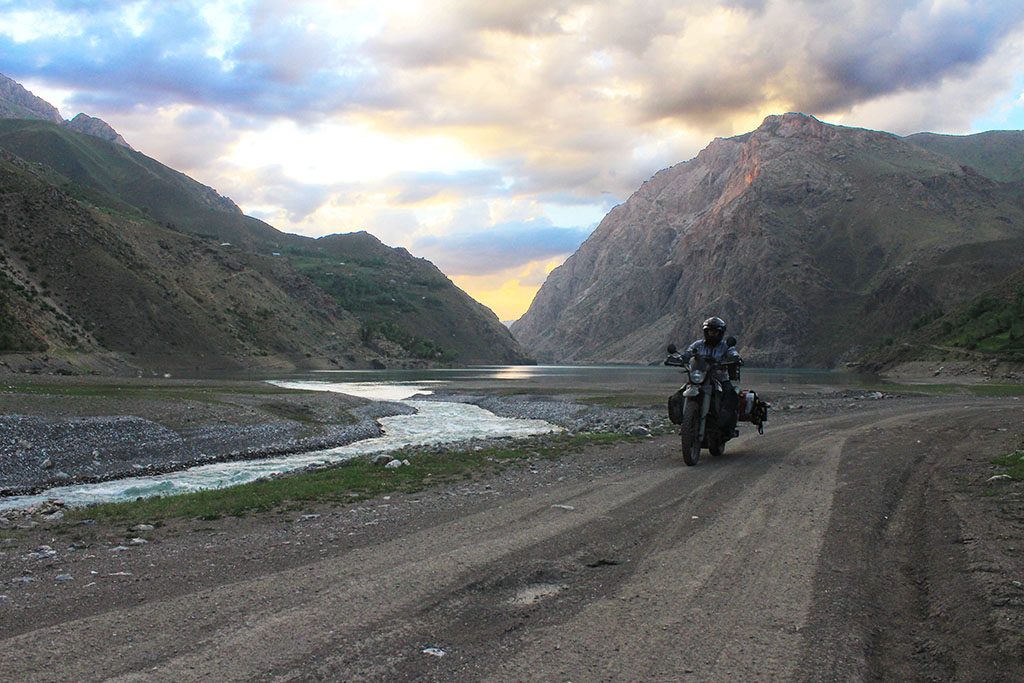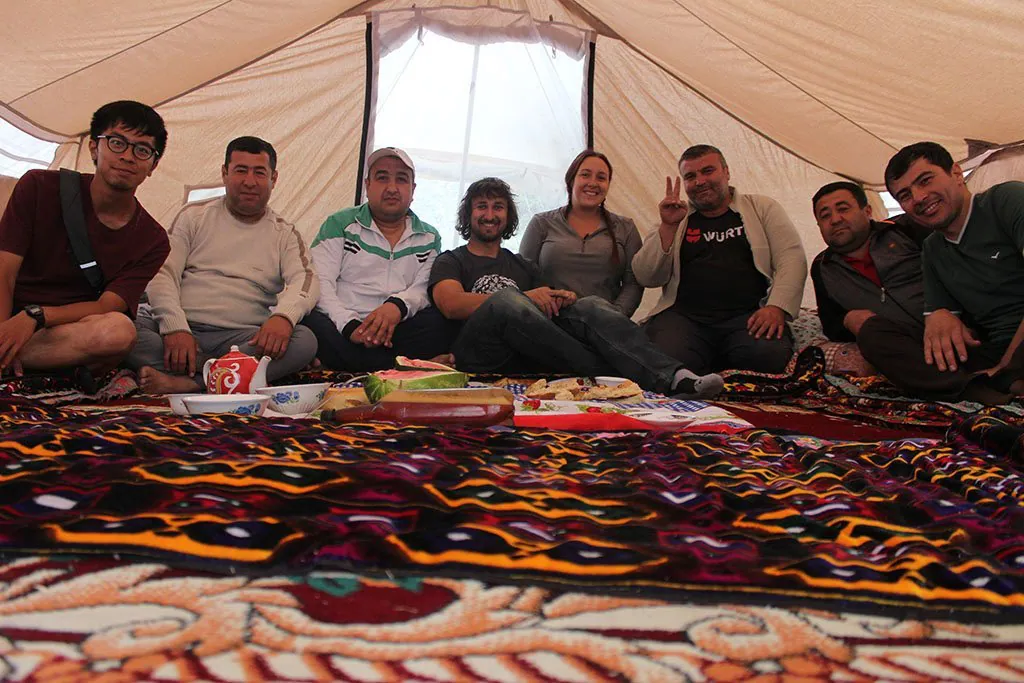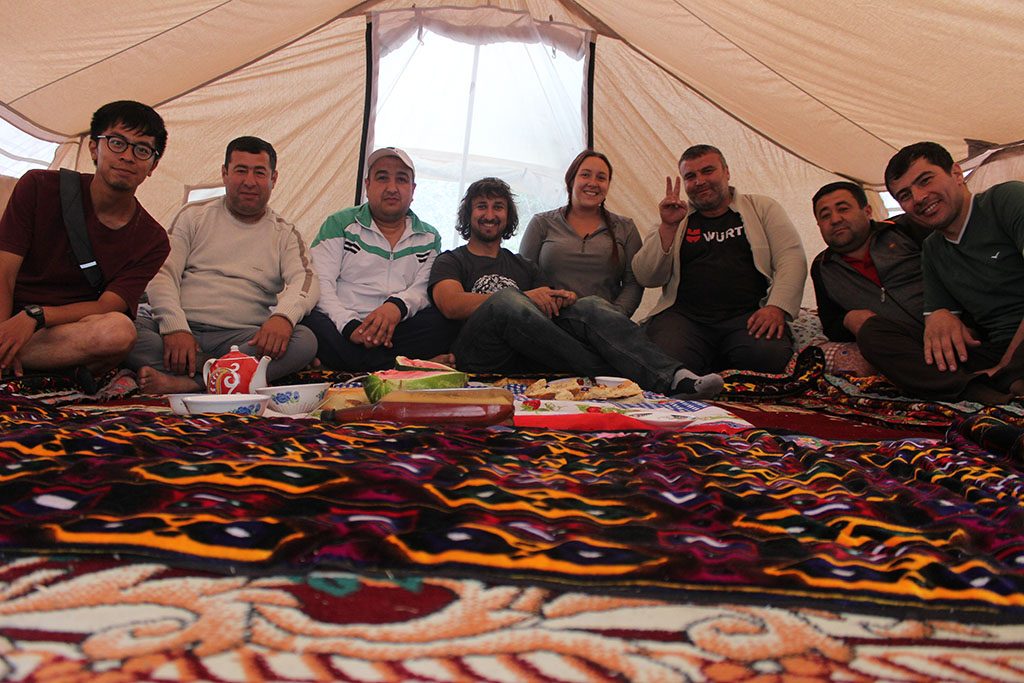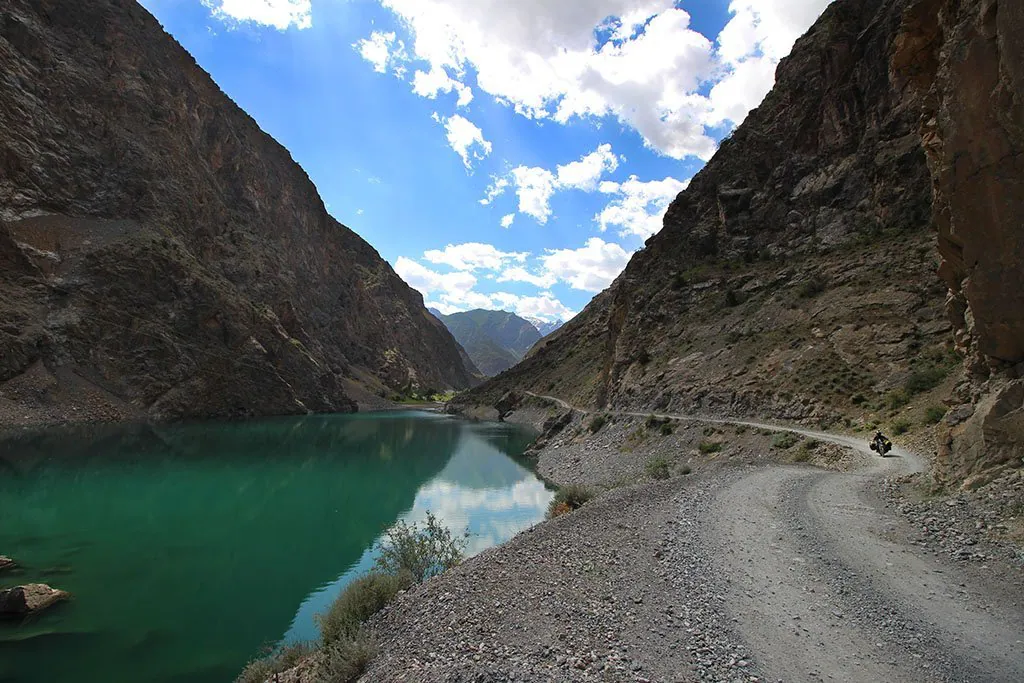 Welcome to the Pamirs
We dash into Dushanbe and give the motorcycle a quick once over. Nothing else is going to go wrong with the bike. We had all our breakdowns in Europe and Turkey, including getting stuck in -15C Slovakia for three weeks, a snapped exhaust, luggage on fire, dead batteries and running out of petrol. We load-up the motorbike, leave the sweet black tarmac of the capital behind and go in search of the rickety old bridge, which marks the start of the legendary Pamir Highway.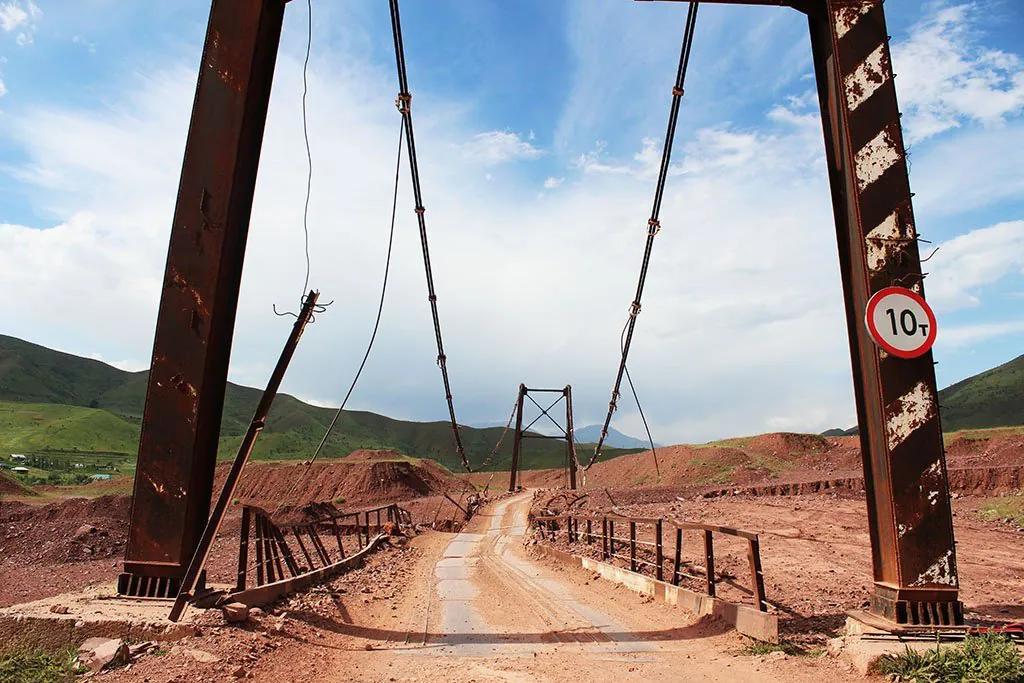 The road changes fast, flitting between loose gravel, sand and rocks. While the steep drops, crumbling cliff edges and rough off-roading are sort of manageable… what's not cool are wild dogs hiding in the mountains. They hear our XT coming from miles away We hear them barking in the distance and see them flying over fields, saliva flicking from their gnarling jaws, hatred in their eyes – only to be met by the heel of my Altberg boot. We met bikers who had worse experiences with dogs biting their legs, jumping in front of their bikes and causing bad crashes.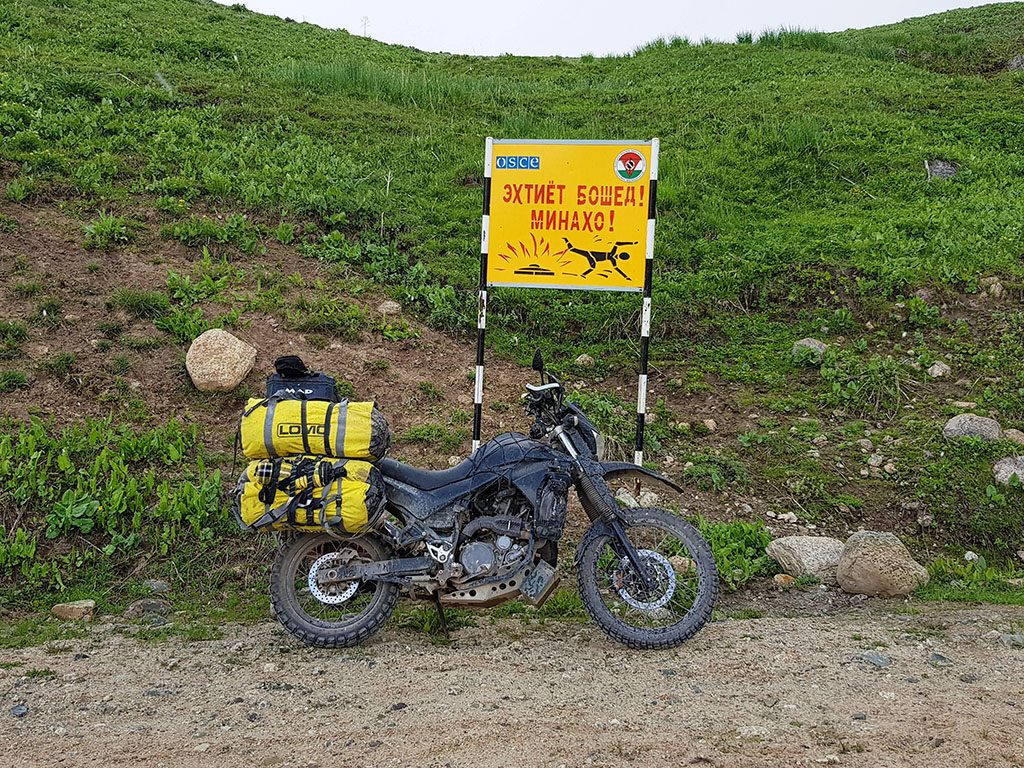 But nothing prepared us for the children. Kids run faster than Olympians when they hear the bike coming. They gather at the side of the road, stretching out their arms hoping for a high-five – all shouting as many English phrases as they can. The nutty ones are so excited they even jump into the middle of the road. Stopping to talk to kids in rural villages is heart-warming and surprising. So many of them speak enough English for a mini-conversation and all they want to know is your name, where you're from if you like Tajikistan.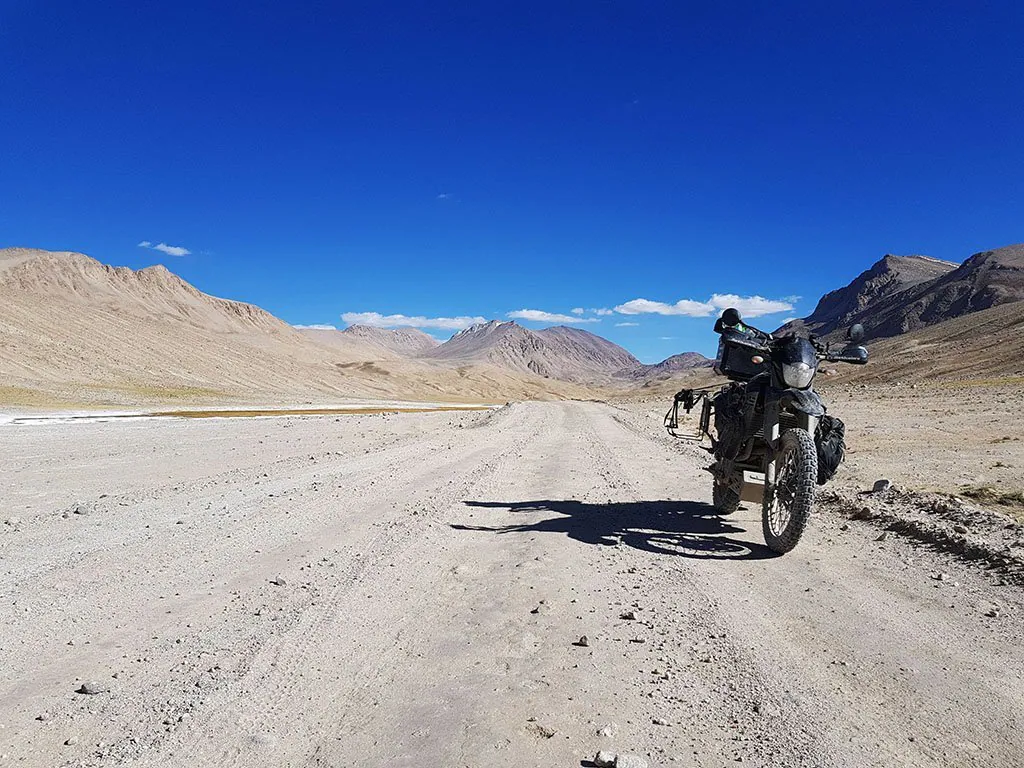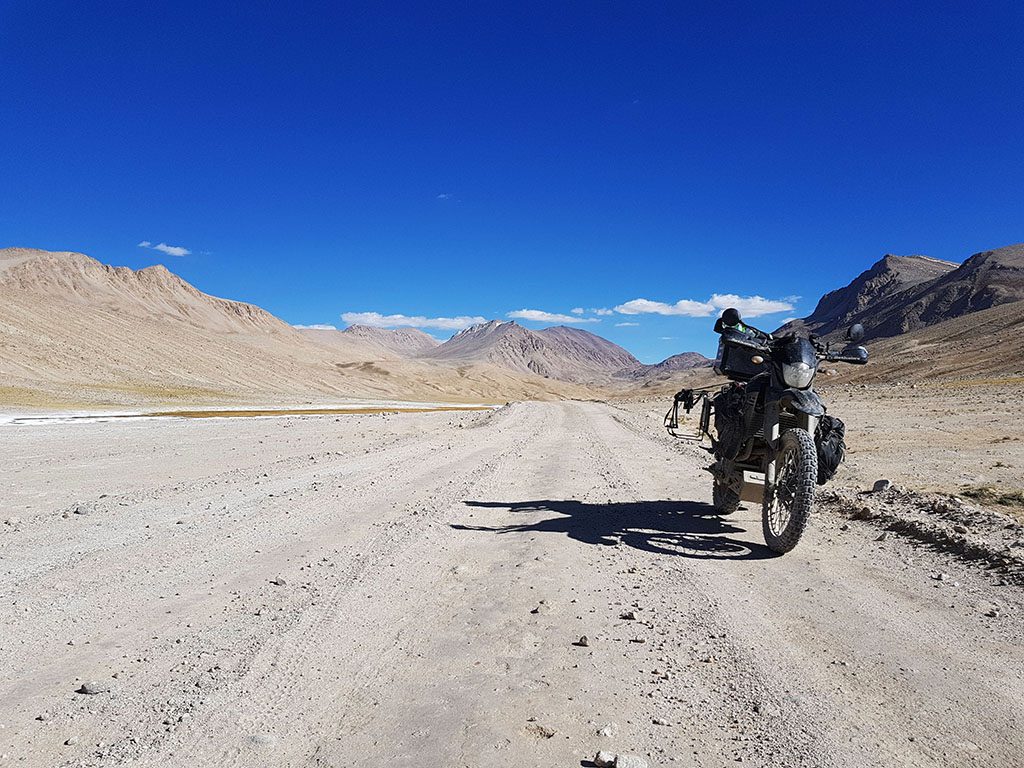 Tajik Magic
We lost our 100-mile-a-day plan somewhere in a sand trap. 30-60 miles a day is our new magic number. We ride all day, stop for tea with villagers in the morning, run away from dogs in the afternoon and set up our tent in the evening.
I'm so busy staring at the track and swerving around dogs that I completely miss the magic in front of me. Gargantuan mountains burst out of the ground, their serrated edges slicing through fluffy clouds until they puncture the sky.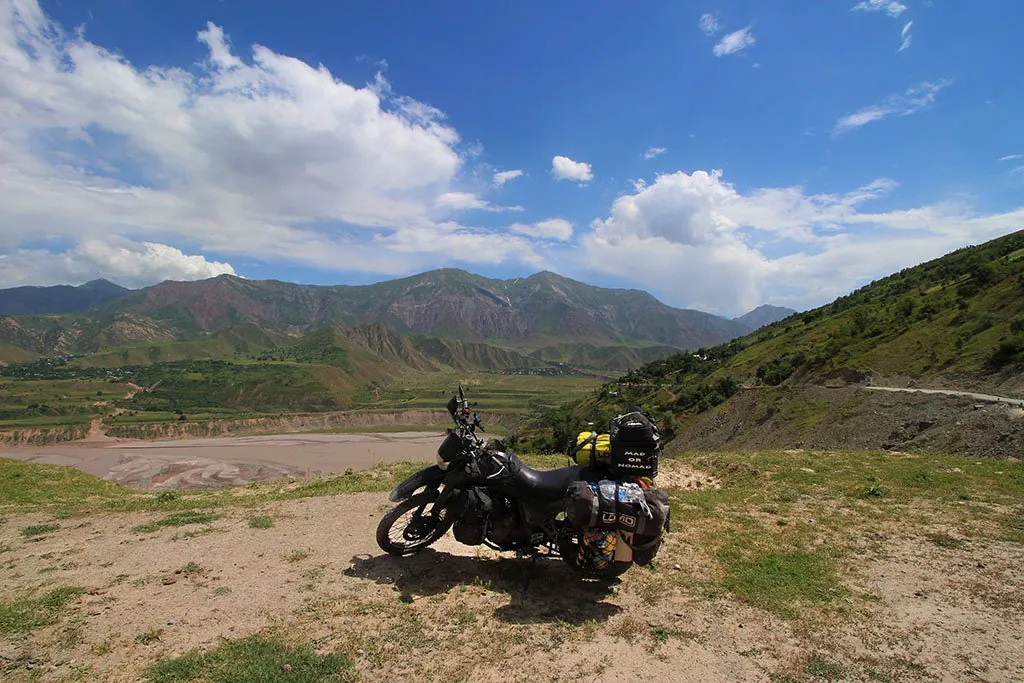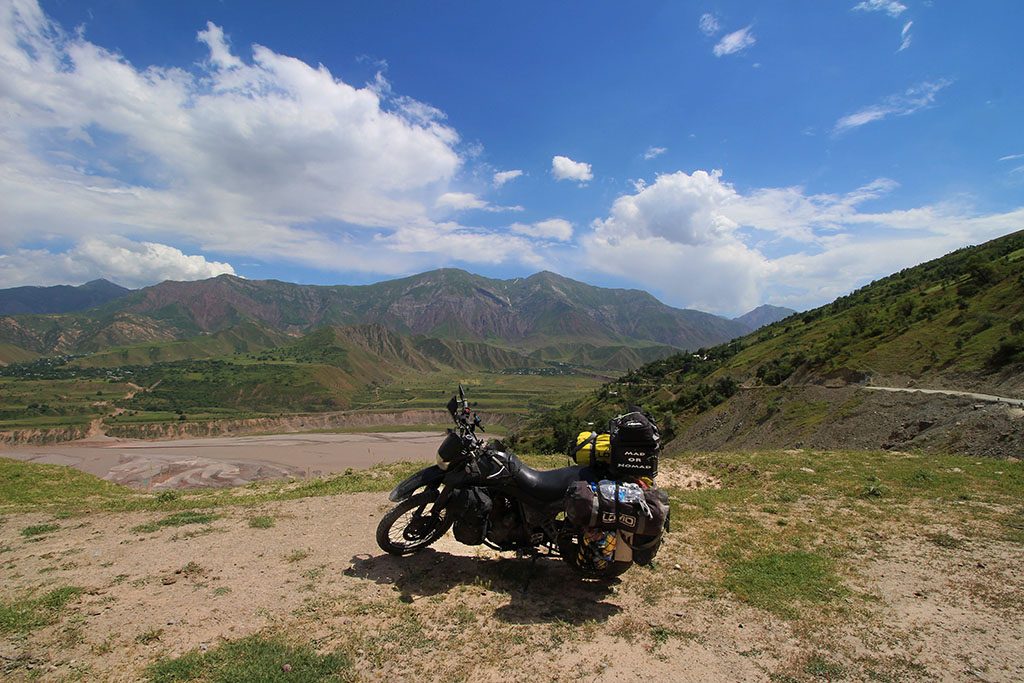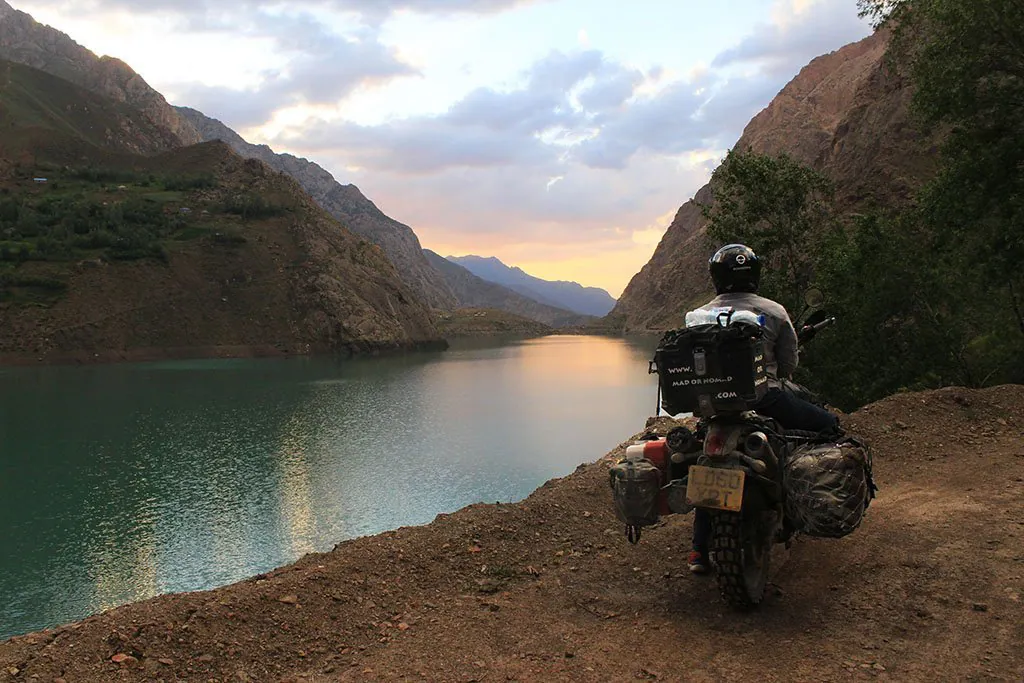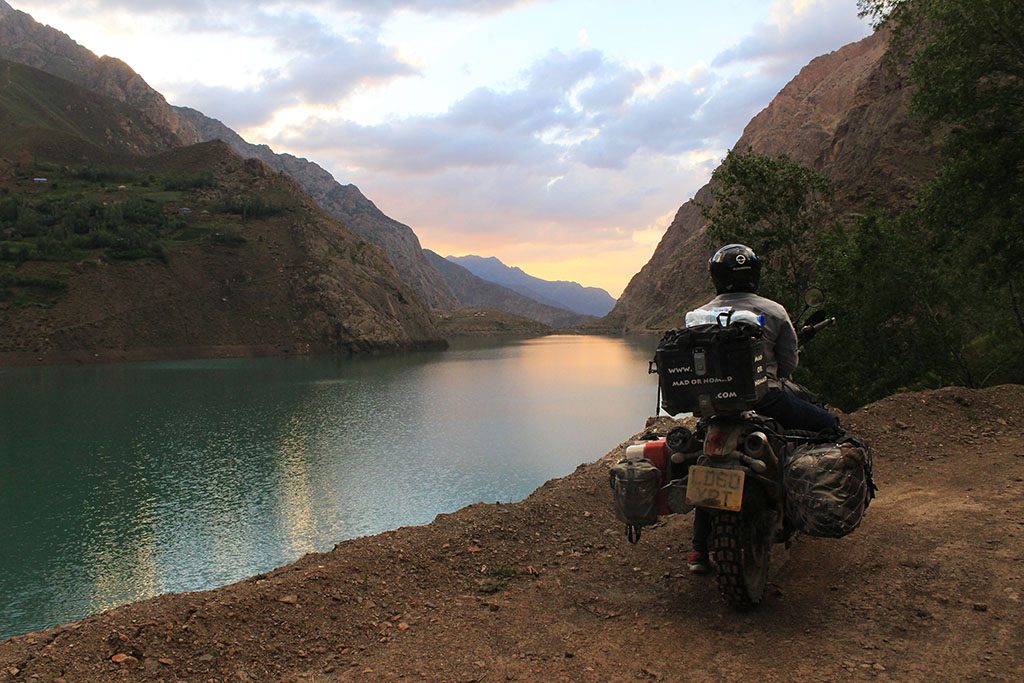 We're sucked into a trance, soaking up this otherworldly kingdom – until the bike makes a sharp left and nearly smashes into a rock. I pull over and we both look behind us to see our bags on the floor. The pannier rack snapped and we nearly lost our luggage to a hungry mountain drop.
I search for spare bolts as Alissa fixes the rack back to the bike with a ratchet strap. We're not worried, the people here are self-reliant and after 100 miles we stumble across a friendly welder in Khorog who stitches it back together and makes a new bracket for our ripped off sump-guard – all for £2.50 (he got a big tip).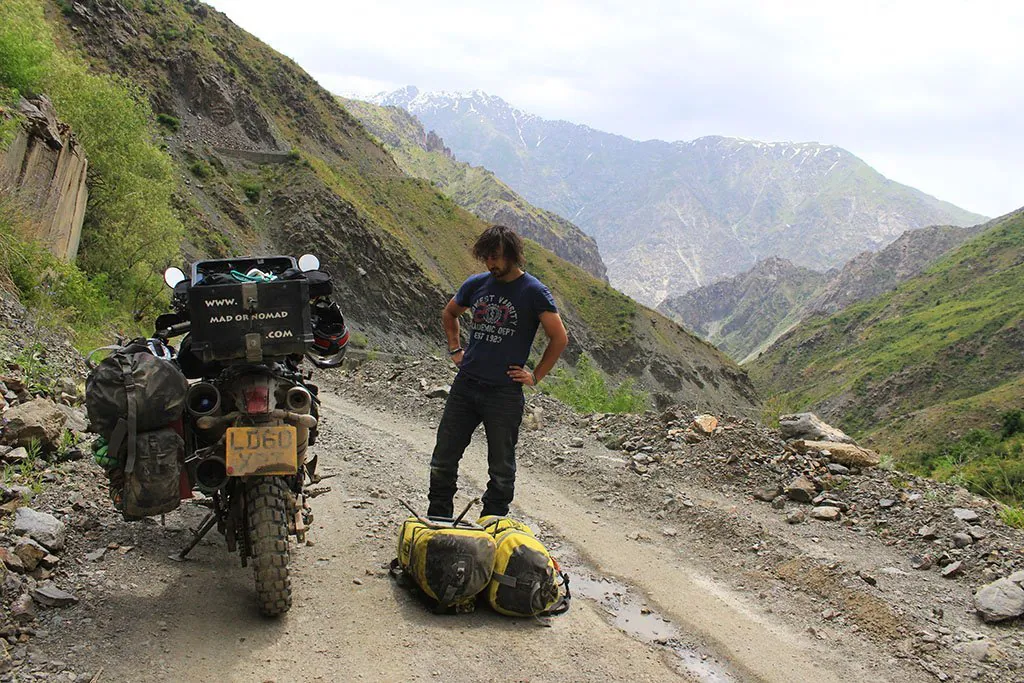 Decissions…
The road splits in the town of Khorog. East is the tarmacked Pamir Highway M41 and south is a 200-mile dirt track which follows the majestic Panj River along the border of Afghanistan. We didn't come all this way to ride tarmac and make the decision to head south. Riding on the Tajik side while staring at Afghanistan on the right is surreal. The river slices its way through the two countries, acting as a border. But just looking at Afghanistan isn't enough.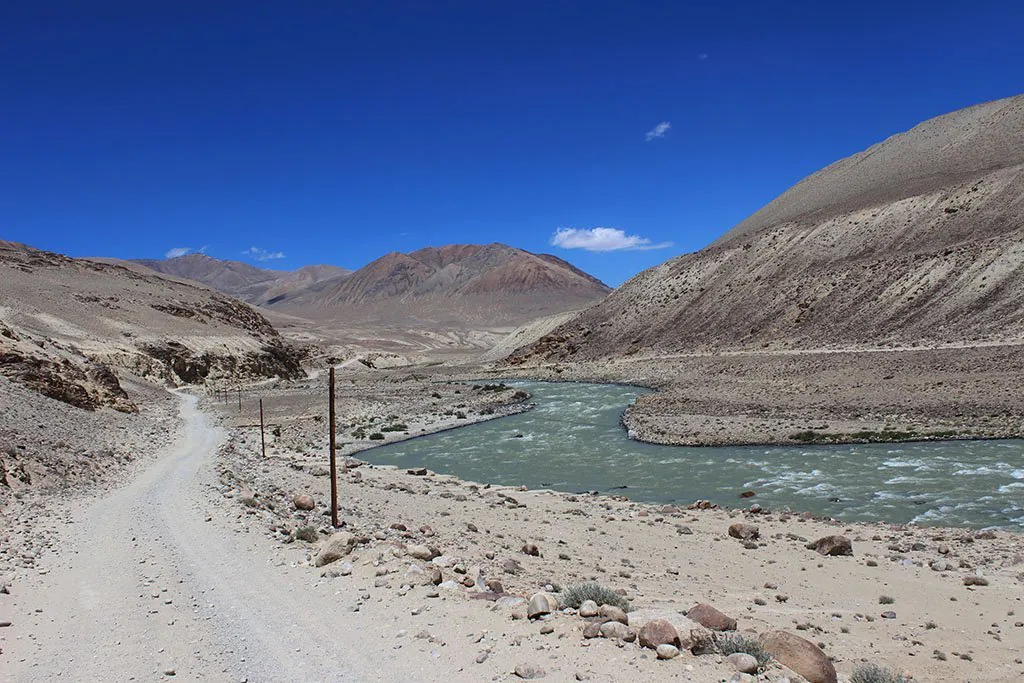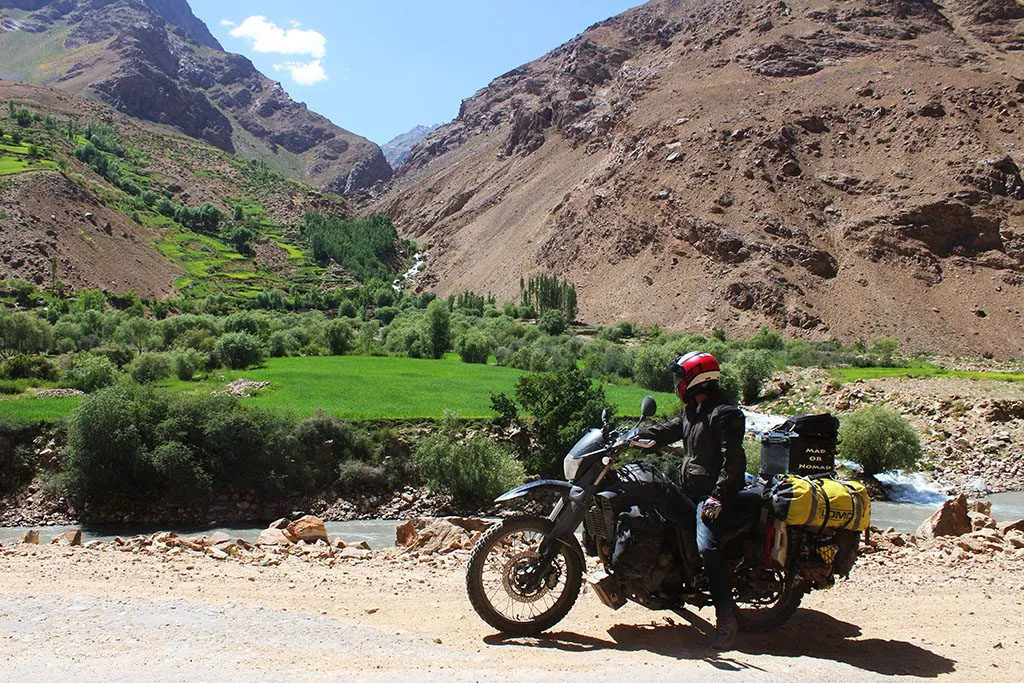 Into Afghanistan
So, while in Khorog Alissa spots an Afghan flag… signalling an embassy. Two days later and we've got shiny new Afghan visas in our passport. And we we're not going in alone. While in Dushanbe we met Didier (riding to Nepal) and Franck (riding to Mongolia), two Frenchmen who met each other in Baku and were riding through Tajikistan together. Didier also got his Afghan visa while Franck carried on to Bibi Fatima. The three of us make our way to the Tajik town of Ishkashim, dump all our gear (apart from tents, sleeping bags, pants and toothbrushes) and head for the border crossing.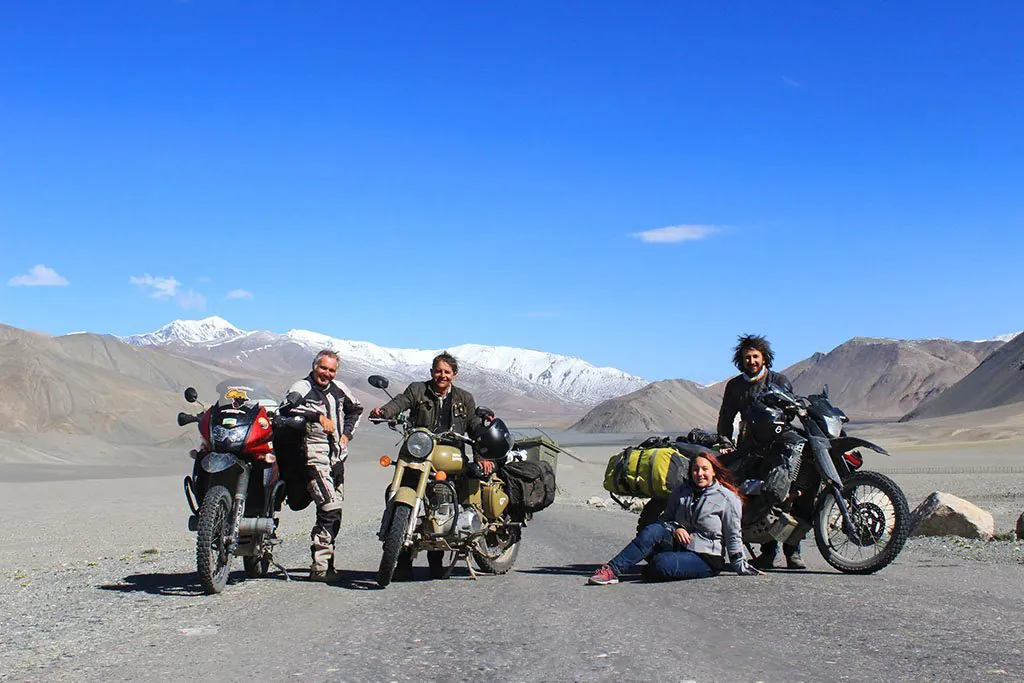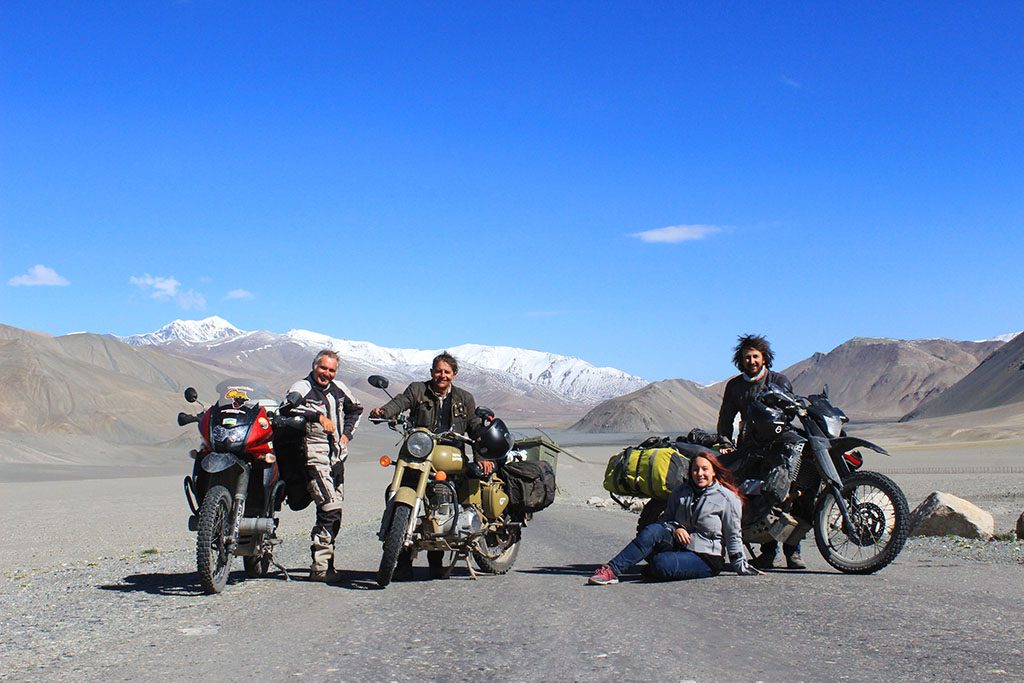 Miles of the worst roads we've ever ridden, one the world's most remote landscapes, 4,000 selfies with the military, a million phone calls, two trees of paperwork and a hundred AK-47s later and we were in and out of Afghanistan…
Welcome to Afghanistan's Wakhan Corridor
Battered and bruised
While the smiles on our faces are huge and we now carry some of the best memories of our lives from Afghanistan– the XT doesn't feel the same way. Despite leaving the majority of our gear in Tajikistan to be as light as possible, the XT has still come out battered. A slow puncture and a snapped spoke are just the start. We catch up with Franck a hundred kilometres later and the four of us hug the Panj River as it swoops and swerves its way east.
As the 'road' disintegrates beneath us the views become even more spectacular. Deep cut valleys, raging rivers, towering mountains and sharp cliff edges keep our eyes locked and minds off the jagged rocks hammering our machines.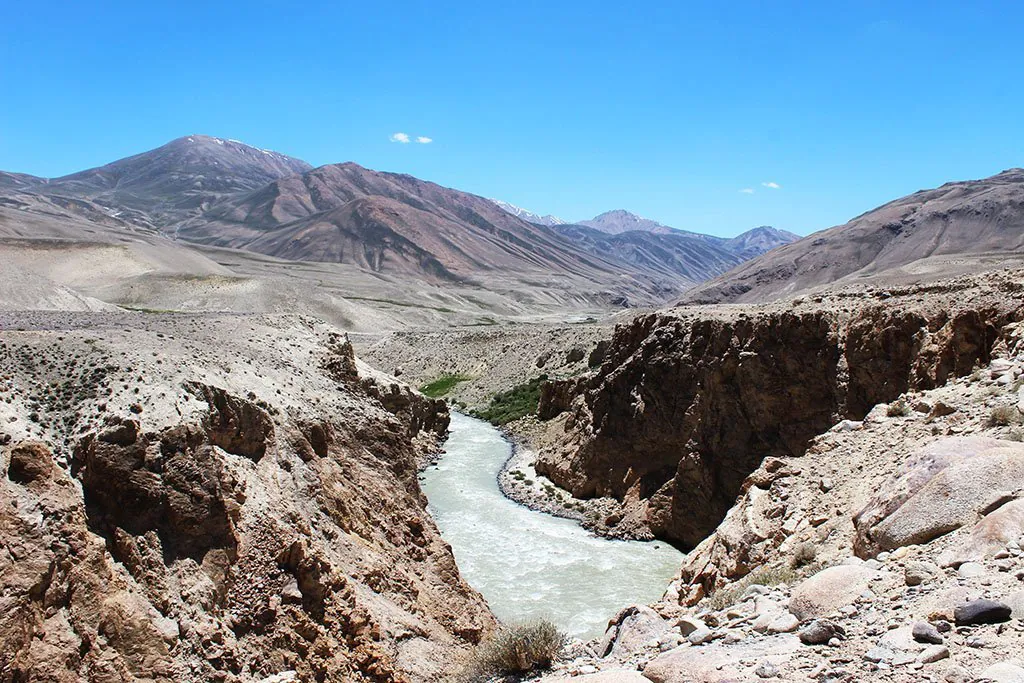 We reach the top of a Tajik pass, I jump off to shake hands with a guard and come back to see Alissa staring at a puddle of precious hydraulic fluid leaking from the rear shock. Three miles later and it's bone dry. No more rear suspension. Thankfully, Didier takes Franck's luggage and Alissa jumps on the back of Franck's bike – alleviating some of the weight of the XT. But we've still got 350 miles of rough terrain to go…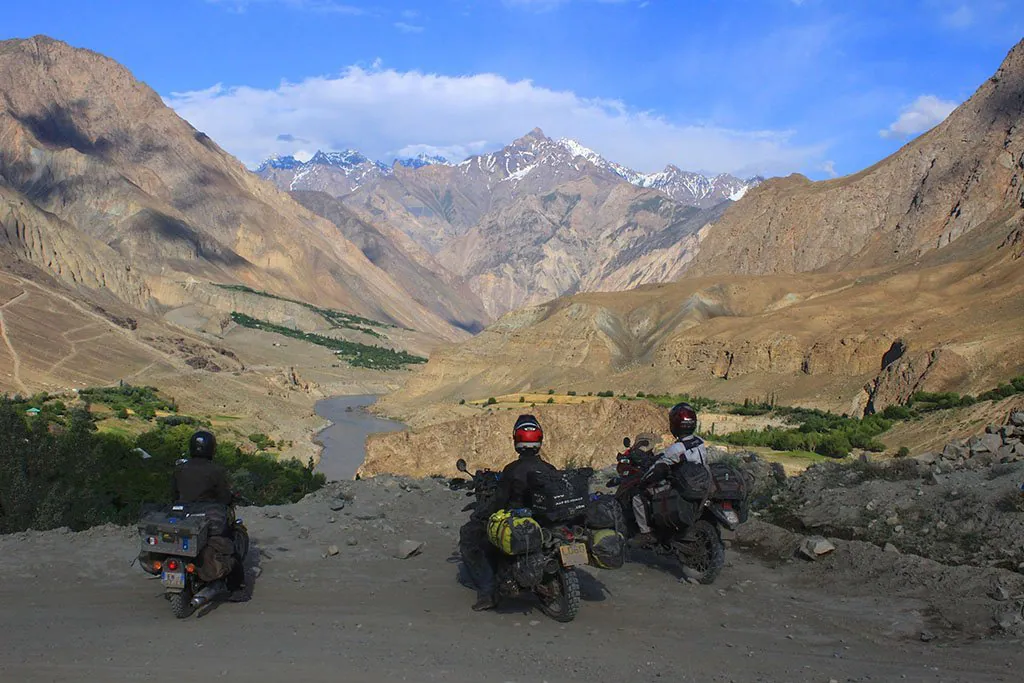 You're not going anywhere!
It's as though Tajikistan wants to keep us, refusing to let us go. The roads worsen and the mountain passes become even more treacherous. Tajikistan throws everything it can at us. We think we're home free as we near the final 100-mile marker until the sky disappears in front of us. A biblical sandstorm swirls on the horizon, smothering the sky. We pull over, zip up our jackets, tighten our cuffs and button our collars, give each other a nod and slowly push through at 10mph. Sand finds its way through gaps in our clothing and stings our skin, tempting us to turn back and wait it out.
We make it through and think the worst is behind us… until the road starts to climb, the sun disappears and the cold starts to bite. Within an hour we're battling a snow storm, atop a freezing mountain pass drenched in thick fog. As I can barely ride over 20mph I lose sight of the group. Alissa and I use a intercom fitted to our helmets, which soon crackles and falls silent. Snot trickles onto my top lip and my visor freezes over as I plod through the snow at achingly slow speeds. Tired and cold – with sand in our pockets – we make it to our final stop over in Tajikistan, Karakul Lake. We rest up and prepare for one last slog before the border with Kyrgyzstan.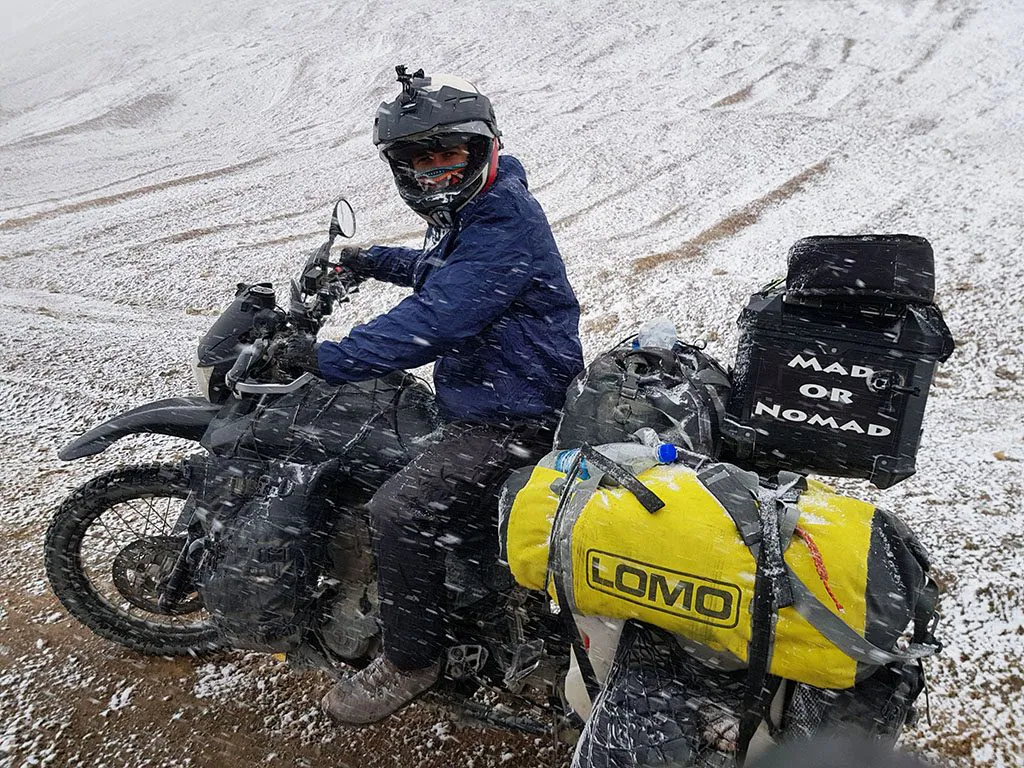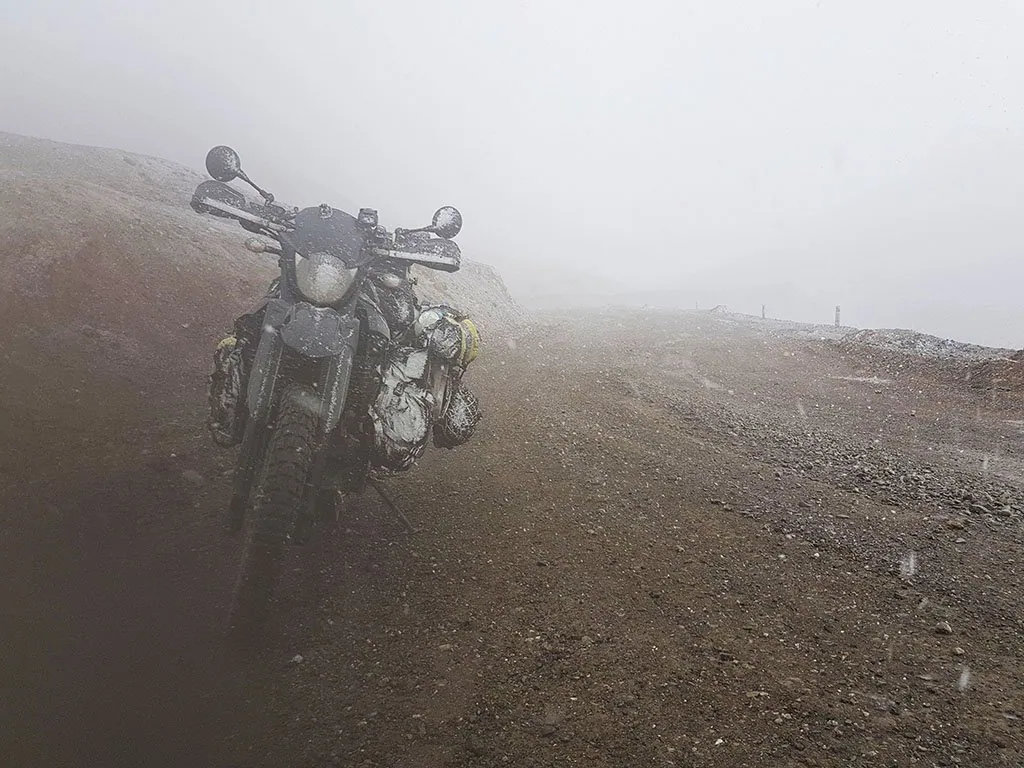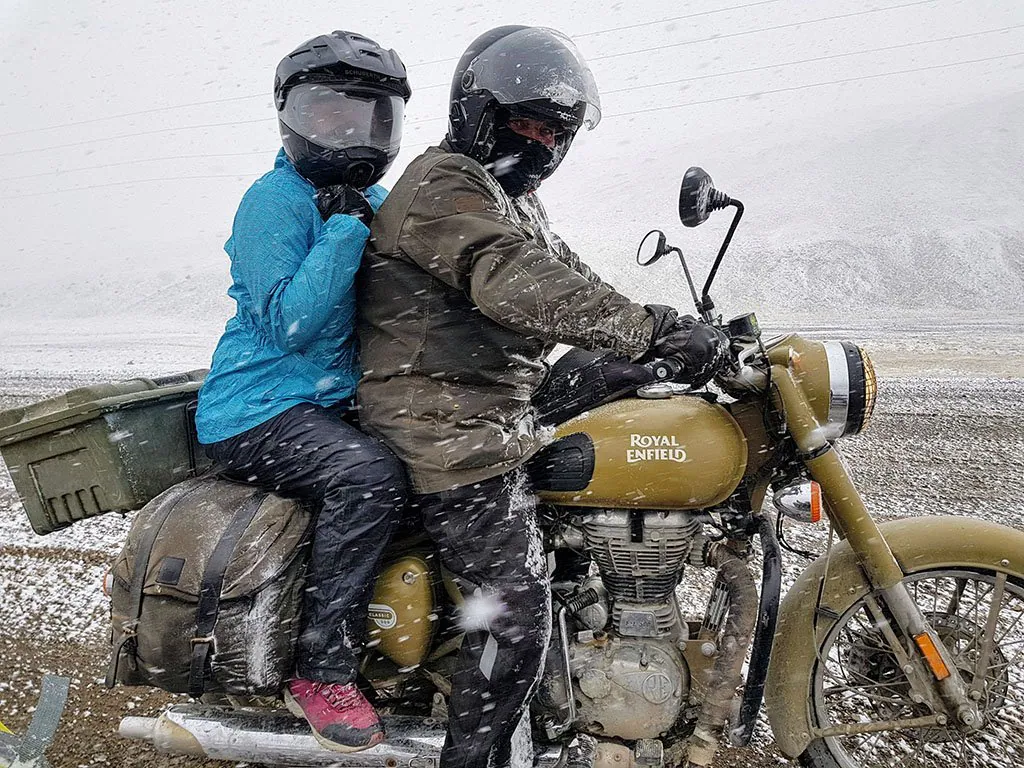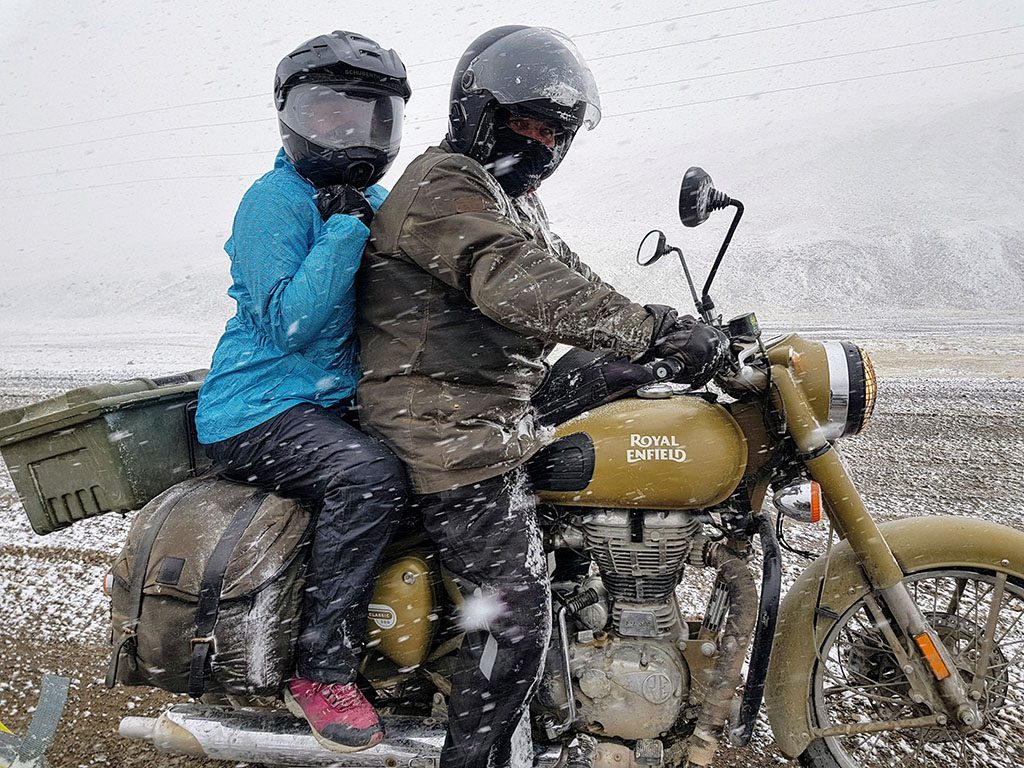 No-Man's Land
Typical Tajikistan saved the worst road for last. I snatch the front brake and veer towards a cliff edge to avoid the rim-wrecking crater. It's no use, the front wheel goes in and I wait for the inevitable crack from the rear. The crunch is loud and the subframe snaps. There are two cracks in the main frame and now the back-tyre's rubbing on the plastic underbelly. We're so close to the border I can almost taste Kyrgyzstan's famous horse milk… but we're not out yet.
I slump down beside the XT, which now looks like black ball of cable ties and gaffer tape. The jets are clogged and the fuel filter hates me. We've got a slow puncture, missing spokes, the chain guard just fell off and the back tyre ate the number plate – bursting the attached Scottoiler and covering the back of the bike in a gloopy blue mess. The bike's broken, probably beyond repair, and we're stuck in no-man's land between Tajikistan and Kyrgyzstan. The rain turned the high mountain pass into thick, slushy muck with a frosty top.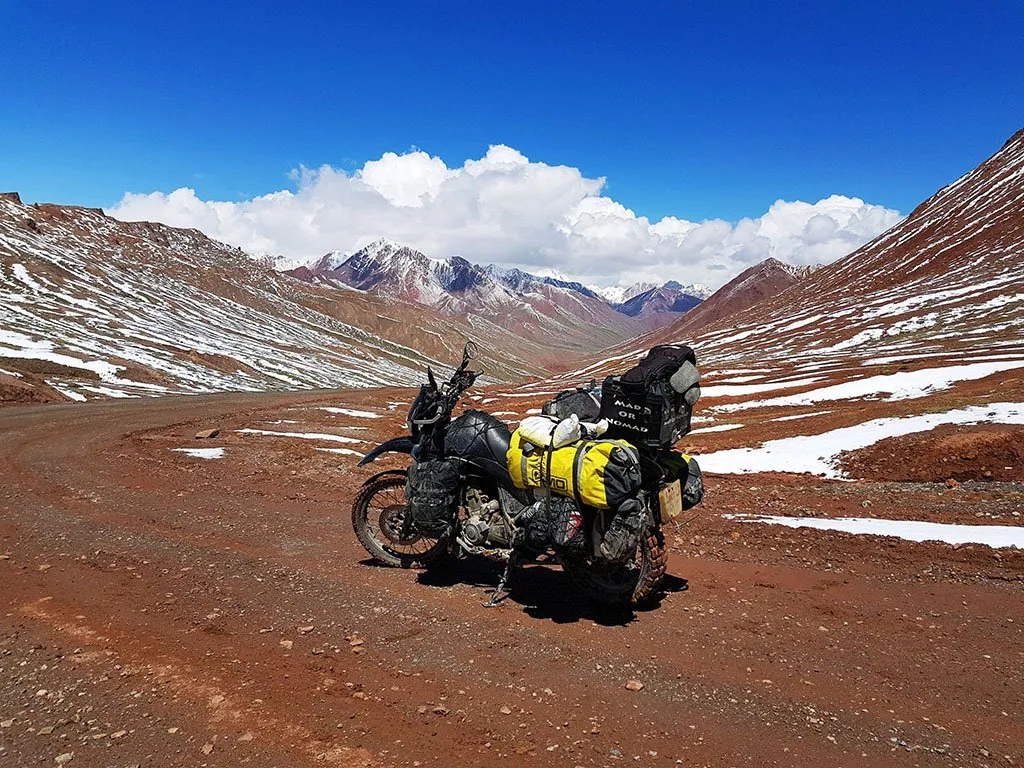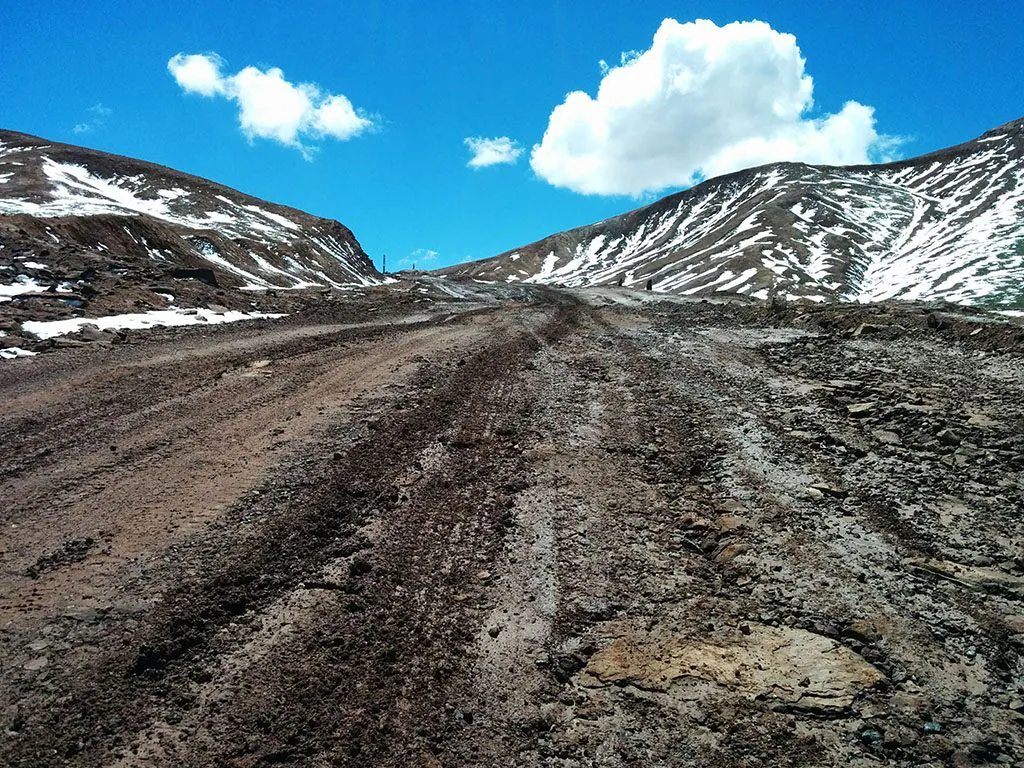 But nothing's taking the smile of our faces. We all just rode through Tajikistan, Afghanistan and the Pamir Mountains together. Broken or not, it was one of the most fun, surreal and visceral experiences of our lives. We give each other one more nod and wobble down the mountain in search of the border, civilization… and a good mechanic.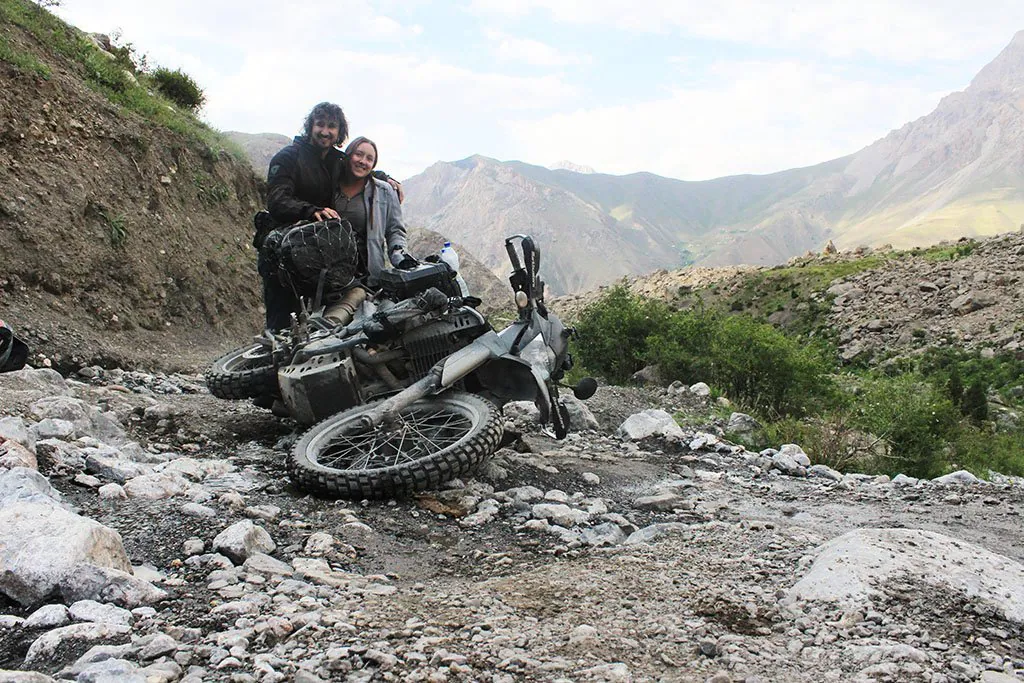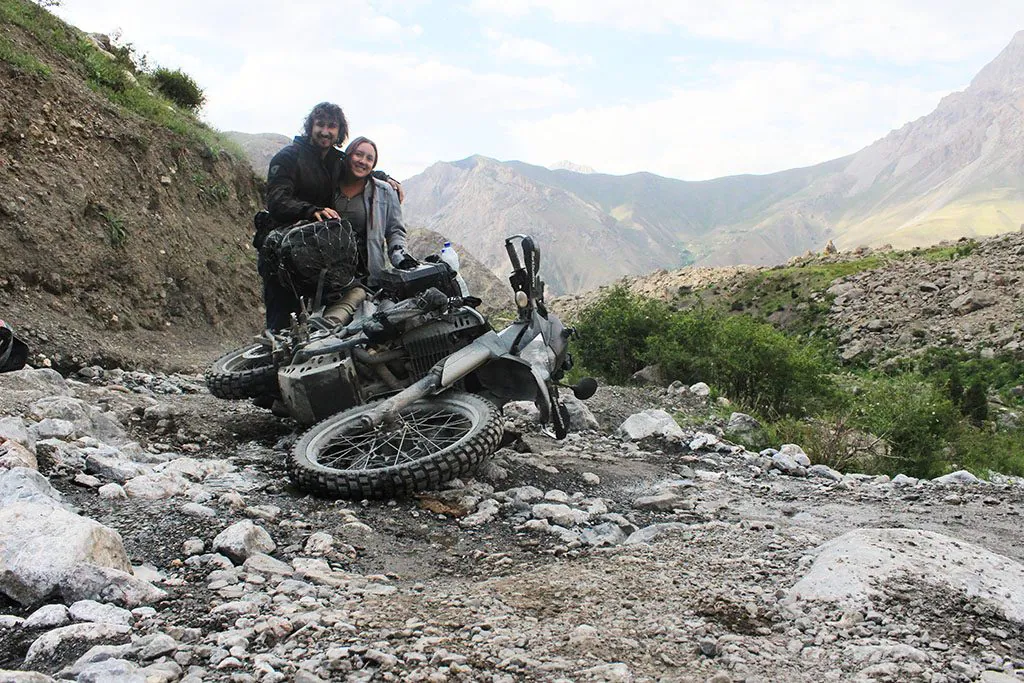 With thanks to
Didier Martin and Franck Lafontaine
Wouldn't have made it through the Pamirs without these two. Riding with good people literally makes the trip what it is. We love these guys! If you're interested in reading more about Franck's incredible adventures, check out his awesome Round-the-World on a Royal Enfield story.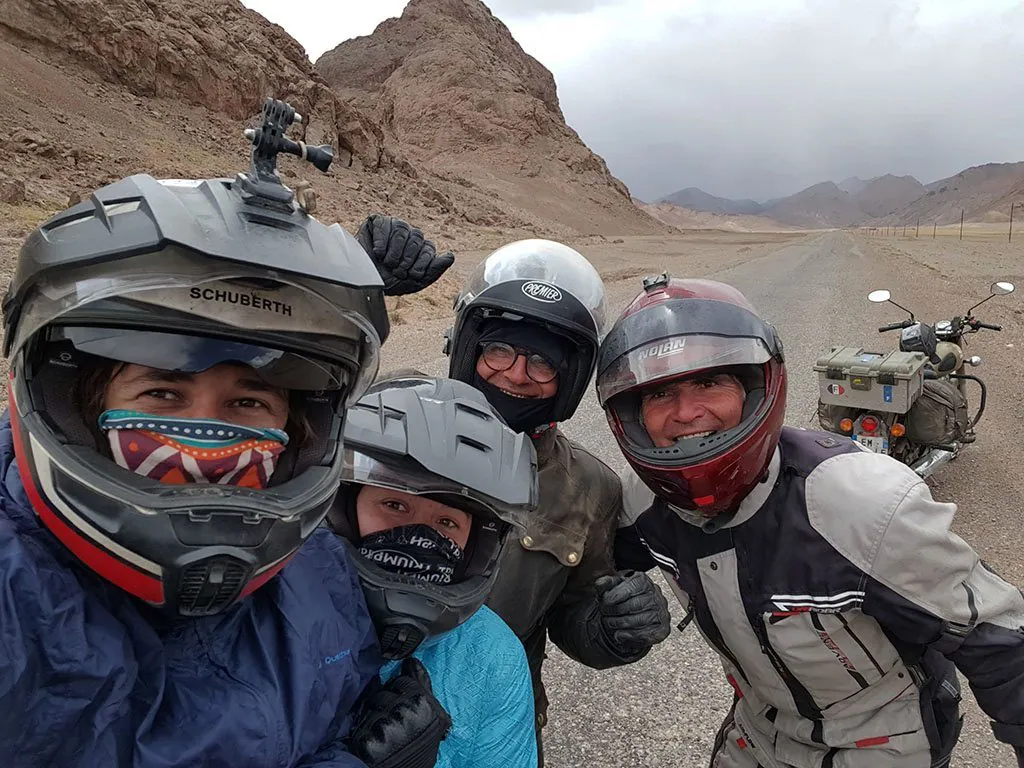 Read more on Motorcycle Travel in Tajikistan
Thanks for checking out our Pamir Mountains of Tajikistan Blog post. We hope you enjoyed it! Here's a few more articles on motorcycling in Tajikistan that we recommend you read next. 
Liked that? Try these next…
We'd love to hear from you! Please post your comments here…