Here's a handy guide explaining what you need to know about trail riding with your motorcycle in the UK. You'll find tips, info, links to our favourite routes and loads more…
What is trail riding and why have a go?
Trail riding isn't the same as off-roading. It's riding unsurfaced roads and tracks with vehicular rights of way that are open to all traffic. That means your bike needs to be fully road legal to use them as these 'green' (country) roads are subject to the same laws as 'black' (tarmacked) roads. 
These unsurfaced roads are part of a huge network of ancient historic routes scattered around the UK. Finding and riding them is incredibly fun and here's why… you'll learn technical riding skills and orienteering all while exploring the beautiful British Isles on a motorcycle! And it's something you can do all year round no matter the weather. You'll also find a huge community of like-minded people to ride with making it a brilliant social activity too. You're going to love it. 
Who are the Trail Riders Fellowship?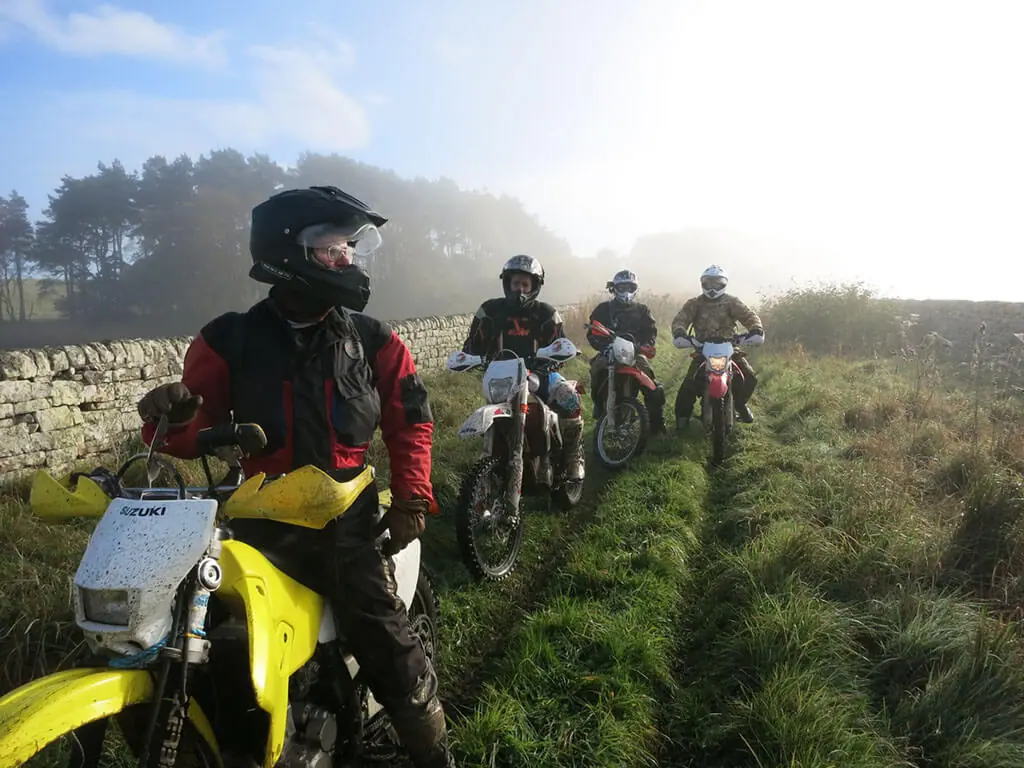 The Trail Riders Fellowship exists to protect the historic network of unmade green roads criss-crossing England and Wales and promote their sustainable use by motorcyclists. Established in 1970 and with nearly 6,000 members the group has successfully fought off political attempts to outlaw trail riding and has initiated legal challenges to help conserve access to many routes that would have otherwise been unjustly closed.
We thoroughly recommend joining and supporting the TRF. Check out their website for loads of useful information on trail riding, green laning and to find your local groups.  
How to find trail riding routes
The easiest way is to join your local TRF group. Membership is £52 a year and your money goes towards protecting the lanes as well as accessing a range of member benefits and discounts that come with being a full member.  The Fellowship operates a network of local groups throughout England and Wales, with most organising trail rides on a weekly basis. You'll be joining a like-minded group who will show you where you can and cannot ride.
The Best Trail Riding Routes
6 of the very best in the UK
The routes used consist of Byways Open to All Traffic (BOAT) and Unclassified County Roads (UCR). Other unsurfaced lanes and rights of way are not usually open to vehicles. BOATs are marked as such on Ordnance Survey maps, while UCRs are shown as Other Routes with Public Access – though frustratingly, neither are conclusive proof of public rights. Contact the local Highways or Rights of Way Department or check with your local TRF group to be sure of your rights before riding as some routes may be closed by Traffic Regulation Orders (though thankfully these are usually advised using prescribed signage). Visit ordnancesurvey.co.uk for more information.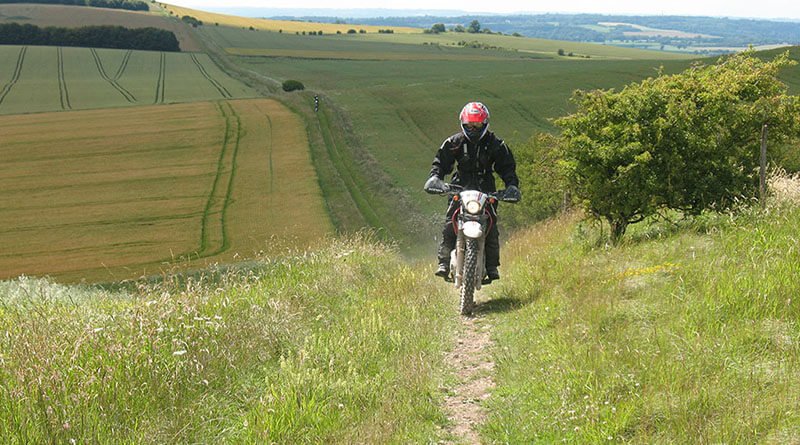 Trail riding is undertaken off-tarmac, not 'off-road' – the routes used are all public highways with vehicular rights, so all motorcycles and riders must be fully road legal. Green lanes are sensitive environments so the TRF has a code of conduct to ensure the right to use them isn't compromised by careless or ignorant behaviour. Check out the full TRF code of conduct for more info.
Riders will want to use comfortable and protective gear which is capable of protecting them in the event of a crash. That means a good, well-ventilated helmet, decent gloves and a sturdy pair of motocross boots as feet can take substantial knocks whilst steadying the rider across rough ground. A tough nylon coat and trousers with armoured inserts can help protect against impact and abrasion injury too. Make sure to carry plenty of water either in a bladder pack or on the bike as well. Here's some more articles to help choose your riding gear. 
The best motorcycle for green laning
The best bike is the one that meets your needs, expectations and budget. For a beginner, this may be a desirable bike that is quickly sold if you don't take to it.  
For an experienced rider it could be absolutely anything once set up to your taste. There is no right or wrong answer here as everyone has their own preferences. Just remember that whatever you choose, it must be fully road legal with insurance, MOT and tax.
Check out our How to Choose an Adventure Motorcycle guide and the motorcycle reviews page below for suggestions and more info on adventure bikes. 
Motorcycle Reviews
Real reviews by world travellers
Most UK riders will use knobbly tyres for dirt, though riders in stonier areas will use trials tyres. Trials tyres grip when they're not spinning, which can be counter-intuitive for new riders. Riders of larger adventure bikes may be limited to trail tyres, which offer limited – but acceptable – grip in mud, grass and dirt.
Top tips and things to know
Choosing the right bike
Buying a powerful, maintenance-needy enduro bike that is rarely ridden at more than quarter-throttle is unlikely to help a beginner learn as quickly as a sedate, civilised and ultra-reliable trail bike.  Don't be afraid to lower the seat height with a lowering link if the bike feels too tall.
Preparation
Prepare both the bike and yourself properly – make sure you are properly protected. Leathers are best avoided, but armour protection for your shoulders, knees and elbows is wise, and decent boots are essential. You will get hot, so avoid over-dressing and take water with you – hydration packs are popular.
Tools
It's wise to carry appropriate tools to get you out of trouble such as puncture repair kits with an electronic pump, levers and basic tools for working on the bike. A GPS device is also a good idea in case of emergencies. 
Planning
Plan your route and navigate using either Ordnance Survey maps or a GPS. Spend some time getting used to your options first and understand how to use them. Route planning and navigation is part of the culture of trail riding, so don't feel bashful about needing help.
Make friends
Ride with others for both safety and fun. Your local TRF group is the best place to look for companionship, guided rides and advice – including equipment choice and riding skills. Ride with caution on green roads as they are a shared space popular with non-motorised users.  
Slow down for horse riders and pass them quietly if the rider is not asking you to stop. Exchanging friendly greetings with everyone you meet is an important part of reminding other users that there's a responsible human inside what to them might look like a colourful space suit!
Guided Trail Riding Tours
Whether you're just getting in to trail riding or an expert, joining an organsied and professionally run guided trail riding tour is a brilliant way to discover new trails and have a great day or two out. You can take all the stress out of your ride by hiring a bike or take your own and get shown some of the UK's hidden gems. 
If you fancy joining a tour, take a look at our recommended companies below. 
READ MORE: Trail Riding Tours, Companies and Guides UK
Read more on Motorcycle Travel in the UK 
Thanks for checking out this How to Go Trail Riding in the UK article. We hope you enjoyed it! Here's a few more articles on motorcycling in the UK and Europe that we recommend you read next.
Are you planning a motorcycle trip in the UK or do you have any questions or tips to share? Let us know in the comments below.