"A small, lightweight and durable motorcycle pump that packs a punch. The Rocky Creek Motopressor works brilliantly and is a must for every adventure bike rider."
Snapshot
Price: £36.99
Mileage tested: 45,000
Time tested: 2 years
Testing conditions: Round-the-world trip 
Function: 5/5
Durability: 5/5 
Ease of use: 5/5
Value for money: 5/5
Where to buy: amazon.com/rockycreek
Features
We have used this pump on our ride from the UK to Japan and now into Southeast Asia. It's come in extremely useful and is a must for every motorcycle traveller.
The pump weighs around 560-590 grams and packs away tightly into a neoprene bag (included). The pump itself fits in the palm of your hand. 
It comes with two connector options: crocodile clips or battery O clips. We chucked the O clips as there's not much point carrying two. The extension cord is two metres long and comes with an SAE fitting.
The nozzle easily attaches onto the tyre valve and there's a single on/off switch on the unit. 
Rocky Creek say that it can pump a front tyre from flat to 32 psi in around 3 minutes and a rear to 28 psi in four minutes. And it goes up to 100 psi. 
Finally, Rocky Creek offer a five year warranty with their pump. 
What's good?
What's most attractive about this pump for a motorcycle traveller is its weight and size. It fits in the palm of your hand and is super lightweight. Even with a puncture repair kit and a pressure gauge in the neoprene bag as well, it's still a small package and neatly stows away at the bottom of your pannier.
The Rocky Creek motorcycle pump has got us out of trouble many times. We've used it for plenty of punctures in the two years we've owned it (for both our bike and others) and it's not failed us once. 
It's been completely drenched a number of times as well when one of our bags broke. We expected it to be ruined, but left it to dry for a day and it works as good as new. 
It's had no trouble inflating our tubed tyres and popping the bead every time we've used it. 
What's not?
It's hard to pick faults with it. I guess I could say it gets a little hot when its been on for a while. It vibrates hard and you need to be careful how you hold it because there is a fast turning and exposed mechanism that could easily catch a finger. But that's about it. Also, bear in mind that it doesn't come with a pressure gauge, so you will need to remove the pump each time to check. Here's a few gauges on
sportsbikeshop.com
and here's some on
Amazon
. A decent one should set you back £15 max.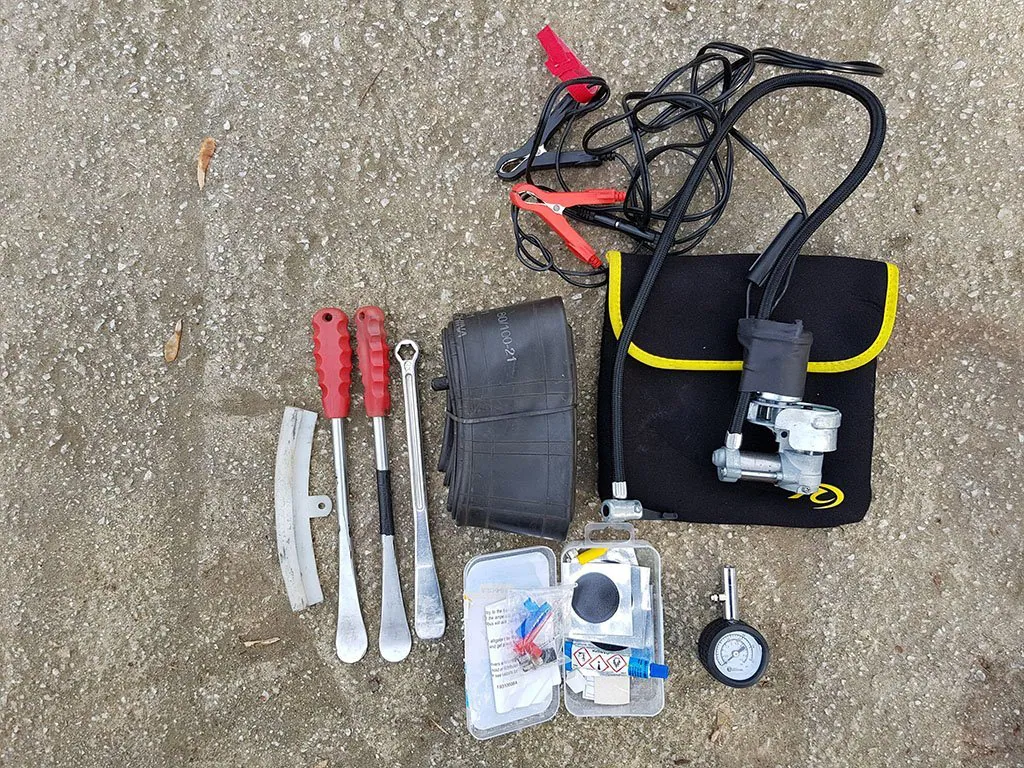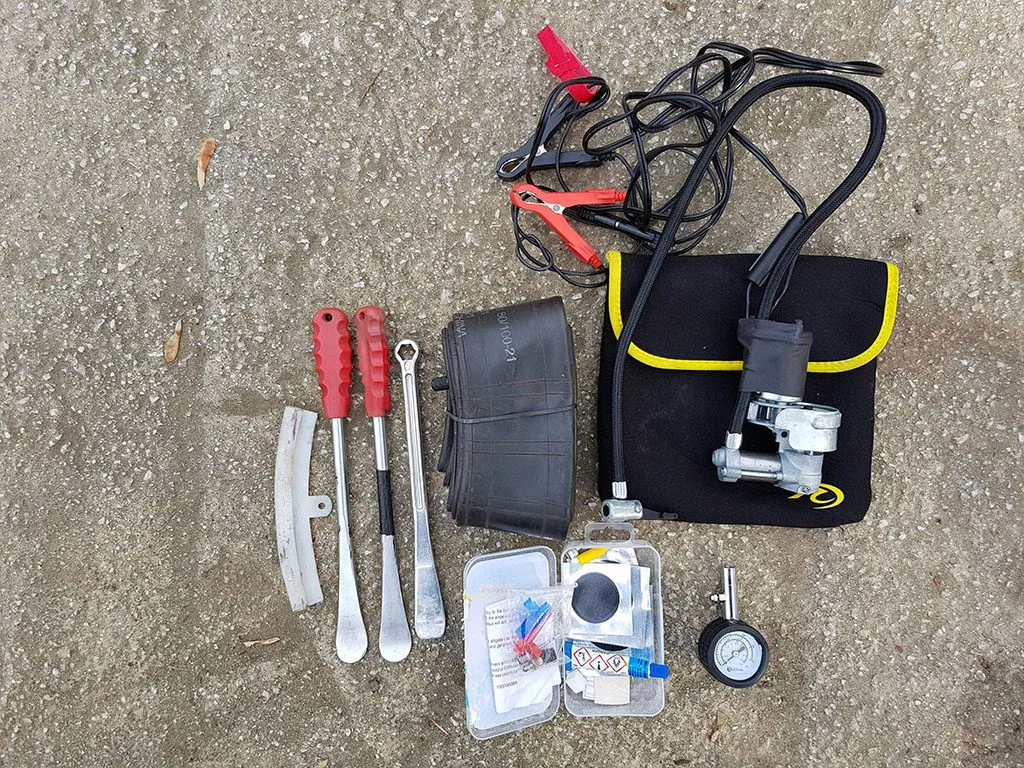 Round-up
The Rocky Creek Motopressor is a brilliant bit of kit. For serious motorcycle travel it's wise to carry a puncture repair kit and this will make a great addition to your gear. It's super lightweight, small, extremely well-priced, minimalist and works brilliantly. 
Rocky Creek Motopressor Motorcycle Tyre Pump Review: 20/20
We may receive a commission, at no cost to you, if you purchase a product using the affiliate links on this page. We're not sponsored, are completely impartial and don't run ads. So this helps us keep the site running. Thank you for your support.
Read more on Adventure Bike Gear
Thanks for checking out our Rocky Creek Motorcycle Tyre Pump Review. We hope you enjoyed it! Here's a few more articles on motorcycle clothing that we recommend you read next. 
We'd love to hear from you! Please leave your comments below.