Welcome to the Top 10 Best Adventure Bike Helmets of 2020 Guide! You'll find info, features, pros, cons and links to the best adv lids on the market as well as handy helmet buying advice.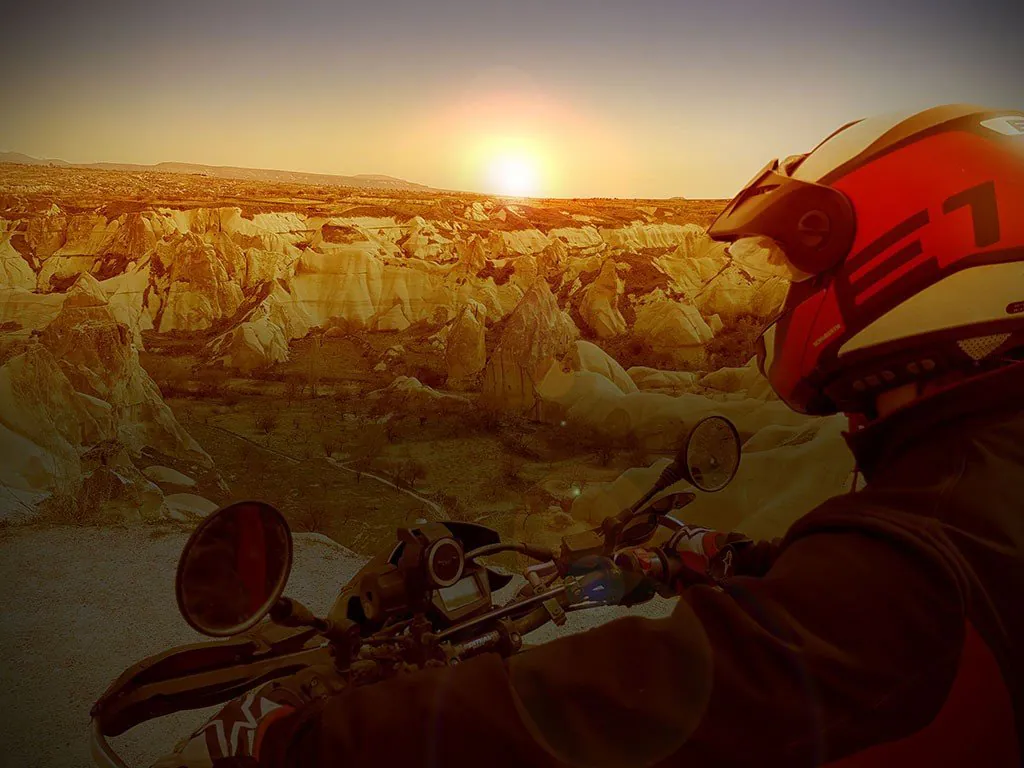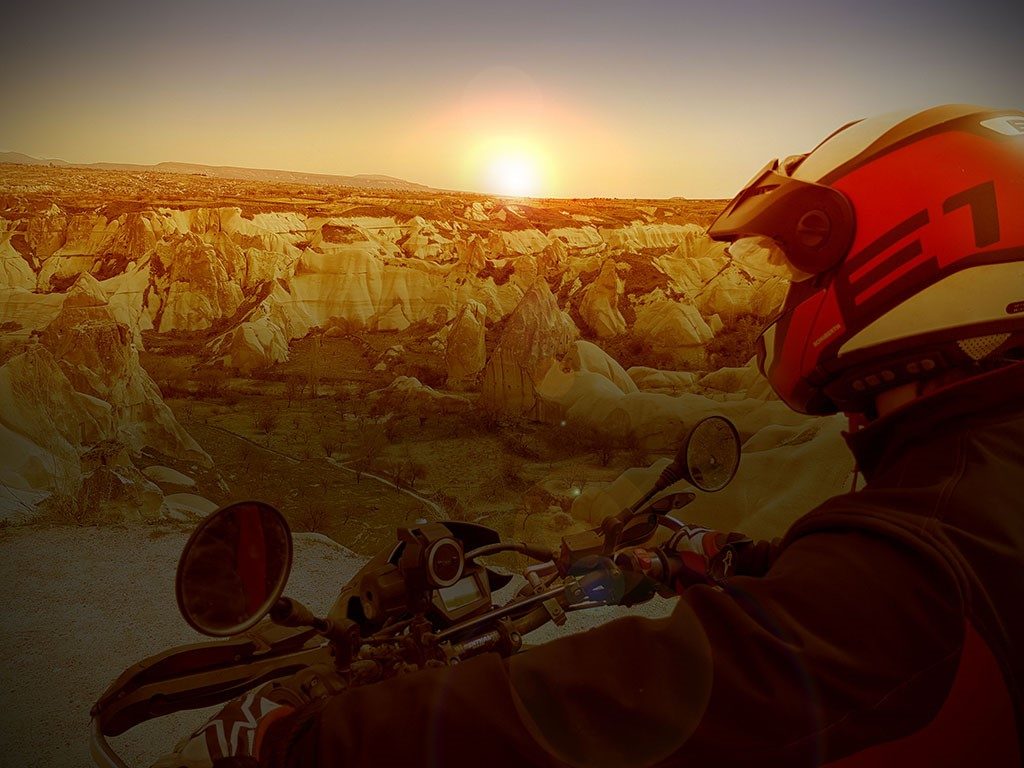 You know the drill… the helmet is the most important bit of kit you can buy because your brain is priceless and that's all there is to it. So, instead of boring you with reams of bike safety statistics, let's get down to business. 
This article specifically looks at the best adventure bike helmets on the market today. We're concentrating on adventure motorcycle helmets because they're an excellent blend of road and off-road helmets with wider view openings, peaks, more ventilation and extra features all geared towards dual-purpose riding.
However, there are different types of motorcycle helmets that can be used for adventure bike travelling – each with their own pros and cons. You've got road helmets, dirt bike helmets and flip-front modular helmets to choose from as well. Interested in the differences and what's right for you? Check out the helmet section of our super comprehensive Choosing Your Adventure Riding Gear guide. You'll also find out top tips for buying a motorcycle helmet in there too. 
Top 10 Best Adventure motorcycle helmets on the market in 2020
Klim Krios Karbon Adventure Helmet
The Klim Krios is a full face, peaked adventure helmet with a visor. It's made from carbon fibre and Klim claim that the Krios is the lightest adventure helmet ever made. You can switch the Krios between street (remove the peak), adventure (use the peak and the visor) and off-road (leave the peak, remove the visor and use goggles instead).
Features
Under 1500g
Large view opening
Ventilation ports on the chin, forehead and back of helmet
Design emphasis on making it quiet
Includes pinlock insert and two visors (clear and tinted)
Posh and removable interior liner
Double D chin strap
Pros
Super lightweight
Removable peak
Able to take goggles
Good ventilation
Wide opening
Comfortable
Cons
Colours
Hi-Viz, Orange, Grey, Black, White, Red, Yellow, Carbon, Blue, Camo, Silver
Price
Price: from £299 – £540 dependent on colour options
Shoei Hornet ADV Helmet
The Shoei Hornet comes with three vents (chin, forehead and rear exhausts). The visor and peak are both removable (although not as quickly removable as its competitors), however, the peak is not adjustable but still works brilliantly regardless. The helmet's interior is plush and all day comfortable and the helmet sits on the lighter end of this list.
Features
Weighs 1610g
Very wide visor opening
Shoei Emergency Quick Release System (EQRS) system allows the cheek pads to be safely removed in case of a crash.
Plush ineterior liner
Double D ring fastner
Pros
Goggle friendly
Fixed but excellent peak
Comfortable liner
Cons
Small chin vent
Must remove the peak to take the visor out
No internal sun visor
Colours
White, black, red white and blue, black and white
Price
£449 – £539 dependent on colour options
Arai Tour X4 Helmet
The Arai Tour X4 is the daddy of adventure bike helmets. It's well known, has been around for a long time and hugely popular. The Tour X4 comes with a new, tougher outer shell, a five-year warranty and Arai premium quality.
The peak and visor are both removable (although time consuming and not as easy as the competition) and the X4 is goggle friendly. There are three vents in the chin, two for the forehead and two scoops on the top and exhausts at the rear.
Features
Weighs 1620g
Double D lock
Pinlock visor insert included
Emergency tab to release the cheek pads
Fully washable and removable
Pros
Premium quality
High level of comfort
Very good ventilation
Excellent fit with removable 5mm surface foam liners
Cons
Probably the trickiest of the bunch to remove the visor and peak as it still requires screws.
Colours
White, black, yellow, Africa Twin colours, blue, orange, red, UK, gun,
Price
£399-£579 dependent on colours
AGV AX-9 (replaced AGV AX-8) Helmet
The AGV AX-9, which replaced the AX-8 Dual Evo, is a carbon fibreglass lid with a super wide visor opening. It comes with a pin-lock anti-fog insert included and both the visor and peak can be removed. As with most of the helmets in this list, the AGV has a removable and washable interior. The AX-9, like the Klim Krios, is also an extremely light helmet and feels more like a motocross lid when compared to its competition. The chin bar is far more pronounced too allowing for way more air circulation.
Features
Weighs 1540g
Grooves for glasses
Bluetooth communication system grooves
Double D strap
Removable front chin vent
Pros
Comfortable design and soft cheek pads
Extra wide opening
One of the lightest of the bunch
Cons
Solid peak isn't as aerodynamic as competition.
The visor and peak are removed by undoing plastic screws with either a coin or flat head. This can wear way the screw head grooves away over time.
No internal sun visor.
Colours
Fluo, black and white, carbon, blue, white, blue white and red, orange,
Price
£332 – £439 based on colours
LS2 Pioneer Helmet
LS2 say that their Pioneer helmet was originally made for professional enduro and off-roading and this version is for road users. The visor can be removed and it is also goggle friendly with the visor left on if needed. The LS2 Pioneer comes with plenty of vents and exhausts but only the chinbar can be closed. Overall, the LS2 is a fantastic entry level adventure motorcycle helmet.
Features
Weighs 1300g
Internal sun visor
Ratchet chin strap
Fully removable and washable liner
Quick release cheek pads
Pros
Internal sun visor
Very affordable price tag
Extremely light
Cons
Not known to be a quiet helmet
Non removable peak and only small adjustments
Can only close chin vent so can get cold/ let water in
Colours
Yellow, white, black, blue, white and black, orange
Price
£79 – £94 based on colour options         
Bell MX-9 Adventure Helmet
The Bell MX-9 is an entry level adventure bike helmet that comes with a five-year warranty. The peak and visor are both removable, which makes for street, adventure or off-road use. It has what you'd expect: a moisture wicking, removable washable liner and chin, forehead and rear vents.
Features
Weighs 1450g
Double D ring chin strap
Fully removable and washable liner
3 shell sizes
Pros
Can easily take goggles
Very affordable price tag
Five-year warranty
Cons
Only two peak positions and not quick and easy to adjust
Visor isn't quick to remove either
Noisey
Can only close the chin vent
Colours
Yellow, black, white blue and yellow, red white and black, black and orange, red, grey, orange, blue and pink.
Price
£74 – £149 dependent on colour options
NEXX X.WED 2 Helmet
The X.WED helmet from Nexx is a mid-range adventure motorcycle helmet. It has a three-position upper vent, dual side intakes and a large chin intake. The Nexx is packed with features for a middle-weight lid. The peak and visor are removable and while the visor opening can take goggles, it's not as wide a fit as some of the competition.
Features
Weighs 1500g
Double D ring chin strap
Internal sun visor
Nexx X-COM comms system ready
Action camera supports and straps
Emergency straps to remove cheek pads
Adjustable peak
Pros
Action cam supports
Quiet helmet
Excellent ventilation
Loads of features
Emergency cheek pads
Cons
Visor opening isn't as wide as competition
Vents are tricky to operate with a gloved hand
Pinlock not included
Colours
White, black, white and blue, blue and red, sand, titanium, desert, white and orange, white and red, black and red, grey, orange, fluo
Price
£284 – £379 dependent on colours
Schuberth E1 Helmet
The Schuberth E1 is the adventure version of the Schuberth C3 Pro road going helmet. Just like the C3, the E1 is a modular flip-front helmet. The front face is lifted using an easy to reach button under the front chin. It has an easily removable peak and sun visor and an internal sun visor. There's a large chin vent, visor vent and vent on the top of the head but no rear exhaust ports. The visor opening is just about wide enough to take a pair of small goggles. The E1 sits further towards the touring than off-roading side of lids, but is still an excellent choice. If you're interested in the E1, check out our Schuberth E1 45,000-mile review.
Features
Weighs 1803g
Easily removable peak and visor
Comms ready
Flip front
Sun visor
Ratchet chin strap
Pros
Quiet
Easy to fit Schuberth comms system
Easy to use flip-front
Plush interior
Cons
Heavy
Lacks rear exhausts and can feel hot
Hard to open top vent with peak
Pricey
Colours
Grey, white, yellow, black, red and white
Price
£341 – £499 dependent on colours
Shark Explore R Helmet
The Shark Explore R helmet is the most road orientated helmet of this list. So if your riding is 80% road with the odd off-road track then veer more towards the Explore R or the Schuberth E1. The Explore comes with a pair of helmet specific goggles, which is great, but they latch onto two points on either side of the helmet instead of wrapping round the back, so you can't just hang the goggles down. The visor and peak are both removable and the peak is also adjustable.
Features
Weighs 1350g
Comes with goggles, visor and peak
Internal sun visor
Removable and washable interior pads
Shark comms ready
Ratchet chin strap
Pros
Comes with goggles
Comfortable fit
Quiet
Soft interior pads
Anti-scratch and anti-fog liner
Cons
Not necessarily a con, but the chin bar and vents are more suited to road going helmets so if you're after a more off-road focused adventure lid, this isn't it
Colours
White, black, orange, red and white, black and blue
Price
 £219 – £299 dependent on colours
MT Synchrony DS SV Helmet
The MT Synchrony DS SV is an entry level adventure motorcycle helmet with a removable peak and visor. It comes with an internal sun visor and a removable and washable interior liner. It's the cheapest helmet in this 10 adventure bike helmet round-up at £50 and performs surprisingly well for the price tag.
Features
Weighs 1450g
Removable peak and visor
Removable and washable pads
Internal sun visor
Anti-scratch visor
Pros
Very low-price tag
Decent for the price
Cons
Noisy
Can't open the top vents
Visor isn't pinlock ready
Colours
Orange, white, black, green
Price
£49 – £109 dependent on colour options
How to choose the right motorcycle helmet and buying guide
Read more on Motorcycle Kit and Gear
Thanks for checking out our 10 Best Adventure Bike Helmet Guide of 2020 Guide. We hope you enjoyed it! Here's a few more articles on adventure bike kit that we recommend you read next. 
Let us know what you think of this Top 10 Adventure Bike Helmet Guide for 2020 in the comments below! We'd love to hear from you if you ride with any of these lids or reckon we've missed a great helmet.