Welcome to the Top 10 Best Adventure Bike Helmets Guide of 2022. You'll find info, features, pros, cons and links to the best adventure motorcycle helmets on the market as well as handy helmet buying advice.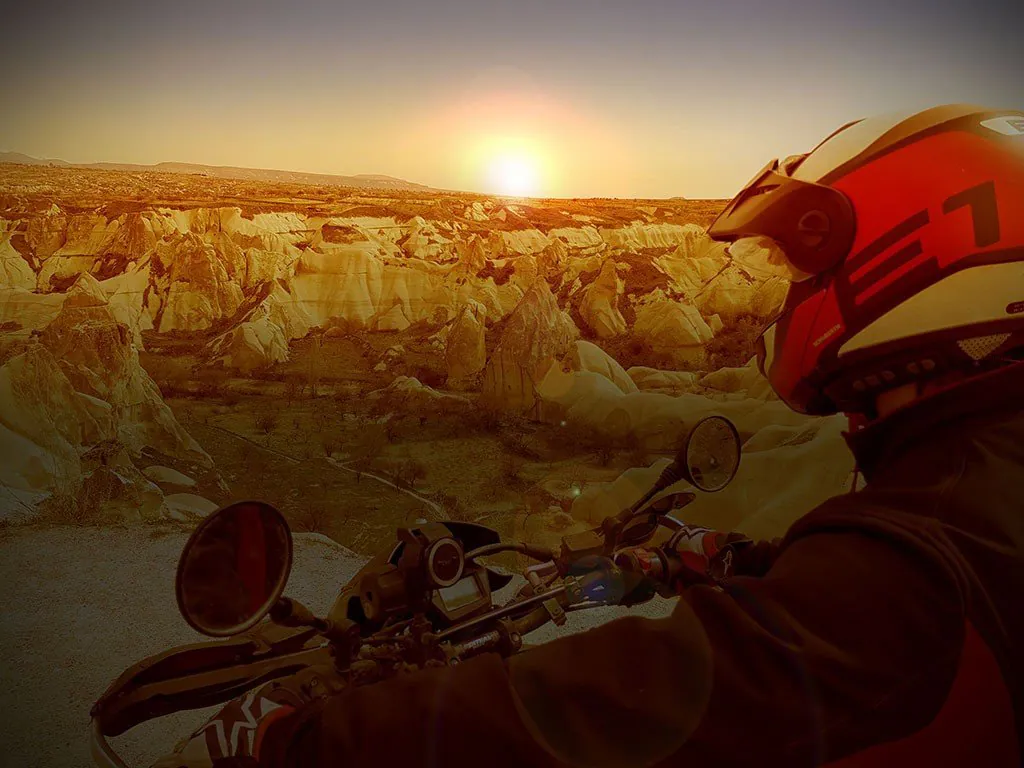 You know the drill… your helmet is the most important bit of protective motorcycle gear you can buy because your brain is priceless. So, picking the right helmet for the job, making sure it fits, is comfortable and safe are incredibly important. 
We'll explain the different types of lids you can go for, offer further reading, discuss adventure bike helmets and then get to our top ten. This article will be updated yearly to reflect the best helmets on the market. Let's get to it!   
The different types of motorcycle helmets
You don't have to go for an adventure bike helmet, you can use whatever type of motorcycle helmet for adventure bike travelling you like. Popular options include road helmets, touring helmets, enduro helmets, open face and flip-front modular helmets.
If you're interested in any of the above and want to know more about their pros and cons, then check out the helmet section in comprehensive guide Choosing your adventure bike riding gear – it also includes our top tips for buying a motorcycle helmet. And if you're looking for a more road focused helmet, then take a look at our touring helmets guide too. 
READ MORE: Choosing Your Adventure Riding Gear
READ MORE: The 10 Best Touring Helmets 
Why adventure bike helmets?
But for this article, we're specifically looking at the best adventure bike helmets on the market today. We're concentrating on adventure motorcycle helmets because they're an excellent blend of road and off-road helmets with wider view openings, peaks, more ventilation and extra features all geared towards dual-purpose riding. They're the best of both worlds, perfect for long distance motorcycle travel and adventure riders. Here's the 10 best adventure bike helmets on the market today.
The 10 Best Adventure Motorcycle Helmets of 2022
Klim Krios Karbon Adventure Helmet
The Klim Krios is a full face, peaked adventure helmet with a visor. It's made from carbon fibre and Klim claim that the Krios is the lightest adventure helmet ever made. You can switch the Krios between street (remove the peak), adventure (use the peak and the visor) and off-road (leave the peak, remove the visor and use goggles instead).
Features
Under 1500g
Large view opening
Ventilation ports on the chin, forehead and back of helmet
Design emphasis on making it quiet
Includes pinlock insert and two visors (clear and tinted)
Posh and removable interior liner
Double D chin strap
Pros
Cons
Colours
Price
Shoei Hornet ADV Helmet
The Shoei Hornet comes with three vents (chin, forehead and rear exhausts). The visor and peak are both removable (although not as quickly removable as its competitors), however, the peak is not adjustable but still works brilliantly regardless. The helmet's interior is plush and all day comfortable and the helmet sits on the lighter end of this list.
Features
Weighs 1610g
Very wide visor opening
Shoei Emergency Quick Release System (EQRS) system allows the cheek pads to be safely removed in case of a crash.
Plush ineterior liner
Double D ring fastner
Pros
Cons
Colours
Price
Arai Tour X4 Helmet
The Arai Tour X4 is the daddy of adventure bike helmets. It's well known, has been around for a long time and hugely popular. The Tour X4 comes with a new, tougher outer shell, a five-year warranty and Arai premium quality.
The peak and visor are both removable (although time consuming and not as easy as the competition) and the X4 is goggle friendly. There are three vents in the chin, two for the forehead and two scoops on the top and exhausts at the rear.
Features
Weighs 1620g
Double D lock
Pinlock visor insert included
Emergency tab to release the cheek pads
Fully washable and removable
Pros
Cons
Colours
Price
AGV AX-9 (replaced AGV AX-8) Helmet
The AGV AX-9, which replaced the AX-8 Dual Evo, is a carbon fibreglass lid with a super wide visor opening. It comes with a pin-lock anti-fog insert included and both the visor and peak can be removed. As with most of the helmets in this list, the AGV has a removable and washable interior. The AX-9, like the Klim Krios, is also an extremely light helmet and feels more like a motocross lid when compared to its competition. The chin bar is far more pronounced too allowing for way more air circulation.
Features
Weighs 1540g
Grooves for glasses
Bluetooth communication system grooves
Double D strap
Removable front chin vent
Pros
Cons
Colours
Price
LS2 Pioneer Helmet
LS2 say that their Pioneer helmet was originally made for professional enduro and off-roading and this version is for road users. The visor can be removed and it is also goggle friendly with the visor left on if needed. The LS2 Pioneer comes with plenty of vents and exhausts but only the chinbar can be closed. Overall, the LS2 is a fantastic entry level adventure motorcycle helmet.
Features
Weighs 1300g
Internal sun visor
Ratchet chin strap
Fully removable and washable liner
Quick release cheek pads
Pros
Cons
Colours
Price
Bell MX-9 Adventure Helmet
The Bell MX-9 is an entry level adventure bike helmet that comes with a five-year warranty. The peak and visor are both removable, which makes for street, adventure or off-road use. It has what you'd expect: a moisture wicking, removable washable liner and chin, forehead and rear vents.
Features
Weighs 1450g
Double D ring chin strap
Fully removable and washable liner
3 shell sizes
Pros
Cons
Colours
Price
NEXX X.WED 2 Helmet
The X.WED helmet from Nexx is a mid-range adventure motorcycle helmet. It has a three-position upper vent, dual side intakes and a large chin intake. The Nexx is packed with features for a middle-weight lid. The peak and visor are removable and while the visor opening can take goggles, it's not as wide a fit as some of the competition.
Features
Weighs 1500g
Double D ring chin strap
Internal sun visor
Nexx X-COM comms system ready
Action camera supports and straps
Emergency straps to remove cheek pads
Adjustable peak
Pros
Cons
Colours
Price
Schuberth E1 Helmet
The Schuberth E1 is the adventure version of the Schuberth C3 Pro road going helmet. Just like the C3, the E1 is a modular flip-front helmet. The front face is lifted using an easy to reach button under the front chin. It has an easily removable peak and sun visor and an internal sun visor. There's a large chin vent, visor vent and vent on the top of the head but no rear exhaust ports. The visor opening is just about wide enough to take a pair of small goggles. The E1 sits further towards the touring than off-roading side of lids, but is still an excellent choice. If you're interested in the E1, check out our Schuberth E1 45,000-mile review.
Features
Weighs 1803g
Easily removable peak and visor
Comms ready
Flip front
Sun visor
Ratchet chin strap
Pros
Cons
Colours
Price
Shark Explore R Helmet
The Shark Explore R helmet is the most road orientated helmet of this list. So if your riding is 80% road with the odd off-road track then veer more towards the Explore R or the Schuberth E1. The Explore comes with a pair of helmet specific goggles, which is great, but they latch onto two points on either side of the helmet instead of wrapping round the back, so you can't just hang the goggles down. The visor and peak are both removable and the peak is also adjustable.
Features
Weighs 1350g
Comes with goggles, visor and peak
Internal sun visor
Removable and washable interior pads
Shark comms ready
Ratchet chin strap
Pros
Cons
Colours
Price
Nolan N70-2 X Helmet
The Nolan N70-2 is the latest addition to this list. We decided to add this new lid in because of its versatility. The chin bar can be completely removed to make it a jet helmet. You can also remove the peak and visor so it can be worn as an everyday helmet without the peak or as an off-road helmet with the peak and a pair of goggles. So, it can be worn in multiple configurations. It's a stylish lid and comes in nine different colour options and is also prepared for Nolan's N-com intercom system.
Features
Weighs 1723g
Micrometric chin strap
Internal drop down sun visor
Fitted with pinlock visor
Removable chin bar
Pros
Cons
Colours
Price
The Best Adventure Bike Helmet Winners