The SBV adventure motorcycle tool kit is innovative, lightweight, extremely high-quality and probably the best tool set on the market today. It's a serious bit of kit for adventure bike riders, home servicing, touring and round the world motorcycle trips. Here's our review…
Snapshot
Price: £181 (Basic Set) £299.66 (Pro Mechanic Full Set)
Time tested: 1.5 years
Testing conditions: UK
Function: 5/5
Durability: 5/5
Ease of use: 5/5
Value for money: 5/5
Where to buy: www.sbvtools.com
SBV Tool Kit Options Explained
SBVTools neatly organise their products into two sets: the 'Basic' tool kit (1.65kg) and an 'Add-on' pouch. The two sets can be purchased separately, fixed together to create one full set or you can purchase both together called the Pro Mechanic Set (2.95kg), which is what we have tested.
Once you've decided on whether you want the basic, add-on or both together, then you have the option of purpose made tools for specific brands.
SBV Tool set for all adventure bike brands 
Pro Mechanic Full Tool Set: £299.66  – This set is the most expensive kit SBV Tools offers. It has all the extra tools from other sets wrapped up into one. The 75 piece set works for most adventure motorcycle brands. It is built up of the below two sets, which can be purchased separately if you prefer. You can check them out on SBV Tools here:
SBV Tool set for specific adventure bike brands
SBV also produce purpose built kits for: BMW, Ducati and KTM, Japanese and Triumph. These kits swap the 'Add on' pouch for specific tools made for those bikes. For a rundown on the kits available check their Motorcycle Tools page.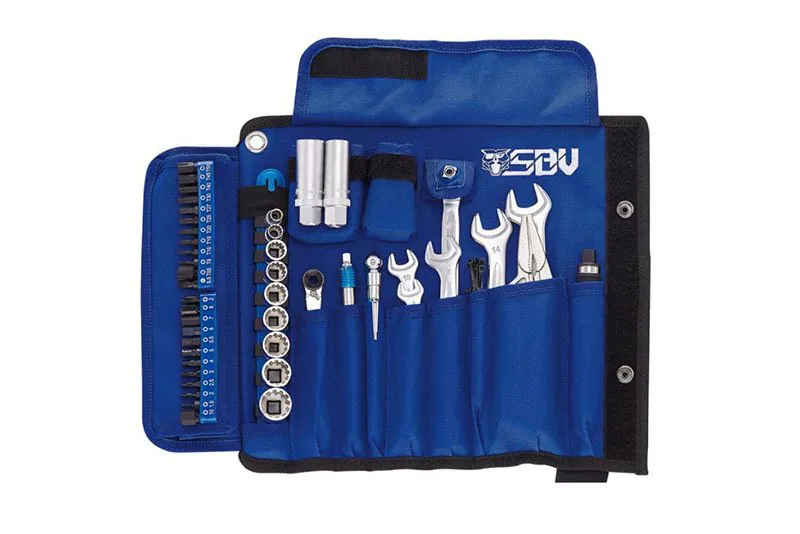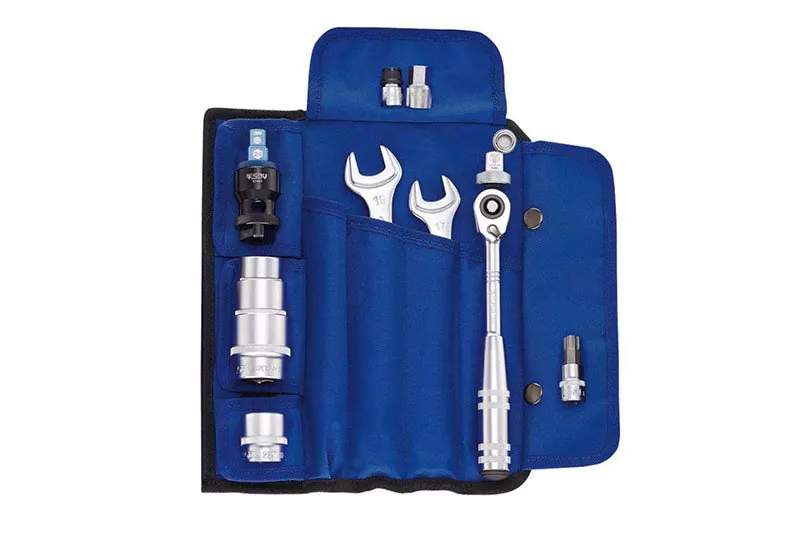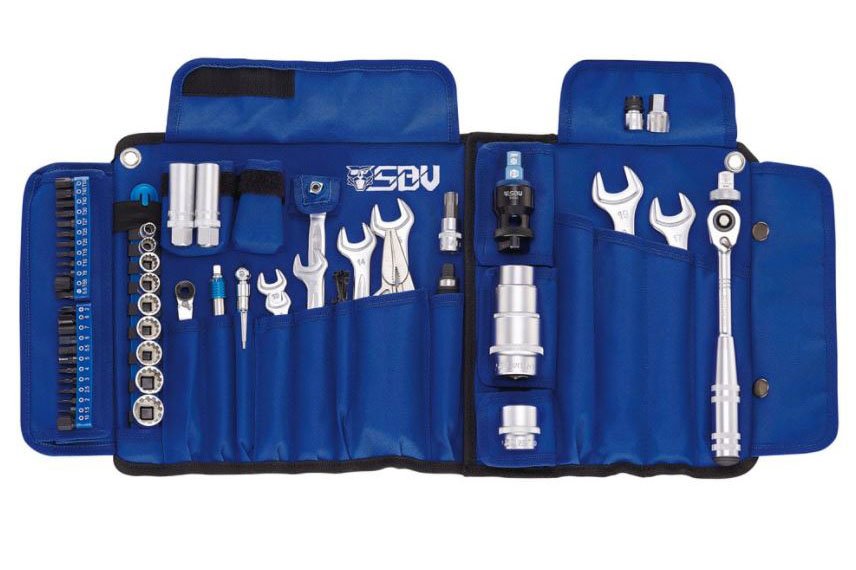 Features
The tools are highly innovative and the majority are patented. The owner of SBVTools, Thierry, designed and developed the tools himself, spending years on getting these tools as light and durable as possible. All the tools come with a lifetime guarantee because they're of such high quality. 
The SBV Pro Mechanic Tool Set is built up of two sets: the basic adventure kit (60 pieces) and the add-on set (15 pieces) with a total weight of 2.95kg. Click the dropdown below to see everything you get in the complete set. 
Basic Adventure Motorcycle Tool Set – 60 pieces
3 in 1 Multi-Tool (130mmL): T-handle – 1/4″ Dr. Hex bit ratchet (75Nm) – 11mm ratchet (100Nm)
1/4″ hex bits lock extension with aluminum Turbo sleeve 135mmL
1/4″ to 1/4″ adapter
1/4″ 25mmL Bits/6.35mm (T8, T10, T15, T20, T25, T27, T30, T40, T45, T50, T55, Slot5.5)
1/4″ 25mmL Bits/6.35mm (H1.5, H2, H2.5, H3, H4, H5, H5.5, H6, H7, H8, H10, PH2)
1/4″ Dr. MIT socket – 6mm (1/4, E8)
1/4″ Dr. MIT socket – 8mm (5/16, E10)
1/4″ Dr. MIT socket – 10mm (3/8, E12)
1/4″ Dr. MIT socket – 11mm (7/16, E14)
1/4″ Dr. MIT socket – 12mm (15/32, -)
1/4″ Dr. MIT socket- 13mm (1/2, E16)
1/4″ Dr. MIT socket- 14mm (9/16, E18)
3/8″ Dr. MIT socket- 15mm (19/32, -)
3/8″ Dr. MIT socket – 17mm (11/16, -)
3/8″ Dr. 14 & 16mm Spark Plug Sockets with outer HEX 16mm
3/8″ Dr. 125mmL Poplock extension with outer HEX 16mm
8mm open-end ring spanner, MIT on ringside – 8mm (5/16, E10)
10mm open-end ring spanner, MIT on ringside – 10mm (3/8, E12)
12mm open-end ring spanner, MIT on ringside – 12mm (15/32, -)
13mm open-end RATCHET spanner, MIT on ringside – 13mm (1/2, E16)
14mm open-end ring spanner, MIT on ringside – 14mm (9/16, E18)
16mm open-end ring spanner, MIT on ringside -16mm (5/8, E20)
3/8″ socket adapter with a locking system for 13mm open-end spanner
Small tire pressure gauge 0.4 to 3.5Kg & 5 to 50Psi
Plier cutting long nose Vise-Grip 169mmL
Cable ties x 10 pcs, 100mmL
Socket holder 7 x 1/4″ & 2 x 3/8″
600 Den Double-layer Tetoron™ pouch Bag with SBV Tools tiger head logo
Add-on Pouch – 15 pieces
3/8" Dr. Aluminum Hex axle tool 17-22mm/24-19mm, max 120Nm (52257)
Coil & Oil cap removal tool for BMW motorcycle in Aluminum (52463)
3/8″ Dr. 72-Tooth Super Light Matt Finishing Ratchet, 304Nm (52451)
3/8″ Dr. T55 Torx/Star bit socket 50mmL (52258)
3/8″(F) to 1/2"(M) Low profile socket adapter with detent ball (52464)
3/8″ Dr. MIT socket- 22mm (7/8, -) (52457)
3/8″ Dr. MIT socket – 24mm (15/16, E30) (52249)
1/2″ Dr. MIT socket- 27mm (1-1/16, -) (52458)
1/2″ Dr. MIT socket- 32mm (1-1/4, -) (52459)
3/8″ Dr. Locking holder for 1/4" bits, 80Nm (52445)
3/8″ Dr. 14mm stubby Hex bit socket (52452)
17mm combination spanner, MIT on ringside- 17mm (11/16, -) (52267)
19mm combination spanner, MIT on ringside – 19mm (3/4, E24) (52268)
600 Den Double-layer Tetoron™ Add on pouch Bag (52528)
210 Den water-resistant nylon bag (19 x 38cm) (7.4" x 15")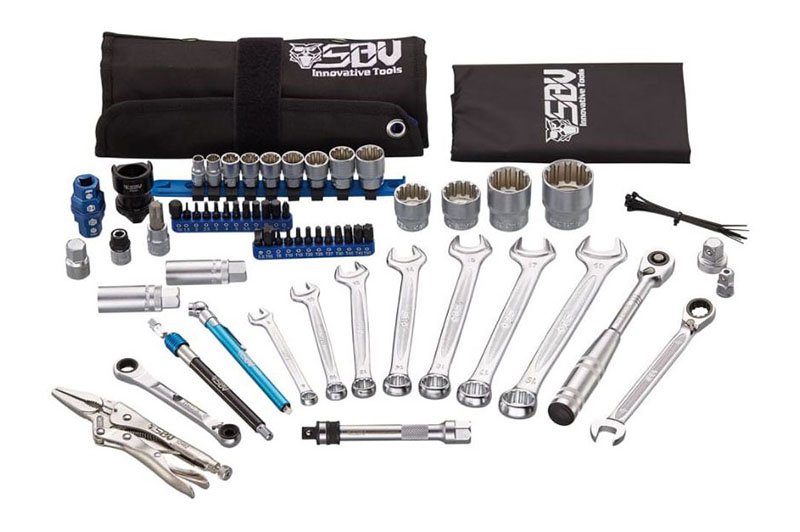 What's good?
We opted for a new motorcycle tool kit as our last set had been with us for 10 years. But like Trigger's broom, had been replaced, swapped and changed as things broke and rusted away. Our stuff gets subjected to a hard life. And as it's time for a replacement, we thought we'd opt for the best on the market. High-quality tools are an investment, but hopefully one that lasts a lifetime – and so far we're impressed… very impressed. 
Lightweight
The tools are surprisingly light, and 2.95kg is super lightweight for a full-on all brand 75-piece set. Of course, you probably won't need to take the entire set with you on your trips, but it's worth having the complete set to come back to. Standard ratchets are 400-500 grams, the SBV ratchet is 166 grams and tested to withstand up to 304Nm. The spanners are reinforced and lighter than standard too.  
According to SBVTools, all the bits are 20-40% stronger than normal S2 bits because they're made with a special material with HRC 56 to 60 and industrial black manganese phosphate impact-resistant finishing for anti-rust protection.
There's a slick locking feature on most of the tools so you don't lose bits in tight spaces or on the ground. And what's cool is that they have a one-hand system design (patented) for locking and unlocking the parts and looks stronger than traditional U spring or deterring ball systems.  
Double up
The tools double up and are multi-functional. For example, the 3-in-1 Multi-Tool T-handle can be used in a T shape for unscrewing longer bolts. It can switch to an L shape for more leverage and can use either the socket ratchet and an 11mm reversible ratchet wrench on the other. For unscrewing or tightening axles or tyre bolts, you can also use the 16mm spanner, extension and ratchet as a T for extra force.
All sockets are patented MIT(Metric/Inch/Torx). This is a unique design that works on various types of nuts. Due to the specially designed toothing, the wrenches fit on different bolts and nuts in metric, inch or Torx dimensions. Other big brands use it, but it's expensive. It saves carrying doubles.
Sizing
A nice touch is the way the bag rolls up. It's the same diameter the whole way along and is easier to slide into a toolbox or pannier. The tool rolls are connected via Velcro and can be easily separated on trips into each pannier for balancing weight. And the set comes with a protective carry bag.
What's not?
The price is high at first glance, but in this case completely justified. Google 'adventure bike tool sets' and they easily reach the hundred mark for smaller kits that aren't as well built, innovative comprehensive and compact as this one. This SBV set kit is premium – you're paying a higher price for probably some of the best tool kits on the market today. SBVTools are so sure of it that their tools come with a lifetime warranty.
Round-up
The SBVTools Pro Mechanic Tool Set consists of innovative, patented and extremely well-made motorcycle tools. This is a proper kit for adventure riders who rely on their tools to get them out of trouble. They're exceptionally high-quality, cleverly designed and made using the best materials to keep them as light and robust as possible. 
If you're after an all-in-one motorcycle tool set that'll last forever whether it's used at home for servicing, tours or even to ride round the world, then this is it.  
SBV Pro Mechanic Motorcycle Tool Set Review: 20/20
ps. We may receive a small commission, at absolutely no cost to you, if you purchase any products using the links on this page. We're not sponsored by anyone, are completely impartial and don't run ads. So this helps us keep the site running. Thank you for your support.
Read more on Adventure Bike Gear
Thanks for checking out our SBV Motorcycle Tool Kit Review. We hope you enjoyed it! Here's a few more articles on motorcycle clothing that we recommend you read next. 
Are you looking for a new tool kit? We'd love to hear from you! Please leave your comments below.