Welcome to the Top 10 Best Adventure Motorcycle Boots of 2020 Guide! You'll find info, features, pros, cons and links to the best adventure motorcycle boots on the market as well as links to more in-depth gear guides here.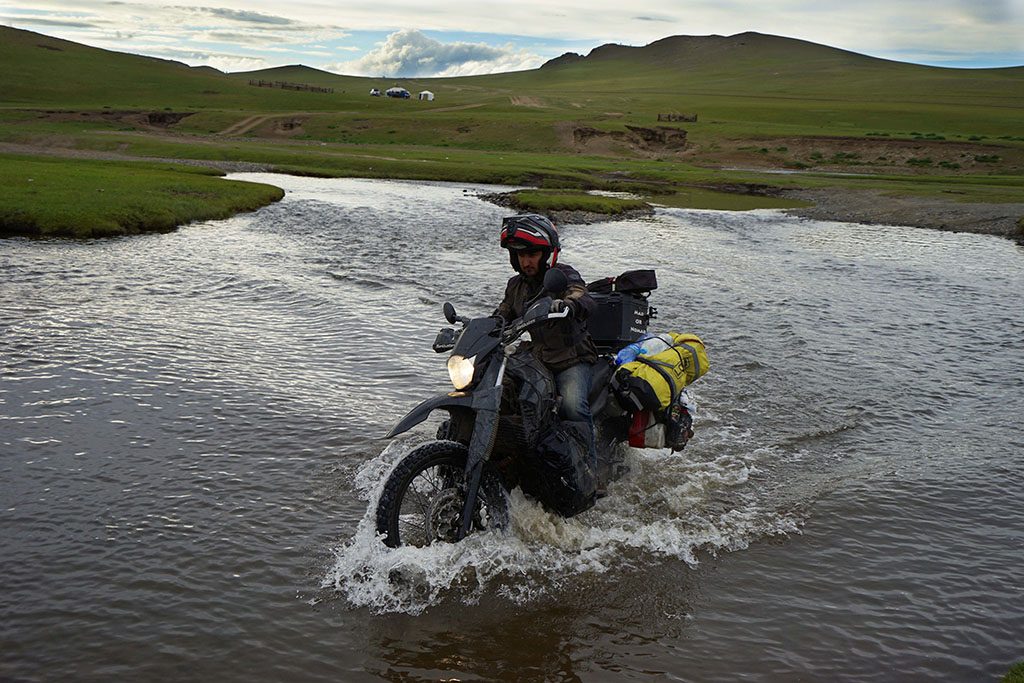 Adventure motorcycle boots are a hybrid (like everything else in the 'adv' genre) of off-road and touring gear.
Adventure boots take their styling and protection cues from heavy duty motocross and enduro boots with multiple hard-wearing buckles, added ankle and shin protection and reinforced soles for standing on pegs. And they dial it back a little so they can be walked in, are more comfortable like a touring boot and can be worn on longer days in the saddle. This makes adventure boots the perfect compromise for motorcycle travellers who need support, protection and comfort in one. 
So, to make it easier to pick the right one for your needs and trip, we've collected 10 of the best, most highly rated boots on the market and listed them in this one easy-to-read guide.  
If you have any questions or need any motorcycle gear advice, chuck a comment at the bottom of this post, or ask away in the Mad or Nomad Community Forum.
Top 10 Best Adventure Motorcycle Boots on the market in 2020
Forma Adventure Boots 
Forma are an Italian boot manufacturer that have been going since 1999. They specialise in and only produce motorcycle boots for off-road, MX, touring, racing, urban and boots specifically made for women (as most brands only offer unisex boots). The Forma Adventure boots are probably the brand's best sellers and are one of the most popular pairs on the market today. 
Features
Vintage style
Waterproof liner
Lightweight
Anti-slip sole
Plastic gear pad protector
Three buckle closure and velcro strap
Ankle and shin protection
Pros
Known for comfort
Relatively cheap
Cool styling
Options
Brown 
Black
Forma Adventure Low boots option
Price
Alpinestars Corozal Adventure Boots
The Alpinestars Corozal boots replaced the excellent Toucan Adventure boots. The Toucan predecessor was a brilliant bike boot: extremely durable, superbly well-made, all-day comfortable and plenty of protection. And now the Corozal successor is even better. You get a lot of bang for your buck with these boots.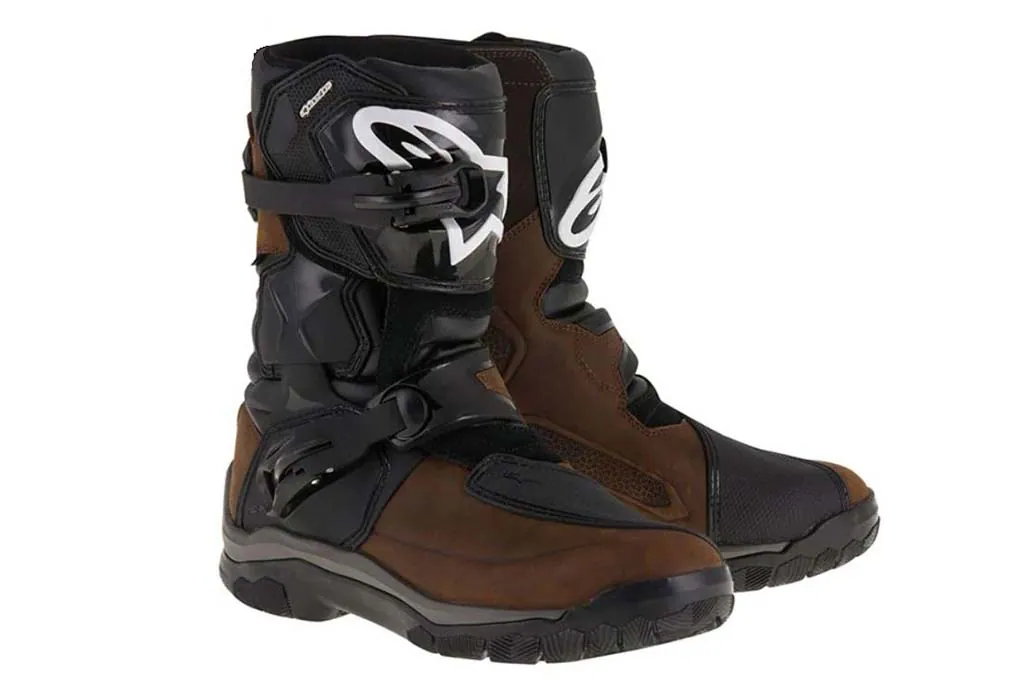 Features
Strengthened leather
Flex zones for comfort
Breathable liner
Waterproof liner
Two buckle closure and velcro strap
 Ankle and shin protection
Gear pad protection
Anti slip sole
Pros
Known for protection
Well priced for the features
Exceptionally well-made
Options
Brown 
Black
Alpinestars Belize short boot alternative in brown and black
Price
Sidi Adventure 2 Boots
The Sidi Adventure boots are perhaps the most well-known pair in this list. The Italian firm has been operating since 1960 and is synonymous with quality footwear. The first Sidi Adventure boots were extremely popular and the second version are proving just as good. These premium boots are ultra rugged with a high level of build quality.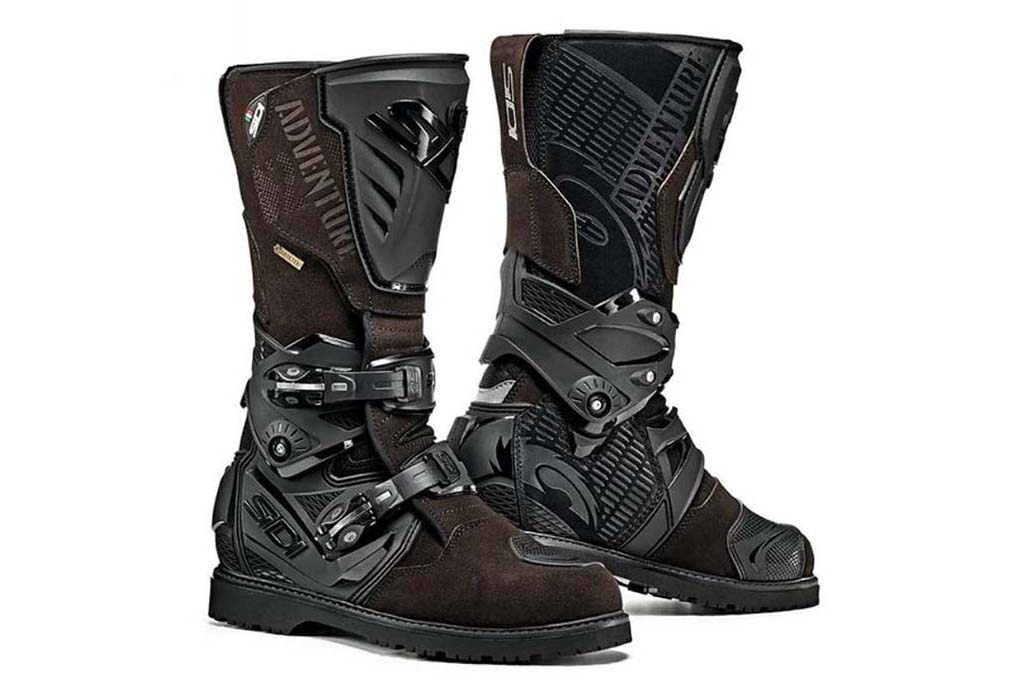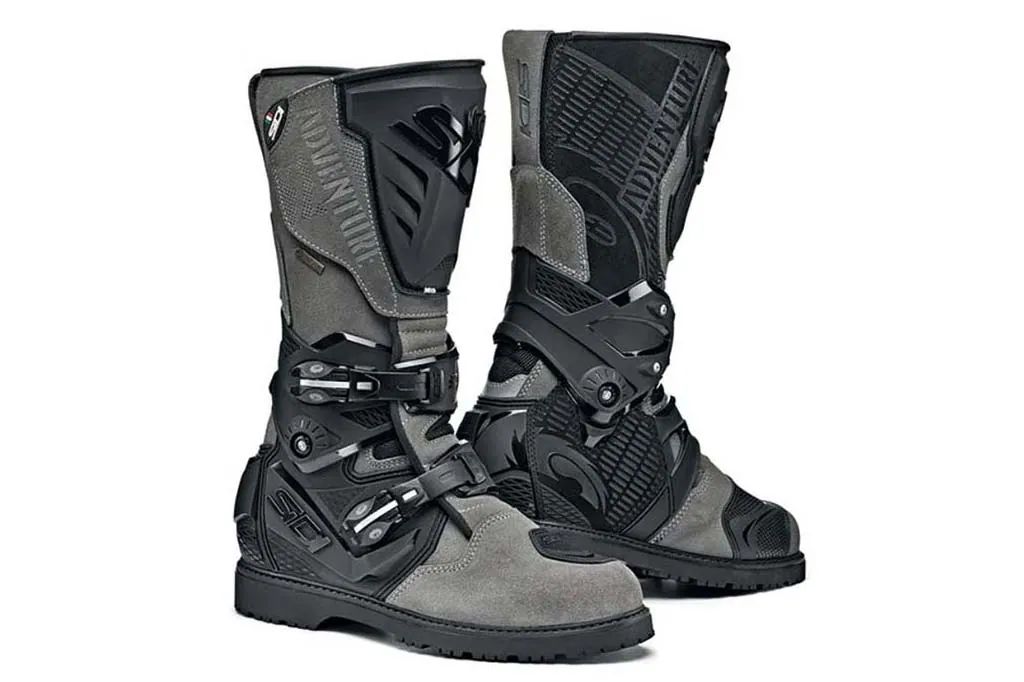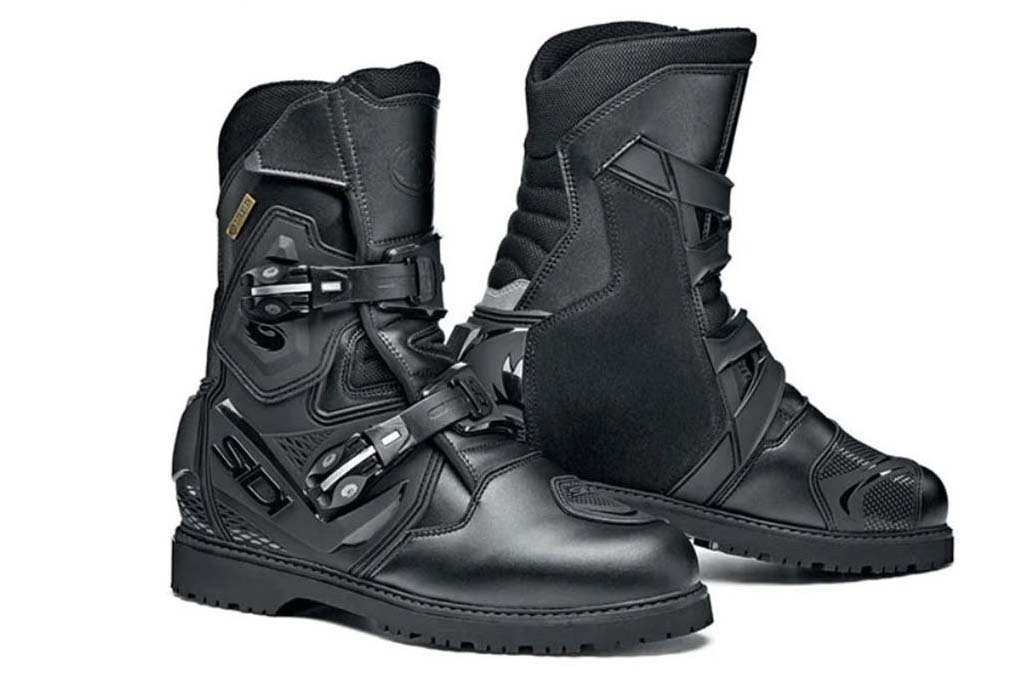 Features
Gore-Tex liner 
Two-buckle closure and velcro strap 
Inner gaiter 
Non-slip sole
Removable arch support
Shin, heel and ankle protection
Pros
Well known brand
Premium boot
Well-made, durable, quality
Excellent protection
Options
Black
Grey
Brown
Sidi Mid Adventure Short boots option
Price
TCX Drifter Boots
The TCX Drifter adventure boots are similiarly styled to the Forma Adventures. The Drifters use vintage brown leather, look a tad more retro thanks to their weathered finish, include a waterproof lining, shin and ankle support, gear protection, three adjustable buckles, a velcro strap and a suede heat guard on the inside of the boot.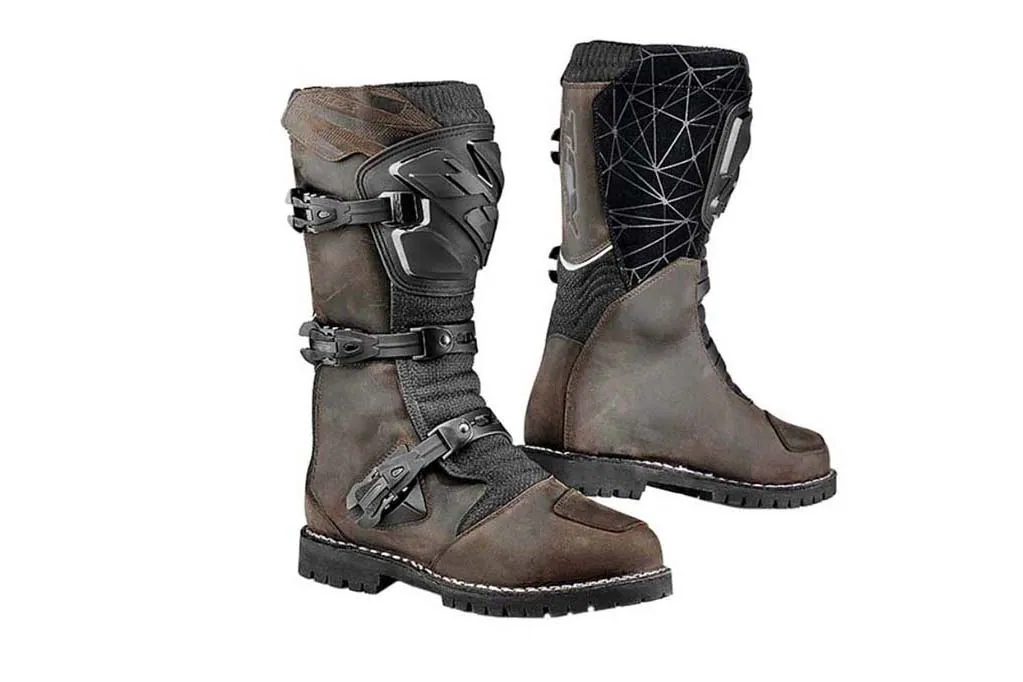 Features
Vintage leather style
Padded interior for extra comfort
Suede heat guard
Waterproof lining
Shin and ankle protection
Three buckle closure and velcro strap
Anti-slip sole
Pros
Clever styling
Plenty of extras
Decent protection
Comfortable and plush
Options
Price
TCX Baja Boots
The TCX Baja boots are the second pair of TCXs on this list. These come with a Gore-Tex lining, multiple colour options and aren't retro styled like the TCX Drifters listed above. There's also a short boot option. Otherwise they are similar boots, but it's worth knowing the options out there.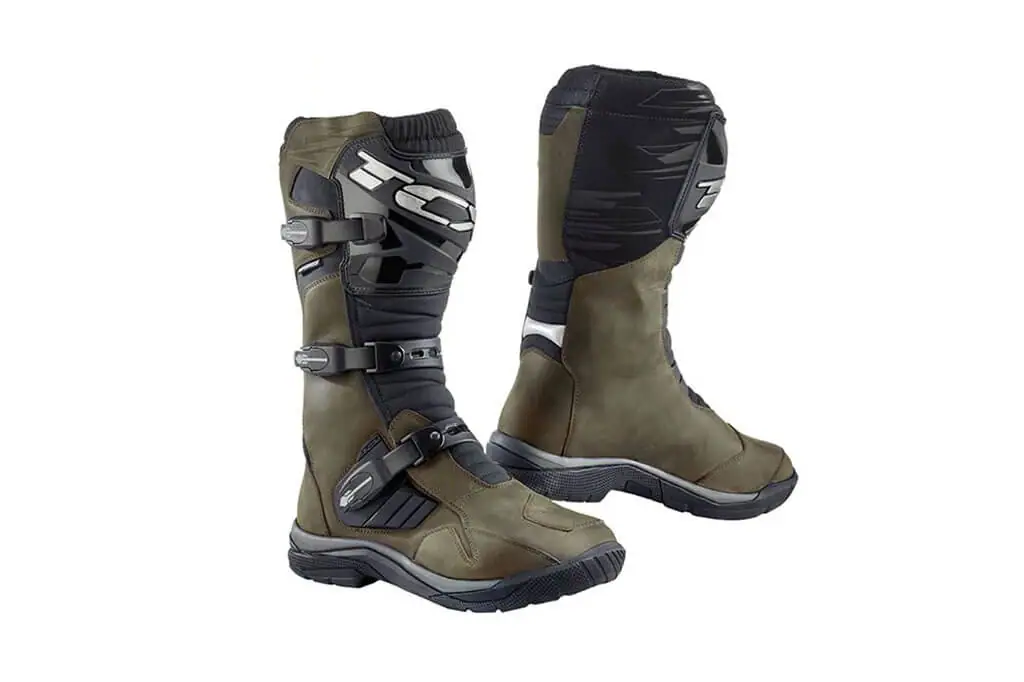 Features
Gore-Tex liner
Suede padded interior
Shin, ankle, toe and heel protection
Leather gear pad
Heat guard
Three buckle closures and velcro strap
Anti-slip sole
Replaceable footbed
Pros
Plenty of extra features
High quality build
Gore-Tex and fully waterproof
Extremely durable
Options
Black
Brown
Short version Brown (waterproof, but not Gore-Tex)
Short version Black (waterproof, but not Gore-Tex)
Price
Falco Avantour Adventure Boots
Falco are an Italian motorcycle boot manufacturer. Their boots are stylish and well-made and these Avantour adventures are a perfect example. They almost look like a sport adventure boot and are packed with protective features like shin plate, decent ankle protection, enduro sole and gear pad protector.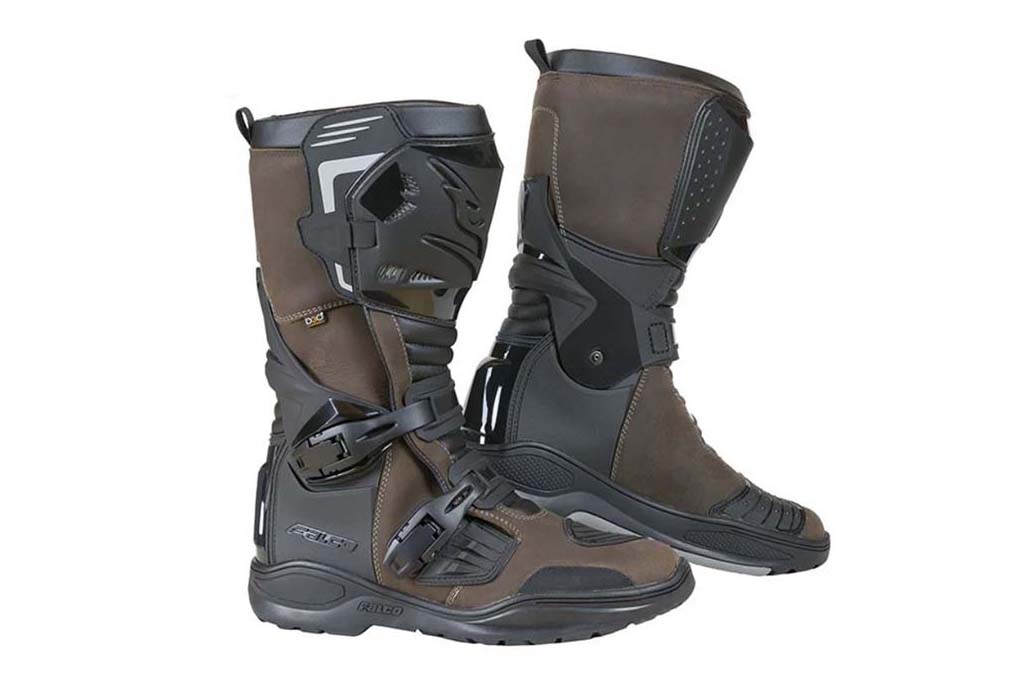 Features
Full grain oil-treated leather
Waterproof membrane
Shin plate 
Ankle support and armoured protection
Gear shifter protection pad
Back ankle protection
Enduro sole
Two buckle closure and velcro strap
Pros
Options
Price
Gaerne G-Adventure Boots
Italian brand, Gaerne, has been going since 1962. They produce a variety of motorcycle boots for different genres with the most popular being their motocross range, which the G-Adventure is modelled on. It's one of the lowest priced boots in this guide, comes with a waterproof and breathable liner, three buckles, full grain leather, plenty of protection and is produced by one of the world's most notable brands.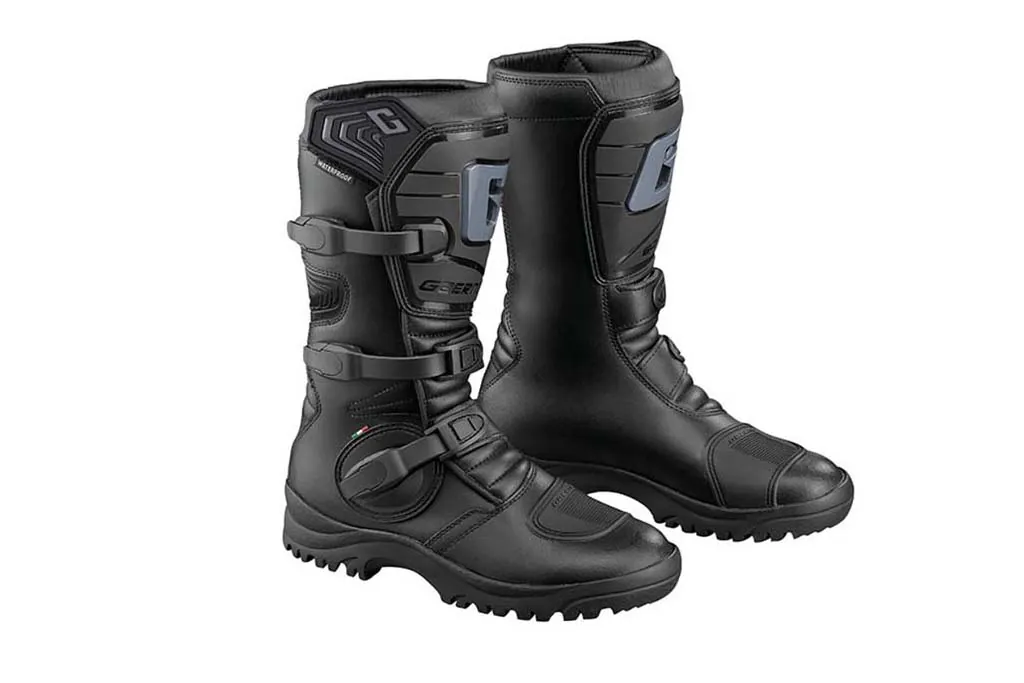 Features
Full grain leather
Waterproof liner
Three buckle closures and velcro strap
Pros
Affordable price
Waterproof
Options
Price
RST Adventure 2 Boots
The RST Adventure 2 boots pack a punch for their asking price. They're the second lowest priced boots in this guide, but are absolutely rammed with features. The reinforced leather boots have a waterproof lining, abrasion resistant panelling, external shin guard, ankle (internal and external) and heel protectors, two-buckle closure, calf expansion panel, heel cushion, arch support and ant-twist mid-sole.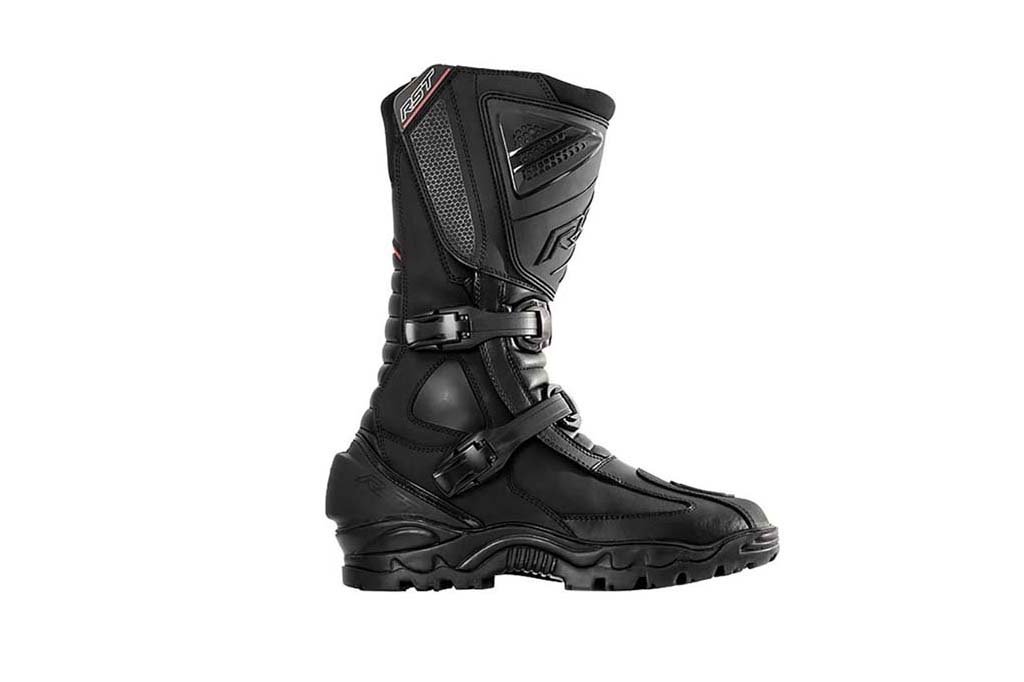 Features
Waterproof lining
PU coated leather and leather abrasion resistant panels
Two buckle closures and velcro strap
External shin, ankle and heel protectors
Heavy duty sole
Gear shift protector
Anti-twist mid sole
Comfort arch support, heel cushion and calf expansion panel
Pros
Packed with features
Very competitive price
Decent protection
Options
Price
Rev'it Expedition Outdry Boots
Rev'it claims their Expedition boots are 'revolutionary' and like nothing 'you've seen before'. They're right – these are like nothing we've seen before. They've done away with the standard buckle closure system and use a 'Boa' system. You push the knob and rotate it to tighten the lace, then pull it up to release. It's the same system used on many Knox gloves.
These are seriously pricey, high-tech, ultra premium boots. If you want some of the best protection you can get and without going to the extreme of riding in MX boots, then these might be your answer.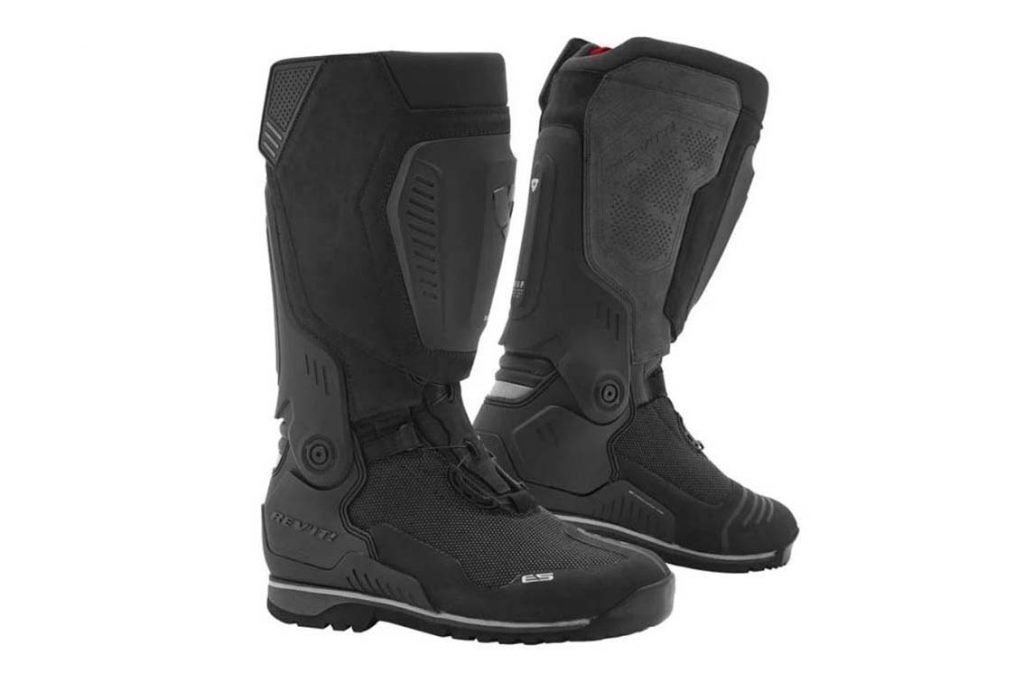 Features
Outdry waterproof liner
Made of multiple protective materials
External shin plate protection
Boa tightening system
Toe, vamp, quarter and heel protection 
Pros
Reinforced
Premium materials
High level of protection
Comfortable
Options
Black
Brown
Rev'it Discovery Outdry option are cheaper by about £250. The Discovery boots are Adventure boots but sway more towards the touring side. 
Price
Richa Adventure Boots
The Richa Adventure boots are the lowest priced boots in this guide. Of all the boots here, these sit the furthest on the touring side of the fence because they lack the same protection as the other boots. However, that may not be a huge concern for some riders as there are plenty of adventure travellers out there who are after pliable and less rigid boots. And many people travel in ankle high boots with no protection at all. If you're after a budget pair of adventure boots without all the bells and whistles, these may be for you.  
Features
Waterproof lining
Combat style sole
Two buckle closure with velcro strap
Gear shifter pad
Softly padded ankle inserts
Pros
Options
Price
Read more on Motorcycle Kit and Gear
Thanks for checking out our 10 Best Adventure Motorcycle Boots of 2020 Guide. We hope you enjoyed it! Here's a few more articles on adventure motorcycle gear that we recommend you read next. 
Let us know what you think of this Top 10 Adventure Motorcycle Boots Guide for 2020 in the comments below. We'd love to hear from you! If you need any advice or have any questions on bike kit, feel free to ask away in the Mad or Nomad Community Forum.