Welcome to the Adventure Motorcycle Traveller Reviews. Here's a 20,000-mile review of the Honda CRF 250Rally by round-the-world motorcycle traveller James Clark.  
Quick info
Bike: 2018 Honda CRF250 Rally 
Purchased for: £3,800 (including shock upgrades)
Miles covered: 22,000
Years owned: since 2019  
Honda CRF 250 Rally specs
Engine: Single-cylinder, liquid-cooled, 249cc, FI
Power: 24.4 bhp
Torque: 16.6 ft-lbs
Kerb weight: 154kg
Seat height: 895mm
Tank capacity: 10.1 litres
Tyres: 21 and 18
Front suspension: USD 43mm telescopic forks
Rear suspension: Pro-Link, adjustable preload
My first choice for a round-the-world motorcycle was a Suzuki DR-Z400, but unfortunately I had too many issues with it. My bike criteria was to be as light as possible, reliable, able to go off-road with ease, under £4,000, good availability of parts, close to stock and unmolested and low mileage.  
The CRF250 Rally was the best fit I could find. I would have gone for the CRF250L but I wanted a larger fuel tank and preferred factory rather than aftermarket as there was less of a chance of problems like leaking seals.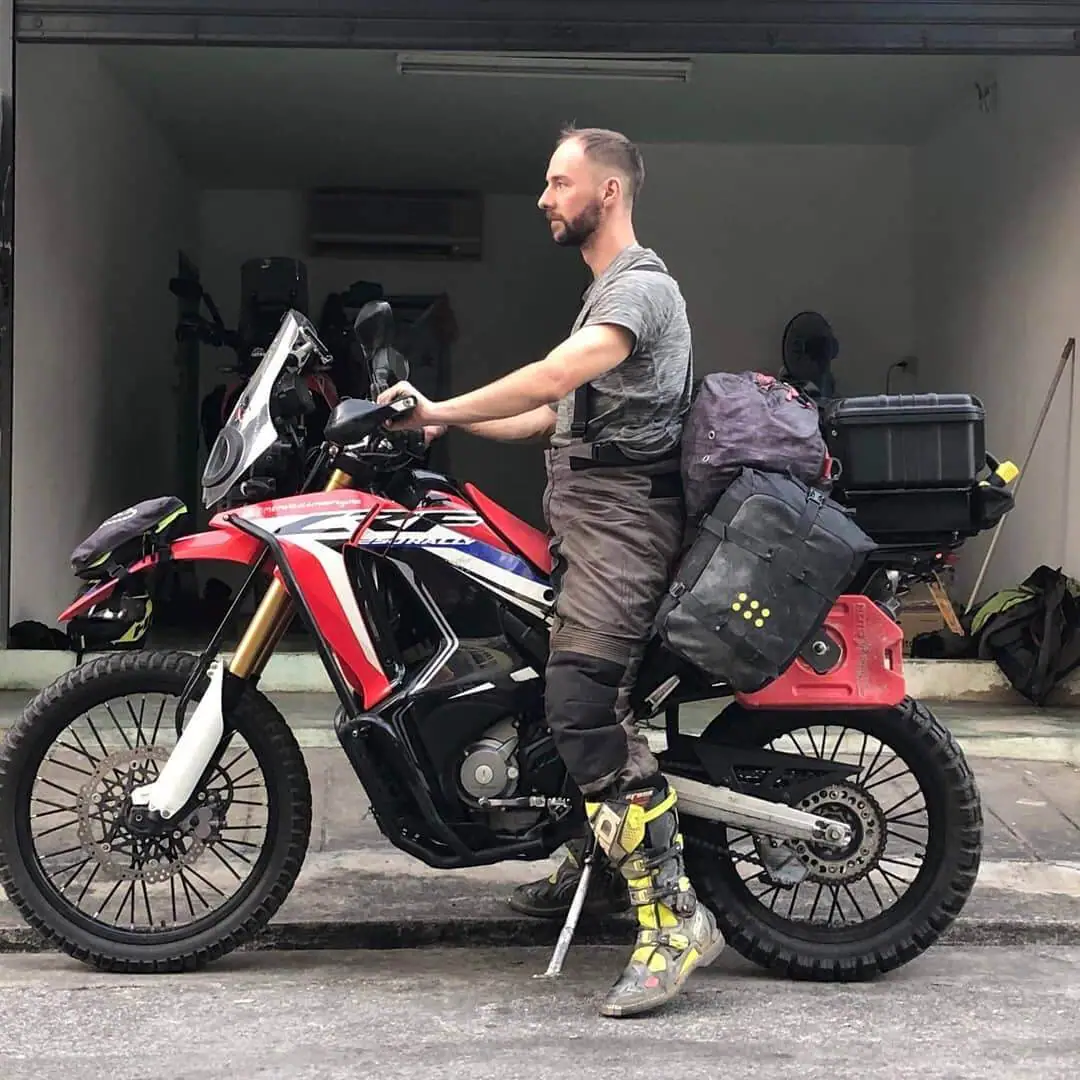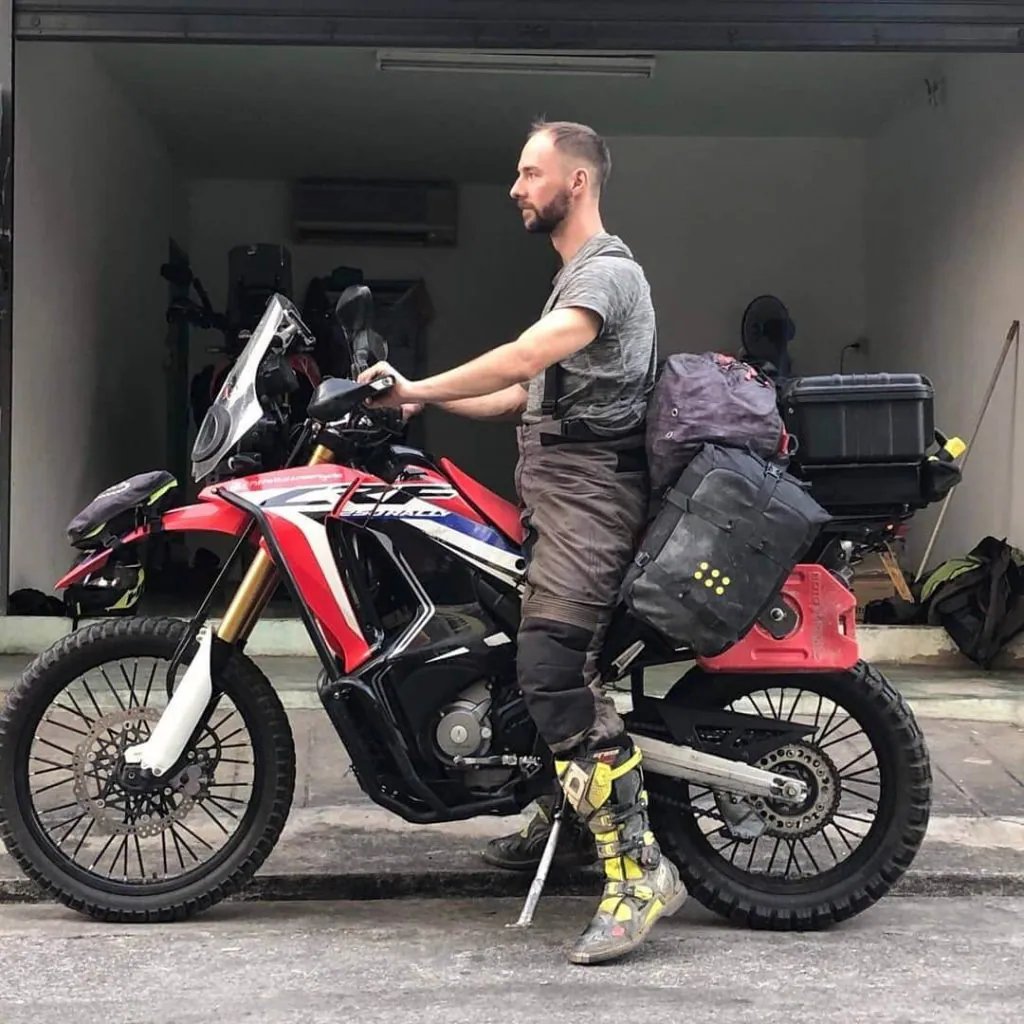 Modifications before leaving the UK
Progressive front fork spring (added before I bought the bike)
Hagon rear shock (added before I bought the bike)
Hand guards
Geared down to 13/40 (with stock gearing, sixth gear was for cruising only with little power)
Speedo healer to correct the speed since I changed the sprockets
2 x charging points
Custom made tool box (110mm drain pipe)
Modifications after leaving the UK
Stronger clutch springs
Reinforced subframe
Removed the Honda tool box
Fork socks to protect the seals
READ MORE: 
The luggage set-up is simple. I have a Kriega OS base with 2 x 18L packs, a 30L dry bag and the hard camera box.
READ MORE: 
The CRF250 Rally has proved very reliable in general. I've only had one issue, which was the headstock bearing. The other issues were caused by myself or general consumables. 
The headstock bearing failed after 8,000 miles. It's a known issue as there's too little grease from the factory which caused it to rust. 
I did snap my rear subframe because I was carrying too much weight on the back and then proceeded to go off-road in India. You can have a read of the ordeal here…
Servicing, maintenance and parts
The service intervals are really good! The Rally needs a service every 8,000 miles! Maintenance is also very easy to do. As for parts, I can only  comment on the headstock bearings and fork seals. I managed to get them both when I needed them. The headstock was sourced in Kathmandu, Nepal and the fork seals in Bishkek, Kyrgyzstan.
There are certainly more comfortable bikes out there for long distances. I haven't struggled on the CRF for comfort, but I believe a custom seat would make a big difference. For longer days (600km through China) I used "sweet cheeks"  throw-over canvas with two water bottles in them to make the seat wider. (Also if you get in a tight spot for water or fuel it can be a great asset!)
But in general there are no issues. It's all about your riding style. If you're an off-road rider then the seat doesn't matter. And if you're not in a rush then again, the seat doesn't matter because it gives you an excuse to stop.
READ MORE: How to Ride Long Distance in Comfort
The Honda CRF250 Rally is reliable, easy to maintain and service, has decent off-road ability and comes in at an affordable price.
It's heavy for its power delivery and on-road ability is limited. I'd like to see it shed 20kg and a dose more torque! 
I wouldn't say it is perfect. I could list you a number of things I would change (power, weight, road ability), but if I had the chance to choose again I'd probably still end up picking the CRF250 Rally again.
I only test rode one to rule it out, but here I am 22,000 miles later sitting on it in Thailand !
A round the world motorcycle is always a compromise. The road and conditions change, but sadly your bike can't change with them. So, choose something that will allow you to enjoy your trip as much as possible. In my opinion your mindset is more important than the bike itself.
James Clark
James is from the UK and currently on a round the world motorcycle trip. His objective is to ride round the world by motorcycle with as little to no flying if possible.
He's currently trapped in Thailand due to the Coronavirus pandemic, but as soon as it clears up he'll be making his way to Australia.
Follow his awesome adventures here:
Read more about his trip here: Trapped by Coronavirus
Read more on Motorcycle Reviews 
Thanks for checking out this Honda CRF250 Rally Motorcycle Review. We hope you enjoyed it! Here's a few more articles on motorcycle reviews that we recommend you read next. 
Motorcycle Reviews by Motorcycle Travellers
Detailed reviews from world travellers
Liked that? Try these next…
Are you planning a motorcycle trip, interested in the Honda CRF250 Rally or have any questions? Let us know in the comments below.