There is no right or wrong answer when it comes to choosing a motorcycle for your trip. Everyone has an opinion on what makes the best adventure bike for travelling and riding RTW, but the only one that matters is yours. Here's our suggestions for picking the bike that suits your needs…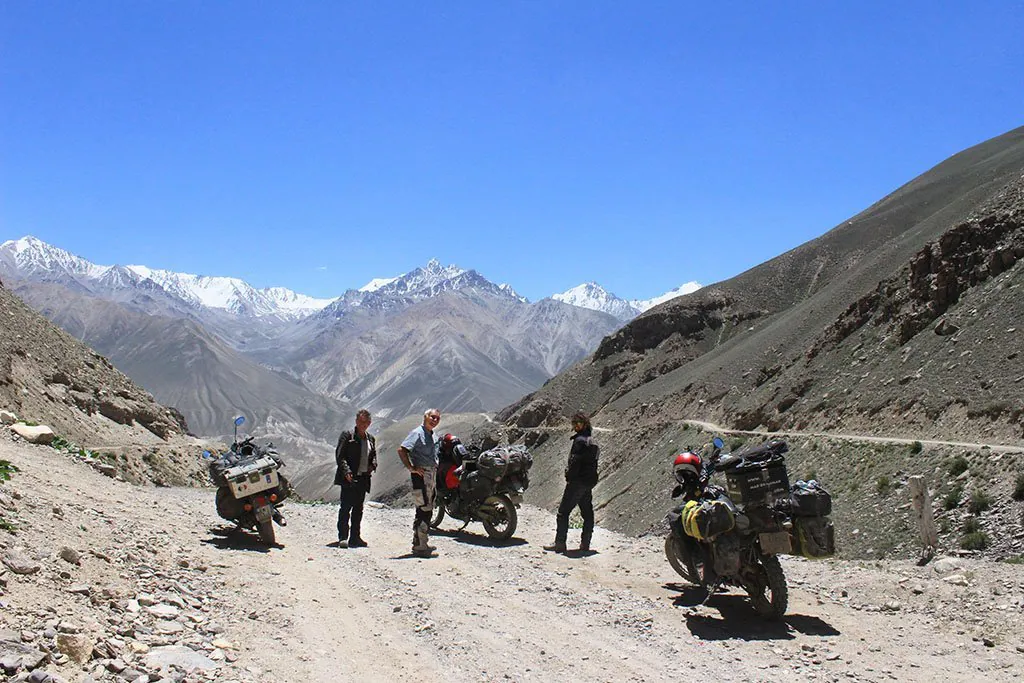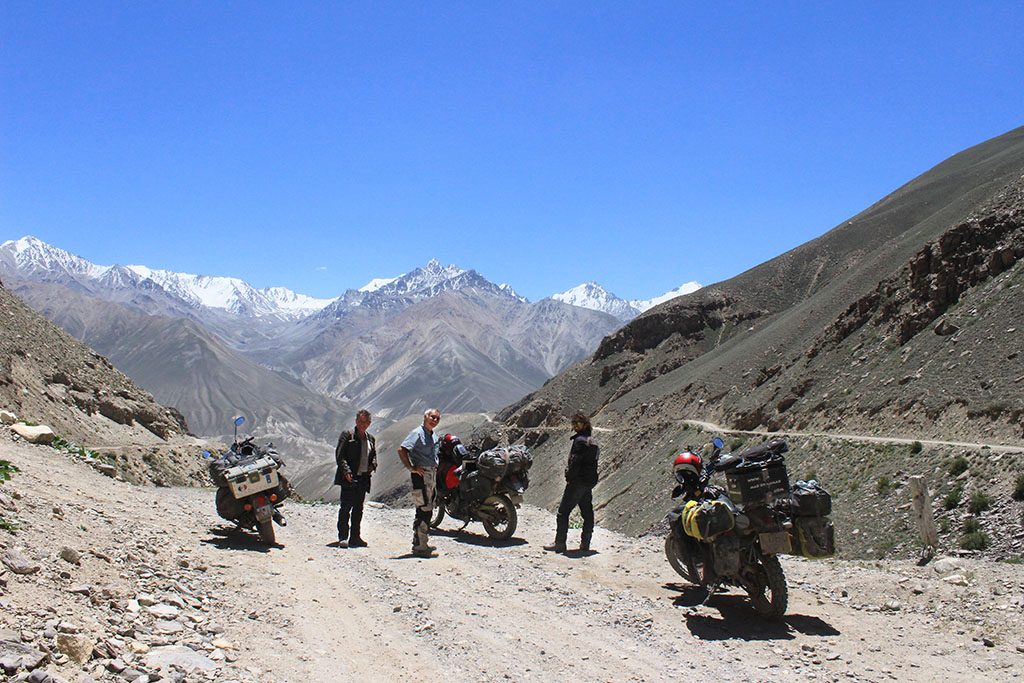 Choosing your adventure motorcycle
It's easy to fall into the trap of thinking you need a £20,000, fully-loaded adventure bike monster, dripping in accessories, sat-navs and shiny trinkets. It's not true. And it's also not true that you need a lightweight sand-battling desert weapon either.
The whole thing is silly. There are people out there on big adventure bikes who swear you need one of those. And there are those on small capacity bikes who knock them for saying so. There shouldn't be this 'my bike is right' club mentality. The truth is, travelling is extremely subjective, we all want different things and so different motorcycles suit different people's needs. 
To figure out what bike suits your needs, we've detailed the main criteria that you need to consider below.
Adventure Motorcycle Considerations
Here's what to ask yourself before choosing your bike
How much off-roading will I do?
Weigh up how much off-roading you'll do in comparison to tarmac riding. If it's 50/50 then go for a 50/50 bike. The more tarmac you're doing, the less important the front wheel size and the heavier you can go for a more comfortable touring motorcycle with more cylinders.
If your trip is centred on enduro, rough trails, sand and the road less travelled, then the lighter the better.  Consider a single-cylinder lightweight machine with a 21-inch front wheel. Here are some more important questions to consider:
How tough are the wheels? They're going to take a battering and a big dent in your wheel can put a dent in your trip.
Is it tubed or tubeless? Tubeless are a million times easier to fix, but require a more expensive bike/wheel or an expensive conversion.
Can I pick it up? There's no point taking a 300kg machine if you can't pick it up, because you will drop it at some point.
How comfortable is it? There are alterations you can make to your adventure bike to make it more comfortable, but it still wants to be comfortable from the outset. 
Has it got decent ground clearance? You will be riding over some rough terrain and the higher the ground clearance, the better. Make sure it has a good sumpguard too.
Is it easy to protect? Your bike doesn't need to come with crash bars, handugards and a bashplate, but you do need to be able to fit them to it. Make sure it has fixing points and there's protective equipment available on the market.
READ MORE:
Your motorcycle's tank size
Where in the world are you heading? You could go 300 miles in Uzbekistan without a petrol station or shop. While built-up Western countries will have a fuel stop round every corner. If the bike you like has a small tank, then consider buying a Rotopax, carrying spare fuel containers or even fitting a larger fuel tank.
Choosing the right adventure bike luggage system
If you're off on a long-term adventure, then you will need plenty of luggage. The longer you go, the more likely you're going to be camping and so the bigger that bag will be too. Your bike needs to be able to carry you and all your gear. It should have fixing points for attaching pannier racks, even if you're only using soft luggage as you don't want the bags resting against your exhaust or wheel. Check the manufacturer's recommended maximum load and make sure your bike choice can handle your luggage system.
READ MORE: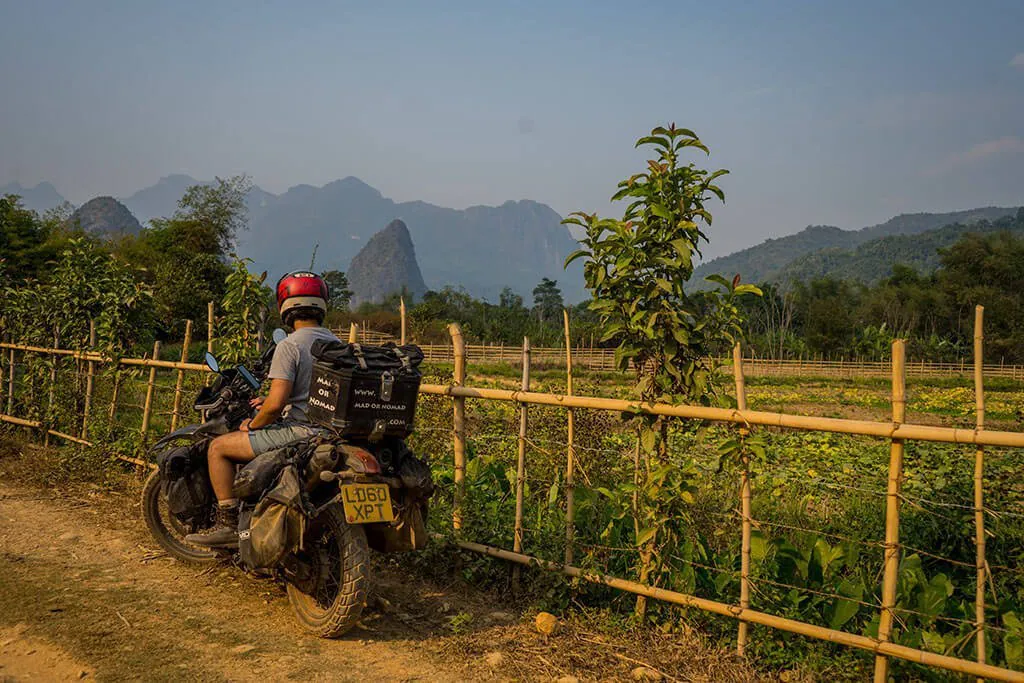 Repairing your adventure bike on the road
Newer bikes are harder to fix because of electronics and ECUs, but then they're arguably more reliable because of them. It's a bit of a paradox; they're great so long as they're working. But we may as well set electronics aside, because it's unlikely you'll carry a diagnostics machine around the world with you. 
Consider going for a bike that you're comfortable working on and can carry the tools to fix. Chances are, you will need to repair your bike, change a tube, plug a tyre or bodge it so you can hobble to the closest garage. It's not a problem if you're uncomfortable working on a motorcycle. 
There are plenty of well-travelled motorcycle riders out there who have made their way round the world without knowing where their spark plug is, if you run into a problem, wait for help, chuck it on the back of a truck and head to the closest city or town. But of course, it does help to take a basic course in mechanics or better yet, strip your bike and put it back together before you go. 
There are a few adventure bike schools out there who will teach you basic field mechanics. You can find these companies on our Off-Road Motorcycle Schools page. 
READ MORE: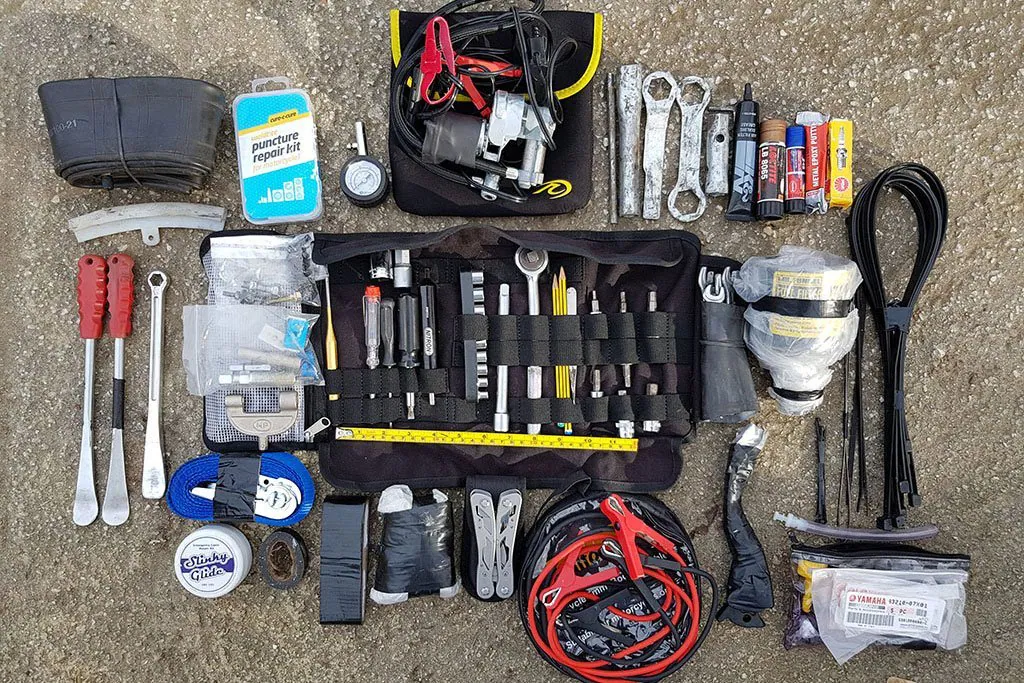 Getting spare parts abroad
The more spare parts that are available for your bike throughout the world, the better. Shipping is easier than ever nowadays and DHL can be amazing, but if you have a niche bike with uncommon parts in the countries you're visiting, then prepare to set at least two weeks aside every time you need to order something in.
Riding solo or two-up?
If you're planning on a two-up adventure, then you need to carefully consider your bike size, luggage carrying capabilities and how much off-roading you'll be doing.
READ MORE: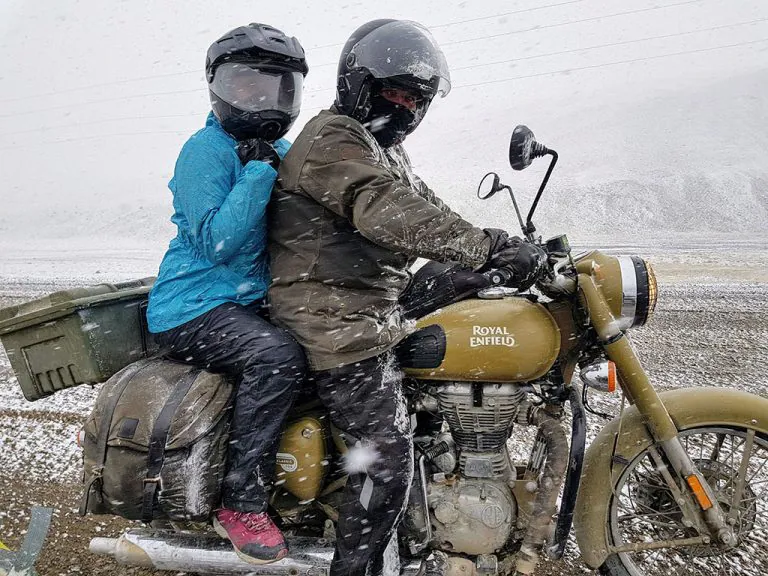 Can I really travel on any motorcycle?
Okay, so there's a lot of criteria above and quite a bit to consider. But that doesn't mean you can't throw all of that out the window and just go on whatever you own or want. 
Make no mistake, whatever you choose, some biking snob will turn their nose up at it.  
We used our Yamaha XT660R for a two-up ride from London to Tokyo and received quite a backlash. Sure, it was overloaded and we had a few problems with it, but so what? We met people on bikes ten times more expensive and bigger than ours who had more problems. That's the bike we wanted to go on and so we went on it.
While travelling, we met Franck LaFontaine, a Frenchman riding from France to Mongolia on a Royal Enfield Bullet. He rode along the Wakhan Corridor and the Mongolian Steppe on that bike and through places other adventure bike riders wouldn't go on much more capable machines. He's currently riding the same bike somewhere in South America!
And then look at the legendary Dutchman, Sjaak Lucassen, who has travelled the world on a Honda Fireblade and Yamaha R1 including through the Sahara! His motto is "Take what bike you love and go." 
READ MORE:
The point is, you can carefully consider what bike works best, but what's most important is that you love the wheels you're travelling on.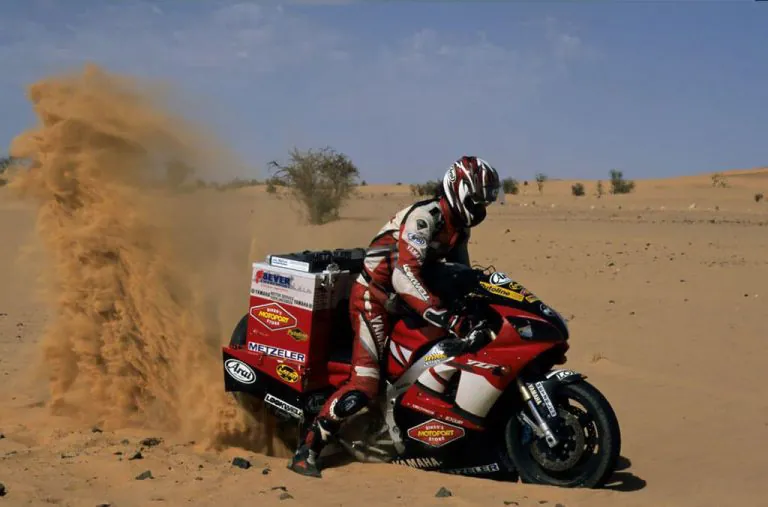 How much should I spend on an adventure bike?
Obviously, only buy what you can afford. Buying a bike on finance and then taking it travelling is a very, very risky game. Take a bike that you can afford to lose.
When travelling outside of Europe, it's near impossible to get motorcycle insurance. This is different to Personal Travel Insurance. You will be asked at most borders to buy third-party insurance for that country, but it's usually not worth the paper it's written on, will only cover third-party damage and will never cover the loss of your bike. So, if your brand new and expensive bike gets stolen, then that's that.
Also, consider the loss involved in potential problems with shipping, general security, the higher price at custom bonded warehouses and the more likely expensive repair and parts costs.
READ MORE:
What are my adventure bike options?
You really can go on whatever you like. But, if you've already got a bike in mind and are looking into the adventure bike category, check out our Adventure Motorcycle Reviews page for in-depth bike reviews from real world travellers. You'll find what they love about their bikes, how they've prepped them, modifications and much more. 
Motorcycle Reviews by Motorcycle Travellers
Detailed reviews from world travellers.
What are the best adventure motorcycles?
For a full list of new adventure bikes and what we consider to be the best on the market today, take a look at these two guides next. You'll find our top pics, specs and why they're so good, as well as a selection of excellent older models.
READ MORE:
Here's a snapshot selection of some great adventure bikes.
How to choose a RTW motorcycle
We often get asked what's the best bike to ride round the world. The answer is that you can ride RTW on any motorcycle. Literally – anything. if you don't like riding off-road, you can easily plot routes which primarily focus on tarmac and ride the world on a Harley-Davidson or Honda Cub if you like. And if you only want to ride the rough stuff then plan a route that steers clear of tarmac. You can get through anything on any bike, it just may not be as comfortable or take longer to do if it's not the appropriate bike for the terrain, that's all. 
It's all about finding a bike that suits your personal needs. The questions and criteria listed above and throughout this article apply in the exact same way for choosing a bike to take a two-month trip to finding a bike to ride round the world on. The most important thing is finding a bike you love riding and just going!
READ MORE: 
Read more on preparing for a motorcycle trip
Thanks for checking out our How to Choose Your Adventure Bike guide. We hope you enjoyed it! Here's a few more articles on preparing for motorcycle travel that we recommend you read next. 
Liked that? Try these next…
Are you about to choose a new adventure motorcycle for your trip? If you have any questions or comments please chuck them below! We'd love to hear from you and are always happy to help.