Welcome to the self-guided European motorcycle tour guide. If you want to take all the stress out of planning a tour, then this one's for you. You'll find 5 of the best biking tour destinations in Europe here from our touring expert, Simon Weir, along with info on how to ride these routes, links to downloadable pre-planned tours and much more.
Self-Guided Motorcycle Tours
What is a self-guided motorcycle tour?
First let's start with what organised tours are. An organised motorcycle tour is where you pay a company to handle every aspect of your trip for you. These are brilliant, especially if you're strapped for time. You just need to book your flights, turn up and everything will be taken care off including a rental bike, accommodation, route, meal stops and so on.
The difference with a self-guided motorcycle tour is that everything is still taken care off, but you go on your own bike (or a rental), not as part of a group and without a guide. The benefit of a self-guided tour is that you'll go at your own pace and can go whenever and wherever you want to. There's much more flexibility as you're completely in control and not tied to an organised group. You can spend more time in a place you like, miss sections out, add sections on etc.   
If you're more interested in joining a tour or renting a bike abroad, take a look at our recommended companies section. Simply click a country on the map to see what's on offer. 
How to go on a self-guided motorcycle tour?
You've got two options here. You can go with a company who will supply you with a rental bike, sat nav and itinerary for you to follow (which is pretty much like going on an organised tour, except you're on your own). Or, you can go on your own bike and just pay for and download a pre-planned self-guided tour from a touring expert. Option 2 offers the most flexibility and is what this article focuses on.
Why go on a self-guided motorcycle tour?
Easy. You'll get all the benefits of a full-on organised bike tour such as a pre-planned route, the best hotels picked out for you already, points-of-interest marked on your maps etc. but without having to join a fixed-date tour group. You'll get everything downloaded onto your sat nav taking all the stress and leg work out of planning a trip so you can go whenever you want and at your own pace.  
The Best Self-Guided Motorcycle Tours in Europe
Now we'll move onto the 5 best self-guided motorcycle tour destinations in Europe. You'll find info about them, why they're so great and how to go about riding these awesome biking tours. You'll also find links to Simon Weir's pre-planned routes where you have the option to download the entire itinerary and route if you fancy going on a self-guided tour.
The classic motorcycle touring destination – amazing mountain scenery criss-crossed by a network of fabulous roads. If god rides a bike, it's probably somewhere in the Alps.
The thing is, "the Alps" is a bit of a crude label for a huge area: an arc of interlocked mountain ranges running from the Adriatic in the east to the Mediterranean in the west. Each section has its own subtly different character, reflecting not only the planet-building forces that created the peaks but also the cultures of the people that live there.
The Alps pass through Slovenia, Austria, Italy, Switzerland and France, and brush up against the southern edge of Germany. You can have a very different experience, depending on where you go.
Read more: Europe Motorcycle Travel Guides
French Alps
The mountains with everything: high passes, deep gorges, scenic lakes, sleepy villages and mile after mile of astonishing roads. The French Alps are accessible – for UK riders, they're two relaxed days' ride from Calais (one-and-a-half days if it's 50/50 motorway and good roads). There's a full range of riding – from single-carriageway back roads to dramatic and challenging "balcony" roads cut into cliffs to broad, sweeping N-roads. For a town to use as a base, look at Briançon, Guillestre, Bourg St Maurice or Castellane.
The Dolomites
Are these the most beautiful mountains in Europe? Could be. This section of the Italian Alps sees dramatic grey-rock spires rising above verdant valleys, with a regular scattering of places to get outstanding coffee… Possibly the most civilised Alpine destination. So many good towns to use as bases:
Arabba
,
Corvara
,
Canazei
,
Cortina d'Ampezzo
or
Belluno
are all worth considering.
Austrian Alps
Some of the best roads in the Austrian mountains have tolls on them – which is good. The money raised pays to keep them in immaculate condition and, better still, many are closed to lorries and caravans. Try Lienz, Zell am See, Bad Ischl or Mariazell as a base.
Slovenian Alps
This most easterly corner of the Alps, by the Italian and Austrian borders, still feels slightly undiscovered – they're beautiful and often quieter than other areas. Where to stay? Has to be the lakeside town of Bled.
When to go
The very highest passes usually don't open until the first week of June and will be shut by the start of November. Lower passes should be rideable from early May… but the higher you go, there's a chance you'll be riding between snow walls.
The best time to go to the Alps is September: in June and July, there may be roadworks as any over-winter damage is repaired; most of Europe's on holiday in August so it's busy – plus it's roasting hot; but by September, the roads are in peak condition, they're quieter and the weather is usually perfect for touring. The weather is usually good until mid-October, though it'll be getting chilly in the mornings and at altitude.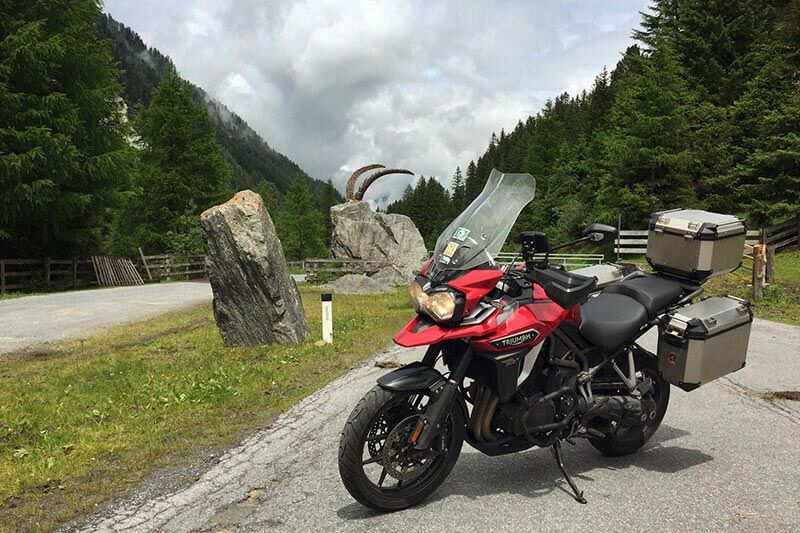 Must ride roads in the Alps
Here's a selection of the absolute best motorcycle roads and routes in the Alps. If you're planning a biking tour to the Alps, make sure you include at least one of these. 
Route Napoleon, French Alps
Retracing the dictators return from exile, this route between Cannes and Grenoble cuts through the French Alps
Route des Grandes Alpes, French Alps
Running from Lake Geneva to Menton on the Med, this multi-day ride takes in many of the best passes in the French Alps.
The Five Passes, Swiss Alps
The network of Grimsel, Susten, Furka, Neufenen and St Gotthard passes is as close to a perfect mountain ride as you'll ever get.
The Sella Ronda, the Dolomites
Four great passes surrounding one of the most spectacular of the Dolomitic peaks – a short but brilliant ride sure to be the highlight of any trip.
The Grossglockner High Alpine Road, Austria
Perhaps the perfect mountain road: built specifically to be good for driving, scrupulously maintained and evolved as vehicles improved.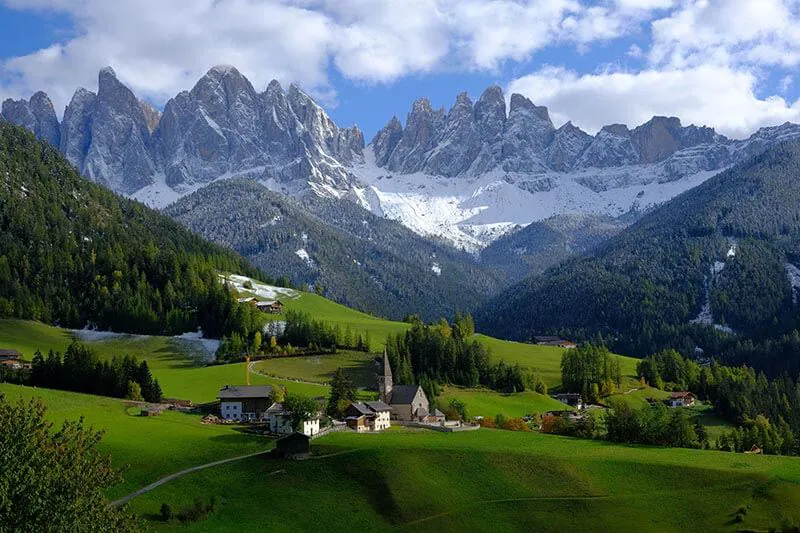 Self-guided motorcycle tours in the Alps
If you want to go for a fully pre-planned motorcycle tour in the Alps, take a look at these self-guided options. 
Take nine days (Saturday-to-Sunday) to discover the finest passes, gorges, towns and villages of the French Alps. Minimal motorway, maximum wow factor.
A one-week (Saturday-to-Sunday) celebration of the fabulous riding of the Swiss Alps: more highlights than a hairdressing competition.
A flexible two-week trip packing in not only the best riding in the Austrian and Bavarian Alps but also plenty of amazing places to visit.
Want to go to heaven and back? Biking heaven, that is… Take this nine-day (Saturday to Sunday) trip to Italy's most beautiful mountains.
The Pyrenees may not be quite so lofty as the Alps but they're still packed with amazing riding. The roads have a slightly different character, depending on whether you're on the French or Spanish side of the mountains… and many of the best biking roads are the passes that cross between the countries.
It's a fair way from the UK to the Pyrenees – at least two days or even three if you're staying off motorways as much as possible – but fine riding isn't confined to the high peaks. The foothills of the Pyrenees are also stuffed with great roads, so the fun begins even before you get to the mountains. However, it's possible to get to the mountains more quickly by taking a ferry to Santander.
With fine weather, great scenery, amazing local food and fantastic places to stay, this is definitely one of Europe's best touring destinations.
Read more: France Motorcycle Travel Guides
French Pyrenees
So many fantastic towns. To ride the high passes of the Tour de France, try basing yourself in Pau or Bagneres de Luchon. For the wilder, narrower roads of the eastern French Pyrenees try Ax les Thermes or Foix.
Spanish Pyrenees
From Pamplona to the Med, the N260 offers up a succession of great places to base yourself to explore the mountains. Consider Jaca, Ainsa, Sort, la Seu d'Urgell or Ripoll as base towns.
When to go
As they're lower and slightly further south, the Pyrenees have a slightly longer riding season than the Alps. There's good riding from April to the end of October, though we'd favour going in May/June or September, as it can get seriously hot in the valleys at the height of summer
Must ride roads in the Pyrenees
Here are the must ride routes and roads in the Pyrenees. No trip there would be complete without tackling one of these beauties. 
The N260, Spanish Pyrenees
This iconic road runs the length of the mountains on the Spanish side, packed with corners and views.
Col du Tourmalet, French Pyrenees
The highest pass in the Pyreness is so beautiful – and challenging – it's the only pass to have featured in every Tour de France since the cycle race began.
Col de la Pierre Saint-Martin, French/Spanish Pyrenees
This quiet, high pass delivers mountain riding with a twist: a complete 360-degree corner at the ski centre near the summit.
Self-guided motorcycle tours in the Pyrenees
The best roads in the Spanish Pyrenees – and the best roads in the Picos as well. Ties in with the Santander ferry schedule.
More than just the mountains, nine days of amazing riding through some of France's finest riding regions, building up to the spectacular passes of the Pyrenees. Setting off from Calais on a Saturday and returning the following Sunday, this is an unforgettable tour.
The rugged northern coast of Spain is like a compact version of the Dolomites, with grey peaks rising above the beautiful valleys. The big differences are that the roads are usually far quieter, plus it's easy to have a day at the seaside…
Though everyone talks about "the Picos" that's just a section of the coastal range that runs from the Basque Country in the east through Cantabria and Asturias, to Gallica in the west. Each section of the mountains is packed with great riding.
The most practical way to get to the Picos from the UK is by boat, with a ferry to Santander or Bilbao. Which adds cost, but saves several days, maximising your time riding these roads. Some riders will take the ferry down and ride back (or vice versa). Whichever way you get here, it's worth the effort. This is a fabulous place to ride a motorcycle.
Read more: Spain Motorcycle Travel Guides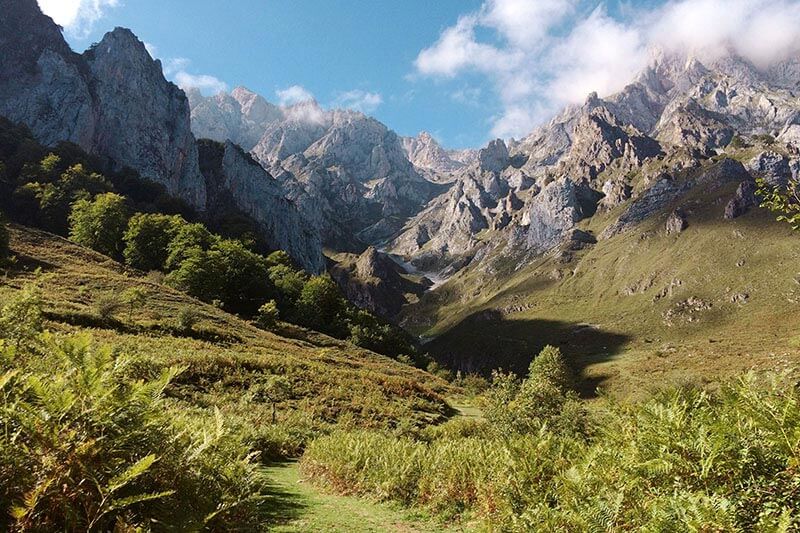 Cantabria & Basque Country
Most riders get off the ferry at Santander and head west – but there's so much great riding in the quieter mountains to the east of the port. The coastal resorts of Laredo, Zarautz and San Sebastian all make great bases.
Asturias and Galicia
The beating biking heart of the Picos is Potes – within easy reach of the ferry and surrounded by amazing roads. It's a great town to use as a base, but so too is nearby Cangas de Onis. Further west, Cangas del Narcea inland or Luarca on the coast are good bases – and in the far west, it has to be the pilgrimage centre of Santiago da Compostela.
When to go
The mountains on Spain's north coast are low and have a temperate climate, so snow isn't usually an issue by March – but it's not called the Costa Verde for nothing and April showers can have the full authority of the Atlantic Ocean behind them. We'd look to ride this area between May and mid-October, possibly avoiding August when it's seriously hot and not so good for anyone wrapped in Gore-Tex or leather.
Must ride roads in the Picos
N621, San Glorio Pass
This popular biking road runs from Potes to Leon and includes a viewpoint with the most-photographed statue of a deer in Europe, if not the world…
AS14, Palo Pass
A fantastic road through the Asturian mountains: broad, twisty, quiet and spectacular. It's also part of the pilgrimage route to Santiago, so though there's usually almost no traffic you should keep an eye out for pedestrians.
N629/CL639
From the coast to the plains, this amazing road cuts through the Cantabrian mountains in a flurry of challenging bends and long straights with even longer views.
Self-guided motorcycle tours in the Picos
Discover the best roads in the Picos as well as the Spanish side of the Pyrenees. Ties in with the Santander ferry schedule.
From the mountains of Northern Spain to the mountains and valleys of Portugal, this laid-back trip ties in with taking the ferry to Santander.
If you want perfect biking weather – especially when the rest of Europe is still struggling to shake of the cold hand of winter – look no further than Portugal. While other touring areas suffer typical soggy springs, Europe's most westerly nation will be bathed in warm sunshine. But you don't really come to here for the weather: you come for the riding, which can be frankly astonishing.
Portugal does have slightly schizophrenic roads: they'll either be immaculate or challengingly rough; there will either be a village every ten feet or you won't see any signs of human habitation for mile after mile. The good news is the roads in the best condition are normally the quiet ones in the wild, open areas, curving across rolling hills, climbing mountains or hugging rivers in the bottom of gently curving valleys. And by "best condition" we mean "immaculate surfaces" and when we say "quiet", you'd think you were the only person with petrol sometimes… It's riding heaven.
Read more: Portugal Motorcycle Travel Guides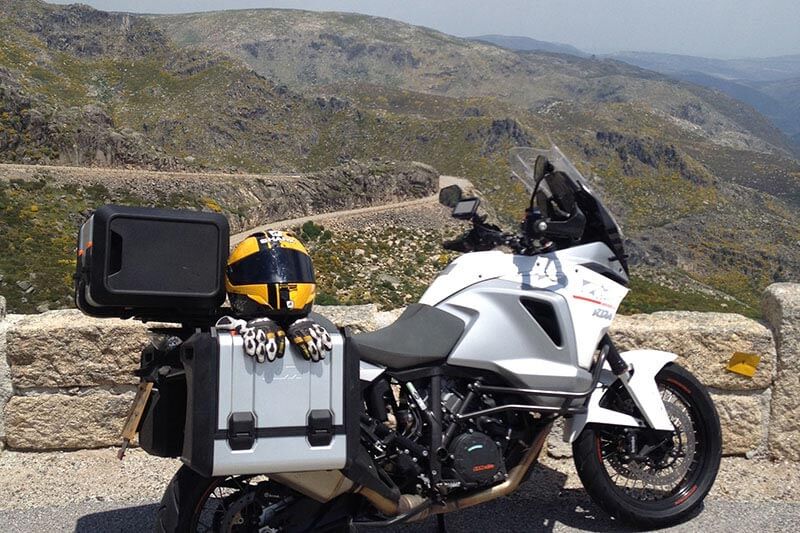 Northern Portugal
The towns of Bragança and Chaves make great bases in the very north of the country, but for exploring the Port-producing Douro Valley, try Peso da Regua. One of the key riding areas is the compact Sera da Estrela mountain range: base yourself in Covilha to explore it.
Central and Southern Portugal
There's sublime riding everywhere in Portugal, with Sertã and Coimbra unlocking the central region. Moving south, the fortified town of Elvas is a fascinating base, while Faro and Portimão on the south coast are ideal points from which to explore the Algarve.
When to go
To be honest, unless you have mesh riding kit we'd avoid late July and August: it can simply be too hot. If you're riding to Portugal, especially having taken a ferry to Bilbao or Santander, going in May to early July or in September or October is pretty much perfect. But if you fly to the Algarve and hire a bike, you can enjoy great, sunny riding in November, March and April as well.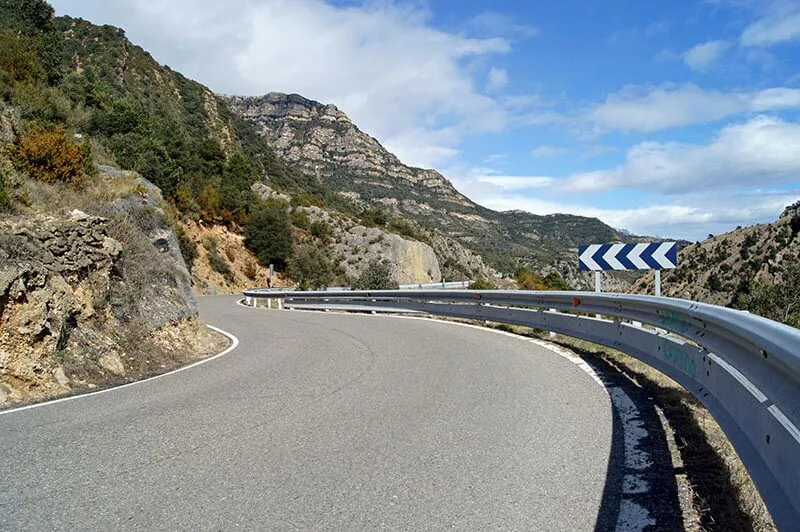 Must-ride roads in Portugal
N2
Running north to south through the centre of the country, Portugal's N2 deserves to be Europe's Route 66. It has everything: history, character and mile after mile of brilliant corners.
N222
The terraces of the Douro Valley create a surreal, stunning landscape – best appreciated from this fabulous and scenic road.
N339
Nicknamed the Portuguese Stelvio, this fantastic mountain road climbs from Covilha to the summit of Torre, the highest mountain in Portugal, at the heart of the Sera da Estrela mountains.
Self-guided motorcycle tours in Portugal
Enjoy the mountains of Northern Spain on the way to the riding treasure-trove of Portugal's Douro Valley and Sera da Estrela on this laid-back trip that fits in with the ferry to Santander.
Got a week of work? Want to ride non-stop amazing roads? This trip allows you to fly to Faro on a Saturday, ride for seven days, then fly home on a Sunday. It's as relaxed as it is fabulous.
Some of the finest riding in Europe isn't on the mainland – it's on these mountainous islands in the middle of the Mediterranean Sea. They're so close together that it's easy to ride the pair on one trip.
The two islands have a lot in common: staggering coastal roads with beautiful sea views and rugged interiors criss-crossed by miles of great tarmac. Both have quirky, beautiful towns to visit and neither has too much traffic – especially on the exciting inland roads. Best of all, both are blessed with a fabulous hot-but-temperate climate.
Getting there from the UK does take a bit of commitment: it's a long ride to the south of France for a ferry (Toulon and Marseilles have the most regular crossings) and it's even further to the Italian ports of Genoa and Civitavecchia that have the most crossings. But it's more than worth making the effort: as a touring destination, either Corsica or Sardinia would be mind-blowing enough; riding both on one trip is truly out of this world.
Read more: Italy Motorcycle Travel Guides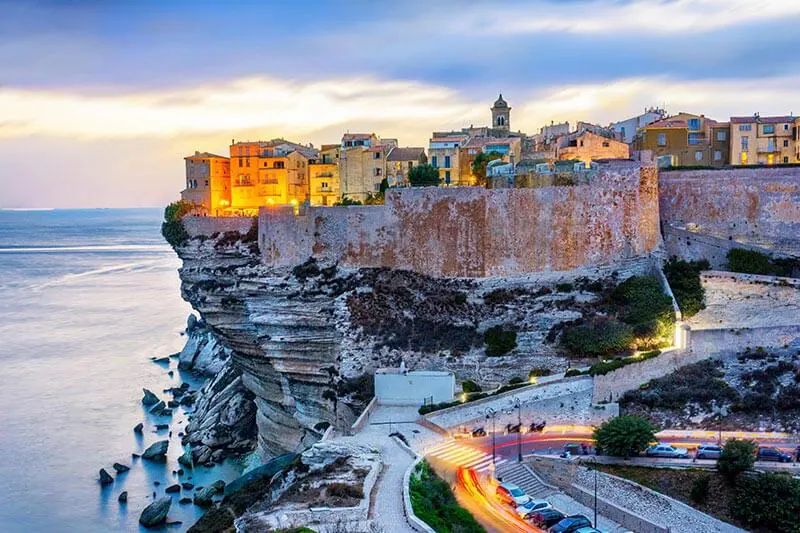 Corsica
Most ferries from mainland France come into Bastia and Ajaccio, both of which make decent bases, but Porto on the west coast and Porto Vecchio on the east also make great base towns.
Sardinia
On the north or west coast, consider basing yourself in Alghero or Castelsardo; on the east coast Dorgali or Tortoli are lovely, while at the south of the island we'd stay in Villasimius.
When to go
As with many southern parts of Europe, we'd avoid going August: not only is it too hot but also the islands will be at their busiest with holidaymakers from the mainland. As they're islands, all the sea air means spring can sometimes be moist, but from late April onwards, they're divine – and they hold onto the great riding weather until the end of October, too.
Must-ride roads in Corsica and Sardinia
D80, Corsica
The road that hugs the coast around Cap Corse, the peninsula at the top of Corsica, is packed with brilliant corners and exceptional views. Surface quality is variable, but it's still amazing
D268 Col de Bavella, Corsica
There are several amazing mountain passes in Southern Corsica but the long, scenic and fabulous-to-ride Col de Bavella is the pick of the bunch.
SS125 Strada Orientalis, Sardinia
As a great touring route, the road that follows the eastern coast of Sardinia is up there with Australia's Great Ocean Road and California's Pacific Coast Highway.
Self-guided motorcycle tours in Corsica and Sardinia
A relaxed two-week trip packing in not only the amazing riding on Corsica and Sardinia but also great touring routes across France to and from the ferries. Genuinely more great riding than you can shake a very large stick at…
About the Author
Simon Weir is the author of the best-selling Bikers' Britain series. He has been riding bikes since he was 15 and spent 17 years working on motorcycle titles. He quit his job as editor of RiDE at the end of 2018 to ride his Kawasaki Z1000SX to Australia. He now runs a motorcycle-touring website with downloadable routes across the UK and Europe, as well as planning bespoke tours for people.
Check out Simon's comprehensive guides to touring by bike in Western Europe. Bikers' Europe and Bikers' Europe: Hidden Gems are packed with routes from the Baltic to the Mediterranean, from Slovenia to Portugal, all supported by downloadable GPX files to make touring easy. 
Read more on motorcycle touring in Europe
Thanks for checking out The Best Motorcycle Tour in the Pennines Guide. We hope you enjoyed it! Here's a few more articles on motorcycle touring in the UK and Europe that we recommend you read next. 
ps. We may receive a small commission, at absolutely no cost to you, if you purchase any products using the links on this page. We're not sponsored by anyone, are completely impartial and don't run ads. So this helps us keep the site running. Thank you for your support.
Are you planning a European motorcycle tour? Do you have any questions or tips to share? Let us know in the comments below.