Welcome to the Motorcycle Travel Guide for Europe! Here's everything you need to know about motorcycle touring in Europe. You'll find links to our in-depth guides, info on roads, paperwork, tips, tricks and loads more.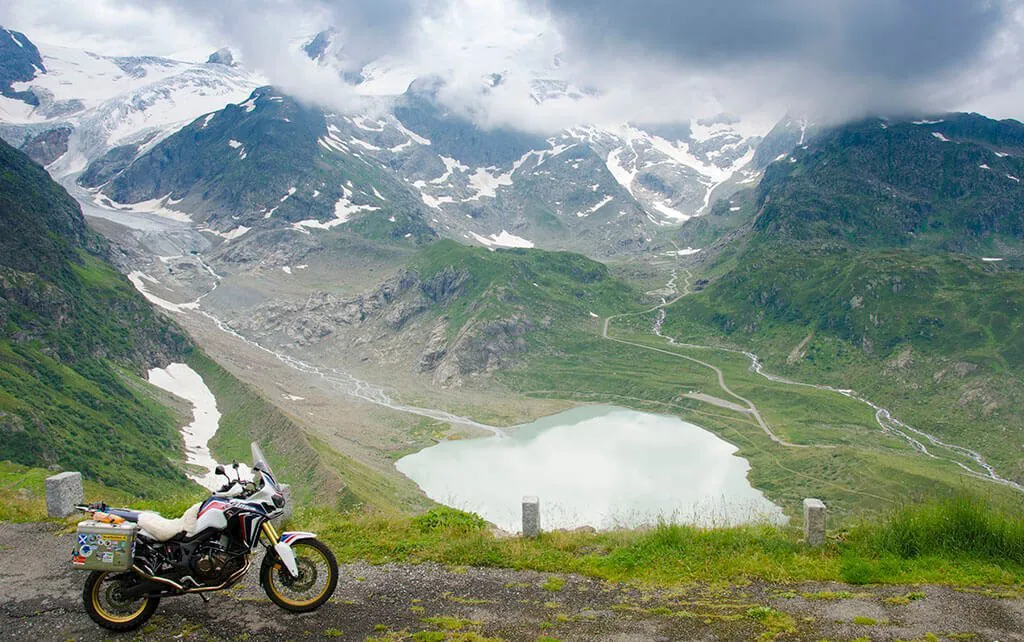 Europe Motorcycle Tour and Travel Guide
Europe is one of the best places in the world to go motorcycle touring. It's on our doorstep (if you're from the UK), has an incredibly mixed terrain from epic mountains to gorgeous beaches, forests, rolling hills and even deserts. It's also home to some of the best twists and turns on the planet. You could spend years carving your way along exquisitely laid tarmac curling and weaving its way through the continent. You've got diverse cultures, architecture, food, wine and people. It's got it all!  
But for such a huge continent with its ginormous mix of 44 countries (at the time of writing) all with their own rules, regulations and routes… it's hard to know where to start when planning a motorcycle trip to Europe. So, let us help you with this Motorcycle Travel Guide for Europe. 
Motorcycle paperwork for Europe
Main documents
Currently UK nationals do not need a visa to travel in Europe. That means all you need is a passport (with six months left before expiry) to get in. Of course, who knows what will change after the transitional period when the UK leaves the EU on January 31st 2021. Some of the information in this paperwork and laws section may change. 
For your motorcycle you will need to take your driver's licence, insurance certificate, MOT and V5 logbook. 
An International Driver's Permit (IDP) is available from your local Post Office (for around £5.50) and will most likely be required after January 31st 2021. To get one you just need to take a passport size photograph and your driver's licence to the Post Office and it's done there and then. Check the Gov website for more information.
READ MORE: Motorcycle Travel Paperwork Explained
Vehicle insurance
Not all motorcycle insurance policies will cover you to ride in Europe. And some providers say they do, but their cover only lasts 15 or 30 days. Check with your provider to find out exactly how long you are covered for before you go. 
Green Card insurance for your motorcycle may also be needed for certain European countries,. Currently, there are only a few countries which require it like Albania, Serbia and Turkey for example. But, rules constantly change, so always check first. And if you are travelling to a country that requires it, it's always better to get it in advance instead of on the border (for example, you'd get badly stung if you buy it on the Greek-Turkish border when trying to enter Turkey). If buying online, we'd recommend the guys at Knopf Tours for your Green Card.   
Breakdown cover
Breakdown cover can sometimes come included with your vehicle insurance. If not, it's often easy to add it as a bolt-on. It's worth having this service if you're touring in Europe as recovery costs can be very expensive. Make sure you know exactly what you're covered for – for example, if your bike is beyond repair will they arrange for it to be returned to the UK? It's also worth carrying a set of tools to perform basic tasks. For more info check out these guides:
READ MORE: 
Personal insurance
It's also highly advisable to get personal travel insurance. This is different and separate to your motorcycle insurance, which only covers your vehicle. For a comprehensive and detailed guide on it, check out the guide below:
READ MORE: The Motorcycle Travel Insurance Guide
Laws and road rules
Please remember that the paperwork, law and rules for UK nationals touring in Europe can change after January 2021.
To carry
Currently, you need a GB sticker on your number plate, a daytime sticker for your headlight, spare bulbs and a high-vis jacket (and one for your pillion in case you breakdown). 
Toll roads
Europe loves a toll road. They are usually operated on a distance travelled based pay scheme. France and Italy are the most notorious for expensive tolls, so beware when planning your route. You can typically pay by card or cash. Be sure to carry emergency cash as sometimes the machines can decline your bank card.  
Also, be very wary of how much the automated machines charge you and what class they put you in. A motorcycle is not in the same pay class as a car, but the machines often mess this up and riders who don't often check will end up paying near double. 
Vignettes
Firstly, it's impossible to agree with someone on how to pronounce 'vignettes'.  Secondly, they're small, square coloured stickers you stick on your bike to show you've paid to use that country's highway and motorway. 
You need them for Austria, Bulgaria, Hungary, Moldova, Romania, Slovenia and Switzerland. Bear in mind that vignette rules are subject to change, so check in advance before travelling. 
For Bulgaria, Hungary and Romania you must purchase them electronically by visiting the country's e-vignette website. For the rest of the countries, they can be purchased at petrol stations. They're around £10 for a week or two dependent on country. 
Also, it's not something you can get away with. A letter will follow you back to the UK, even from 'distant' countries like Hungary.  
Speeding
Speeding in Europe is very risky business. In countries like Norway, the fines are extortionately high and you can expect your bike to be impounded too. Quite often tickets are on the spot. In countries like Slovakia, catching speeders is a national sport for the police. Be very careful if you break the speed. Fines do follow you home and are handed to UK debt collection agencies. 
How to get there
Riding yourself
From the UK you have the Euro Tunnel or the ferry. If you're heading to Calais, France then the tunnel is the smoothest, quickest and easiest option: www.eurotunnel.com
For further south of Calais and Spain, Brittany Ferries are your best bet. If you're going via ferry to Calais or to Spain, we recommend checking with directferries.co.uk as you can find up-to-date and current sailing times and routes and book in advance.
UK to Europe motorcycle transport
There are other options if you're strapped for time and don't want to waste days riding to the location and back again. In that case you can opt for a UK to Europe transport company. You can drop your bike off at a depot in the UK (or they'll pick it up) and they'll drive it there for you so you can fly in and get cracking straight away. They will then return the bike to a depot in the UK or back to your front door. Check out these guides for more info.
READ MORE:
International shipping
If you want to go even further afield, then we suggest checking out MotoFreight – they're a UK based international motorcycle shipping company and are also the authors of our shipping guide.
READ MORE: Ultimate Motorcycle Shipping Guide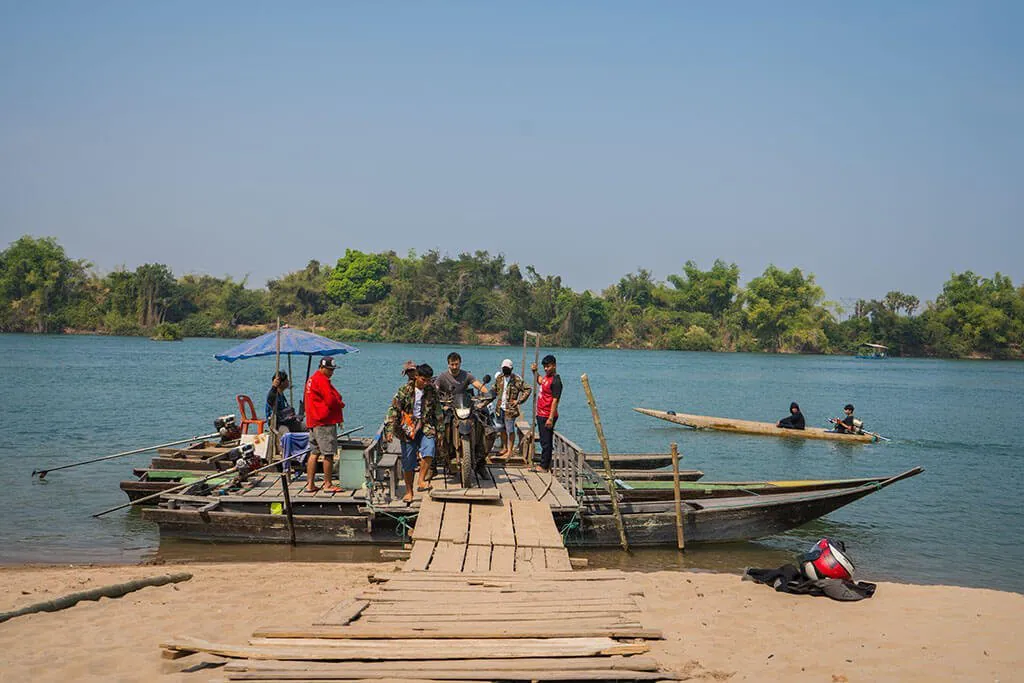 When to go
Europe is over 6 million square miles with a mixture of Oceanic, Mediterranean and Continental climates dependent on where you are. The temperatures and best times of year to go are dependent on where you go. For example, Portugal is pretty much good all year round while the Slovakian Tatras mountains are down to -20C in February. 
In general, May through to October is a good time to travel to the heart of Europe. The extra UK Bank Holidays in May and August are handy. September and October tend to be dry and misses the majority of tourists in the August high season. In some countries, the August heat can be too much.  
Your best bet is to research the specific country you're planning on going to. Check our Europe Destinations page for specific country guides which will detail the best times to visit them. 
What to pack for a Europe tour
We already have a dedicated and comprehensive article detailing everything you need to pack on a motorcycle tour in Europe including paperwork, luggage, camping and riding gear. Check out our touring packing list as well as our full packing list for RTW travel.
READ MORE: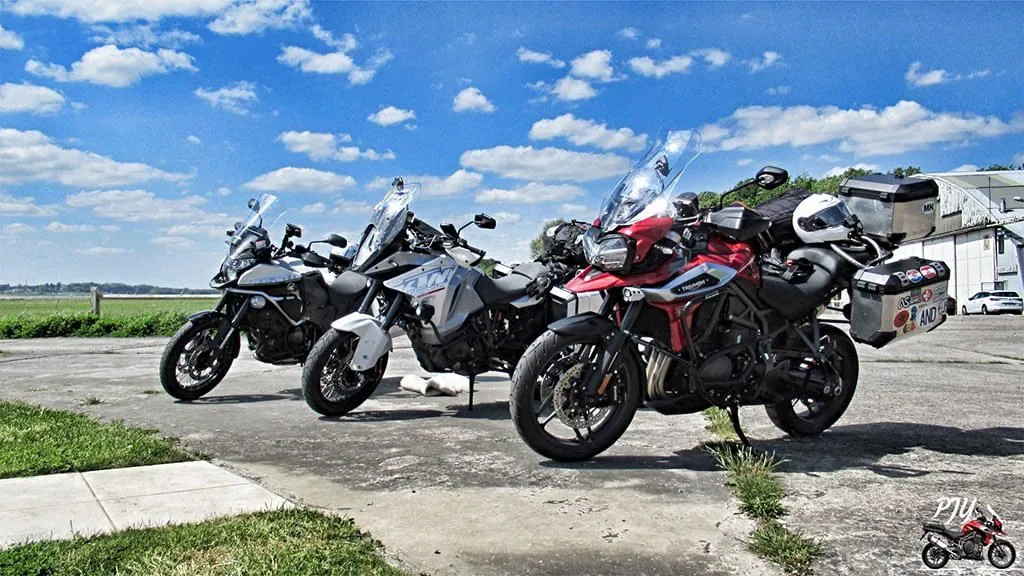 What luggage do I need for a Europe motorcycle tour?
Motorcycle touring trips focus more on the actual riding itself than the travelling. So because of that, your luggage should not hinder your riding performance. That means you're going to want sleeker, aerodynamic luggage that doesn't protrude widely from the bike, doesn't throw off your centre of gravity and won't affect handling. That's why many touring bikes come with integrated or dedicated plastic luggage options. 
It's a good idea to opt for a short top box, slim plastic side panniers if you want extra lockable luggage and a tank bag if you need it. Large, heavy and wide aluminium top boxes will only affect your riding and aren't necessary for a touring trip. For more info on what luggage will work best, check out our detailed guides below:
READ MORE: Motorcycle Luggage Guides 
Join a tour, rent or go alone
This one is down to personal preference. Luckily, Europe is built for all three options. There are some fantastic, extremely well run tour and rental companies in Europe. And if you want to go it alone with your own bike, then Europe is one of the easiest places to ride in the world!
Joining a motorcycle tour
It might be your first time abroad, or you could be strapped for time or maybe you just don't want to sit there for days planning a trip. If so, then jumping on a pre-arranged tour is a fantastic option. You've got the benefit of an experienced tour guide who knows the routes and country like the back of their hands. All hotels, stops, lunches, paperwork and the bike is taken care of. All you have to do is turn up and ride. 
There's also the option to go for a self-guided tour where everything is laid out exactly the same as a guided-tour: your hotels, route, stops etc are all planned out. The only difference is that you're on your own with a detailed itinerary and the route on your sat-nav. 
Motorcycle rental
Perhaps you don't like the idea of riding with others and want to do your own thing. All the hassle of getting your bike to your destination country is saved. This is a great option when you have limited time, know you want to explore a specific country and don't want to waste valuable days of your holiday getting there and back.
If you fancy a guided motorcycle tour or want to rent a bike instead, check out our recommended companies page. We've found and listed some of the best companies in the world on our interactive map. 
Motorcycle Rental and Tour Companies
Here's our recommended motorcycle rental and tour companies from around the world. Click a country and see what's on offer!
Read More
Going it alone
Perhaps you're an experienced motorcycle traveller or you just want to give it a go on your own bike. Great! Europe is incredibly easy to get to and navigate – it's just like riding in the UK! Hopefully, all the information on this page will help you prepare and plan your trip. We have extensive specific guides on a number of countries and are adding to them everyday, so do check those for more detailed info on the places you're interested in visiting. 
There are also fantastic Facebook groups like UK Bikers Touring in Europe, which is a brilliant resource of information. 
READ MORE:
Accommodation
There's plenty of accommodation and it's easy to find and book for bikers. How you find it depends on your style of travel. If you're on a short tour then you may want to book everything while at home – but this gives you a tight schedule and no room for error. Other people find the hotels they'd like to stay and pin them on a map with backup hotels if they want to cover more or less miles.
The easiest way to find and book a hotel is using booking.com
You can use the website while at a coffee stop to see what's around. This is the easiest and fastest way to book while abroad. However, if you're planning on making a base somewhere, then airbnb.com is a better shout because you can find private apartments and houses for a much cheaper price than staying in a hotel for multiple nights.
Alternatively, there's camping. You have two options here, paid camp sites or wild camping. It's easy to do both in Europe. For more information on camping, and saving money on accommodation while travelling, see our travelling on the cheap guide.
READ MORE: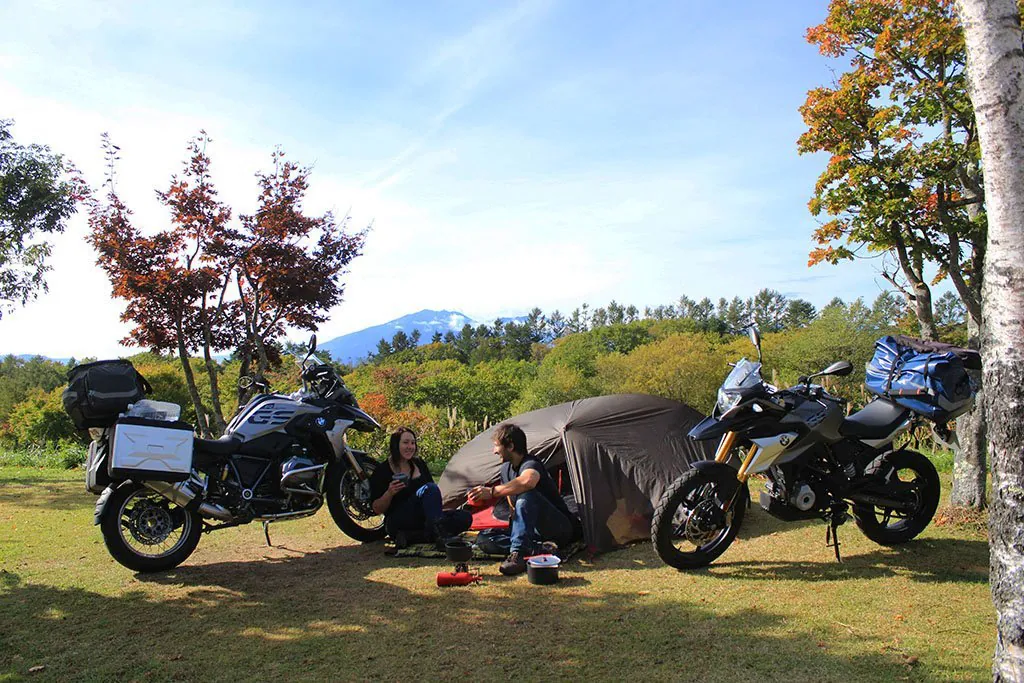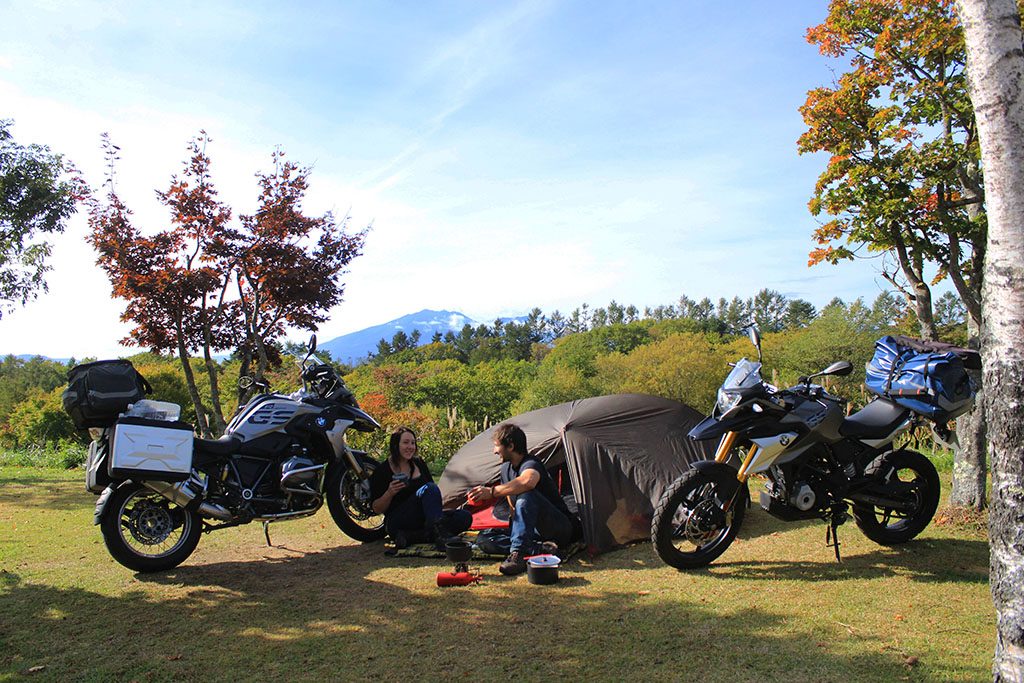 Cost
Europe is one of the most expensive places to travel in the world. The prices can rack up, especially when you're paying for fuel every day, potentially toll roads, hotels and eating out. 
There are loads of ways to save money while touring in Europe though. The most beneficial being the type of UK bank card you use. We have a detailed guide explaining how to save money on hotels, camping, banking, food and drink and more. Check it out below:
Navigation
The easiest way to navigate around Europe is by using a dedicated sat-nav. Simply attach the wiring harness to your battery, a RAM mount to your handlebar, slot the sat-nav in and you're good to go. Make sure you get a lockable mount if you're the forgetful type. 
Alternatively, you could use your mobile phone and Google Maps or Maps.Me. You'll need a mobile phone holder instead.
Most mobile deals come with free European roaming. But it's still a better idea to switch that off (to save your data) and use Maps.Me. It's a free app that lets you download countries and navigate off-line. For more info have a read of the guide below.
Your other option is to stick to good ol' fashioned maps. They're great for big picture planning and finding fantastic squiggly routes. 
READ MORE:
Motorcycle riding gear for Europe
It completely depends where in Europe you're going, how long you're travelling for and the time of year you're going. We've experienced extremes of -20C to +40C in Europe and so it's important to take the time of year and country into consideration.
But the majority of European motorcycle tours are a couple of weeks and during summer. So we'll go on that basis for this section.
Riding suit
Pro-laminate: If you're not riding in winter then you don't need pro-laminate. It's fantastic for cold and wet weather riding as water slides off the outer shell, so your jacket wont feel heavy and sodden. But it's expensive, heavy and not as breathable. Check out our dedicated and packed cold weather riding gear guide if you are heading for colder climates. 
READ MORE: The Ultimate Winter Motorcycle Riding Gear Guide
Gore-Tex: You can get many types of waterproof layerings for motorcycle suits and Gore-Tex is the most well-known. It is usually provided in a removable inner layer. This is a good idea if you're sometimes riding through cold and wet conditions but also need your suit to be breathable via vents. The problem is when you don't have the layer in and then you're met with a downpour, you've then got to take your jacket off and zip your layer back into it (even trickier with trousers!). Your outer jacket will still get sodden and soaked. 
Mesh or non-waterproof: This is your best option. Go for a lightweight, breathable and comfortable motorcycle jacket. If you find one with a removable waterproof liner, then go for that and leave the liner at home. Instead, take a cheap two-piece waterproof throwover. It's easier to chuck that on than taking your gear off on the side of the road to zip liners in. Your suit wont get sodden and it also acts as a windbreaker on cold rides. 
READ MORE:
Extras 
Your riding suit needs to be comfortable, large enough to take a decent thermal jacket underneath, with plenty of easily accessible pockets, plenty of ventilation and protection in the shoulder, elbows, back and knees. Bear in mind that jackets tend to come with rubbish foam back protectors and proper CE approved protectors need to be bought separately. 
Gloves: It's always worth packing two pairs of gloves: one lightweight, breathable summer pair with plenty of ventilation and a thick waterproof pair. Always dry your waterproof pair in the evenings as you never know when you'll need them. 
Neck buff: A neck buff is a great handy extra on tours. 
Ear plugs: You'll be riding constantly on your tour and ear plugs will stop you from feeling as knackered at the end of the day. 
Boots: A good, comfortable and worn-in pair of touring boots are important. Make sure they're waterproof. For a few options check out our adventure boots guide.
READ MORE: The 10 Best Adventure Bike Boots
Thermals: Like with the removable waterproof liner, if your suit comes with a removable thermal liner just throw it away – they're usually rubbish. Pack a soft and light down-jacket instead. They pack up smaller into stuff sacks than those flimsy thermal liners you get with your jacket are ten times better and can be worn off the bike. 
READ MORE: The Best Heated Motorcycle Jackets 
Helmet: A motorcycle helmet must be comfortable and safe above all else. Next up, it's worth investing in a lid that has a pinlock anti-fog visor and a drop down internal sun visor too. There should be decent vents at the mouthpiece, top of head and exhaust ports at the rear. We cover choosing the right helmet for your trip in more detail in our choosing your adventure gear guide below. We also have a top 10 adventure helmet guide too. Have a read of our helmets guides:
READ MORE: The 10 Best Adventure Motorcycle Helmets
For more info and help choosing the right kit and detailed buying guides, check out the riding gear guide page.
READ MORE:
Safety and security
Motorcycle and kit security when travelling abroad is always a concern and some parts of Europe are hot spots for theft. If you're worried about your bike and gear while travelling abroad, have a read of this article first: 
READ MORE: How to Keep Your Motorcycle Safe While Travelling
Top tips
Carry spares and a few tools to perform basic tasks like fixing punctures. 
Make sure your motorcycle insurance policy covers you for the length of time you'll be touring. 
Research the countries you're visiting and plot a rough route. It will stop you from missing out on spectacular roads and sights and also avoid any unwanted surprises like toll roads. 
Always carry enough gear for the conditions including waterproofs and extra gloves. 
Get your bike serviced before you go. Are your tyres on the way out? Brakes good? Chain set correctly? Due an oil change?
Get a bank card that won't charge non-sterling transaction fees as mentioned above. 
Read more on motorcycle travel in Europe
Thanks for checking out our Motorcycle Travel Guide for Europe. We hope you found it useful! Here's a few more articles on motorcycling in Europe that we recommend you read next. 
Are you planning a motorcycle trip in Europe? Do you have any questions or tips to share? Let us know in the comments below.