Welcome to the Motorcycle Touring for Beginners Guide! This article's job is to lay out the framework for anyone looking to head off on a bike trip for the first time. It covers all the basics to get you and your bike ready for an awesome tour.
The Ultimate Motorcycle Touring Guide for Beginners
What is motorcycle touring?
Motorcycle touring simply means to go on a long trip with your motorcycle. In the UK we typically take touring to mean road-based motorcycle trips where the focus is to enjoy road riding over travelling. Hence touring motorcycles tend to be larger, comfortable, road focused bikes capable of easily carrying luggage. Motorcycle travel or motorcycle adventure riding sways to the other end of the spectrum and becomes more about the travel and usually includes off-roading too.
Of course, that's not to say these definitions are definitive. You can tour on whatever motorcycle you like, but for the purpose of this article and ease we'll stick with them.
How to start motorcycle touring?
All you really need is a motorcycle. Just start small by going for short rides on your bike. Once you're comfortable, extend the time in the saddle and the length of your days by going further afield. When you're ready, plan a route to somewhere you want to see or a great biking road you've heard of that's just too far away to get to and back home in a day – so you'll need to book a hotel for a night at the destination. By the time you get home you've been on your first tour!
As you build your confidence, start picking and planning routes to destinations even further away. Go for places that might need multiple nights away to get to. Start to link up multiple destinations, sights and amazing roads along the way. Take a week off work, string it all together and now you're touring!
Tips for Planning a European Motorcycle Tour
Motorcycle Touring Destinations
Where can I go touring?
As you're just getting into touring, it's a good idea to start off in your home country. Pick routes to places or areas you've always wanted to see or explore but just haven't had the time.
Motorcycle touring in the UK
The UK is a brilliant place to go motorcycle touring as we have so much to offer. If you're from the UK and reading this then there's no doubt you've already heard of some of our epic routes and roads including the North Coast 500, Cat and Fiddle, Antrim Coast and so on.
We have a dedicated guide on our favourite UK motorcycle routes for you to check out. If you're after something specific, then also take a look at our UK Destinations page as there are plenty of detailed ride reports on there too. 
READ MORE:
Motorcycle touring in Europe
Once you're comfortable traversing your home country and have explored the UK, then have a think about heading east to Europe. You could spend a lifetime exploring what Europe has to offer. The continent has been built for motorcycle touring and offers some of the world's most spectacular road riding.
For more info on riding in Europe visit our Europe Destination page. You'll see loads of countries on there and the majority of them have dedicated Motorcycle Travel Guides which covers all the relevant info you need for touring in that specific country. And we have an overall travel guide for Europe too. 
READ MORE:
Transporting your bike to Europe
If you're really strapped for time, or even if you just want to make the most of your tour and not spend half of it trudging up the motorway to wherever you want to get to in Europe, there's the option of transporting your motorcycle to Europe using a specialist transport company. 
We have two articles to help you with this. The first one explains how it works and what you need to do, the second recommends some excellent companies. 
READ MORE:
Joining a motorcycle tour abroad
Your other option is to head further abroad. As motorcycle touring is primarily road based, your touring options are more limited to built up and developed countries with excellent road conditions. That's what makes the UK and Europe so good. Other great places are the USA and Canada. 
You can always fly out to a country and rent a touring bike and go it alone. The other option is to join an organised tour, which is a great option for someone new to touring. It'll take all the stress out of choosing your route and making the most of your time there. Everything will be planned and taken care of by the tour company including food and water stops, accommodation, fuel, sights, routes, itineraries. You just have to get yourself there. We have a dedicated guide explaining everything you need to know about joining an organised and guided motorcycle tour abroad. The link is below. 
Check out our recommended motorcycle touring companies page, click the country you're interested in and take a look at the companies and what they have to offer.
READ MORE: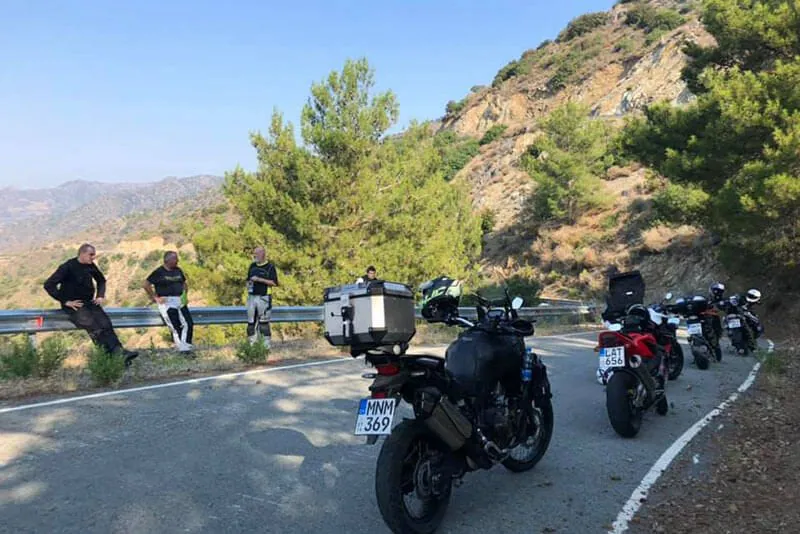 What makes a good touring motorcycle?
You can go touring on anything you like, but if you're covering big miles then you're going to want comfort to be a priority. Good touring motorcycles are comfortable, can carry your luggage, have good wind protection and are smooth, easy and fun to ride.
If you have booked time off work or only have a set amount of days or weeks to complete your tour, then you're also going to want something with a little kick, otherwise you'll be riding until late every night just to make up your mileage and that's not fun.
Some adventure bikes make for excellent touring bikes like the BMW R1200GS and some adventure styled bikes are actually great touring bikes in 'adventure' disguise. If you want to go completely road focused, then excellent touring bikes include the BMR R1200RT, Yamaha FJR1300 and Honda ST1300 Pan European. There are some brilliant middle weight tourers with adventure styling too like the Suzuki V-Strom 650 (or 1000), Kawasaki Versys, Honda CB500X and Triumph Tiger 800.
Ultimately, you're going to need to find a bike that works for you and is something you want to ride around at home too while not on a tour. Test ride as many bikes as you possibly can and get a good feel for what you do and don't like. 
READ MORE: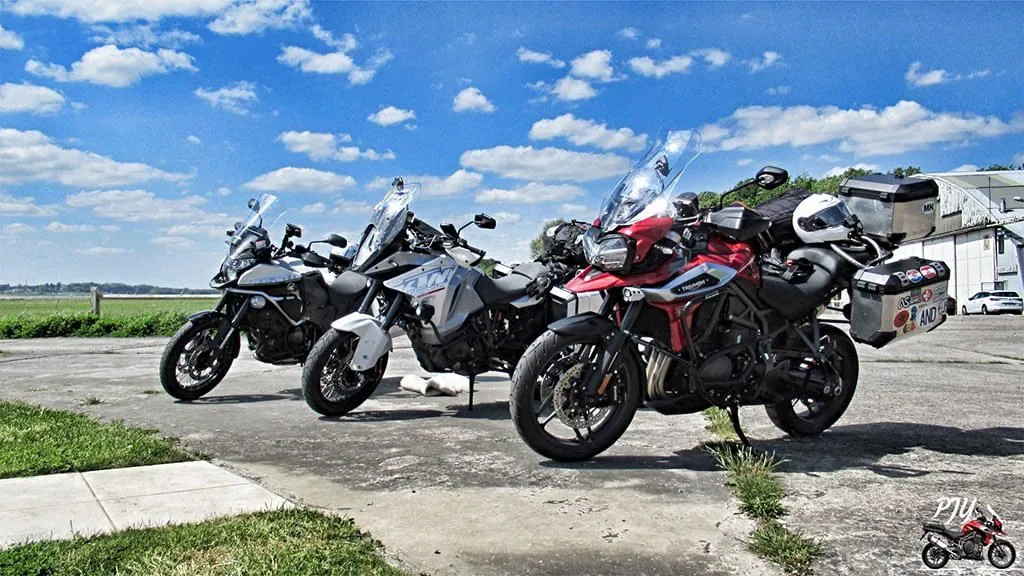 Motorcycle Touring Packing, Luggage and Gear
What do I need to pack for a motorcycle tour?
We have a dedicated article to answer this very question! Check out our packing guide below for an in-depth look at packing for a motorcycle tour. And if you're off on a longer trip then take a look at the ultimate trip packing checklist as well for more ideas.
But in summary, your focus on a motorcycle tour is to enjoy riding over travelling, so you want to be as lightweight and compact as possible so as not to affect your riding. This is why a lot of touring motorcycles come with built in luggage systems for aerodynamics.
It's also less likely you'll be gone for as long on a tour compared to motorcycle travelling, so you'll likely need less clothes and gear too.
If your aim is to be as light as possible then you'll want to only pack the essentials. That includes your riding gear, personal clothing and wash kit, electronics and paperwork.
Your gear will start to balloon if you're considering camping and cooking your own food along the way. See the Where to Stay section below for more info on camping while touring, and check out our camping kit checklist to get an idea of what gear you'd need for it.
READ MORE:
Motorcycle Travel Guide: Europe
A packed guide on touring Europe
What's the best motorcycle touring luggage?
Your choices here are a built-in luggage system (if your comes with it), hard metal boxes, hard plastic cases, top box, soft panniers, duffel bags and a tank bag.
It's not a good idea to set off with a rucksack as after a couple of long days with a heavy load on your shoulders your back will ache.
You can use whatever system works best for you. It's always handy having a storage compartment with quick access to papers, camera, waterproofs etc. A top box or tank bag are great options for that.
As to whether you opt for hard or soft luggage is down to your preference, concerns for security, how wide you want your bike to be, how much you're willing to spend and what your bike is capable of carrying.
For touring we'd suggest plastic panniers like those from Givi's range. Store your clothes and non-essentials in bags inside those cases. And then either opt for a top box or tank bag and keep your valuables in there. A top box can affect your riding due to wind buffeting, but it means you don't have to take it with you every time you leave your bike like you would have to with a tank bag. 
If you're super minimal, then the easiest option is to strap a duffel bag to your back seat using Rok Straps and just take the one bag off every night when you go into your hotel. 
For loads more info on luggage, including our buying guides, check out the below section. 
READ MORE: Motorcycle Luggage Guides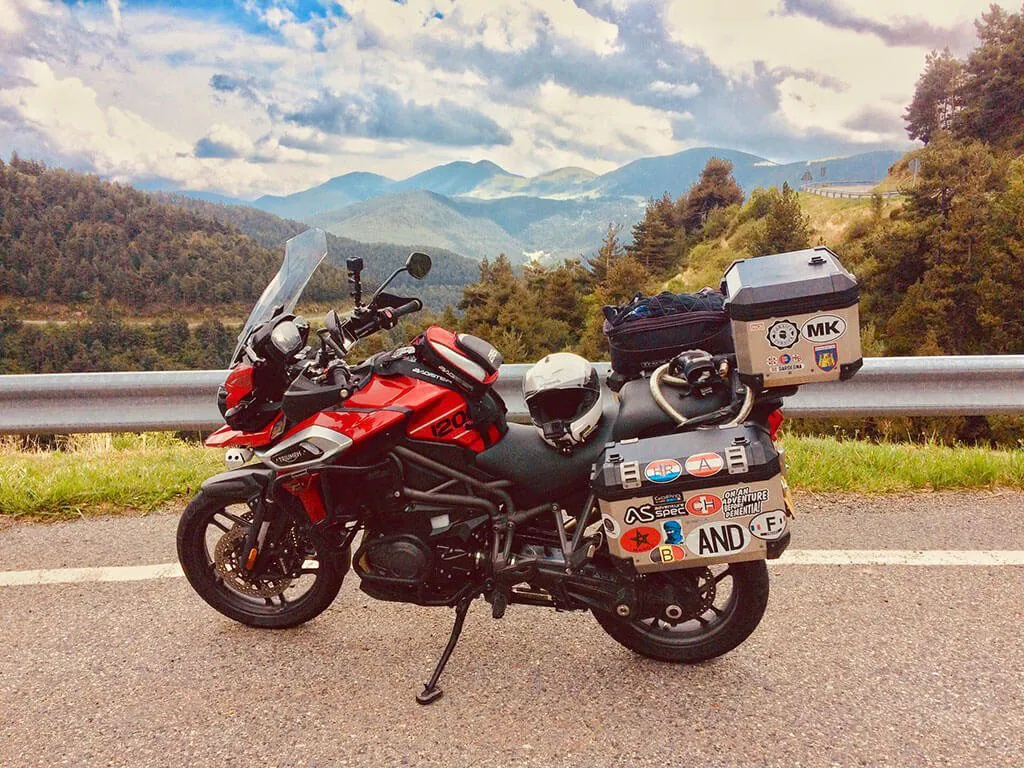 What riding gear do I need?
Riding gear needs to match the climates and temperatures you're travelling through.
You're going to need a quality touring helmet, riding suit with protection, comfortable boots, ear plugs and two pairs of gloves (one pair for warm and one for cold days). If your suit isn't waterproof then you'll also want a set of throw over waterproofs and, dependent on the time of year, some thermals too.
You'll find our selection of the best helmets, jackets and riding gear in the guides section along with what to look out for when buying your kit.
READ MORE: Riding Gear Guides
If you're touring in colder countries, to save on bulk you could always opt for heated motorcycle clothing instead. If not, check out the Ultimate Winter Motorcycle Riding Gear Guide
The motorcycle travel guide for Europe lists and explains the exact touring gear we recommend in more detail. You might also find our gear guides and clothing reviews helpful too in picking the right kit.
READ MORE: Motorcycle Travel Guide: Europe
Motorcycle Touring Costs and Accommodation
Where to stay
The reason touring riders usually opt for hotels and motels is because the focus is on the riding and the trip duration typically isn't that long, so they don't want to waste time searching for a campsite and stopping earlier in the day. But there's nothing to say you can't camp! It's a fantastic way to save money on your trip and leaves you with more cash for fuel. It's also an incredibly magical experience to pitch up your tent under the stars and cook your own meal after a hard day's ride.
If, however, you are going down the hotel route, you have two choices. You can either wing it and find a hotel as soon as you start to feel tired and want to stop or you can book your hotels in advance. The only issue with booking in advance is you're giving yourself a timescale to stick to. If you breakdown or lose a day somewhere you'll need to catch up and that can quickly turn messy. You could always try and find hotels with full refund cancellation policies, so if anything does happen you could call each one and change your booking.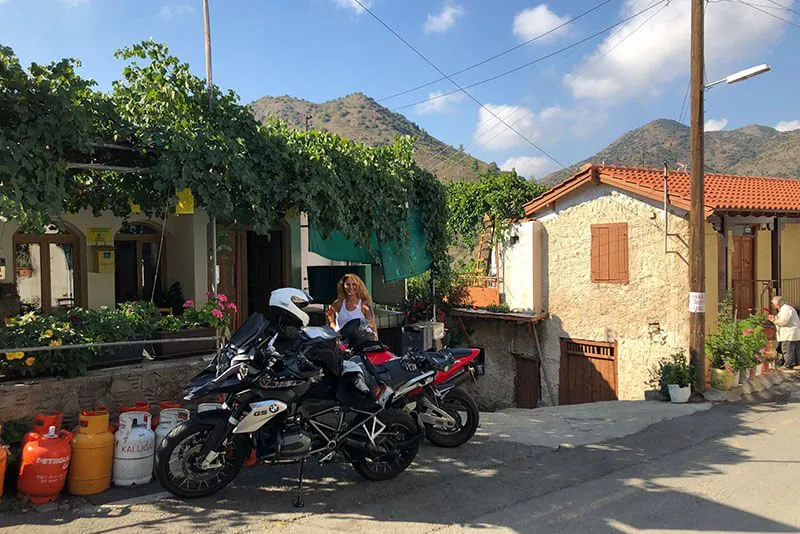 How much does it cost to go motorcycle touring?
Motorcycle touring doesn't have to be expensive. Your greatest expenses will be accommodation, food and fuel. We have a great article to help you save money while on the road which is also applicable for touring.
To gauge an exact figure for touring is tricky because it depends on where you're going, how much you want to spend on hotels and food and how many miles you want to cover. 
Luckily, it's relatively easy to figure out yourself. Let's assume you're touring in Europe. Plot out your route on Google maps and it'll show you a rough cost of fuel. Find hotels along the way using booking.com and take an average of prices and nights away. Set aside a nominal figure for breakfast lunch and dinner and any other costs such as the Channel Tunnel etc and you'll quickly start to gauge what your daily and overall spend will be. 
READ MORE: How to Motorcycle Travel on the Cheap
Motorcycle Touring Tools, Safety, Navigation and Paperwork
Tools, spares and security
Checks
Be sure to check your bike over thoroughly before you leave on your tour. That includes performing any scheduled services, oil changes and so on. Check your chain and sprockets, tyres and brake pads to make sure they all have enough life in them to get you home. You don't want to waste valuable days on your trip looking for a garage or spare parts.
Tools and spares
It's a good idea to take a few of your own spare parts just in case of an emergency and a few basic tools. At the very least, it's always prudent to carry a puncture repair kit and the tools to perform the work, especially if you've got tubed tyres (if you're running tubes, make sure to take a spare tube as well a repair kit). Other spares and extras include a spark plug, bulbs, engine oil and chain lube.
READ MORE:
Security
Check out our dedicated guide to keeping your motorcycle and gear safe and secure while travelling abroad.
READ MORE: Tips for Motorcycle Security While Abroad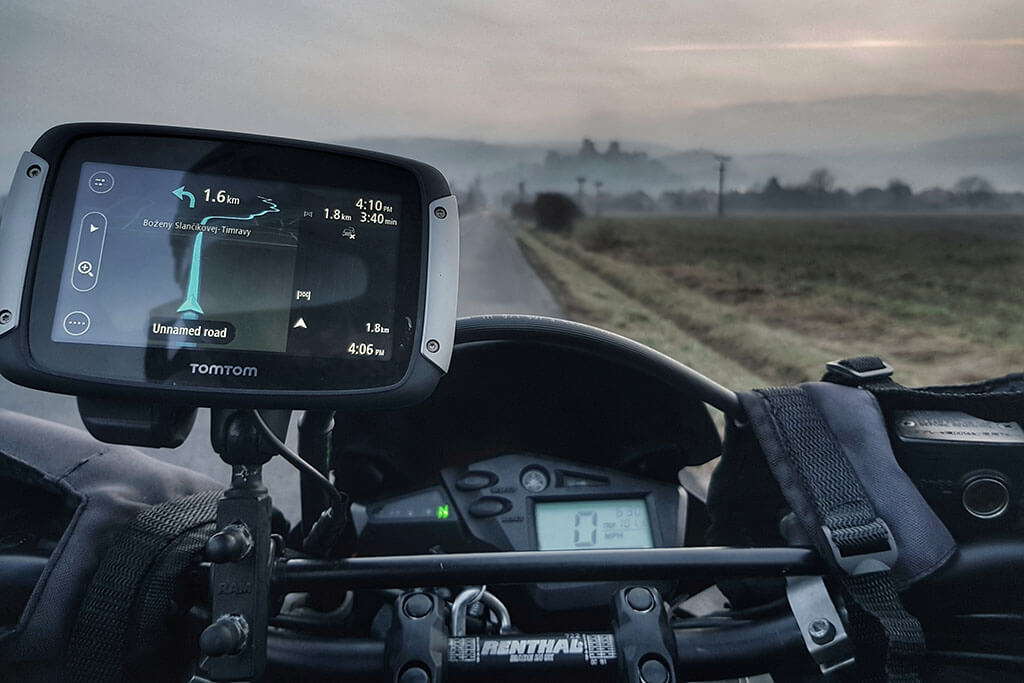 Navigation
The easiest option is to go for a motorcycle sat-nav and download your route onto the device before you leave. That takes the stress out of plotting a course everyday because it can be quite time consuming. If you don't fancy a sat-nav then another easy option is to just use Maps.Me or Google Maps and use your phone as a sat-nav. Or go old school and use paper maps. If you don't have time on your hands though, sat-navs are the way to go.
READ MORE:
Going alone or in a group?
Motorcycle touring is brilliant fun, and it's even more fun if you have someone to share it with. Taking a riding buddy with you or even travelling with a pillion can make it a completely different trip and also take a load of stress out of it. We have a bunch of guides to help with this.
READ MORE: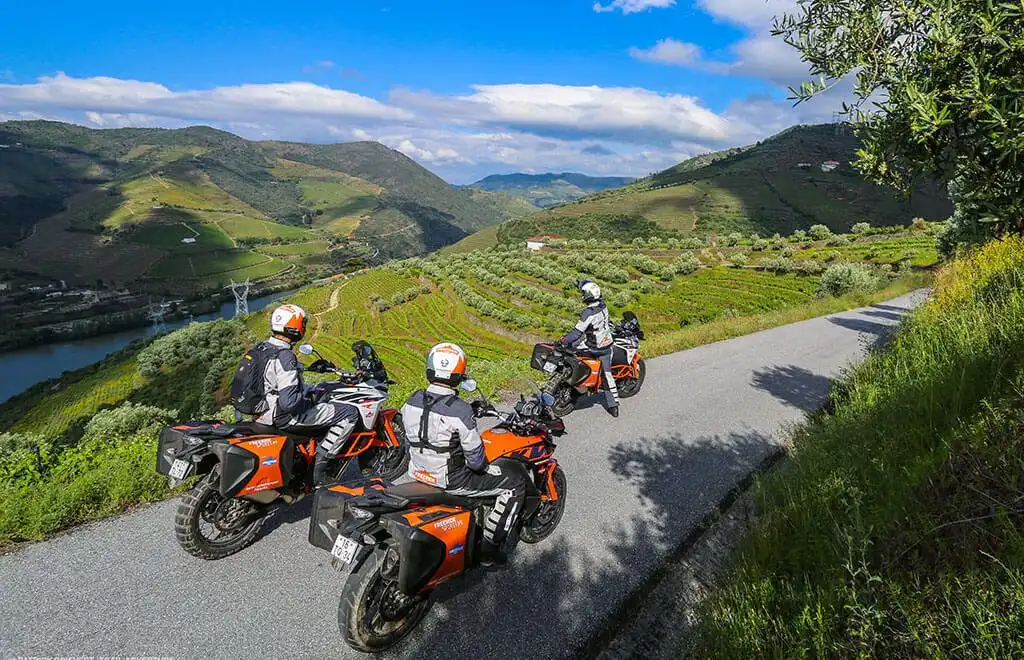 Paperwork
You will need to make sure your bike is road legal, that includes insurance, MOT and Tax. If you're heading abroad then you will also need your vehicle registration document (V5) and may also need your International Driver's Permit and standard driver's licence.
Importantly, you will also need vehicle insurance to cover you both at home and on the roads in Europe. So, you will have to contact your provider for advice on where you are covered and how long for.
Bear in mind that if you are travelling outside of Europe, your vehicle insurance will no longer be valid and you will need to purchase insurance for the country you are visiting once in that country or at their border. But, this will not cover your bike for theft or damage, it will only cover third-party.
Finally, while it is not mandatory, we thoroughly recommend you get personal travel insurance to cover you in case of an accident. We recommend having a good read of our UK motorcycle travel insurance guide before settling on a provider.
There are also laws and rules to be aware of in Europe such as displaying a GB sticker on your motorcycle, a daytime sticker for your headlight, spare bulbs and a high-vis jacket in case of breakdown. You may also need to purchase a vignette, which is a form of road tax in some countries. You can purchase these once in the country and usually by the border or at a petrol station. Some countries require you to purchase one to use any road while in other countries, the vignette is only needed if you are to use certain roads. To find out which countries use this system, check this article out: Vignette (road tax). 
READ MORE:
Read more on Motorcycle Touring in the UK and Europe
Thanks for checking out this Motorcycle Touring for Beginners Guide. We hope you enjoyed it! Here's a few more articles on motorcycle touring in the UK and Europe that we recommend you read next. 
Are you planning a motorcycle tour or do you have any questions or tips to share? Let us know in the comments below.