Welcome to the Europe Motorcycle Tour Packing Guide. This article will explain everything you need for a European bike trip with links to more in-depth guides if you fancy digging deeper. Happy touring!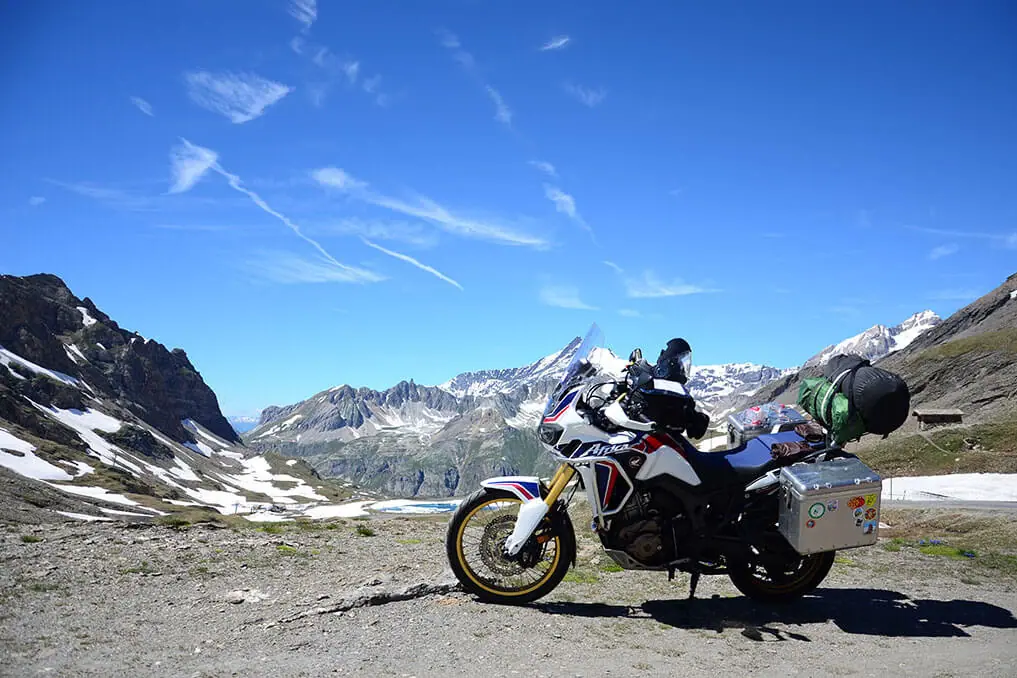 Packing for a Europe Motorcycle Tour
Europe is motorcycle touring heaven. It's got it all from jaw-dropping mountains to gorgeous coastal routes and everything in between. It's easy to get to from the UK, easy to navigate and you're pretty much guaranteed an epic ride. The only tricky thing is knowing what to take because the continent is so vast and the terrain so varied.
But as it's over 6 million square miles, we can't account for every type of European tour. So we'll focus on the standard couple of weeks, summer tour to mainland Europe. If that sounds like your trip, then your main packing focus is to go ultra-light, compact and minimal. If you're after a long-term, multi-climate trip then check out our RTW packing list and the complete trip checklist.
READ MORE:
Your trip will most likely be more about the riding than the travelling and so your set-up wants to be as light and minimalist as possible. That makes your packing in the morning and evening quicker, your bike easier to ride and there's less to worry about. It's easy to get caught out with too much stuff and overpack, especially if it's your first trip…
But this article's job is to avoid that and provide you with a complete kit list for your European motorcycle tour with links to more in-depth guides if you fancy digging deeper.
Motorcycle Touring Guides
Motorcycle riding gear for Europe
It completely depends where in Europe you're going, how long you're travelling for and the time of year you're going. We've experienced extremes of -20C to +40C in Europe and so it's important to take the time of year and country into consideration.
But as mentioned above, the majority of European motorcycle tours are a couple of weeks and during summer. So we'll go on that basis for this section.
Riding suit
Pro-laminate: If you're not riding in winter then you don't need pro-laminate. It's fantastic for cold and wet weather riding as water slides off the outer shell, so your jacket wont feel heavy and sodden. But it's expensive, heavy and not as breathable. If you are riding in winter, then take a look at this packed and comprehensive cold weather riding gear guide. 
READ MORE: The Ultimate Winter Motorcycle Riding Gear Guide
Gore-Tex: You can get many types of waterproof layerings for motorcycle suits and Gore-Tex is the most well-known. It is usually provided in a removable inner layer. This is a good idea if you're sometimes riding through cold and wet conditions but also need your suit to be breathable via vents. The problem is when you don't have the layer in and then you're met with a downpour, you've then got to take your jacket off and zip your layer back into it (even trickier with trousers!). Your outer jacket will still get sodden and soaked. 
READ MORE: The Best Waterproof Motorcycle Jackets
Mesh or non-waterproof: This is your best option. Go for a lightweight, breathable and comfortable motorcycle jacket. If you find one with a removable waterproof liner, then go for that and leave the liner at home. Instead, take a cheap two-piece waterproof throwover. It's easier to chuck that on than taking your gear off on the side of the road to zip liners in. Your suit wont get sodden and it also acts as a windbreaker on cold rides. 
Your riding suit needs to be comfortable, large enough to take a decent thermal jacket underneath, with plenty of easily accessible pockets, plenty of ventilation and protection in the shoulder, elbows, back and knees. Bear in mind that jackets tend to come with rubbish foam back protectors and proper CE approved protectors need to be bought separately. 
READ MORE:
Gloves: It's always worth packing two pairs of gloves: one lightweight, breathable summer pair with plenty of ventilation and a thick waterproof pair. Always dry your waterproof pair in the evenings as you never know when you'll need them. 
Neck buff: A neck buff is a great handy extra on tours. 
Ear plugs: You'll be riding constantly on your tour and ear plugs will stop you from feeling as knackered at the end of the day. 
Boots: A good, comfortable and worn-in pair of touring boots are important. Make sure they're waterproof. 
READ MORE: The 10 Best Adventure Bike Boots
Thermals: Like with the removable waterproof liner, if your suit comes with a removable thermal liner just throw it away – they're usually rubbish. Pack a soft and light down-jacket instead. They pack up smaller into stuff sacks than those flimsy thermal liners you get with your jacket are ten times better and can be worn off the bike. For a good example check out our Sub Zero Review. 
Helmet: A motorcycle helmet must be comfortable and safe above all else. Next up, it's worth investing in a lid that has a pinlock anti-fog visor and a drop down internal sun visor too. There should be decent vents at the mouthpiece, top of head and exhaust ports at the rear. We cover choosing the right helmet for your trip in more detail in our choosing your adventure gear guide below. We also have a top 10 Touring Helmets Guide as well as adventure bike helmet guide too.
READ MORE:
Motorcycle Travel Gear Guides
Paperwork for Europe
Main documents
Take originals of your passport, driver's licence, insurance certificate, MoT and V5 logbook (all subject to change from January 2021). 
An International Driver's Permit (IDP) is available from your local Post Office (for around £5) and will be required once the UK leaves the EU, probably from Jan 2021. It's worth having one anyway. You just need to take a passport size photograph and your driver's licence to the Post Office and it's done there and then. Check the Gov website for more information.
Vehicle insurance
Not all motorcycle insurance policies will cover you to ride in Europe. And some that say they do may only cover you for 15 or 30 days. You will have to check with your provider how long you are covered for. 
Green Card insurance for your motorcycle may also be needed for certain European countries like Bosnia for example. It is highly likely that a Green Card will be compulsory after January 2021.
Breakdown cover
Breakdown cover can sometimes come included with your vehicle insurance. If not, it's often easy to add it as a bolt-on. It's worth having this service if you're touring in Europe as recovery costs can be very expensive. Make sure you know exactly what you're covered for – for example, if your bike is beyond repair will they arrange for it to be returned to the UK? 
Personal insurance
It's also highly advisable to get personal travel insurance. This is different and separate to your motorcycle insurance, which only covers your vehicle. For a comprehensive and detailed guide on it, check out the guide below.
Law and rules
Please remember that the paperwork, law and rules for UK nationals touring in Europe can change after January 2021. But for now, you will also need the following:
A GB sticker on your number plate is compulsory
You will need a daytime sticker for your headlight and spare bulbs.
A high-vis jacket (and one for your pillion in case you breakdown). 
Motorcycle Travel Insurance
A complete guide for UK motorcycle travel insurance
Luggage options
The type of motorcycle luggage set-up you go for is dependent on your type of trip. If you were headed to outer Mongolia then it's worth using soft panniers as you'll probably have a fair few spills. But you probably won't have that problem on a European tour. Let's assume your trip is 100% tarmac based, that means you can go for whatever set-up you like, whatever works for your bike and fits your budget. 
Hard boxes: Hard luggage is a great option for security, protection and peace of mind. Lock your gear away and don't worry about it as you dive in to those local coffee shops. The problem is that they're wide, heavy and expensive. 
Soft panniers: Perfect for more off-road focused trips. Lightweight, cheaper but not as secure. Another option is to go for soft panniers and a hard top box for your valuables.
Duffel: A short two-week tour means you're probably not going to be diving in and out of panniers all the time. An easy option is to just go for a 40-60 litre duffel bag and strap it down with a pair of Rok Straps. Couple that with a tankbag for quick access items and you're good to go. 
READ MORE:
Motorcycle Luggage Guides
Camping equipment
Camping gear is the bulkiest and largest kit you can carry on a motorcycle trip. The majority of motorcycle tours in Europe don't take in camping because people have a lot of miles to cover and don't want to spend their time setting up tents every night.
However, it is an extremely cost-effective way to travel, especially in Europe as hotels can be expensive. For an in-depth guide to camping while motorcycle travelling and how to save money on hotels, accommodation and camping check out this guide:
READ MORE: How to Motorcycle Travel on the Cheap
Be prepared to shave this kit down as much as you can to the bear essentials. And only take it if you're definitely going to be camping (I know a guy who rode from the UK to Japan and camped once just so he didn't feel like it was a complete waste).
If you are camping, then have a read of our dedicated guides: 
READ MORE:
Personal clothing and hygiene
Try and keep your personal clothing to a minimum. If you're planning on regularly staying in hotels then you may want footwear other than bike boots and flip flops. Only pack a couple of shirts, a few t-shirts, enough pants and socks for a week, a pair of trousers, shorts and swimming trunks. If you wear a motorcycle specific riding top then you wont eat into your supply of fresh t-shirts. Keep your kit small and light and roll it instead of folding. 
As for hygiene, try and only pack small travel size versions of everything. Again, if you're staying in hotels then you won't need to pack shower gel and shampoo either.  
Electronics
Your electronics kit is completely down to personal preference. At the very least you should take a mobile phone in case you run into trouble, break down or get lost. Most UK phone data plans offer free data in Europe, but regardless it's still worth downloading the free app Maps.Me and downloading the specific country maps you're travelling to. They can be used off-line as navigation (it's all we use to navigate on our round-the-world trip). If you don't fancy using your phone then don't forget to pack your sat-nav (or go old school with proper paper maps!). 
Camera equipment is also pretty important these days. If you want something more than your phone to shoot on, check out our photography guide: 
READ MORE:
Security
Motorcycle and kit security when travelling abroad is always a concern. Your options are a bike tracker, chain and lock, disc-lock, alarm or a dusty old cover. 
If you're worried about leaving your helmet or jacket and jeans on the bike while you go off for a stroll, you could always go for a PacSafe Exo Mesh or a single cable and lock your kit to the bike. 
If you're after more info on keeping your motorcycle and gear safe while touring abroad, here's our dedicated article:
READ MORE:
Tools 
It's always worth carrying a few tools for minor repairs while touring. If you're not heading out into the wilds then you don't need a full-on comprehensive kit – just enough to get you out of light trouble like a multi-tool, Gaffa tape, cable ties and metal epoxy. Our number one bit of kit is a small ratchet strap. They're invaluable on motorcycle trips as they can hold a broken wheel together, fasten a broken pannier frame back and even tow your bike.   
The main thing is a puncture repair kit that includes an electric pump. If you have tubeless tyres then you'll want a plug set and can get away with air canisters. If you have tubed tyres then you're going to want to pack tyre levers, spare tubes, a patch kit and a bit of dish soap for easing the tyre back onto the rim. Having tubeless tyres will of course save you a lot of faff, but having a repair kit for either will save hours of waiting by the roadside. 
If you're interested in packing a more comprehensive toolkit, then take a look at our detailed guide: 
READ MORE: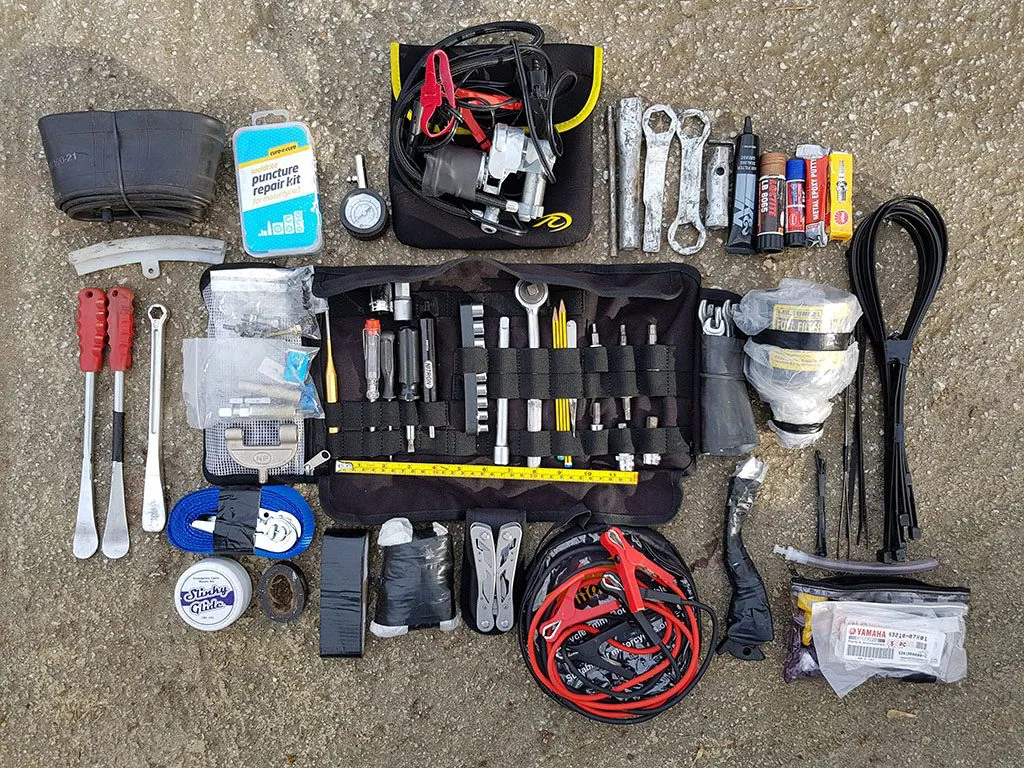 Extras
Money: Don't forget your money! It's always worth carrying cash with you on a European tour as you'll never know when you need it. Make sure your bank cards don't charge an extortionate non-sterling transaction fee on top of whatever exchange rate they're using. For a detailed write-up on the best bank card to use abroad for UK nationals, check out our cheap travel guide below. 
First aid kit: It's always worth carrying a small first aid kit with basic medication and emergency supplies. 
Europe Motorcycle Travel Guides
Now you've read up on what you need to pack for your European motorcycle tour it's time to plan your route and trip! Check out our Europe Destination Guides page for all the packed country guides. You'll find route info, ride reports, things to do, tips tricks and loads more. 
Read more Motorcycle Travel Guides and Tips
Thanks for checking out our What to Pack on a Europe Motorcycle Tour Guide. We hope you found it useful! Here's a few more articles on Europe, motorcycle gear and trip planning that we recommend you read next.
Liked that? Try these next…
If you have any questions or would like more advice on motorcycle touring in Europe, we'd love to hear from you! Please post your comments below…