Welcome to the Cold Weather Gear Guide! This packed article explains how to choose the right kit to ride in the cold, how to layer, all of the different options and systems out there and the very best winter motorcycle riding gear available.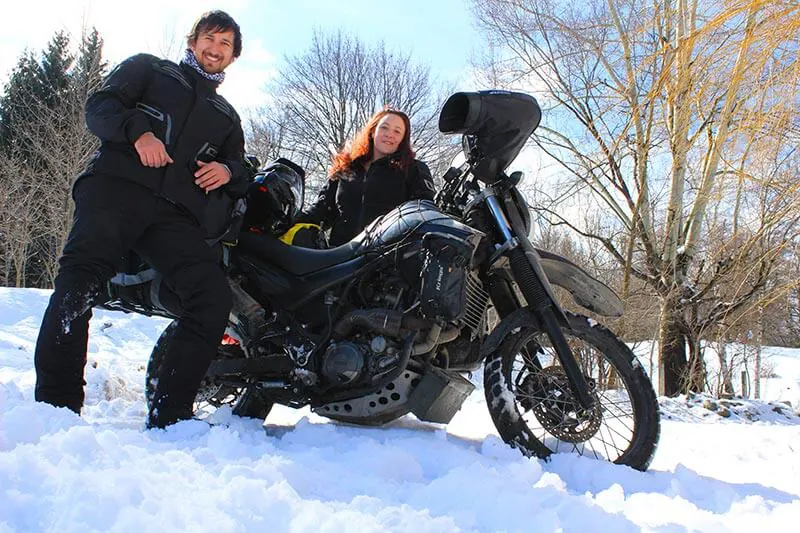 Don't be put off by winter riding. You may be looking to ride through the cold stuff on your daily commute, on a mammoth European tour or might come up against it on a RTW trip. Whatever you're doing and wherever you're riding, this packed guide will help you pick the best motorcycle riding gear for cold weather and winter biking.
What is winter motorcycle riding gear and why is it important?
Winter motorcycle gear is what it says it is. It's biking gear specifically designed to keep you warm and dry when the temperature drops. And it's important because if you're cold you'll lose concentration and are more likely to have an accident – or in extreme circumstances suffer from hypothermia or worse.
The type of winter biking gear you need is dependent on where you're going and what you need it for. Someone using winter kit for a commute to work may not need the more expensive pro-laminate kit and can get away with using a heated jacket instead of a layering system. They're not going to need to go to the same lengths as someone who is planning an arctic ride or a dedicated cold weather riding tour as they may not want to rely on electronically heated garments in case of failure and will need pro-laminate and a well-thought out layering system. While someone on a round the world motorcycle trip is going to need a completely different set-up altogether as their gear needs to be multifunctional for varying climates.
So, it's very important that you choose the right winter motorcycle kit for you and your personal requirements. We've designed this guide to cover a mix of varying scenarios to help you pick the right kit.
How cold weather motorcycle gear works
Firstly, wherever you're riding and whatever you're doing, the basic principles of cold weather motorcycle gear work like this: thin and warm base layers followed by a hardy motorcycle specific outer-shell capable of withstanding cold, wind and rain. 
Now, it gets more specialised when we delve into what you need the kit for. For example, you can change the type of base layers from a simple to complex layering system or even heated gear and there's a multitude of different types of outer-shells from liners to laminate to simple throwovers. 
This guide will now take you through the varying options you have so you can build upon, adapt and tweak the basic principle mentioned above to suit you. We'll now cover what layering is, what options you can choose, how to layer effectively, what to wear under your bike gear, your motorcycle specific outer shell options, extra gear and tips and tricks for keeping you warm while motorcycling this winter.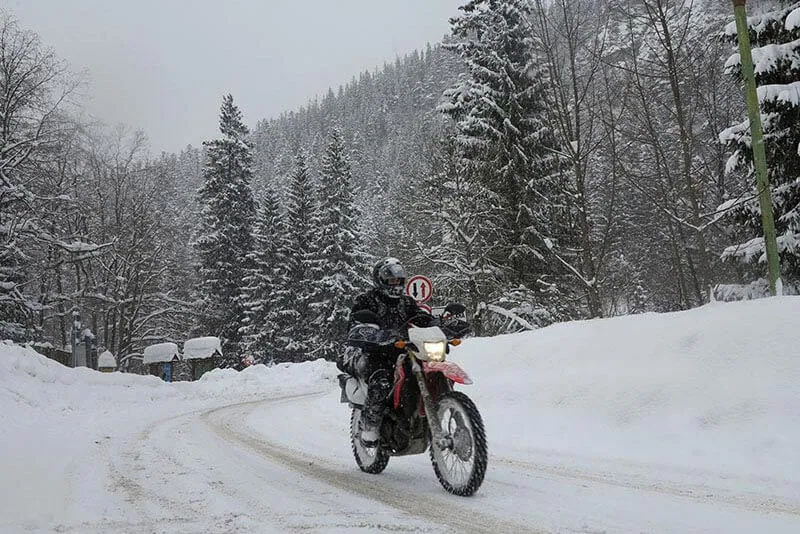 Layering for winter motorcycle riding
Layering is an integral part of keeping warm on a motorcycle. The idea behind it is that multiple thin layers of clothing are better than fewer big bulky ones. So, three thin layers are better than one woolly jumper.
The reason behind this is because these layers trap warm air between them. The more layers you wear, the more warm air you'll trap between the layers and the warmer you'll be.
Wearing the correct type of layers allows moisture and sweat to be wicked away from your body through these layers without letting the warm air escape. And the great thing about this type of layering system is that you can easily remove or add a single layer to regulate your temperature. 
How to Layer for a Cold Weather Motorcycle Ride
Base layer
Think of your base layer as a second skin. Its job isn't to keep you warm as such, its primary role is to wick sweat and moisture away from your body and into the next layer. Therefore, it's best if it's made out of a natural fibre like merino wool or synthetic like nylon or polyester.
I prefer a merino wool base layer because it wicks quicker, dries faster and can go longer between washes without smelling.
You want your base layer to be tight to the skin (not tight so it's uncomfortable of course), but the better the fit to your body the less likely you'll have gaps where warm air can escape.
First mid-layer
As the base layer's job is to wick moisture and is a very thin layer, this next layer is what keeps the warmth in and insulates your body.
If we're talking about freezing sub zero temperatures, then this mid-layer should be lightweight, thin and warm as you'll be using a secondary mid-layer as well (see below). If not, then opt for a fleece or down jacket and then your motorcycle jacket. Here's a good example of a micro-fleece mid-layer.
Secondary mid-layer (optional)
You've now got an ultra-thin skin tight base layer to wick away the sweat and moisture. You've then got your first mid-layer, which is thin but thermally insulating. This can often be enough, but if you're riding in freezing conditions you can also opt for a secondary mid-layer.
You've got a few options here. You can go for an electric heated jacket (see more on that in the heated gear section below), a down jacket (see more on that on mid-layers below) or a thicker thermal fleece.
Outer shell layer
This is your final layer – your motorcycle jacket. This has the job of being waterproof, windproof and protective. If you are going for a cheaper motorcycle jacket or even if you have a decent jacket but with a removable waterproof lining and are heading to very cold climates, you could always add one more layer over the top in the form of a throwover waterproof. This will act as a first line of defence and keep the majority of wind and rain away.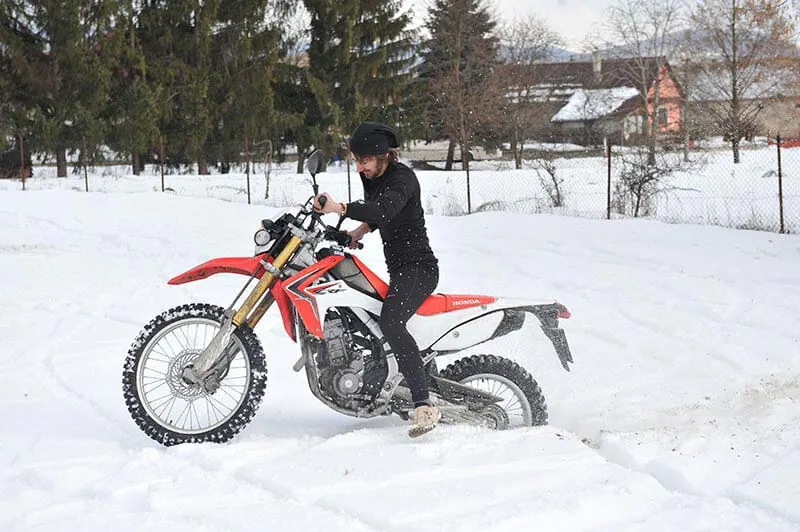 Second mid-layer options
As mentioned in the layering guide above, you've got a couple of options when it comes to the optional second mid-layer. Your two best options are a down jacket or heated gear. You can just chuck on a slightly thicker woolly jumper, but down and heated jackets are just so much better. Here's our thoughts on each. 
Down jackets
Down jackets are brilliant optional mid-layers if you get the right one. Go for one that's compressible, can be squished up small and can be packed away into a tiny stuff sack. You'll want one like that because it will compress under your bike jacket and not feel restrictive. They're also incredibly warm and able to keep so much more warm air trapped in when compared to jumpers and fleeces. If you have big arms or your bike jacket's sleeves are a little tight, then you can always go for a gilet down jacket. 
The reason we love them so much on motorcycle trips is because they are smart and warm enough to be worn off the bike too. We do away with the flimsy removable thermal lining that comes with the motorcycle jacket because they are single use – you can't really wear them without your bike jacket and use these instead because they're so much better. We wear ours to hike, camp, go out for dinner in the evenings etc instead of walking around with a bulky bike jacket.
To give you an idea of the type of jacket we're talking about, here's a few options of different price ranges.
Premium down jacket: check out our Sub Zero Review. I've been using Sub Zero for around six years and can't fault it.
Mid-range: Take a look at the excellent Keela Belay Pro on Amazon, we've used this jacket for years and it's brilliant.
Budget option: If you're just after a lightweight compressible down jacket for everyday riding, check out this lightweight Amazon option.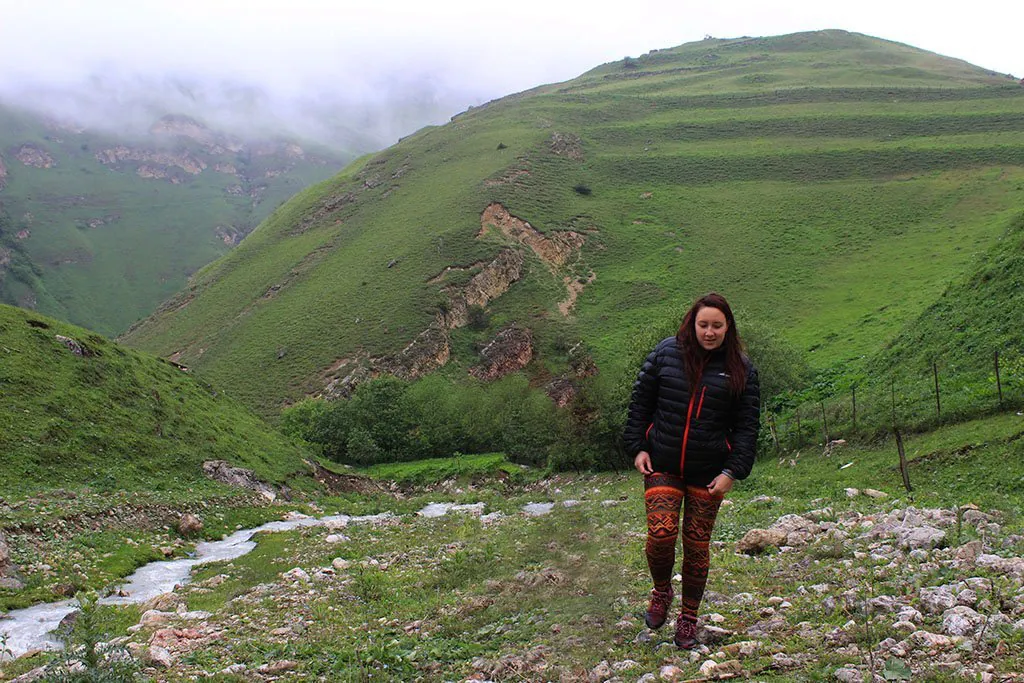 Heated motorcycle gear
Electric heated motorcycle gear is an excellent investment. You can get heated jackets, vests, gloves, trousers and socks. All of which can either be plugged into your bike's battery or run of a remote battery. And you can also opt for heated seats (for both rider and pillion) and heated grips too on the bike. 
The benefit of heated gear is that you can easily regulate your temperature without the need for multiple layers. You won't get hot and sweaty putting your gear on either because you can just sit on the bike, flick the switch and you'll be toasty in no time. Once you try heated gear, it's very hard to go back to a layering system!
There are negatives though. The main one being if you are travelling or are on a long-distance trip where you might traverse into a warmer climate, the heated gear will become useless and simply take up unnecessary space. They're not warm enough to be worn as an everyday jacket when not plugged in and don't pack up small like a down jacket. And the other issue is that because they're electric, there's a chance they could fail, and if you're in seriously cold climates this can be disastrous.
So, if you are a RTW motorcycle traveller, you're much better off buying a down jacket which will pack up small and can be easily stowed away when you're in hot countries and can be worn around town when the temperature dips on chilly nights without having to put on your big heavy bike jacket. 
READ MORE: 
Notes on layering and fitment
Whatever layering system you go for, an incredibly important criteria is that it must be comfortable. Sounds obvious, but you'd be surprised at how many people wear incorrectly sized kit.
Tight areas form around the waist, elbow, knees and neck. And then if you add even more tight layers the situation gets worse. Gear that's too tight will restrict blood flow and have a reverse effect. You should be able to put all of your layers on and move around freely without any restrictions. Sit on your bike as well and make sure there's no tightness in the elbow when your arms are bent and that you can freely move your head with your helmet on from side to side.
On the other hand, your gear doesn't want to be too loose either as that will allow warm air to escape. So you will need to play around with sizes to find the right kit to suit your body shape.  
What is Gore-Tex?
Before we move onto the outer shells and motorcycle suits, we first need to quickly discuss Gore-Tex and Pro-Laminate as they're often thrown around when talking about cold weather bike clothing.
Put simply, Gore-Tex is a waterproof and breathable fabric. The reason it's so good is because it stops water from penetrating it while allowing sweat and moisture to evaporate. Otherwise, it'd be like wearing a thick bin bag where you'll stay dry from the rain but will be a bucket of sweaty mess underneath.
Commonly with motorcycle jackets, this fabric comes in the form of a thin removable layer which either buttons or zips inside your motorcycle jacket.
With bike gear, it is usually removable so that the wearer can simply unzip and remove this lining when the weather changes.
There are pros and cons to this. The pro is that your jacket can be used in multiple climates and you won't get hot and sweaty in hot weather. The con is that you have to faff around with zipping it in and out and if you've left it at home and it starts chucking it down with rain then you could be caught out.
Gore-Tex is a brand and there are many other alternatives out there and motorcycle gear manufacturers who produce their own waterproof linings. The Gore-Tex brand name isn't the be all and end all, but it does signify excellent quality.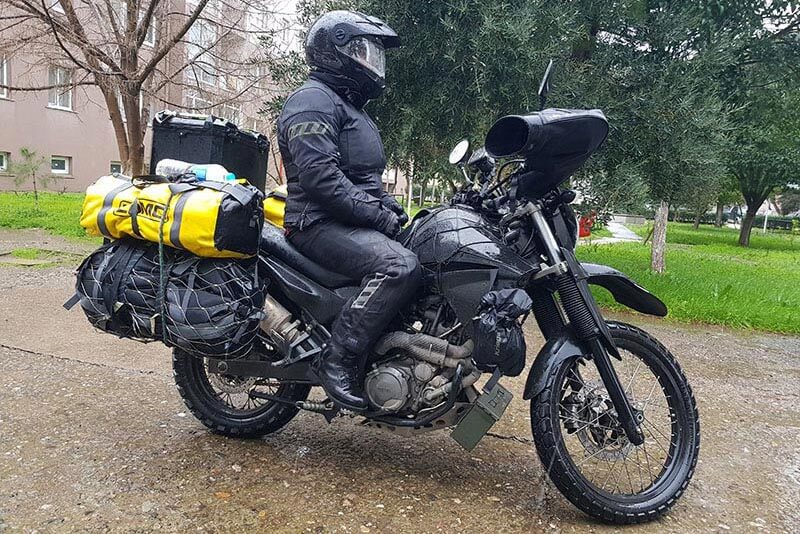 What is Pro-Laminate Gore-Tex?
Pro-Laminate Gore-Tex, or just Laminate for short, is different to the typical Gore-Tex lining you get inside a bike jacket. The reason it's different is because there is no inner or removable lining. The Gore-Tex membrane is actually built into your outer jacket.
This means that Laminate jackets allow water to slide straight off it. Again, there are pros and cons to this. The main pros are that they are far warmer and more waterproof because water doesn't permeate into your jacket and then hit a waterproof barrier like with the lined system. The liner system means that your outer jacket will get sodden, while you don't have that issue with laminate because water can't get through.
The con is that they tend to lack ventilation, are not multi-climate jackets, aren't well suited to very hot conditions and are often on the heavy side. The other negative is that they are on average far pricier. However, the technology used in building these jackets is always evolving and these laminated jackets are improving each year. 
Again, Gore-Tex is not the only brand that produce laminated fabric and there are alternatives out there. 
The Best Cold Weather Motorcycle Riding Gear
Winter motorcycle riding suit
A cold weather riding suit has its work cut out for it. Your jacket and trousers need to be thick and insulated well enough to keep you warm in freezing temperatures, tough enough to protect you in a crash, they must be completely waterproof and windproof, functional and comfortable all at the same time. That's a big ask.
The best types of jackets for this job fall to touring jackets because they tick the most boxes. And the reason this is so important is because your outer jacket and trousers are literally your first line of defence against the cold and elements. If this fails, all the extra kit you've got on underneath is worthless.
So, it's worth researching and taking your time looking into the right type of touring jacket for you. To help out, we've published our selection of the 10 best touring jackets on the market today in one handy guide filled with pros, cons, features, winners and more.
But, if you're not going on a mega arctic ride and don't need a dedicated winter jacket because you'll also be riding in warm climates too, then also look into adventure jackets.
READ MORE: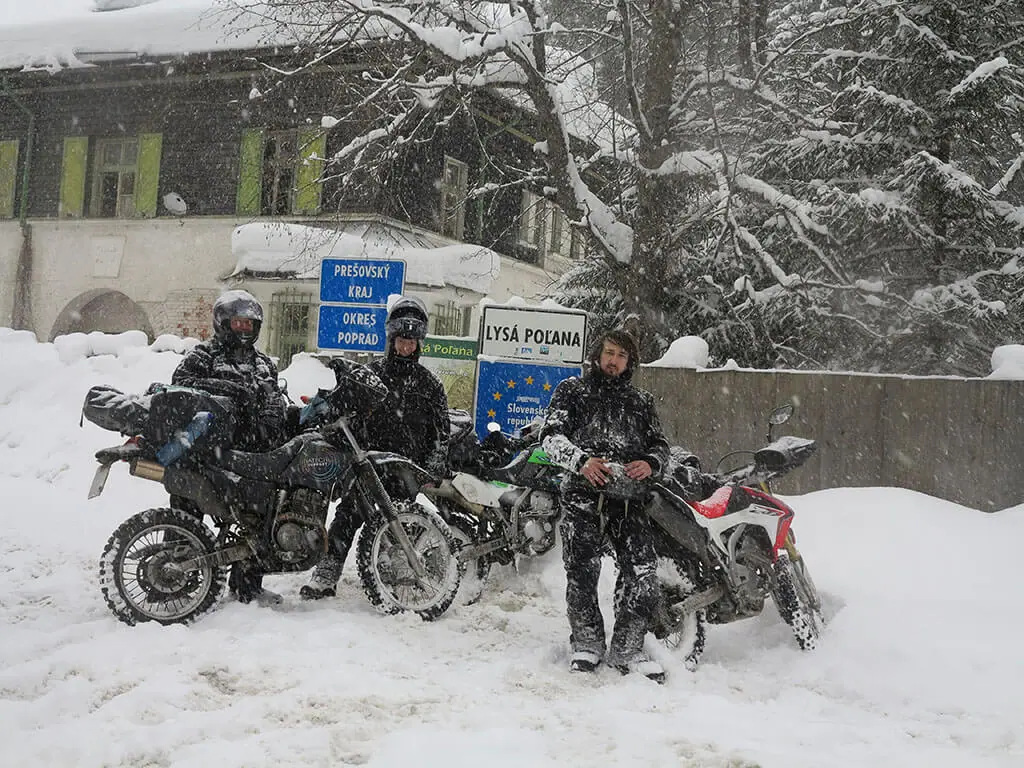 The best winter motorcycle suit options
The best riding jacket and trousers for winter riding utilise Pro-Laminate Gore-Tex. This is because they tend to be warmer and far better insulated. And more importantly they're fully waterproof so water runs off the outer shell instead of making your bike jacket sodden. Laminate is premium gear so it does come with a heftier price tag, but it's worth it if you're riding through seriously cold and wintery conditions.
Our top pick Pro-Laminate Gore-Tex motorcycle jacket is the Rukka Nivala 2. I've ridden in temperatures down to -20C in Rukka and can't fault it, but there are of course other excellent options out there such as the Klim Badlands Pro. It all depends on your budget and what you need the kit for.
Budget winter motorcycle suit options
If you don't fancy spending a miniature fortune just on a jacket and pair of trousers, then forget Pro-Laminate and go for any touring jacket with a waterproof liner. Touring jackets in general are excellent for winter use and you can still keep yourself very warm in a budget to mid-range jacket.
A great tip here is to make your own laminate by using a throwover waterproof! This can be a cheap one from your local outdoor shop or a bike specific one – just make sure you get a big enough size so that it's easy enough to slip over your bike jacket, but not so big that it flaps in the wind – and don't get one with a hood! This layer will act as your first defence and fight off the initial rain, wind and cold and will also do a great job of retaining heat. The only downside is that they're not breathable so keep movement and sweating to a minimum when off the bike.
If you're planning a RTW motorcycle trip or a long-distance, multi-climate trip, then an adventure style jacket with a waterproof throwover is an excellent choice. A couple of great jackets for this type of system are the Rev'it Defender and RST Pro Adventure shown below. 
Winter motorcycle jacket buying tips
Buy big
If you are buying a jacket and trousers purely for cold weather riding, then go for a suit that's slightly bigger than your normal size so that it's roomy enough to wear your layering system underneath. But don't make the mistake of buying one too big as it will create air gaps for the wind and cold to seep into and for your retained warm air to escape from.
Comfy collar
A decent storm collar will do wonders in protecting your neck. However, you're going to be wearing multiple base layers (and some may come with a high collar), a silk neck buff and perhaps a snood on top. So, you'll want to make sure the collar isn't too tight and that it can be done up easily. A large storm collar can make a big difference because you can do it up over your snood – just make sure it's easy to take off and remove.
Quality zips and flaps
Quality zips are really important because they're often one of the first points to leak water. A quality waterproof zipper like a YKK will help in preventing water ingress. And jackets with storm flaps which Velcro over your zip are even better.
Pockets
Extra large and easily accessible pockets are great, especially for cold weather riders. If you've got a tiny pocket, you'll need to take your gloves off every time you need to get something out and if it's wet outside and you get rain water on your hands it's a nightmare trying to squeeze them back into your gloves. Big pockets with magnet closures are very handy! Also look for jackets with a fully waterproof internal pocket for your phone or wallet. If not, then it's worth buying a waterproof phone case, just for peace of mind so you're not constantly worrying about your valuables getting soaked.
Cuffs and ankles
Inspect the cuffs of your jacket. You'll be wearing hefty winter gloves with a large gauntlet that you will want to tuck into your sleeve. If your cuff is tight it's going to be a pain yanking that sleeve over your glove. Instead, opt for a cuff that opens up very wide and then easily fastens with a tight fit so cold air doesn't fly up your sleeve.
The same goes for your ankles, you want to be able to unzip your trouser legs easily enough to get the fabric over your boots.
Winter motorcycle boots
The best boots for cold weather riding tend to be adventure style bike boots and here's why. They're bigger, offer better protection, come with more padding, are taller, are usually warmer and often the waterproofing is better.
Your bike boots shouldn't be tight as your foot needs to breath and you will also need to fit a decent thick pair of socks on (merino wool socks are excellent for cold weather riding). Another sock option are SealSkinz Socks as they are fully waterproof, and are a good choice if you're facing a lot of rain.
And if your feet tend to feel the cold quickly, then it may also be worth investing in a pair of heated insoles.
Of course, go for a waterproof lined pair of boots and most importantly make sure they're comfortable.
There's a huge range of adventure bike boots on the market, but we've selected 10 of the best out there and listed them in our guide complete with info, features, pros, cons and prices.
READ MORE: The 10 Best Adventure Bike Boots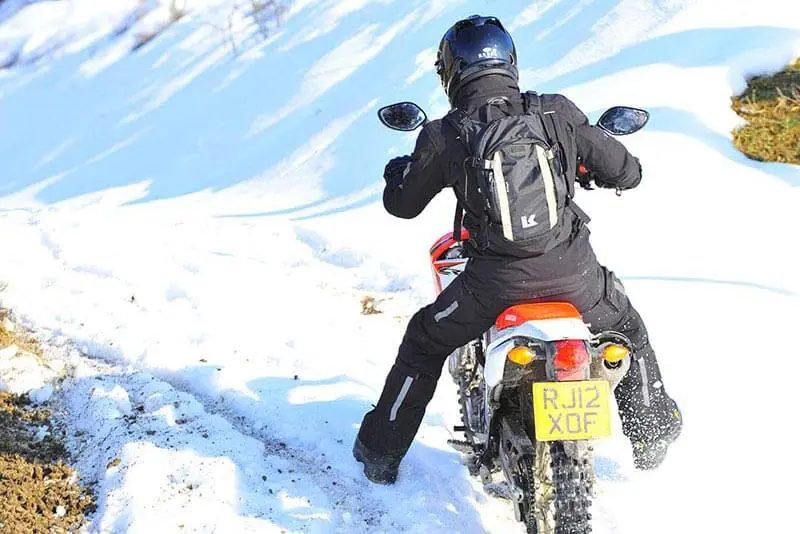 Winter motorcycle gloves
Your fingers are usually the first to feel the cold and so your winter motorcycle gloves need to be top notch. It's always worth spending a little extra here as numb fingers are not only uncomfortable, but dangerous too. You need good feeling in those tips for fine motor skills – controlling the clutch and controlled steady pressure on the front brakes.
A good option here is to invest in Gore-Tex gloves with excellent insulation. A visor wipe attached to the index finger is a very handy extra too. The glove's gauntlet should be easily tightened and be able to slide underneath the sleeve with ease.
More glove options
And there are other options for keeping your mitts toasty if you're riding in seriously cold weather other than the standard winter glove.
Lobster gloves look ridiculous, but with fingers grouped together in pairs they help to retain more heat.
Heated gloves are an excellent way to keep your hands at the perfect temperature and are probably the warmest option out there because you can quickly and easily regulate the temperature. The only negative is if you are on a long distance or RTW trip and are in freezing conditions and they break then you could be in trouble – unlikely but it could happen.
READ MORE: Gerbing Heated Gloves Review
Bar muffs are usually cheap, easy to fit, look absolutely terrible but work brilliantly! They block out so much wind, rain and cold that you don't need to worry about extra expensive gloves. The downside is they look awful, can be irritating if not fitted correctly and aren't great for multiple climate trips.
Heated gips are an alternative to heated gloves. They're a less faff option because you don't need to worry about plugging them into your jacket or bike every time you want to use them, but the downside is the back of your hand can still easily get cold. But they're certainly better than nothing.
Winter motorcycle helmets
The warmest motorcycle helmet is a touring helmet. Adventure and off-road helmets usually have far bigger vents and can let in more air compared to a touring lid. Plus, touring helmets usually come with a neck curtain and chin guard to stop cold air flying up inside your lid.
Look for a helmet which comes with a pin-lock insert or is at least pin-lock ready. This is essential for cold weather riding as it stops your visor from misting up from your breath.
READ MORE:
Balaclava 
Aside from your helmet, it's worth picking up a silk, wool or synthetic balaclava. You lose most head through your head and these balaclavas do an excellent job of retaining as much heat as possible.
Neck warmer
The cold loves your neck and always seems to find a way in. A long balaclava that runs down past your neck and onto your chest will help, and then your jacket followed by a neck snood makes a big difference. Dependent on how thick your jacket's collar or neck shield is, you may want to place your snood inside or on the outside of your jacket.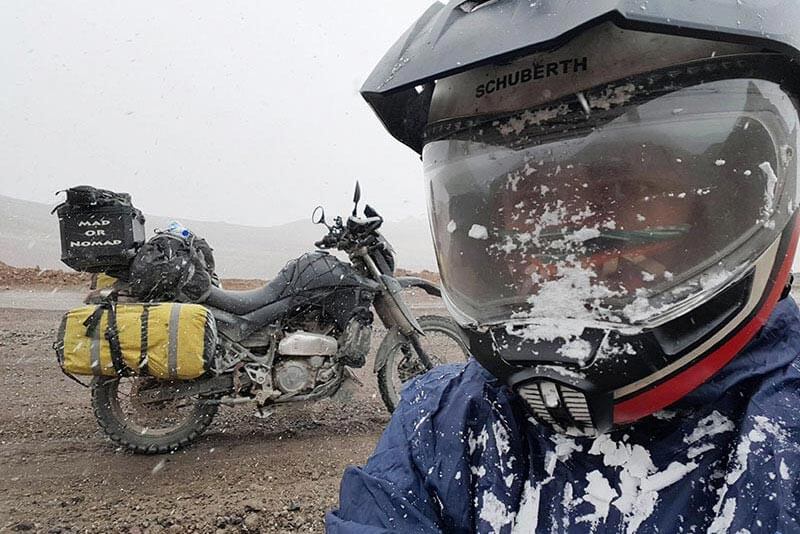 Top tips for motorcycle riding in winter
One of the most important tips to remember when riding a motorcycle in winter is: It's easier to keep warm than to get warm. Meaning, once you let the cold in and you start to feel it in your bones, it's not easy getting back to a comfortable temperature. So, if you just started your ride and something's not right, for example one of your gloves isn't done up properly or you're feeling a chill on your neck – then stop and correct it straight away. And as soon as you start to feel your body temperature dipping too low, stop and warm up to maintain the right temperature. And finally, get ready indoors by putting your helmet and jacket and gear on in the warm. Otherwise, if you get changed outside you'll start cold. 
If you need to use the toilet, stop and go. Holding your pee in doesn't make you warmer, in fact it makes you colder! So it's best not to load up on tea and coffee. 
If you're in a really cold and dire situation and need to get your body temperature back up quickly, get off your bike and push it. This will soon warm you up. However, be careful not to push it so far as to break into a sweat as this will make you colder. 
If you just can't seem to get warm and you're losing concentration, just stop at a service station or garage and get warm. It sounds obvious, but stubborness affects the best of us as we try and power through. But it's never worth it. If you're in trouble and it's a long way to the next stop or shop, then just pull over and knock on someone's door to explain the situation. You'll be surprised at the kindness of strangers. 
Riding in the cold is a cathartic and enjoyable experience. Being the only motorcycle rider out on the roads when everyone else is tucked up at home with their feet up will put a smile on your face. And it's easy to do, so long as you use the right gear for the job. Don't fear the cold, get your kit on, get out there and embrace it!
Read more on adventure bike and motorcycle travel gear
Thanks for checking out the Ultimate Winter Motorcycle Gear Guide. We hope you enjoyed it! Here's a few more articles on motorcycle travel gear that we recommend you read next. 
Cold Weather Motorcycle Adventure Stories
Liked that? Try these next…
ps. We may receive a small commission, at absolutely no cost to you, if you purchase any products using the links on this page. We're not sponsored by anyone, are completely impartial and don't run ads. So this helps us keep the site running. Thank you for your support.
Are you planning a cold weather trip or thinking about what winter motorcycle gear you need? We'd love to hear from you! Please post your comments and questions below…