"The Zoleo satellite communicator is impressive. Seamless two-way communication via its clever smartphone app, rugged, excellent battery, well-priced, SOS signal using the Iridium satellite network and 24/7, 365 emergency services at the push of a button – it's a literal life saver." 
Snapshot
Price: £199 for device / £18 per month subscription. 
Time tested: 4 months
Testing conditions: Southeast Asia
Functionality: 5/5
Durability: 5/5
Ease of use: 5/5
Value for money: 5/5
Where to buy UK: amazon.co.uk
Where to buy US: amazon.com
More info: zoleo.com
About
An emergency satellite communicator is an incredibly important device for motorcycle travellers. With one, no matter where you are in the world, if you find yourself in an emergency situation and need help you just have to press the SOS button. An SOS signal with your exact GPS coordinates will be sent via satellite to a global first response centre, who will then immediately contact first responders closest to you and work with them to send you help. 
It can mean the difference between life and death in serious situations, especially if you're in the middle of nowhere with no mobile phone signal. 
This is where Zoleo comes in. It's an emergency satellite transmitter that we are now using on our round the world motorcycle trip. 
For more information on the importance of emergency transmitters for motorcycle travellers, why we are using one and how they work, check out our packed guide below. 
READ MORE: Ultimate Guide on Emergency Satellite Devices for Motorcycle Travel
Features
The Zoleo has an SOS, check-in and power button built into the device. You do not need a smartphone or any other unit to activate these functions. That means so long as your device is charged, you can always call for help or check-in with friends and family with the push of a button from anywhere in the world. The Zoleo device does this using the Iridium satellite network. 
The device weighs in at 50g and measures 91 x 66 x 27mm. It's shock, dust and water resistant to IP68, MIL-STD 810G rating – meaning it's water resistant to 1.5m for 30 minutes. So no worries about river crossings there! And if you're mad enough to ride in extreme temperatures, then it can be used from -20C to +55C. So it's built to take a beating. 
Pair it with your smartphone to unlock the rest of its impressive features including an excellent app. Via the app, you can message friends and family like you would on WhatsApp and can quickly and easily send your exact location in a message as well. 
This method of two-way communication is very important because it means you can easily and quickly communicate with emergency services in serious situations. You can also use location sharing and access weather reports using the app.  
Battery life is decent too. It only takes 2 hours to fully recharge the device and Zoleo say the battery lasts 200+ hours with message checking set to every 12 minutes. We changed this setting and selected manual message check as it's mainly us sending out messages so we don't need the device to be constantly checking if any friends or family have messaged us. This bumped up the battery life to around 10 days before it needs recharging.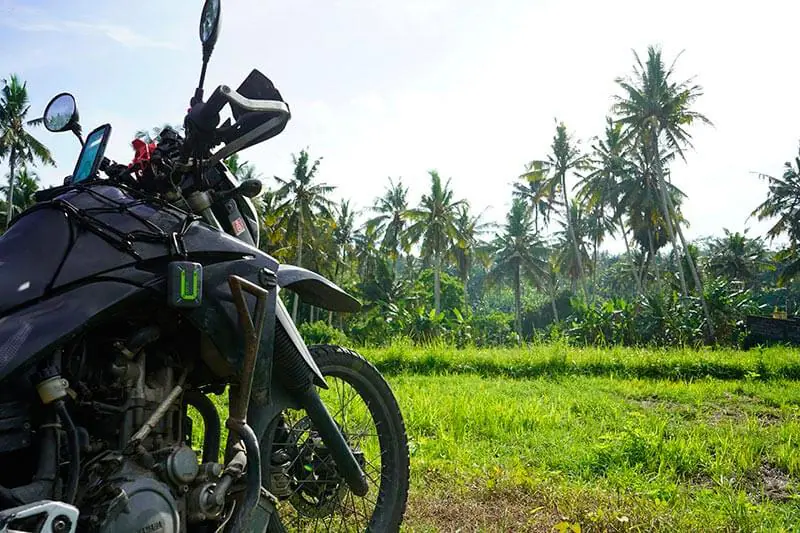 What's good?
The Zoleo satellite device is well suited for motorcycle travellers who value easy to use two-way communication. This is done via a well thought out and seamless smartphone app where you can easily send messages to friends and family – and emergency services in case of an SOS situation. 
The app cleverly sends these messages via WiFi or your mobile network first to save you money, but if they can't be used because you're out of cellular tower range, then it'll send the message via satellite. This is essentially what you pay for with your subscription plan. The basic plan allows you to send 25 satellite messages per month, but you can send unlimited pre-set "I'm OK" check in messages to your set contacts. 
You don't need your phone to use the device either if it breaks or runs out of battery as the SOS and check-in buttons can both be used on the device itself.
Another big selling point for this device is that you get your own personal Zoleo SMS number and email address, meaning anyone you give those details to can message you. With other devices you don't get a unique number, instead your number changes sporadically so you will need to message your friends and family first before they can reply to you. 
Here are the main pros:
Users can send messages via mobile phone data and WiFi first. If there is no signal, the device will automatically send via satellite.
Excellent mobile phone app for sending messages, location sharing, contacting friends and family, check-ins and two-way communication with emergency services.
SOS and check-in buttons on the physical device.
Works without a mobile phone.
Rugged device well suited for motorcycle travellers.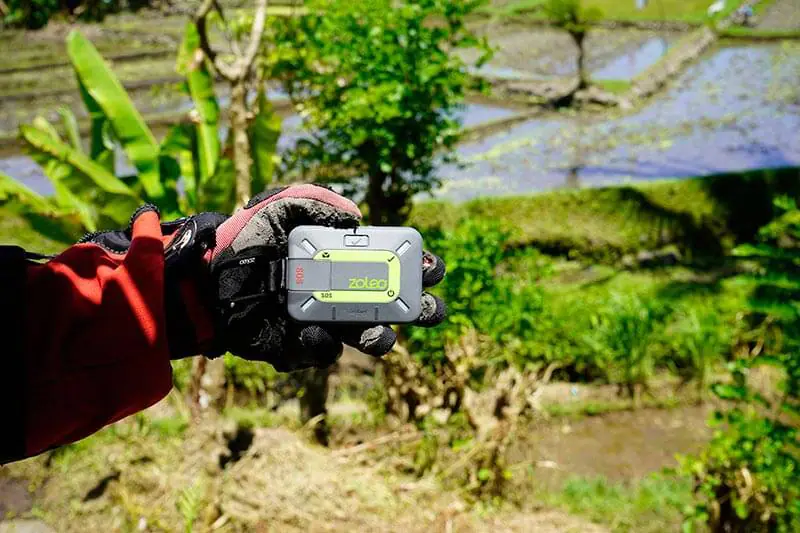 What's not?
While the device will always work without a mobile phone if you need to check in or send an SOS distress signal, you can only two-way communicate via the smartphone app. There are devices available where you can message on the actual device itself, so consider this if it's an important factor for you.
For us it's not because we always have a fully charged phone with us (and a rechargeable USB battery pack). We reckon in case of an emergency, it'll be far easier to whip out our phone and provide detailed text messages to the emergency services over using a clunky keyboard or touch screen communicator. And if for some reason our phone breaks, we can still use the device for calling in an SOS without it.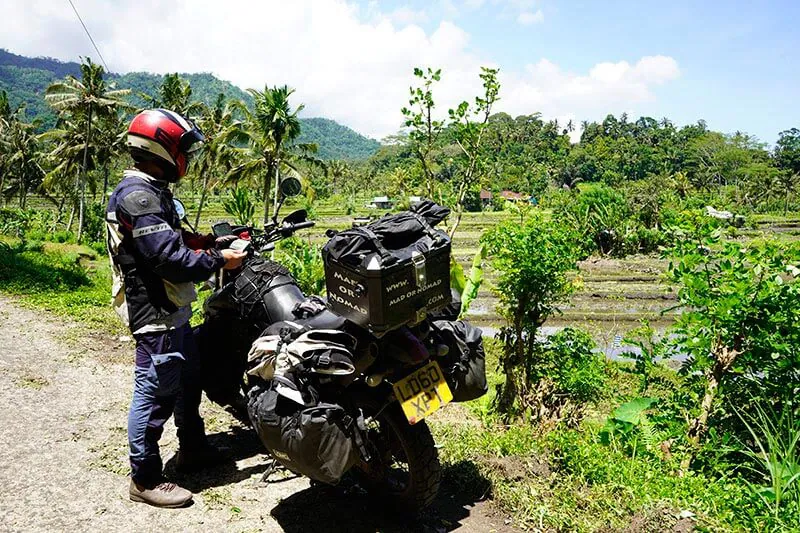 Pricing
Emergency satellite communication devices aren't cheap. You'll need to purchase the physical device first, then pay an activation fee and then a monthly subscription thereafter. 
The Zoleo device cost £199, the activation fee is £23 and there are three monthly plans to choose from: Basic – £18, In Touch – £32 and Unlimited – £38. Essentially the main difference between the three is the amount of satellite messages you can send per month (25, 250 to unlimited). 
We use the Basic plan and here's why. As we travel through multiple countries, we always purchase a local SIM card with enough data on it for our time there. That way we always have access to the internet and don't need to rely on public WiFi. 
What that means when it comes to using the Zoleo communicator is that when we want to send messages to friends and family via the device, Zoleo will always check for and send our message via WiFi first, and if we're not in range then it'll send it via our SIM card's cellular data. 
But if we are somewhere so remote that there's no signal on our mobile and need to contact someone, then we can send the message and Zoleo will detect that we have no WiFi or cellular connection and automatically send the message via satellite using up one of our credits. It's unlikely we will use more than 25 in a month. 
You can send more satellite messages than what your monthly plan allows, but these are charged at 55p per message (unless you are on the unlimited plan). But, if you're in an emergency situation then that's negligible anyway. 
What's important to us is that the app seamlessly and automatically opts for WiFi and cellular first and only resorts to satellite messages if they don't send. 
You can suspend your plan three months after you activate and this costs £3.50 per month until you resume you plan. That's not a problem if you're taking a few months out from your trip. But, if you complete your trip and won't be travelling again for sometime, then you can simply cancel your plan and reactivate it at a later date. 
Important info: satellite communicators are illegal in some countries
There are some countries where satellite communicators are treated as satellite phones and as such banned, illegal to use or must be registered. Here is a list of countries we currently believe have strict regulations against sat com devices. This list may change at any time, so it is your responsibility to do research on the country you are travelling to first.
Afghanistan, Crimea region of the Ukraine, Cuba, Georgia, India, Iran, North Korea, Myanmar, Sudan, Syria, Thailand, Vietnam, China, Russia.
Round up
We're really impressed with the Zoleo satellite communicator. At the time of writing, we have only been using the device for four months and have carried it through the Southeast Asia section of our round the world trip including Thailand, Malaysia, Borneo, Indonesia, Vietnam and the Philippines. We've been testing it by messaging friends and sending check ins. The app is incredibly easy to use and the device is simple and tough. 
The peace of mind it affords is also very important for us, especially after the serious bike crash Alissa had in Nepal three years ago. We wish we had this device back then, but the important thing is we're carrying it now and will always have it on our motorcycle adventures. 
Zoleo Satellite Communicator Review: 20/20
We may receive a commission, at no cost to you, if you purchase a product using the affiliate links on this page. We're not sponsored, are completely impartial and don't run ads. So this helps us keep the site running. Thank you for your support.
Read more on Motorcycle Electronics and Safety
Thanks for checking out our Zoleo Satellite Communicator Review. We hope you found it helpful! Here are a few more articles on motorcycle electronics and safety that we recommend you read next. 
If you're interested in the Zoleo satellite communicator, own one or have a question about SOS devices, we'd love to hear from you! Please leave your comments below.