Welcome to the Adventure Motorcycle Traveller Reviews. Here's a 56,000-mile review of the Yamaha XT1200Z Super Tenere by motorcycle traveller Marco Colelli. 
Quick info
Bike: 2017 Yamaha XT1200Z Super Tenere
Purchased for: : £8,750 (second hand)
Miles covered: 56,000
Years owned: 2018 onwards  
Yamaha XT1200Z Super Tenere Specs
Engine: Twin, liquid-cooled, 119cc, FI
Power: 112 bhp
Torque: 86.3 ft-lbs
Wet weight: 257kg
Seat height: 846mm
Tank capacity: 23.09 litres
Tyres: 19 and 17
Front suspension: Telescopic, adjustable preload, compression and rebound damping. 
Rear suspension: Monoshock, adjustable preload and rebound damping. 
The Yamaha XT1200Z Super Tenere has a legacy. It belongs to Yamaha's legendary Tenere family, but sits at the top of the family tree with the biggest motor.
It's the evolution of its smaller sisters, which have been built with that Dakar spirit. And yes, it is heavy and is a big adventure bike, but it's so versatile and will have you dreaming of desert rallies.
These are all things that attracted me to the Super Tenere. And another big selling factor was, compared to the other big capacity adventure bikes, the Super Tenere has the least amount of electronics making it much more reliable and durable.
So, I had to have one! I bought my second-hand Supere Tenere in 2018 with only 9,320 miles on the clock. In four years of ownership, have travelled over 46,000 miles on it both on and off road and it's never let me down.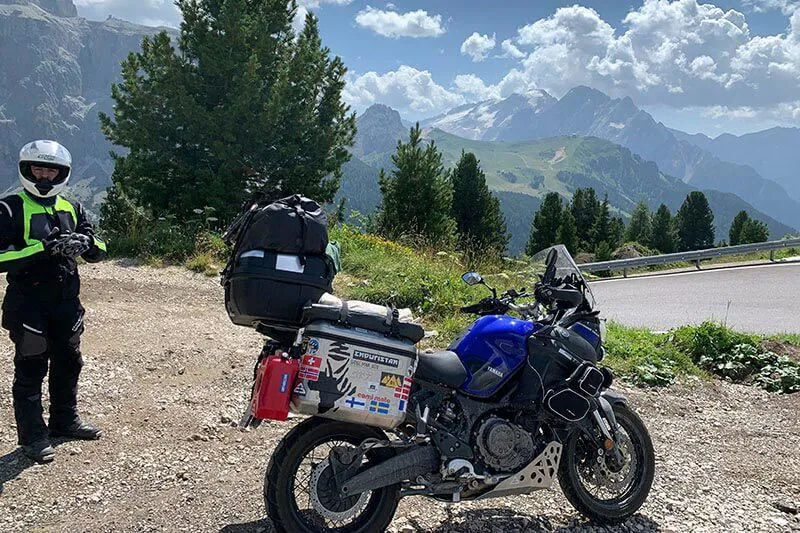 I'm keen on accessories and modifications and opted for a few changes in order to give the Super Tenere a bulky and hardcore off-road look, while also being practical on the rough stuff. Here's a list of my modifications:
Fairing guards
Crash bars
Crash bar bags
Sump guard
Headlight protection
Tool box
Muffler
Luggage rack
Hard side panniers and top box
Fog lights
Off-road headlights
Heated grips
My Super Tenere luggage setup consists of three hard pannier boxes manufacturerd by Givi. The model is the Dolomiti.
The side panniers are 36 litres each, while the top box is a large 52 litres giving me a total carrying capacity of 124 litres. And if I need to carry any extra gear, I can strap bags or kit down onto the side panniers using the integrated hooks and loops.
This setup has proved more than sufficient enough for my trips and travels. 
READ MORE: Motorcycle Luggage Guides
Over the years, I have used the Yamaha Super Tenere for both enduro riding and travelling. I have been able to cross rivers and climb mountains on this bike. It's managed in the mud, over rocks and through sand.
I'm surprised at how capable the bike actually is and how it has coped in any and every situation I've put it through. And that's despite it being a 'big' adventure bike.
And after all of that, I've never experienced any issues so far! (Luckily).
Servicing, maintenance and parts
The Yamaha scheduled services are at every 6,200 miles (10,000km). The Super Ténéré is pretty easy to maintain and it's never been a problem finding spares for it either.
The Super Tenere is a very comfortable motorcycle, especially when covering long distances. I'd give it an eight out of ten. There are no big vibrations from the bars, pegs or seat and the ride is smooth. The wind protection is also excellent.
The seat cushioning could be a little better, as after around five hours in the saddle you'll find it very hard. This can always be addressed with after market cushioning if you're riding serious distances.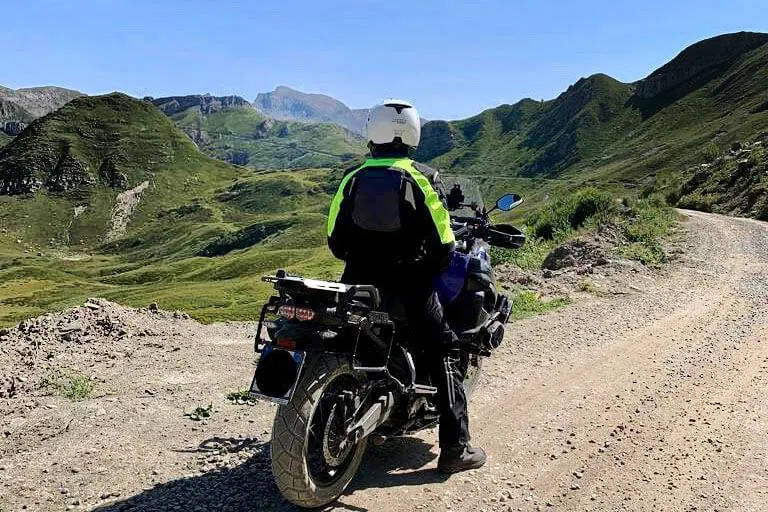 Overall, the main pros of the Yamaha Super Tenere are its reliability, the amount it can carry, its comfort, sublime fully adjustable suspension and smooth transmission.
I've never had a problem with this bike despite subjecting it to some hard touring, road riding and off-road trips. It's proved extremely reliable and that's a huge plus when picking any motorcycle, but especially an adventure bike for travelling on.
If you need more gear on your trips and are perhaps camping or taking a pillion or travelling long distances, then you'll be looking for a bigger bike and the Super Ten is more than capable of carrying heavy loads. It has an excellent suspension setup to help wit this too.
It's comfortable, smooth and easy to ride long distances wherever you're riding too.
The main downside is its weight. At 257kg it's not a light bike, add panniers, top box, gear and rider and we're talking 300kgs+. But, if you value long distance comfort and two cylinders, then that's the compromise you'll need to make.
Another gripe is the ABS. It'd be nice if Yamaha included an easy access switch to turn this off quickly when entering off-road sections.
The Yamaha XT1200Z Super Tenere is a cruiser! It has plenty of good off-road performance and is also a formidable road and touring bike too. You can take it anywhere and travel any roads on this bike and it'll do it without making a fuss because it's a dependable machine. The Ten is reliable, fun and versatile. It's the whole package and I would definitely travel round the world on one!
Marco Colelli is an adventure bike rider and traveller from Rome. His passion for motorcycles began with enduro and then merged with his love of nature and camping. He's a proper traveller who uses bikes to see the world.
His dream is to travel from Italy to Japan on his Super Tenere and pay a visit to the Yamaha factory. Marco is also helps run the seipercento motorcycle group.
Find out more about Marco here:
Read more on Motorcycle Reviews 
Thanks for checking out this Yamaha Super Tenere Motorcycle Review. We hope you enjoyed it! Here's a few more articles on motorcycle reviews that we recommend you read next.
Liked that? Try these next…
Are you planning a motorcycle trip, interested in the Yamaha XT1200Z Super Tenere or have any questions? Let us know in the comments below.