Welcome to the Adventure Motorcycle Traveller Reviews. Here's a 14,000-mile review of the Yamaha Tenere 700 by motorcycle traveller Pavel Kunc. 
Quick info
Bike: 2019 Yamaha Tenere 700 
Purchased for: £8,500 (Euros 9,500)
Miles covered: 14,000
Years owned: One year  
Yamaha Tenere 700 specs
Engine: Parallel-twin, liquid-cooled, 689cc, FI
Power: 72 bhp
Torque: 50 ft-lbs
Kerb weight: 205kg
Seat height: 880mm
Tank capacity: 16 litres
Tyres: 21 and 18
Front suspension: KYB 43mm USD forks
Rear suspension: Sachs Monoshock 
I'm not veteran rider. The Honda CB500X was my first bike and the Yamaha T7 is my second. I rode the Honda 60,000 miles overland on a round trip to India, and when I got back I started looking for an upgrade.  
The CB500X was an excellent beginner motorcycle and an even better travel companion. It allowed me to learn and didn't complain when I pushed it to its limits so I could discover my own riding style. It was an experience that I feel was essential in figuring out what I want and need from a travel motorcycle.
Throughout the trip I fell in love with dirt riding, but found (despite heavily upgraded suspension) that the CB500X is just not an off-road machine. Everything else was fine – although an extra ten horses would have definitely helped shifting its 200kg around. 
So, I was looking for a bike that weighed 200kg max (the lighter the better), 21 and 18 inch wheels, reasonable suspension, minimal to no electronics, ideally two cylinders and a liquid-cooled engine with about 10 more bhp. And all of that without breaking the bank. 
There weren't many options back in 2019, so I whittled it down to testing the Yamaha Tenere 700 and AJP PR7. I test rode the PR7 but wasn't used to a big single and concluded that I could not do my usual 600-mile a day teleportation on it without being vibrated to death. T7 it was then!  
I added Outback Motortek crash bars, a luggage rack, Barkbusters hand guards, an auxiliary power socket, heated grips, double take mirrors, a lithium battery and a Guglatech air and fuel filter.
To balance the luggage weight I had to add a stronger Rally-Raid rear spring and12mm spacers to my forks to increase front preload.
A high exhaust modification was fitted due to a bendy exhaust mount (more on that in a minute).
I experimented with a high fender, but that turned out to be unnecessary.
I also went for OutEx tubeless conversion for the tyres. I just can't handle tubes and being able to fix a puncture in 5 minutes with a mushroom plug and without taking the wheel off is amazing.
My first set-up included Mosko Moto Backcountry 35 litre (1st gen) panniers, Nomad tank bag and a 35 litre Backcountry duffel. It worked well but with the combination of the luggage rack the set-up was insanely wide to the point where I was scraping rocks on the narrow pistes in Morocco.
The second set-up I'm using now is the Mosko Moto Reckless 80 litre and Nomad tank bag, yet to be proven but I'm sure it's much leaner and lighter. 
Here are the issues I've had so far… My headlight died, which is just bad luck as a few people had the same issue. It turned out to be a faulty wiring harness inside the sealed headlight unit.  
The gear position sensor was faulty and stopped showing fifth when the engine was warm. Apparently this is a known issue with CP2 engines. Both issues were covered under warranty.
I managed to dent my front rim, but that's after a not-very-gentle five months in Morocco, training for a rally, doing the rally and hitting a pothole at 30mph. It was fixed with a hammer.
I kept bending the exhaust mounting bracket constantly! It is very weak and definitely not designed with constant dropping in mind. I had to reposition the exhaust to a higher position to eliminate the problem.
Other than that, the Yamaha T7 runs smoothly and I'm honestly amazed at how much abuse the Tenere has endured.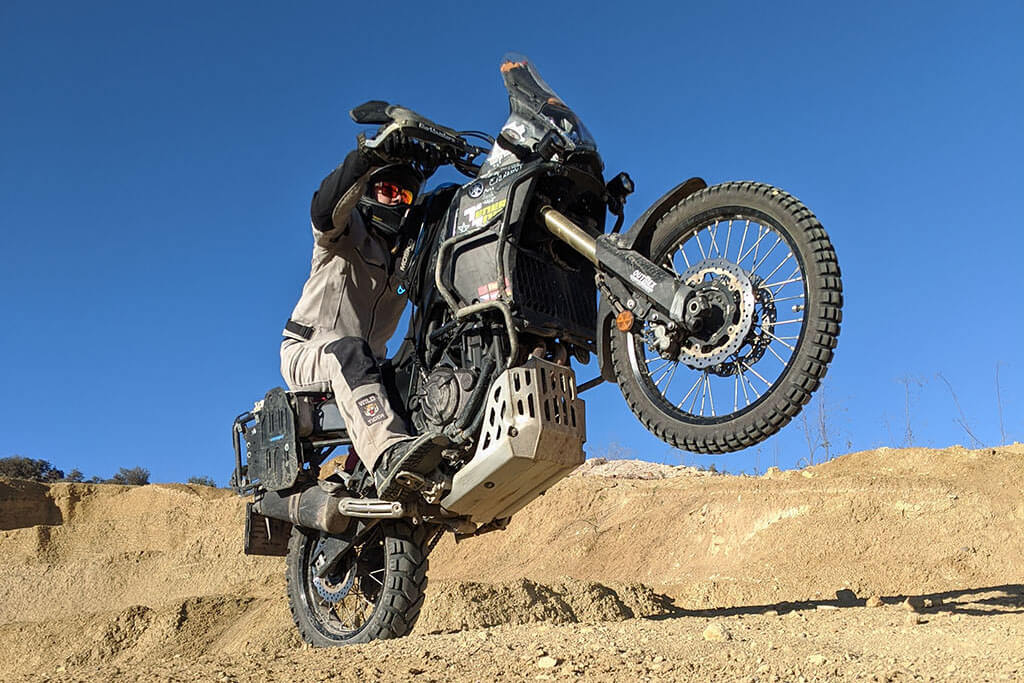 The book says every 6,000 miles, which works fine in Europe, but for hot environments or rally riding, 4,000-5,000 miles is more sensible. 
A valve clearance check is scheduled at an impressive 25,000 miles, which is double the trusty Honda CB500X – my pedestal of reliability! 

My Tenere 700 is from one of the first batches and I actually happened to be in Morocco with my T7 before the official launch there. That made parts difficult to get. However, that is an unusual circumstance and I can imagine with the T7's popularity it won't be a problem to source parts anywhere in the world now.
Also, most of the consumables are generic and transferable from other Yamaha models thanks to the engine being shared between many bikes.
I find working on the bike straightforward and the service manual is easy to follow. Spark plugs are a pain to get out and the valve clearance will also be a pain to do, but considering the lengthy interval between checks this wont have to be done often. 
Long distance comfort was the main reason I bought the T7 over the much lighter AJP PR7. I can do 560 miles in a day on T7 and won't turn into a vegetable. It's not as comfortable as the Honda CB500X but it's very close.
The vibration is kept very low compared to both the AJP and CB500X. The power is just about right for me to get away or overtake when fully loaded. For long days on dirt I find the standing position and controls to be just in the right places for my height.
The Yamaha T7 is a good package for a reasonable price. It is very versatile, it can tackle hard off-road and cruise comfortably on motorways for hours and do everything you ask of it. 
The most impressive feature of the Tenere 700 is how nimble and confident it is both on and off-road. To be fair, slow manoeuvring is a bit of struggle but at speed it doesn't feel like you're flying along on 200kgs or top heavy at all.

It's hard for me to complain because the T7 really fits my style but if I had to be picky I would say the weight, range and weak exhaust mount let it down.
The exhaust can be fixed by fitting a custom pipe and repositioning it higher. I can squeeze about 190 miles out of its 16 litre tank, which is 60 miles less than what I'm used to. However, a quick fix is to carry a Rotopax. Consumption wise, conservative riding returns a reasonable mpg, but I ride for fun and the T7 likes to drink. 
It's also a tall bike for a short guy like me, which makes its 200kgs feel more top heavy and the only way to fix that is to pack on some muscle. 
If I could shed 20kg off the bike and add about four extra litres to the tank it would be a dream machine, but I can see the contradiction! 
The Yamaha T7 may not be the most powerful, refined, equipped or lightest bike in the world, but it is very formidable off-road with a confident rider, comfortable for long hauls and almost indestructible. I know I can take it round the world, to an enduro track or race a rally with it. The Tenere 700 will do anything and everything I ask of it and that makes it an incredible adventure bike and travel motorcycle.  
Pavel Kunc
Pavel took on his first overland trip in 2017 and was bitten by the travel bug… hard. He came up with a plan to become a digital nomad just to keep riding and set his sights on circumnavigating Africa. He left home February 2020, got stuck in Morocco for five months due to Covid lockdowns and is now back home preparing for his next adventure… (and rally). 
Follow his adventures here: 
Read more on Motorcycle Reviews 
Thanks for checking out this Yamaha Tenere 700 Motorcycle Review. We hope you enjoyed it! Here's a few more articles on motorcycle reviews that we recommend you read next. 
Liked that? Try these next…
Are you planning a motorcycle trip, interested in the Yamaha Tenere 700 or have any questions? Let us know in the comments below.