Welcome to the Why Go Motorcycle Touring in India article. This guide discusses India's incredible highlights and why they make it the perfect country to explore for adventurous motorcycle travellers… 
Why Go Motorcycle Touring in India
This article is a homage to motorcycle touring in India. Travelling through India on two wheels is the absolute best way to fully and truly experience this incredible country and we're going to show you why…
Over many decades motorcycle travellers have set out to discover India. Attempts to do so date as far back as the 20th century when individuals like the American inventor and adventurer Robert Edison Fulton Jr travelled through India and chronicled his experiences in a book called One Man Caravan. Since then it has become a magnet for the hardened motorcycle traveller.
But what makes India such an enigma and why does it draw so many riders from around the world?
From the challenging mountain routes of the Himalayas and the stark Indian deserts to the lush south and its stunning coast, there is something for every rider and the entire country beckons you.
It doesn't matter if you want to see India on an all-inclusive guided motorcycle tour or travel through on your own bike, or even fly in and rent a Bullet for a few weeks. The central vein of discovery is a complex gem that makes up India's heart and soul. 
This article breaks down some of those aspects and will hopefully serve as a gateway for you to visit this unique country in the East for yourself. Let's begin…
India's connection with the motorcycle
India's love for the motorcycle is not just cultural but functional as well. A high population density and convenience of mobility make this medium of travel an intricate part of everyday life. And from a cultural perspective, whether it's a villager or a city dweller, everyone has been exposed to a motorcycle through experience, family, friends, films, pop culture and everything else in between.
From the old school Enfield Bullets, Yezdis, Jawas, various scooters and the Yamaha RD 350, there are generations of sons and daughters who inherited a love for motorcycling. Fathers and mothers who didn't allow their sons and daughters to ride inadvertently spawned a fresh line of moto-heads rebelling against their confinement.
Why this is important to you as a motorcycle traveller in India, is that every other person you meet will have had some form of interaction with a motorcycle. And that is a gateway to conversations about your travels, help if you need it and admiration. Curiosity will always be at hand when you stop for a tea. Locals and fellow travellers alike are more open to sharing information as well when they know you're travelling on motorcycle. You'll be on a vehicle that connects the entire country.
READ MORE:
Negotiating traffic in India on a motorcycle
An often-discussed point of apprehension is India's traffic. You must have read or heard of hair-raising stories about riding in India's traffic. But from a road interaction perspective, comparing India to anywhere in the West is like comparing apples and oranges.
Western traffic etiquette does not exist in India. Instead, there is a subtle – and sometimes not the most ideal – mechanism to how traffic flows in India. Everyone makes space for everyone where available. Understand this for yourself and you will have less challenges all the way through. 
Negotiating traffic in India on your motorcycle will just become part of the adventure and is one of those things that you'll get used to (or at least adapt to) very quickly as soon as you start. Don't let it put you off, but do keep your wits about you and your concentration levels high at all times.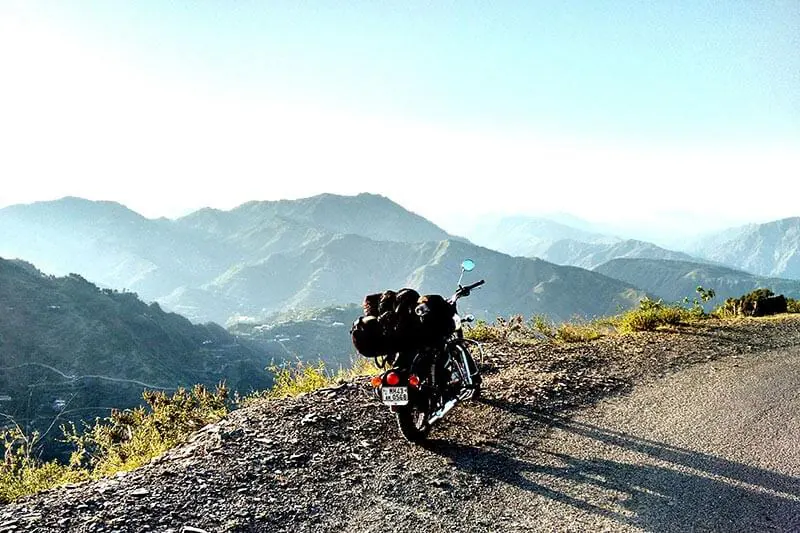 Geography
Geographically speaking, India can be broadly divided into the rugged mountainous northern region of the Himalayas, followed by the Indo-Gangetic plains and the Indian desert, central India and its coastal regions and the southern coastal areas and its plains, mountainous areas and plateaus.
Combining this with three massive river systems and a proximity to three of the world's highest peaks make India a massive land mass to explore. This diversity of terrain creates a melting pot of snow-capped mountains, deserts, coastlines, plateaus, forests, tropical mountain ranges, rolling hills, lakes, creeks, backwaters, beaches and waterfalls all connected by a web of accessible roads and off-road tracks crisscrossing along the entire breadth of the country. Its geography makes India a mesmerising and infinitely wonderous place to motorcycle tour.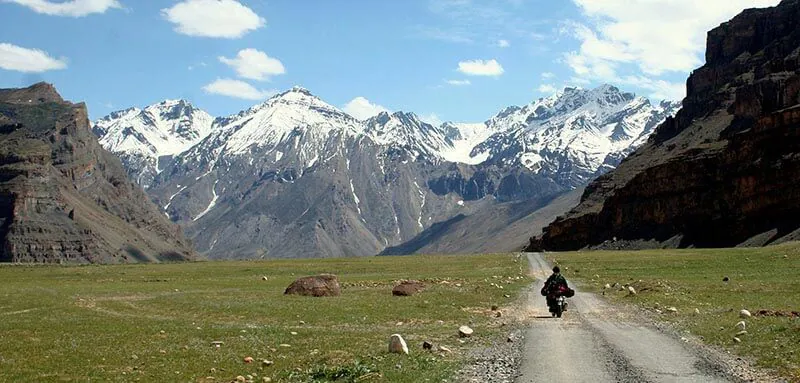 Motorcycle roads in India
When travelling in India, no medium allows for a greater interaction with your surroundings than by meandering across the country on a motorcycle. On every turn and straightway you're likely to encounter a procession of gods and walking pilgrims, wedding parties with the groom on a horse, small detours that take you deep into a forest just off the highway or (if you're unlucky) you'll get stuck in traffic on a mountain pass like Rothang La at 14,000 ft! You can never guess what's in store…
The quality of tarmac is moderate to excellent in most parts. Though you can't ride in India without experiencing stretches of bad road, unmarked speed breakers from hell and a smattering of off-roading or trail riding opportunities to get your boots dirty. What will get you the most though, are those breath-taking stretches of comfortable riding right through forests, mountain valleys and along the coast.
For example, you can get a combination of off-roading and tarmac in the Himalayan ranges (the Great Himalayan or Trans Himalayan range) and parts of the Western Ghats (South India), fool around in the sand and rocks while riding the desert stretches of Rajasthan. Cruise on some excellent stretches of tarmac through the Western Ghats and parts of the north and central Indian plains. Or take the coastal way around, which includes around 6,000+ kms of mainland coastline starting in the west and ending in the east. It'll take you south as you transition alongside the Arabian sea and further to the southern Indian Ocean and the Bay of Bengal.
All in all, you're in for mountain twisties, chaotic highways, jungle tracks, green trails, coastal roads, village by-lanes, crowded city traffic… and cows. Cows, goats, monkeys, elephants, dogs, cats, camels, spices laid out to dry by the roadside, street cricket, bikes carrying whole families and the Indian rickshaw.
One thing is for sure, there is never a dull moment around any corner.
If you're after some great motorcycle touring routes in India, have a read of this:
READ MORE: The 3 Best Bike Routes from Delhi to Leh
The food
Motorcycle touring and good food just go together. And there's no better place to combine the two than in India. Food and the love for it is at the heart of every Indian. The amount of diversity found in every dish is unbelievable.  
Take the Konkan coast, a preparation of the Indo-Pacific king Mackerel or Surmai transforms in style along the coast every 100 km or so. There are street side snacks, freshly brewed tea (chai), fresh juices, coffee, seasonal fruits and a host of other foods that can be had every day.
The one thing you should not miss out on in India is the 'Thali'. From a humble curry, rice, roti, salad and bhaji (a vegetable side dish) to the elaborate Wazwan. This style of dish and eating is ubiquitous to every Indian state with very few exceptions. 
Thali (meaning plate) is a full meal served in small bowls and arranged on a large flat bottom plate. Lentils, vegetables, rice, roti (flat bread), chutney, raita, pickle, papadum, and a savoury or sweet dish make up a vegetarian Thali, the addition of meat dish (chicken, mutton or fish) makes up a non-vegetarian Thali. 
When travelling, always ask for a good place to eat Thali. Because an authentic one will often feature a dish specific to that region or cuisine. And you can go all the way from the south to the north witnessing a change in both preparation and ingredients used.
You'll love motorcycling through India while sampling its varied culinary delights and connecting with the locals over good food.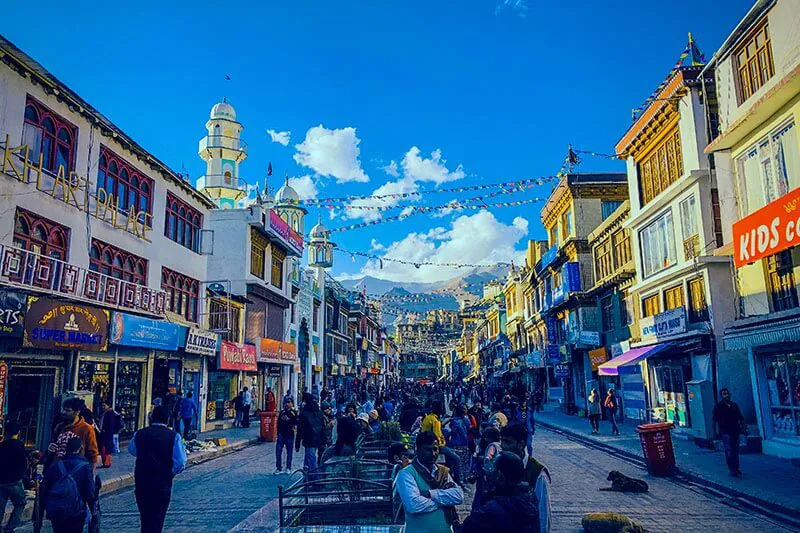 History, culture and architecture
Quite dramatically and beautifully, you can experience thousands of years of culture juxtaposed with modern day life. This is spread over linguistic and ethnic boundaries like in south India, which is the epicentre of Dravidian art. From the religious epics intricately carved into granite opposed to geographic transitions. Paradoxically, a lot of India's history was shaped by its geography. But, all of this results in an eclectic organised chaos of experiences through city streets that give way to rural environs across the country. And if you know where to look, a dive into an erstwhile side of Indian culture.
From marble and sandstone to the humble aboriginal structures that use natural materials and ancient techniques or the palatial mansions that house massive teak wood columns, ivory inlaid rosewood furniture and open courtyards, there is a lot to experience and understand. 
In some regions you still see ornate palaces (filled with gilded excesses) and the Gothic influences of colonial architecture; derivatives of India's numerous invasions and finally colonisation. Millennia old temples and cities laid in ruins (dating as far back as 4,000 BCE.), forts, churches and synagogues also open up a completely new chapter of exploration for the curious traveller.
The result is a cohabitation of age-old traditions and adopted western influences that not only enrich your travel experience but also adds flavour to your interactions at chai stops, local markets and the off-hand conversation with a hardworking rural population, running eateries and other services just off the highways and the remote areas of the country.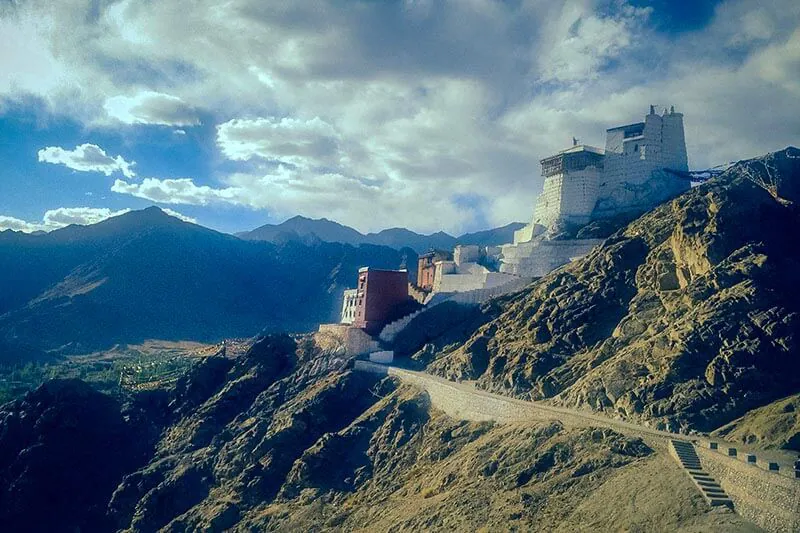 Festivals and language
Just the major festivals in India line up to about 20 over the year, so chances are no matter when and where you're travelling, you're going to be in or around a festival and all the fanfare that comes with it (Google Diwali and Holi in India). 121 languages spoken means you will hear a different language or dialect in each state, and people out here are quite happy to teach you a few words of their language too. Especially the swear words, that I promise you are more fun than any western one you have heard or used…
Wildlife safaris and chance encounters
Though 'The Jungle book' by Rudyard Kipling was written in the snowy mountains of Vermont, its soul and story are inspired by the forests of India. And while it may not be the best idea to go looking for wildlife while you're on a motorcycle, almost all Indian states contain wildlife sanctuaries that can be a part of your riding route or could potentially even be the focus or theme of a trip plan. 
There are over 500 sanctuaries that make up 4% of India's area. From the world-famous Corbett National Park to the unknown Keibul Lamjao National park (the only floating park in the world). Of course, a safari is a 'safe, trimmed and proper' medium of seeing the wildlife of India, and is definitely a good idea if you want to experience the large wildlife species of the country. The real magic though, is in those unexpected moments when you're riding through the day and you have a chance encounter with some of the most diverse and beautiful wildlife species in the world. Some experiences are hair raising and some just sublime… and no safari can compare to that.
Your turn…
In the end, what makes motorcycle touring in India so special is the way it allows you to really experience all of the above, in a kaleidoscope kind of way. You can tweak what you experience because pretty much almost all of the country is rideable and accessible as long as you respect your surroundings and the local life.
On your journey you'll be met with a genuinely curious attitude from people, warm hospitality and a welcome. Perhaps, the most transformational aspect is that riding in India brings with it the opportunity for some life-affirming moments of humanity nestled in the 3.287 million km² expanse of this country that is home to 1.39 billion people. You're going to absolutely love motorcycle touring in India. The experiences will be life changing and you'll carry them forever…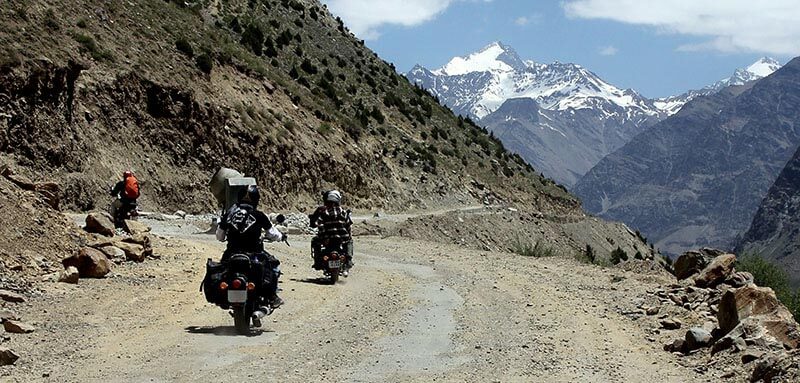 How to go motorcycle touring in India
There are a number of ways to get out there and ride in India. You could plan a route, fly in and rent a bike to explore the country. Or if you're on a round the world motorcycle trip you could use your own bike to traverse the country.  
One of the easiest and best ways to travel through India is on a guided motorcycle tour. All the stress, planning and research is taken care of. The routes, accommodation and all the best sights are prepped and planned by a professional who knows the country like the back of their hand.
However, there are many aspects to consider before joining a tour such as how to pick the right company, making sure you get a quality bike, the type of tour operators on offer and so on. If you are considering joining a tour, check out the below guide first as it answers all of these questions and more.
Additionally, take a look at the Recommended Tour companies for India too.
READ MORE: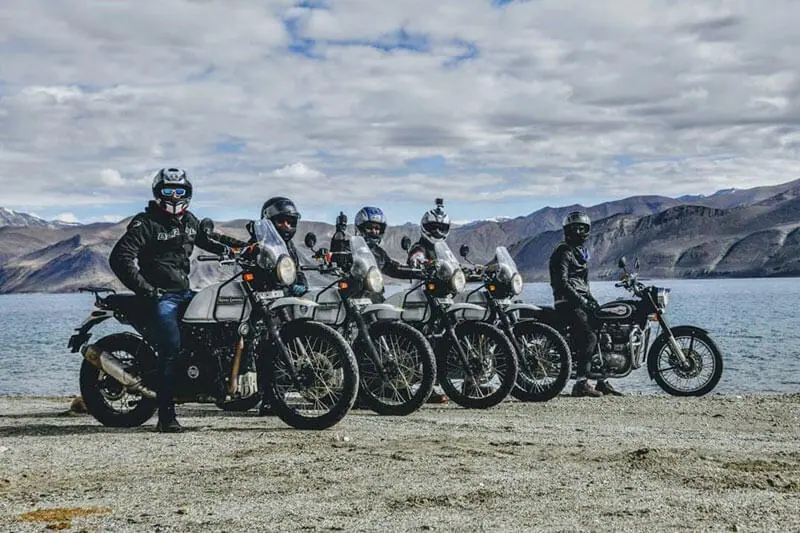 Shawn Pereira is an avid motorcyclist with over 15 years of riding experience, having toured solo and professionally across India. His never-ending thirst for adventure and curiosity of the unknown keeps him on the road as much as possible. 
Enabling other riders to truly feel the thrill and excitement of all that motorcycle touring in India has to offer is one of his many passions. Shawn has been riding with Karma Yatri for the past eight years and has led and managed numerous trips to various destinations in India with riders from all over the world.
When he's not riding, he's writing about motorcycling and plotting dots on the map for his next adventure. 
You can join Shawn and Karma Yatri on a motorcycle tour in India here: 
Read more on motorcycle travel in India
Thanks for checking out this Why Go Motorcycle Touring in India guide. We hope you enjoyed it! Here's a few more articles on motorcycling in India and Asia that we recommend you read next. 
Are you planning a motorcycle tour in India? Do you have any questions or tips to share? Let us know in the comments below.