Two islands, one motorcycle and 4,000 miles through one of our favourite countries. We were expecting New Zealand to be good, but we had no idea it would be this good…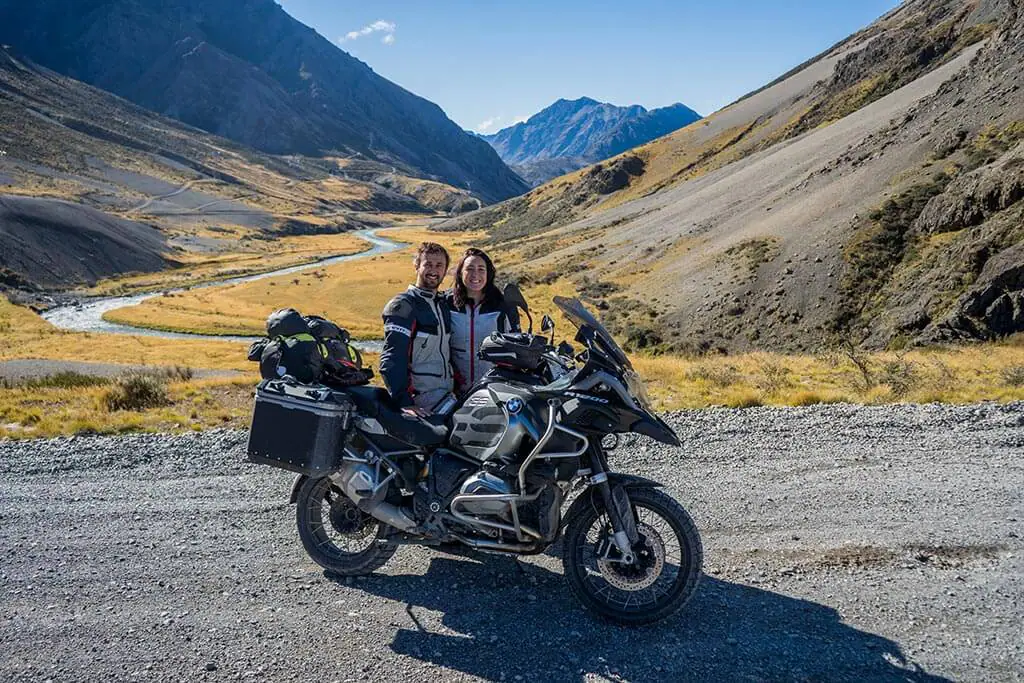 Soggy socks
The frothing river looks deep, which makes the GS feel twice as heavy the second it dips its toe in the water. Alissa decides to wade across and recce any deep spots for the now as big as a house GS. Our boots had only just dried from last night's rain, so Alissa takes hers off to walk through. Ten steps in and the water is above her knees, a slight slip and in she goes – along with her boots.
She catches and clings to one like a rubber ring, but the other is snatched by the laughing river and nearly thrown over the edge of this miniature Niagara before being caught by a rock. It bobs away threatening to go over any second, but Alissa can't move as she's crying with laughter. There's no time. The BMW transforms into a speedboat and blasts across, I flick the sidestand down and run in to grab it just before it disappears. We're both soaking wet, panting and only ten minutes into our off-road ride along the Rainbow Road…
Chasing Rainbows
We have 70 miles to go before we reach tarmac again. We click the GS out of 'rain' mode and roll along muddy forest tracks before hitting more river crossings. 4X4s pull over to watch us ride through and we're careful not to drop it in front of an audience (and we keep our boots on this time).
The Rainbow Road opens out and the greenery switches to yellow plains and dusty trails leading up into hills where we stop for lunch. A group of enduro riders pull up alongside us, confused as to how we got our GS up here two-up with all our luggage. We were confused too.
But while they certainly have the upper hand on this terrain, the GS is a luxuriously wrapped weapon on the main roads. And we're grateful for it, especially considering the 4,000 miles we want to cover in six weeks, which would have been hard going on our single-cylinder Yamaha XT660R.
Kind Kiwis
We left our Yam at a shipping depot in Brisbane, Australia. We were going to ship it to New Zealand, but there was a four-week delay and the price was eye watering.
By chance, a couple from NZ (whom we had never met before) emailed and said they were also on a round the world trip, had left their GS at home and that we should leave our bike in Oz and just borrow theirs. Nick and Bec are incredible and you'll want to check out their story on Mad or Nomad here: Round the World Against the Odds – it's a must read!
The kindness of Kiwis is unbelievable. We also received hundreds of invitations from people to stay with them as we travelled through the country. We didn't pitch our tent once and made lifelong friends along the way.
We took the GS couple up on the offer, arrived in Auckland, got the train to Hamilton and picked up the Beemer ready for our New Zealand adventure.
North Island
Everyone warned us that if we did the North Island first, the south would be freezing cold and rainy by the time we arrived. But we had no idea the ferry service between the two islands was so disrupted and the next available booking would be in three weeks. With no choice, we set off to explore the north first.
We hooked left for the west coast to test the GS on trails before heading north to the Bay of Islands, jumping on a ferry to Russell (NZ's first seaport and European settlement) and exploring its Tasmanian-esque gravel tracks.
We stayed with a fellow rider who took us on a dazzling tour of his favourite northern roads criss-crossing the neck of the island. We chased him over gorgeous green hills and along endless twists stopping off to gaze at lakes, postcard farmland and Tane Mahuta – New Zealand's largest kauri tree.
The sea sparkled over our shoulders and the sun warmed our necks. We soaked in indigenous culture at museums and at the Maori village in Rotorua, gawked at fluffy kiwi birds, strolled through Hobbiton, watched geysers explode and took on the epic coastal Coromandel Loop – surely New Zealand couldn't get any better than this…
Welcome to the South
Three weeks later, we rolled off the boat into buckets of rain. The south is supposed to be the most beautiful part of NZ, but we were late to the party and deflated on our first night as we arrived at our accommodation with wet feet.
But by morning the sun had burned through the clouds revealing a beautiful blue sky. We loaded up fast and made a dash for Rainbow Road – one of New Zealand's best off-road routes. Three river crossings and four wet boots later and here we are, eating our lunch on top of a mountain, soaking in the sun, drying our socks and sharing crisps. We enviously say bye to the enduro riders and make our way to Hanmer Springs to check into a tiny cabin for the night.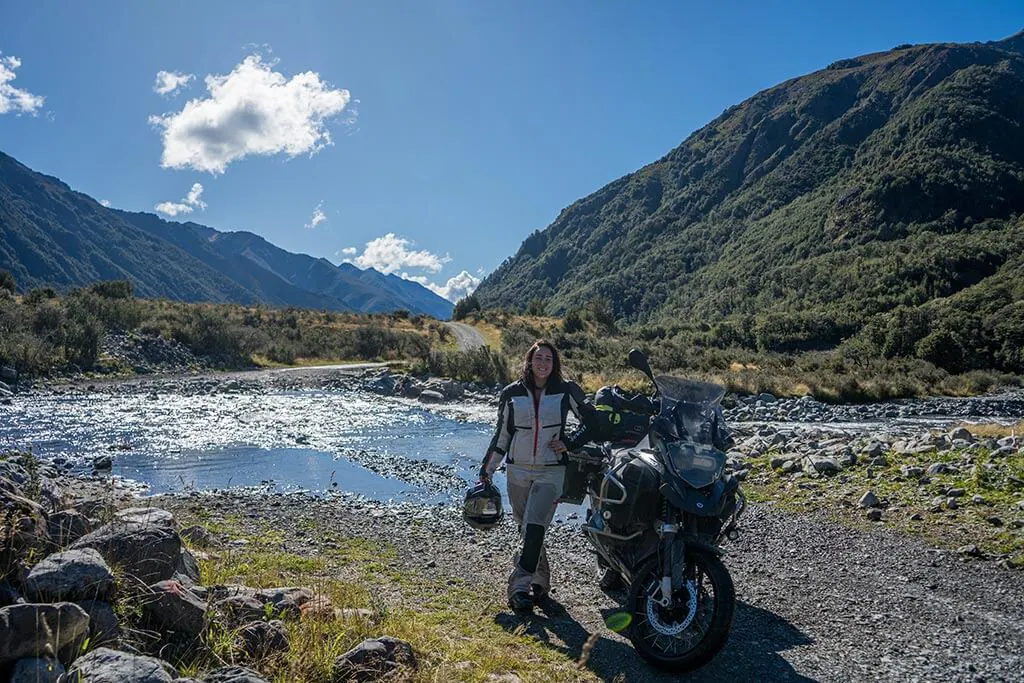 The Alps
We head west to cross the Southern Alps range that runs up the length of the island like a jagged spine. We hit its famous passes, flicking the GS around bendy roads for hours until we're thrown out on the coast and blast our way south.
The comparison with the north is immediate. The green hills are replaced by wonderous white cloud pierces and gargantuan glaciers. Our jaws drop as the mountains grow until we spot New Zealand's highest mountain, the mighty Mount Cook, and it takes our breath away.
The Beemer is in its element soaking up thousands of miles with ease, steaming along the straights and tucking its head down and getting to work through the bends. The road cuts and weaves through a constantly changing backdrop borrowing scenery from the UK, Norway, Iceland and Canada. Up and over NZ's highest roads along the Crown Range and pure biking bliss as the road to gorgeous Glenorchy hugs Lake Wakatipu… it's non-stop phenomenal riding.
The Sounds
We're quickly snapped out of our giddy haze of sensory overload as we reach Te Anau and hit the worst wind we've ever ridden through. We struggle to hold the Beemer at a 45 degree lean for hours as huge waves of wind throw us across lanes. We just about make it to a friend's house before torrential rain hammers the town.
The next morning we're up early to ride to Milford Sounds for a fjord boat trip. The temperature drops below 0C, the road is covered in freezing mist and we shiver for the entire two-hour ride. But once we're on the boat, the sun rises, the water sparkles, last night's rain supercharges the waterfalls and dolphins swim around us. This little island on the other side of the world is magical. And other than the last two days, we've been incredibly lucky with perfect riding conditions.
Sealed it
We drop down south to Invercargill to check out the Classic Motorcycle Mecca Museum, the world's largest collection of John Britten bikes and Burt Munro's world speed record Indian. Our ferry booking back to Wellington is closing in so we swing over to the east coast and slowly snake our way north – reluctantly.
Hundreds of mammoth seals sleep on the rocks along the east shoreline as their cubs play in pools and dolphins dance in the distance performing acrobatic leaps. We constantly pull over to gaze at the wildlife show in front of us. Last month in Australia, we were screeching to a stop as a huntsman spider crawled inside Alissa's helmet and along her cheek, ripping our jackets off as bugs bit our backs and swerving around giant snakes in the road. Here, nothing is trying to kill or scare you to death. Everything and everyone is laid back, the land is bursting with natural beauty and it's home to some of the finest riding in the world.
You need a lot of rest days when you live on the road, but not in New Zealand. We only had six weeks and that was nowhere near enough. It's so good, we might just have to move here…
With thanks to…
A huge thank you to everyone who hosted us, to all those we met on the road and for all the messages, offers of accommodation and help with our routes. It's always the people that make a place truly special, they're the memories we never forget – and we made a lot of them in New Zealand.
We were blown away by the hospitality, generosity and kindness. Thank you so much for having us. 
Read more on motorcycle travel in New Zealand and Australia
Thanks for reading our New Zealand Motorcycle Travel Blog. We hope you enjoyed it! Here's a few more related articles on riding in New Zealand and Australia that we recommend you read next. 
We hope you enjoyed our New Zealand motorcycle travel blog. Please post any comments or questions below. We'd love to hear from you.