Welcome to our virtual museum tour of New Zealand's Classic Motorcycle Mecca, the John Britten Collection and Burt Munro's Bikes. Tucked away in NZ's South Island is a treasure trove of stunning machinery and biking legends…
New Zealand's Classic Motorcycle Mecca Museum, the John Britten Collection and Burt Munro's Bikes
When you think of New Zealand, that little island tucked away in the corner of the Pacific Ocean, motorcycles don't spring to mind. Perhaps that's why nobody looked twice when Burt Munro turned up at the Bonneville Salt Flats in 1962 on his homemade rocket… until he broke the land speed record.
And the same goes for the legendary Kiwi designer, tinkerer, and engineer – John Britten, who hand-built one of the world's greatest and most impressive race bikes – the V1000.
Both Britten and Munro are motorcycling royalty and they're both from New Zealand's South Island, where their iconic machines live on today in the city of Invercargill.
The Classic Motorcycle Mecca Museum holds an exquisite display of 300 motorcycles, as well as the largest collection of Britten bikes anywhere in the world. And just five minutes down the road is a hardware store (yes, really) with Burt Munroe's bikes in amongst hammers, chainsaws and lawnmower parts.
If you ever find yourself on the other side of the world, this is where you need to be. But until then, put your feet up and have a read of this virtual Kiwi museum tour.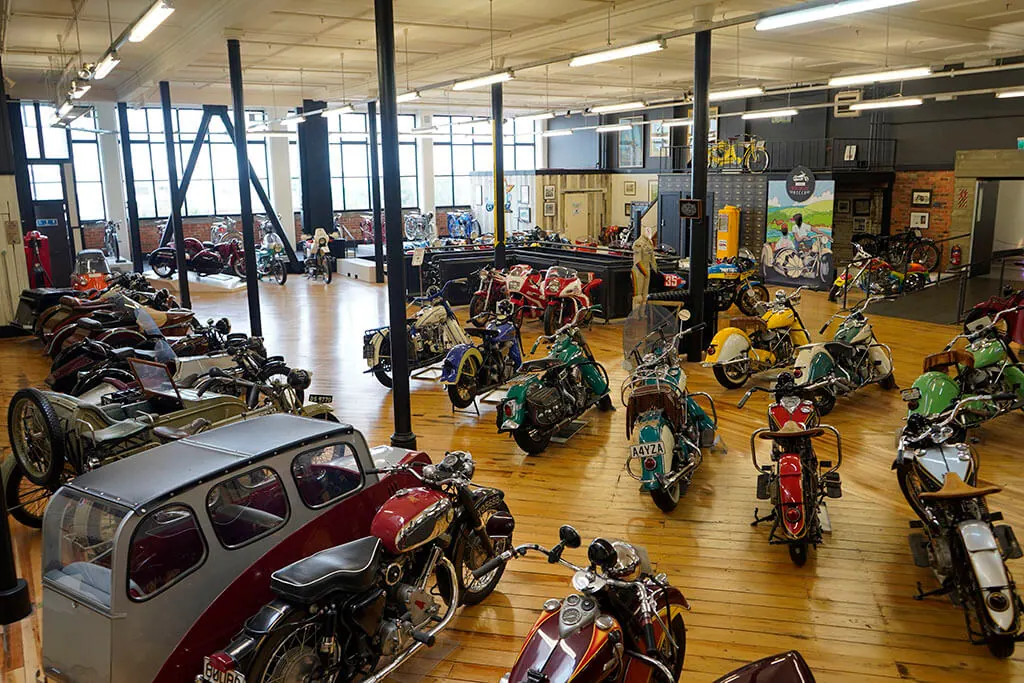 Classic Motorcycle Mecca Museum
Mecca is a young museum, only opening its doors to the world back in 2016. But that hasn't stopped it from amassing a seriously impressive collection of classic exotica already.
Walk through the doors to the smell of petrol, polish and pristine machines plucked from around the world and lovingly restored. What's immediately impressive is how close you can get to these bikes to appreciate their intricate details. They're not cooped away in glass coffins and over 90 per cent of them are runners (although you're not allowed a go).
Vintage delights are displayed on three floors from Brits to American, Japanese and everything in between. But there's one bike that'll immediately catch your eye and firmly glue it to its svelte blue and pink carbon body…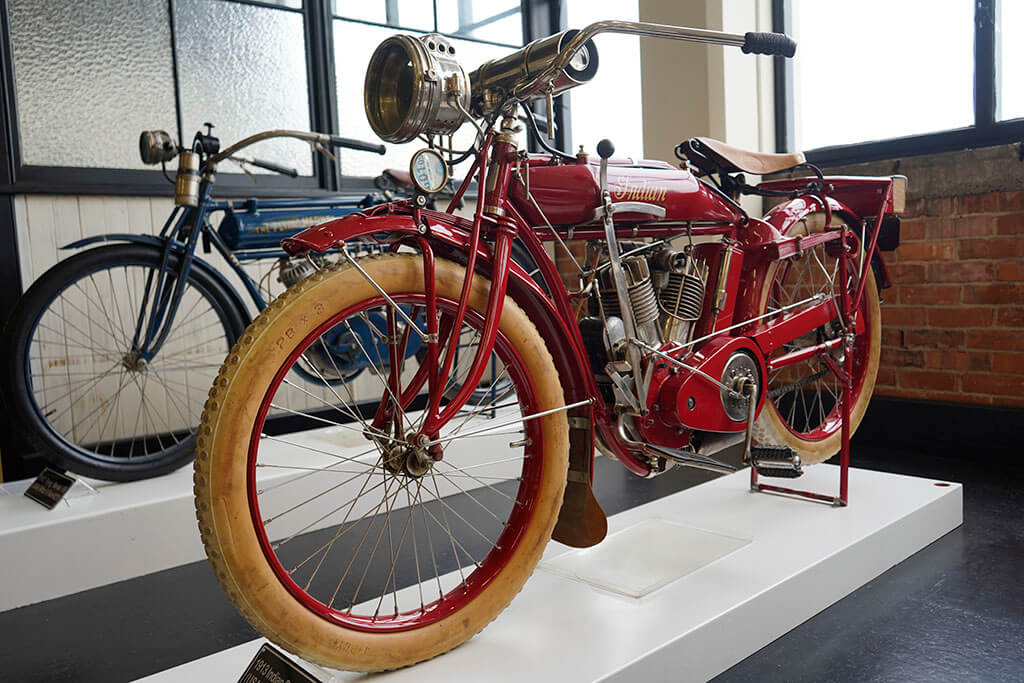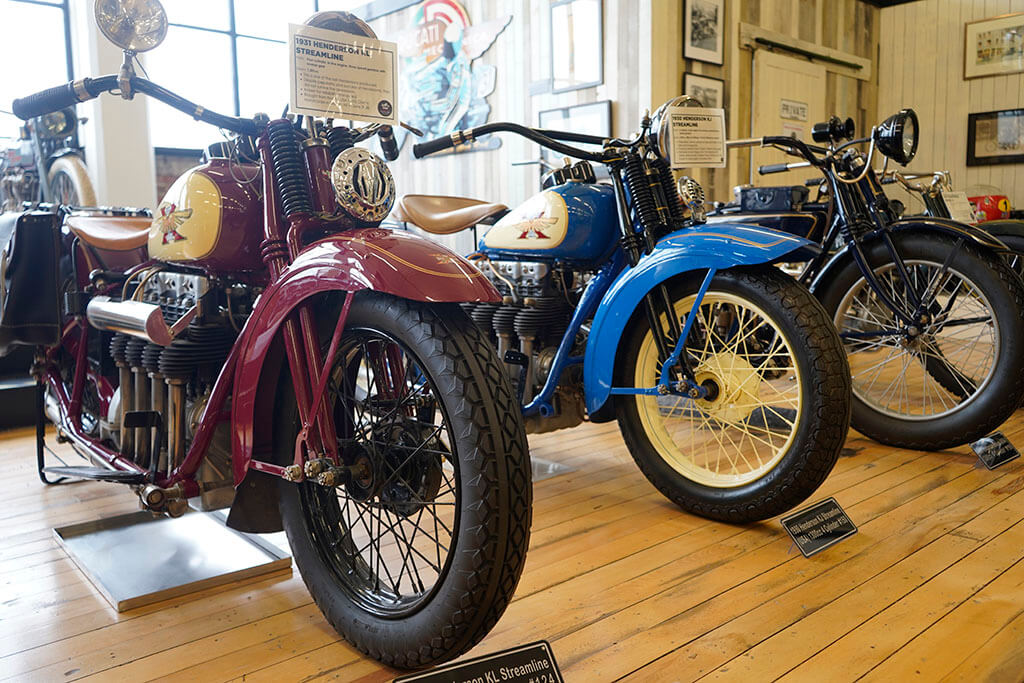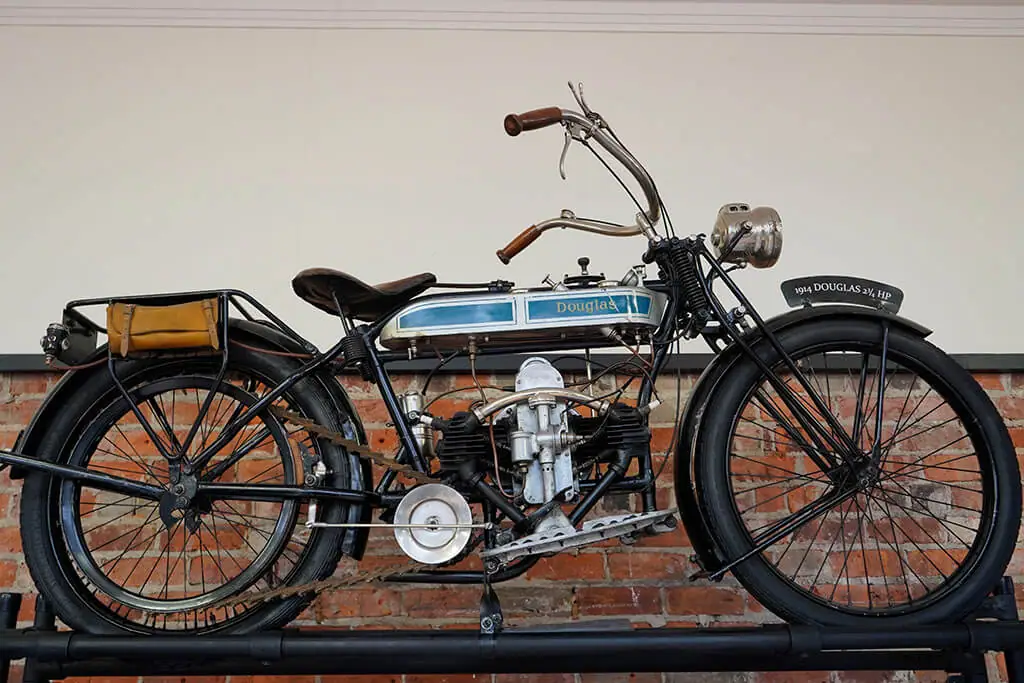 The John Britten Collection
Cardinal Britten V1000
Mecca proudly holds the world's largest collection of Britten motorcycles in one place. Stroll into the Britten room and you're met with four works of art. Centre stage is the Cardinal. Only ten V1000s were ever made and the Cardinal was the very first.
This is the stuff of legends. John Britten with his team, designed and hand built the entire bike in the early 1990s. The V-twin engine, casings, fuel injection, ECUs, pistons, unconventional suspension, carbon fibre bodywork, cooling system… along with 6,000 other parts are all bespoke.
The shed-built Britten by a group of mates was a work of engineering marvel, but it was just something pretty to look at. It was a championship winning bike that went up against fully fledged factory teams – and won. The Britten won the '92 Dutch round of the Battle of the Twins series and again at Daytona in '94 and took the win at the British, European and American Racing world Championship as well as four world speed records. It was the fastest four-stroke in the world and perhaps the most advanced too.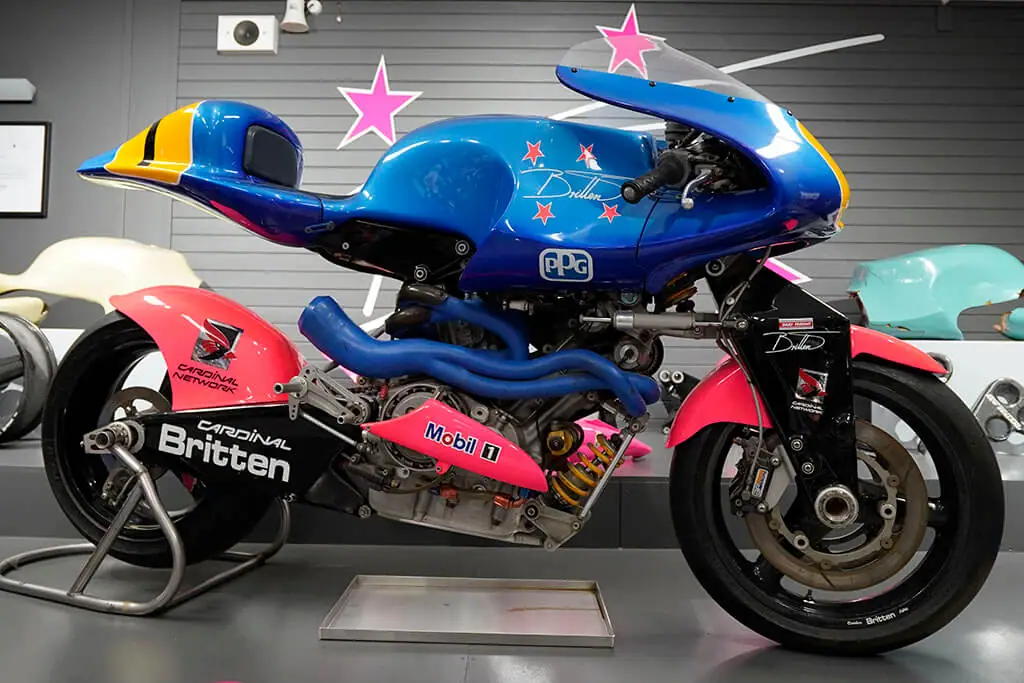 Britten Aero-D-Zero and Aero-D-One
In the mid '80s, John Britten and his mate Mike Brosnan built themselves two race bikes (the Zero belonging to Mike and the One to John). The Aeros were originally made as aerodynamic styling projects designed by John. These visionary designs 'shaped' the way for future race bikes.
Britten Precursor
This was the very first motorcycle that John and his team designed, developed and built from scratch. The V-twin with a water-cooled engine went on to finish second at the 1991 Daytona race to a factory Ducati. An incredibly impressive feat for a group of friends building bikes in a garage in their free time. 
1948 Triumph Tiger
This 1948 Tiger is John's personal race bike. He heavily modified it by building the tank and made considerably modifications to the engine as well as racing it.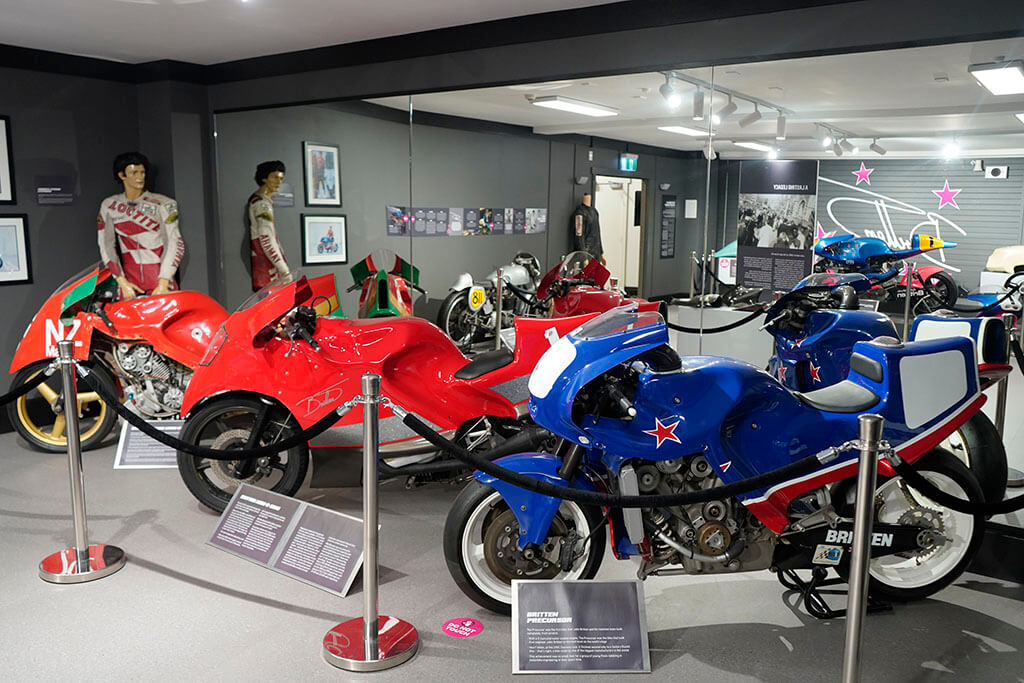 The Brough Superiors
Classic Motorcycle Mecca also boasts the largest collection of Brough Superior motorcycles in the Southern Hemisphere. The most expensive and fastest bikes of their time likened to the Rolls-Royce of motorcycles (a term George Brough was permitted to use by RR after inviting a RR exec to tour his factory) and made even more famous by Lawrence of Arabia who owned eight. 3048 Broughs were built between 1919-1940 in Nottingham and they are now some of the most sought after and expensive classics of all. You'll find the SS100, 1930 SS80s 1934 680s on display at Mecca.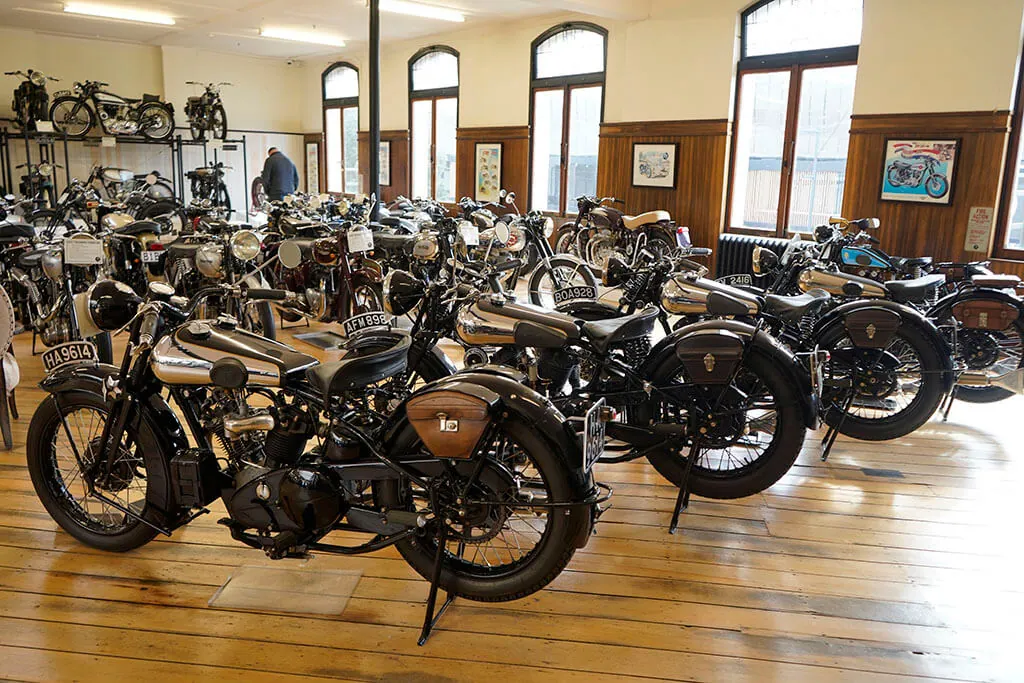 1937 Brough Superior SS100, 1000cc OHV
This impressive model has a Matchless 990cc overhead-valve V-twin motor capable of 100mph. A signed guarantee from George Brough himself came with every bike promising that it had been timed at over 100mph over a quarter of a mile.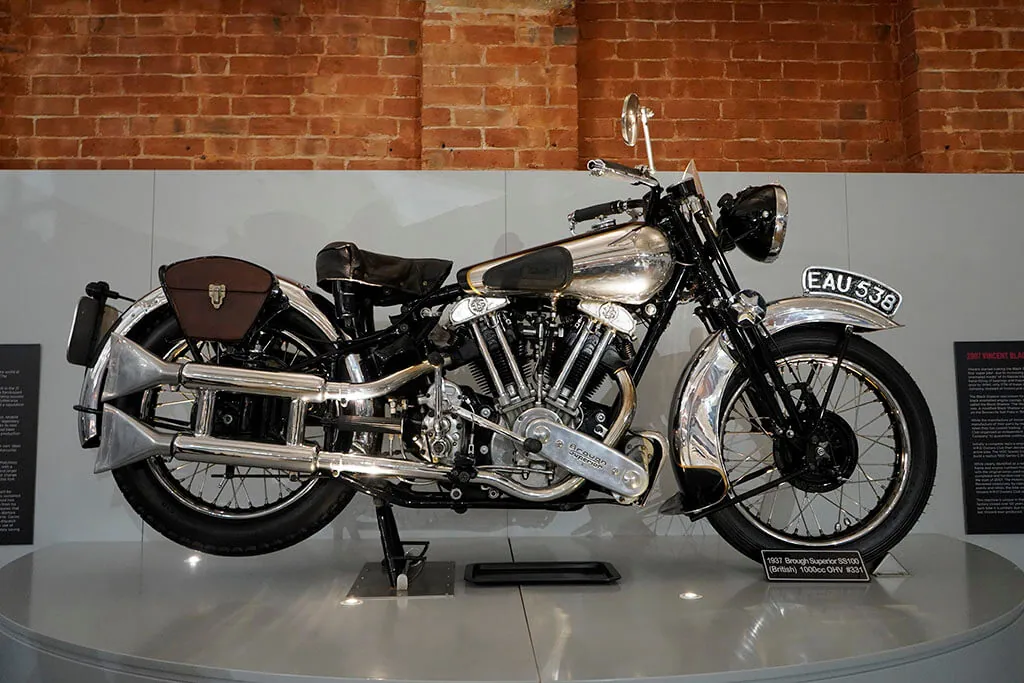 2007 Vincent Black Shadow
The world's first super bike, the Shadow was the first motorcycle to break the 150mph barrier in 1948 on the Bonneville Salt Flats by Rollie Free – who you'll recognise from the iconic Bathing Suit photograph. This 2007 model was made 50 years after production ceased and was the last Black Shadow made.
1931 Ariel Square Four 500cc
 There were only 927 of these bikes ever made, and this one was found as a rusty wreck on the banks of the Nepean River in Australia.
1914 Royal Ruby 770cc 6bhp
This is one of only 15 known to exist in the world.
Burt Munro and the World's Fastest Indian
Burt Munro was a world speed record holder from the South Island, New Zealand. He set world records in the 1960s on a 1920 Indian Scout that he heavily modified and made parts for himself.
A short walk from Classic Motorcycle Mecca is a hardware store called E Hayes. Irving Hayes and Burt Munro were friends and Irving supported Burt's speed-record attempts. So, in 1977 Burt sold his 1920 Indian Scout to Irving's son and grandson to be permanently displayed in their family shop. E Hayes now houses the World's Fastest Indian as well as a huge collection of Munro memorabilia.
1920 Indian Scout 500 (now 1000cc)
The 'Munro Special' is the original 500cc Indian Scout Burt Munro paid £120 for brand new back in 1920. It came as standard with a top speed of 60mph, but Burt heavily modified the bike tuning it for speed before taking it to the USA to compete in speed trials. In 1967, Burt Munro broke the under 1000cc world speed record reaching 184.087mph. He did that at 68-years-old riding a 47-year-old machine and already had two world speed records under his belt from '62 and '66.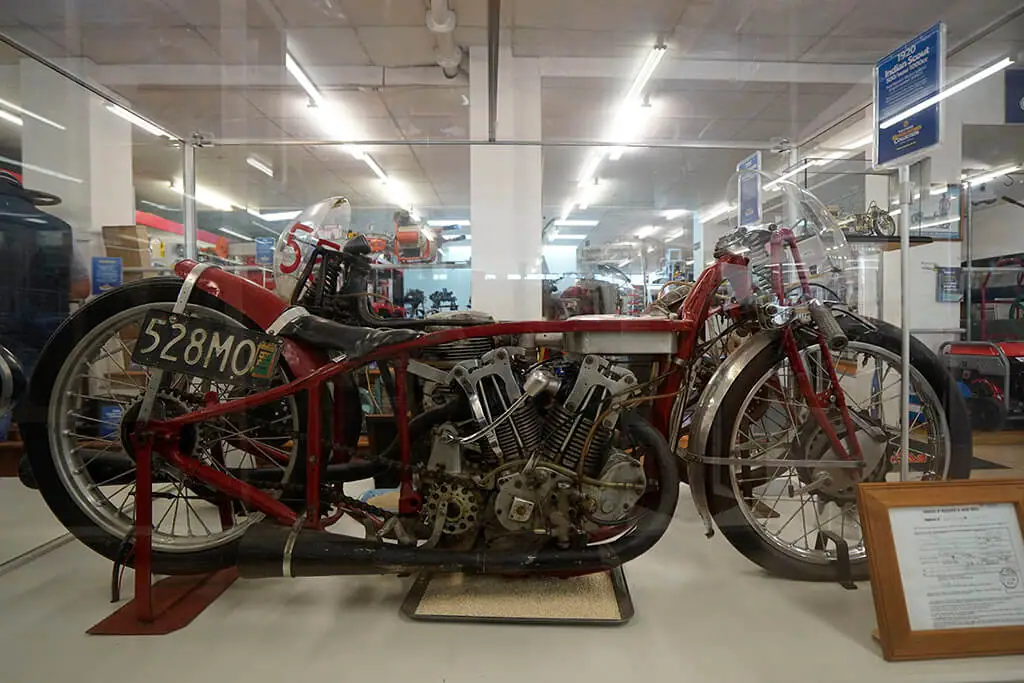 Streamliner
Burt's streamliner is an aerodynamic shell Burt designed and built for his motorcycle. This liner is one of five replicas built for the World's Fastest Indian film.
Velocette
In 1962 Burt recorded a standing quarter mile in 12.2 seconds timed at 138.8mph on this 1936 MSS Velocette 500 (now 650cc).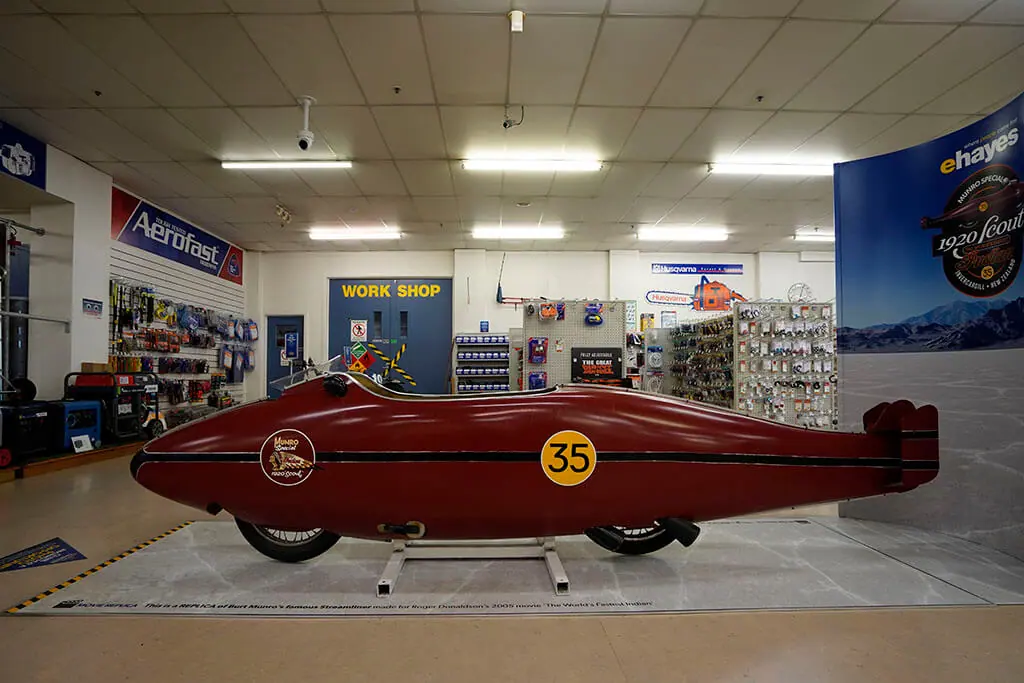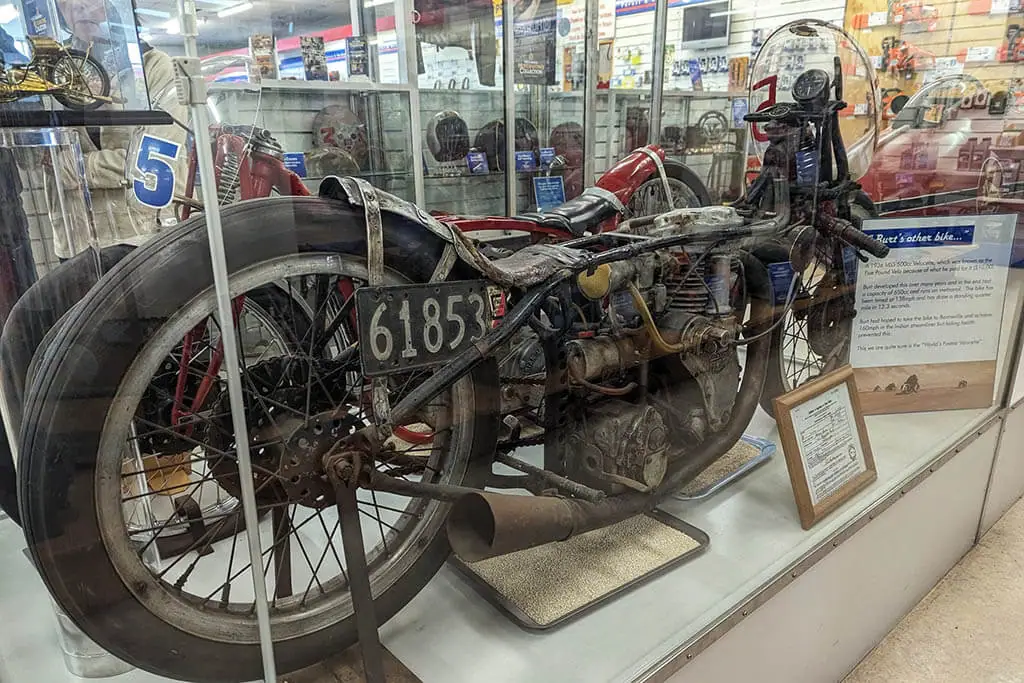 New Zealand
You're looking at around 24 hours of flying to get from the UK to Auckland in the North Island, and then you've got to make your way to Invercargill in the South Island. So it's not close!
But Brits can easily get an electronic travel authority (NZeTA) via a mobile app, which takes 72 hours. This allows you to stay for up to six months – plenty of time to visit the museum. If you want to ride in NZ, which you should, then you'll also need a your driver's licence and an international driver's permit. 
Classic Motorcycle Mecca
Classic Motorcycle Mecca is open to the public from Monday to Sunday. Admission is 40NZD per adult (around £20). Visit www.motorcyclemecca.nz for more info
E. Hayes & Sons
You can visit the Hayes hardware store for free. Do set aside some time as there are plenty of other classic motorcycles and memorabilia in the store too. Visit www.ehayes.co.nz for more info.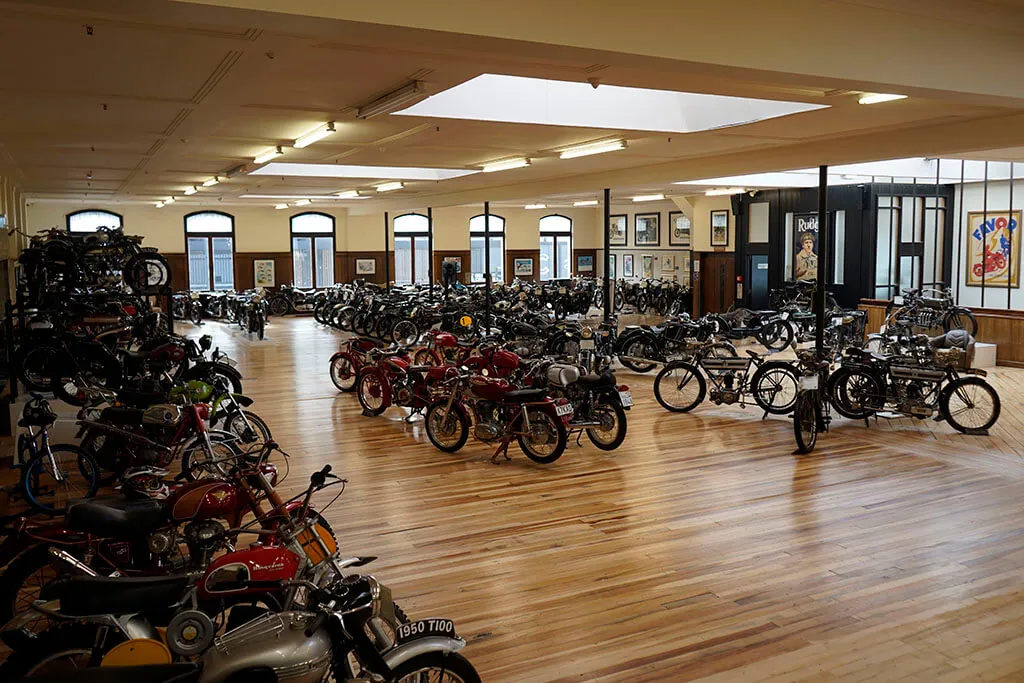 Read more on motorcycle travel in New Zealand and Australia
Thanks for checking out our New Zealand's Classic Motorcycle Mecca Museum guide. We hope you enjoyed it! Here's a few more articles on motorcycle travel in New Zealand and Australia that we recommend you read next. 
Are you planning a motorcycle trip around New Zealand? Or do you have any questions or tips to share? Let us know in the comments below.