The Big Four Museum Tour. Welcome to Japan and our virtual walk around of Japan's Honda, Yamaha, Suzuki and Kawasaki motorcycle museums.
Japan's Motorcycle Museums
Japan's bike boom in the '60s was so loud it nearly wiped out both the British and American motorcycle industries with one punch.
Japanese production skyrocketed. Their rapidly advancing technology, innovative design and affordable price tags continuously obliterated overseas competition until they crumbled, leaving only four manufacturers standing – the Big Four: Honda, Yamaha, Kawasaki and Suzuki.
The two-wheeled titans still dominate today's markets, selling millions of motorcycles worldwide every year. Japanese bikes are now so intrinsically woven into British motorcycling's fabric that we forget their roots.
So, we visited each of the Big Four museums for a peek at their humble beginnings, pivotal machines, legendary race bikes and eclectic mix of exotica.
Visiting Japan's motorcycle museums is like walking around a bank of jewels, these machines are exquisitely preserved slices of history, and here's the best of the bunch…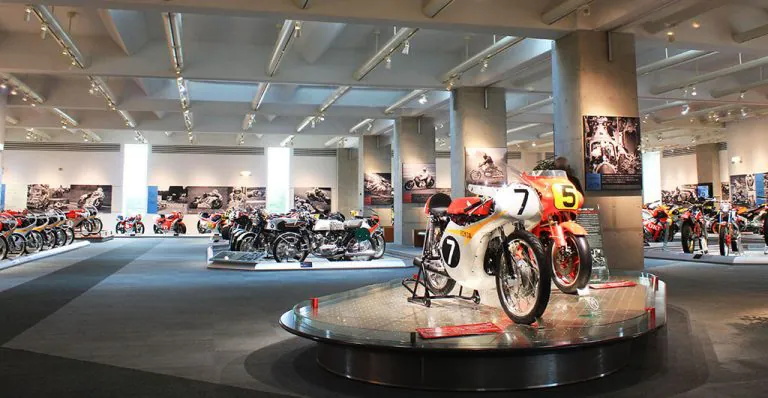 As the world's largest motorcycle manufacturer, King Honda takes the Big Four crown and has the most impressive castle (museum). And it's not just hiding away in some back-alley trading estate either. Honda lovingly built the museum in their Twin Ring Motegi race track facility. Spend a tenner to enter the grounds and you can stroll round the museum for free.
Like a sweet cake, the museum is brimming with layer upon layer of deliciously preserved treats. Walk through the front door and you're met by the stunning 1959 RC142. It was the first Honda to compete in the Isle of Man TT races, where Naomi Taniguchi took the bike into sixth place, won Silver Replica and helped Honda win the Manufacturers' Team Award in their first ever race.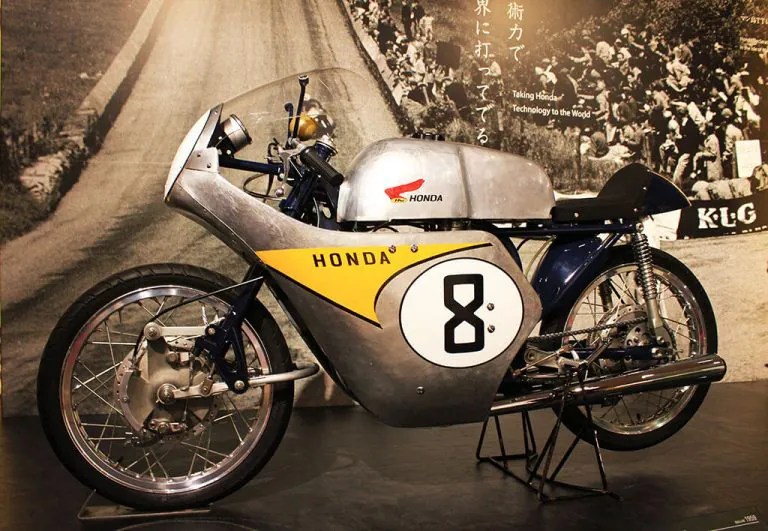 Keep going and it just gets better with specials like Honda's first auxiliary engine powered bicycle and their first ever motorcycle – the D Type. It's not all meticulously preserved old-school show pieces though. Head upstairs and you're met with a prestigious HRC line-up, including rows of Freddie Spencer's and Wayne Gardner's bikes, two-stroke GP machinery, a selection of RC212Vs, Dakar racers, off-roaders, Formula 1 race cars (including Sir John Surtees' car), scooters, tourers, sports cars and even lawnmowers! Hundreds of beautiful motorcycles are shown off under spotlights, all delicately wrapped in gorgeous paint. Honda's Collection Hall is seriously impressive and a must-do pilgrimage for motorcycle lovers.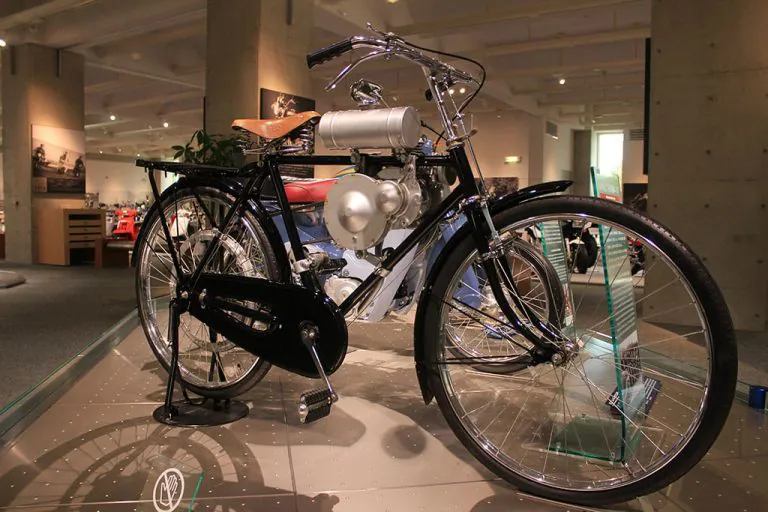 Did you know…
Soichiro Honda built his first bike in 1948 by strapping a modified WWII radio generator engine to a bicycle to help his wife on her long bicycle rides for the weekly shop. He ended up buying a batch of them to sell on and quickly sold out. So, he began developing his own engine instead – the Honda A-Type. Honda bought a small factory and set up shop, calling it Honda Motor Company…
Nippon Gakki (now known as Yamaha Corporation) was originally a musical instrument manufacturer. During WWII, the firm built aircraft propellers and the end of the war had to put its metal work machinery and expertise to use elsewhere, deciding on the motorcycle business in 1955. The YA-1 was the company's first bike, its director, Genichi Kawakami, created Yamaha Motor Co. as a spin-off and set to work in a small wooden factory with 150 employees.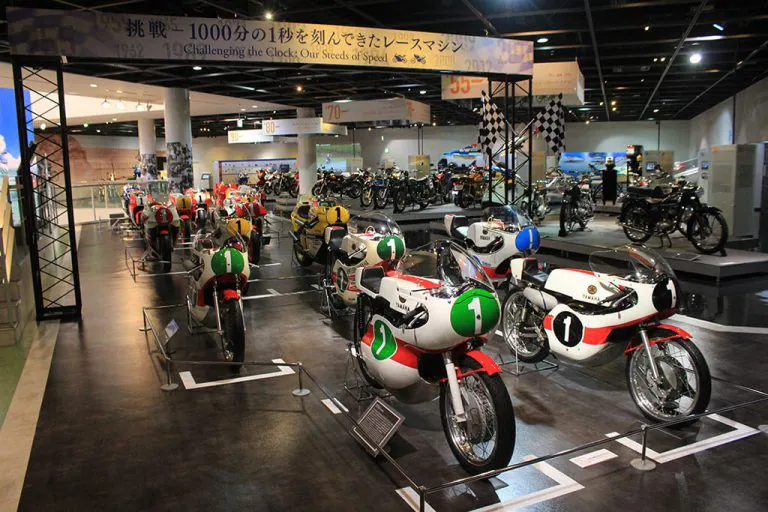 The YA-1 was immediately entered into and won Japan's two most prestigious races. Kawakami knew he was onto a winner, cemented Yamaha's place as a formidable newcomer in the motorcycle scene and pushed Yamaha into the forefront of sports models like the YDS-1 (nicknamed Japan's first sports model).
Yamaha's pristine museum is set-up to showcase its sporting lineage. Mint racers line the three floors with a complete timeline of proud YA-1s all the way up to Rossi's YZR-M1. And to top it off, the pianist on the centre piece Yamaha piano complete with mini orchestra playing Mozart's Seventh Symphony is a nice touch.
Michio Suzuki started up a loom company in 1909, and like Honda, started building clip-on bicycle engines after the War. And, like Yamaha, was late to the game with its first motorcycle in 1953 – the Diamond Free.  The firm's museum showcases its beginnings in the looming industry all the way through to its first motorcycle and car manufacturing facilities.
Kawasaki Motorcycle Museum
The Kawasaki Heavy Industries museum is an eye-opener… but not for its bikes. The motorcycle section is tiny compared to what else the firm showcases. While Kawasaki is the oldest of the Big Four, (dating back to 1878) it was the latest to join the motorcycle scene (in1962). The firm has always been rather busy manufacturing a long list of heavy goods, including: planes, trains, industrial robots, spacecraft, submarines, ships, tankers, helicopters, defence equipment, energy plants and so on. Luckily, they managed to find time to squeeze in the original H1, which shot Kawasaki to success… literally.
How to Visit Japans Motorcycle Museums
Honda Collection Hall
Stars: 5
Where: Motegi. Click here for the exact location.
Entrance fee: £10
Yamaha Communications Plaza
Stars: 4
Where: Hamamatsu. Click here for the exact location. 
Entrance fee: Free
Suzuki Cultural History Museum
Stars: 3
Where: Hamamatsu. Click here for the exact location. 
Entrance fee: Free
Kawasaki Good Times World
Stars: 2
Where: Kobe. Click here for the exact location.
Entrance fee: £5
Read more on Motorcycle Travel in Japan
Thanks for checking out our Motorcycle Travel in Japan Guide. We hope you enjoyed it! Here's a few more articles on motorcycling in Japan that we recommend you read next.