Welcome to the Ha Giang Loop Motorcycle Guide. If you're planning a biking trip in Vietnam, have a read of this packed guide first. You'll find everything you need to know here on riding Vietnam's legendary loop with routes, paperwork, tips and much more.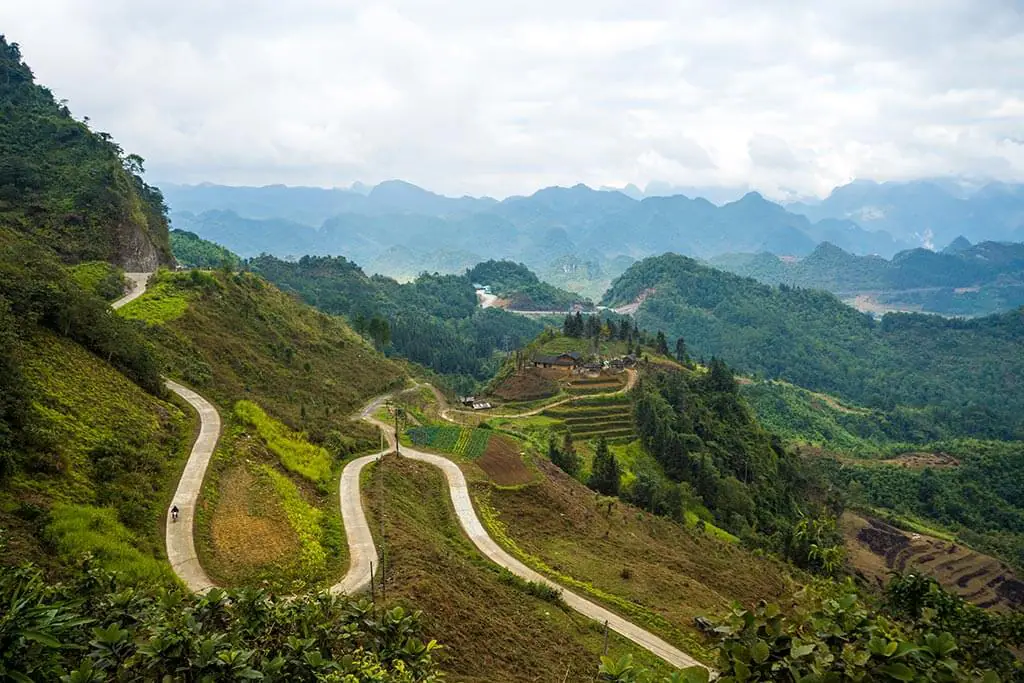 How to Motorcycle the Ha Giang Loop
What and where is the Ha Giang Loop?
The Ha Giang Loop is a road route in the extreme north of Vietnam. It's called the Ha Giang Loop because the route flows in a loop through the Ha Giang province. The capital city of the province is also called Ha Giang and this is where most people start and end their ride.
Why motorcycle the Ha Giang Loop?
The Ha Giang Loop is renowned for being a motorcycle ride. It's the best way to experience the region because of the types of roads you'll be travelling along. They're narrow, winding, often undulated and that makes it thrilling and exciting. You won't want to be cooped up in a car or bus watching the world pass you by through a steamed-up window. Riding up, over and through this epic mountainous region on a motorcycle is the absolute best way to really, viscerally experience it.
Why is it so famous?
The Ha Giang Loop is and isn't famous. Sa pa (130 miles southwest of Ha Giang) is famous, while Ha Giang is far less touristy and way more remote. But, it is a mecca for any adventure traveller looking to explore Vietnam and here's why.
Beauty
It's incredibly beautiful with stunning mountain landscapes and roads that climb through the clouds before plunging into valleys. Around every corner you'll want to stop to photograph the region's raw nature, its wonderfully friendly people and the insane road you just tackled to get there.
Culture
The region is home to traditional ethnic groups such as the Hmong people, which you can see going about their daily lives in the mountains as you ride through. You'll experience Vietnamese culture like nowhere else here as it's common to bunk in homestays and eat dinner with families.
Riding
The mass majority of tourists and travellers who come here will do it on two wheels. After spending months riding through Thailand, Laos, Cambodia, Indonesia, Malaysia and the Philippines on our round the world motorcycle trip, I can easily say that Vietnam's Ha Giang Loop is one of the very best motorcycle routes and roads in the whole of Southeast Asia.
When to go
There are two seasons in Ha Giang: rainy and dry. 
January, February and March: These months are in the dry season with minimal rain. TET festivals will also fall in this range. You can witness the celebrations, but it's not a good time to travel because everything is shut and it's Vietnam's biggest holiday. 
January can be cold but the roads are quieter. You will need thermals and a thick jacket. We rode the loop in January and loved it. The first day's ride from Hanoi to Ha Giang was freezing, but once we were on the loop it was fine. It was also a lot more empty than high season months, which suited us perfectly. February is busy as tourists come to Ha Giang to see the flowers blooming. March is a great month to visit with decent temperatures. 
April and May: You're more likely to find blue skies in April and little rain. In May the weather starts to turn.
June, July and August: This is the hottest and rainiest time of year. It's not a good time to ride the loop. 
September, October, November and December: Late September to early October is when the colours really come alive in Vietnam thanks to the golden rice fields. It makes October one of the absolute best months to visit Ha Giang. The same goes for November. While December can start to get cold again.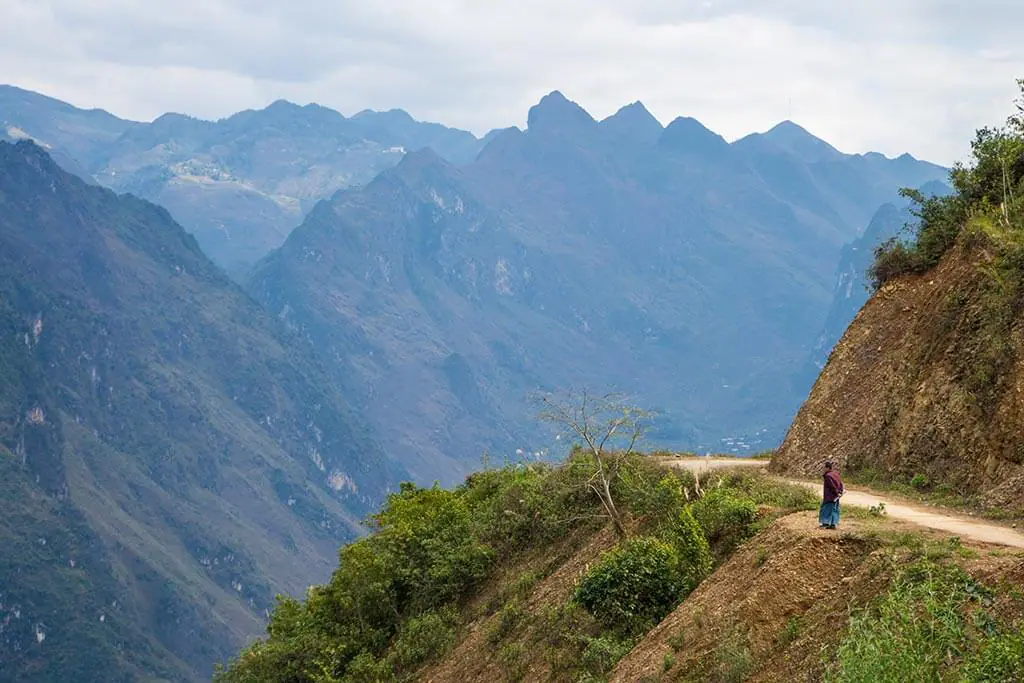 Motorcycles, Riding Gear and Packing
What type of motorcycle do I need to ride the Ha Giang Loop?
You have three motorcycle options in Ha Giang. Let's look at the three types of bikes on offer, how they work and who they're for to help you decide what's right for you.
Automatic
Automatic scooters are twist and go. There are no gears and they're the simplest and easiest bikes to ride, you simply twist the throttle and it automatically shifts through the gears for you.
Automatics are well suited for riding in cities or towns, but not for the Ha Giang Loop. There will be plenty of times where you'll want to immediately shift down a gear to get you up a steep section of hill and that won't be possible with one of these. The wheels are also an issue as they're smaller and wider than on semi-automatics and manuals, meaning they're not as good at going over bumps and potholes.
Overall, you can ride the loop on one of these, but it isn't advised. The only time I'd suggest riding one in Ha Giang is if you're very inexperienced and don't feel comfortable on anything else – but then if that's the case, you shouldn't be riding the loop in the first place. Automatics in Vietnam range in capacity from 110-130cc.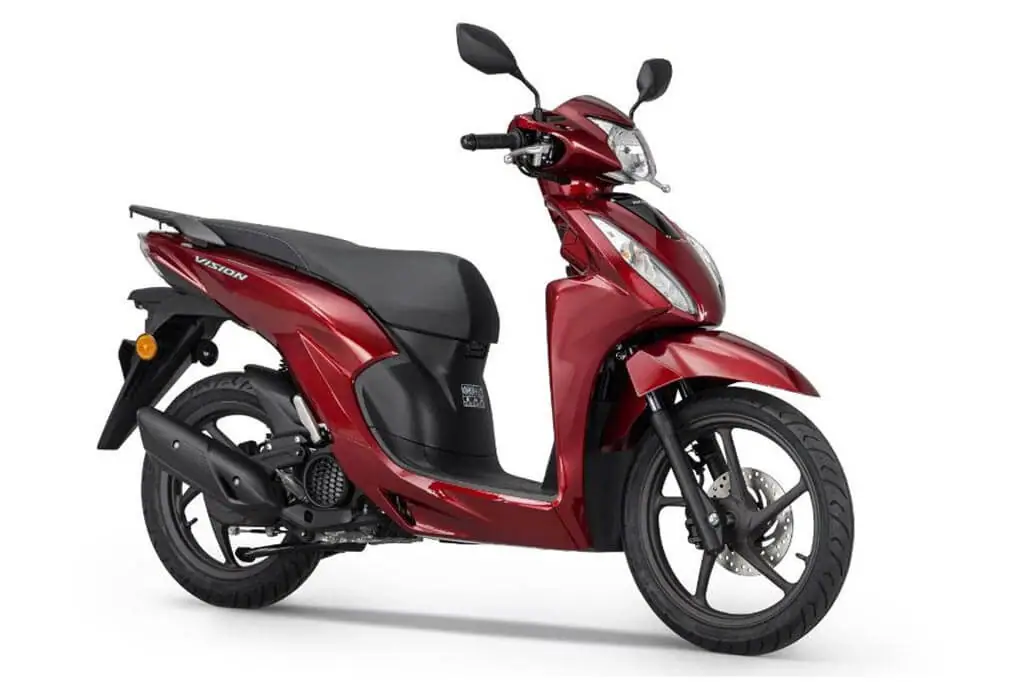 Semi-automatic
A semi-automatic is the most common motorcycle you'll see along the Ha Giang Loop. They're a great option because they have gears but no clutch. You operate the gears using a foot pedal much like a manual, but without the added worries of pulling in a clutch lever. This makes for easier riding going up and down mountains. They're light, easy to use and ride and are a great choice for Vietnam. If you've ridden a motorbike before or are experienced with automatic scooters, it wont take you long to get used to a semi-automatic. Some good examples of semi-automatics in Vietnam are the Honda Future 125cc and the Honda Wave Blade 110cc. Both are 4-speed.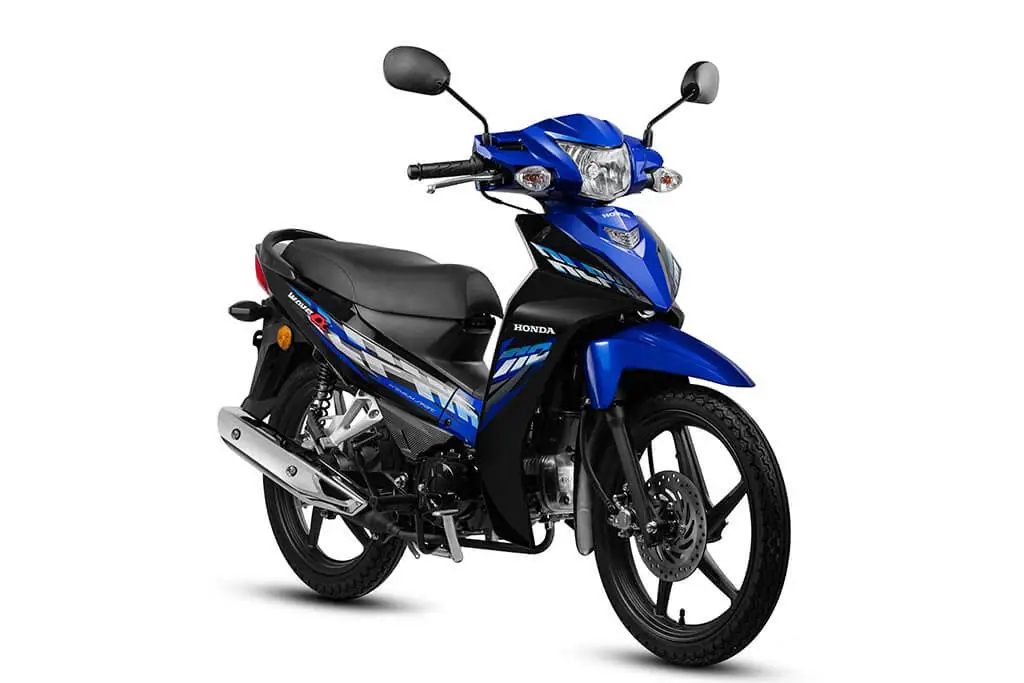 Manual
Manual motorcycles are less common on the loop, but are an excellent choice. With a clutch and manual gearbox you can get the absolute best out of your bike and select the correct gear for the job. Some good examples of manual motorcycles in Vietnam are the Honda Master 125cc and the two 150cc Hondas: Honda CB150 and Honda XR 150.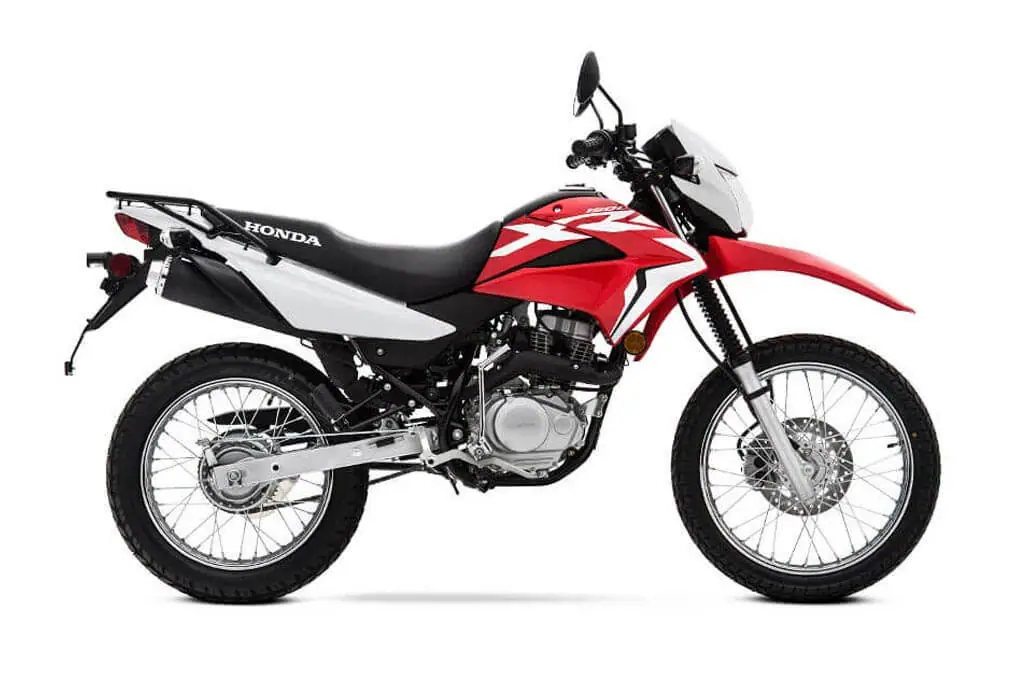 Our recommendation
For our ride from Hanoi to Ha Giang and back, we used the Honda XR 150 and reckon this is the best bike for the Ha Giang Loop for experienced riders and off-road and trail riders.
Small by Western standards but in Vietnam this is a big proper adventure bike. A 250cc like a CRF250L might be nice, but at no point did we need anything bigger than the 150. Riding an XR allows you to overtake lines of busses, trucks and scooters all struggling to go uphill in one twist of the throttle. It's perfect for anyone who is looking to ride further than Ha Giang and gives you the option to detour off the main road and dig out some exciting trails through the countryside. It's a fun bike and we recommend it as the ultimate Ha Giang Loop motorcycle.
Motorcycle riding gear for the Ha Giang Loop
If you're riding the Ha Giang Loop on a motorcycle, the chances are you're not going to be bringing your kit with you from home as it's a lot to carry for a short trip. So, here's the kit you're going to need to source while you're there or bring with you. 
Helmet: The safest option when choosing a helmet is to go for a full face lid. However, these aren't as common and you'll most likely end up with an open face helmet. It's worth opting for one with a pull down full face visor to protect you from the elements and the road in case of an off. Your rental or tour company will provide you with a helmet. Make sure it fits, is comfy, straps up well and doesn't move around easily. 
Footwear: Most people will wear hiking boots or a decent pair of trainers. Do not ride in flip flops. It's very easy for your foot to slip on gravel in these and they're not safe. The best option is proper riding boots. 
Jacket: A proper riding jacket is your best option, but these may be hard to come by and are expensive to buy for a short trip. If you're riding in the cold months, we'd suggest buying a thick 'North Face' jacket from Hanoi and a separate thermal down jacket to go underneath. It can get very cold. The North Face jackets are shower proof and have thermal inner jackets inside. If you're riding in warmer months, then a lightweight and breathable jacket will be fine. 
Trousers: Opt for hiking trousers. They have big pockets are comfy, stretchy and will keep the stones and road muck off your legs. If you're in the cold months, buy a thin pair of trouser thermals or leggings too. 
Gloves: Dependent on the time of year you travel, you may want thick, warm and waterproof gloves or lightweight riding gloves. We typically carry both. 
Armour and pads: Many riders opt for arm and knee pads as they choose to wear shorts and t-shirts while riding. These will absorb the brunt of impact and are a safer option if you don't have any armour in your gear. 
Waterproofs: This is a must – no matter what time of year you visit. Some prefer a cheap throwover poncho while others prefer a zip up jacket and separate trousers. A proper set will do an excellent job of keeping you warm on cold days as it acts as a wind chill barrier. If you're on a long ride or are riding in the cold months then these may be the best bet. If you're in the summer months then a throwover will be fine as you'll sweat up too quickly otherwise. 
READ MORE: Motorcycle Riding Gear Guides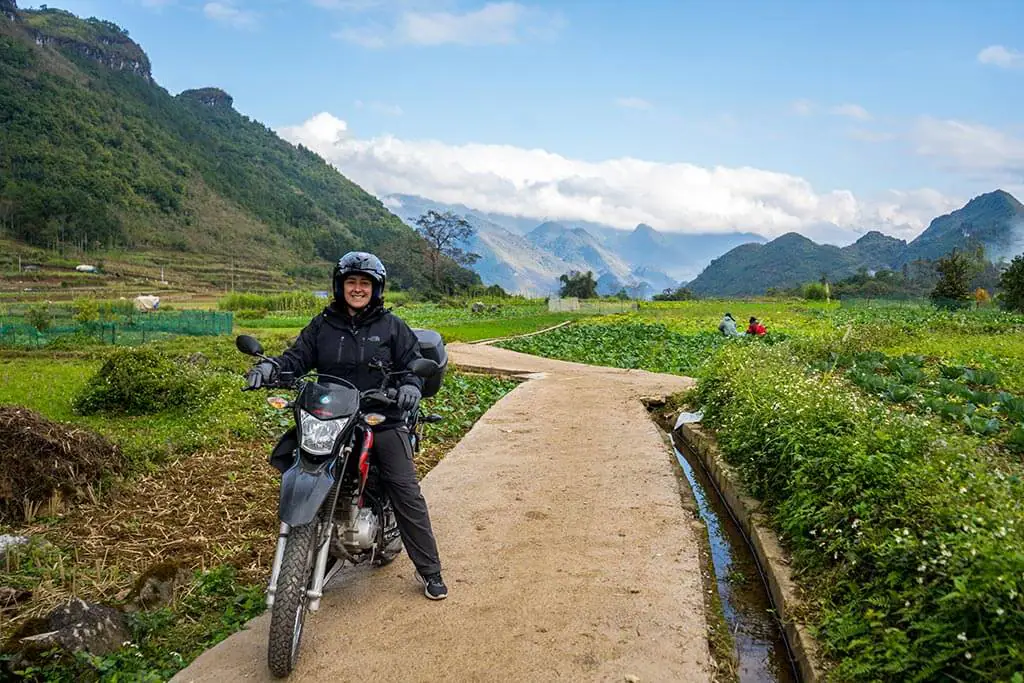 Luggage
What you carry and how you carry it will depend on where you have travelled from and how much kit you have. For example, you might be a backpacker with a humungous backpack coming straight over from Thailand, or you might be flying in from your home country just to ride the loop. 
Our recommendation is to buy or bring with you a 20 litre waterproof duffle bag and a pair of Rok Straps (or use the rental/ tour company's bungee straps) and keep all your gear strapped to the pillion seat. Whether you're on a 3 or 7 day tour, you should be able to fit all your gear in a 20L bag. Opt for a bigger 30L bag if you know you pack heavy. You can then keep your valuables in a small rucksack, your pocket or a bum bag (inside a waterproof bag) so you don't have to worry about them every time you get off the bike. 
Your big backpack or suitcase can then be left at wherever you rented the bike from. The company will look after your belongings until you return.
These waterproof duffels can be bought cheaply in Hanoi or on Amazon before you go. 
READ MORE: Motorcycle Luggage Guides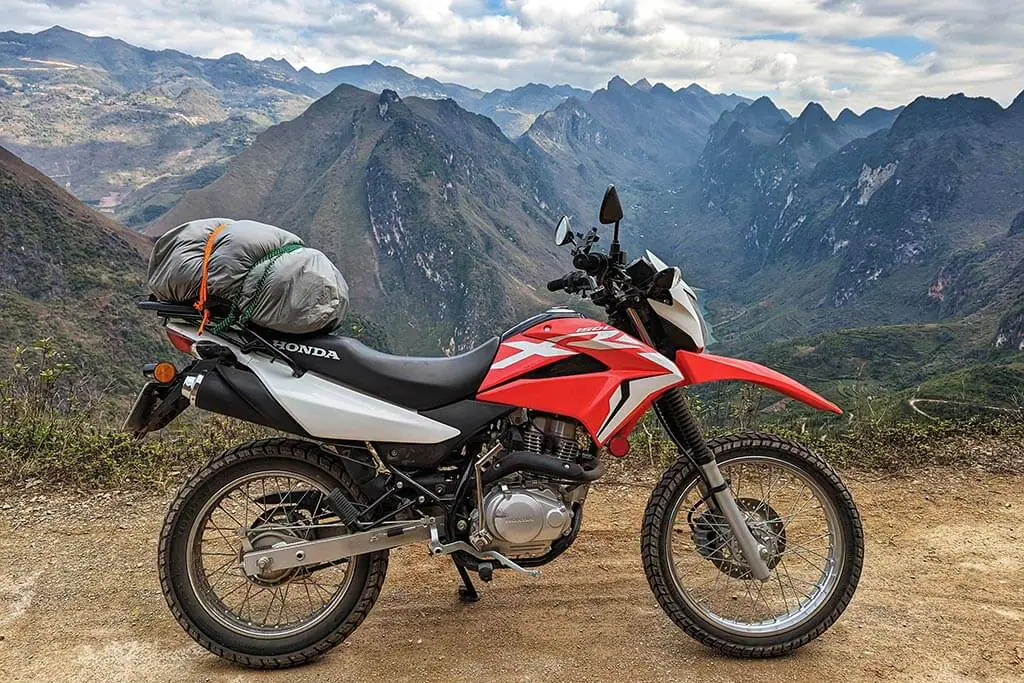 Packing list
You won't need much gear to ride the Ha Giang Loop. Firstly, you've got your riding gear that you'll be wearing on a daily basis. Then comes the obvious underwear, t-shirts, shorts, flip flops, toiletries, wash kit and electronics. Motorcycle travel is all about packing light, but, there are a few little extras that you might find helpful.
READ MORE:
We always travel with a sleeping bag liner. They're light, small and invaluable. They'll keep you warmer on cold nights and cool on hot nights and protect you from mosquitos and bugs. But most importantly, if you find yourself in a homestay or hotel with questionable bedding, you've got a large clean sheet to dive inside (go for a double one, even if you're travelling solo).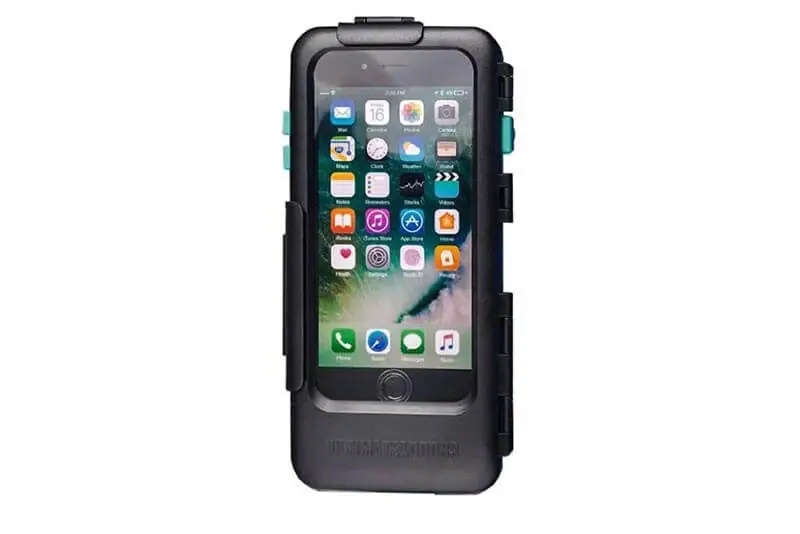 When you land in Vietnam, grab a local SIM card at the airport. Unlike other SEA countries (such as Indonesia), it's incredibly easy to get a local SIM and doesn't require your passport or registering it. They'll just pop it in and you've got data. It's worth doing this, especially on the loop as you'll more often than not have internet and can plot your route, stops and accommodation with ease. It's also worth going for a SIM that has both data and calls so you can phone your rental company in an emergency or call homestays in advance to book your meals.
We often meet people who say they'd rather not get a local SIM card purely because they think if they take their home card out then they can't use WhatsApp. That's not the case, you can still use your WhatsApp just like normal. The only difference is you can't make phone calls or send SMS messages from your home SIM – which you won't want to do from Vietnam anyway as it'd cost you a fortune!
It's worth bringing a hefty USB power bank with you. You can use this for charging your phone while riding (just pop the bank in your jacket pocket and run the lead to your phone). And of course, in the evenings if the electricity goes in your hotel you'll feel pretty smug with a big charger. Bear in mind that there are limits on the size of USB charger you can carry on flights and that they do need to be taken as a carry on. They should not be checked in.
Most rental and tour bikes should come with a phone holder, but if not, you'll have to search for and buy a chunky one while in Vietnam. It's easier to get a decent one from home – especially if you plan on doing more fly and ride bike trips. 
Renting, Organised Tours, Solo and Group
Should I go solo or join a tour in Ha Giang?
Plenty of people go it alone and plenty of people do it in a tour group. It's not that one way is better than the other, they're both just very different and for different people.
Going solo
If you should go alone completely depends on you, your confidence levels, how experienced you are with riding motorcycles in foreign countries and with travelling in general. You'll have to navigate yourself, find places for food and water, fuel and your own accommodation – as well as figure out where all the sights are. But you also have complete freedom to go where you want and when you want. Nobody is holding you up, you're not waiting for anyone and your trip is completely your own. If this sounds like you then go for it!
Joining a tour
Joining a tour is a great way to get the most out of your trip. You'll be with a rider who knows the loop and its best bits like the back of their hand. Everything will be arranged for you and that will take a load of stress off your trip.
Tours are a great idea if you're travelling with a bunch of friends or family. The route and all the daily decisions don't fall on one person's shoulders (just on your tour guide's). If there are any mechanical issues, the guide will sort them quickly for you so as not to ruin the trip for everyone else.
They're also a good option if you want to meet new people and ride with other travellers. Sure, you'll meet people going solo, but this route is typically completed in 3-5 days, so people won't be hanging around in homestays each morning. 
If you're a solo traveller and don't like the idea of doing it on your own, you can get a private one-to-one guide. This is a great option. You get the best of both worlds and we met a lot of solo travellers doing this.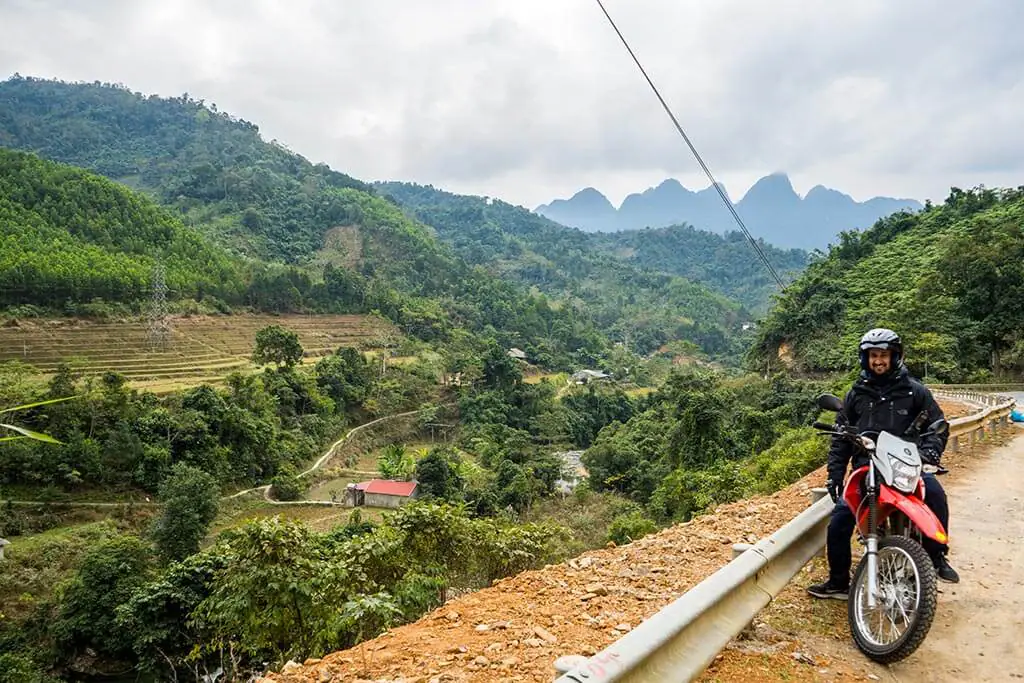 Where to rent a motorcycle
Where you rent a motorcycle depends on where you start your trip. You have two options here: Hanoi or Ha Giang.
Renting a motorcycle in Ha Giang
I'd say 99% of travellers start in Ha Giang and that means getting a bus from Hanoi to Ha Giang and renting a bike there. You'll have a huge range of rental and tour companies to choose from up there but it's highly recommended to arrange your bike before travelling up – especially if you are going for a tour. This must be arranged in advance.
How to join a motorcycle tour in Ha Giang
Joining a tour is as easy as finding a tour company online and booking. The difficulty is in finding reputable companies who won't whizz you through the loop on ropey old bikes with a guide who doesn't speak your language.
It also depends on what you want out of your tour. Here are our two recommendations.
If you're after a longer tour from 4-8 days, or are after off-road trails and off the beaten track rides then go with Rent a Bike Vietnam. Based in Hanoi, the owner Danny and his guides are exceptionally experienced in the region and offer a premium service.
If you're after a shorter tour then we recommend trying these two companies on Viator as they're amongst the highest rated.
How to get the bus from Hanoi to Ha Giang
The bus journey from Hanoi to Ha Giang will take roughly 6-7 hours. Tickets are around £15 ($17) and tend to depart from My Dinh bus station. It's straight forward and easy getting the bus, just head to the station to get a ticket or book with a tour operator in Hanoi.
If you're after a bit of luxury, then go for a taxi instead. But expect to pay anywhere between £150 ($180) to £350 ($450) dependent on the number of passengers and how posh your cab is.
Renting a motorcycle in Hanoi
Hanoi is a solid 7-hour ride from Ha Giang. You can do this ride in a single day if you're used to travelling distances, but we'd definitely recommend a Honda XR150 for it so you can cruise at relative speed. The ride up if you're going direct isn't particularly special, although there are a few interesting stops along the way. But the ride back via Bao Lac is brilliant. We enjoyed our return leg to Hanoi nearly as much as the Loop itself.
It's worth renting in Hanoi if you're going on a longer tour of Vietnam and don't just want to ride the loop. Again, we'd recommend Rent a Bike Vietnam for this who are based in Hanoi.
Hanoi to Ha Giang and back motorcycle route
If you're not on a bigger Vietnam tour and aren't heading to Sa Pa first, then we'd suggest darting straight from Hanoi to Ha Giang. This will take around 7 hours if you ride at a leisurely pace and stop for breaks, lunch and snacks.
You can then spend the most amount of your allocated trip time doing the important part – riding in Ha Giang. Then, dependent on how much time you have, we'd suggest heading on a longer journey back via Bao Lac and Ba Be Lake. If you have a lot of time, then head over to Cao Bang too.
Ha Giang Loop Map, Routes and Navigation
Loop Map and route
The main Ha Giang Loop is: Ha Giang – Yen Minh – Dong Van – Meo Vac – Du Gia – Ha Giang. It's approximately 300kms and is typically ridden in three to five days with some route alterations dependent on your timeframe. Here's how it looks on Google Maps. 
On this route you would start day one in Ha Giang, sleep in Yen Minh, Dong Van, Meo Vac, Du Gia and then return to Ha Giang. So effectively you're sleeping four nights on the route. You can see from the map above and the breakdown below the distance and time each day takes. Note that while Google Maps might say a road takes 2 hours, your riding ability, the traffic, weather and amount of stops you take for photos, food, water, and breaks etc will add a lot of time onto this.
Use the maps to gauge and judge how much time you want to spend on the route. If you're limited by time, then you can cut a section out or put two days into one. But of course, the more time the better. 
Itinerary and route suggestions
Ha Giang to Yen Minh, 3 hours, 100km
There's a shortcut you can take. It's well worth it because of the beautiful views. Copy and paste these coordinates into Google Maps: 23.119587, 105.063947. Plot your route from Ha Giang to those coordinates and then onto Yen Minh. You'll notice that you miss out on a big loop. This is the route with the included shortcut. 
Yen Minh to Dong Van, 1.5 hours, 50km
This is a beautiful route. If you're planning on visiting the Vietnam flag pole, then it's worth doing it on this section, otherwise you'd have to come back on yourself. It's a 30-45 minute detour north towards the China border. Here's the map that shows the way.
Dong Van to Meo Vac, 1 hour, 30km
Interestingly, quite a few people skip this section and ride from Dong Van to Meo Vac. You'll notice quite a few online guides don't include this section either. No idea why because this is probably the most stunning section of the entire ride. It's a short day, but you'll be glad for it because of the amount of stops for photos. Take your time, go on detours, visit the river and enjoy this one.
Meo Vac to Du Gia, 3 hours, 70km
Du Gia in Du Gia National Park is one of the more rustic stops on this route. You'll find a bumpy section of road to get there from Meo Vac and it can be difficult in wet weather. The alternative is to just continue south on the QL4C and then head west to Ha Giang.
Du Gia to Ha Giang, 2.5 hours, 70km
This is your return leg journey. You'll ride more mountainous roads before ending up back on the QL34.
Things to do on the way
Vietnam's most northern point
The Lung Cu Flagpole proudly stands at the most northern point in Vietnam and as a marker between the Vietnam and China border. To get there you have to leave the loop and ride north for 30-45 minutes (around 16km) along a well paved mountain road. Admission is around 20,000 VND and you can park your bike and walk up roughly 800 steps to get to the base of the tower. You can then walk up a spiral staircase to get right to the top for a great view of China and Vietnam.
Skywalk
Around 30-45 minutes (15km) north of Meo Vac you'll find a little parking lot beneath a statue where you can leave your bike (for 2,000 VND) and walk to the Skywalk. You can no longer ride there. It's a walk with beautiful panoramic views and worth it if you're arriving in Meo Vac in good time.
Boat trip
Head for the Nho Que River for a boat trip near Dong Van. The loop takes you along the top of the valley, but if you have the time it's worth heading down to the river for one of the many cruises on little boats. You'll get some awesome photos on a boat here.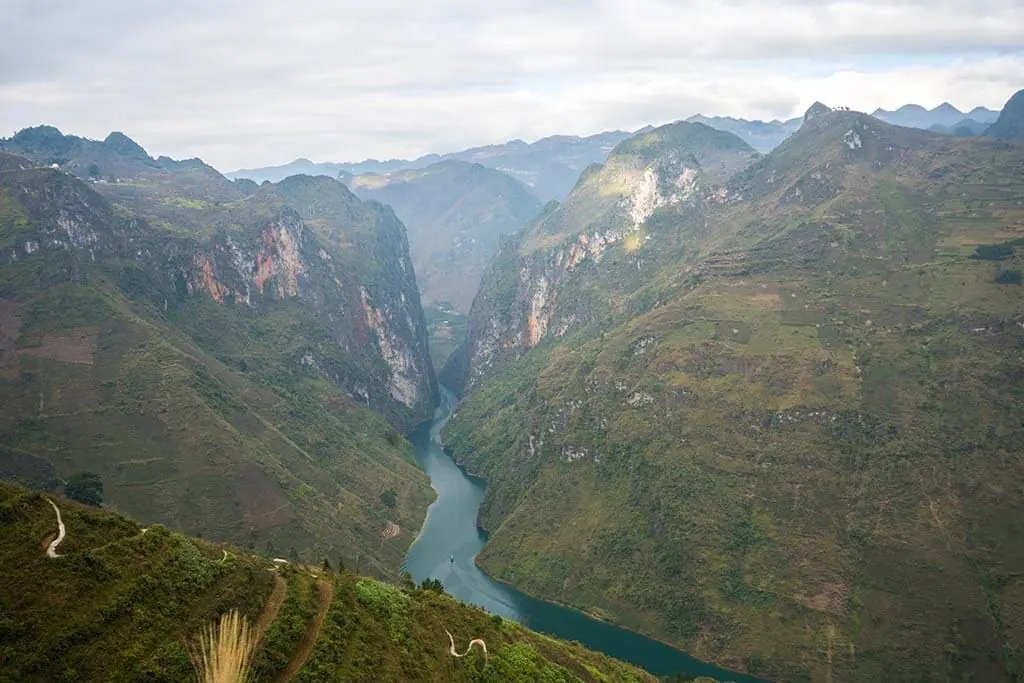 Road conditions
The road conditions in Ha Giang are not safe by any stretch of the imagination. You should expect narrow roads without barriers and steep drops in places. But the majority of the route is sealed asphalt. Many parts may be broken up with pot holes, but you're not going to be doing any crazy off-roading – unless you actively deviate from the main route and go looking for it.
There are many hairpins, twists, turns and bends along the route. Be vigilant and careful on each one. Experienced riders may find a few empty ones and be tempted to start flying around the next one, but around any corner or blind bend a car, bus, scooter or truck could be overtaking another vehicle. If you're in full lean and someone's coming straight at you it's game over. You can also find gravel on bends, so take them slow and take your time.
You should also be very aware of other road users and locals walking in the road as well as animals running across it at all times.  
How to navigate the loop
Don't worry, navigating the Ha Giang Loop is straightforward. Simply save the places, hotels and points of interest you want to stop at as a 'Saved Location' on Google Maps. If you have data and are using a Vietnam SIM card (which is a great idea as you'll have internet throughout most of the loop) then you can use your phone as a sat nav. If you don't have data then you can simply zoom in on Google Maps and follow your real-time location as you travel. 
The best way to navigate is to use a mobile phone and attach it to a phone mount on your bike. If you have a particularly expensive phone or are worried about exposing your phone to the elements, then it may be an idea to carry a cheap spare smartphone just to use as a sat nav.
Most rental and tour bikes come with a phone mount included, but this isn't guaranteed so do check in advance. If you're going solo, then this is far more important as you don't want to pull your phone out of your pocket every 20 minutes.
It's a prudent idea to purchase a cheap phone mount in advance before travelling. This way no matter where you go on your travels, if you want to rent another bike you can attach your phone to the bars and navigate with ease. For riding the Loop we'd recommend something like the Shapeheart mount because you don't need any tools to attach it (it's done with rubber straps and a paper-thin case) and it'll pack away very small. You can find more info on it as well as other options in the below guide.
READ MORE: The Best Motorcycle Phone Mounts
Money, Accommodation, Food, Drink and Petrol
Accommodation in Ha Giang
You've got a few options here: hotels, homestays, motels and guesthouses. Which you choose depends on the level of comfort and amenities you'd like and also what type of experience you want to have. You can always mix it up and stay in a variety of places. But we would recommend staying in at least one homestay. You'll receive an authentic experience and eat dinner with local families.
A quick note on homestays. It's better to book these in advance by calling in the morning or the night before so that they can buy enough food for you for dinner. You'll find many homestays are now on Google Maps, so you can find their number on there and just give them a call. If they don't speak English, find someone who does to help translate over the phone.
Here's a few great hotels and homestays we recommend along the Ha Giang Loop. The links below are to Booking.com and Google Maps:
Food and drink
Food and water are easy enough to come by on the Ha Giang Loop. But, it is very rural so don't expect posh funky tourist cafes with avocado toast. You may find a few places like this in big towns, but not often and they're hard to find. Vietnamese food is delicious, so you won't have any problems eating wherever you find a little hut selling pho.
Food is reasonably priced. Expect to pay around 50,000 VND for breakfast or lunch and up to 100,000 for dinner (without any drinks).
Finding water along the way is easy too as you can find bottles in little stalls everywhere. Make sure you're carrying enough in a bottle strapped to your bike though just in case and don't drink tap water. 
Money
Cash is king on the Ha Giang Loop. You will find ATMs in big towns, but they can often be out of cash or not working. It's worth making sure you have enough on you for the trip and if you think you'll need more then get it sooner rather than later.
But finding ATMs and getting cash out is nowhere near as difficult as it used to be in Ha Giang, so don't stress about this.
Petrol
Expect to pay around 20,000 VND per litre of petrol. Finding petrol is not difficult as there are big petrol stations dotted along the route and in every big town. Just keep an eye on your odometer and top up 25kms before you run empty and you'll be fine. If you do run out, it's likely a little shack or food hut will also sell petrol in plastic bottles.
Ask your rental company how many kilometres your bike will do to a tank and what your tank capacity is – they should have a pretty good idea. Reset your odometer so it's at zero before you set off and ride until you're 25km short of whatever the rental company said it'd do and fill your tank.
Note the mileage you've just done and how many litres went into your bike. You now know how many kms your bike will do to how many litres.
Paperwork, Insurance, Police and Safety
Paperwork
Firstly, you need a valid passport and visa to enter and stay in Vietnam. When you rent a motorcycle, some companies may want to keep your passport. If you leave it with them, make sure they give you a photocopy of your passport page because you will 100% need this to check into any hotel. You can not check into hotels or even guest houses without at least a photocopy of your passport page. We carry a laminated photocopy of our passport's main page for such situations.
Driver's licence
To rent a motorcycle you need a valid driver's licence and an International Driver's Permit (IDP). There are two IDPs: 1968 and 1949. For Vietnam you need the 1968 version.
The IDP is issued in your home country and is a small booklet with translations of your licence. If you're from the UK, you can get your IDP at the Post Office for around £5 and it takes five minutes.
When you rent a motorcycle, you will also be given paperwork that shows who the owner is, keep this safe and with the bike.
Ha Giang Permit
To ride past Ha Giang and along the loop (especially the northernmost regions of Ha Giang and the places closest to the border with China) you must carry a Ha Giang Permit. Don't worry, it's easy to get. If you're on a tour your guide or company should secure this for you in advance. If you're renting, then ask your company in advance for the permit or if they can help you obtain it. If not, a guest house or hotel in Ha Giang will be able to, but they will charge more money. The best way to get the permit is to just head to the Ha Giang Immigration Office and get it yourself. It'll cost around 10USD and you just need your number plate and passport (or photocopy). Easy peasy.  
You do need this permit to travel in Ha Giang. It's been widely reported that hotels ask for it. But more importantly, if the police stop you and you don't have one, they could fine you and take you back to Ha Giang. We didn't have to show a permit at any hotels nor were we stopped by the police, but it's just not worth the risk for only 10USD.
Motorcycle insurance
Your rental or tour company won't offer you insurance for your motorcycle. It just doesn't exist. You will need to pay for whatever damage you cause to your bike. We would advise taking plenty of photos of your bike (or record a short video) of all the scuffs, scratches and anything broken before you leave the rental shop. This way you can prove you didn't cause any additional damage (we do this all the time, even with rental cars etc).
Personal insurance
Personal insurance is very important for any traveller – but it's especially important if you are travelling by motorcycle. You will need to purchase specific insurance that allows you to travel on a motorcycle.
Quite often, a policy will say you can ride a bike, but in the small print it may say the bike can't be over 125cc. Or it will say that you can ride a bike so long as it's not your main form of transport. Or that you can't rent or join a tour. Carefully read and understand your policy before you buy to make sure you're covered because foreign hospital bills can very quickly rack up. We once had a £20,000 hospital bill in Kathmandu from a bike crash, thankfully our insurance took care of it otherwise we'd still be there now washing the dishes.
For more info on personal travel insurance for motorcycle travellers, have a read of this guide.
READ MORE: The Motorcycle Travel Insurance Guide
Police
You won't see many (if any) police along the way. There have been police crackdowns on foreigners in Ha Giang riding without an International Driver's Permit after fatalities back in 2018. So you may find police checkpoints checking for IDPs, but it's not common.
Police in the Ha Giang region of Vietnam are not waiting around every corner for speeding riders and trying to catch you out. They tend not to get involved with foreigners unless they have to. They're generally friendly and there to help so long as you have the right paperwork and are riding legally.
What to do if you have a crash
If you have a crash then contact your rental company immediately. They will advise on how to proceed. If you haven't hit anyone or anything then it'll be a case of repairing the bike at a local shop. Your rental company will want to speak to the shop directly so don't take it upon yourself to get anything fixed without running it past your company first. Or if the bike is beyond repair, your company will come and collect the bike from your location or arrange transport back.
If you hit someone, another vehicle, someone's property or something then you will need to resolve the situation there and then. Call your rental company straight away as they will have a Vietnamese speaking person on hand who will be able to speak to whomever is there and help come to an agreement for how much you need to pay that person. It's best to deal with the person you had the incident with and not to call the police unless you absolutely have to.
Police would only get involved if you can't find a resolution. However, if the person is shouting and refuses to come to an agreement, then suggest calling the police and that might make them rethink. It's not necessarily in your best interest to call the police either as they will take additional fees from you for brokering. ­­
Ride within your limits, at your own pace and don't try and keep up with anyone. The views are spectacular, but you'll still need to keep 100% concentration on the road, soak those views in when you stop. Take your time and you will have an incredible trip through one of the best riding routes in the world. Have fun!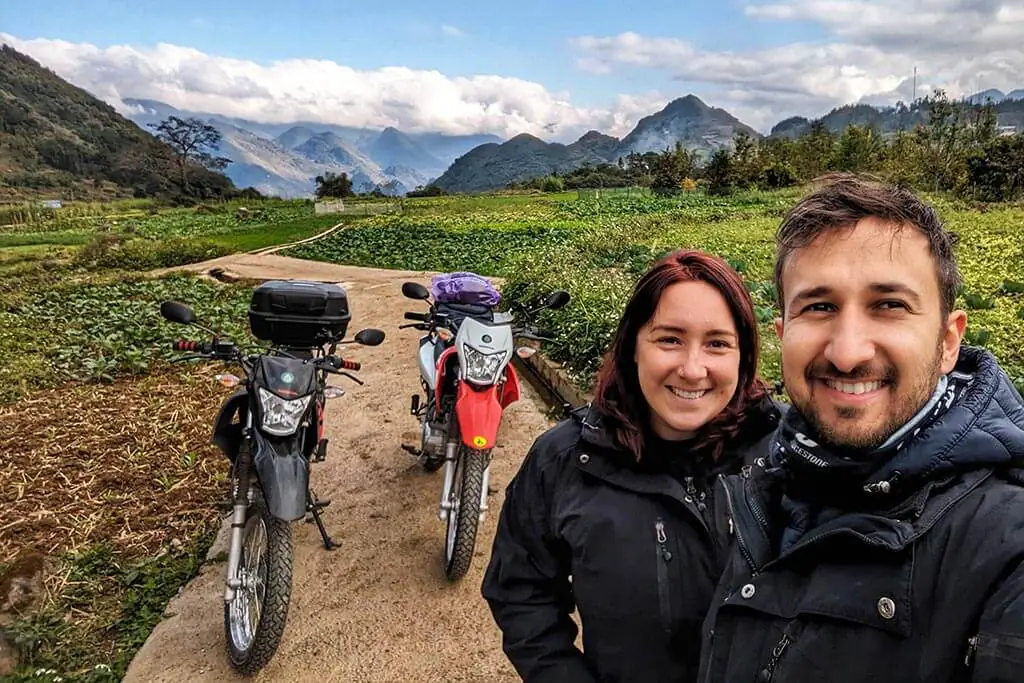 Read more on Motorcycle Travel in Vietnam and Southeast Asia
Thanks for checking out this Ultimate Guide: How to Motorcycle the Ha Giang Loop. We hope you enjoyed it! Here's a few more articles on motorcycling in Vietnam and Southeast Asia that we recommend you read next. 
ps. We may receive a small commission, at absolutely no cost to you, if you purchase any products using the links on this page. We're not sponsored by anyone, are completely impartial and don't run ads. So this helps us keep the site running. Thank you for your support.
Are you planning a motorcycle trip to Vietnam or Southeast Asia? Or do you have any questions or tips to share? Let us know in the comments below.