This packed guide explains everything you need to know about joining an organised and guided motorcycle tour. You'll find info on what to look out for, what you need, where to go and our recommended companies.
The Complete Guide to Organised and Guided Motorcycle Tours
What is a guided motorcycle tour?
A guided motorcycle tour is simply a biking tour organised by a company that will take and lead you on a ride with a professional guide. Typically, the company will take care of everything including providing you with a motorcycle, booked hotels, food stops and the all-important expert guide and route. Dependent on the tour, you may have a lot more included like fuel, drinks, insurance etc.
Think of it as an all-inclusive holiday – except that instead of lounging by a pool all day, you'll be riding and usually staying somewhere new each night of the tour.
What are the benefits of a guided motorcycle tour?
Less stress
Planning a motorcycle trip can be stressful. Especially if you have time constraints, a full-time job, family and commitments etc. Spending time looking up routes, plotting how to get there, where to stay, what to see, paperwork, border requirements and so on soaks up a lot of precious time. Letting a professional company take care of everything for you means all you have to do is book time off work and your flights. Easy peasy.
Make the most of it
A professional guide, who will hopefully be an expert in their region, knows the very best roads, routes and tracks, the best hotels, places to eat, and best sights. Of course, you can plot these yourself, but if you only have a short timeframe, having someone who knows the route like the back of their hand will help you get the most out of your trip.
Safety
Safety may be a concern for you regardless of whether you're riding in in Italy or Kyrgyzstan. The further afield you go, the more likely it'll be on your mind. Going on an organised bike tour will help as your company will know where is safe to travel. Tour companies train up your guides and team to be first-aider trained in case the worst happens, and they'll be on hand to sort emergency assistance if needed.
Backup
You'll also have a full backup team and mechanics on hand. Breaking down on your own bike can mean the end of your trip or put a massive dent in your schedule with sorting repairs. Most tours will have a support vehicle following in remote regions and access to repairs in not so remote areas – either way, they'll get you up and running again in no time. 
Go further
If you fancy diving a little further afield than Europe or Western countries, you can easily do so by joining a tour. You can explore far flung and exotic locations that you might not be able to otherwise due to distance and getting your own bike there.
But even if you want to head to Europe, going on your own bike could easily soak up a week of precious time getting to your destination and back on motorways before you even get to the good stuff. With a guided tour, you'll spend all your time riding the best roads.
Make friends
You can join an organised tour as a solo rider, with friends or opt for a private tour if there's enough of you. But if you're going alone, it's a fantastic way to meet new people, make friends and ride with like-minded people.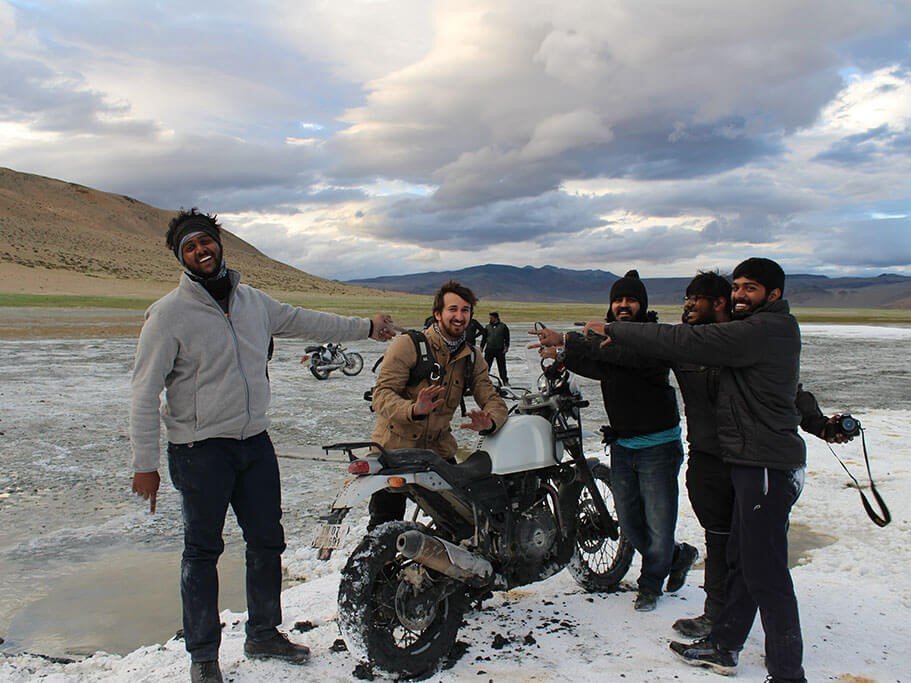 Concerns when joining a guided motorcycle tour
Signing up for a guided motorcycle tour can be expensive, a big commitment and worrisome – especially if you've never been on one before. Here are the main concerns most people have before joining.  
Freedom
This depends on the type of tour you're on. If you join a group tour as a solo rider, you won't have the freedom to ride where you want. You'll have a set route and time-frame, everything will be picked out for you to follow. But if you want to explore places by yourself, then an organised tour isn't for you anyway. However, you can go for a private or custom guided tour, and the tour company will tailor the route to your requirements. You can do this with friends or as a solo rider. Another option is a self-guided tour. More on this below.
Riding in a group
Some people don't enjoy riding in a group and that's fair enough. It's not for everyone. There are ways around this though. Speak to your company and ask how they run their tour. You may find that they have a tail end rider who will wait for you if you want to spend a little more time taking photos. Again, self-guided tours are another option.
Keeping up
This is a big concern for a lot of people, especially newer riders. But it shouldn't be. You should never feel compelled to keep up with the guide or other riders and never ride out of your comfort zone. Guided tours aren't for hooligans to race off and leave you in the dust. You will get directions on a sat nav with your route for the day plotted on it or a handlebar phone mount so you can follow the route that way. Or, a guide will wait for you at turns. Ride at your own pace and don't feel pressured.  
Cost
Price is a factor. Tours are expensive and there's no getting away from that. Consider that more often than not, everything is included in an organised bike tour and you'll get the added extra of support and backup – factor this in when calculating costs. Also consider how much it would cost you to get your own bike to wherever you're considering riding. Weigh up your options and go with whatever suits your budget.
Guided tour options
You've got three options here. A standard guided tour, a self-guided tour or a custom guided tour. For each of the options, what's included such as hotels, fuel, food, sights etc are dependent on the company and the type of tour package you choose. Here are the differences between the options.
Standard guided motorcycle tour
A standard guided tour means you'll have a guide and ride in a group with other random people, or with your own party if there's enough of you on the booking.
Everything will be picked out and arranged for you in advance from the route to accommodation and pit stops. It's literally a turn up and ride service.
These are the best option for absolutely zero stress and planning. They're also great for meeting new people and can be very social. You can opt for a private tour too if you prefer, but will need to get enough friends together to fill up the booking.
Custom guided motorcycle tour
This is a great option if you want all the benefits of a guided tour, but want to choose the route or sights and stops yourself. The catch is that it'll most likely be more expensive as it will be a private tour for either you on your own or if you get a group of mates together.
Self-guided motorcycle tour
If you don't like the idea of riding with a guide, you can go for a self-guided motorcycle tour. These are becoming more popular nowadays. It's just the same as going on a standard tour, but you're the guide. Your bike will be fitted out with a sat nav with your route preloaded onto it. Each morning, you simply select the day's route and just follow it. Recommended rest stops and restaurants will be displayed on there and it'll finish at your pre-booked hotel for the night.
These are great if you want to travel solo, with just you and your pillion, or if you have a group of friends.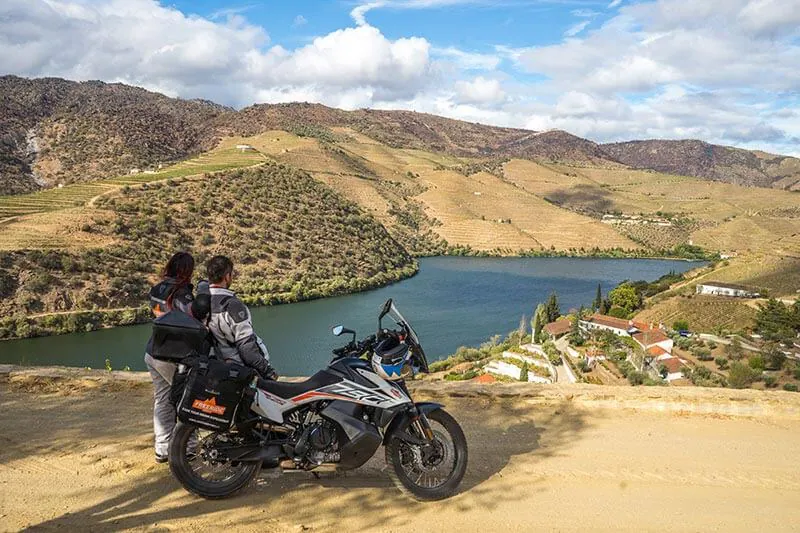 What's included on a guided motorcycle tour?
This is dependent on the company, what services they offer and what package you choose. At the very least, you can expect a motorcycle and the guide rider to be included. Here's some things to consider.
Motorcycle
Your motorcycle tour company may offer you a selection of bikes to choose from. If this is the case, you may have to pay extra for a specific bike such as a larger capacity machine for example. If you're after a certain bike, check with the company first to find out if it's available and if it makes any difference to the price.
Or they may have a fleet of the same models and no choice. This is far easier for a tour company because it makes servicing and carrying spares easier. This is usually the case on enduro, off-road and adventure bike tours. Make sure you're happy with the model on offer before booking onto the tour.
You may also have the option of using your own bike. Check with the company first.
Make sure you're happy with the bike the company offers you in advance. Some companies may only offer one type of bike because that's the fleet they own. If you haven't tried that bike before, it's wise to jump on one before you fly out to make sure it's a good height and manageable.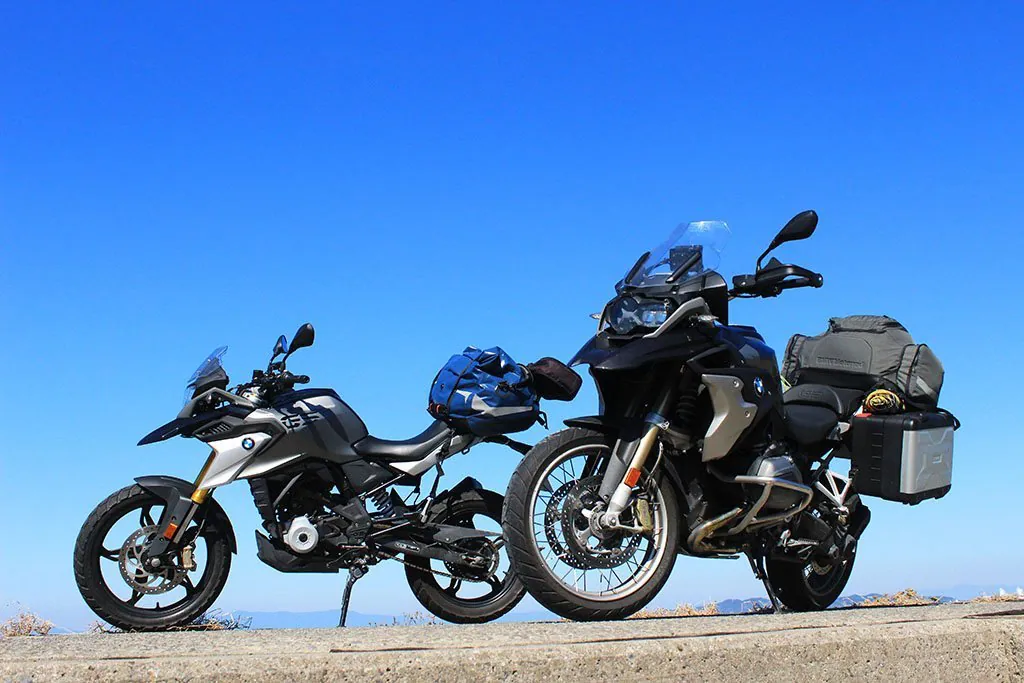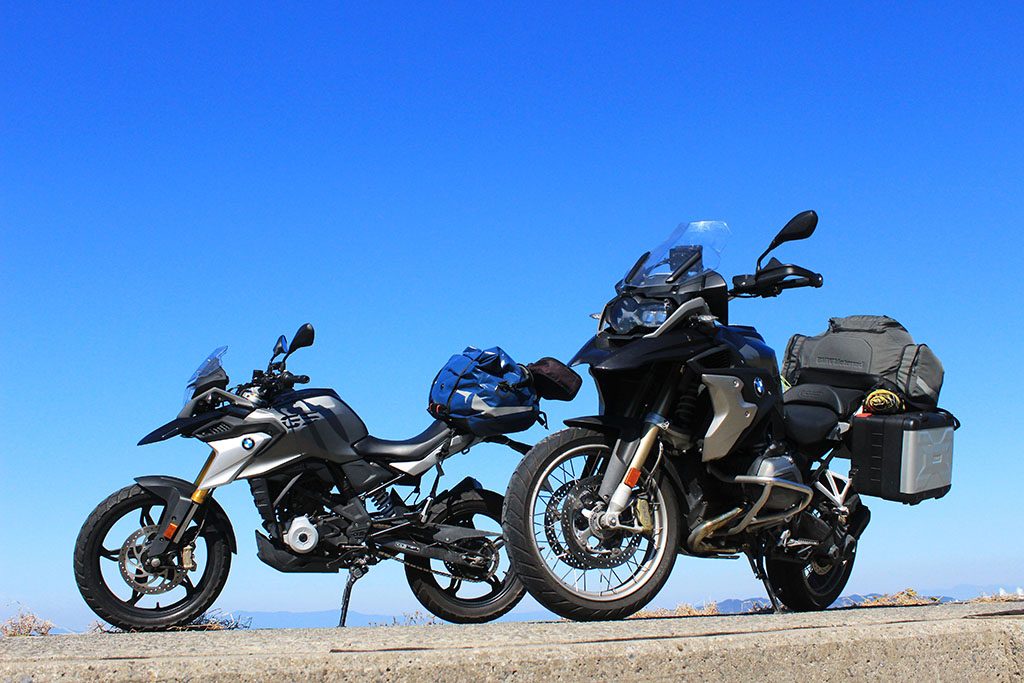 Accommodation
Speak to your tour company to find out whether accommodation is included in the tour price. And if it is, what type of accommodation and if you will be sharing a room with other riders. If you're on a tour in India for example, it's common for riders to share a room and you may need to pay extra if you want your own hotel room.
Bear in mind, dependent on where in the world you travel, accommodation may not be luxury hotels. It could be anything from a yurt to a homestay to a five-star hotel.
Food and drink
Breakfast and dinner are often included while lunch may or may not be. It's all dependent on the company. If food isn't included, then factor this in as an additional cost when prepping for your trip. It's a good idea to pack a load of snacks too so you don't have to spend time searching for what you like once you land.  
Alcohol is hardly ever provided, neither are soft drinks unless it comes with your meal while water is usually included. Again, check first.
Fuel
Fuel is usually included on guided tours, but not on self-guided tours. But this isn't always the case and you may need to pay to top up your bike.
Insurance
There are two types of insurance to consider, motorcycle insurance and personal travel insurance. Personal travel insurance is never included, but motorcycle insurance might be. You will need to check with the company if they include bike insurance and what the excess is. More important info on insurance in the paperwork section below.
Riding gear
Riding gear may be included in the price, or you may have to pay an extra fee for it. Either way, it's always a good idea to take your own kit if you can so you know it works, fits and is comfortable. It'd be a shame to realise your helmet is too tight at the end of day one.
Luggage
Luggage is another factor. If you're on an adventure or off-road ride, it's extremely likely the tour company will have a support vehicle following or setting off extra early with all your bags. If not, check what luggage set-up the bike has such as hard or soft panniers, top box or just a luggage rack to strap a duffle bag down. 
Backup and support
This should be included as standard. Make sure your company provides backup in the form of a support vehicle or some way of getting you back on the road quickly if your bike breaks down. Support should also be there in case of an emergency first aid situation.
How to choose the right motorcycle tour company
What's included?
The first thing to check is what's included. You'll most likely find this info on the company's website. Use the above list from the 'What's included?' section and find out what exactly you are paying for and will need to pay for once you arrive.
Regulated?
Is your company regulated and licenced? They'll provide more info on this on their website and you can always ask for proof or their business number when enquiring.
Reviews?
Check the reviews and not the testimonials on the website. Look at their Google reviews and carefully read them to make sure the reviewers are legit people who have left multiple reviews on different places/ businesses. If the Google reviews are full of people who have only one review to their name, it's likely they're not real.
Do they speak your language?
This sounds obvious, but people do get caught out on tours where the guide rider doesn't speak your language. If you're just travelling around by yourself, not knowing the language isn't really a problem and part of the experience. But on a guided tour, you need to listen to the guide in the morning briefings and hear what they have to say about stops and sights and fuel etc.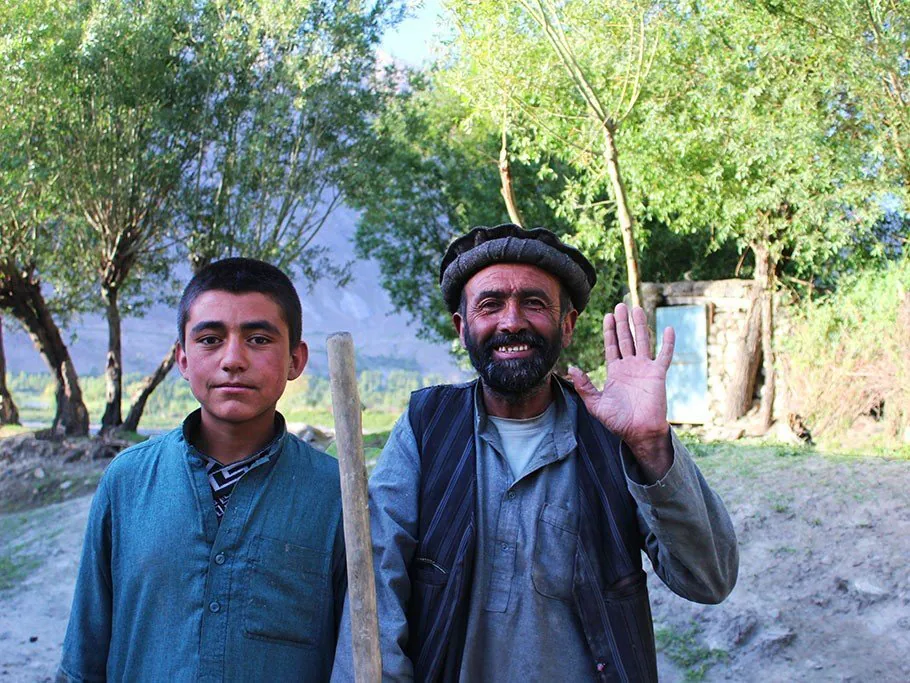 How many people?
You may not want to ride with a hundred other riders. Ask what the group size is and how many guides there are to the group. In some countries, you may find over 50 riders on the tour with you and that can get very messy!
Is there a luggage vehicle?
Check to see if there'll be a luggage vehicle following. This will make a big difference to how and what you pack for the trip. If there is, then you'll only need a small big with you for the day with your essentials (spare gloves, waterproofs, snacks, camera, phone charger etc). If you're in a more exotic location, it may take your luggage vehicle sometime to arrive after you do, in this case, I always pack flip flops and a change of clothes in my day bag on the bike. As if you arrive at the hotel a few hours before the vehicle, you can get out of your dusty gear, freshen up and head out instead of having to wait around in sweaty kit.
Hidden costs?
Ask the tour company outright if there are any hidden costs via email so you have it in writing and know where you stand with costings.
Insurance
This is a big one. Firstly, check if insurance is included or not. If it is, ask what exactly is covered. You might find that it's third-party liability insurance only. It'll be up to you if you want to pay an additional fee for more comprehensive insurance that covers the bike in case of damage, a crash or even theft. This is completely down to you, your budget and what you feel comfortable with.
Bear in mind that some companies will not be able to offer bike insurance, like in Vietnam, because it just doesn't exist. In which case, you'll be liable for damages or theft. If that is the case, then ask for some form of security device like a lock and chain and be careful where you park.
You may also need to fork up a deposit for your bike. Keep all of this in mind when choosing a tour company and find out exactly what you're covered for and what the risks are. 
READ MORE: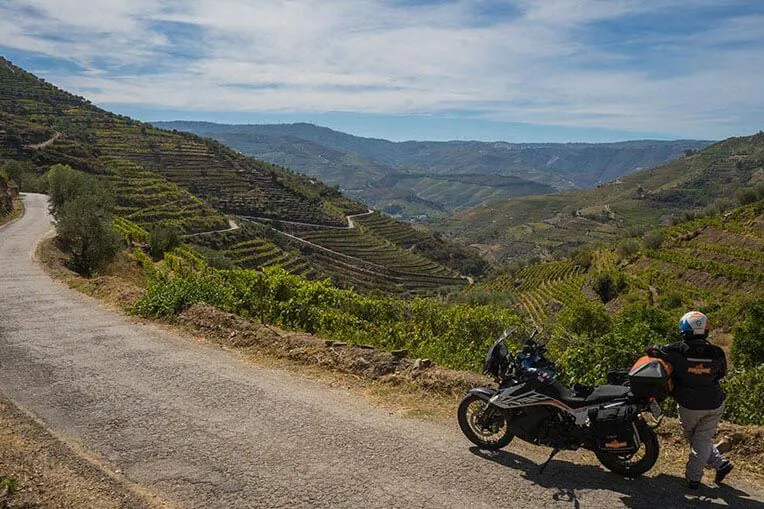 What to take on a guided motorcycle tour
The beauty of a guided tour is that you won't have to take half of the kit you would if you were travelling alone – regardless of the type of tour you're on. For example, if you're on a Mongolian Gobi Desert tour, you won't need to carry tools, a tent and camping equipment.
You've got the opportunity to pack extra light and just take the minimum so you can fly in and go. Of course, if there is a luggage vehicle following and you want to take extra, then pack it in a suitcase and chuck it on the truck. It's all up to you.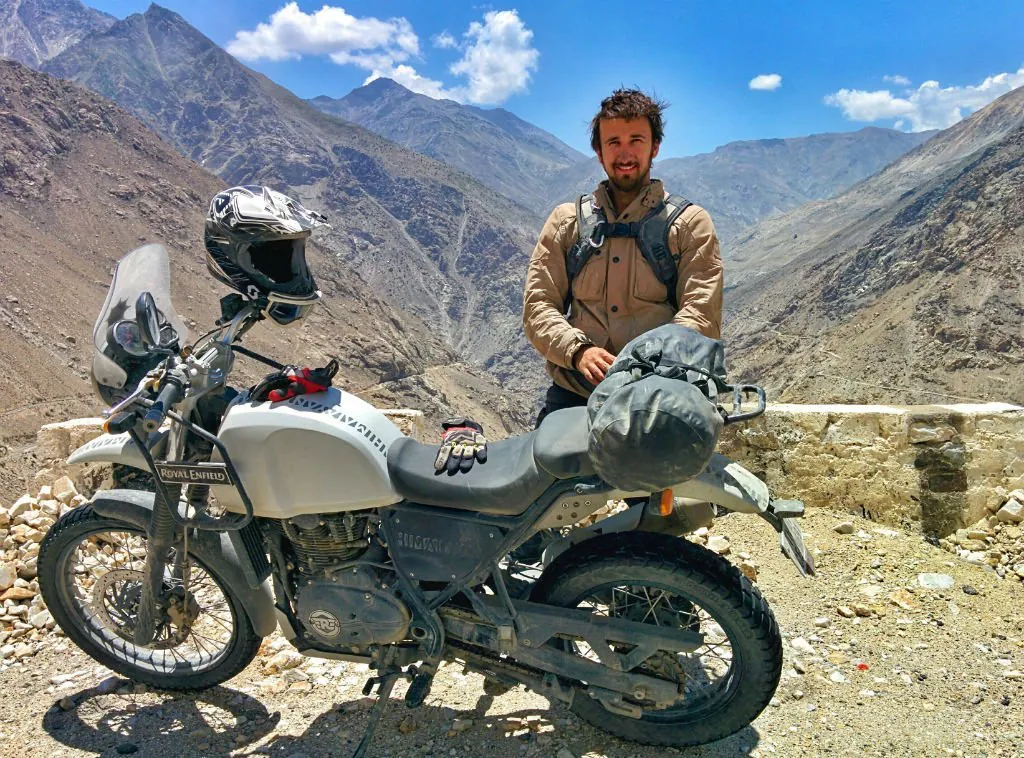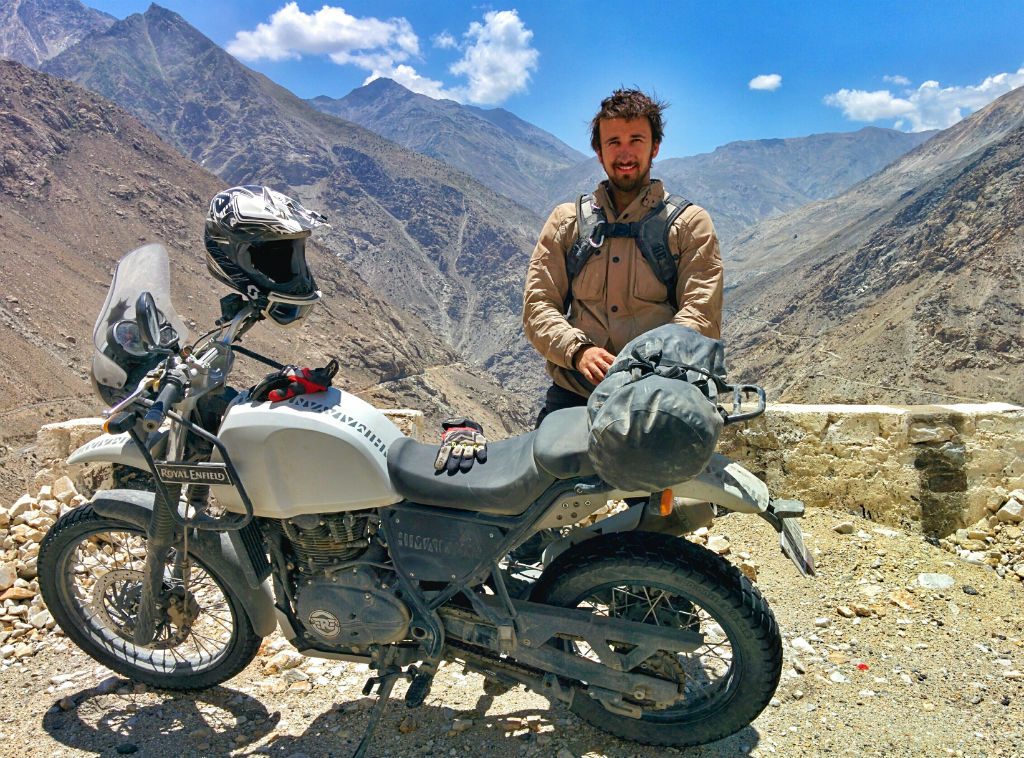 Riding gear
As mentioned in the 'What's included?' section, riding gear may or may not be included. Either way, it's often far better to take your own kit so you not it works, fits and is comfortable. For help choosing the right gear and our reviews and buying guides, check out the below section.
READ MORE:  Riding Gear Guides
Luggage
It's more likely that your luggage setup will be included on the tour. But do look into it  because it might not be, or you might not be happy with the type of setup. Or, you might want to take a lightweight rucksack to carry your camera or bladder pack, or tank bag etc. For more info on our recommended kit, check out the below section.
READ MORE: Motorcycle Luggage Guides
Personal clothing
How much personal clothing you take depends on the duration of your tour. If you're out for seven days, it's worth taking seven pairs of pants. Much longer and you'll want to consider doing a wash while out there. Pack for the climate you're going to. Consider that even in hot countries it can get bitterly cold at night so pack a compressible down jacket. Take flip flops and shorts and leave them in your day bag so you can quickly get out of your sweaty bike gear. You'll find a lot more info on what to take in the below guide. 
READ MORE: The Ultimate Motorcycle Trip Packing List
Electronics
You'll likely want to take camera equipment to photograph your travels. What kit you take depends on how good you are with a camera and how important photography is to you. For most people, snapping pics on a phone is enough.
If you're going with a partner, pillion or friends and you want to chat to each other while riding, an intercom system may be a good shout too.
Check out our electronics section. You'll find info there on camera and video equipment, phone holders, Bluetooth headsets and more.
READ MORE: Motorcycle Electronics Guides
Paperwork
You will need to carry your important paperwork on the trip. This primarily includes your passport, driver's licence, International Driver's Permit (IDP) and a copy of your personal travel insurance.   
Snacks and sweets
Snacks – If you're the hungry or fussy type, pack a load of snacks from home such as oat bars, nuts, trail mix. Dry food is best.
Gifts – If heading to remote regions, for example parts of Nepal, I always buy a family size bag of assorted sweets from a supermarket before going and then just hand out sweets to kids. Up in the mountains, kids are always excited to see foreign motorcycle travellers and the smiles when you pull out a wad of sweets is pretty special.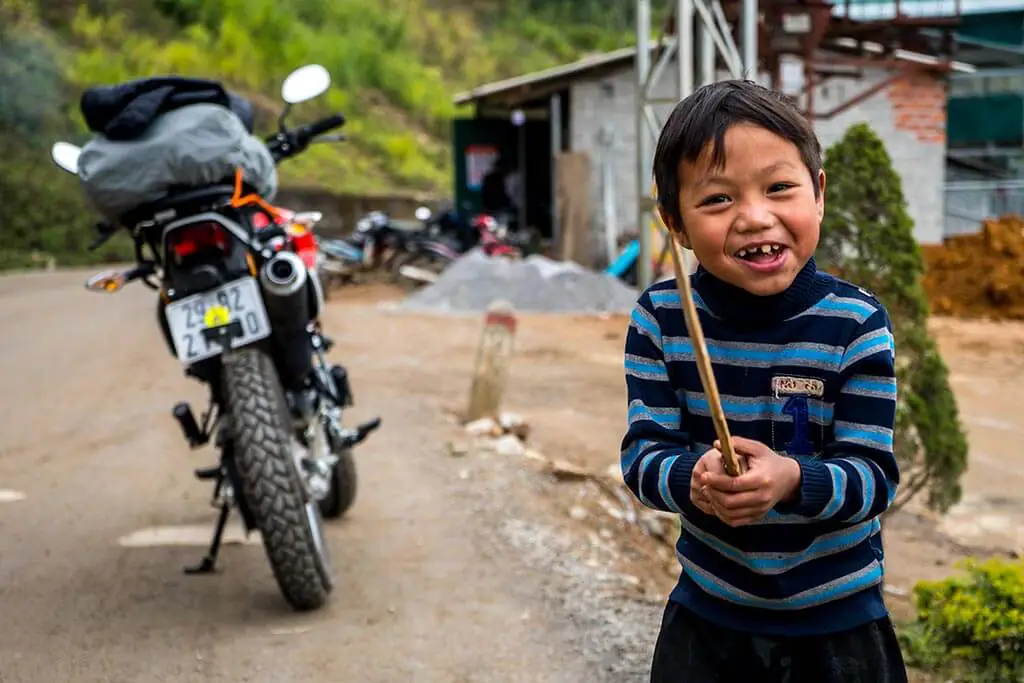 Taking a pillion on a guided bike tour
A lot of guided motorcycle tours are well set up for pillions. You will find they have an additional price (usually half the standard price for a single rider), which is fair enough. They have another person to insure, look after and feed etc.
Taking a pillion is a great way to enjoy a tour with a loved one or friend. Just make sure the bike you are taking on the tour is well suited for travel with a pillion and the luggage system is adequate too.
READ MORE: 6 Tips for Travel with a Pillion
Women only guided motorcycle tours
We have a dedicated guide on the site for women only motorcycle tours. You'll find a list of the benefits and info in the below guide. 
Guided Motorcycle Tour Destinations and Companies
Now you have all the info on guided and organised motorcycle tours, your next step is to choose where in the world you want to tour! 
To help narrow it down, take a look at our Country Guides page. You'll find dedicated guides on the best roads, routes and sights there. 
Once you know where you want to go, visit our Recommended Tour Companies page. You'll find an interactive world map there, simply click the country you want to ride in and you'll find our top pick of guided tour companies.    
Happy touring!
READ MORE: 
Motorcycle Rental and Tour Companies
Planning a Fly and Ride bike adventure? Here's our recommended motorcycle rental and tour companies from around the world. Check out the page, click a country and see what's on offer!
Read More
Read more on motorcycle touring
Thanks for checking out the Ultimate Guide to Guided Motorcycle Tours. We hope you enjoyed it! Here's a few more articles on motorcycle touring that we recommend you read next. 
Are you planning on joining a guided motorcycle tour? Or do you have any questions or tips to share? Let us know in the comments below.