Here's your complete guide to Cappadocia! This page will show you how to hike the major valleys, the best underground city to visit, everything you need to know about hot air ballooning and a bunch of awesome tips.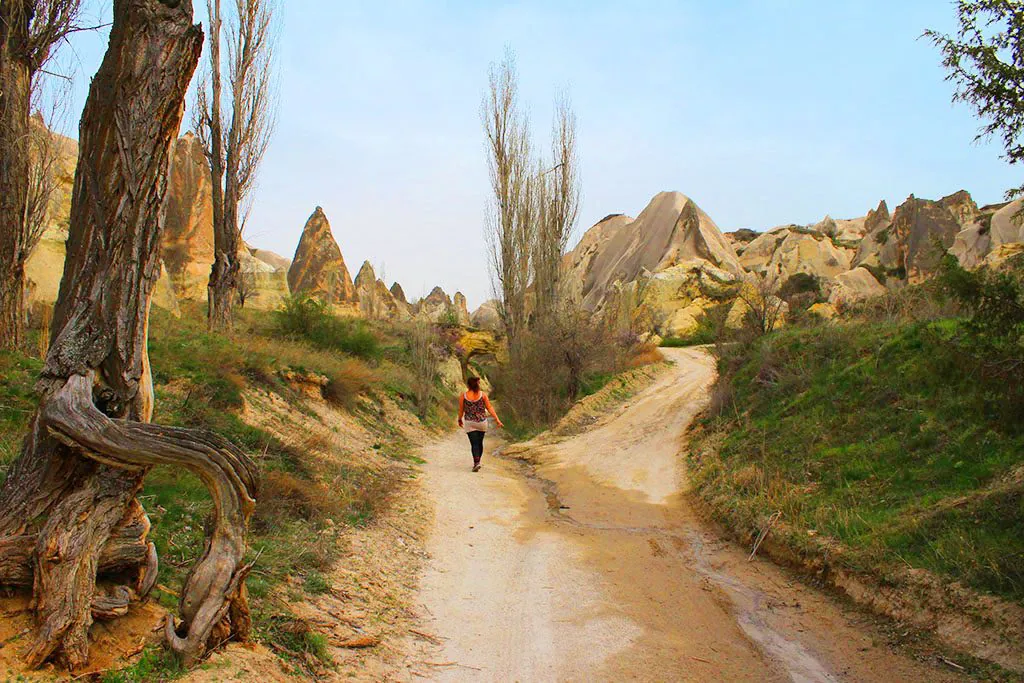 Cappadocia Turkey Guide
The magical kingdom of Cappadocia is special – really special. And it's certainly one of the brightest highlights of Turkey. If you can only visit one place in Turkey, this should be it. It has it all – incredible views, luxurious and budget accommodation carved into rock faces, hiking, adventure and it's steeped in history. You could spend weeks here exploring the vast landscape and you'd love every minute of it.
What you'll find on this page
Top Things To Do in Cappadocia, Turkey
Hot Air Balloon Ride
On my first visit to Cappadocia I passed on the hot air balloon ride. Wasn't interested and it was too expensive. On my next visit, six years later, I still wasn't interested and it still cost too much. But my girlfriend wanted to do it so I relented – and I'm so frickin glad I did. The hot air balloon ride in Cappadocia is one of my favourite memories of Turkey – and I've spent a year travelling to its every corner.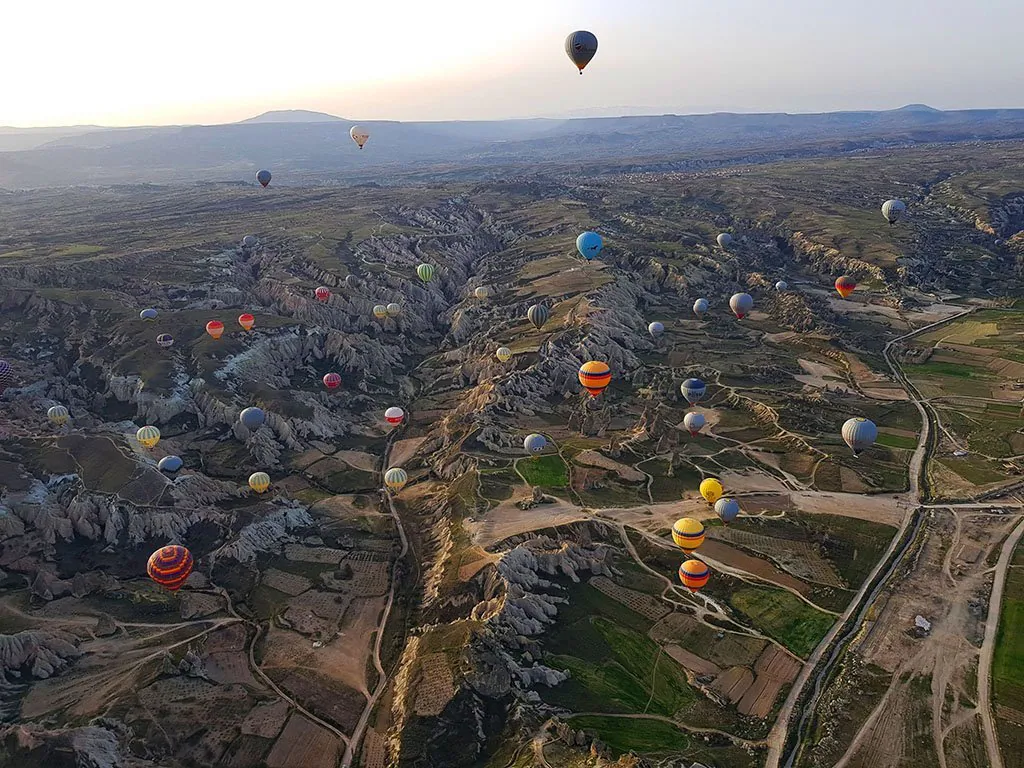 Butterfly Balloons stood out as a top company when researching and they offered an incredible experience for £105 per person (including an impressive breakfast before, champagne after and a certificate – for some reason). The set-up was professionally run and we'd recommend them based on our experiences.
What happens on the day?
Going on a hot air balloon ride means an early start. Expect to be up at 5am. Most places will include a breakfast, Butterfly Balloons' breakfast was a buffet style with fresh fruit, toast, cheeses, chocolate and pastries with hot drinks. While you're having breakfast the company will be waiting on flight confirmation. Ballooning in Cappadocia is highly regulated and every company must get the go-ahead from the Aviation Authority. Flights have been known to be cancelled on the day, in which case you'll be given a full refund. Once the all clear has been given you'll jump on a minibus and be taken to your balloon. From there it's up and away for an hour to an hour and a half. You'll land somewhere else completely and (with most companies) will be treated to champagne, strawberries and a flight certificate. From there they'll stick you on a minibus and drop you back at your hotel.
How safe is it?
There is risk – you're floating in a basket strapped to a balloon with fire blasting into it. And there have been casualties and, tragically, 8 deaths in the last 10 years in Cappadocia. However, Cappadocia is still one of the safest places in the world to take a balloon flight. There are on average 150 balloon flights a day. Let's say each basket takes a minimum of 10 people and they fly 250 days out of the year. That's 375,000 people in the sky over Cappadocia a year. The numbers are on your side.
Which company should I go with?
It's easy enough to book when you're there and get a feel for the company as opposed to doing it online. If you're worried then stick to big companies like Butterfly Balloons and Voyager. If you're doing it while you're there go directly to the company's headquarters or book through a travel agent. Don't do it through a carpet shop or restaurant and be careful of booking online through agencies.
More information
Pilots must train for roughly 16 months, fly 200 hours and have a Commercial licence and Private Pilot's licence before being hired by a company.
A balloon ride should cost anywhere from £100-£150 dependent on season. Our flight was £105 in March 2018.
If you're splashing out there are deluxe flights for around £450
Balloons typically fly at 3000 feet. The maximum altitude is 6000 feet.
Some companies run flights all year round. Snowy back drops are incredible if you go in winter.
Up to 200 balloons can be in the sky at one time
Baskets typically take 10 passengers (it can range from 2 passengers plus one pilot up to 24 people) so that's up to 2000 people in the sky!
It costs £80,000 per balloon (usually made in the UK) and £20,000 for the basket
I get pretty bad travel sickness, but as the basket moves with the wind there's no swaying and no feelings of motion sickness!
It's also surprisingly warm in the basket.
Check out this short video clip of our hot air balloon ride!
Watch the Sunrise
Watching the sunrise over Cappadocia is beautiful and should be at the top of your list of things to do. It'll suck getting up early, but it's definitely worth it, especially if you're not opting for a balloon ride. And even if you are going for a balloon ride, we'd still recommend seeing the sunrise from the cliff top, it offers a different perspective and makes for some amazing photography.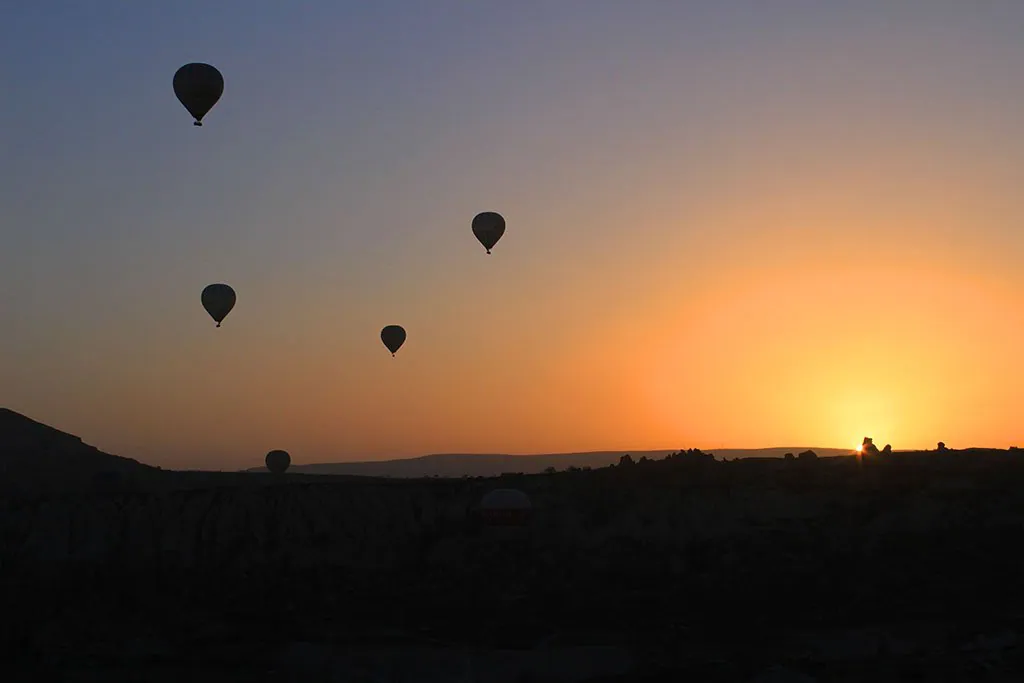 There's a specific sunrise point in Goreme (use the same point for the sunset). It's a short-ish walk up a steep hill. You'll want to check what time the sun rises online or ask your hotel owner and make sure you're up there about 30 minutes beforehand. In peak season it can get busy with everyone scrambling for the perfect photo op. When you get to the top you'll find a café, walk behind it and down onto the cliff face, keep walking until you can see all the balloons on the ground. Get as close as you can to the edge as they'll be flying close.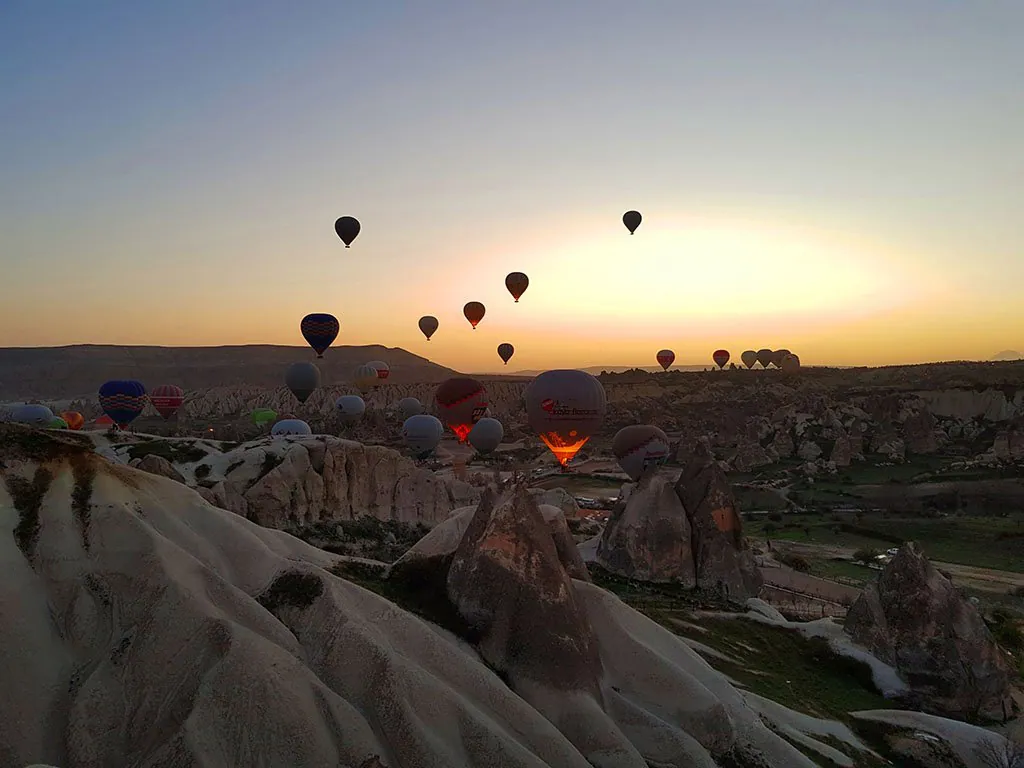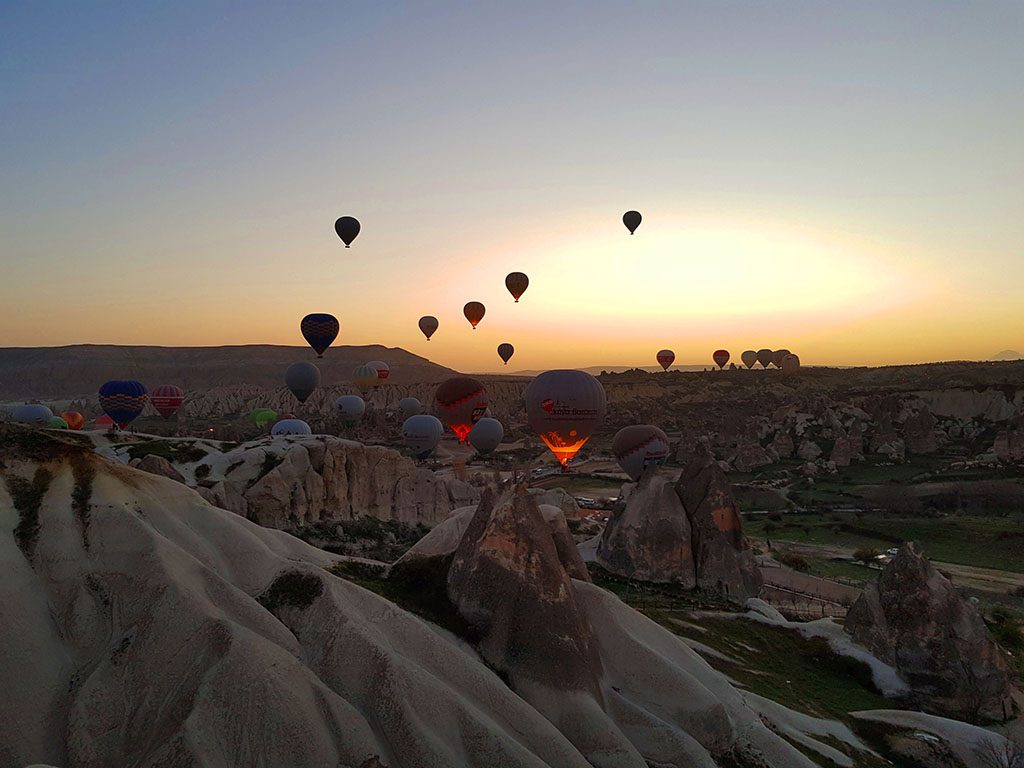 Hike the Famous Valleys
There are five famous valley walks in Cappadocia. If you fancy it, you can complete all five in two days (it's a bit much to squeeze them all into one) by following our suggested walking route below. If you're rushed for time then use the map to pick and choose your favourites!
Day 1
From Goreme; hike Pigeon Valley (1.5 hours – easy) through to Uchisar and climb to the top of the castle for a panoramic view. Join White Valley (1.5 hours – steep and slippery in places) which will turn into Love Valley (1 hour – easy). Walk back to the main road and hitchhike a lift back to Goreme (to walk is about 45 minutes). This is a full day's walk.
Day 2
Then do Red and Rose Valley on a separate day as it will take around 3.5 hours, not including time to explore churches and abandoned homes carved into the rocks. It's well worth leaving early and taking the shortcut route shown on the map.
Cappadocia Hiking Map
Pigeon Valley (1 hour, easy)
The great thing about Pigeon Valley is that it's perfectly situated, the easiest one to access from Goreme, links up to Uchisar Castle and the south entrance to White and Love Valley and is a great introduction to hiking in the area. We'd recommend starting at Pigeon Valley.
White Valley (1.5 hours, steep and slippery in places)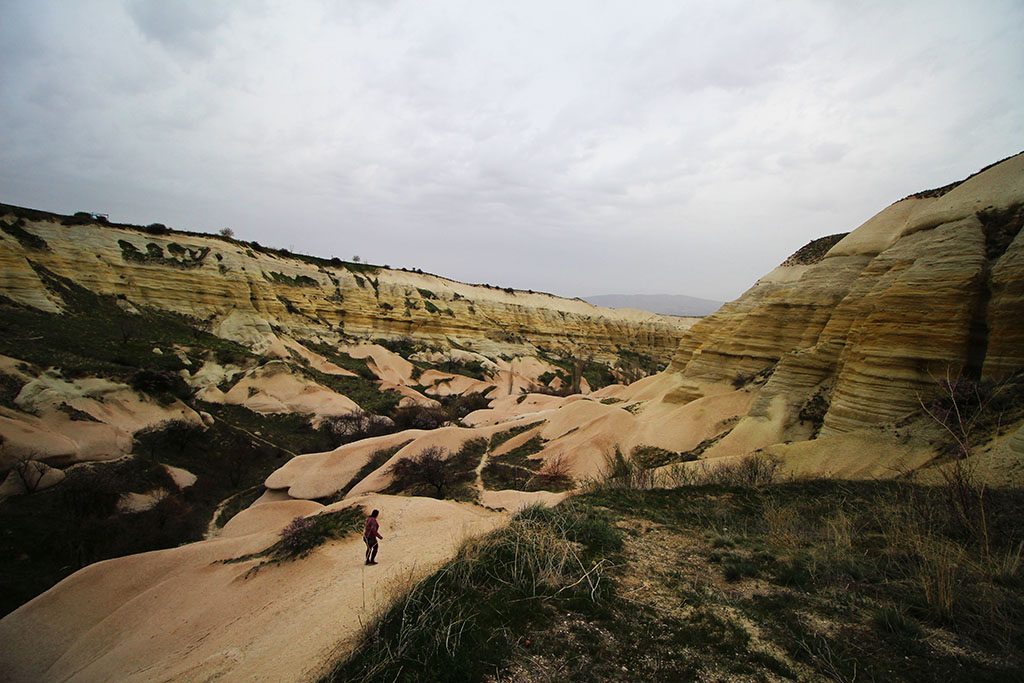 If you're starting from Uchisar, look at the road pointing towards Goreme and the entrance to White Valley will be to your left, while Pigeon is on your right. White Valley is not difficult, but it is tricky if you're not wearing the right footwear. You could hike the rest of these valleys in flip flops, but White Valley has some steeper terrain to negotiate and is usually peppered in gravel. White Valley eventually turns into Love Valley.
Love Valley (1 hour, easy)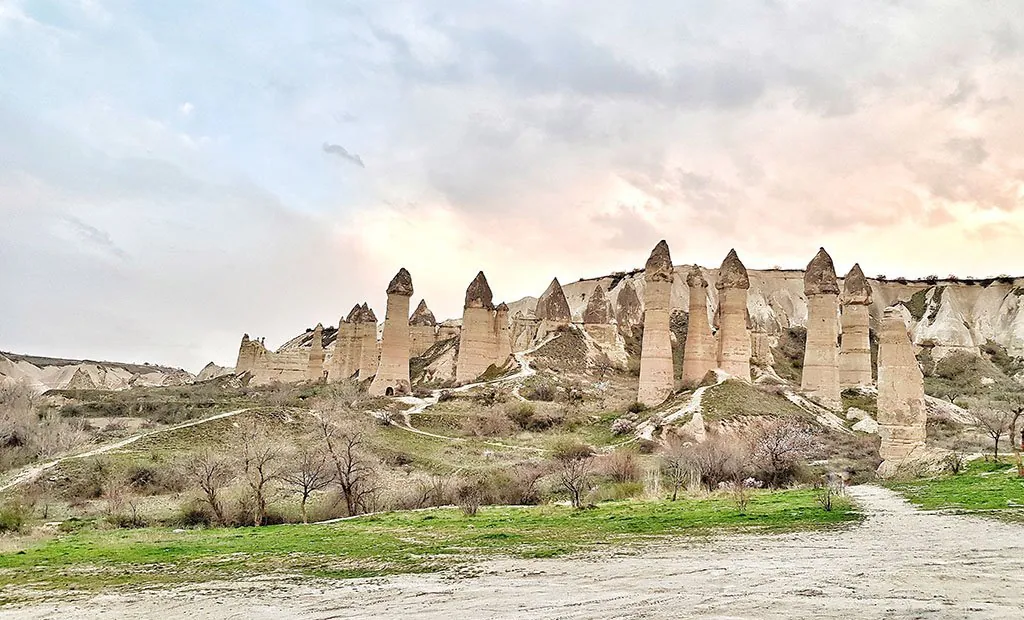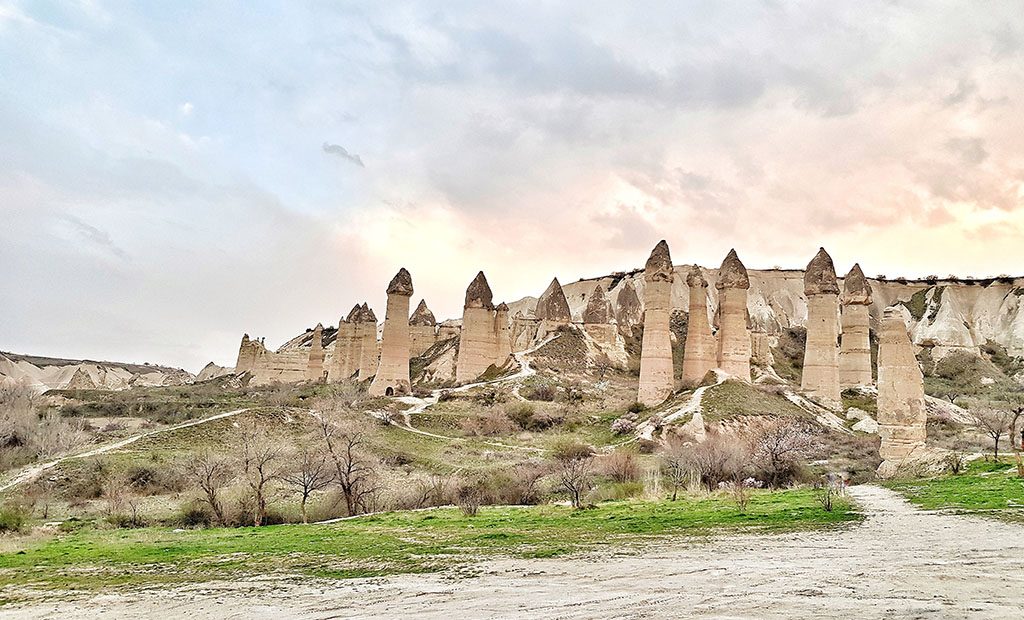 Love valley is the most famous of all in Cappadocia, for obvious reasons – the phallic shaped rock formations. It's a very easy valley to walk through and makes for some cracking photos. You'll find a little cafe shack half way through. Once you've reached the end, turn right and follow the road until you hit the main road. From there you can either walk or hitchhike a lift back to Goreme. If you have a tight time frame and just want to see Love Valley then get a taxi to the north entrance, it's easy to find and walk for about 30 minutes into the valley turn around and head back to the main road.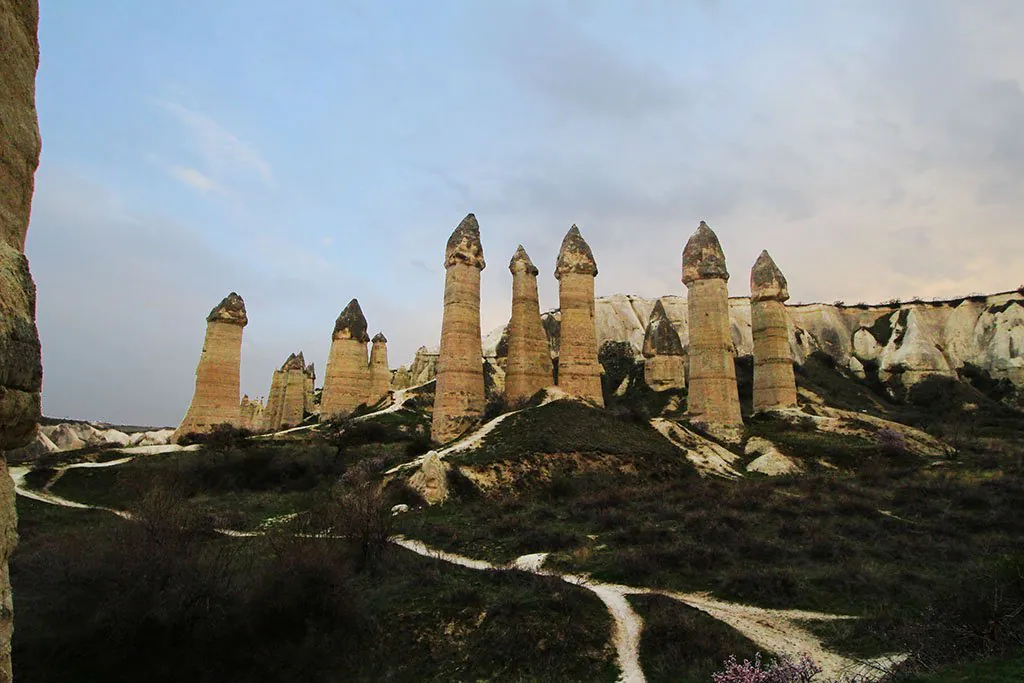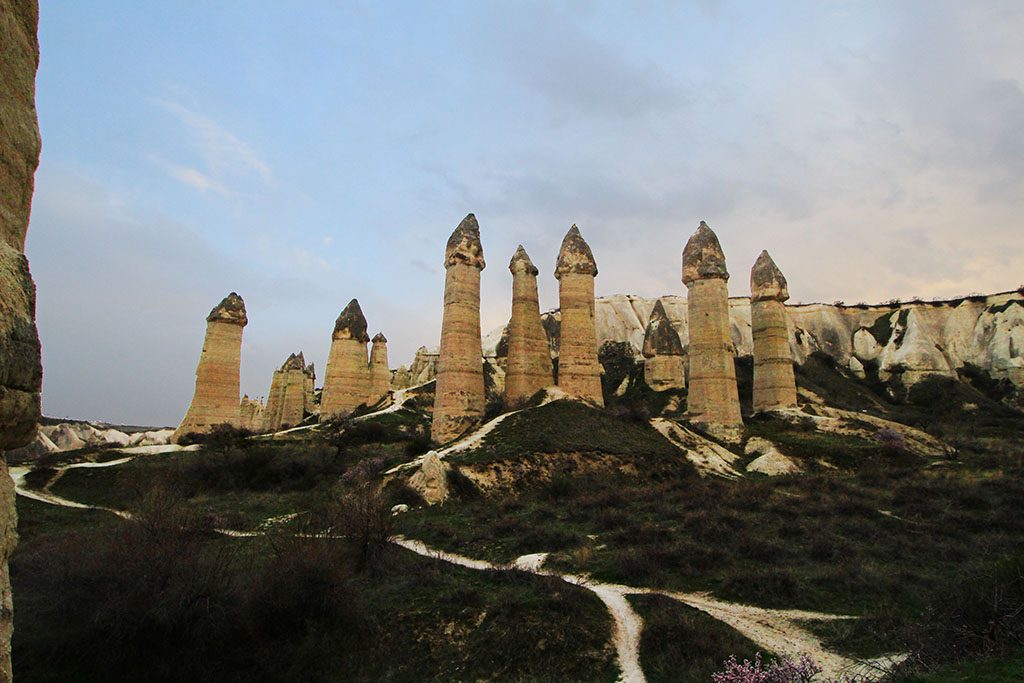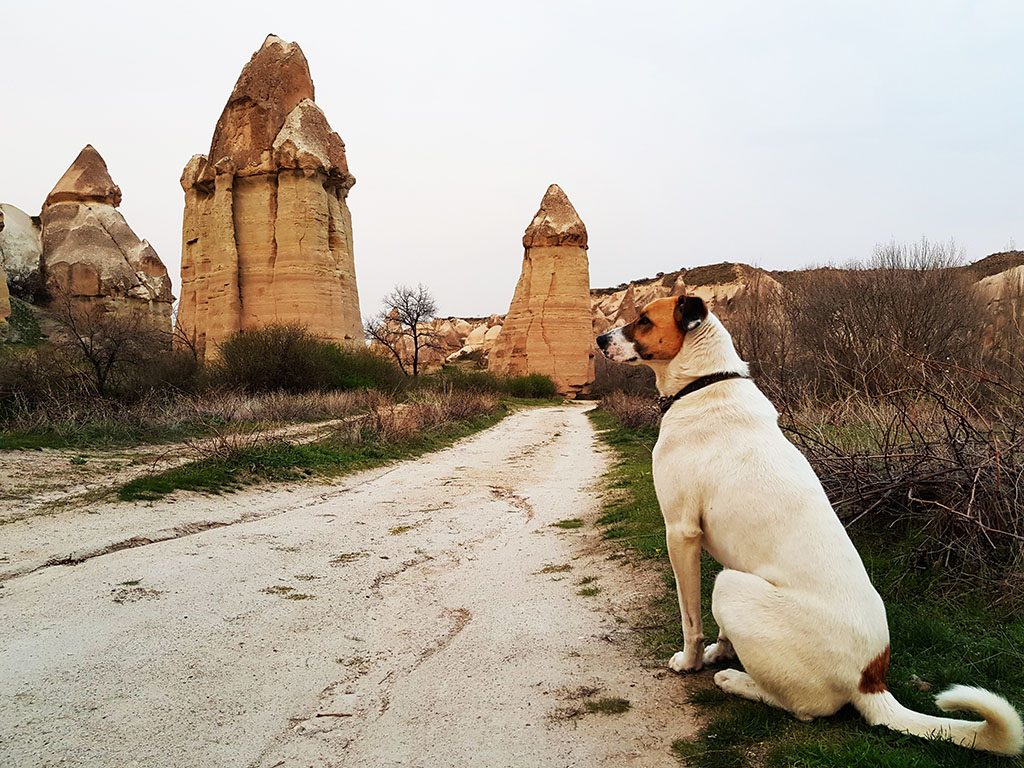 Red and Rose Valley (3.5-4 hours, easy)
Be prepared for a full day's hiking. Red and Rose Valley will take at least three hours, and a little longer if you walk this shortcut route below. But by taking this route you'll see so many more stone home cut outs, it's well worth it!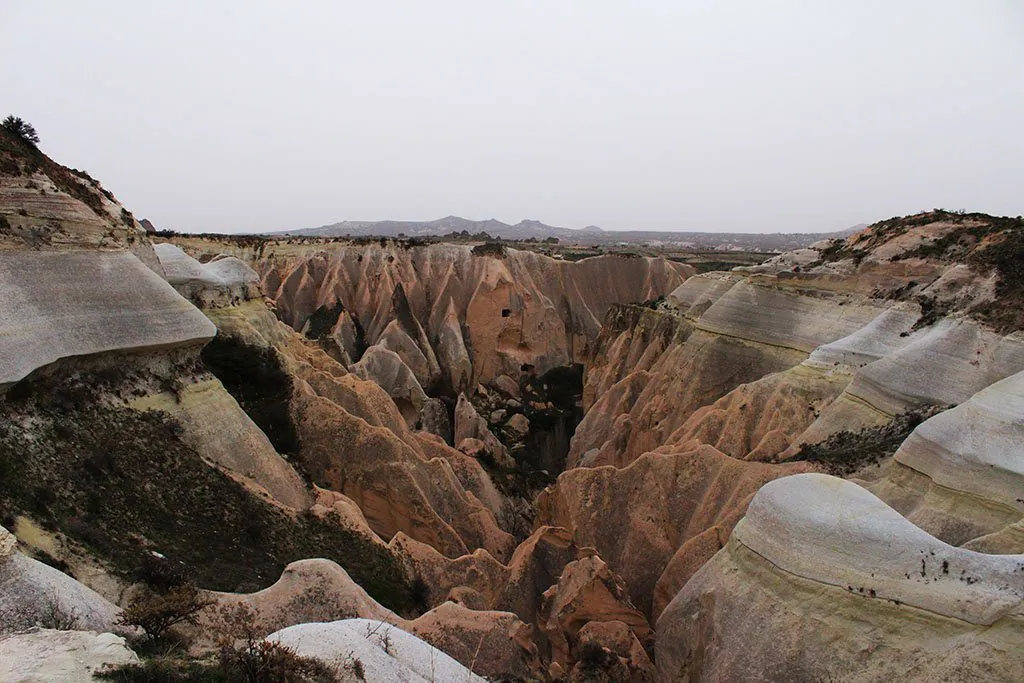 Red and Rose Valley is signposted everywhere, but once you're actually on the trail it can get confusing with spray painted arrows pointing in multiple directions. The best thing to do is to use Maps.Me (see the extra tips below) and use the offline trail map.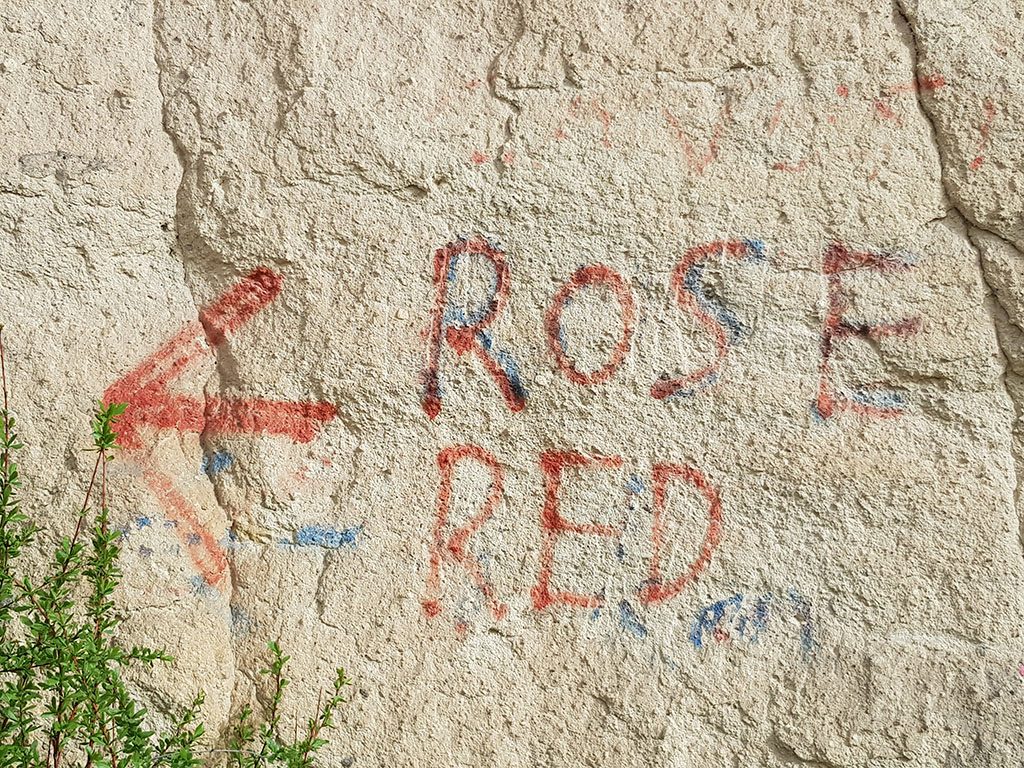 You can't go wrong. You won't get lost if you don't use it, it could just take a little longer. Red and Rose Valley has some incredible churches and abandoned buildings along the way, you'll want to start early, take plenty of water and wear comfy clothing for scrambling into old ruins. Make sure you get to the Panoramic viewpoint, if you've had enough by then there's a main road and car park near it where you can grab a taxi. Equally, if you don't fancy the hiking just get a taxi to the viewpoint (shown on our map).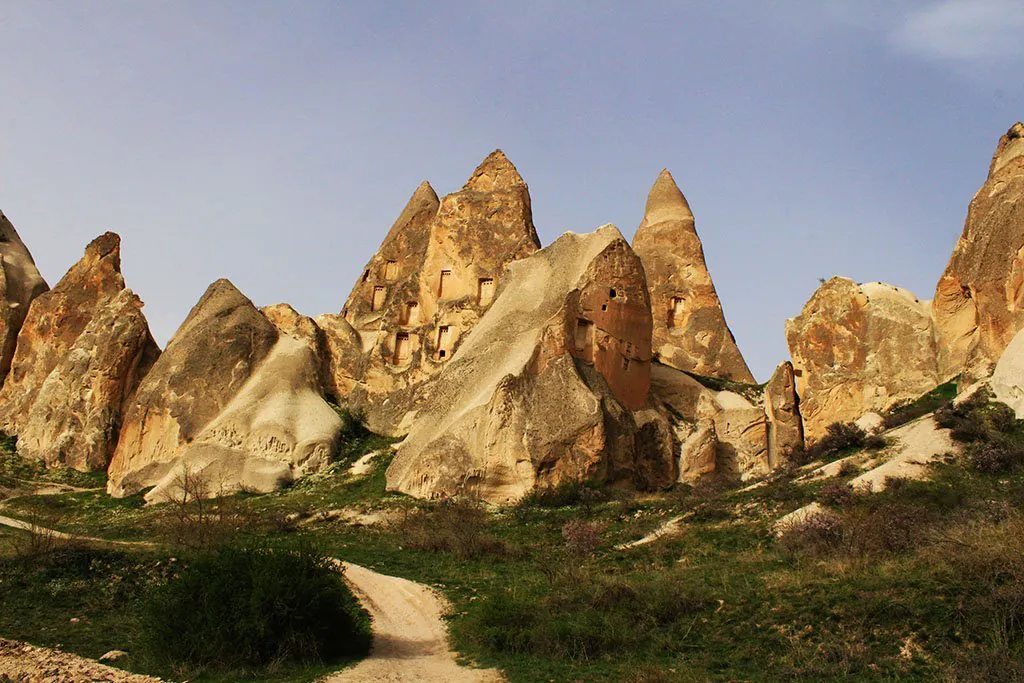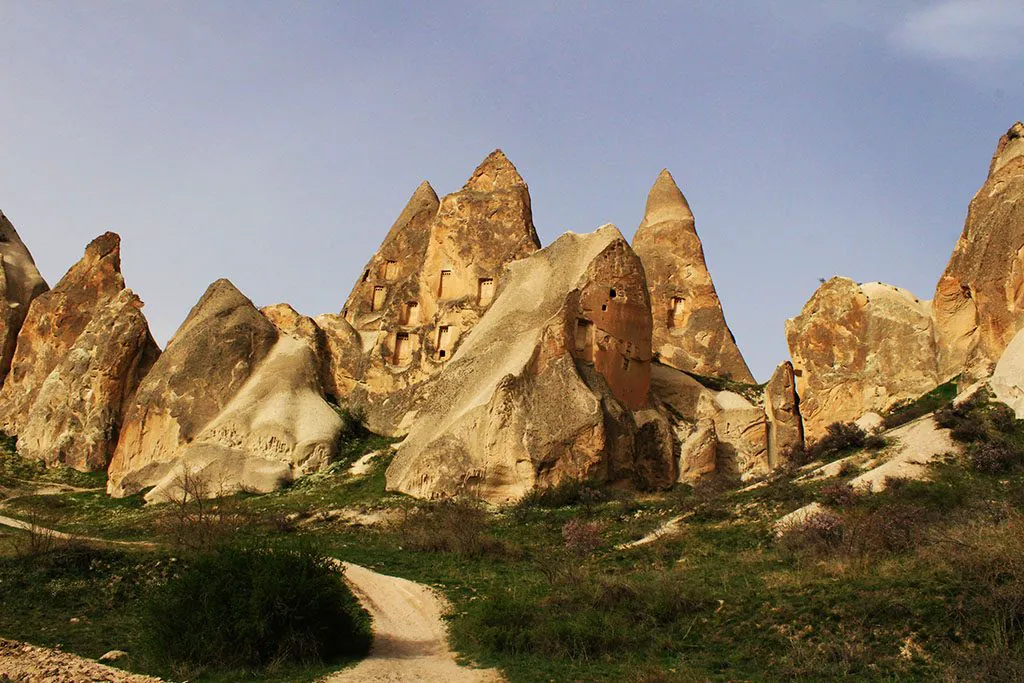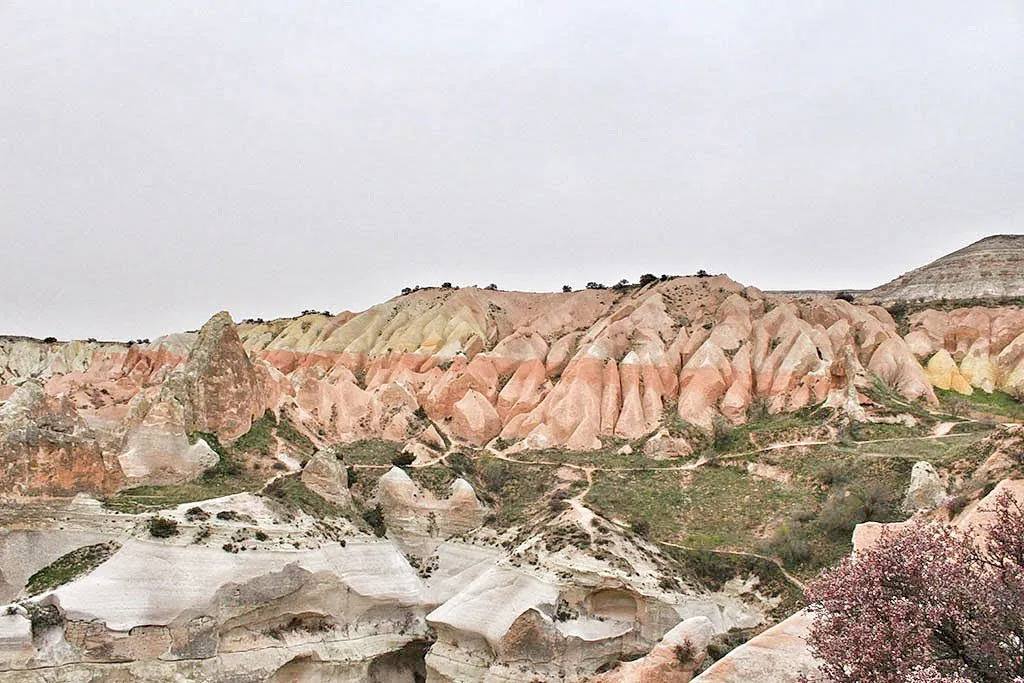 Visit Ihlara Valley
Ihlara Valley is a about an hour and a half's drive from Goreme. There's a small admission charge of around £2, it's well preserved, looked after and has cafes along route. It's a very easy walk and very beautiful.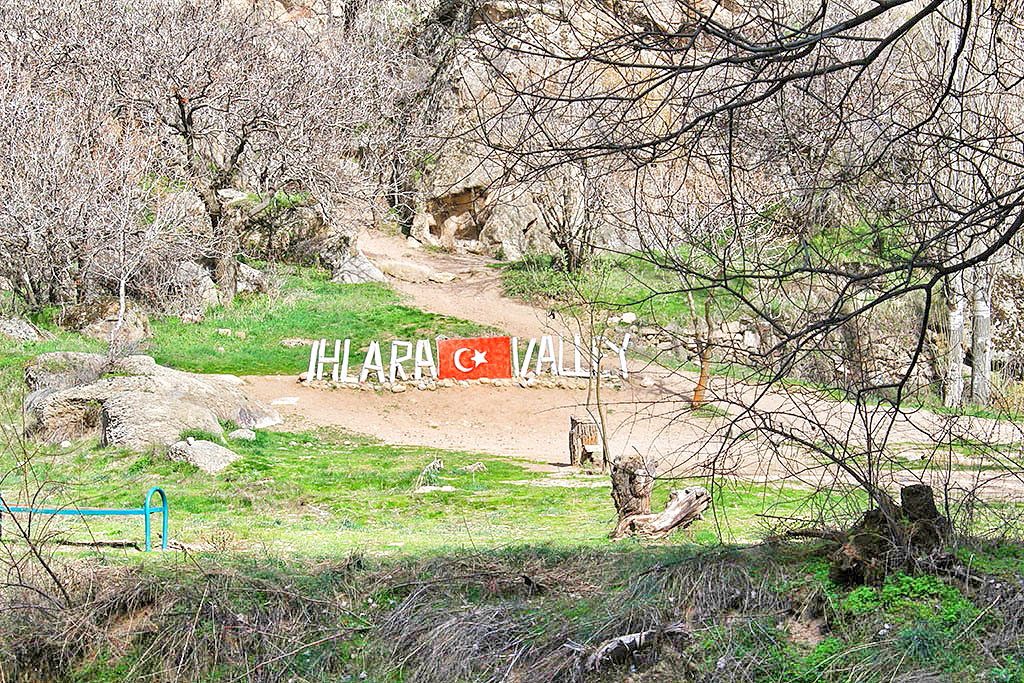 You can make it trickier for yourself by clambering up the cliff sides to explore the abandoned churches – and Ihlara is filled with them.
If you've already hiked the major valleys around Goreme then you're not really missing much if you don't go, but Ihlara is beautiful and if you're heading to the underground city of Derinkuyu then it's only a further 30-minute drive.
If you're making your own way there then park up at either the north or south entrance, walk the length of the valley along one side of the river, cross the bridge at the end and walk back along the other side. If you have a taxi service or are on a tour then they'll drop you at one end and pick you up at the other.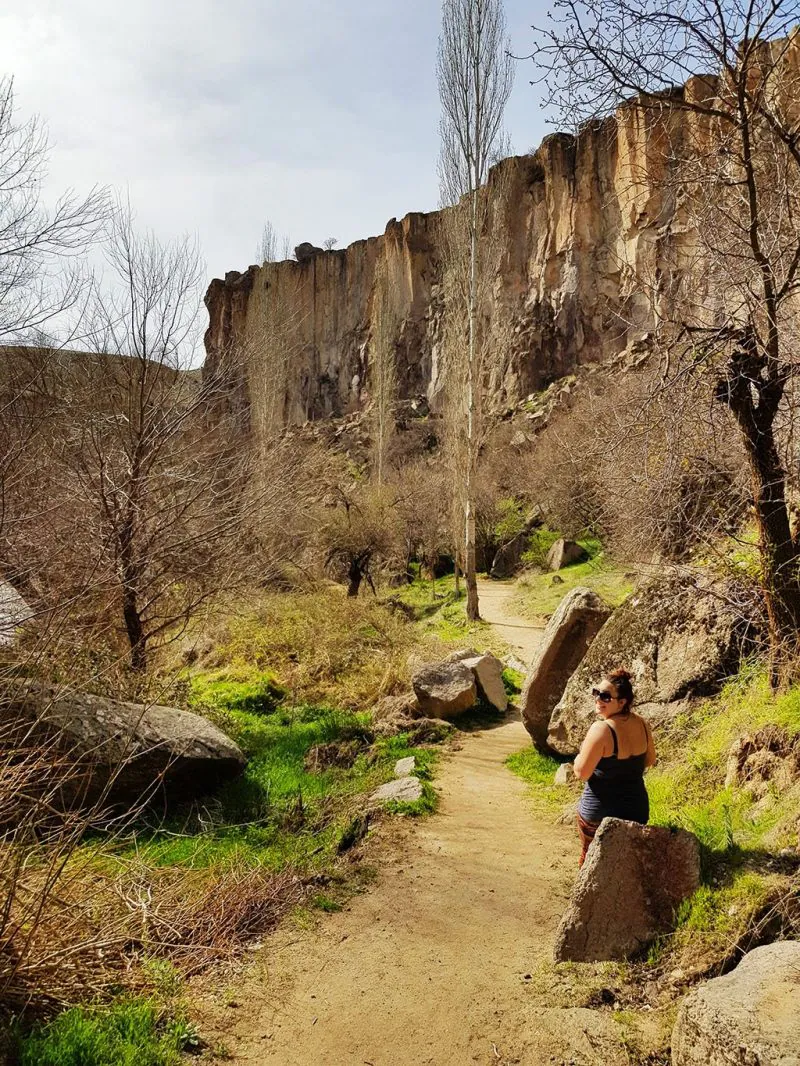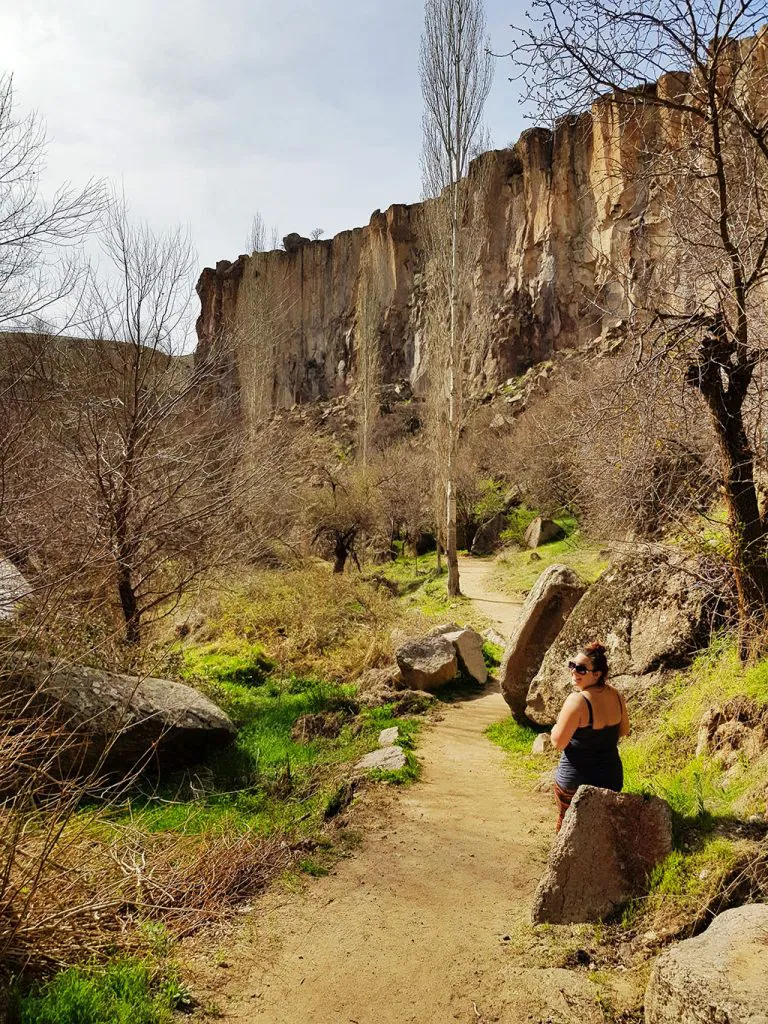 Climb Uchisar Castle
If you're following our suggested walking route then as you finish Pigeon Valley the Uchisar Castle will be in plain sight (it looks more like huge rock than a castle) so just head towards it, pay a £1 entry fee and then it's steps all the way up to the top. It's the highest point in Cappadocia and well worth the walk up. If you're not walking then the castle is only 5km from Goreme and a cheap taxi drive.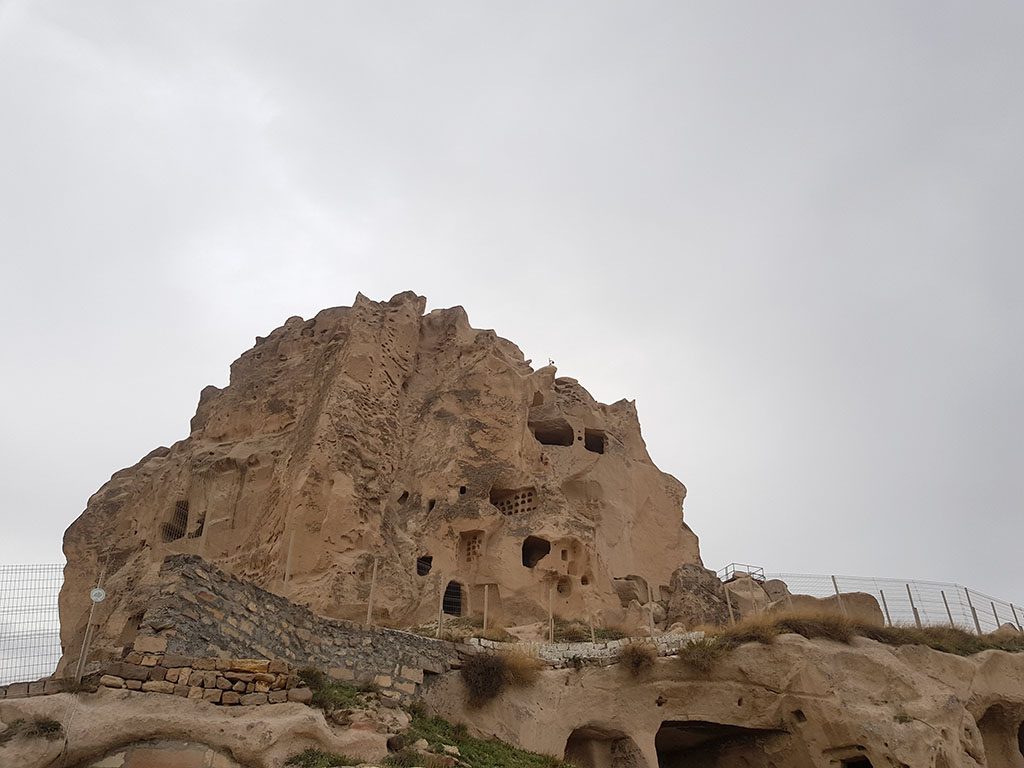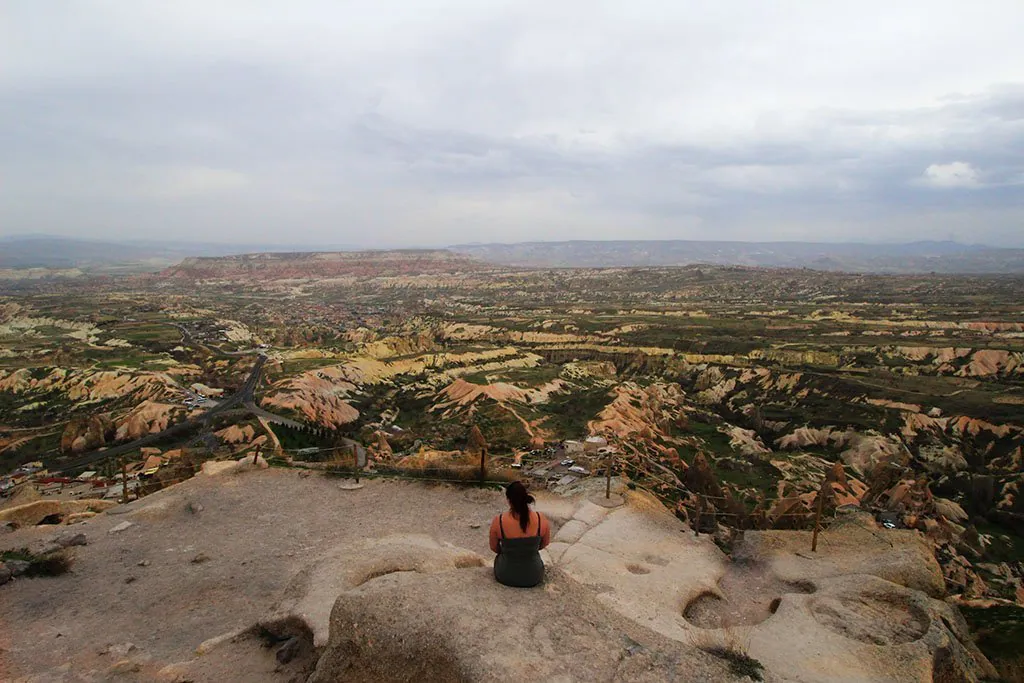 Derinkuyu Underground City
There are hundreds of underground cities in Cappadocia with new ones still being discovered today. The biggest and most famous of them (so far) are the Kaymakli (widest) and Derinkuyu (deepest) cities. Unless you're really into underground cities there's not much point in seeing both and we'd recommend sticking to the Derinkuyu one as it's the deepest and eeriest. It's the largest multi-level underground city in Cappadocia, it drops 200 feet below the surface, could hold 20,000 people including live-stock, had schools, libraries and a complex tunnel system with ventilation shafts.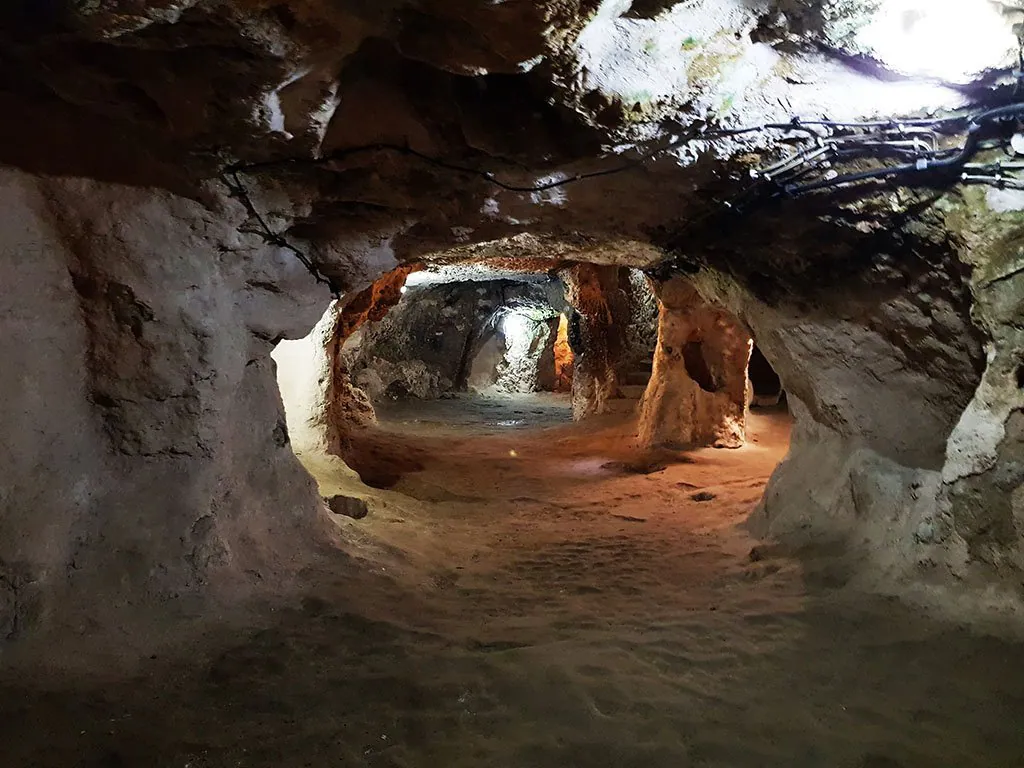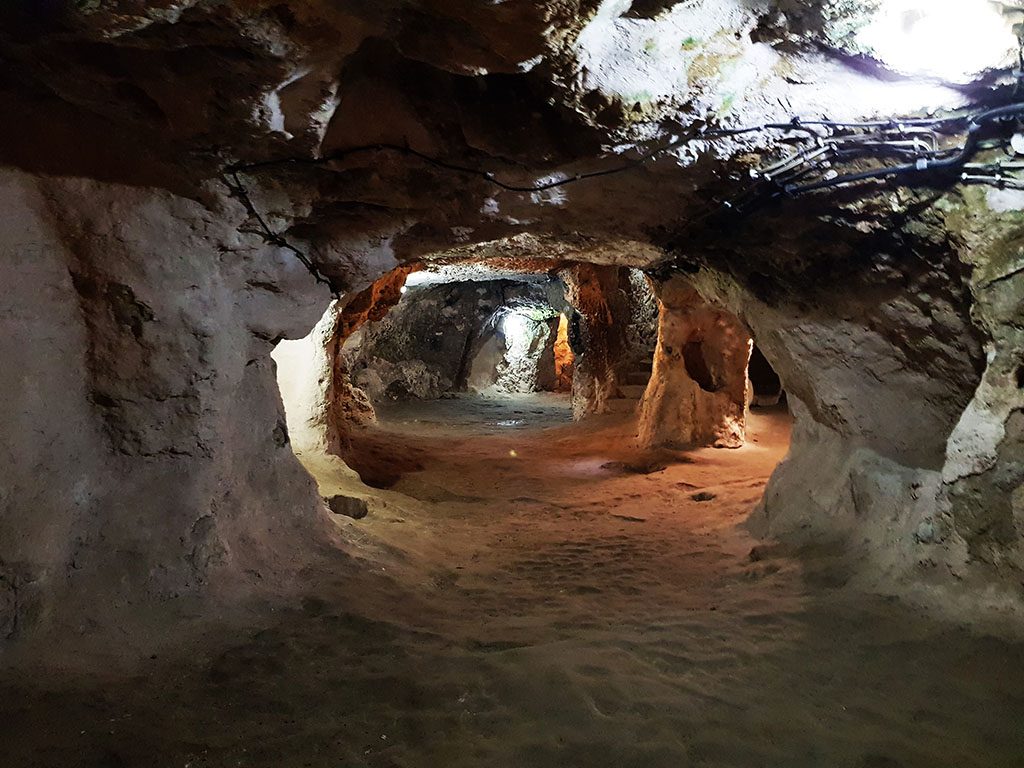 Derinkuyu is a 30-minute drive from Goreme, there are plenty of tour services and taxis willing to take you there. A good option is to rent a car the night before for an 8am drop off, drive yourself to Derinkuyu to be there for 9am. You'll miss the bus loads of tourists and have the entire place to yourself. If you do get there early then take a coat as it can be chilly (try your best to get there for opening time, you won't regret it). Once you've finished you can then drive to Ihlara if you fancy it (a further 30 minutes).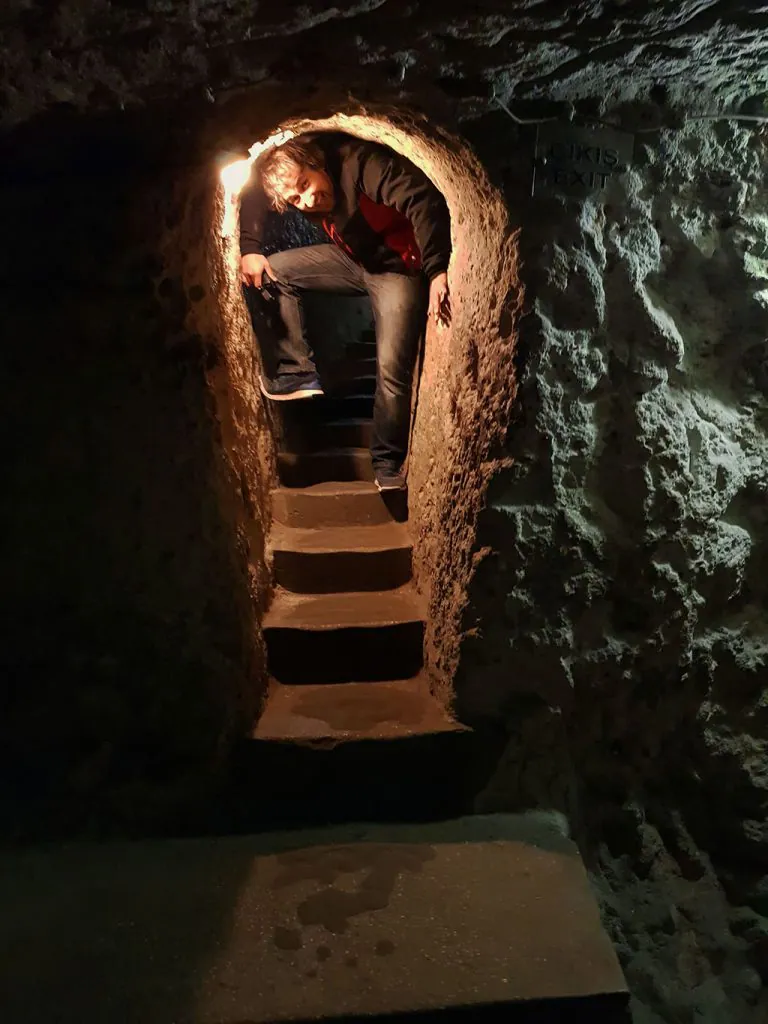 Don't forget to take a torch! The tunnels and main passageways are lit, but if you want to explore mini tunnels and hidden rooms you'll need the light as dead ends in the dark aren't fun…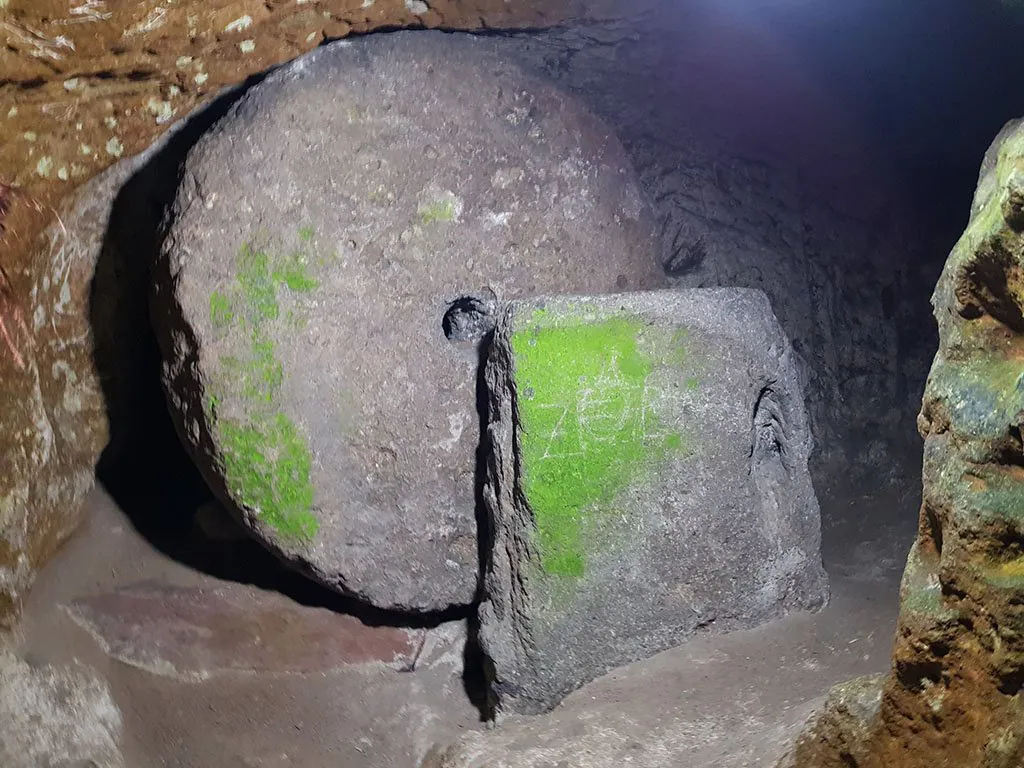 If you're driving yourself there then there's a car park right outside which you'll have to pay for. If you arrive at that car park (which is clearly signposted as a paid car park and there is an attendant) then drive around the underground city entrance to the opposite side of the car park and you can park your car there for free. There's not much else to do in the area. There are plenty of little trinket shops and cafes though. Also, don't forget to check opening times when you're there as it can close early.
Getting There and Transport
Cappadocia is easy to get to from two main airports, Nevsehir and Kayseri. Nevsehir is the more popular as it's closer. If you've already booked accommodation your hotel should pick you up for free or a small price. If not, you should expect to pay around £5 one-way.
If you're travelling around Turkey via public transport then Cappadocia is well set-up for buses with a main bus station (car park) in the centre and good time tables taking you to major guides around the country.
Once you're there it's very easy to arrange taxis to get around. Most of the major attractions are in walking distance, but you'll certainly need transport to get to the underground cities and Ihlara valley and prices are reasonable, especially considering the driver will wait for you as you explore them. But do check with your hotel owner for a rough guide to pricing.
If you're the independent type then renting a car is also simple and cheap. Your accommodation should be able to recommend a company who will drop the car off to your front door. We always do this in Cappaodica and typically spend around £20 for 24 hours. The roads to Ihlara Valley and the underground city of Derinkuyu are in good condition. However, you can easily end up on a long, dusty gravel track if you take the wrong turn. But this can be done in a small car. You don't need a 4×4. Bear in mind that petrol attendants fill your car for you. You won't be able to operate the pump until an attendant is there to swipe his card. If you do decide to rent a car, check over it while filming with your mobile phone. Then you have an easy record of any dents.
Where To Stay
Debate always surrounds where to stay in Cappadocia. Your two main options are Goreme and Uchisar. Simply, Goreme is where it's at while Uchisar is quiet and further away from all the action. I always stay in Goreme, and sometimes if I prefer the quiet I can just stay on the outskirts of Goreme, which would mean a 10 minute stroll into the town centre. It's easier to get around, far more to do and you're at the entrance to all the valleys – perfect!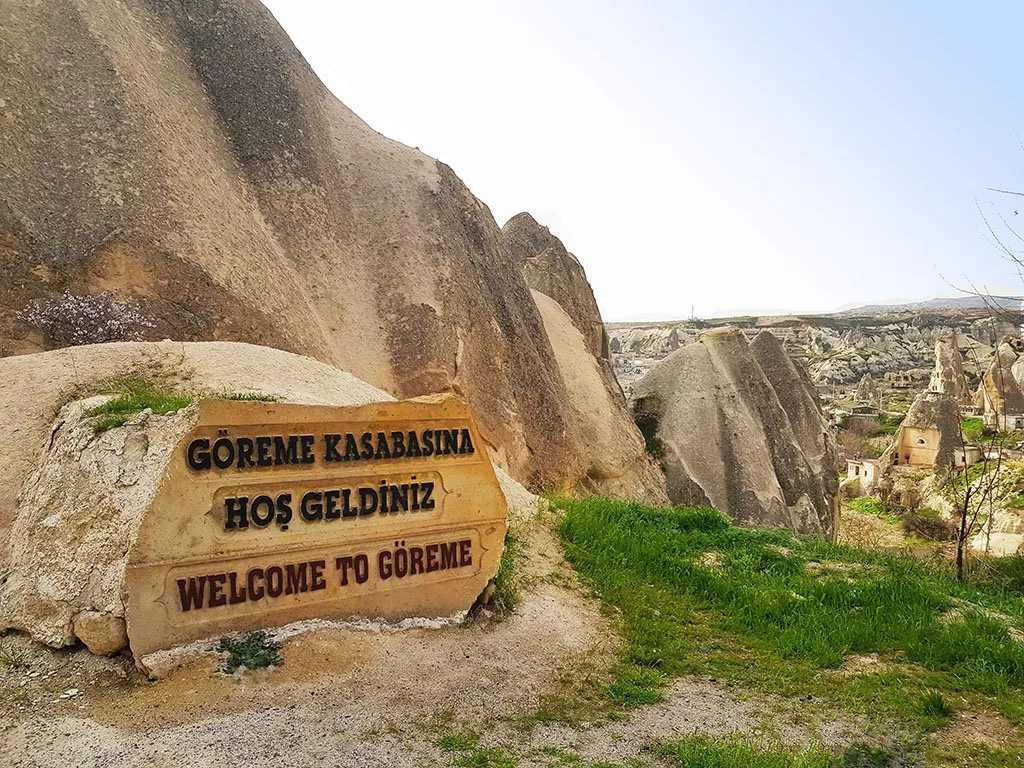 You'll find a tonne of online recommendations on places to stay – namely luxury cave hotels which have paid for people to stay in them and write nice things. But they'll still be good choices, as to be fair, you can't really go wrong in Cappadocia. Staying in a cave hotel is a popular option as it's more of an authentic experience, living like the locals. However, if you're on more of a budget then AirBnB is your best friend. There are some awesome homestays on there, ultra-clean, tidy and spacious, double, private rooms with your own bathroom for about £10 a night.
Extra Tips Tricks and Recommendations
Cap a what? Cappadocia is pronounced Cap-a-doke-eeyah
Download Maps.Me to your mobile phone and then download the Cappadocia region map. It's a free app and a free download. You can then use the map while offline and walking about. It has most, if not all of the major hiking trails already saved on there so you can't get lost. And you can use it as a satnav if you get really stuck. You could always bookmark the locations onto Google Maps too.
Recommended accommodation – Cappadocian Special House. Rooms can come as cheap as £8-£12 a night with an en-suite and delicious breakfast included. The host, Mustafa, is a dab hand at arranging cars, balloons, transfers and anything else you need. Plus he's a good guy.
Recommended restaurant – Fat Boys Restaurant, Café and Bar. Having spent months sampling Goreme's restaurants Fat Boys has always come out on top. I first visited the restaurant 6 years ago and it's just as good today. The food is delicious and very well priced. You'll find its location with a quick Google search.
Recommended Hot Air Balloon company – Butterfly Balloons. The service is excellent, the breakfast tasty and the pilots and set-up are professionally run.
Everything Else
There are plenty of ATMS in Cappadocia, so don't worry about taking wads of cash with you.
If you don't fancy walking all the time then check out horseback riding and quad biking tours. There are loads of options to choose from.
There are plenty of cheap food options dotted around Goreme serving kebabs for £2. If you're on a tight budget then opt for an AirBnB which has a kitchen and prepare your own food, there are a couple of decent 'supermarkets' in Goreme.
Four days is the perfect amount of time to see Goreme. Two days for hiking, one for ballooning and one for the underground city. If you're up for a more luxuriously relaxed trip then take the week – there's so much to do!   
Note: we're not affiliated with any company and receive no backing, payment or free rides. All our words are based on our own experiences. Thanks!
Join an organised tour
Alternatively, if you'd like to join an organised tour to visit Cappadocia in Turkey, we recommend booking on Viator. There's a range of tours to choose from dependent on your budget.  
ps. We may receive a small commission, at absolutely no cost to you, if you purchase any products using the links on this page. We're not sponsored by anyone, are completely impartial and don't run ads. So this helps us keep the site running. Thank you for your support.