UK International Motorcycle Shipping Companies
Motorcycle shipping companies in the UK.
Please contact the companies listed on this page directly for more information.
"Moto Freight are the founders of motorcycle specialist shipping in the UK and can service freight to anywhere in the world; as bikers ourselves we understand how important your bike is and we treat it as we would our own!"
Business: Freight forwarder. 
Ships to: Everywhere except Antarctica. Moto Freight can airfreight to all major ports and airports, and in the case of more specialist destinations, can organise the charter of planes etc. 
Services: 
Air freight
Sea freight
Customs clearance
Ro-Ro and ferry 
Warehouse and storage

  London, UK
www.motofreight.com
 Kathy Wood
+44 (0) 1784 436373
  info@motofreight.com
Read Kathy's articles on Mad or Nomad:
Shippio Motorcycle Shipping
"You're passionate about motorcycles but might feel overwhelmed by moving your bike elsewhere in the world, or buying or selling motorcycles internationally. You don't need to be because we'll help guide you through the process and make sure your vehicle arrives safely. Our team of enthusiasts love motorcycles and take pride in supporting you, will keep you informed every step of the way and are always happy to chat. We're with you all the way."
Business: Freight forwarder.  
Ships to: To and from the UK/Europe and internationally by air and ocean.
Services: 
International motorcycle shipping
UK and European motorcycle transport using their own vehicles
Crating and container loading
Ocean freight
Airfreight
Customs clearance
NOVA
Carnets and export licenses
Motorcycle storage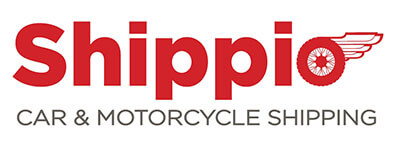 UK based
www.shippio.com
 Andrea Willis
+44 (0)1604 419 815
  info@shippio.com
This company also provides UK to Europe motorcycle transportation services as Moving Motorcycles. You can find more info on the UK to Europe Transport page. 
International Motorcycle Shipping Companies
Welcome to the Motorcycle Shipping Companies Finder. This page lists worldwide freight forwarders, companies, agents, fixers, ferry services and detailed guides. Click a country on the map to see what's on offer.
Read More
Read more on Motorcycle Travel and Shipping in the UK and Europe.
Thanks for checking out the UK Motorcycle Shipping Companies post. We hope you found what you were looking for. Here's a few more articles on motorcycling in the UK and Europe that we recommend you read next. 
What's next? Check out these resources to get started on your adventure!
We'd love to hear from you! Let us know about your UK motorcycle shipping experiences and ask any questions in the comments below.