Welcome to the Adventure Motorcycle Traveller Reviews. Here's a 32,000-mile review of the Triumph Tiger 800 XCX by motorcycle traveller Ouseph Chacko. 
Quick info
Bike: 2017 Triumph Tiger 800 XCX
Purchased for: £9000 (second hand and yeah, India has stiff taxes on imports)
Miles covered: 32,000
Years owned: September 2017 onwards  
Triumph Tiger 800 XCX Specs
Engine: In-line three cylinder, liquid-cooled, 799cc, FI
Power: 95 bhp
Torque: 58 ft-lbs
Wet weight: 220kg
Seat height: 840-860mm
Tank capacity: 19 litres
Tyres: 21 and 17
Front suspension: WP USD forks 
Rear suspension: WP Monoshock 
There is this 40 minute long video on YouTube where Ernie Vigil and Kris Higdon grab two old Triumph Tiger XC's by their tails and make the seemingly impossible look doable. So, when the 40 minutes was up, I picked my jaw off the floor and began making plans to buy one of my own. I simply had to learn to ride like that.
Except, in India, things aren't that easy. High import duties, crazy expensive road taxes and other coffer filling methods make these bikes rather expensive to buy. For example, a new Tiger 900 Rally Pro in India costs £17,000 on the road (nearly £3,500 more than what it costs in the UK) and all of that extra money is thanks to duties and taxes.
 
It was way too much for my then very modest salary. So, I looked around for many years and finally found this blue 800 XCX. It was a demo bike at the Triumph dealership near where I live and it had 7,500 miles on the clock. The bike was healthy, the dealer offered it to me at a rather reasonable price, my dear dad very kindly stepped in with a loan and I haven't looked back since.
I am not an RTW rider as yet but, have ridden all over the craziness that is India and have ridden over the Himalayas West to East. I harbour hopes to one day ride from Bandar Abbas in Iran to Magadan on the East coast of Russia, from Cairo to Capetown, from Alaska to Ushuaia and I want to do it on my Tiger. More importantly, I think it is one of those bikes that are capable of doing it and the past 32,000 miles is proof.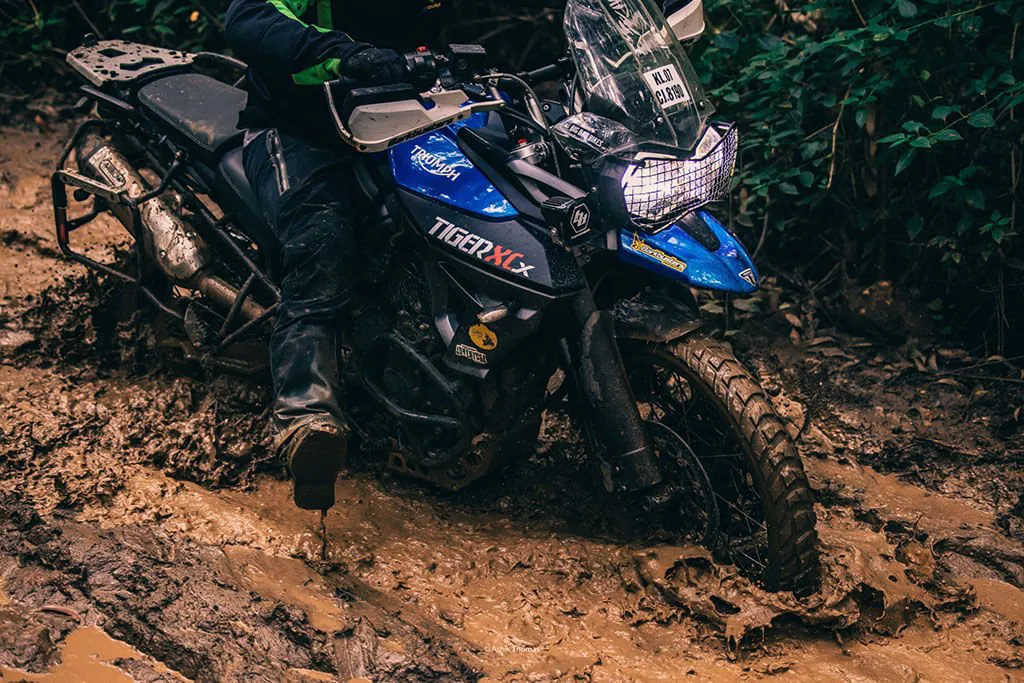 Triumph OEM luggage racks
Triumph OEM panniers and top box
Hepco Becker headlight guard
Rox pivotable bar risers
Baja Designs Squadron Pro auxiliary lamps (a must have for India's mostly unlit back roads)
Denali Sound Bomb mini (the hardest working accessory on an Indian bike)
Arrow exhaust (with the db killer in place) and remap.
50/50 tyres from Heidenau, Metzeler, Avon and Pirelli (I go through rear tyres very, very fast because of the kind of work I do).
I prefer hard luggage options because of their weather proofness and because they can be locked. I got the OEM Triumph aluminium side panniers and top-box and I find that between the three of them, I've got more than enough packing options for my jaunts to Goa or to the Himalayas.
I even went with a couple of friends who had no luggage mounts on their Tigers where my bike served as the luggage van for their stuff. The three of us just took one box each and that was that.
The Triumph OEM panniers are made by Givi and have proved to be quite hardy when I dropped the bike on them (rather mildly). Also, hard luggage has another advantage. When you fall off-road without the panniers, the pannier mounts protect the rear of the bike (and especially that Arrow exhaust end-can) from serious damage.
For shorter trips, I use a 50-litre waterproof Triumph tail bag that clips on to the frame and grab rails of the Tiger.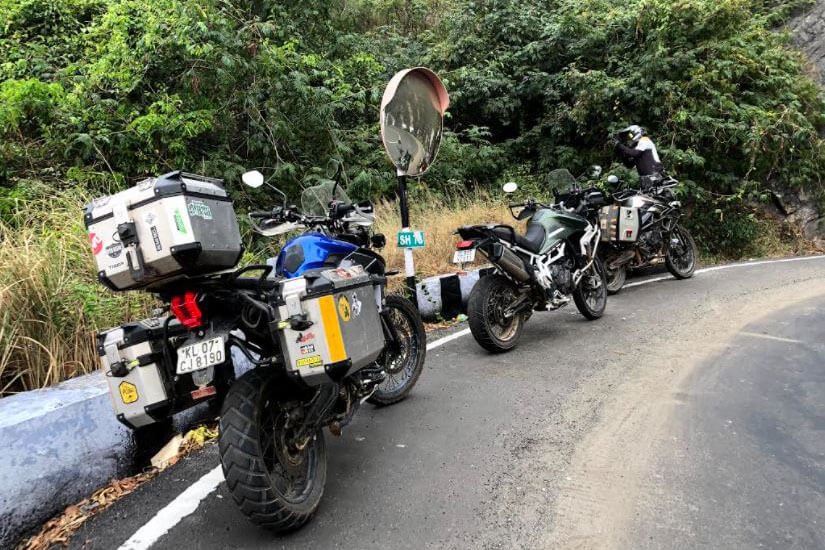 I am an instructor at an off-road riding school called The School Of Dirt and I use my Tiger on most of the sessions we have. This means that my bike hasn't had the easiest life. Suspension travel front and rear are constantly being maxed out, the bike is usually covered in multiple layers of layers of mud, the engine does a lot of low speed, high-rev work and I can't remember the number of times I've dropped it.
I can confidently say Triumph built the 800 tough. In all this time, the only time it left me stranded was when the rectifier unit blew in the middle of a trip and one other time when a front fork seal gave up the ghost and started leaking. Otherwise, servicing it slightly earlier than the recommended intervals, the occasional deep tissue spray wash and careful preventive maintenance have kept this bike utterly reliable and ever dependable.
The original clutch pack is still going strong and my chain and sprockets lasted me 29,000 miles because I do take the trouble to clean, lube and adjust it regularly or after every off-road session.
The 800 XCX is one of the last ADVs to come with just the right amount of electronics – ride by wire, traction control, ABS, ride modes and that's it. It doesn't have a fancy colour display dashboard, electronic suspension or electrically adjustable windscreen so that's so much less to worry about when you are alone and on the road in an unfamiliar place far from help.
Of course, it can't beat a KLR or a DR in terms of hammer and duct tape fixability but I'd say it is the KLR/DR of modern ADV bikes because it is relatively simple and very reliable.
I'd even say it is better built than the new Tiger 900 because on all the 900s I've ridden, the new switchgear tends to get jammed with dirt after a point and that means you get locked out in whatever ride mode you are in and it won't even allow you to dial up other information on the screen because that one switch is jammed in place. Sometimes, even contact cleaner doesn't help sort this out and you have to open the switch hear housing and clean it. The 800 simply doesn't have these niggling issues.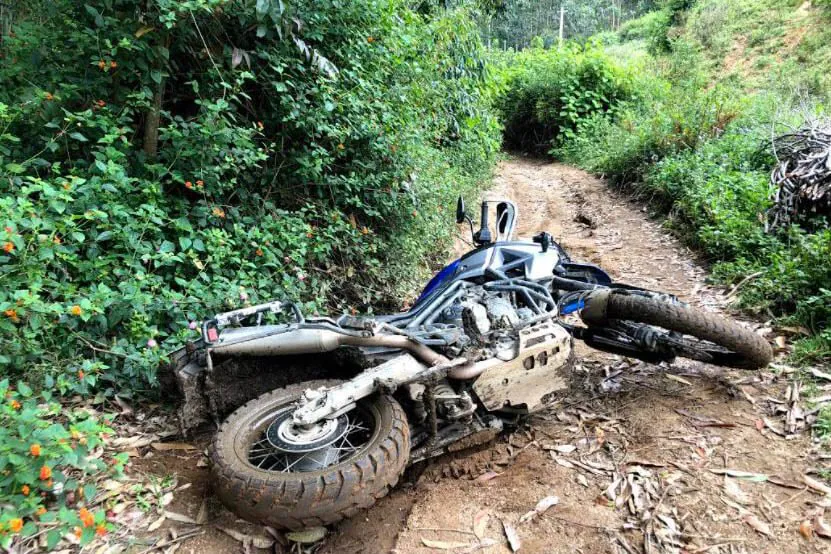 Older Triumphs like my Tiger have a 6,250-mile service interval but I change out my oil about 1,000 miles earlier than recommended because of the kind of use/abuse my bike goes through. I change out the air-filter every 3,000-miles because I find that it does get clogged up pretty badly if the bike is ridden off-road a lot and it is not easy to clean because you have to take the tank off to access the air-filter. I Know! Unnecessarily complicated!
For those riding through India, Triumph has only 16 dealerships spread out across the country. There are competent big bike workshops in the bigger cities and you will always find a good samaritan to help you if you are stranded but I'd say carry the usual consumables like oil filters, brake pads, spare tubes, that hex nut to take off the front wheel and some duct tape. Oh, and decent tyres are currently hard to come by in India thanks to some silly new rule to protect Indian tyre manufacturers from the threat of global manufacturers so it would be wise to carry a set of these along as well.
The Tiger is one of the most popular adventure motorcycles in India (apart from the BMW GS) and so, parts are relatively easy to come by. The front sprocket slipped off the shaft of a friend's 50,000-mile Tiger thanks to worn thread on the nut holding it in place. The nearest dealer overnighted this not-so-common nut to him and he was on the road again in under 12 hours.
There are plenty of reputed after-market spare parts dealers in India too and they will ship you parts to wherever you are in India. Remember that the odd numbered services (1st, 3rd, 5th, 7th etc) are relatively easy ones but the even numbered ones require you to open the head and check valve shim clearances. So, if your bike is running up to an even numbered service, you might want to seek out a Triumph dealer or at the least, someone who knows his way around a feeler gauge.
If you take it to a Triumph service centre, the odd numbered services work out to approximately £60 and the even numbered services to around £250 in India.
I find the 6th gear a little too short and this limits the Tiger's cruising ability. 75mph results in a rather high-revving 6000rpm from the engine and this makes the 800 feel slightly strained. At these speeds, it has nothing on the easy loping gait of the new 900 or even the Africa Twin 1000/1100. Otherwise, it is a great touring bike. The ergonomics are very good and even with the standard non-adjustable wind-screen, my 5'7" frame is protected from excessive wind buffeting. I used to find the standard handlebar position a bit too low for comfortable stand up riding but the Rox pivotable bar risers have taken care of that ergonomic glitch.
The standard seats are very comfortable, the manually adjustable WP suspension can be set to plush and I've even taken a pillion for an 400-mile day and she didn't complain at all.
I find the way that silky triple revs and the noise it makes very addictive – on those long straight highways, when the road lulls me into complacency, I go down three or four gears, rev out to the redline in every gear and feel better than a double shot of espresso.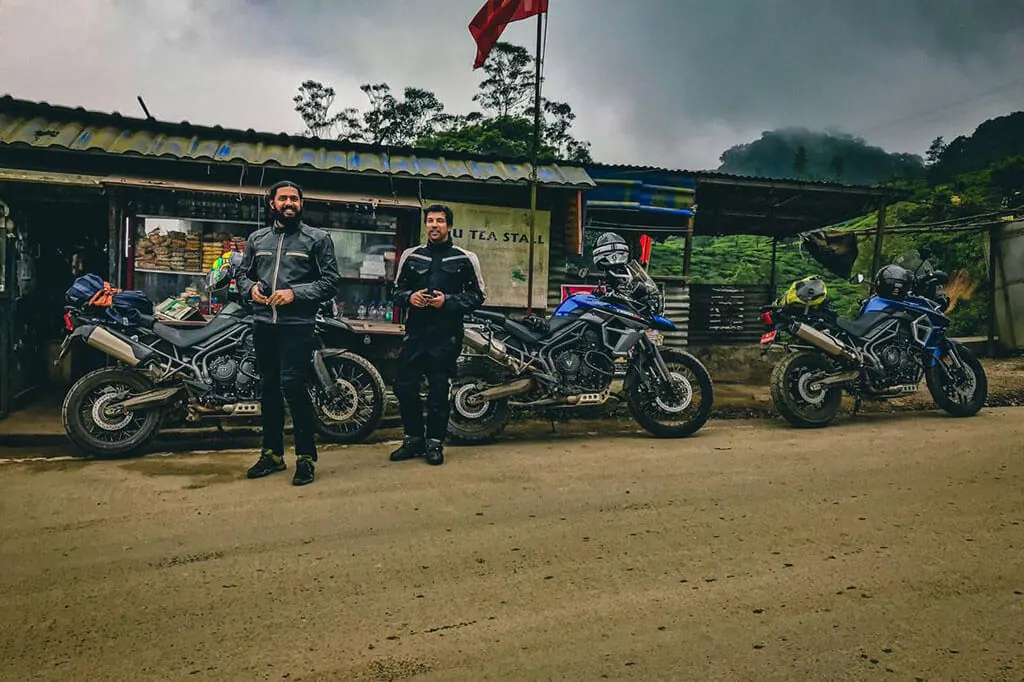 The sport motor character in an adventure frame. The silky smooth way the engine revs to 10,000rpm. The superb seats. The hugely adjustable suspension. Not too many electronics – just the essentials. Super reliable. Super dependable. Can take a beating and carry on as if nothing happened. Runs cool even when it's really hot. Has enough luggage space to carry your whole house and the kitchen sink if you need it to. Even the pillion seat is very comfortable.
It is a top heavy bike and the engine stalls quite easily so be extra attentive at slow speed manoeuvres if you want to avoid a tip-over. The rear suspension rattles – it's something I've heard on every Tiger 800 XCX I've ridden. And of course, the short sixth gear.
I'd love to somehow make it less top heavy, give the engine a little bit more low-rev grunt and give it a more relaxed sixth gear. Oh, and make the air filter easier to access. These issues have been sorted out on the new Tiger 900 but then again, the 900's seats aren't as comfortable as the 800's and the 900's engine simply isn't as smooth nor does it have that addictive howl that the 800 has.
In the time I've had the 800, I've fallen in love with its versatility more than anything else. I've taken it across the country but I expected it to be good at that. What I didn't expect it to do was make my trip to the barber or the grocer so exciting. It can carry lots of luggage and my current pillion loves it to bits. I love it's sport bike nature, it's utter reliability and that it is a bike that still teaches me a thing or two every time I take it off-road. I get bored of things easily but my 800 has kept me engaged right through. I don't know about you but I think it'll be a fun bike to howl across the Gobi desert on.
Ouseph Chacko is an off-road motorcycle instructor, adventure rider, former assistant editor at Autocar and Evo India and knows his way around anything with wheels. He's currently planning some epic world travels on his Triumph Tiger 800 XCX, so keep an eye on his awesome Instagram account @ochacko for his upcoming adventures!
Read more on Motorcycle Reviews 
Thanks for checking out this Triumph Tiger 800 XCX Motorcycle Review. We hope you enjoyed it! Here's a few more articles on motorcycle reviews that we recommend you read next. 
Liked that? Try these next…
Are you planning a motorcycle trip, interested in the Triumph Tiger 800 XCX or have any questions? Let us know in the comments below.