Welcome to the Adventure Motorcycle Traveller Reviews. Touring expert Paul Yarrow has covered over 45,000 miles on three generations of Triumph Tiger 1200 Explorers, here's his review…  
Quick info
Bike:
2014 Gen1 Triumph Explorer 1200, £13,157 (including £1,392 extras)
2016 Gen2 Triumph Explorer XCA 1200, £16,202 (including £473 extras)
2017 Gen3 Triumph Explorer XRT 1200, £15,949 (including £625 extras)
Miles:
Gen1 – 18,000 miles
Gen2 – 13,000 miles
Gen3 – 14,000 miles
Triumph Tiger 1200 Explorer Specs
Engine: Three-cylinder, liquid-cooled, 1215cc, FI
Power: 137 bhp
Torque: 91 ft-lbs
Kerb weight: 244kg
Seat height: 837mm
Tank capacity: 20 litres
Tyres: 19 and 17
Front suspension: 48mm, fully-adjustable WP (semi-active option)
Rear suspension: Single rear WP, fully-adjustable (semi-active option)
At the time, I was doing two good mileage European touring trips per year, so ergonomics, comfort and power were essential. Prior to buying the 2014 Gen1 Triumph Explorer 1200, I tested the BMW GS1200, Aprilia Caponord 1200, KTM 1190, BMW 1000XR and Ducati Multistrada 1200. I'm glad I took the time to test ride several similar motorcycles, back-to-back on the same days to give me a winner and a loser. They all offered different strengths and weaknesses, including the Triumph. However, the commanding riding position of the Explorer, the ergonomics and the silky, powerful triple gave me my 'winner'.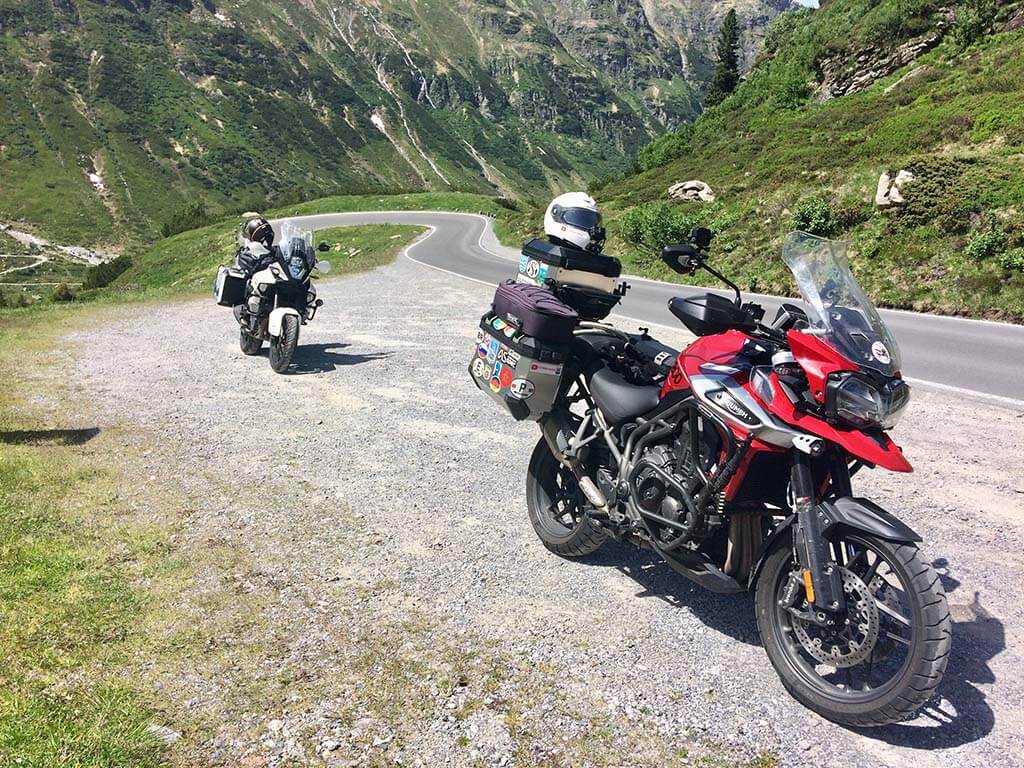 I fitted my first Gen1 Triumph Explorer with
SW-Motech Trax panniers
. Fortunately, Triumph have continued to use the original frame on the Gen2 and 3 models which has allowed me to swap the pannier rails between each model. When I purchased my current Gen3 model, I added a top box to the setup and leave the side pannier rails and top box in place throughout the year.
I use pannier inner bags for convenience. It's so much better than dragging a wet and dirty bag or pannier through a hotel's lobby!
Depending on the trip, I sometimes use a small tank bag for easy access to those essentials like visor cleaning products, sunglasses, Peage or ferry tickets etc.
Fortunately, they have all been 100% reliable with no breakdowns, issues, or even punctures (lucky, eh?). The only issue I've experienced has been a faulty keyless fob when it went in for it's last annual service.
Servicing, maintenance and comfort
The service intervals are at either every 10,000 miles or annually. I always use a Triumph dealership for servicing and haven't had any issues so far. And as for long distance, it's all-day comfortable on tours for me (I'm 5ft 11inches). 
Comfort; Riding Position; TFT Display; Engine Power; a 'Planted' feel that allows you to make progress; Powered Screen; Semi-Active Suspension; Up/Down Shift Assist; Fuel consumption is 45-50mpg. I have run multiple pairs of Michelin Anakee 3's tyres and found them very stable, with good turn-in, regardless that some people report that they find them noisy.
As everyone knows, the Triumph Tiger 1200 Explorer carries a little 'timber' and because it sits high in the frame, it makes it difficult to 'paddle' around a car park. So, you develop a mindset of overly pre-planning every junction/parking spot and avoid gravel.
Tip: You should consider adding an enlarged foot peg stand to provide more stability when parked, plus it raises the bike a little, so when fully loaded with panniers etc, you can lift easier!
The only change I'd make is the WEIGHT, WEIGHT, WEIGHT! Ideally, I would like Triumph to produce an up-to-date version of the old Triumph Tiger 1050. It would be an absolute hit. 
The Tiger 1200 keyless fob is an absolute pain because a key is still required to open the fuel filler cap…Grrr!
The Triumph Explorer is way too heavy as a round-the-world bike. What it is though, is an economical, all-day comfortable, touring and weekend bike that has taken me to North Africa and many European Countries over the last six years with 100% reliability. It's the best motorcycle for my needs and is the reason why I've had three generations of them. The 4th Generation Tiger 1200 is expected to be released before the end of 2020 and potentially in showrooms early 2021, so that must be worth a test ride too… If you're after a reliable, comfortable and excellent touring motorcycle for road-based adventures, then the Triumph Explorer is perfect! 
Paul Yarrow
Paul Yarrow is based in the UK with 40 plus years touring experience of the UK and Europe. Two years ago, he started filming his trips and created a growing YouTube channel, plus social media pages to share his trips, photos and routes with other motorcyclists.
You can follow Paul's travels here:
Read more on adventure motorcycles
Thanks for checking out this Triumph Tiger 1200 Explorer Motorcycle Review. We hope you enjoyed it! Here's a few more articles on motorcycle reviews that we recommend you read next. 
Are you planning a motorcycle trip, interested in this bike or have any questions? Let us know in the comments below.