Motorcycle travel with a pillion is a brilliant way of sharing an adventure with a partner or friend. Here's our top 6 tips for two-up travel…
Motorcycle Travel With a Pillion
A lot more comes into play when you're riding two-up (American) or pillion (British), including comfort, weight, bags, communication and bike and riding adjustment. Luckily, they're all quick and easy fixes, which can take a motorcycle touring trip with a pillion from a literal pain in the arse to a fun adventure for the both of you.
After 35,000 miles of riding from the UK to Japan two-up, here's 6 things that have made the biggest difference to us. Read on for our top tips to help you and your pillion have a better trip.
1. Headsets, Chin Wags and 'Careless Whispers'
The peace and quiet of riding a motorcycle, being alone in your helmet with nothing but your thoughts is a massive draw for most bikers. But, if you're committed to taking a pillion, you may want to consider a Bluetooth headset. This isn't a prerequisite, and you and your pillion can get by just fine with a series of elaborate military-style hand signals, pokes, taps and nods to convey messages… but a headset is probably easier and more fun. Once you try them, you won't go back.
Aside from the occasional chat, it allows your pillion to communicate their needs more easily, on everything from needing a loo break, to directions and what they fancy for tea. It also allows you to comment on the riding, ask when they need a break and so on. On a motorcycle touring trip, where you're likely going to be covering hundreds of miles, headsets can make a world of difference. 
Most Bluetooth headsets allow both of you to connect to your phone's music library or Spotify and also have built-in radios. Speaking into the microphone pauses the music and allows you to communicate. And they work independent of each other, meaning yours can be off while your partner's is playing. So, if you want silence while having the time of your life riding, your pillion may still fancy a bit of George Michael to help pass the time on boring motorways. They don't have to cost a bomb either.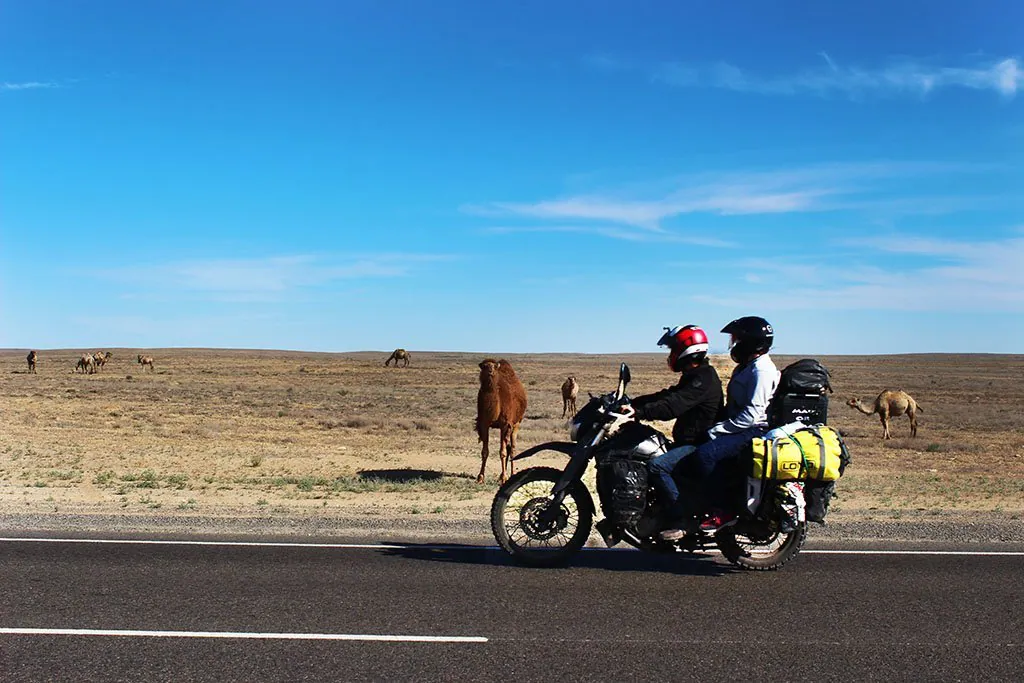 2. Getting On and Off the Bike
This one is important and should be practised before heading off on your trip. Your touring panniers and top box can easily get in the way of a fluid mount and dismount. The last thing you want is a pillion standing on one peg while you tip the bike over. Have a go at one of the three methods below:
The rider gets on first, side stand down, pillion gets on, the rider straightens up and flicks up the side stand.
The rider gets on first, holds the bike upright and then the pillion gets on
With the bike on the side stand, the pillion gets on first, followed by the rider.
Different options work for different people. It depends on your seat height, how long your legs are and how flexible your pillion is.
Opening the bars when getting on and off the bike makes life a little easier for both of you as it creates extra space. And our top tip is to have a little rule between you that the pillion never gets on or off without a nod from the rider. I've seen pillions trying to get off a bike as the rider is halfway through trying to kick his side stand down… it doesn't end well.
Your luggage setup can easily get in the way if you're not careful here, so pick wisely and consider the type of luggage you're going for first. 
READ MORE: The Motorcycle Luggage Guide
READ MORE: The Best Hard Panniers
READ MORE: The Best Top Boxes
READ MORE: The Best Soft Panniers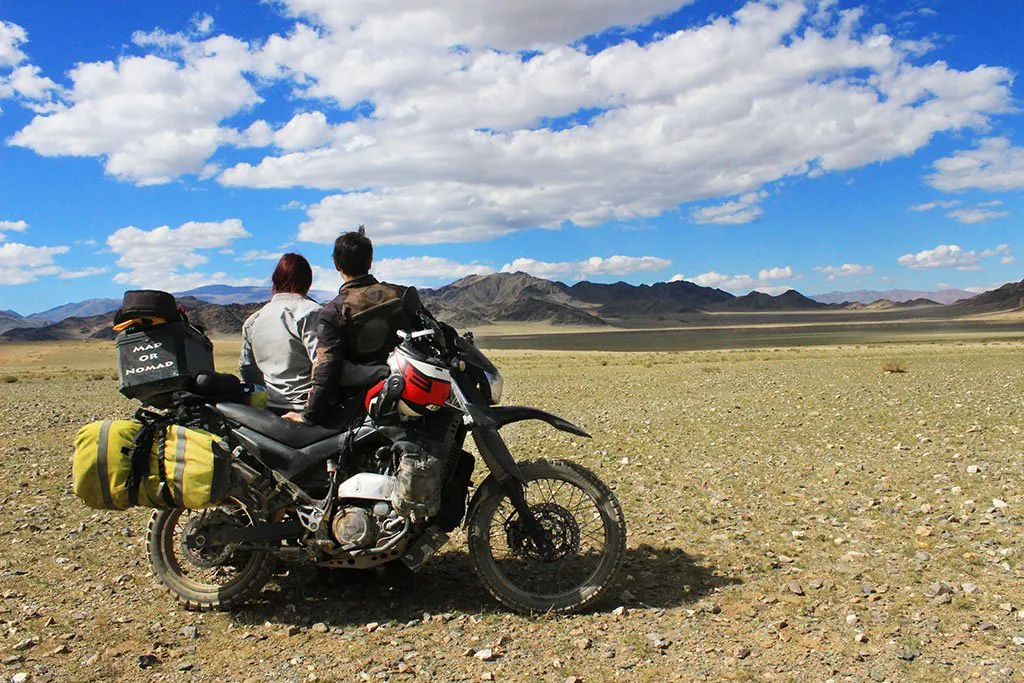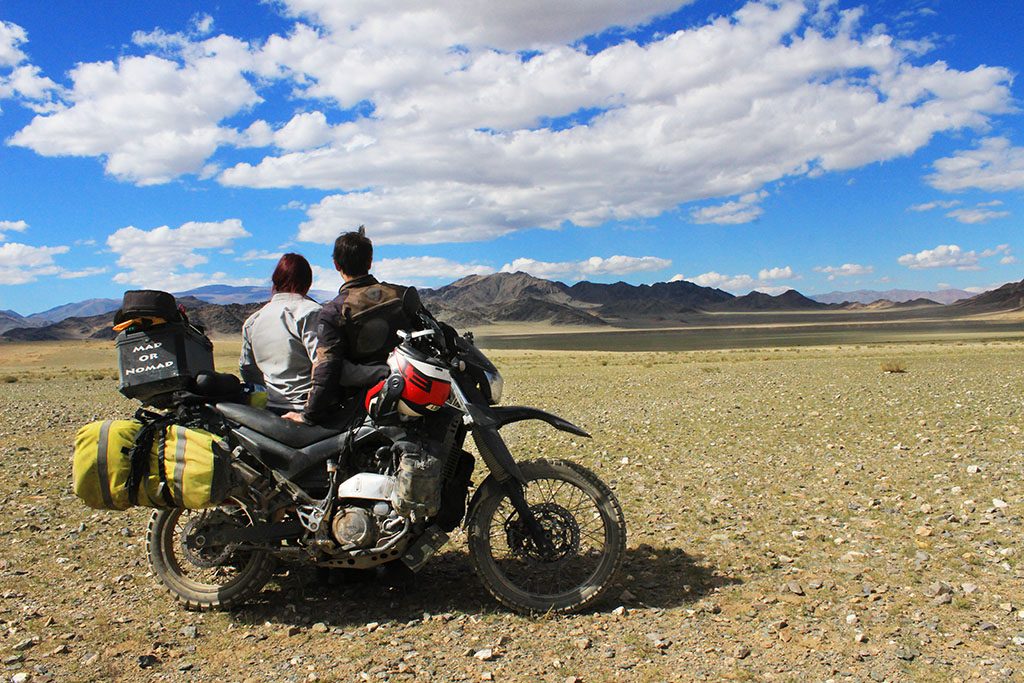 3. Adjust Your Bike
Your motorcycle will be under serious load with all of the extra weight of a pillion, their luggage and your luggage. Consider adjusting your suspension by upping your preload for a stiffer rear. If you're planning on motorcycle touring with a pillion regularly, then opting for a bike with a remote preload adjuster may make life easier. And if not, you can always upgrade your suspension and get an aftermarket remote adjuster.
Two other adjustments to make are your chain tension and tyre pressures. Make sure the tension is at the manufacturer's recommend play when your pillion and all the gear is on the bike. Take a look at our adventure bike guides for more info.
READ MORE: Choosing the Right Adventure Motorcycle for Your Trip
READ MORE: Adventure Bike Reviews by Real World Travellers
4. Adjust Your Riding
Here's where it's time to show off your silky-smooth bike control. Little imperfections in your riding are quickly highlighted when you've got a pillion behind you – like harsh gear changes and sudden braking. You're going to have a lot of weight on the rear of your bike, which means it'll take longer to come to a stop when braking. It also means that you can use the rear brake far more often than you're used to.
It'll stop the front from diving and the rear from lifting and will keep everything in balance. Staying in a higher gear and taking care to perform seamless gear changes will also help. Both of these moves will reduce the typical pillion head-butt you get from being too heavy handed. And practising slow speed manoeuvring will have a huge impact on your clutch control and smooth two-up riding skills.
If you're planning on riding off-road or on gravel tracks two-up, it's worth going for some off-road training beforehand. You can do training on your own bike and get one-to-one coaching. Check out our best off-road schools in the UK guide for more info.
READ MORE: The Best UK Off-Road Training Schools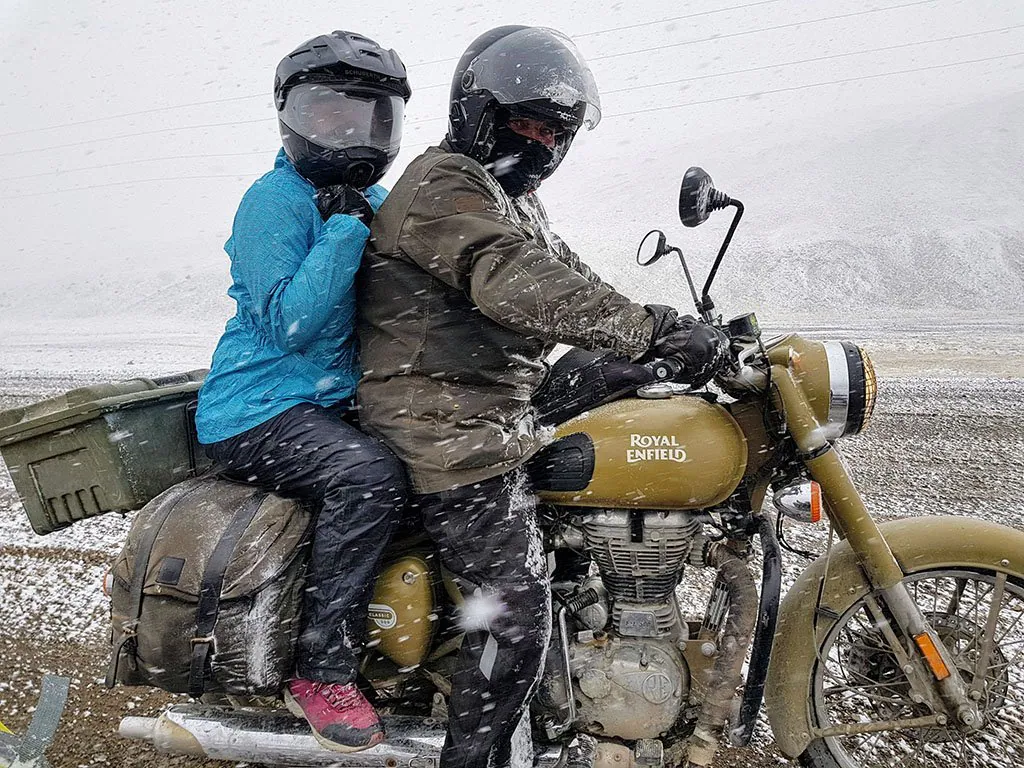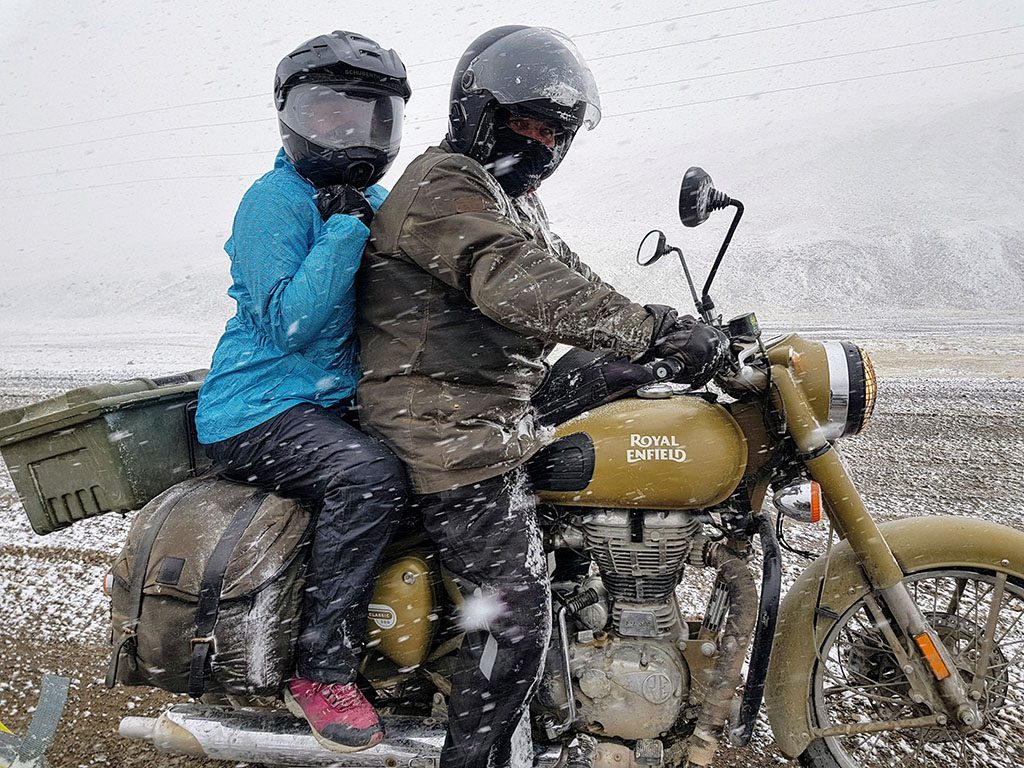 5. Are You Sitting Comfortably?
As well as not bashing helmets every time you brake, your passenger is going to want to be as physically comfortable as possible on a long ride. There are three things you can do to help. Firstly, consider improving the seat. Pillion seats tend to be awful. A cheap fix is a sheepskin throw-over and next up is an air seat cushion. But if you're happy to push the boat out, then consider having memory foam or gel pad inserts. Or better yet, take your seat to a specialist for a tailored padded insert.
Secondly, a top box can make a massive difference to the comfort of a pillion on a long ride. They have something to lean back against, they won't need to hold onto you, can relax their back muscles, reduce helmet bump and stops them from jolting backwards if you take off quickly.
Finally, the third points of contact for a pillion are their foot pegs. Wider custom rests make it more comfortable for their feet and you can also consider getting them moved to make it easier on their knees.
READ MORE: How to Ride Long Distance in Comfort
6. Practice Makes Perfect
Nobody wants to have their pillion tap them on the shoulder five miles after setting off for the Channel Tunnel to say the pannier is digging into their leg. Or the top box is too far forwards and they're squashed, or the intercom doesn't work, or find your bags are too heavy on one side and you start to wobble round corners. Instead, just take a mini dry-run weekend with all your kit.
Make sure your luggage is easily accessible and doesn't interfere with your pillion's seating position. Check that the riding position is comfortable for both of you and that your pillion can get on and off easily in a way that works for you too. Set up your headsets and make sure they're connected to your phones, adjust your bike's settings, take note of the difference in riding style and work hard to keep everything smooth. It'll all be second nature in no time and both of you will have a far more enjoyable tour.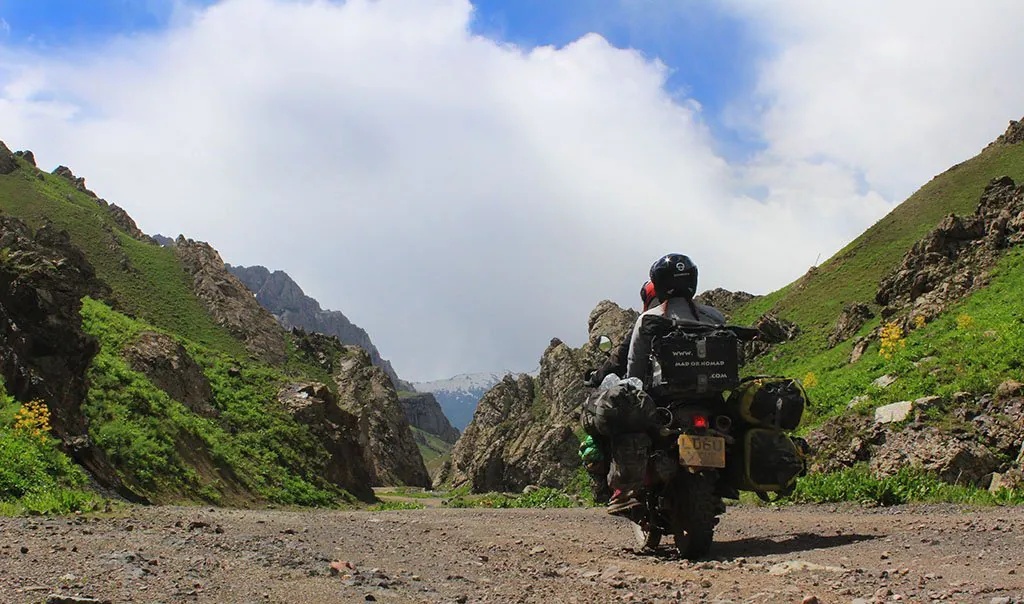 Read more on motorcycle pillion riding tips 
Thanks for checking out our 6 Top Tips for Travelling with a Pillion. We hope you enjoyed it! Here's a few more articles that we recommend you read next.