Travelling on the cheap doesn't mean you need to live under a bridge and eat road kill while you're away. You can still have the time of your life while staying sensible with your money and splashing out when necessary. Follow these simple tips to travel cheap and you'll save a mini-fortune.
Here's how to Travel Cheap when you're travelling the world
Accommodation
Hotels, hostels and BnBs put the biggest dent in any budget. Even if you find a cheap place for £10 a night, you're still looking at £280 a month. Try these free options below to get that number to down to zero.
Couchsurfing.com
This amazing service should quickly become your best friend. It's one of the best ways out there to find free accommodation and meet amazing, like-minded people. Log-on, set-up an honest profile and then type the location you're heading to. Plenty of profiles and users will pop up, click on a profile and read their references, if you think they sound like someone you'd like to stay with, send them a request and see what they say!
It's a free service and hosts will not charge you for your stay. But remember; it's not a hostel, hotel or turn-up and go to bed type thing. Your hosts will expect conversation and a cultural exchange! If you're up for this then CS is brilliant and a fantastic way to meet new people and explore new places with a local.
Keep in mind that at first it will be hard to find hosts as you won't have any references. A way round this is to look for people who have not got a couch on offer, but are available to meet up for coffee (another option on CS). Meet people like this and write references for each other – it'll make it easier to ask for a place to stay once you've built up your profile.
Workaway.info
This is another excellent service, but this one is an exchange. You'll need to work a few hours per day in exchange for food and accommodation. It can be a great way to explore new places without spending a penny! Workaway is worldwide and every place has different working hours and conditions, take a look, pick one you fancy and give it a go!
Wild camping
This is the ultimate do it yourself method. Forget overcrowded campsites – just build your own. This is easy to do when motorcycling or hiking, look for a river or lake on your map and set-up camp close by. If it's freshwater you can use that to cook/ wash which will reduce the amount of water you need to carry. Be sure to head far enough off the beaten track as you don't want to attract curious locals. Wild camping is travelling in its purest, most visceral sense and you'll have a blast doing it. Plus, it's free.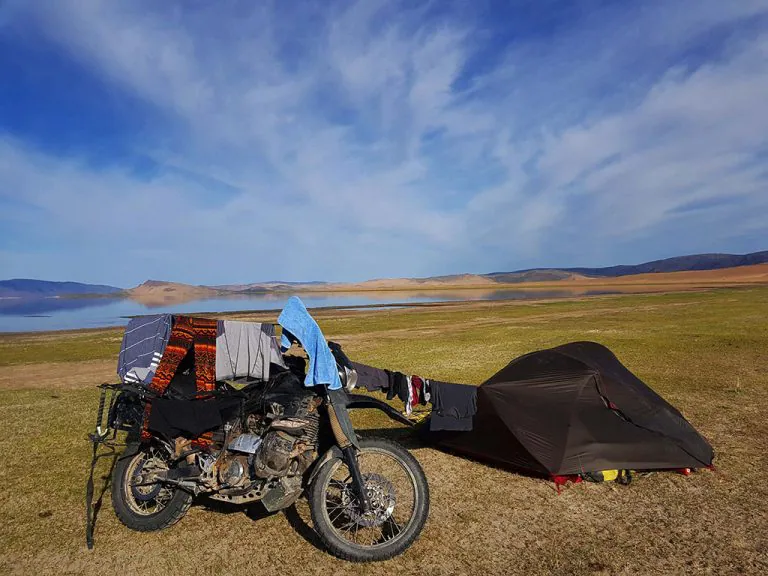 Garden Hopping
This is simply turning up at a random house, knocking on the front door and asking if the owner wouldn't mind you setting up your tent in their back garden. This won't work in a city or large town – imagine knocking on a door in London? It's the sort of thing you'd do at a farmhouse in Austria, or a picturesque restaurant in Turkey. It's weird at first, but very easy and the result is often very surprising. I've often ended up being ushered inside and staying for a week in a spare room, left at home during the day while the owners go to work and making great friends. But that won't always happen. This is an alternative to wild camping if you feel an area is unsafe or too built up.
Food and water
This is the next big expense and can put a dent in your travel cheap budget. The easiest way to save money on food and water is not to splash out on restaurants by being prepared. That doesn't mean you should become a hermit, eating only scraps. Always eat plenty, healthy and often. But what you eat is what'll save you money.
Instead of premade sandwiches, just pack the ingredients to make your own. Buy a loaf of bread, hard cheese and smoked or cured meat, which doesn't need to be refrigerated for lunch (or jam and peanut butter sandwiches for vegetarians). High carb diets are excellent for travelling, but don't forget to get your proteins and nutrients from vegetables and fruits too. Carrying snacks like nuts and chocolates will also help reduce the urge to visit cafes and restaurants.
Try and go without sugary drinks and stick to water. Always carry a bottle and fill it up at safe water dispensers or fresh water fountains. In some parts of the world like Africa, it's a good idea to carry chlorine tablets, fill up your bottle with tap water and drop in a tablet. Boiling your water is also a sure way to kill bacteria.
Unfortunately, alcohol is one of the best ways to drain your wallet, try and limit the amount you consume if you want to travel on the cheap.
Transport
Give hitchhiking a go, but keep your wits about you. Hitchhiking is not 100% safe, but you can do it and save a lot of money. We've hitchhiked in Asia, Europe, America and even Iraq and never had a problem, but that's not to say the next time we'd encounter a problem. Assess the situation, if it doesn't feel right don't get in.
If you're using your own vehicle then a quick tip is to not use petrol stations on motorways. Exit the motorway when you need to fill up and search for a local station, the fuel will be much cheaper.
Another handy tip for those with their own transport is to find a good spare parts company in your home country and supply them with a copy of your carnet de passage. If you need to have something sent out to you, they can send this with it to avoid import taxes as it'll prove your vehicle is a temporary import.
Budgeting and money
Budgeting sounds boring – and it is. But you'll be surprised at how much you can save. Record your expenditure every day and study it at the end of the week, you'll quickly see how many unnecessary purchases you make and what you're spending habits are like. Make a plan with how much you're going to allow yourself for accommodation, food, water and miscellaneous and stick to it.
Your bank quietly drains money from your account too. Most high street banks have high charges for withdrawals and exchanges abroad, charging you foreign exchange and transaction fees every time you make a purchase.
Instead, opt for either the excellent Monzo or Revolut cards. These are basically top-up cards which are connected to your bank account via an app on your phone. Top up your card and use it anywhere in the world with no fees. You can withdraw up to £200 for free from your account per month too. Withdraw over that and Monzo will charge 3% and Revolut 2% which are both still considerably cheaper than high street banks. All transactions are free with no exchange or transaction fees. The app will notify you every time you spend as well and keep a record of how much you're spending and on what.
They are extremely useful and secure. If you lose your card just log on to the app and freeze the card. Monzo is Mastercard and Revolut Visa, so they work anywhere in the world.
Learn a new skill
Having a specific skill set while travelling sets you apart and can help you help others. This skill can be anything from building to teaching English. The teaching route is an easy one to go down, sign onto a Teaching English as a Foreign Language (TEFL) crash course and earn some money as you travel by doing private tuition or stopping off in countries and teaching at schools.