Taking the train from Georgia to Azerbaijan can be daunting, but with a little know-how, it's actually a fun trip! Here's everything you need to know…
Getting your ticket
Head to the Central Metro Station. You'll see a large train station – that's not what you want. Weirdly, next door to the right is a large shopping centre. Head in there, go up the escalators to the first floor and you'll find the ticket office. Take a number from the machine and wait to be called to a booth. Don't forget to take your passport to the ticket office!
Buying the right ticket
You have a choice of first, second or third class. If you haven't got the cash to buy your own first class cabin then I'd advise to go third class. If you opt for second class you'll be in a private room with three other people, the doors close at night and it's perhaps a little riskier (especially for a female) if you're locked in a room with three guys. Third class is safer, you'll meet other people and the sleeping quarters are exposed.
Third class costs 30GEL. There are around 50 people sleeping in there and you have your own bunk. I'd definitely recommend going for a lower bunk! You've got to be some sort of contortionist to get into the top one.
Anyway, once you've chosen your class and the lady has checked your passport you'll get a ticket with all the info you need on there, like carriage and train number, platform etc. Head back down the escalators and turn around, you'll see two large double doors which lead to the platforms, that's where your train will leave from.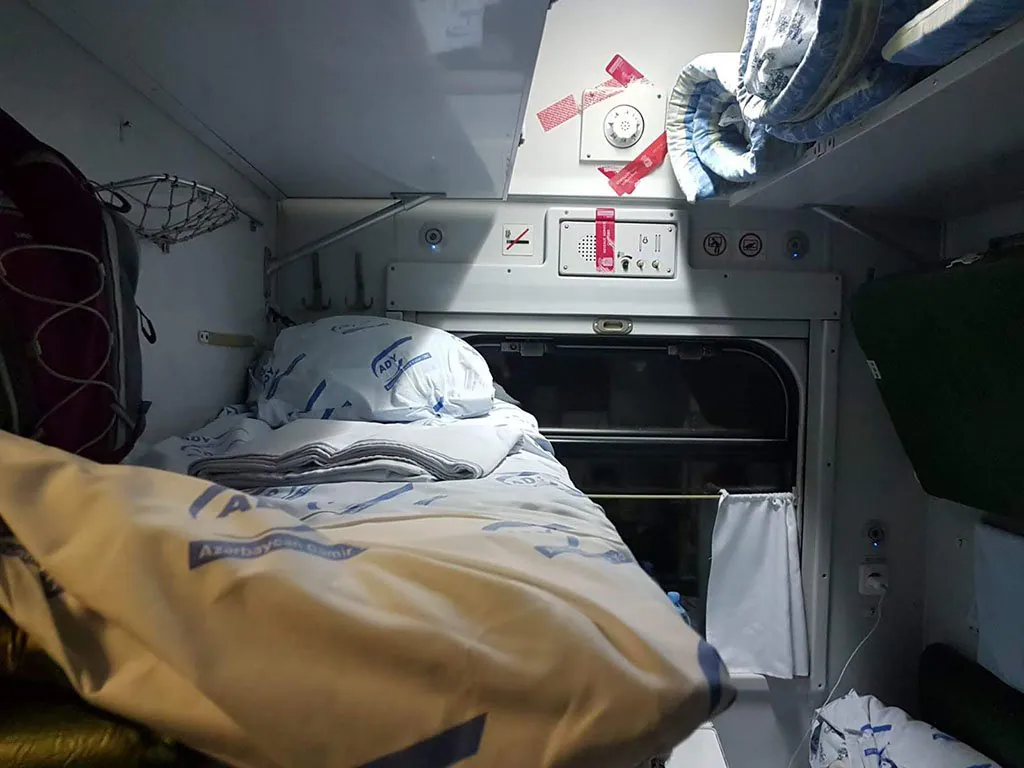 What to expect on the train
Get to the platform 30 minutes before departure, you can board early and they will show you to your seat.
The staff will bring you very fresh and clean bedding. I normally get cold easily but was warm enough on the trip, then again it was in summer. The train is air conditioned and you can open the windows when the train isn't moving.
You will get a place for your luggage underneath your bunk.
Another reason to opt for the lower bunk is that you can't actually sit up in the top one!
There are plug sockets but not all of them work
Don't forget to take toilet roll with you and remember that the toilets close when the train stops.
There's no food or drink sold on the train so pack your own.
The train left at 8pm and arrived at 9am, a total of 13 hours.
What happens at the Azerbaijan border?
They'll come round and take everyone's passports, don't be alarmed. You will be stamped out of Georgia. The train moves again for 10 minutes and you have your passports taken off you again. If you haven't been to Armenia then it's plain sailing, but if you have…
What if you've been to Armenia?
You'll still get through, just expect a bit of hassle. Although, remember that if you've been to the disputed Nargo-Karash area then there's no way you're getting in. I had just been to Armenia the week before and had an Armenian stamp in my passport. They asked me questions like why I visited Armenia and why am I coming to Azerbaijan. They checked through my bag (but politely, they let me take everything out and were friendly about it). They wanted to make sure I had no liquids, food or souvenirs from Armenia. They then took my photo and gave me a full on speech as to why the war with Armenia wasn't their fault.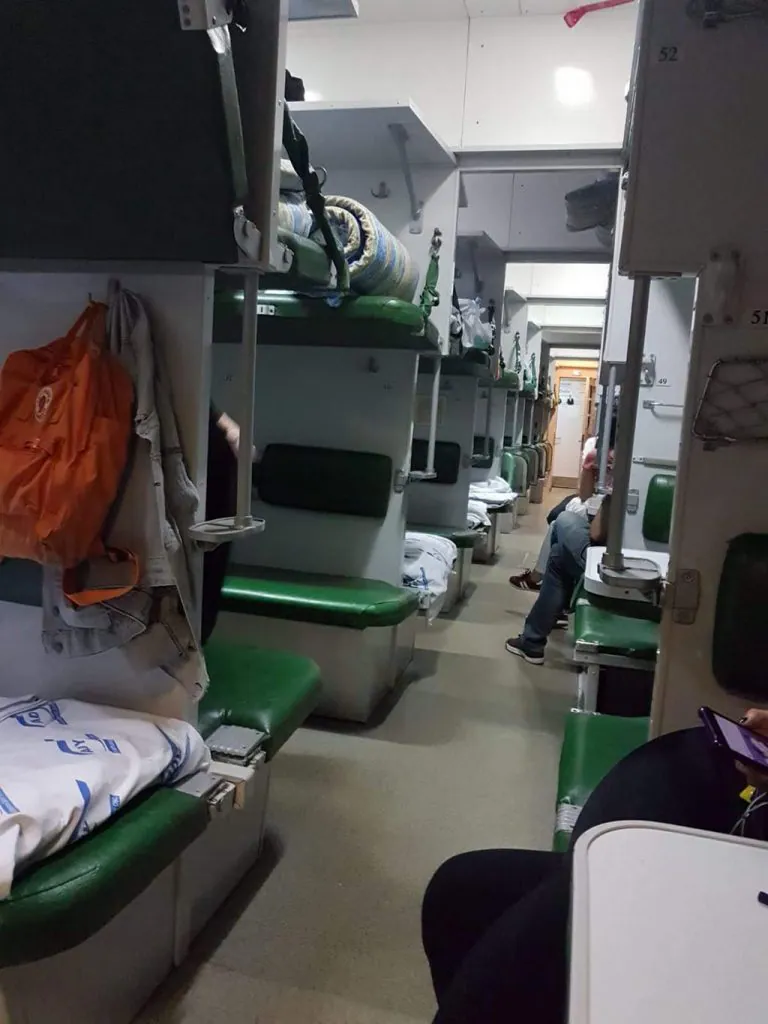 Why the train is awesome!
I'm not a hugely confident person and was a little apprehensive at first. But the train journey turned out be so easy! I felt safe the whole time, I met a bunch of other travellers and made good friends. I saved money on accommodation by sleeping on the train, it was simple, I didn't have to spend forever sitting on a cramped bus and saved loads of time and money. If you're planning on going to Baku from Tbilisi, take the train! It's an easy and fun experience.