Getting back on a bike after three years was going to be tough, but it was finally time to get my boots on again and hit the trails…
Back in the saddle
It's been three years since crashing in Nepal (and several operations later) and my leg has finally started to recover. 
Time has allowed my emotions to heal, and with my leg slowly starting to get better, I've finally found enough courage to get back on two wheels. 
With our bike in Thailand and the current border restrictions, I'm not getting back on the XT anytime soon, so I started to look for other options…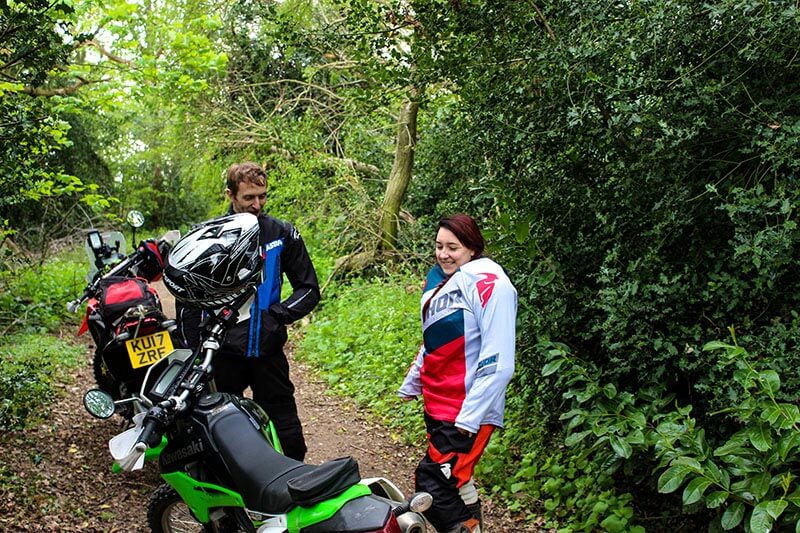 Trail riding
I didn't just want to ride on the road, if I was going to get back into it, I wanted to ride on some light trails as it was the thought of off-roading again that made me nervous.
Herts Byway Tours is a trail riding company and only an hour from our home. We got in touch with Chris and he invited us down for the day to take us out on some easy local trails and ease me back into it.
Getting geared up again, pulling a heavy motocross boot over my ankle and strapping it up tight made me hot under the collar. Turning the key and flicking the starter on the Kawasaki KLR250 sent both the bike and my stomach rumbling.
My foot clicked into first and my left hand gently let out the clutch while my right rolled on the gas – all before my brain realised what was happening. The bike and my body had tricked me into moving forwards and that was that…
Starting out
We spent some time in a large field just getting used to being on the bike again. The hardest part was target fixation, every time that big 21-inch front wobbled or looked like it was going straight for a big rock my stomach turned and my fingers wanted to wrap around the brakes. I'd slow right down and stick both feet out. Getting out of that mindset was the hardest, even though I was only going 10mph, but then again, that was the same speed as the crash.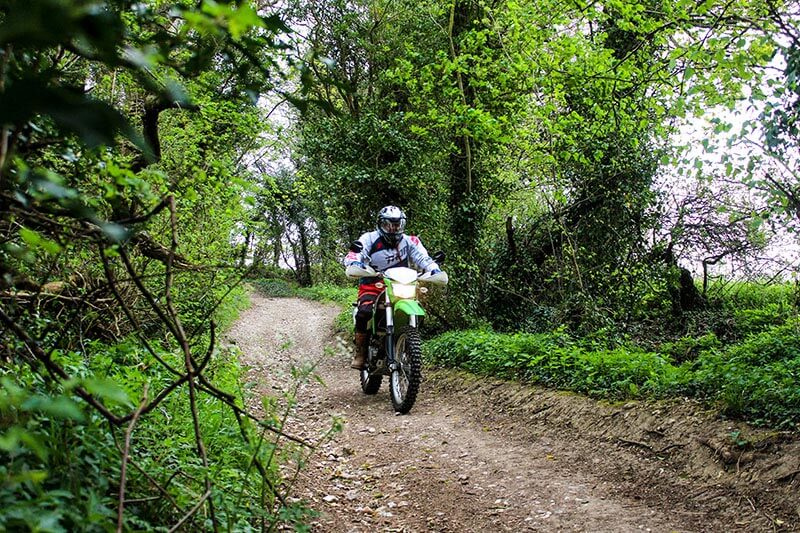 It's time
But it was time to move on. Chris had given me a few pointers and words of encouragement. He opened the gate and said, "Follow me…."
We rode down an easy trail and jumped onto the main road, following Chris through beautiful Berkhamsted villages and winding country lanes until we came up to a trail entrance hidden by overgrown trees. Chris motioned with his head that we were going down there and before I knew it, we were slowly riding down our first trail of the day. It was slow, I didn't want to stand up just yet and my shoulders were tense. But the trail was easy, long and straight and we were out and back on the main road in no time. My first trail in years!
Where's the next one?
It was back on the road in search of the next trail. This one was wider and even longer. We passed dog walkers who gave big smiles and waves as I nervously rode past (almost felt like they were cheering me on). Under bridges, past mustard yellow fields and beautiful meadows.
Every minute my confidence was increasing and my wrist knew it because it was sneakily winding on the gas. 
This time we were back on the road, but I had a huge grin – looking out for the next trail entrance. We were building up momentum and the trails got more interesting. We rolled under old bridges and along rutted routes and up little hills.
Now when Chris turned around, I could almost make out his smile through the helmet. And instead of following, it felt like chasing. My wrist now refused to let off the gas when roots and ruts covered the ground, I was up on the pegs on the open straights and tucked behind the bars and ducking as branches whipped at my helmet when the paths turned into overgrown leafy tunnels…
Finding my feet
By the end of the day I was grinning ear to ear and wanted to keep chasing and exploring more trails. Being back on a bike again felt so good and I'm gutted I've been so long without riding one. 
I've still got a long way to go, but this was just the start and a brilliant way to get some confidence back in my boots. I feel like this was a huge step for me and I can't wait until my next trail riding adventure!
With thanks to
Thank you to Chris at Herts Byway Tours for a brilliant day out on the bikes. Chris was a fantastic guide and showed us some amazing trails, taking it easy while I slowly regained my confidence. He was really patient and supportive in helping me get back on the bike and ride.
I'd definitely recommend a day out with Chris in Hertfordshire. You can either take your own road legal trail or adventure bike or rent one of his Kawasaki KLR250s. His trail riding days are suitable for complete beginners all the way up to advanced riders with a hugely varied range of terrain and routes for all abilities.
More info can be found on his website: www.hertsbywaytours.co.uk
Read more on motorcycle trail riding in the UK
Thanks for checking out our blog post on trail riding. We hope you enjoyed it! Here's a few more articles on trail riding in the UK that we recommend you read next.
Are you planning on going trail riding in the UK? Do you have any questions or tips to share? Let us know in the comments below.