Welcome to our Top 10 Guide for Turkey! Here's a quick taste of our favourite places with links to in-depth guides if you fancy digging deeper. You'll find our best places to visit, top things to do and off-the-beaten-track adventures here.
1. Hot air balloon in Cappadocia
Taking a hot air balloon ride in Cappadocia is one of the best things you can do in Turkey – if not the world. You'll be whisked to a cliff top in early morning darkness to watch fireballs burn and hot air pump into gigantic balloons. Within minutes you'll be standing in a wicker basket and seconds later you'll be floating through the sky in silence as the sun rises. It's an epic experience and Cappadocia is one of the best places in the world to go ballooning.
READ MORE: The Cappadocia Guide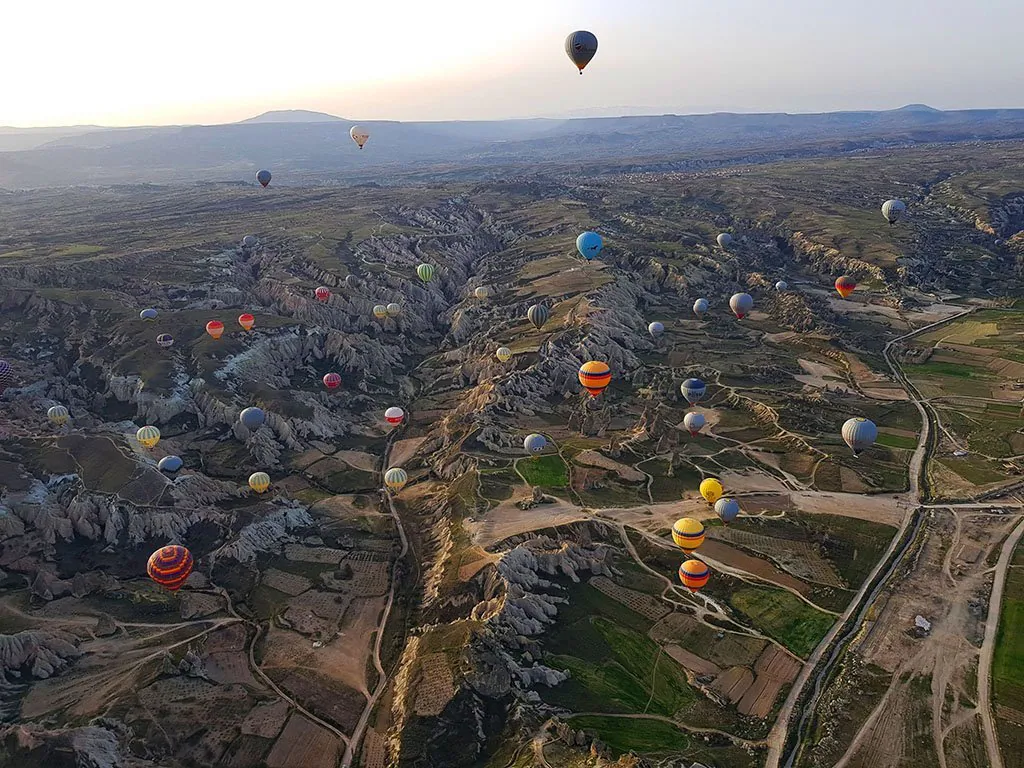 2. Turkish Delight
The food in Turkey is jaw-dropping incredible. It'll literally make you salivate thinking about it years after your trip. Forget the late-night Turkish kebabs you're thinking about from your home country. The Turkish palette is bursting with salads, fresh olives, oils, warm breads, delicious meats and hot sugary teas.
No visit to Turkey is complete without sampling as much of its wonderful food and drink as possible. Our top recommendations are:
Lahmajoun – think of a flat dough pizza topped with minced meat, herbs, onions, parsley, tomatoes and spices. It always comes with lemon and a small plate of salad. Sprinkle your salad over the top and drizzle your lemon on top. Then wrap it up and eat it.
Sweet apple tea – try asking for apple tea instead of the regular tea. Both are tasty, but apple tea is super sweet and delicious! It will come in a small glass, exactly like regular tea.
Turkish kebab – Turkish kebabs are skewered meats cooked over an open fire. They're cheap and tasty eats and found all over the country.
Turkish breakfast – ask around for a proper Turkish breakfast restaurant and prepare to be overwhelmed by the sheer amount of bowls and plates that are going to be put in front of you! Expect: olives, hundreds of different cheeses, a bowl of molten hot cheese to dip your bread in, cheese sticks, salads, eggs, meats, copious amounts of tea and so much more!
Kofte – this is a standard Turkish meal that's quick and easy to order and tastes amazing too. It's a small ball of ground beef (sometimes lamb) which is often served with rice or stew. Yum!
3. Ephesus
Turkey's peppered with incredible ruins, but the most famous of all is Ephesus; an ancient city first belonging to the Greeks, then the invading Persians and onto the Romans. It was first founded 1000BC and prospered to become one of the most important cities in the world.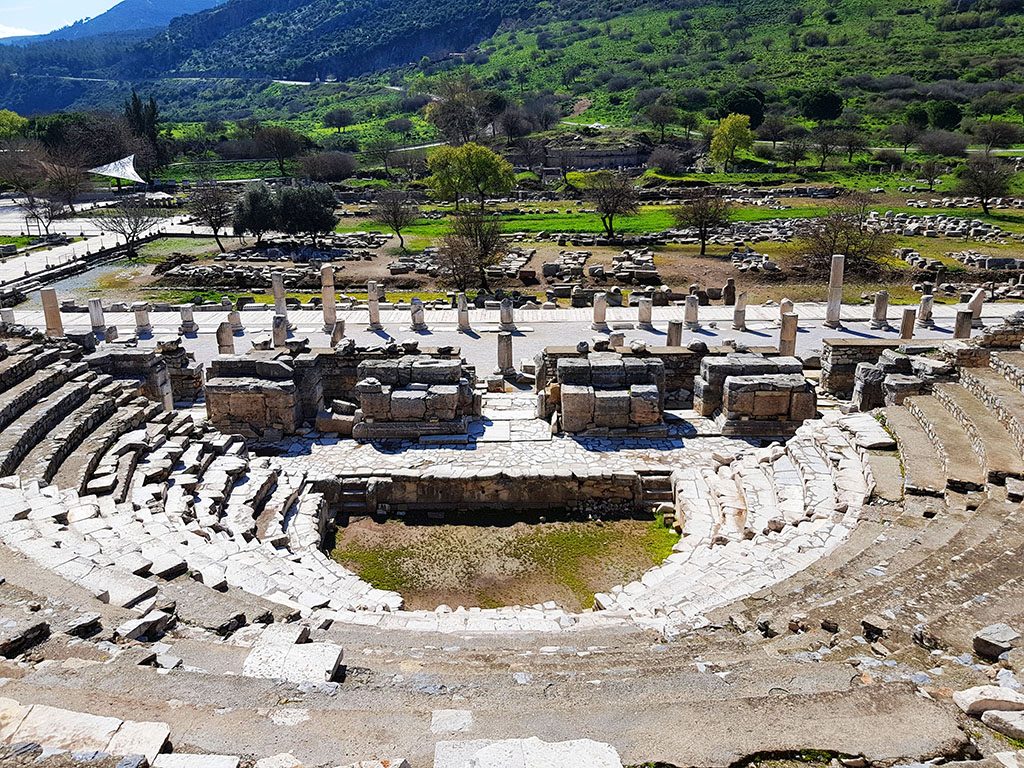 Today, archaeologists have uncovered around 15% of the city, which makes it even more astonishing as to what's left hidden. The Great Theatre seats 24,000 people, the terrace houses are as close to walking through archaeological finds as you can get and the details in the stone carvings on the temples and libraries are mesmerising. Ephesus is definitely worth a visit!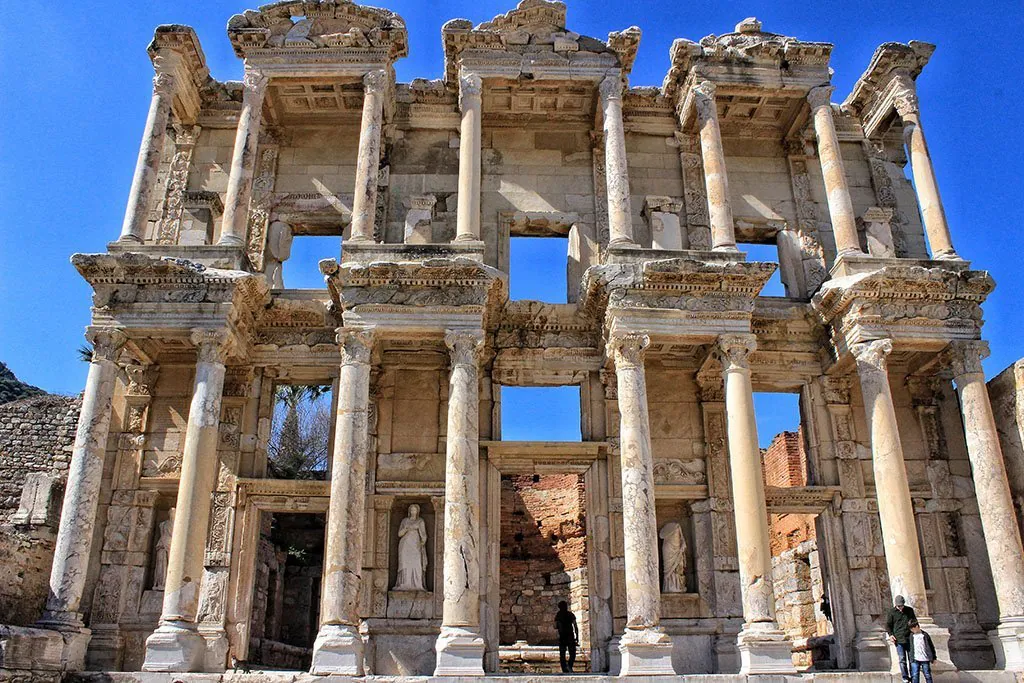 While you're there make sure you check out the Temple of Artemis – one eerie, lonely column is all that remains of one of the Seven Wonders of the Ancient World.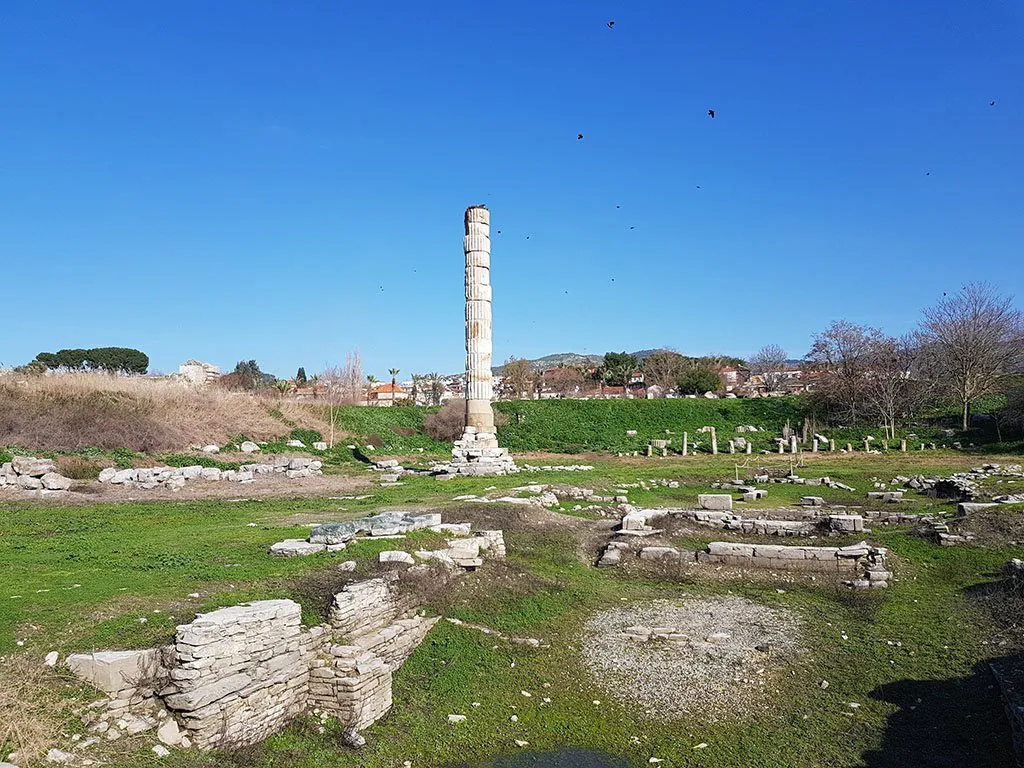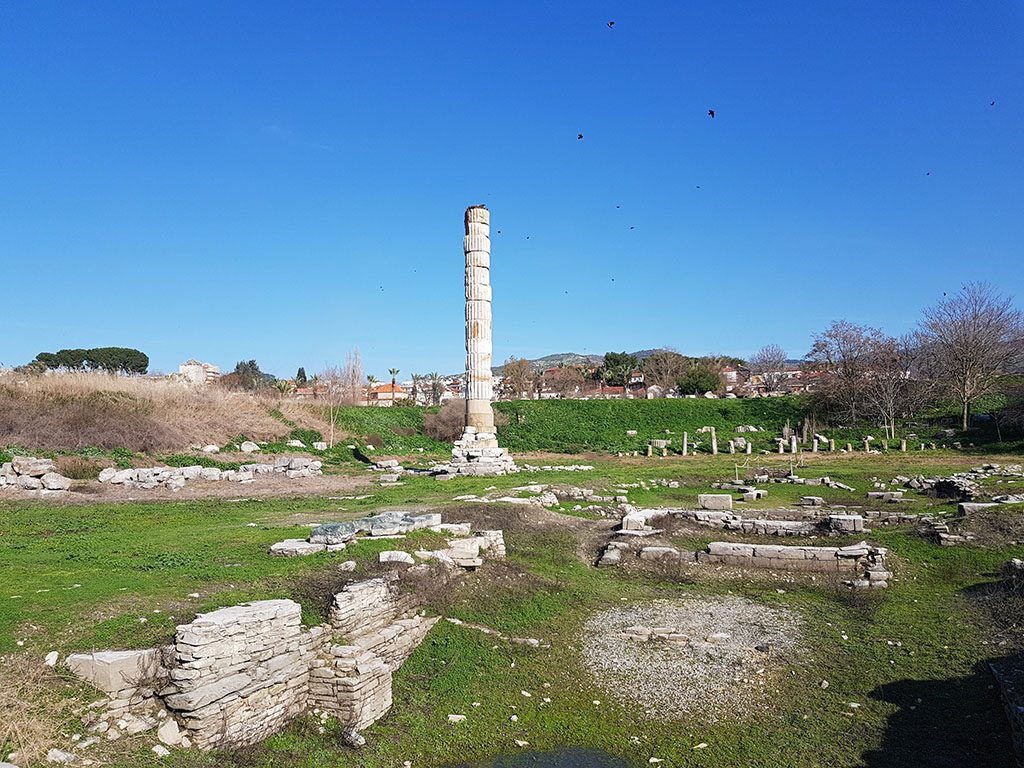 Also don't forget to visit the Ephesus Museum for it's incredible display of historic finds.
Unless you're particularly interested in Christianity, we wouldn't recommend visiting the Virgin Mary House. It's overpriced, far from the other sights and just not worth it.
4. Cirali
Cirali is a beautiful little enclave of Turkey. It's not huge and flooded with tourists yet, so we'd definitely recommend visiting soon. It's famous for the eternal flames of Yanartas.
You'll need to hike up a mountain to find the flames, which should take about half an hour. Burning continuously for over a thousand years, the fires are steeped in legend and rumour – something about a fire breathing monster. After a quick Google search, it turns out it's most probably methane gas escaping from the rock. Either way, it's pretty cool. It's an easy hike up stone carved steps.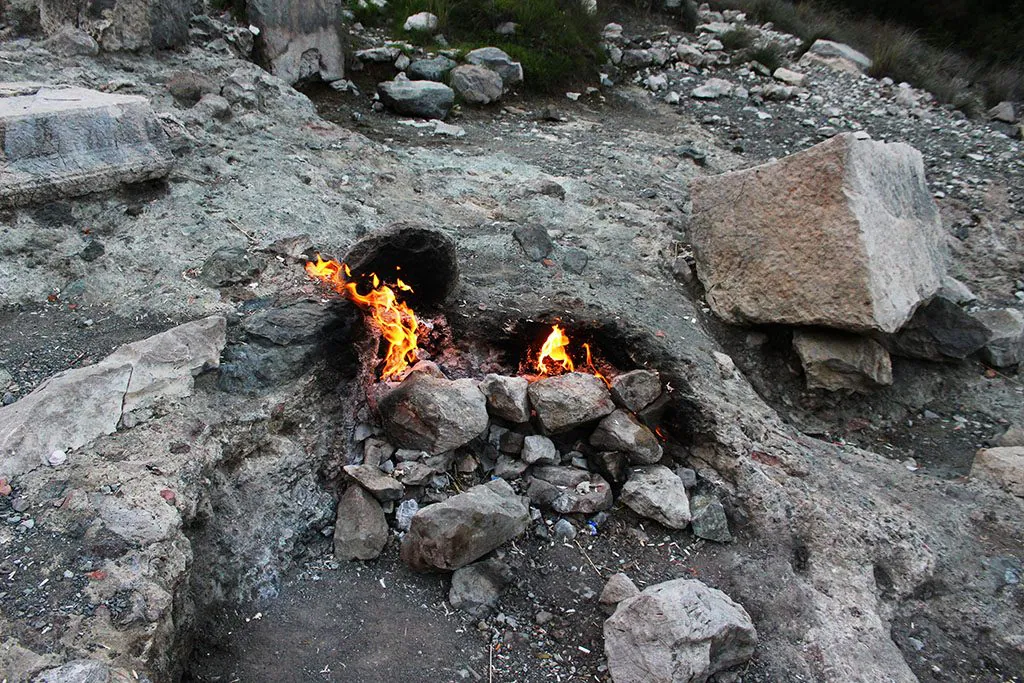 You'll find it on Maps.Me and will notice that there are two locations, the first batch of flames and a second batch located much higher up. The second lot aren't as impressive and it's a much harder hike.
It's worth looking into AirBnBs for Cirali. We stayed at a fantastic tree house style apartment a short walk from the beach (which was empty!).
5. Dalyan
Dalyan is a beautiful little resort town. It may be touristy in the summer months, but worth a visit outside of the high season. Cross the river and check out the tombs carved into mountains, take a mud bath and enjoy the beautiful backdrops and relaxed way of life!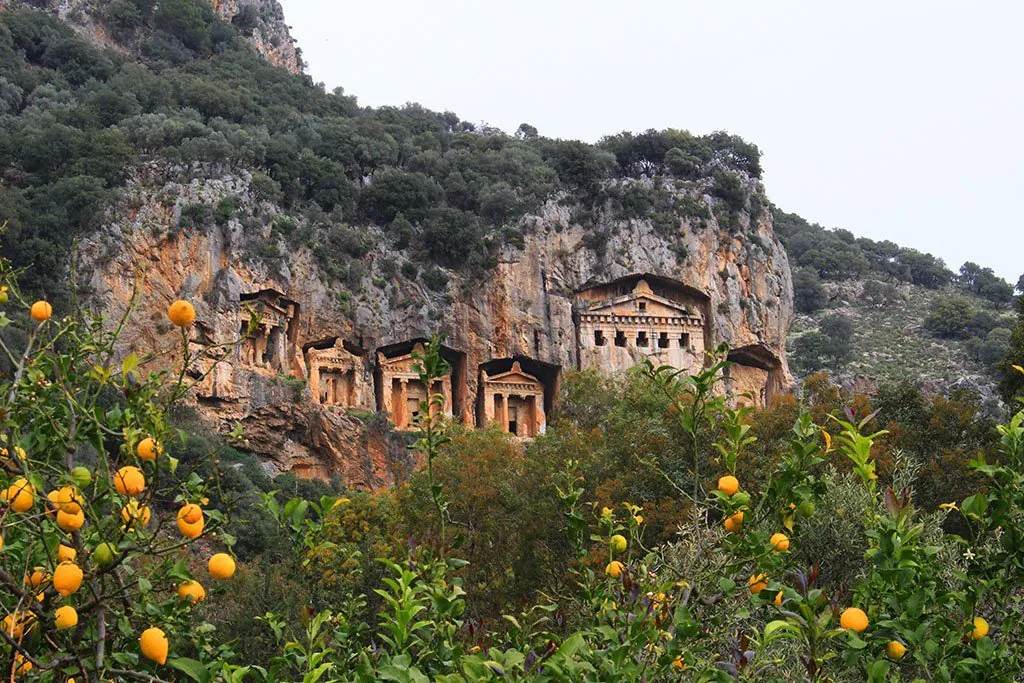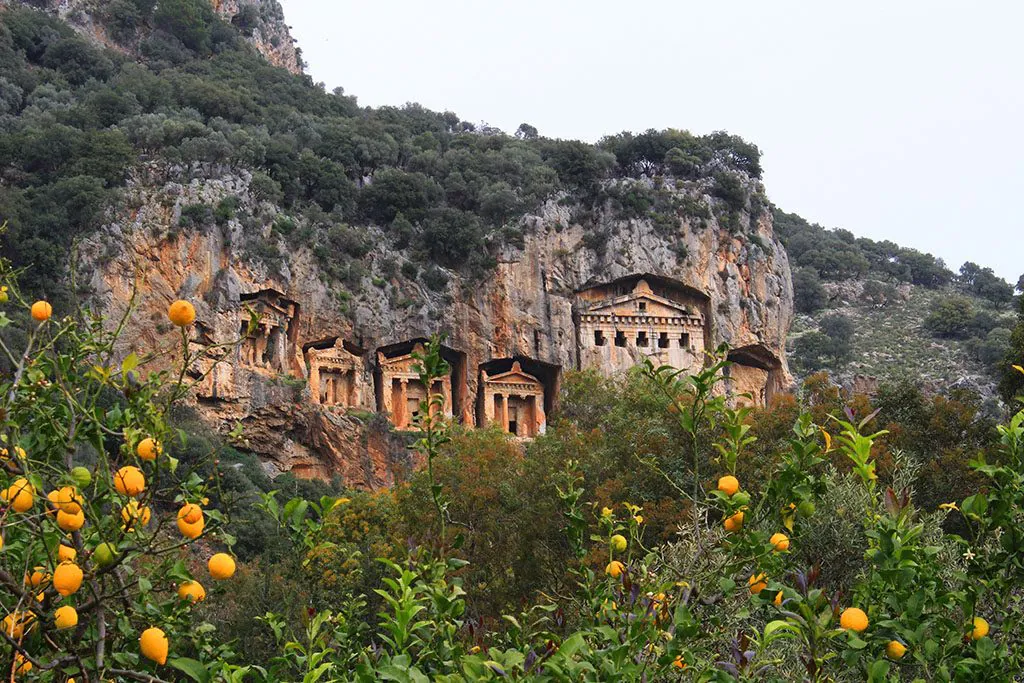 6. Hiking
Turkey has some incredible hiking paths. The most impressive valleys are probably those through Cappadocia's White, Love and Red Valleys. Check out our Cappadocia guide under the balloon section for a downloadable walking map and guide to each valley.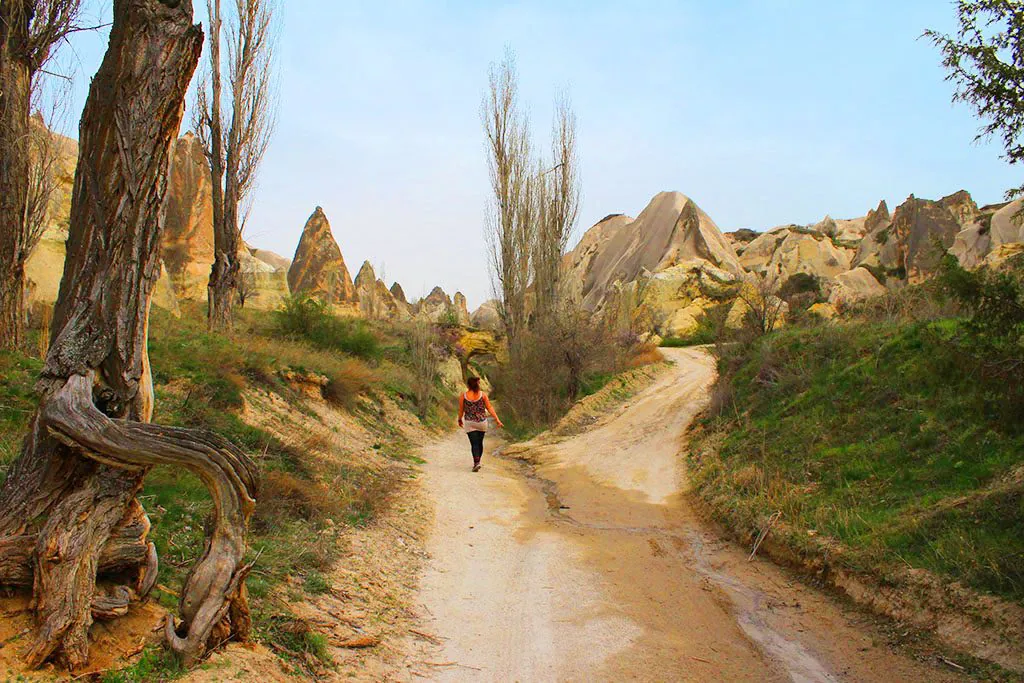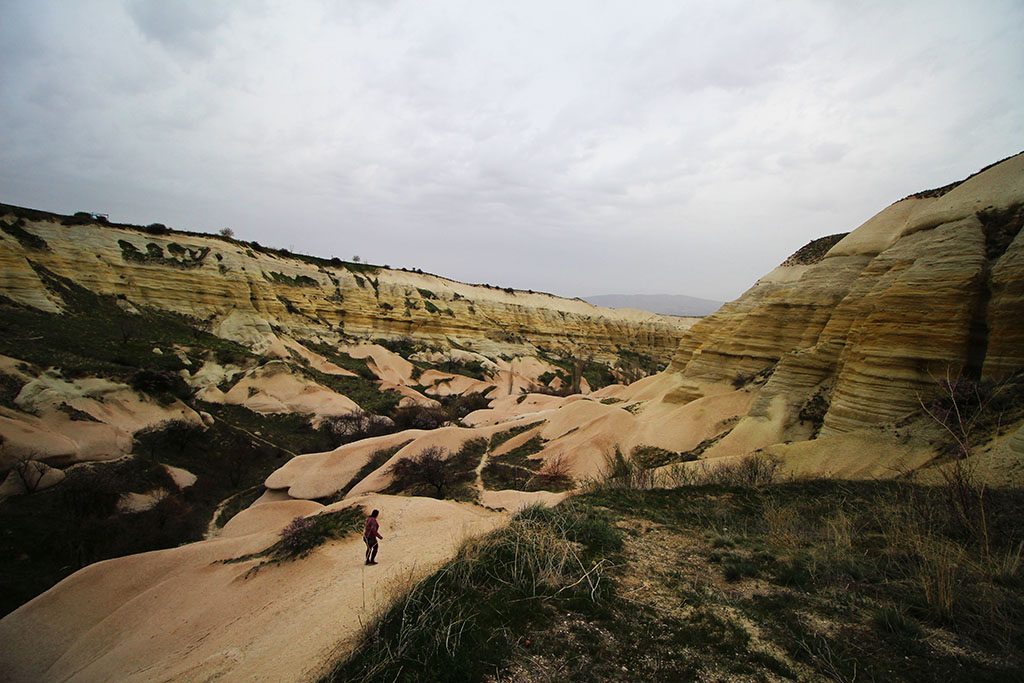 If you're into serious hiking, then head for Mount Ararat in the East of the country. It's supposedly the resting place of Noah's Ark.
7. Ride the South Coast
Riding the south coast of Turkey is like flowing along a ribbon of pretty black tarmac, lacing its way along the seafront and wrapping around cliff faces. Stop off at little cafes on by the sea for fresh orange juice and then get back to the twisty mountain roads. Take the road from Bodrum to Marmaris, Fethiye, Kas and to Antalya.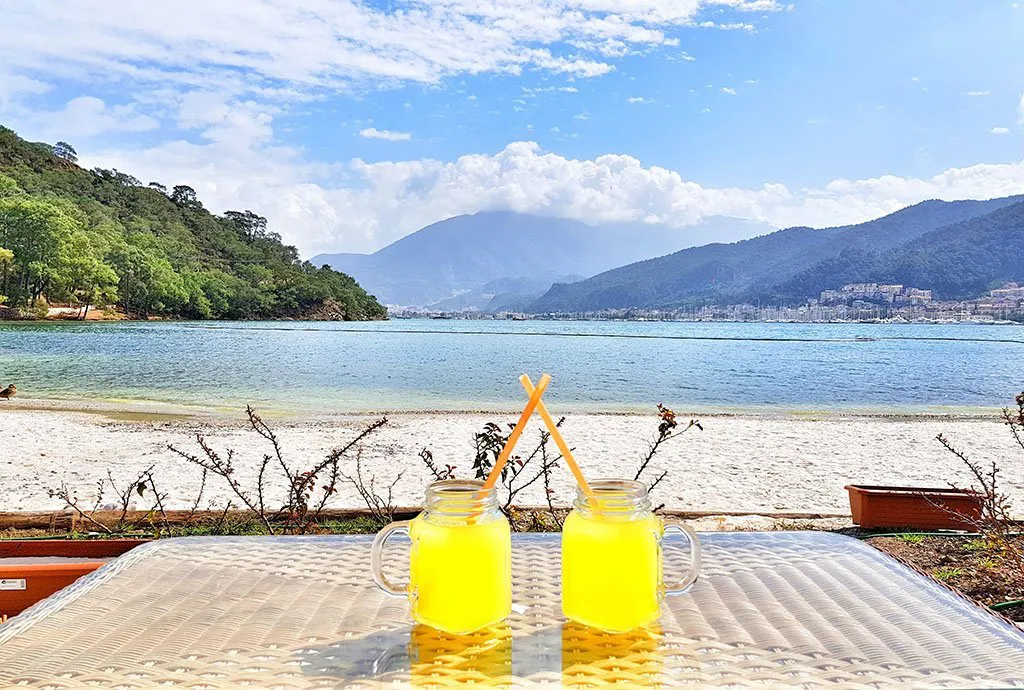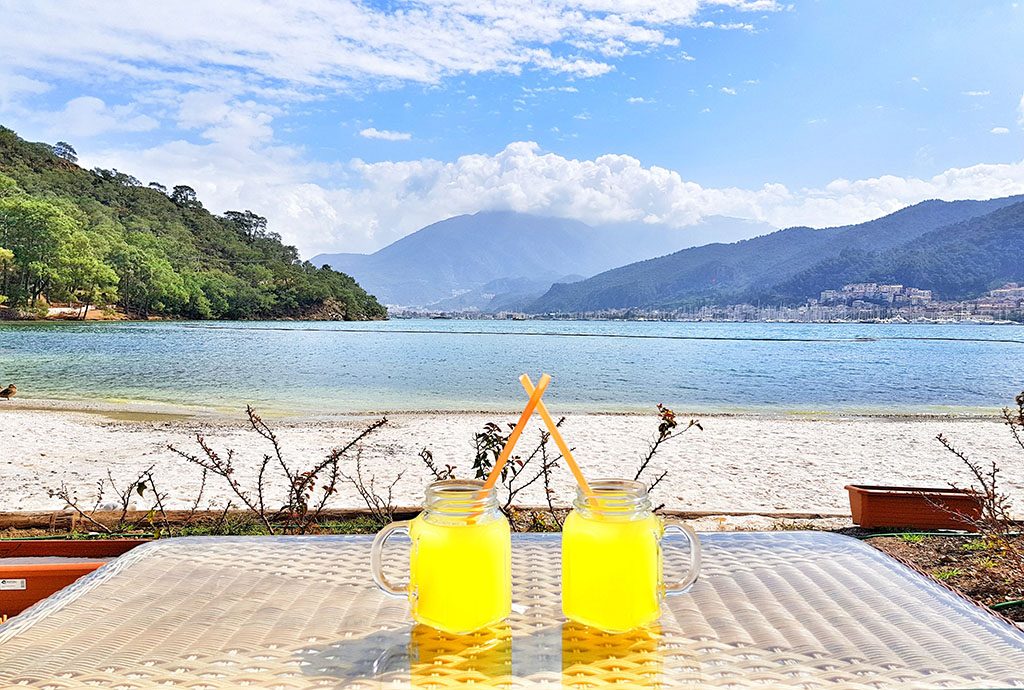 8. Mount Nemrut
Visit Mount Nemrut and experience one of the world's most incredible sunrises. You'll need to wake up early to get to the mountaintop where a load of statues remain from a 1st Century BC tomb. If you stay in the little hostel at the bottom of the mountain, they will arrange your transport up in the morning. It's an easy ride up if you have your own vehicle.
If you're visiting Nemrut, then check out Sanliurfa too for the birthplace of Abraham, an impressive castle and the sacred fish pond (no fishing allowed).
9. Istanbul
While we're not massive city fans, it's still worth visiting this cultural melting pot of east meets west. Crossing the Bosphorus bridge that connects the two continents will officially start your trip in Asia. Make sure you visit the Hagia Sophia, Sultan Ahmed Mosque and the bazaars.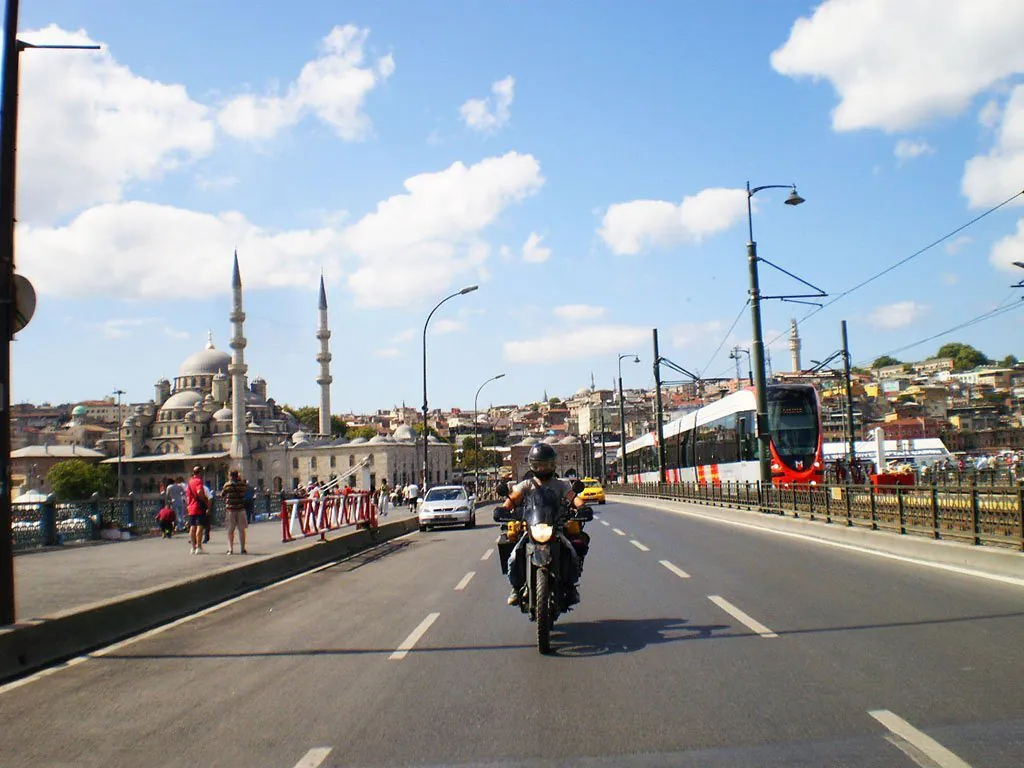 10. Pamukkale
It was tricky deciding whether or not to mention Pamukkale. We have visited the place twice now, seven years apart, and it's just as touristy as ever. If that doesn't put you off (or you're able to visit out of season), then give it a go.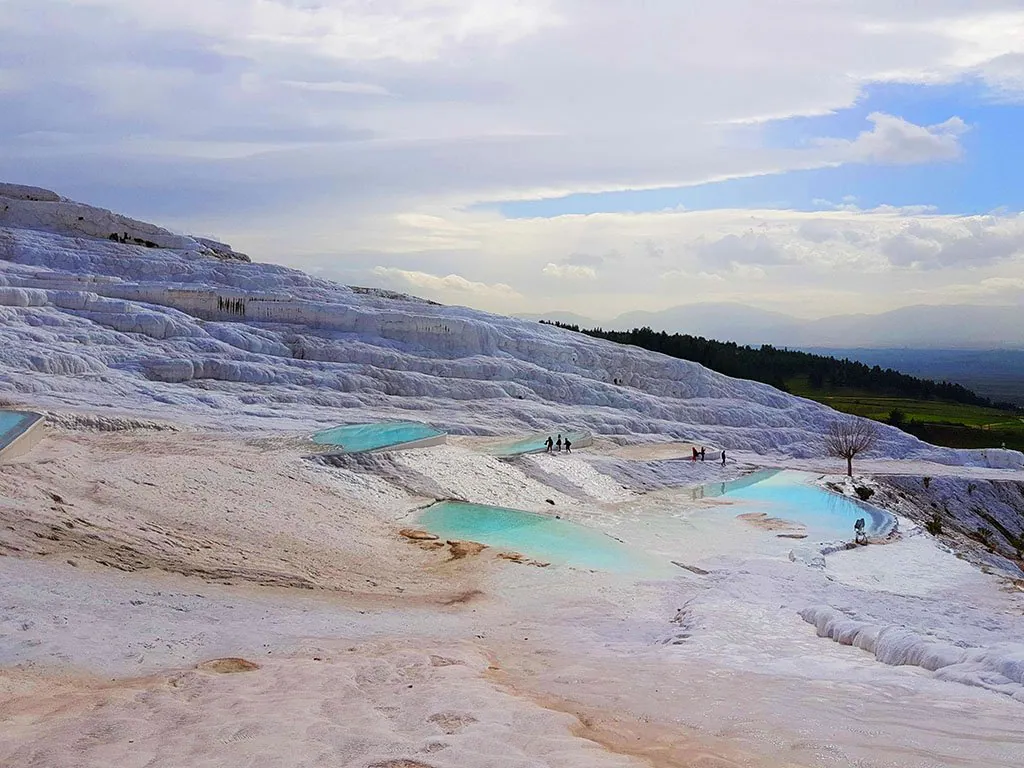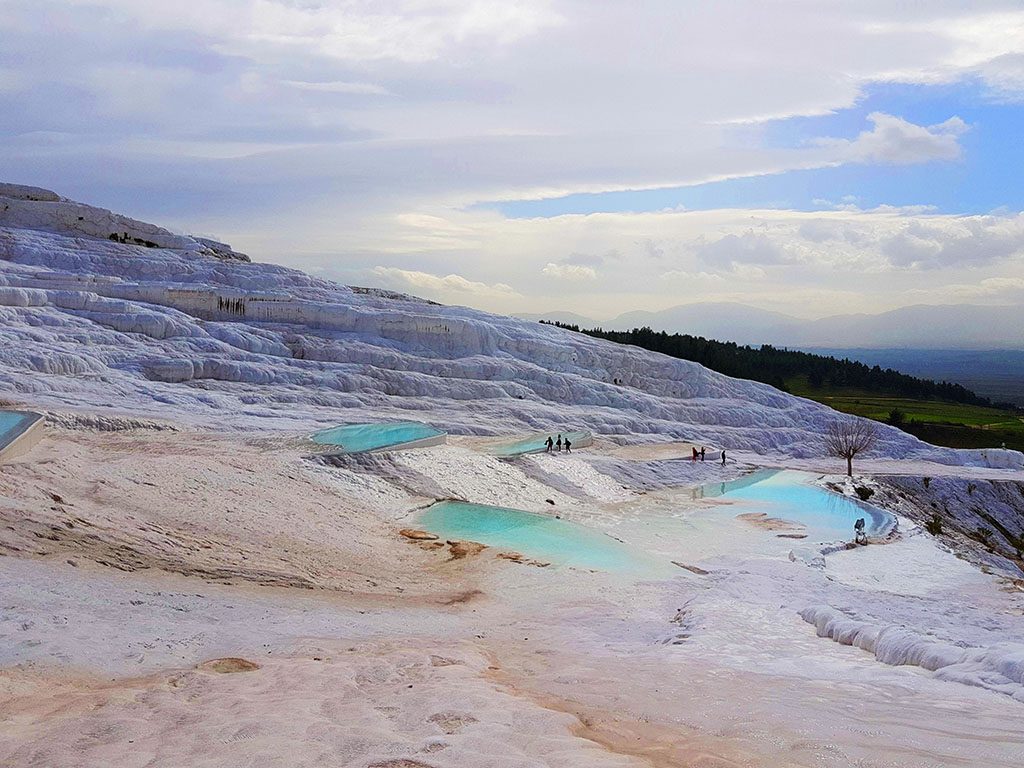 Tourist overload or not, the cascading terrace waterfalls of Pamukkale are impressive. The surreal hot mineral pools are cupped by calcium stone rocks, which are formed by volcanic lava, heating water under the earth's surface. You will need to take your shoes off to walk through the pools to the top, where plenty of ruins are carefully looked after.
Give me more!
Troy
Visit Canakkale if it's on your route. You will find the Trojan horse movie prop on the sea bank in Canakkale and the actual battle grounds a short drive further south.
Read more on Motorcycle Travel in Turkey and Europe
Thanks for checking out this Top 10 Things to do in Turkey for Motorcycle Travellers Guide. We hope you enjoyed it! Here's a few more articles on motorcycling in Turkey and Europe that we recommend you read next.