Welcome to our Top 10 for Mongolia! Here's a quick taste of our favourite places with links to in-depth guides if you fancy digging deeper. You'll find our best places to visit, top things to do and off-the-beaten-track adventures here.
Top 10 Things to do in Mongolia for Motorcycle Travellers
1. Ride or drive through the country
Travelling through the country in your own vehicle has got to be Mongolia's number one highlight. It is an adventure traveller's dream. The country is a forever rolling back-drop of sometimes mind-numbing, and sometimes pure expansive, wonderment.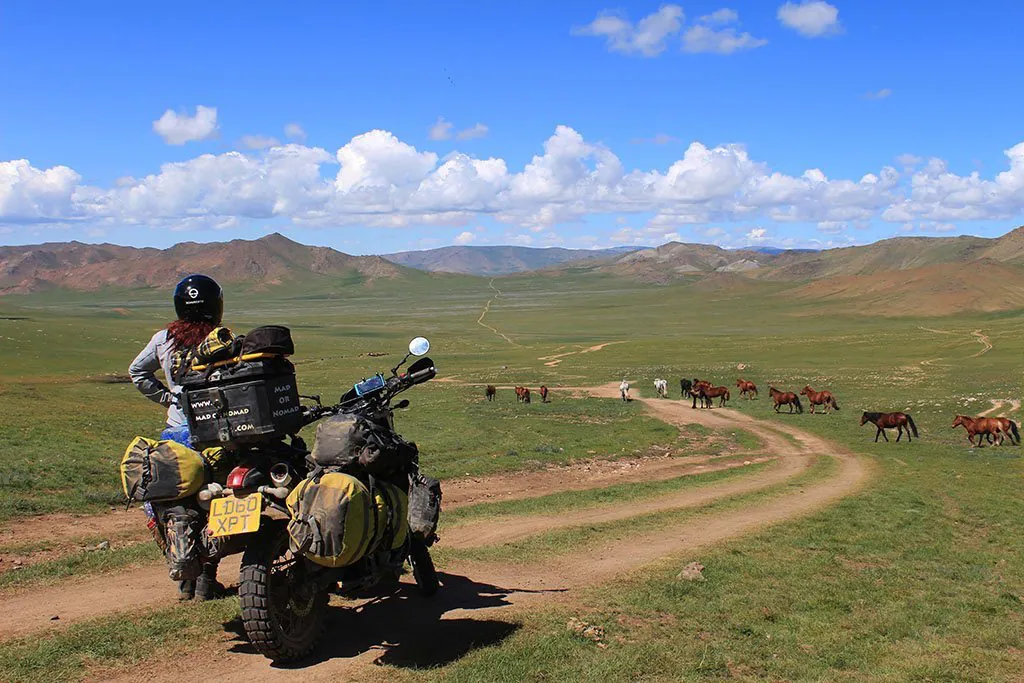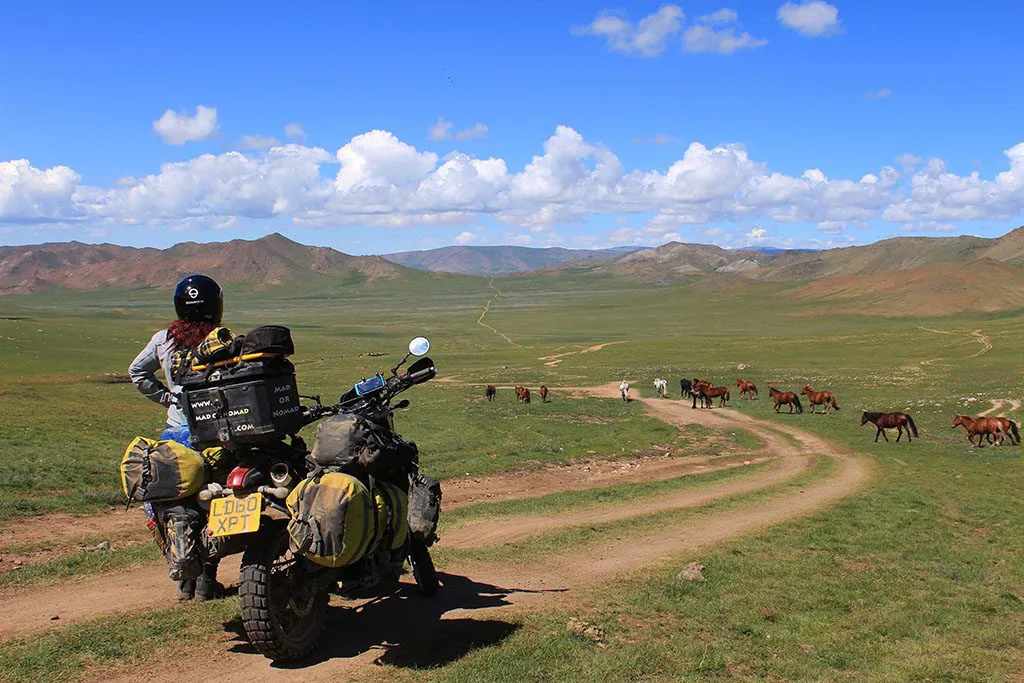 The vastness is mesmerising. Mountains and red cliffs poke out of the ground one day, and sink into flat grasslands as far as the eye can see the next. You can go from digging your wheels out of sand dunes one minute, to riding through rivers that swallow roads whole the next. The country is peppered with wild animals, herds of wild horses, eagles and vultures soaring overhead and caravans of camels. Stop off at yurts in the middle of nowhere to meet nomadic families, chat with locals and explore one of the most insane places on the planet!
Check out our blog post for what it was like riding through the country on our RTW motorcycle trip. 
READ MORE: Mad in Mongolia
2. Visit the Gobi Desert
No trip to Mongolia is complete without seeing the magnificent Gobi Desert and its golden dunes. You'd be so close that you'd be mad to miss it. It's not as hard you might think getting there and is definitely worth the ride out. Our Gobi guide will show you how to get there, where to stay and what to do in the surrounding area.
READ MORE: The Overlanders' Guide to the Gobi Desert
3. Wonder through the Ice Valley at Yolyn Am
The Yoyln Am Ice Gorge (also known as Vulture Valley) is a deep gorge famous for being filled with ice all year round. Although, that's not strictly true anymore. Nowadays, the ice tends to melt away by September, so plan accordingly. But it's definitely worth a visit – the gorge is beautiful and it's a lovely hike.
4. Search for Fossils at the Flaming Cliffs
You'll probably hear a lot about the Flaming Cliffs while you're in Mongolia. Unfortunately, there aren't any fires or eternally burning flames there (like the natural fires in Cirali, Turkey or Azerbaijan). Instead, an American paleontologist named it when he visited in the 1920s. It's famous for the world's first discovery of dinosaur eggs. In fact, Mongolia in general and the Gobi specifically, have produced incredible dinosaur fossil remains.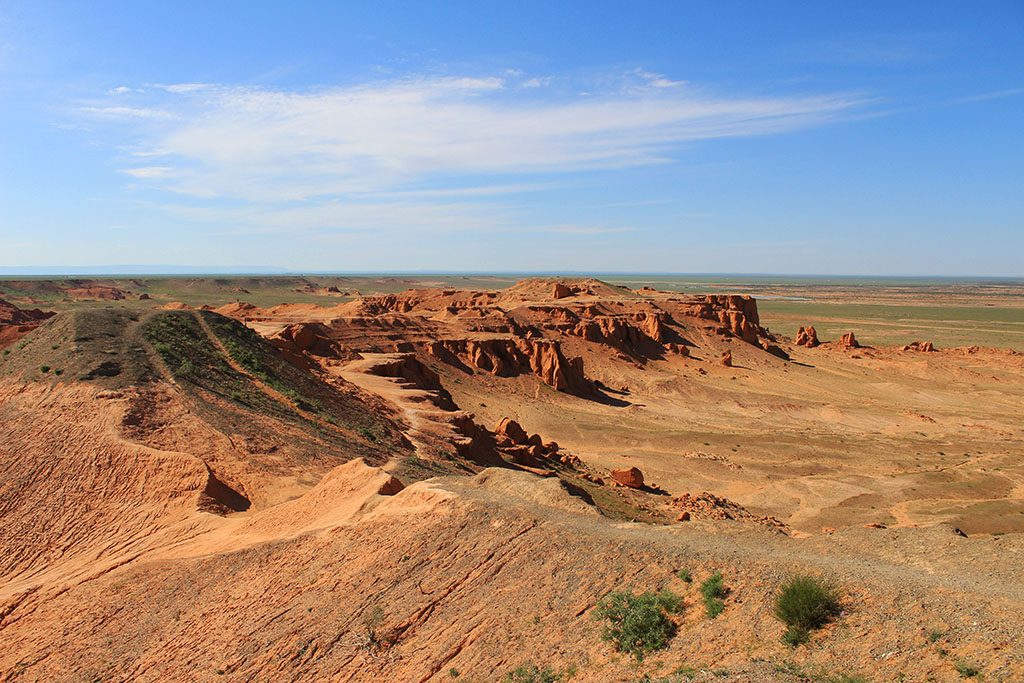 5. Peek into a volcano and explore caves
The Khorgo Uul volcano is the last active volcano in Mongolia. It erupted around 8000 years ago, so don't worry about get caught out. You can hike right up to the craters edge (and down into it – if you're brave enough).
A short ride from the volcano you'll also find the Yellow Dogs Hell Cave and Ice Cave. Both sound way more dramatic than they are, but worth checking out while you're there! Take a look at Maps.Me as both of them are on there, complete with walking trails.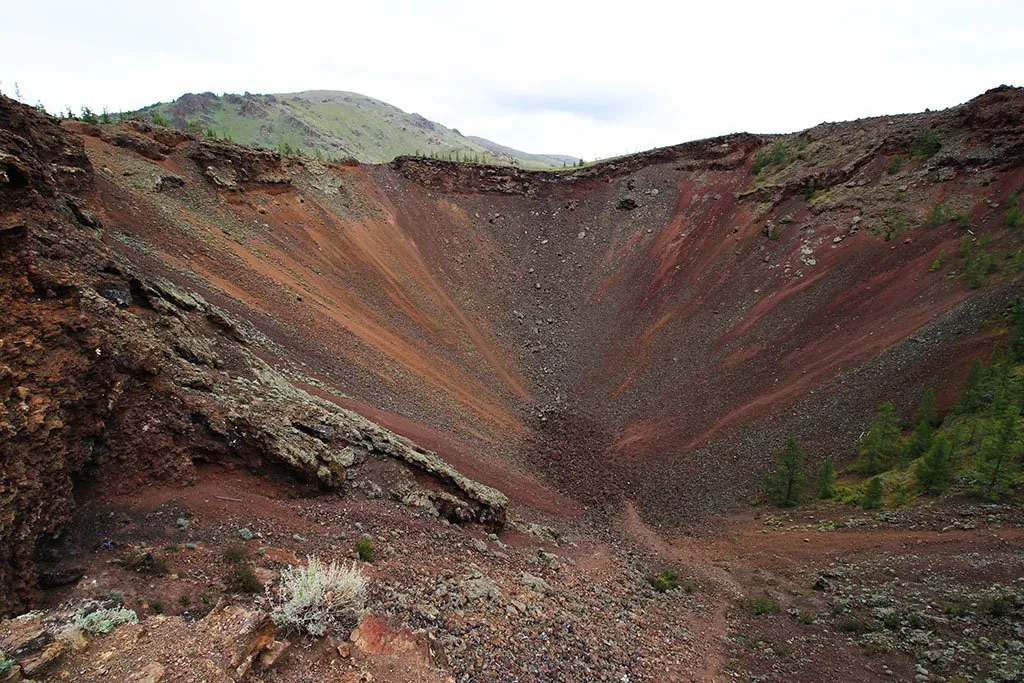 6. Say 'Hi' to Genghis Khan!
The Mongol Empire was the largest empire in history, thanks to Mr Genghis Khan. He unified the nomadic tribes of Mongolia and became ruler of Mongols. His empire accounted for a quarter of the world's population. It's said that 40 million people were killed under his rule, reducing the world's population at the time by 11% and today 16 million people can trace their genetics back to him. And the Mongolians love him. So much so that they built an enormous statue of him not far from the capital.
7. Go in search of Eagle Hunters
Eagle hunting is an ancient practice in Central Asia, dating back to at least 2,500 BC. Seeing a hunter hold his magnificent golden eagle up close is a must in Mongolia. The tricky part is actually finding them. But don't worry – we've got you covered. We have a full guide explaining how to find an eagle hunter on your own, without joining a tour.
READ MORE: How to Find an Eagle Hunter in Mongolia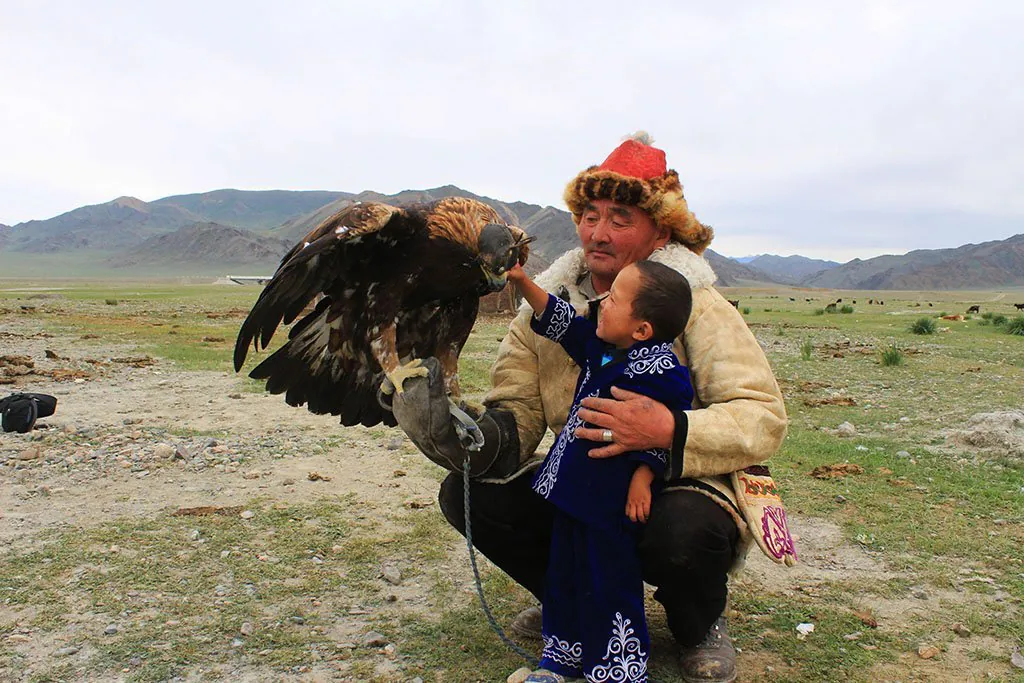 8. Take a stroll around the Erdene Zuu Monastery
Karakorum was once the Mongol Empire's capital city. It's home to the impressive Erdene Zuu Monastery – the earliest surviving Buddhist monastery in Mongolia. If you've only got time to visit one monastery in Mongolia, this is it.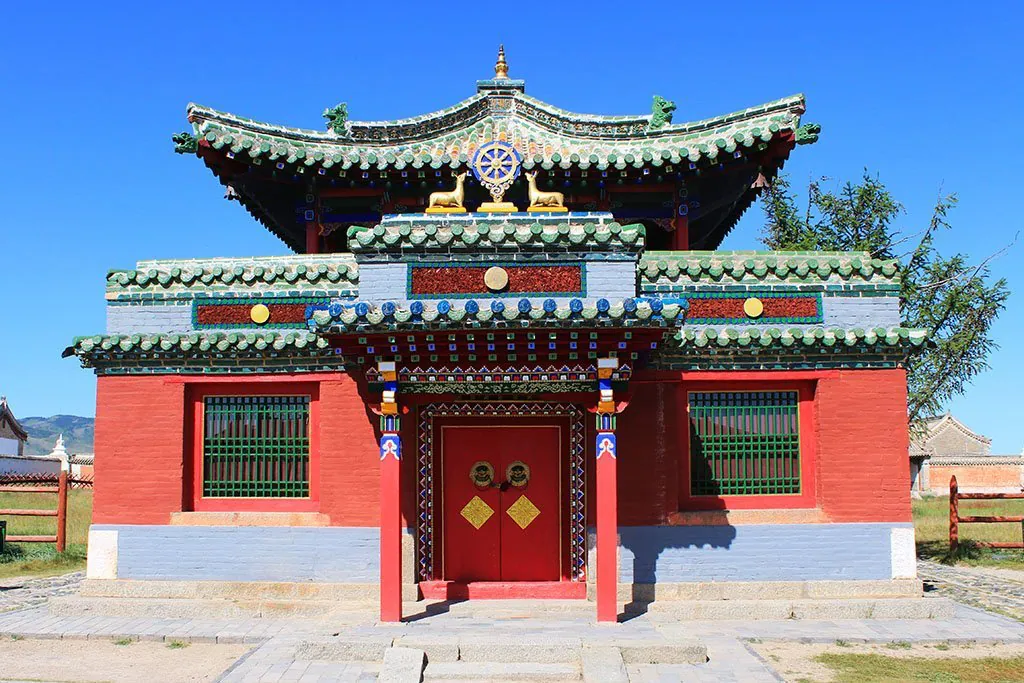 If you're planning on staying close by, we'd recommend the Monkshsuuri guest house. It's a yurt camp, very reasonable, clean and right next door to the monastery. You can find it on iOverlander or Maps.Me.
9. Set up camp by a mystic lake
Camping in Mongolia is amazing. You can pretty much camp wherever you like (apart from National Parks that you have to pay to enter). And it doesn't get much better than camping by pearly blue lakes. Our favourite is the Ulaagchiin Khar Lake in the Zavkhan region. It may also be called Khar Nuur Lake on Maps.Me (it looks like a bat). The reason we love this one the most is because it's surrounded by stunning sand dunes! Easier in a 4×4 but doable on a motorbike. Expect it to take a full day off-road to get there.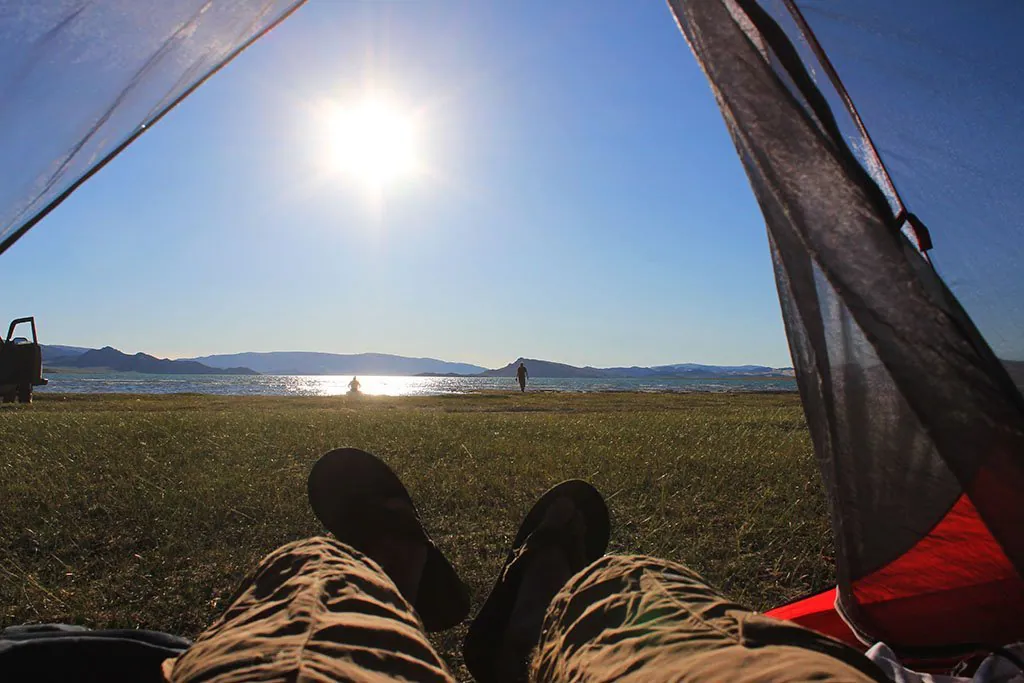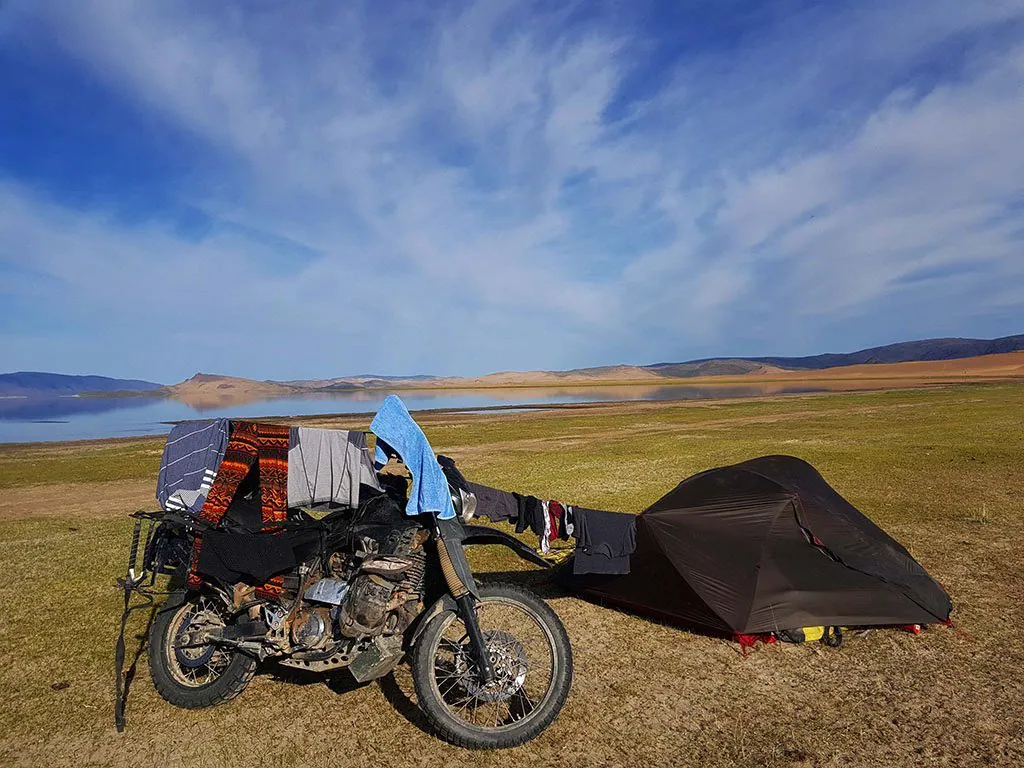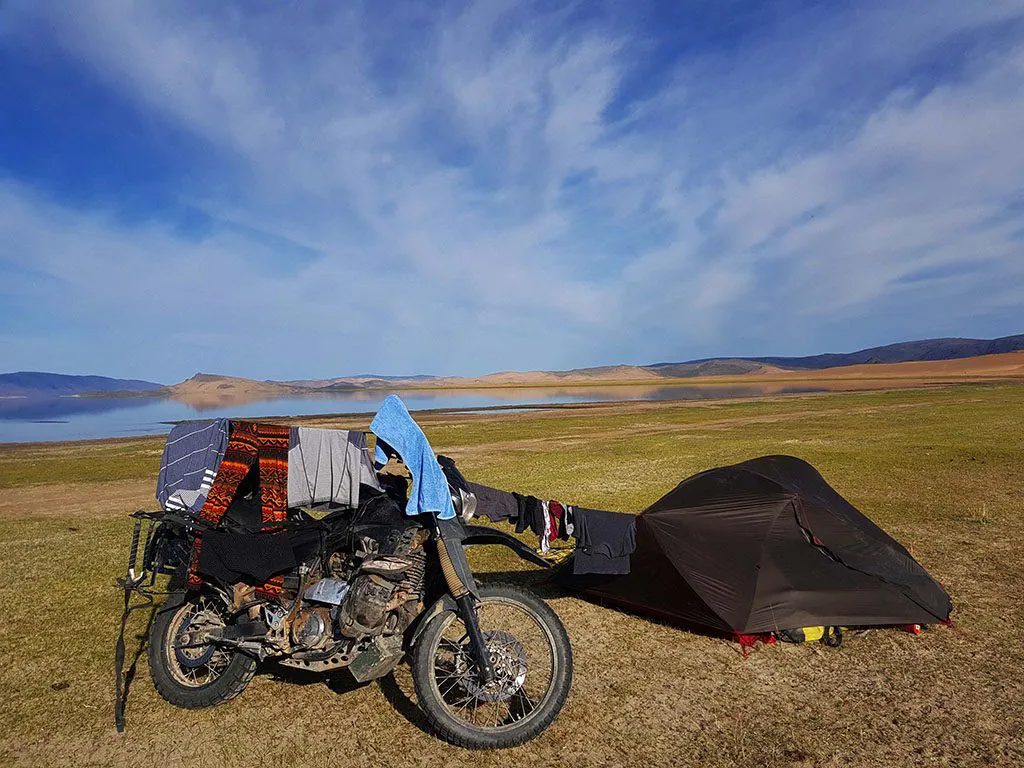 10. Chill out in a hot spring
It'll take a couple of hours off-roading to get to the Tsenkher Hot Springs, but it's so worth it once you're there. Book yourself into a private yurt, grab a beer and relax in the hot outdoor pools as the sun dips.
There are a bunch of yurt camps in Tsenkher and each one has its own private hot spring. Entrance to the hot spring is included in the price of your yurt. Check that though, and make sure you're paying for a yurt as well because some places assume you only want to use the spring. Also, don't be afraid to set a price if you think theirs is unreasonable. They are very open to making deals.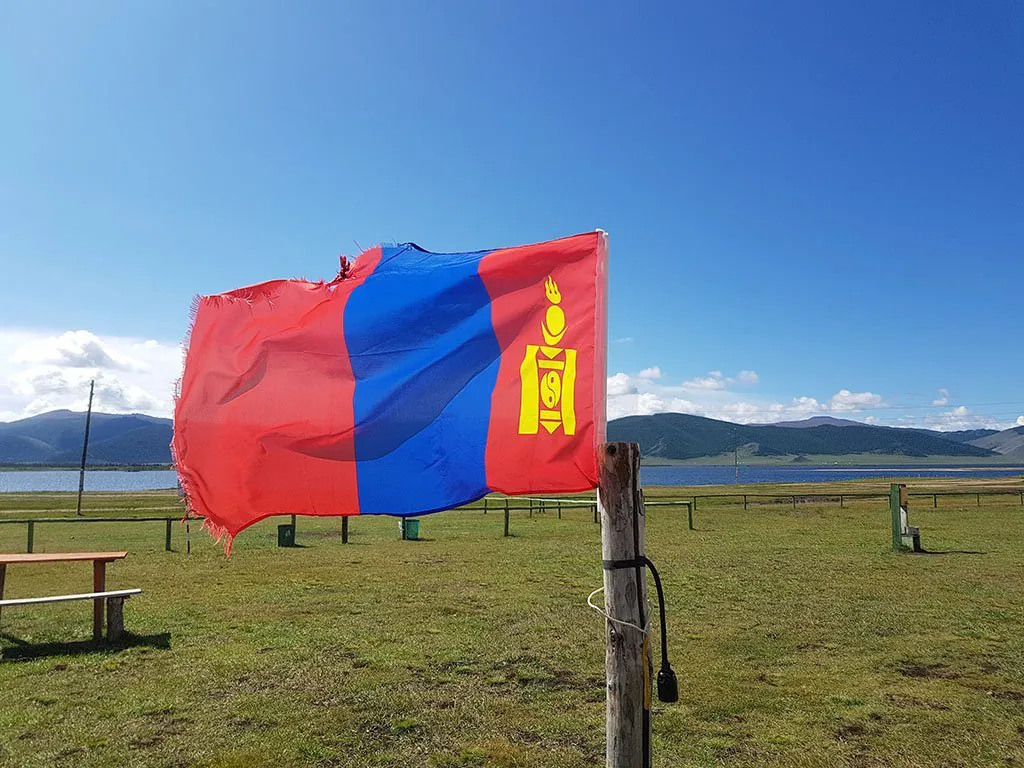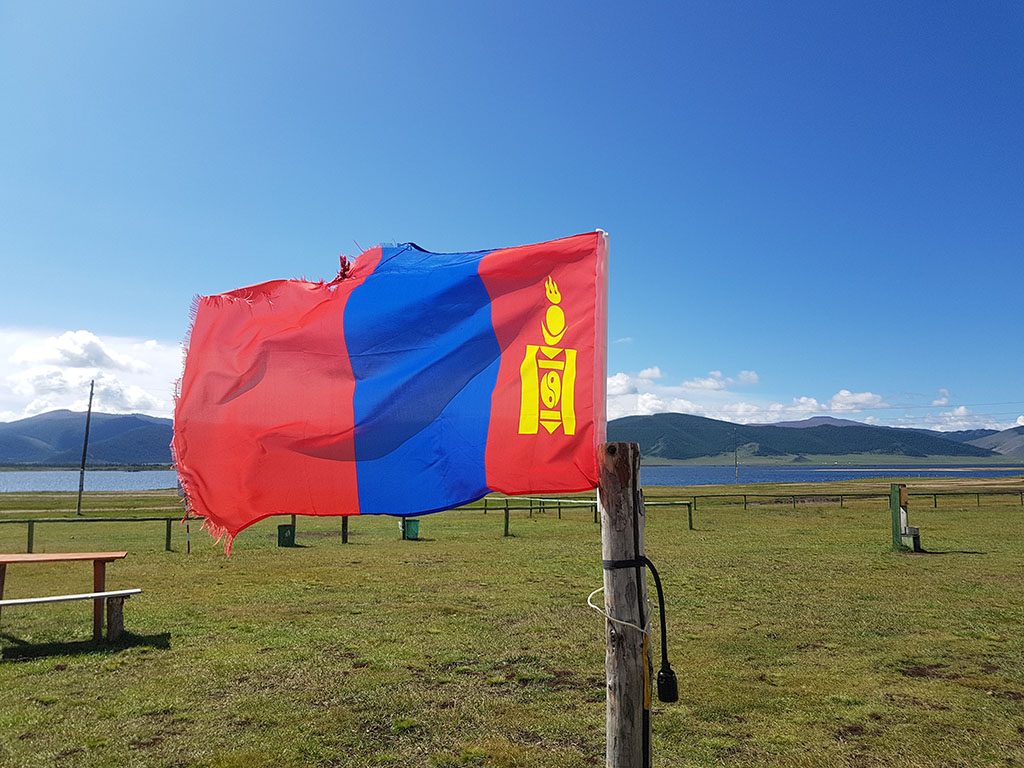 Read more on Motorcycle Travel in Mongolia
Thanks for checking out our Top 10 Things to do in Mongolia for Motorcycle Travellers. We hope you enjoyed it! Here's a few more articles on motorcycling in Mongolia that we recommend you read next. 
Liked that? Try these next…