Welcome to Azerbaijan! You'll find 10 of the best things to do, as well as info on visas, getting around, accommodation and a bunch of handy tips on this page.
You're going to fall in love with Azerbaijan. It's one of the most juxtaposed countries in the world. Ancient relics pepper the Old City from 2000-year-old fire temples to the mysterious, millennia old Maiden's Tower. Natural phenomena, eternal flames and mud volcanoes sprout from the hillsides surrounding the city while Starbucks, shopping malls and Ferrari dealerships pop up in the centre. It's a stunning concoction of new and old wrapped up into one exquisite bundle. Baku is an incredible city and if you're planning a trip, then this guide will help you get the most out of it too!
What you'll find on this page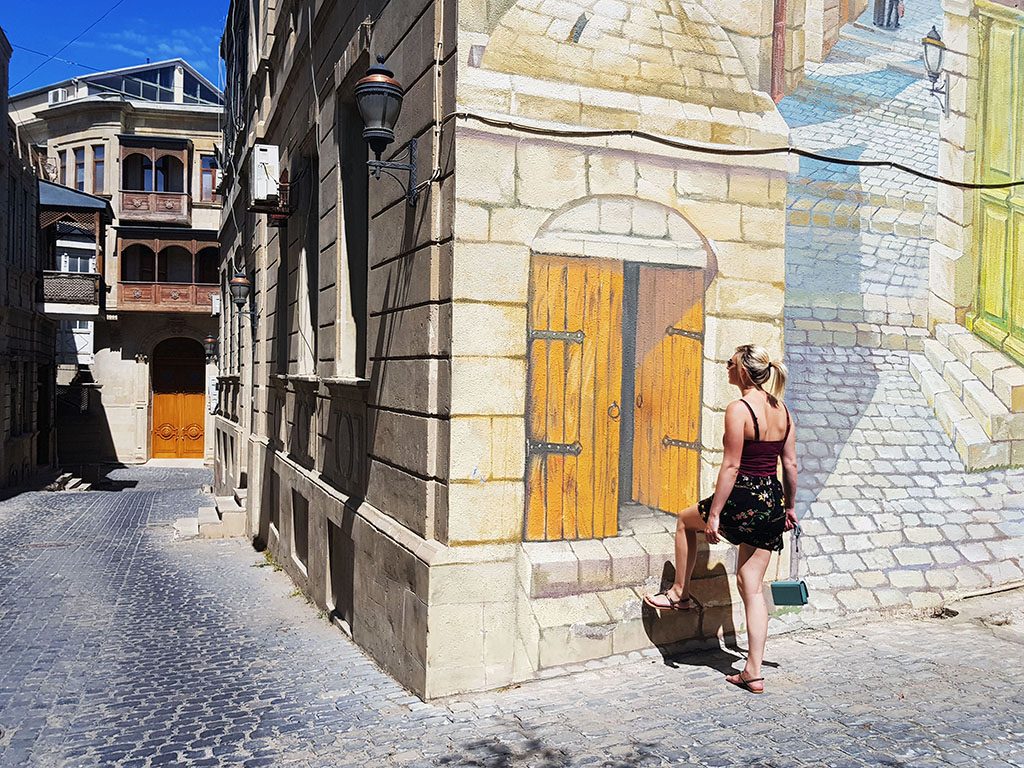 The Old City is Baku's historical centre – dating back to the 7th or 12th century. It's now the main tourist attraction. But that doesn't mean you shouldn't visit, it's brimming with relics, mazed cobled streets, a palace and is the perfect place to pick up a trinket. Once you've finished in the Old City, head straight for Fountain Square. It's a short walk away and is Baku's epicentre, the place where all the young, hip Azeris stroll around at night, watching water fountains shooting into the night sky. There are plenty of fantastic restaurants surrounding the square too.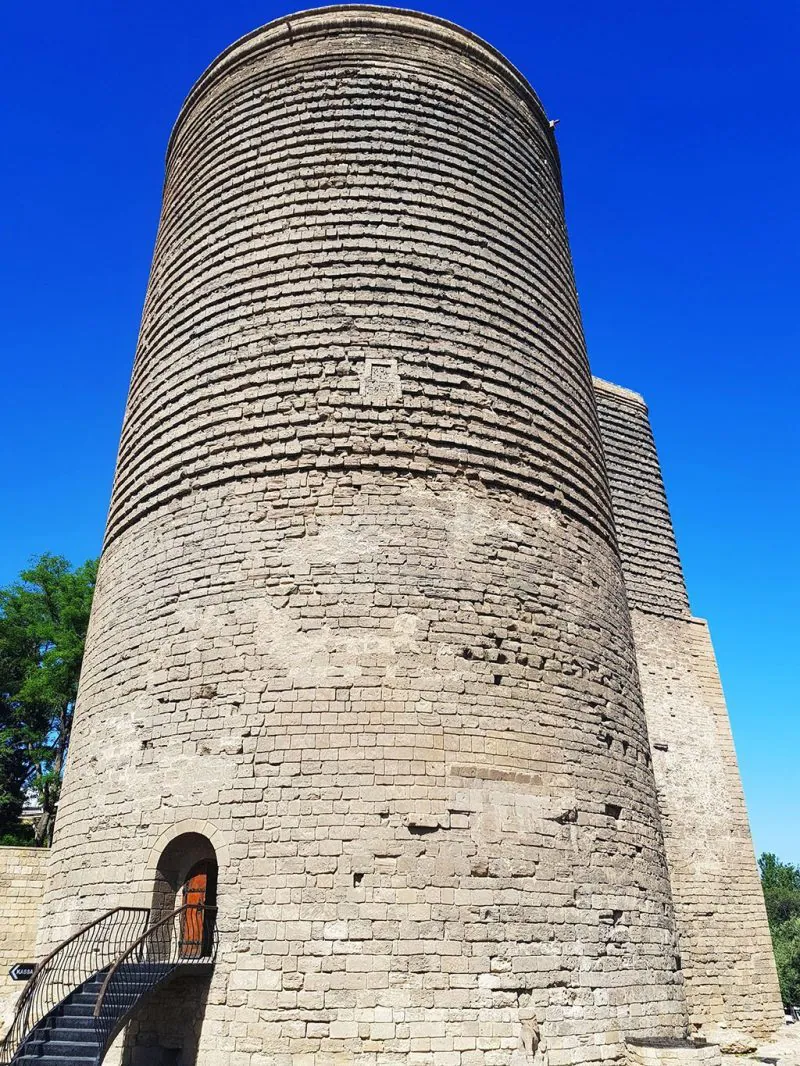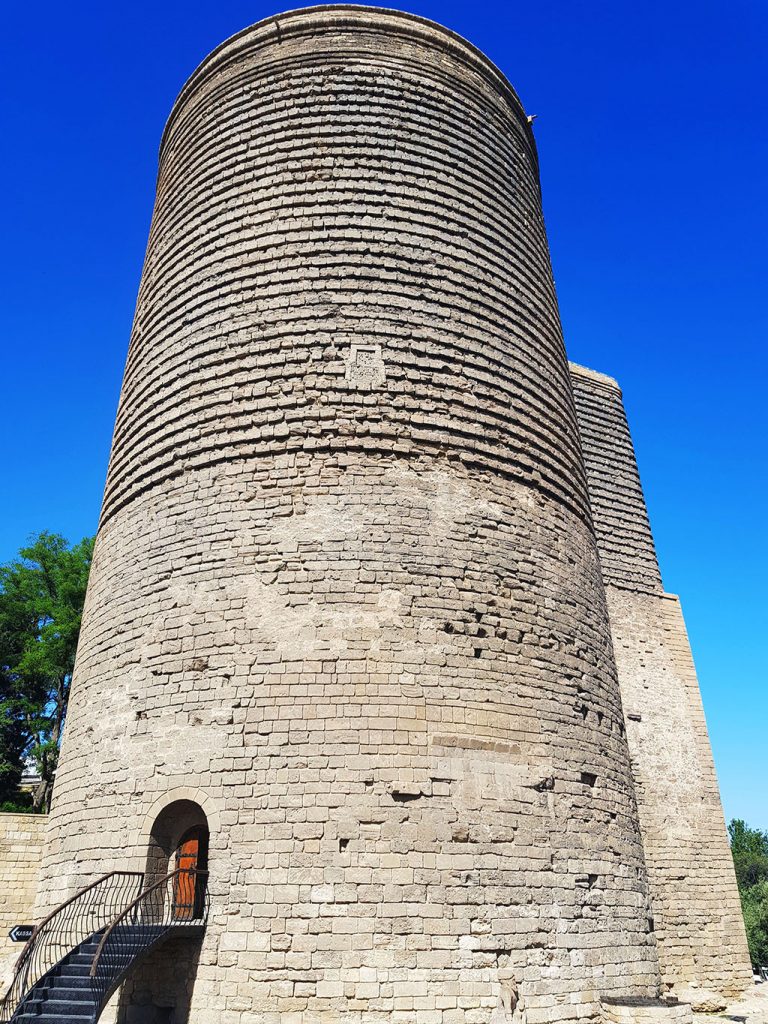 The main attraction in the Old City is the Maiden's Tower. The tower is shrouded in mystery, nobody actually knows why it's there or what for. But we do know it was built in the 12th-century and the smart history people reckon it could be something to do with the Zoroastrian fire worshippers and their seven steps to heaven. Or (the more exciting version) is about a 'fiery-haired virgin girl who saved Baku's people from slavery'. Up to you which of the 20 main legends you choose.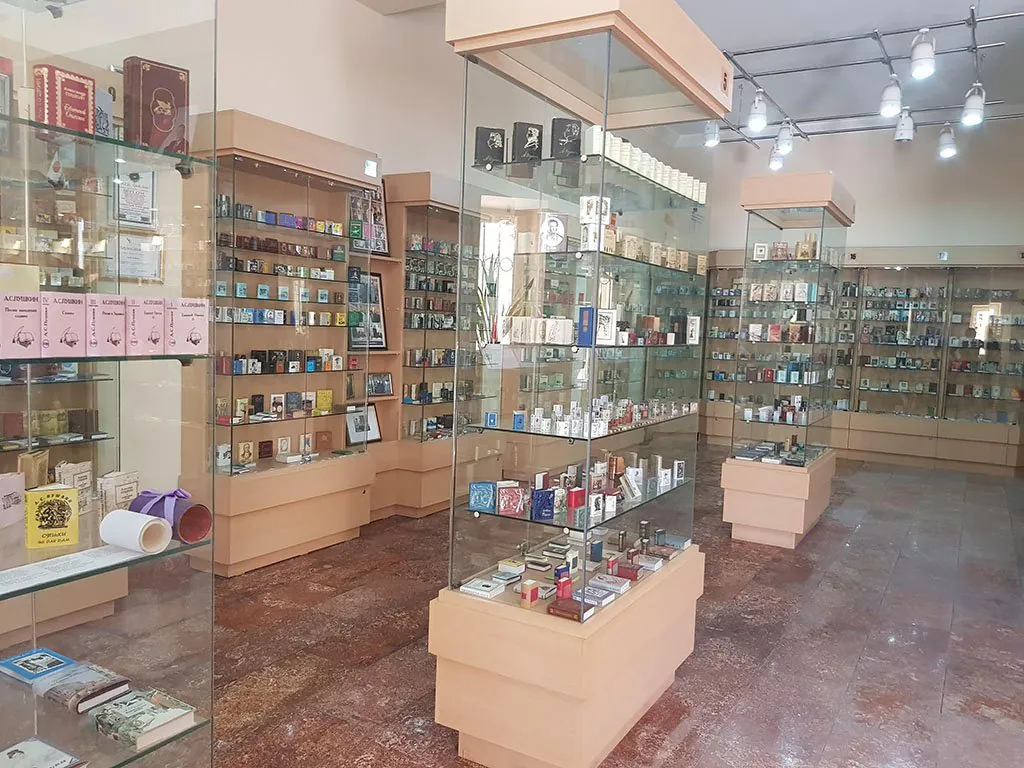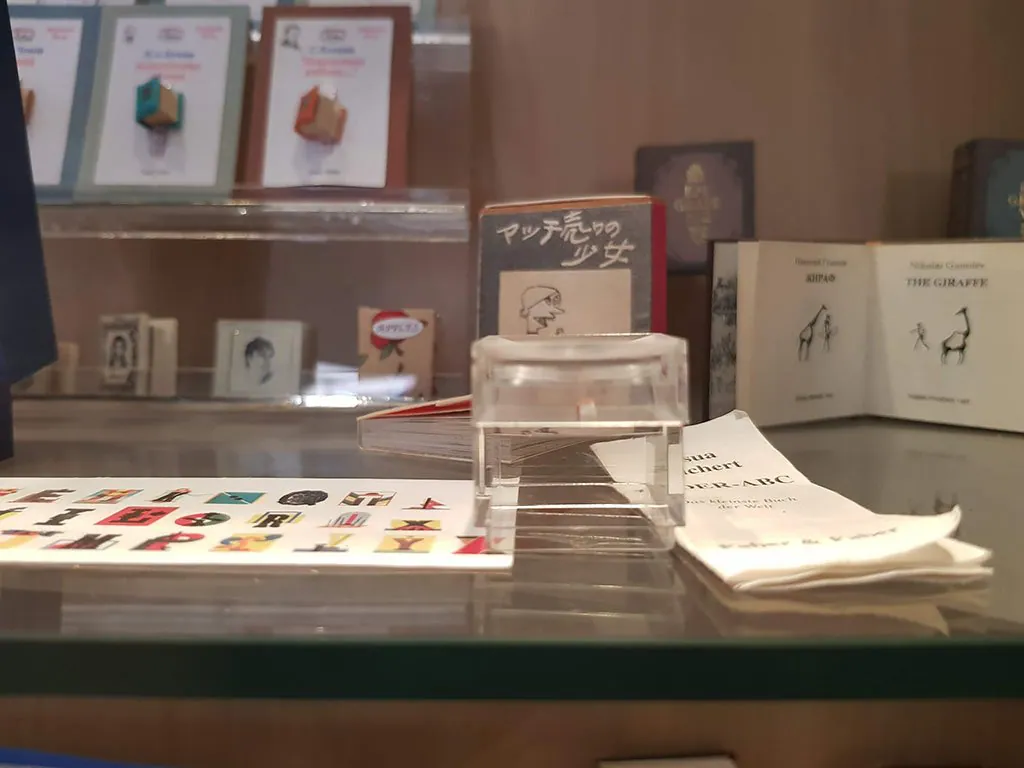 Random? Yes, but people love it. It's literally what it says on the tin… a large room filled with teeny, tiny books. It's free entry but donations are welcome. Books from around the world fill the shelves, with the smallest from the 17th century, 0.75mm and 22 pages long.
Toast Marshmallows at Yanar Dag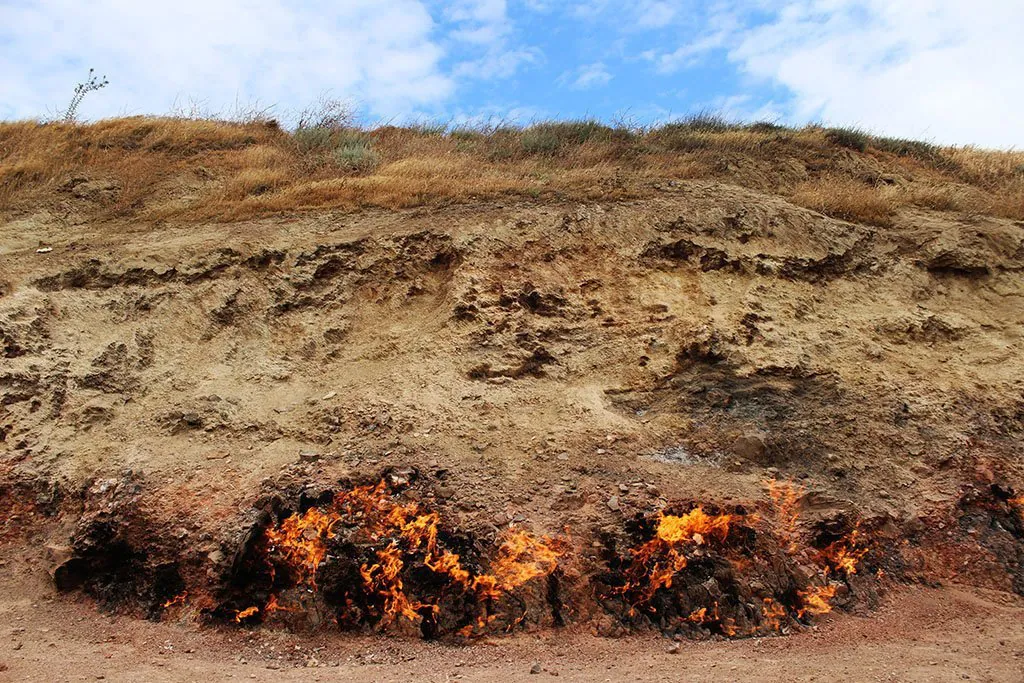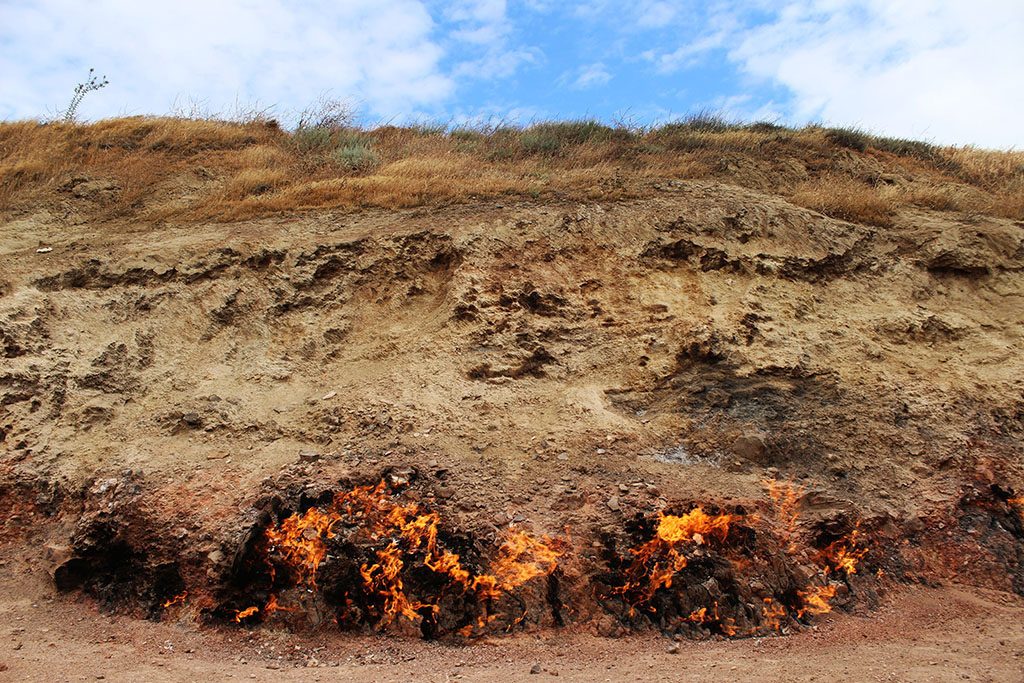 Centuries ago, continuously and seemingly inextinguishable flames were burning all over Baku. We know that they're ignited and kept alight due to the underground gas reserves, but back then, the 'eternal flames' were attributed to Fire Gods, which gave way to Zoroastrianism (basically people who worshipped fire). The word 'Azer' actually means fire, hence Azerbaijan – 'The Land of Fire'. This was around 2000 years ago, and since the government tapped into the gas reserves many of the flames have gone out.
Now Yanar Dag is probably the most impressive, a continuously burning flame poking out the side of a hill in Baku. It's said that a shepherd accidently ignited it back in the 1950s with a cigarette. You can catch a bus here, but just keep in mind that there is nothing else here. It's literally just the fire and a sort of okay view from the top of the hill. It's more impressive at night.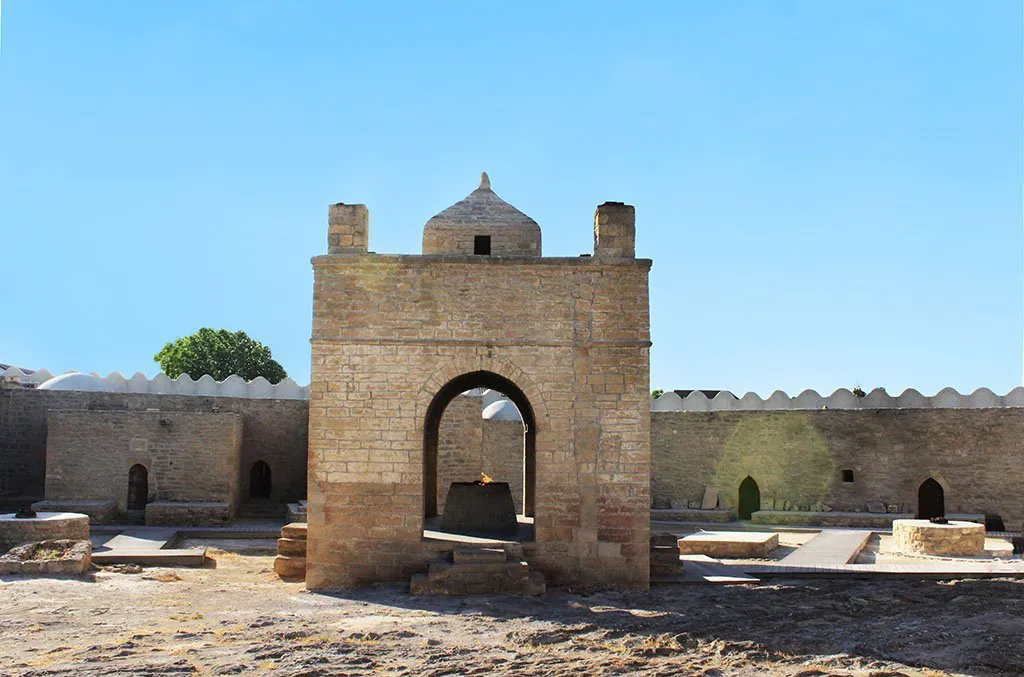 Yanar Dag isn't the only place shooting flames in Baku. There's also the famous Fire Temple of Atesgah (it's no longer a natural gas fire – but don't worry, there's fire there nonetheless). This temple could have been founded by the Zoroastrians or the Hindus (also big fire fans). Either way, it's quite the tourist attraction but still very cool. It's very well preserved with rooms dotted around the temple with manikins depicting life as a Zoroastrian, which did not look fun. Extreme worshipers tended to shackle themselves up or keep a body part (like an arm) in a set position for years in order to show their commitment. The temple is well worth a visit!
Marvel at the Mud Volcanoes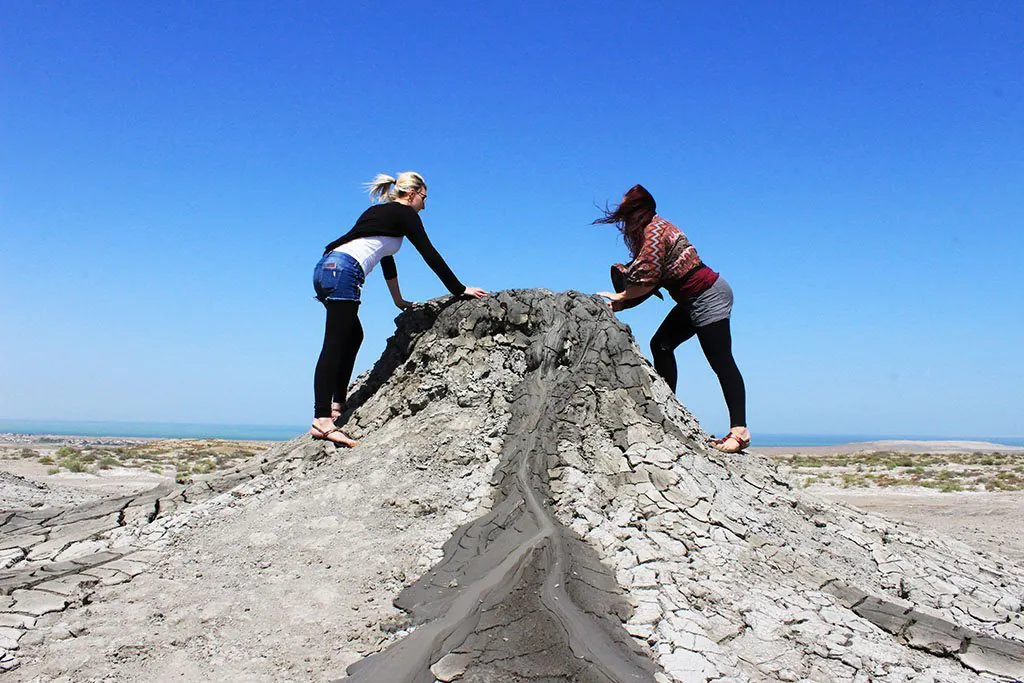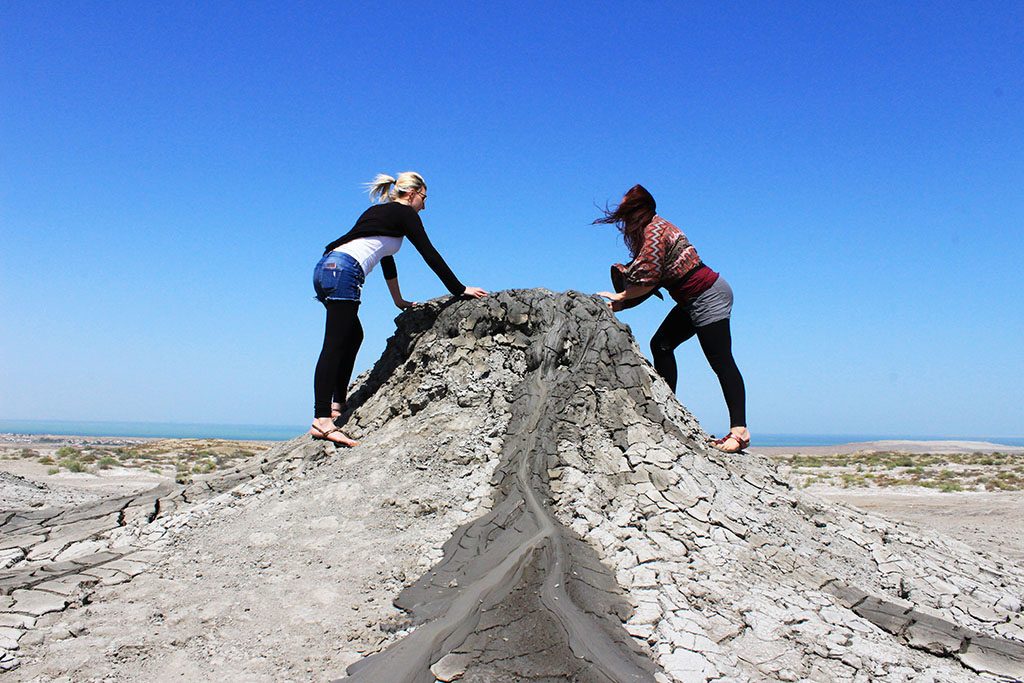 Azerbaijan is home to half of the world's mud volcanoes and wandering around the gaseous craters will make you feel like an excited little kid, poking bubbles and grinning as they pop!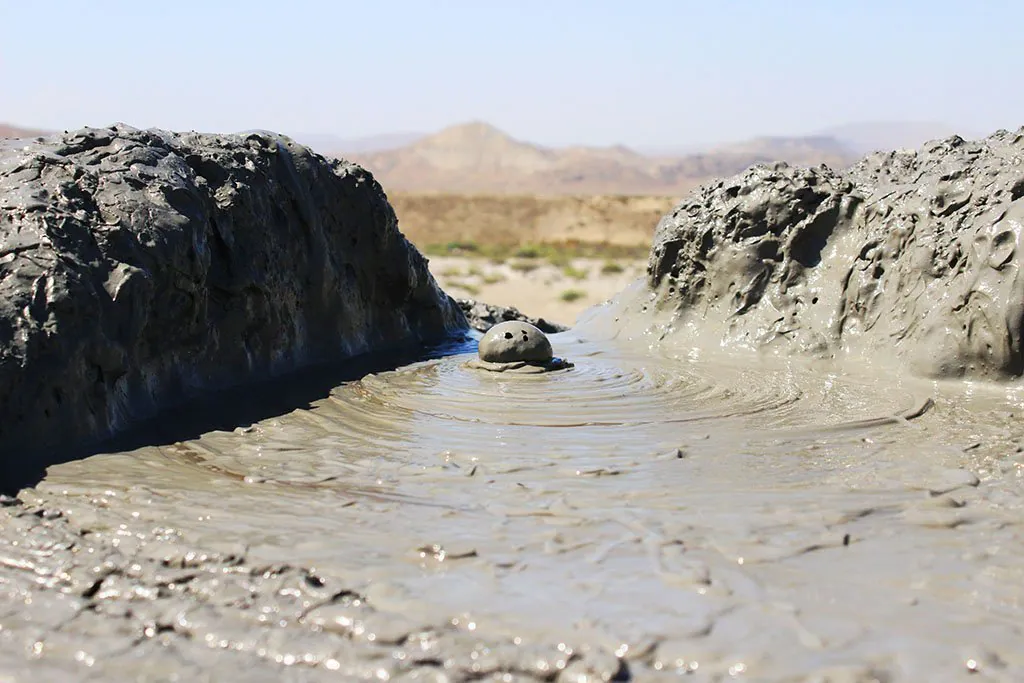 Azerbaijan's full of underground gas, and some of it has found soft spots in the earth and pushed its way to the surface. But because it's not magma the mud is really cold and harmless.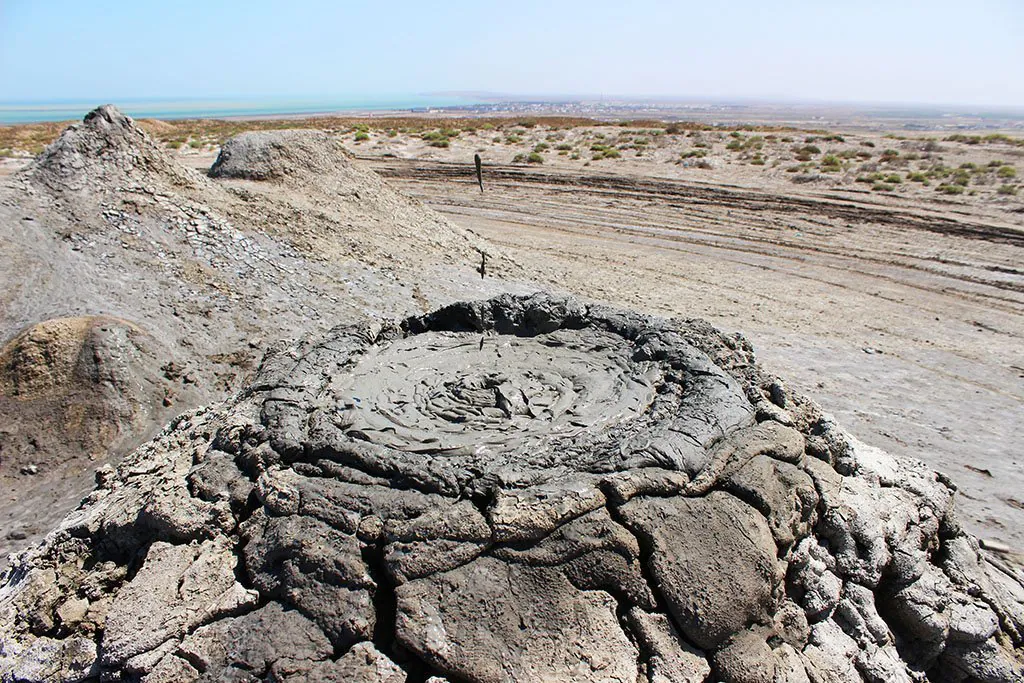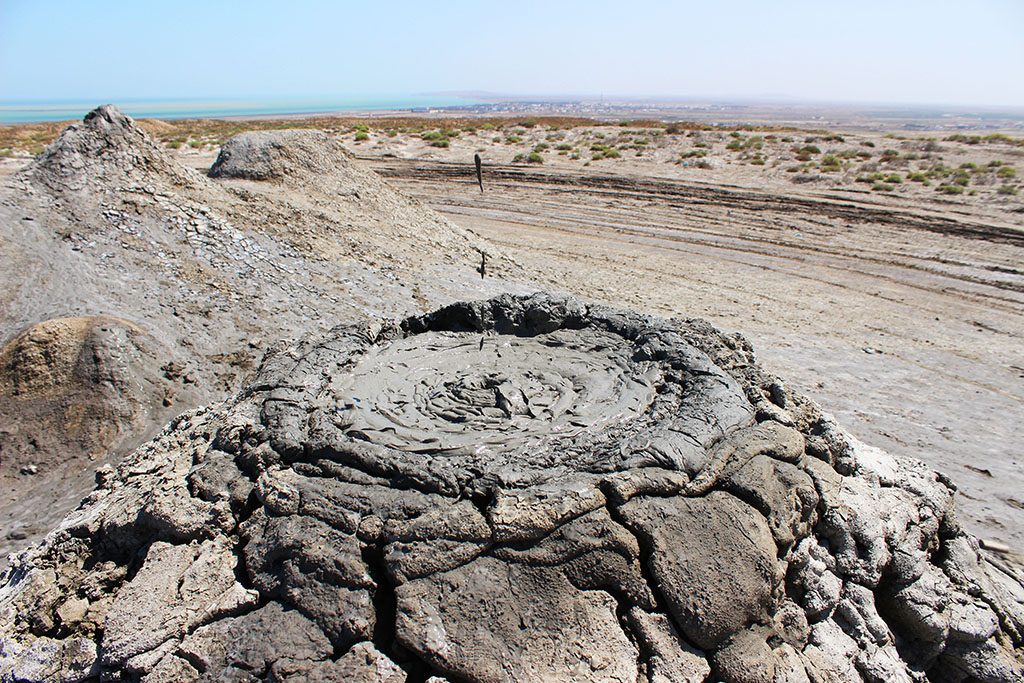 The volcanoes at Gobustan, not far from Baku, are small and only bubble and pop a little mud. However,there are huge ones, kilometres wide, which they say erupt and explode every 20 years.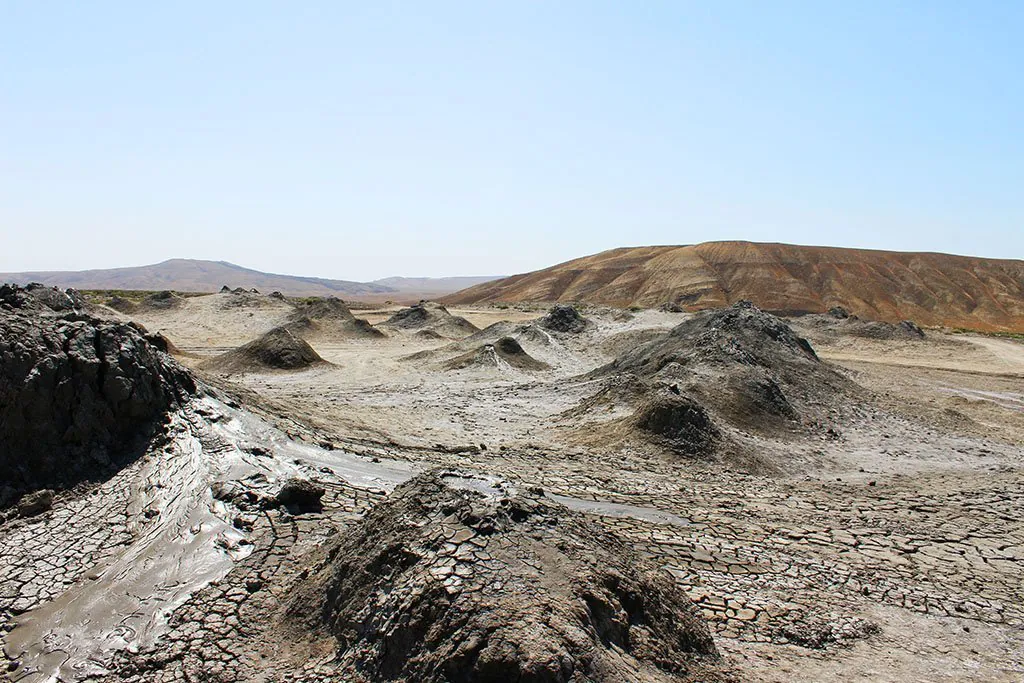 If you're going to the ones near Gobustan then once you've finished looking at the petroglyphs there'll be a bunch of taxis offering to take you to the volcanoes and bring you back for 20AZN – don't pay more than that. You may be lucky enough to befriend someone who will take you for free (common for young Azeris who want to practise their English) or someone else who is going that way.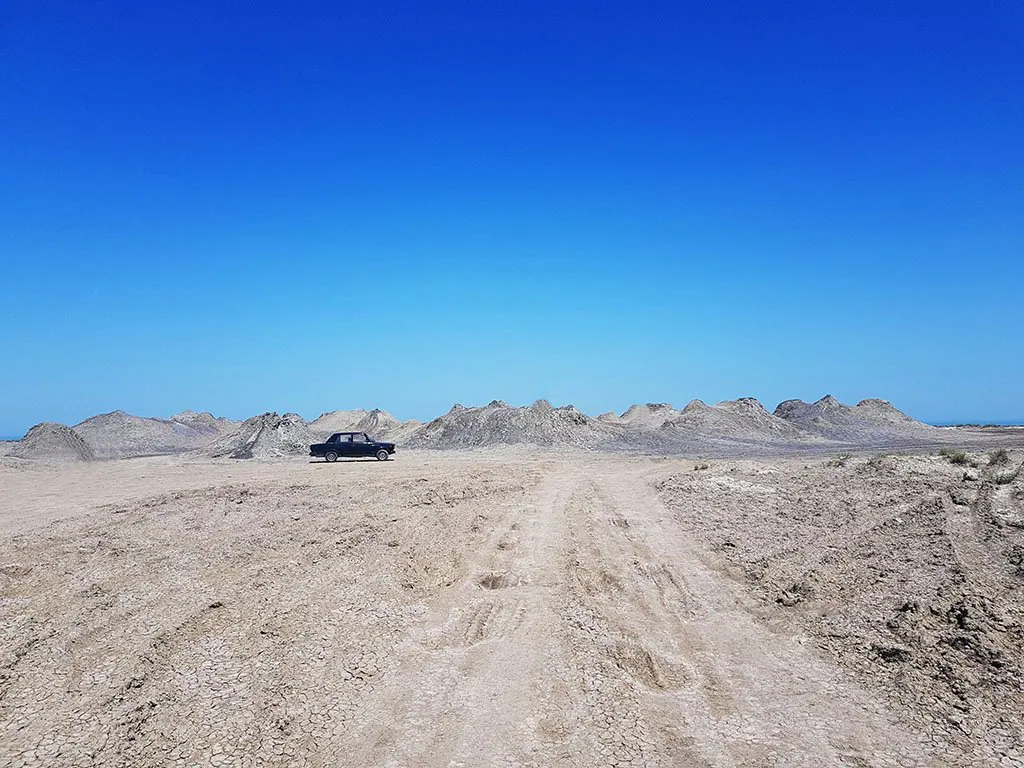 If you're in your own vehicle then the drivers will try and convince you that you need a Russian Lada to make the trip and your beautiful rental car will be destroyed. Yes, it is bumpy but no, you don't need to go with them, you can make it, just drive slow and take your time, park up just before the main hill and walk the last 100m.
Fly high at the Flame Towers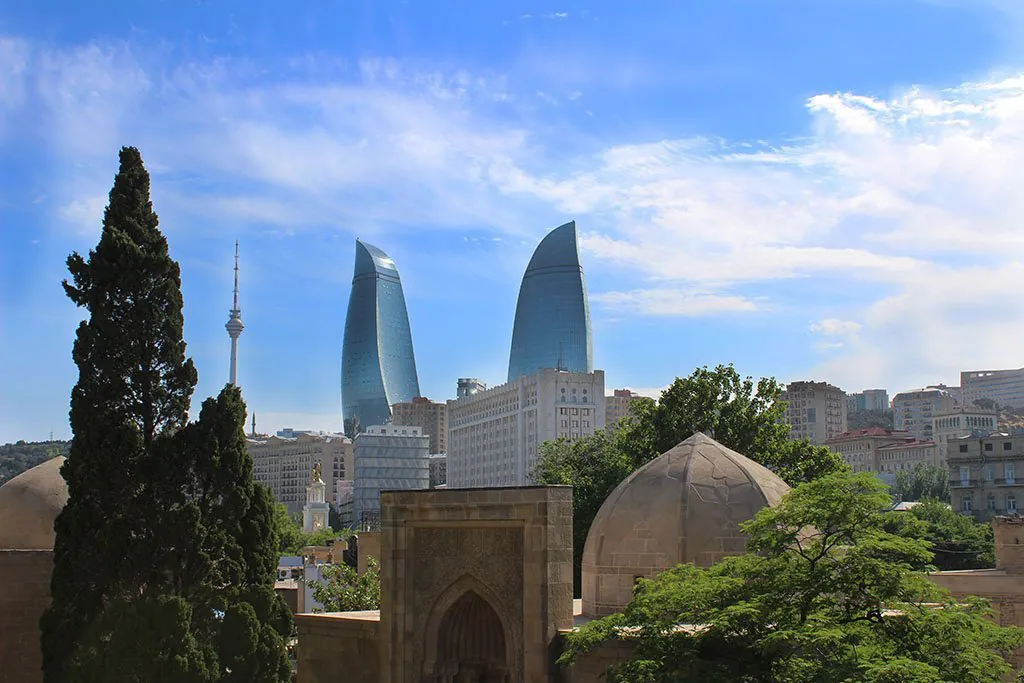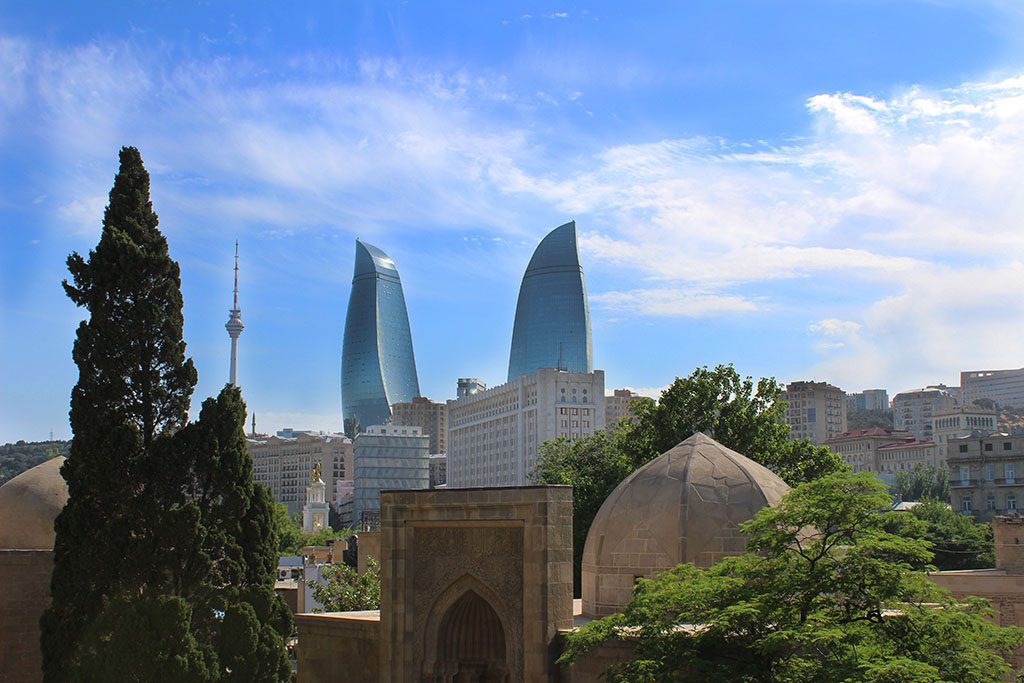 The trio of Flame Tower skyscrapers, sit perched up high, watching over Baku. They're a sign of Azerbaijan's wealth and a nod to the meaning of Azerbaijan – "The Land of Flames". There's not actually anything to do at the towers, but if you head straight for them there's a beautiful viewpoint up a tall flight of stairs to the west. Head up there and don't forget to take your camera as the views are Baku are beautiful.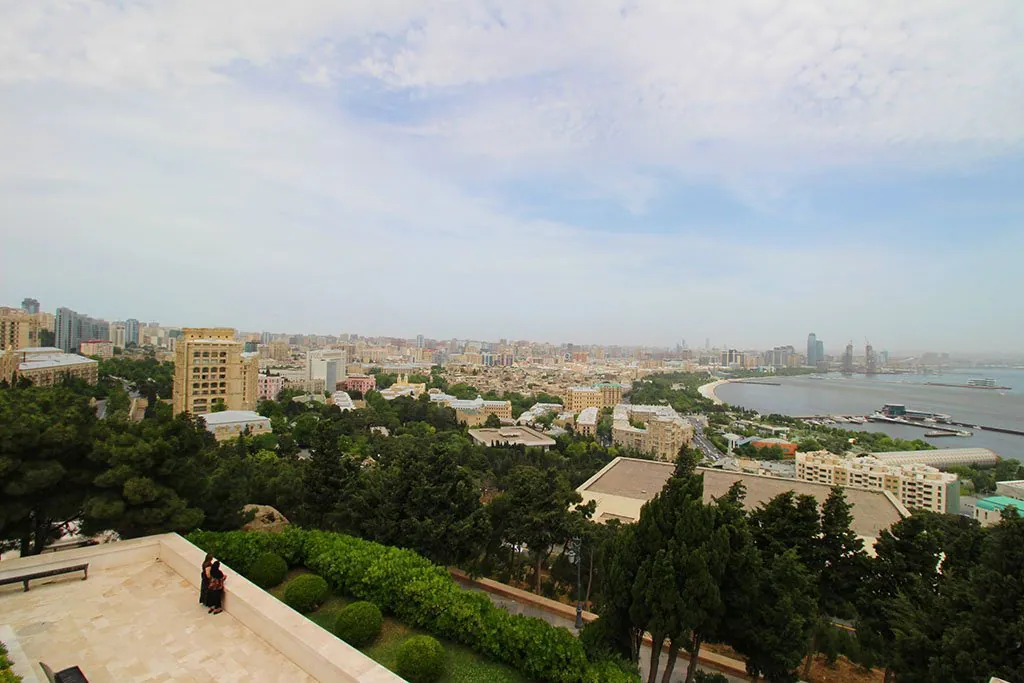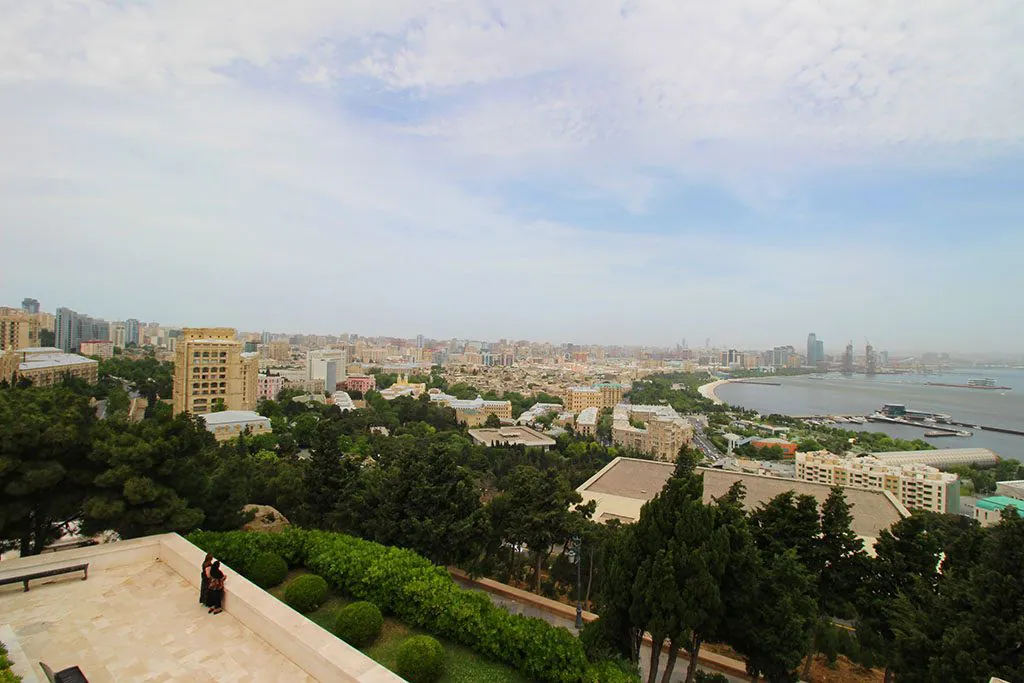 Check out the ancient Petroglyphs at Gobustan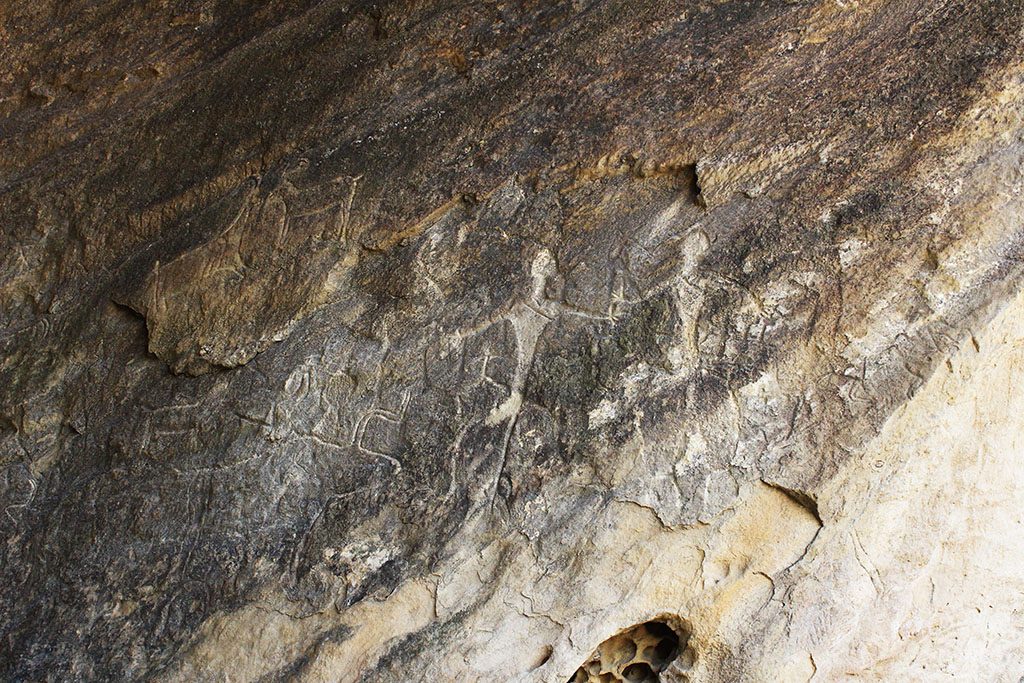 Gobustan (or Qubustan) is home to the famous petroglyphs (and mud volcanoes). People have been living – and doodling – here since the 8th millennium BC. And they've been busy, with around 600,000 petroglyphs in the area.
When you arrive there's a ticket office in front of the museum. When we visited there was a flood of schoolchildren running and screaming past all of the displays so it was hard to take it in. The museum seemed to be more of human history than history of the region, but this may have been distorted thanks to the kids. You'll need to buy a ticket for the museum outside, which will also allow you entry to the National Park a little further up the road.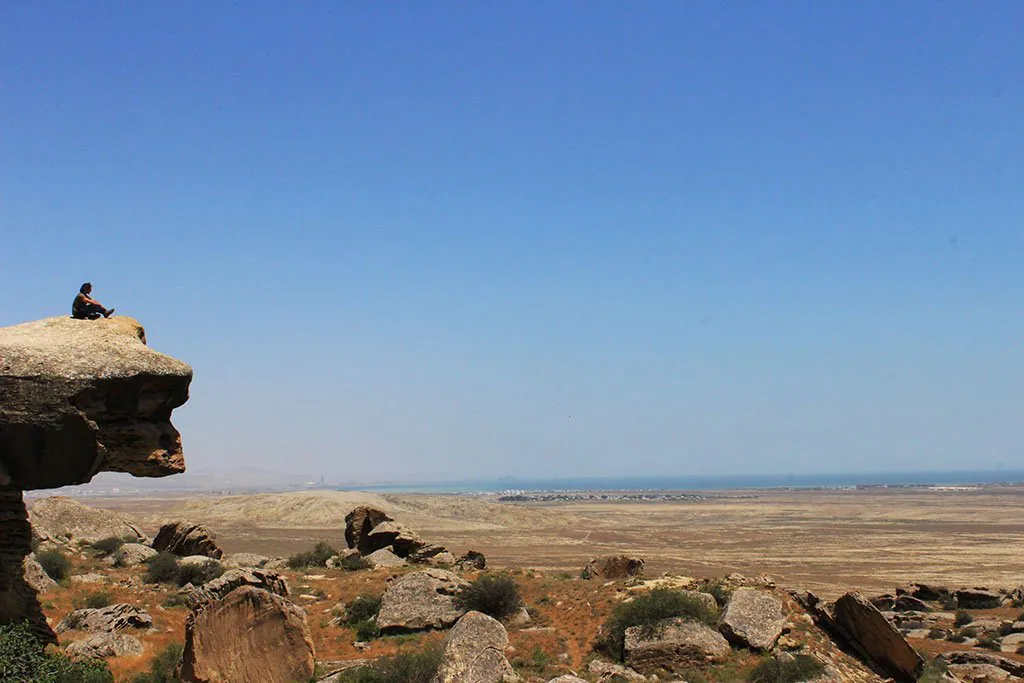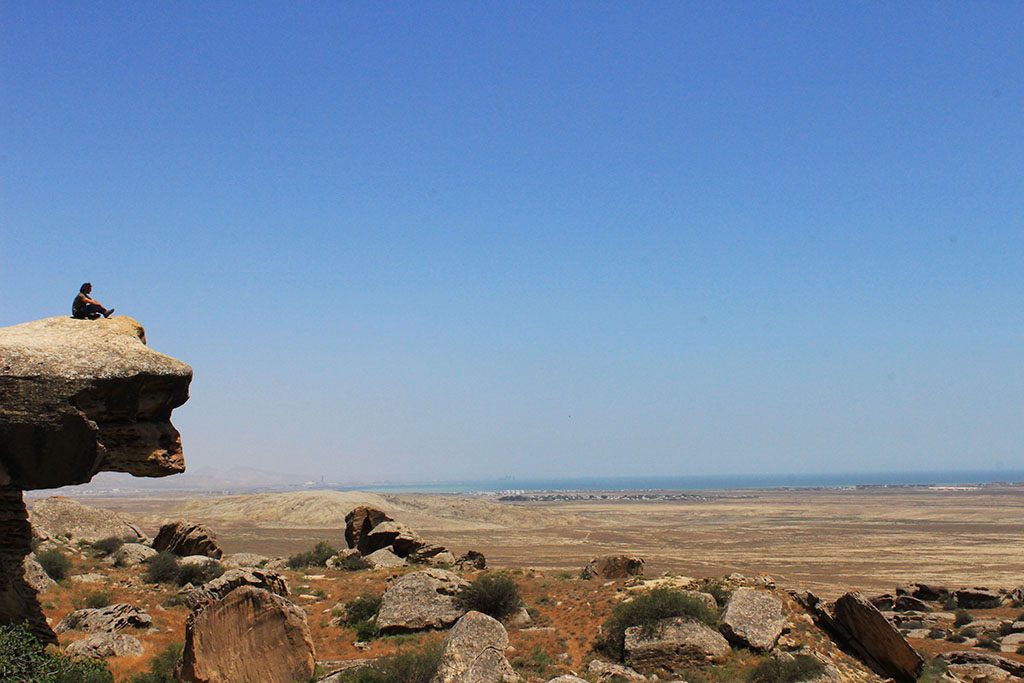 The rock artwork is far more interesting. They show primitive man, ships, animals, war art and astronomy – all dating back 5-20,000 years.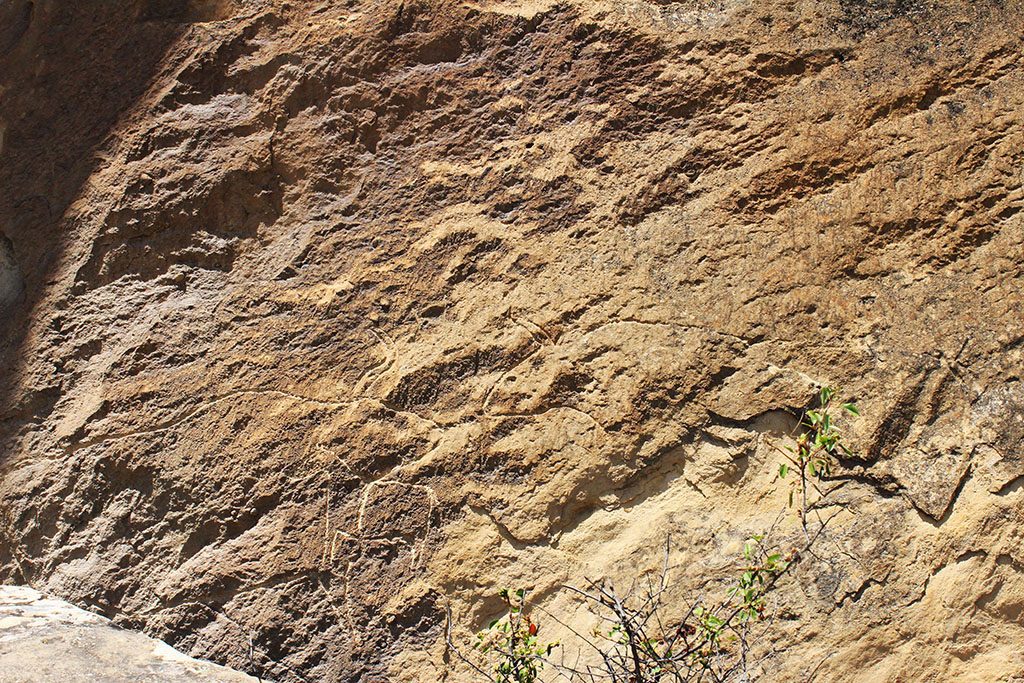 Climb the Old Castle of Ramana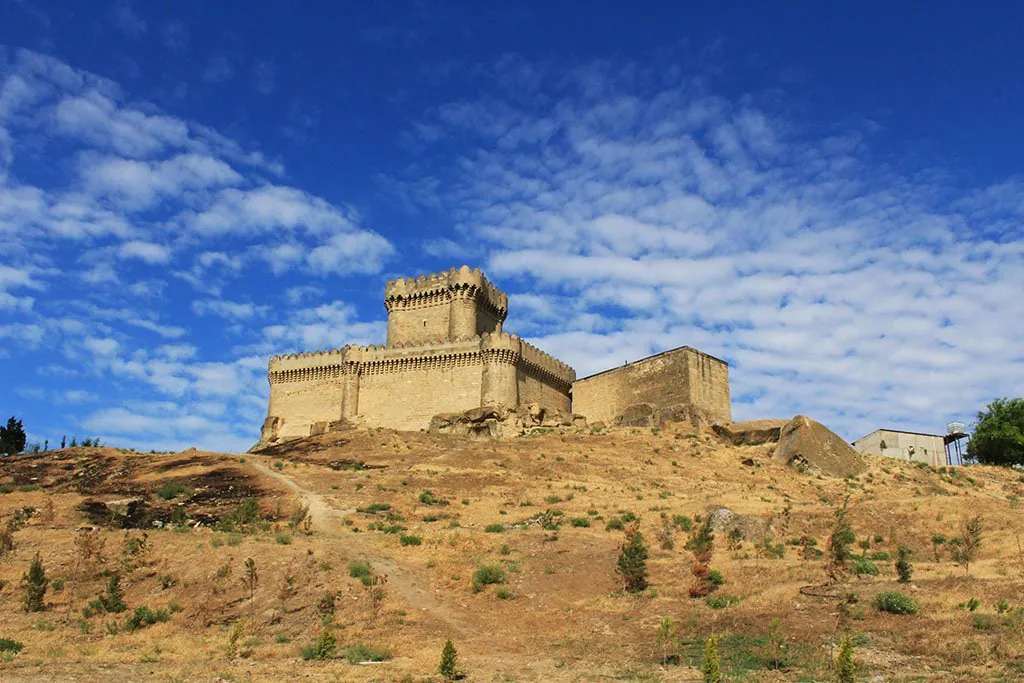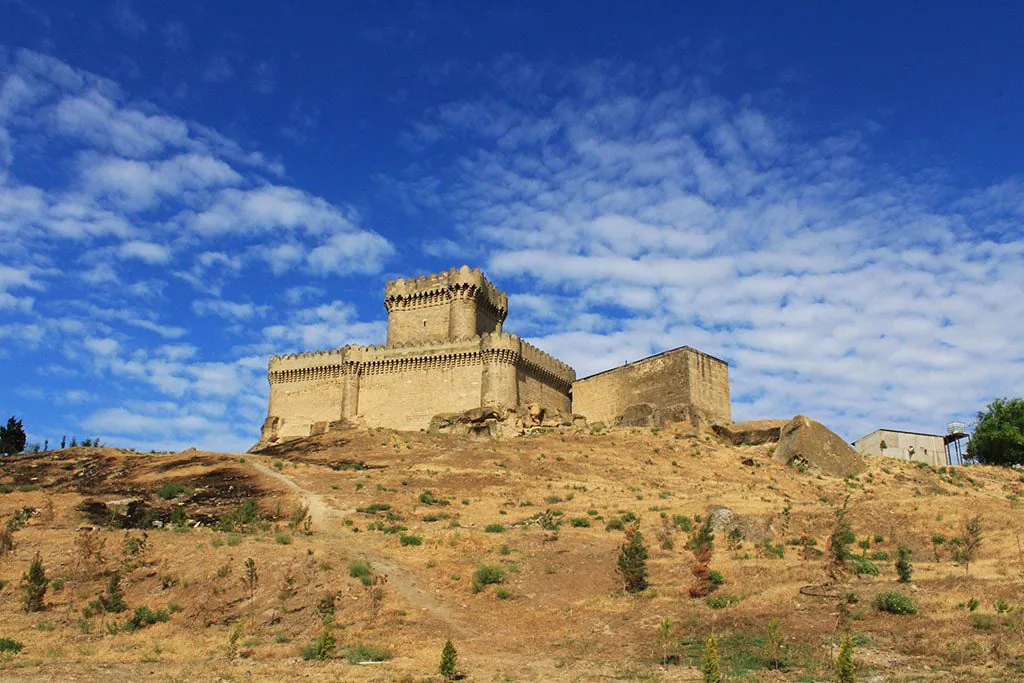 Not a lot is known about the Ramana Castle, or Ramana Tower, other than it was built around the 12th Century and used as a fortification. But, it is very well preserved and an often-overlooked attraction, perhaps because it's tricky to get to by public transport.
When you arrive you'll probably notice that the green entrance gate is locked. No matter, there's a lady in the house closest to the castle with the key. She'll charge you a very small fee to open the gate – and will lock it behind you! Don't worry, she gives you the key and asks you to lock the gate behind you when you leave.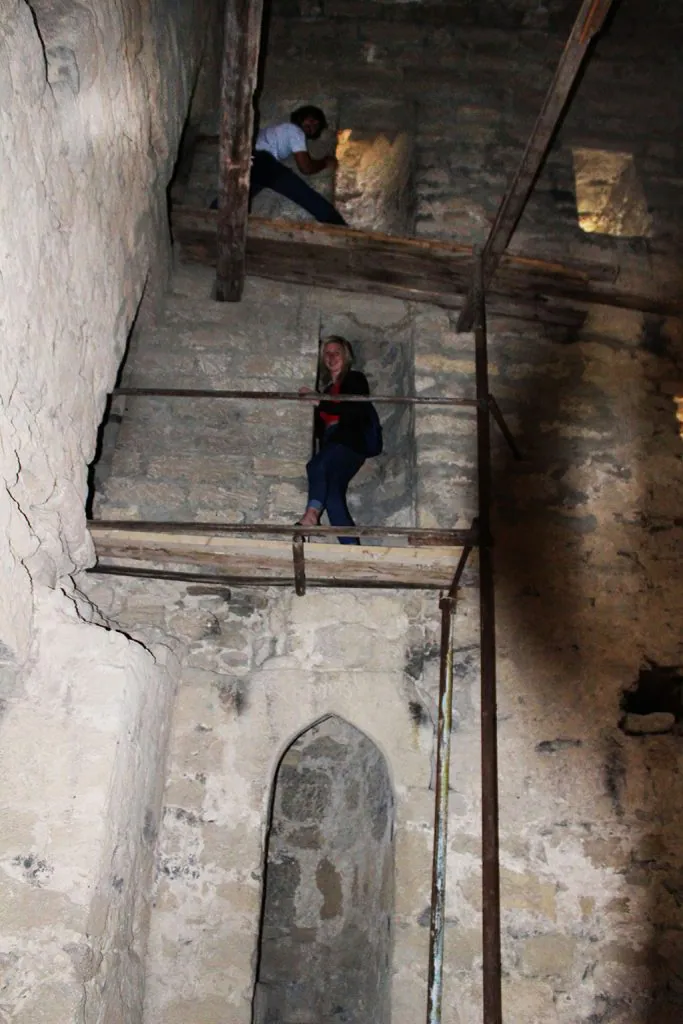 There are no stairs connecting the spiral stone stairs inside the tower. So, you'll have to brave the rickety scaffolding. The view isn't exactly special at the top but clambering through this incredibly well-preserved fortress on your own will stick with you!
Take food and water as you'll struggle finding any cafes or restaurants in Ramana.
Take a ride at the Carpet Museum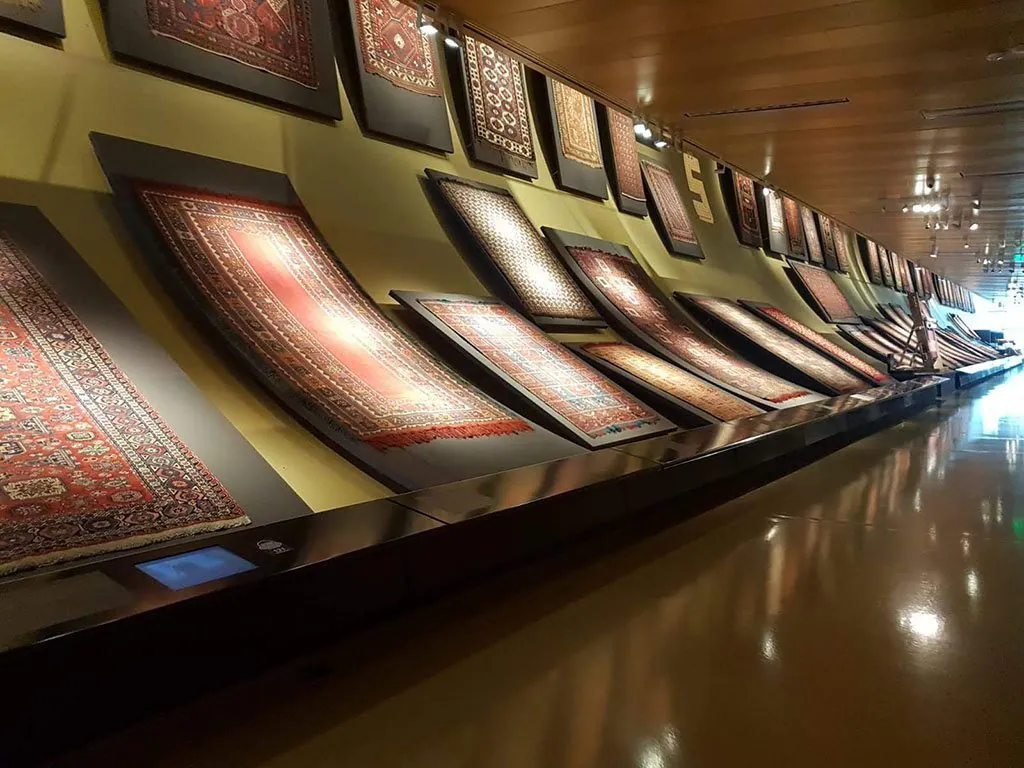 The State Museum of Azerbaijan Carpet and Applied Art holds the largest collection of Azerbaijani carpets in the world – surprisingly. It's been going for 50 years now and is a big deal in the carpet world. You must like carpets to visit – they don't check your carpet knowledge at the door, so if you're not a huge fan you can still sneak in. But the 14,000 thousand display pieces, videos and people actually sitting there making carpets may not be of interest! But if it is, you'll massively appreciate the incredibly intrinsic detail on carpets, which date back hundreds of years.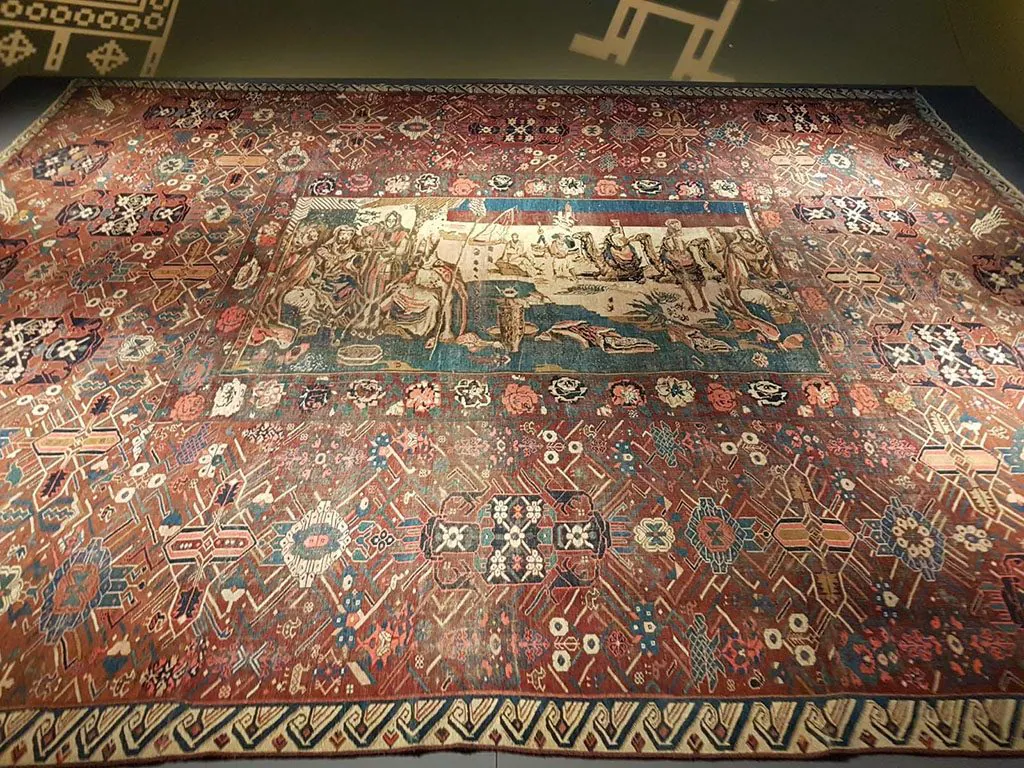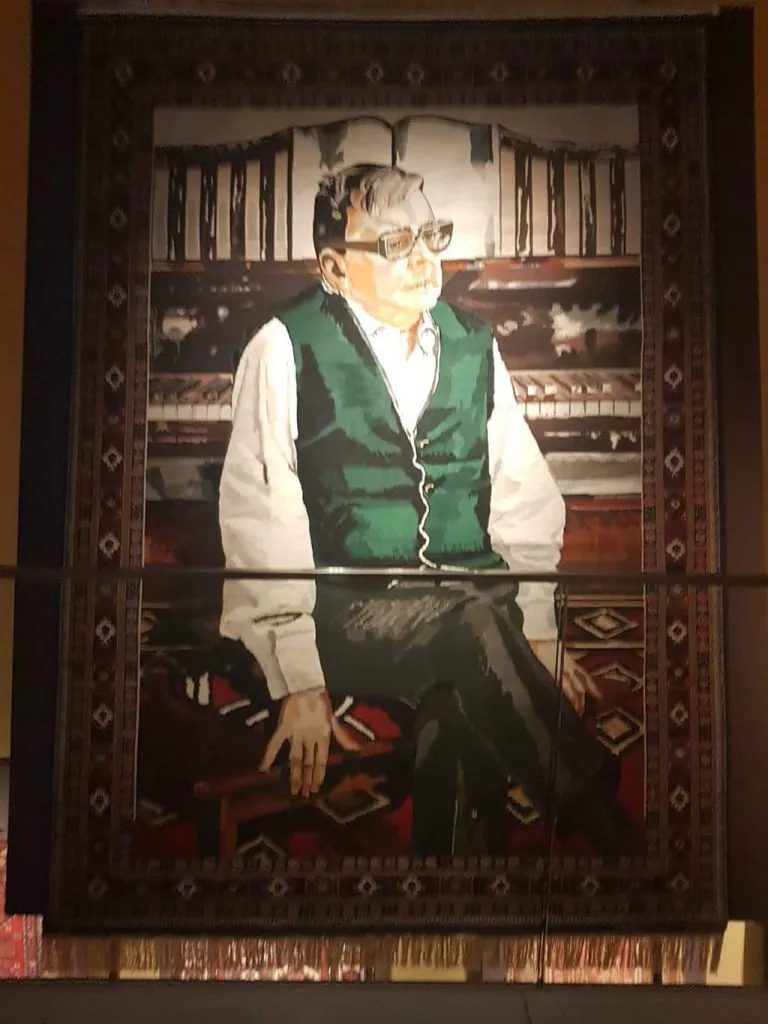 Visit the highest village in Europe – Xinaliq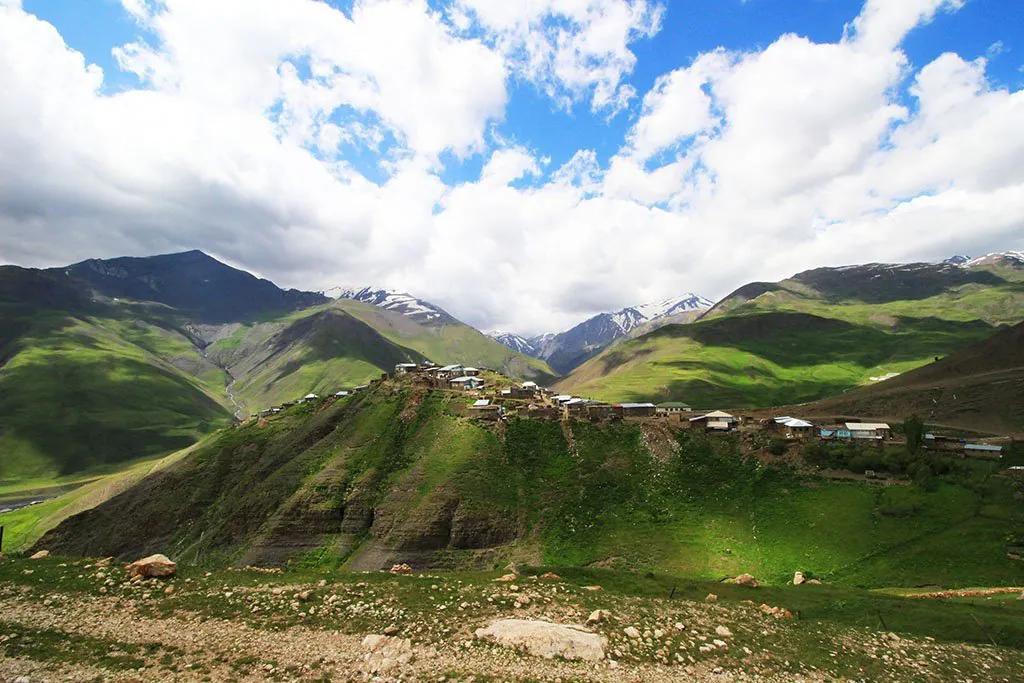 So… Xinaliq is a three-hour drive from Baku – BUT people do go on day trips. If you are thinking of going and aren't strapped for time, then definitely spend a full day there. It's the highest, most remote village in Azerbaijan, if not Europe and feels like it's locked in a bygone era.
YOUR GUIDE TO THE LOST WORLDS OF XINALIQ AND LAZA IN AZERBAIJAN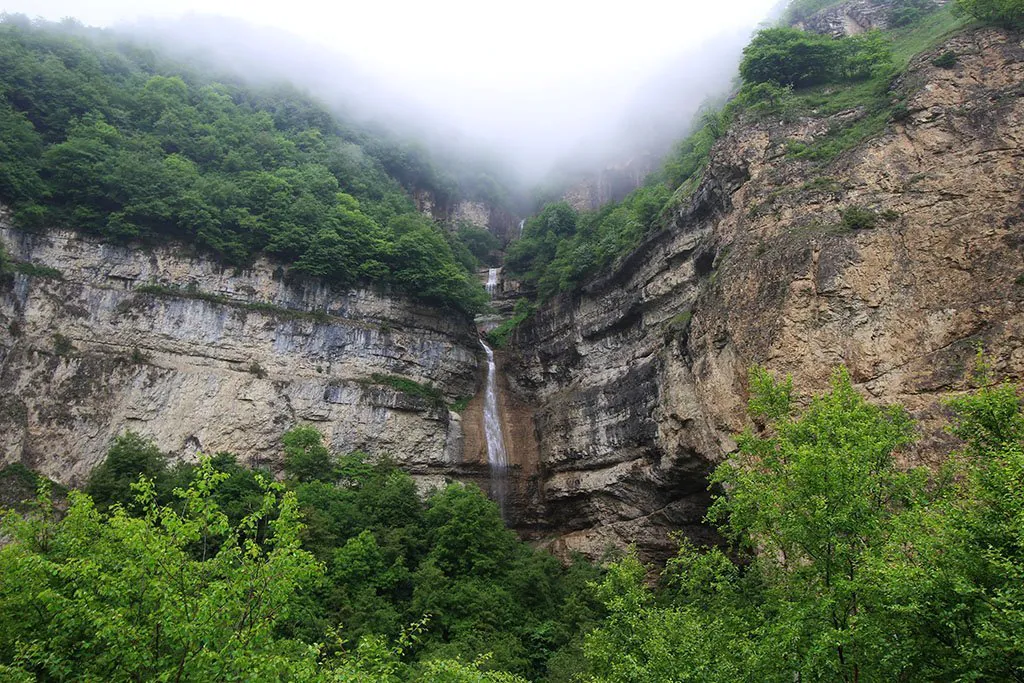 Like Xinaliq, Laza also takes three hours from Baku, or two hours from Xinaliq. Laza is worth the extra drive. Walking around Laza and into the surrounding mountains is incredibly special, whether you're going for an hour's walk or five, it's like traversing an undiscovered world.
Extras
Getting Around
One look at the busses in Azerbaijan and you'll get why we opted to rent a car. Cheeks and noses are pushed up against glass windows as packed buses chug through the city centre. To get to most of the main guides above requires a good knowledge of the transport system in Azerbaijan, getting lost on busses and -once you've arrived- finding a taxi to get you to the final destination. For example, you'll need a long bus ride from the city centre to get to the mud volcanoes and then have to spend 20AZN on a taxi to take you to the volcanoes.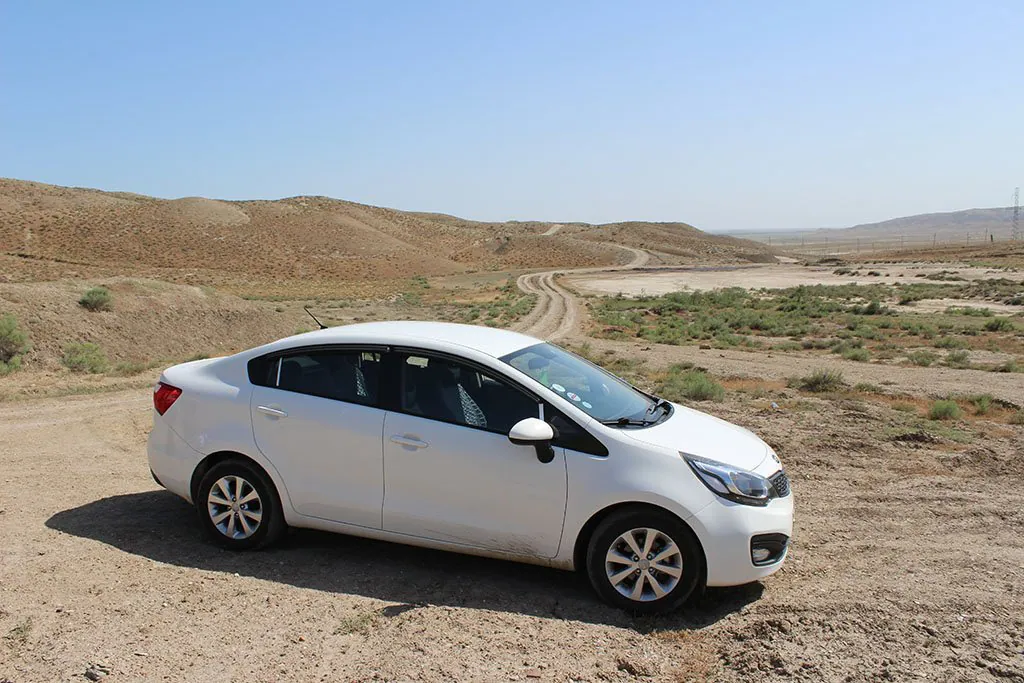 Instead, you can spend about 60AZN for a 24-hour hire car and drive yourself there. Driving in Azerbaijan is easy-peasy. It's not like Armenia and Georgia where the drivers are maniacs. The roads in Azerbaijan are in excellent condition with clearly marked speed signs and a hefty police presence to make sure nobody's naughty. There are speed cameras everywhere so you will need to take note or risk fines.
We rented a car from these guys, Karavan Rent a Car Baku, two friendly brothers in Baku centre. Their prices were very competitive and we hired a Kia Rio for 60AZN a day – full insurance is included. If you're after the car for longer then they offer 10% discount for five days or more. You'll need your passport and drivers licence. They'll also take a 300AZN card hold deposit, refunded once you return the car.
Just remember, that when you return the car they will check online to see if there are any speeding fines tagged to your car. And also, if you drink and drive here and are caught, all insurance is void.
Accommodation
AirBnB is your best friend in Baku. There are plenty of options to choose from, with fantastic centrally located apartments for £12 a night. We've used a dozen different apartments in Baku and had great experiences with each.
Food
Many tourists struggle to find food in Baku. There are plenty of restaurants as you near the city centre, especially around Fountain Square. But go just a little out of the centre and restaurants are harder to find. Stay in Yanvar or somewhere that far out and you'll be walking around for a while. It's best to find somewhere you like and head for it if you're staying on the outskirts.
Visa and Registration
You will need to apply for a visa to visit Azerbaijan, and if you're planning on staying for 10 days or longer then you will need to register yourself too. Don't be put off by this though, applying for the visa and registering is easy.
How to get your Azerbaijan visa and register in 10 easy steps