After a horrific start and a complete bike failure only five days into our RTW trip, we holed up in snowy Slovakia for a long wait.
A Slovakia Motorcycle Adventure 
We spent three years in Divin, Slovakia. Or was it three weeks? Either way, it was a long time. We hobbled into the sleepy, fog covered village with a snapped exhaust and a bike that died right on our friend's front door step. We arrived shivering, confused and – after further inspection of the bike – downhearted. We had just realised the chain sliced the remote preload cable, leaking precious hydraulic fluid everywhere. This meant the whole rear shock had to be removed and new parts were needed from the UK. What was supposed to be a three day stop to spend time with one of Andy's closest friends, Rusty, turned into three weeks of waiting for parts, dismantling the entire rear end and testing the charging system (which, the local garage couldn't find anything wrong with, so it must be our heated jackets draining the battery, the only things keeping us relatively warm).
As the days passed, fluffy white snow replaced the fog. With each passing day the white stuff deepened and the temperature plummeted to -10C. But it didn't matter, Rusty and Janka took us in, gave us a place to stay and force fed us until our jaws ached. Our days were filled with traditional Slovakian style, we spent the mornings and evenings with their family and young children by the fire and our days in the forest, hunting, firing World War II guns, visiting more family, eating even more and exploring Divin's 13th century gothic castle.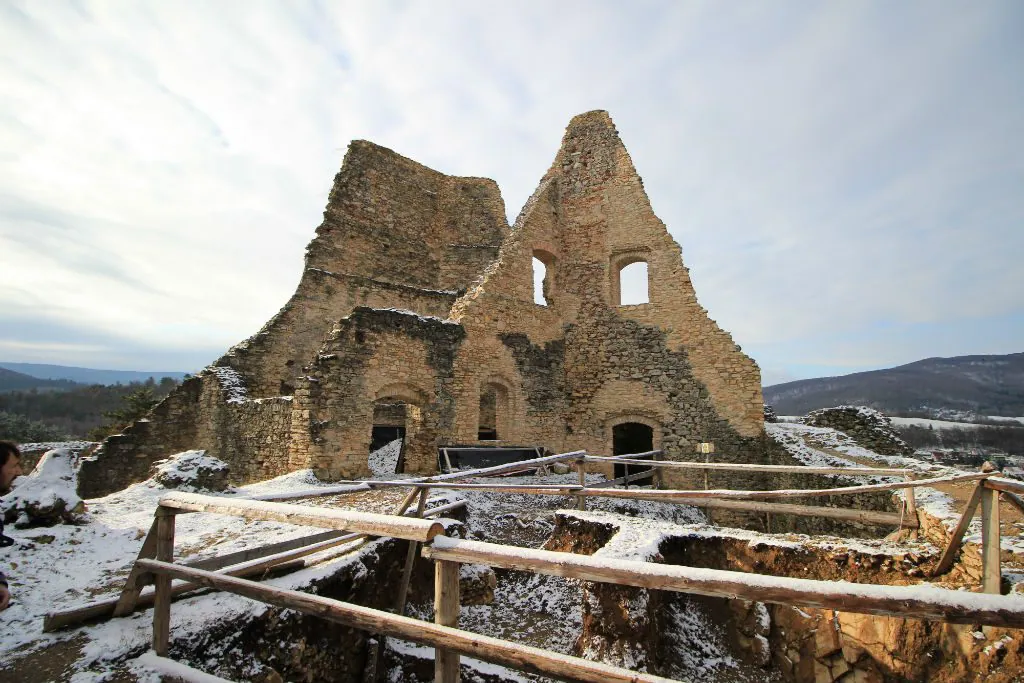 While waiting, Rusty, a traditional blacksmith by trade, built a new side rack (to stop our bags catching fire again), cut the sidestand down to stop us falling over at petrol stations, welded extenders onto the rear rack to move the top box back – so we could actually sit comfortably on the bike and welded the exhaust back together.
Twenty-one days after our arrival the bike was finally ready, we packed up and started the machine. The indicators didn't work, click for left and all four flash like hazards. Switch the hazards on and nothing. The rear brake light is on permanently and the main beam's out. We ignored this, hoping it would just fix itself. And if it comes to it, we'll bung a couple of headtorches on and signal with our arms and legs. We left pumped full of goulash, venison and stews, with the smell of gun powder on our fingers and extra man stubble in Andy's beard.
With thanks to
Rusty-Slav, Janka, Tamara, Zoranna, Rusty-Slav Junior and Britta. You guys took us in, fed us every day, kept us warm, fixed our bike, taught us a ridiculous amount about Slovakia and treated us like family. We love you all and can't thank you enough.
PS. Have you ever seen a sheep/pig hybrid? His name is …Shiggy.
Liked that? Try these next…
We'd love to hear from you! Please post your comments here…