Welcome to the Ultimate Pyrenees Coast to Coast Route Guide. This packed article is filled with downloadable route maps, expert tips, detailed advice and a top ride report.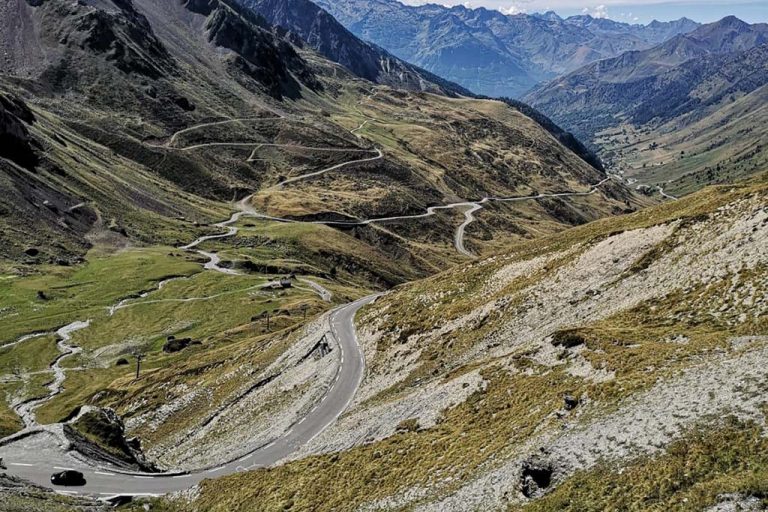 Pyrenees Motorcycle Tour Guide
Welcome to the Ultimate Pyrenees Motorcycle Route Guide. The Pyrenees and Picos offer fantastic riding and once you've ridden these mountains, I promise, you will want to return every year! The aim of this guide is to explain in detail how to get there and what exact route to take so you can have the best possible motorcycle tour.
Leaving from the UK, you can ride through France (check out this guide for that route) if you have the time and inclination. Or you could save your tyres, sit back and enjoy the start of your adventure with a beer and bonding with old riding buddies on the boat to Spain instead! I rate the Pyrenees and the Picos areas of Northern Spain as possibly some of the best motorcycle riding in the whole of Europe, so it makes sense to spend more of your holiday there. So, let's get to it!
Pyrenees Coast to Coast Route Guide
The Route
The 12-night route is a 1,956-mile loop from Santander. It begins in the UK via Brittany Ferries, Plymouth/Santander with hotels pre-organised in Pamplona – Larrede – Roses – Labarre – Oloron-St-Marie – Brinas – Cosgaya – Santander/Plymouth.
It incorporates two rest days to enjoy the beach on the East coast of Spain, or sightseeing around the pretty river town of Oloron St Marie. This route offers something for the solo rider, couples on a relaxed tour and groups of friends.
When to go?
The extra UK Bank Holiday days in May or August can be useful for planning purposes, but even in September/October the weather is (usually) warm and dry too. Avoid the heat of the Summer months, plus their School Summer Holidays which is usually late June – mid Sept.
How much?
My total costs in Sept 2018 for hotel, dinner B&B (sharing a room) were approx. £775, plus ferries, fuel, lunch snacks and bar bills.
Accommodation 
Here's a list of hotels I used on my trip and recommend:
Hotel Pamplona El Toro, Pamplona, Spain
T: 0034-948-302-211
Hotel Vinas de Larrede, Larrede, Spain
T: 0034-974-948-000
Hotel Canyelles Platja, Roses, Spain
T: 0034-972-256-500
Hotel du Lac, Foix, France
T: 0033-561-651-717
Alysson Hotel, Oloron-St-Marie, France
T: 0033-559-397-070
Hospederia Senorio de Brinas, Brinas, Spain
T: 0034-941-304-224
Hotel Oso, Cosgaya, Spain
T: 0034-942-733-018
Paperwork
Take originals of your passport, driver's licence, insurance certificate, MoT if required and your V5 (logbook). It's also highly advisable to get a UK Motorcycle Travel Insurance.
International Driving Permits (IDP) are available from your local Post Office and will be required once the UK leaves the EU, probably from Jan 2021. Check the Gov website for more information.
Getting there and away
Brittany Ferries offer the following routes from the UK to Spain:
Portsmouth-Santander
Portsmouth-Bilbao
Plymouth-Santander.
Top Tips
Book your ferry as soon as timetables are released late in the year.  Demand for the following year can quickly outstrip supply, so don't dither. (Example of booking for a September trip: 50% deposit paid while booking early November and 50% balance due the following July).
We recommend booking and checking with directferries.co.uk as you can find up-to-date and current sailing times and routes and book in advance.
One month before your trip double check the ferry tickets, expiry dates on your passport, credit/debit cards, motorbike insurance/tax, travel health insurance and International Driving Permits (IDP).
Pyrenees Coast to Coast Ride Report
Day 1
Miles: 180
Rating: 3/5
12:15 Brittany Ferry arrival at Santander. The adventure begins with about 10 miles on main roads to get out of the port city. Then at 'Solares', we jump onto the CA-161 which morphs into the wiggly CA-261. Heading further southeast across country via the 'Gorbeiako Nature Park' to skirt around 'Vitoria-Gastiez' and down to 'Estella' where we pick up the wonderful NA-700 to Pamplona.
These sweeping rural roads are a final tonic for the day and about 13 miles from the hotel you pop-out on a corniche with fantastic views over the 'Ciriza' valley. We arrive 7pm at the hotel which backs onto farmland, north west of Pamplona.  There's plenty of time to freshen-up as evening meals in Spain usually begin 8/8:30pm.  I've stayed at this hotel before and highly recommended it.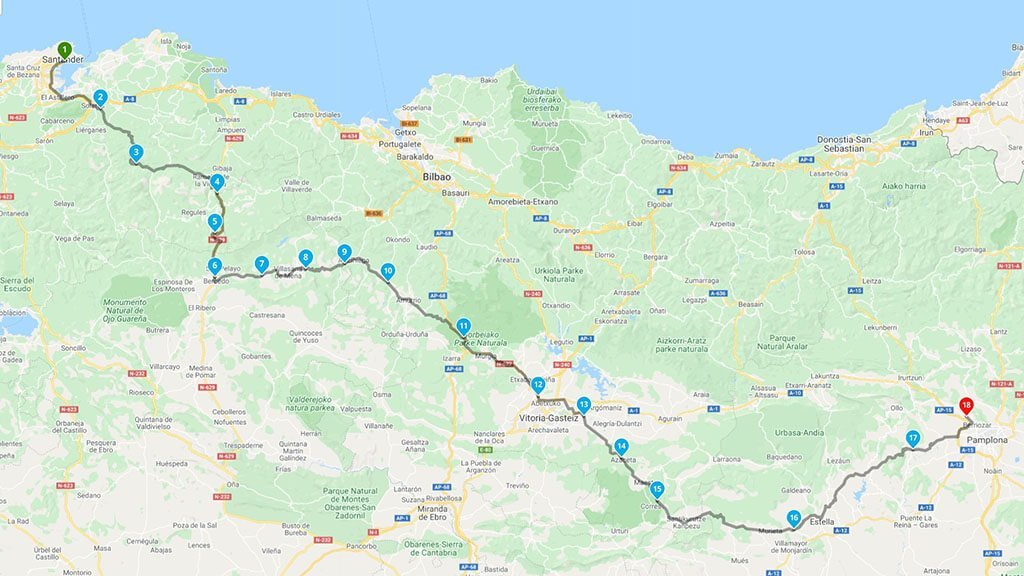 Day 2
Miles: 170
Rating: 5/5
Skirting the northern edge of 'Pamplona' we pick up the NA-150 before heading across the Pyrenees. Brace yourself for the great ride along the NA-214 after 'Navascues' with a fantastic viewpoint en-route at 'Alto de Las Coronas' and then the sweepers down to 'Burgui'. 
Pick up the cracking NA-214 and its 50 miles of enjoyment. After 'Isaba' the NA-1370 starts to climb up a series of bends to the viewpoint at 'Mirador de Larra-Belagua'. You then cross the cattle-grid onto the high roads to 'Arette la Pierre St Martin', so be prepared to slow down for horses and cattle around any corner. 'Oloron-St-Marie' might be a good place to catch your breath and have lunch. Then we head East to 'Arudy', before joining the narrow roads south across the Pyrenees again, down to 'Larrede', north of 'Huesca'. Located up a side road, the modern, hillside 'Swiss chalet' style hotel with pool overlooks the local countryside.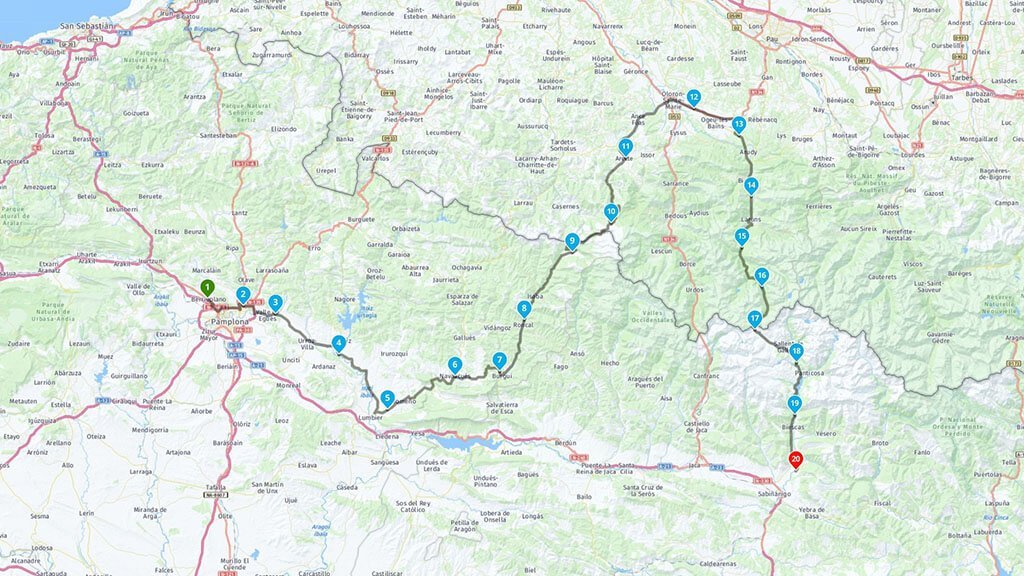 Day 3
Miles: 290
Rating: 5/5
A long day but a great day. We ride east along about 270 miles of the well-known N260 road. There's too much detail to fully report here but we head via 'Ainsa', 'La Pobla de Segur', 'La Seu d'Urgell' & 'Ripoli'. If you're heading for the beach tomorrow and don't plan to ride the loop suggestion on the rest day, then I recommend jumping onto the quieter, narrower N260a at 'Ripoli', as it's a great little find, offering about 30 miles of wiggles to play on before returning to the more trafficked N260. Filter through the popular town of Roses and along the seafront to our beach-side hotel for two nights. There is underground parking and great bedrooms with sea-facing balconies.  Relax and enjoy a beer, you'll have earned one!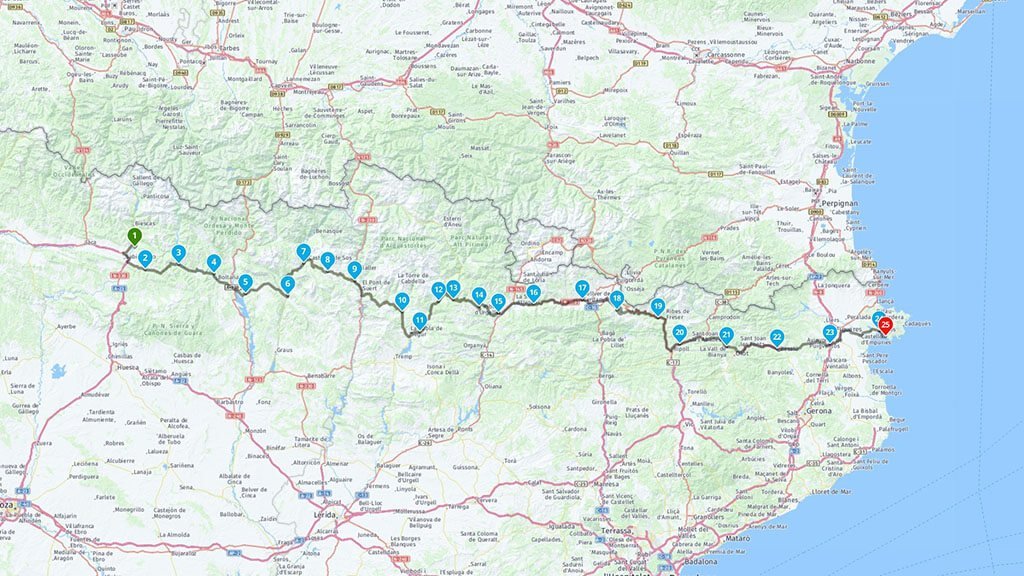 Day 4
Miles: 150
Rating: 4/5
A rest day for those wanting the beach. Alternatively, this 150-mile loop north west out into the countryside will take you via 'Capmany' and the start of the GL-502. The only speed-check I found on this route was right out in the middle of nowhere, so keep your eyes peeled for 'spotters' loitering at the side of roads and back-off before you get pinged further along the road.
Now, about 56 miles of fast sweepers and numerous hillside bends towards and after the 'Coll dels Horts' and down into 'Camprodon' (fuel on LHS saved me) and the valley beyond. The route then covers 18 miles on the C-38 to 'Ripoli'. As mentioned yesterday, jump on the N260a for 30 miles of wiggles back to 'Roses' before some beach time.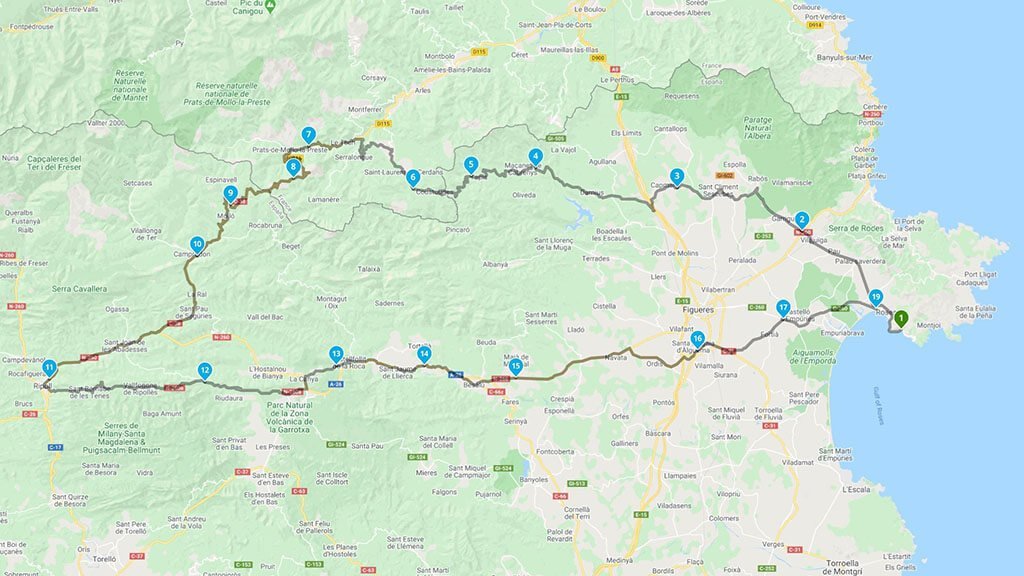 Day 5
Miles: 193
Rating: 5/5
Heading out of 'Roses' to 'Figueres', before turning North on the N-11 to 'Le Perthus'. Now join the D900 before going west on the D115 via 'Arles' and follow this curvy road to the mountainous section beyond 'Prats-de-Mollo-la-Preste' all the way down to 'Ripoli'. Join the fabulous N260 North for 30 miles of curves before joining the N20 and up into the mountains along the N-320 after 'Porte-Puymorens', then down the lush valley into 'Ax-les-Thermes' before reaching our riverside hotel in 'Labarre'. 
Day 6
Miles: 210
Rating: 5/5
The route is pretty convoluted today to ride the maximum possible number of Cols (7 at least) via the French Pyrenees. Too much to describe in detail, so first up is the 'Col de Portet-d'Aspet', then the 'Col de Mente', 'Col du Portillon', 'Col de Peyresourde', 'Col d'Aspin', 'Col du Tourmalet' and the 'Col D'Aubisque'. Now head for a rest and a well-deserved beer at our hotel in the riverside town of 'Oloron-St-Marie' for two nights.
Day 7
Miles: 94
Rating: 4/5
A rest day in 'Oloron'…or my morning loop ride of 94 miles via Isaba to the south. Take your time, stop and take photos, enjoy the ride – it's meant to be a rest day after all. The first part of the loop is more winding, up to the glorious 'Col d'Erroymendy' before riding over the ridge to find the coffee stop on the far side, sit in the sun and do some bike/car watching! Then enjoy the rest of this rural ride back to 'Oloron' for lunch overlooking the river and sightseeing perhaps?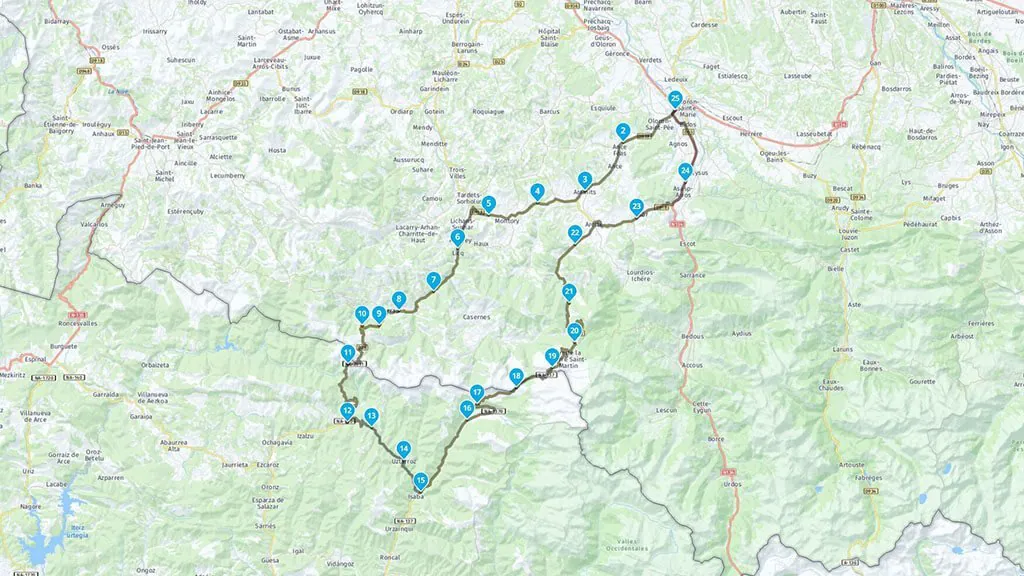 Day 8
Miles: 180
Rating: 4/5
We head back South today over the French Pyrenees into Spain again. The first two-thirds of the ride is across lovely countryside before the Pyrenees, which is the better part of this route, than the busier roads from Logrono to our destination in Brinas.  
The D26 South from Atherey and beyond to Ochagavia is a special section of the route with fantastic views before the roads start to widen as we approach Logrono. Our charming hotel backs onto the River Ebro in the quaint Spanish town of Brinas. There is a massive garage to the rear of the hotel to secure bikes. 
Day 9
Miles: 176
Rating: 4/5
Into the fabulous Picos today!  Another great day riding some amazing roads, travelling westward across farmland initially and faster roads via the massive Ebro Reservoir and then the Aguilar Reservoir. Twenty or so miles later, we join the CL-627 North across the Parque Natural de Fuentes towards 'Potes'. (Caution on the CL-627, there are some tight bends which have caught-out some riders featured on YouTube, so choose your moments carefully). 
The road snakes onward for miles and squeezes between the rocks just before you reach the 'Mirador De Piedrasluengas', where you must stop for a photo of the view. Now, we start to ride down the 20 miles of winding bends beyond into 'Ojedo'. Another 7 miles takes us to probably the best hotel on our trip in 'Cosgaya', in the heart of the Picos de Europa. Located about halfway up the CA-185, this is effectively a no-through road ending at 'Fuente De' where a cable car can take you 753m up to a viewing platform, if you have time in the morning. When I last used the cable car, it was 17 euros, and it was very cold up there with snow on the ground! 
Day 10
Miles: 185
Rating: 5/5
Our last day's ride of the trip back to Santander for a 16:15 ferry. This route makes the very most of the last day in the Picos by taking a large, clockwise loop around the Picos de Europa area via the huge lake at 'Riano' then north on the N-625 up the valley and over the mountain to the dramatic River Sella gorge with towering roadside cliffs at 'Casielles'. Onwards to 'Cangis de Onis' before striking east across the north of the Picos area on more great roads to 'La Hermida' where we turn left, up the CA-282 (which was a great recommendation from a friend). It's about 45 miles across the hills to 'Valle' before picking up the fast N611 that will take us straight into Santander.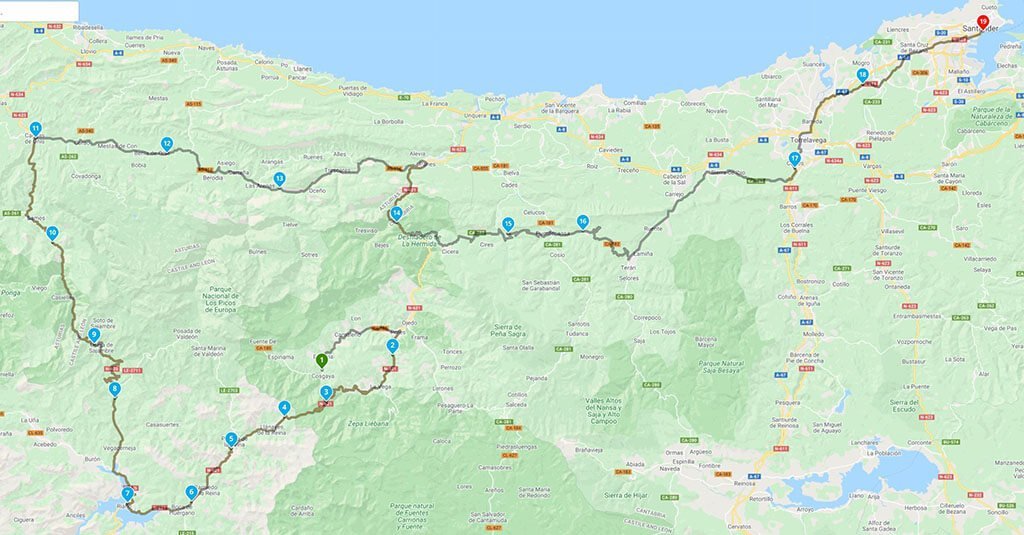 Paul Yarrow is based in the UK with 40 plus years' touring experience of the UK & Europe. Two years ago, he started filming his trips and created a growing YouTube channel, plus social media pages to share his trips, photos and routes with other motorcyclists.
You can follow Paul's travels here:
Read more on motorcycle travel in Europe
Thanks for checking out our Ultimate Pyrenees Motorcycle Route Guide. We hope you enjoyed it! Here's a few more articles on motorcycling in Europe that we recommend you read next. 
Are you planning a motorcycle trip to the Pyrenees or do you have any questions or tips to share? Let us know in the comments below.