This detailed guide is packed with info on international motorcycle shipping. Our industry expert explains everything you need to know about motorcycle shipment, air versus sea freight, agents, crating, paperwork and loads more.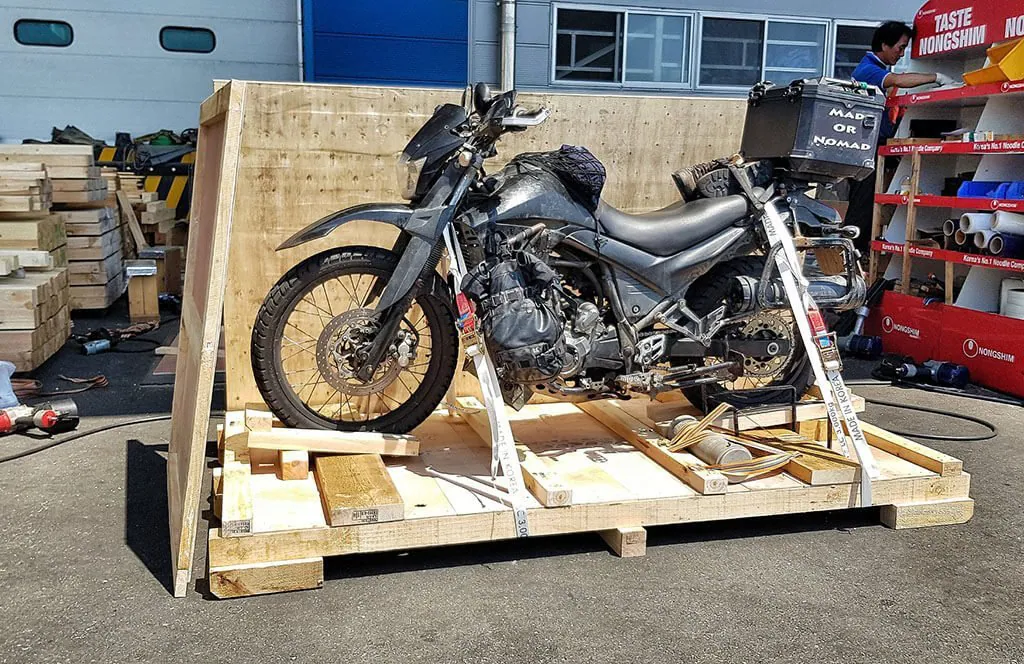 Welcome to the International Motorcycle Shipping Guide
Planning a round-the-world motorcycle adventure means at some point you will need to ship your bike. It's a big expense, can quickly feel overwhelming and often puts travellers off. But it doesn't need to be; it's often much easier than you might think, there are specialist companies who can do the leg work for you and this packed international motorcycle shipping guide will explain everything you need to know. 
Where to start
There are so many things to consider when planning a big trip and it can be difficult to know where to start. Our advice is to pencil out a rough route with notes on which places and countries are most important to you. You will then need to do two things: find out what paperwork is required for each country and then look into how to ship your motorcycle there. 
Firstly, check out the government websites for each country and search for their Temporary Import requirements for vehicles. For example, riding through the USA on your own bike will mean you need to apply for EPA Exemption for your motorcycle a month before you arrive.
Keep in mind that some countries have physical restrictions too, for example both Australia and New Zealand require all vehicles (and items left with the vehicles) to be spotlessly clean. If any dirt, grime or evidence of flora/fauna is found on your motorcycle you can expect a very sizable fumigation and examination bill!
Secondly, there are a variety of options open to you when it comes to shipping your bike to another country, including airfreight, sea freight, road transport and even a combination of both. Your specific situation and route will dictate which is best for you at that stage of your trip. 
Using a shipping agent to help
Making use of a specialist international motorcycle shipping and freight agent can massively help remove the stress of the above two points. The right company will be able to work with you to best establish the transport method most suited to you and will also have the experience required to securely pack/crate your motorcycle to best avoid damage along the way. They should also have knowledge of paperwork requirements both in the country of departure and at your destination, which is essential in any overland travel because it minimises the chance of delay, financial penalties and in the worst-case scenario – confiscation of your motorcycle.
Using an agent is not a hard and fast requirement in all parts of the world, but there are some areas where relying on a specialist's expertise is well worth the investment to ensure the success of your motorcycle shipment.
Speaking to a trustworthy, experienced freight agent is a great starting point in planning any trip, as any such company should happily take the time to talk you through the ins and outs of what's involved, and have the honesty to tell you where an agent is genuinely required.
Once you've got your proposed route down on paper, call a specialist freight agent and run your freighting route past them. They can let you know if there is anything specific that you might need to make provisions for. They will also be able to give you a shipping quote to include in your trip budget. A good agent should be able to foresee any potentially nasty surprises and make recommendations and slight alterations to your route that could save you a lot of money. For example, sometimes reversing your route could save you over a thousand pounds!
Air vs Sea freight
There is a time and a place for both airfreight and sea freight in the world of motorcycle shipping, and it's vital to pick the right one for your trip.
It is nearly always more prudent to choose airfreight for the start of a trip, or along a 'bridging' leg of a trip because the timings are so much more reliable than sea freight.
Motorcycle shipping using sea freight
Delays are common with sea freight and they tend to be for a week at a time as opposed to a day at a time with air freight. The last thing you want is to be stuck at the start of your trip waiting for your bike to arrive!
Similarly, in most countries the bike cannot clear Customs without you physically being there, so you can't just sea freight your bike to a destination with a few weeks to spare because if it does arrive as scheduled, it will incur storage charges. Those charges can be very high and are best avoided as they would negate any saving you made by choosing sea freight in the first place.
A lesser known fact is that arrival and handling charges for sea freight are almost always considerably higher than those for airfreight. So, although sea freight itself is often cheaper than airfreight, the total costs may be comparable.
Don't get caught out
The most important thing to take away from this section is that you should establish both freight and arrival charges at destination for any movement before moving forward. The arrival charges can sometimes be as high as the freight itself and you need to budget accurately to avoid being stung. A good freight agent should help you collate all costs, not just the outbound finances involved so that you have a good idea of the total shipping cost.
Exceptions
There are some exceptions to this rule and in some cases it is better to sea freight your motorcycle at the start of a trip to save money. The best examples are the UK, Australia, New Zealand and South Africa, because these are some of the few countries in the world where the bike can be cleared through Customs without you physically having to be there.
We have excellent motorcycle shipping agents in each of these countries that can look after the clearance of your motorcycle and safely store it until you fly out to start your trip, in which case this is a more cost effective option if you can bear to be without your bike for a little while!
Calculating costs
It is worth noting at this stage that one of the biggest differences between air freight and sea freight is the duration. Sea freight normally takes a considerably longer time than airfreight, which goes a long way to explaining the difference in cost and is one of the most notable negative aspects of sea freight.
The costs associated with sea freight, and nearly always with airfreight today with modern airfreight rates, are based on the volume of the crated motorcycle, which is a calculation based on the length, width and height of the crate.
What this means is that the size of the crate will determine the final cost of freight, and is more important than the actual physical weight of the bike. Most motorcycles are fixed in length and width but the height can sometimes be reduced by removing the screen. So for example, you may be able to save money by removing tall touring screens.
Some agents may offer to remove the front wheel to reduce both the length and height of the bike. Confirm with them first that you are happy for them to do it, but bear in mind that you may be reassembling the motorcycle yourself in the car park of an airline cargo shed at destination. Please only go down this route if you are mechanically minded enough to put the front wheel back on and will have the tools with you to be able to do so.
Find the right agent to ship your motorbike
Finding an agent is relatively easy, the slightly trickier part is finding an experienced, specialised agent who is going to look after you and your bike as if it were their own.
A good place to start is social media, motorcycle forums and word of mouth from people who have used agents themselves. Always check the date that forum posts and social media updates were posted, as information that is 5 years old is unlikely to be trust-worthy. This especially applies to prices. Don't be surprised to find that what someone spent on their RTW trip a decade ago might be a little different today.
Facebook and forums such as Horizons Unlimited can be a goldmine of useful information, but as with everything, remember to treat social media with a grain of salt and apply your own logic and common sense to the posts that you read.
Once you have found an agent (or a couple – it's never a bad thing to approach a couple of agents to get comparative quotes) it's worth running their name through a search engine. You should be able to find reviews and comments for each agent easily and pay attention to any positive, and more importantly, negative feedback associated with them.
What to look out for
Get in touch with the agents that look promising, their response should give you a feel for them. They should reply in a timely manner with information specifically relevant to you. Feel free to question their company ethos and experience as any agent worth dealing with will not be offended by such questions and will be more than happy to answer.
Again, and I can't stress this enough, always try to work with an agent who gives you an indication of cost for both freight and arrival charges, so that you can get an idea of what the total shipping cost will come to.
Also bear in mind that even if an agent is not based in the country you are interested in, they may still have a counterpart in that part of the world that they can recommend to you. For example, we have a network of excellent agents around the world that we are more than happy to recommend and introduce customers to as we know that they will be looked after.
Crating your motorcycle for shipping
Quite a few people consider crating their own bike for shipping. However, we recommend that you do some research and make an informed decision as to whether you should crate the bike yourself or have your freight agent organise it for you.
Any reputable freight agent should be able to arrange crating (or like in our case, we crate bikes ourselves using our own bespoke crate kits), which ensures the bike is best protected against damage during transit.
Many countries around the world require that any solid wood used in a crate is ISPM15 treated and there can very harsh penalties in place (including disposal of the motorcycle in extreme cases) if you send untreated wood to these countries. If you have your bike packed by a professional, then they should know to use treated wood as appropriate.
If you are freighting from the UK then we highly recommend allowing us, or whichever company you choose, to do the crating for you. Our crates are specifically designed for motorcycles, we have multiple sizes in stock at all times and cost less than you might think because we have them made in bulk – and almost certainly less than it would cost you to make your own.
How to crate a motorcycle
There are instances when it could be beneficial to make your own crate as the costs of crating in countries that don't handle high volumes of bikes can be very high.
Firstly, check if the country you are shipping to requires treated wood, and if so, make sure you use it! This applies to wood used within the crate itself (i.e. chocks or batons), and not just the exterior crate base and walls.
Crating for sea freight
Technically, the rules for sea freight are that if fuel is drained and the battery disconnected, then it can travel as non-hazardous. But you will need to check with the shipping agent of that country to see if there are any country specific rules that could be imposed in addition to these.
Crating for air freight
For air freight, if the bike is being sent as Dangerous Goods (this is the most common way of air freighting motorcycles, but is not always the case, so will need to be clarified with the shipping agent), then the fuel level will need to be less than ¼ tank but the battery can stay connected. Again, certain countries interpret the rules differently so do check if there are any extra rules or regulations in place with your chosen freight agent.
Size matters
In terms of size, you will want to crate the bike as small as you possibly can because almost all charges (for both sea freight and air freight) are based on the volume of the crate. Size really does matter in this instance! Aim to crate the bike as small as possible while still offering the safest protection to your bike to prevent any damage. If you are considering disassembling your bike, bear in mind that you may be putting it back together in the car park of the airline that you have used for freight, i.e. outdoors and potentially in the dark or rain. We recommend that – unless you are particularly keen to – you don't start taking the bike apart completely.
As a general rule, don't put more than one bike in one crate. Most countries insist on separate customs clearances for each motorcycle and expect the bikes to be crated separately.
All of the advice here is based on general guidelines, each situation is slightly different and specific to each individual so we would always recommend that you speak to your shipping agent before packing the bike to take their advice on any specific requirements.
Import regulations, paperwork, permits and the Carnet de Passage
We cannot stress enough that each country has their own ever-changing rules and regulations for paperwork requirements to temporarily import motorcycles and other vehicles. These are always best investigated before shipping commences as some paperwork needs to be applied for in advance.
Some countries insist on a Carnet-de-Passage, and if so, we recommend that you apply for one at least one month before the bike arrives in the country. The UK Carnet provider (at the time of writing) is Cars Europe, and you can apply to them for prices and more information.
Do you really need a Carnet?
Different companies will list countries that require a Carnet, and countries that recommend a Carnet. If you are only visiting countries that recommend a Carnet we would advise that you check with the government of that country specifically as to whether one is required, because if that country does not actually require a Carnet then you do not have to have one in place and this can end up saving you a lot of money!
You will hear stories of people who have managed to get their vehicles through countries that actually require a Carnet without having one in place, usually by way of a bribe or sometimes simply via a very inefficient customs official.
We strongly recommend against trying this. If you are visiting a country that requires a Carnet, it is better to have one in place. Yes, you may get away without one, and this usually works when you are transiting said country (i.e. entering and exiting across a road border), but if you need to freight into or out of that country, the formalities are a lot stricter and a Carnet will almost certainly be insisted upon. Bear in mind that anything could happen and you may need to end your trip urgently due to unforeseen circumstances; in which case you will need the correct paperwork to be able to get your bike home and it will be too late to apply for a Carnet at that stage.
Countries that do not require a Carnet may issue a Temporary Import (which can appear in a similar form under many different names), and certain countries may individually require different paperwork to be completed for the motorcycle to be allowed entry.
It is the responsibility of you, the traveller, to make sure that you have all of the paperwork in order to legally import your bike in to each of the countries that you visit. Check the entry requirements with governing bodies, get in touch with vehicle freight specialists and motorcycle shipping agents and look online (but don't take online sources as gospel as they quickly go out of date).
Transit insurance
Transit insurance is never automatically included in any freighting movement, and is an optional extra that you should be able to purchase through the shipping agency.
Transit insurance should cover your motorcycle or vehicle during loss or damage during transit, and there will be most likely be a small excess in place as with any form of insurance policy. Nearly always, the policy will cover the bike and any permanent fixtures but not kit like riding gear left with the bike.
If the freight agent organising your shipping doesn't automatically offer transit insurance, it is always worth enquiring on the cost of this because, while rare, disasters can happen and this is why insurance exists.
People are often surprised by how little provision is in place (offered by shipping lines or airlines) in the case of damage or disaster without transit insurance. While you may be entitled to some compensation if damage or loss does occur en route, it will almost certainly not cover the full value of your motorcycle and can be very troublesome and time consuming to reclaim. We don't say this as an attempt to scaremonger anyone in to taking out transit insurance as it's your personal choice, but it is worth considering.  
Round up
Rules and regulations around the world are forever changing and even something you read last week may not apply today, rendering it effectively useless for someone planning their own future trip.
Our best advice for getting the most up-to-date and accurate information is to speak to a vehicle freight and international motorcycle shipping specialist who has knowledge of the country that you are looking to visit. An experienced expert will have a network of motorcycle friendly agents around the world who are just waiting to help. Using well known and trust worthy specialists will help you plan, save time and money in the long run. Good luck with your adventures and happy shipping!
Get in touch with Kathy and Moto Freight
Read more on Motorcycle Shipping and Transport
Thanks for checking out this Ultimate Guide to Motorcycle Shipping. We hope you enjoyed it! Here's a few more articles on motorcycle shipping that we recommend you read next. 
International Motorcycle Shipping Companies
Welcome to the Motorcycle Shipping Companies Finder. This page lists worldwide freight forwarders, companies, agents, fixers, ferry services and detailed guides. Click a country on the map to see what's on offer.
Read More
We hope you found this International Motorcycle Shipping Guide helpful. Please leave a comment below with any questions or get in touch via email.