Welcome to the Ultimate Honda CRF300L Adventure Bike Guide. This article explains all of the modifications we made and how we prepared our Honda CRF300Ls for a five year round the world motorcycle trip.
Honda CRF300L Adventure Bike Guide
This guide's job is to help you modify a stock Honda CRF300L and turn it into an adventure bike, trail riding weapon, long-distance machine or even a round the world motorcycle.
To do that, this article explains all of the modifications we made and how we prepared our Honda CRF300Ls for a five year round the world motorcycle trip, along with a bunch of further suggestions and ideas.
You might not need to make many, or any, of these modifications. It all depends on what you need from your bike, trips and travels. So, take what you need from this article to create the perfect setup for your Honda.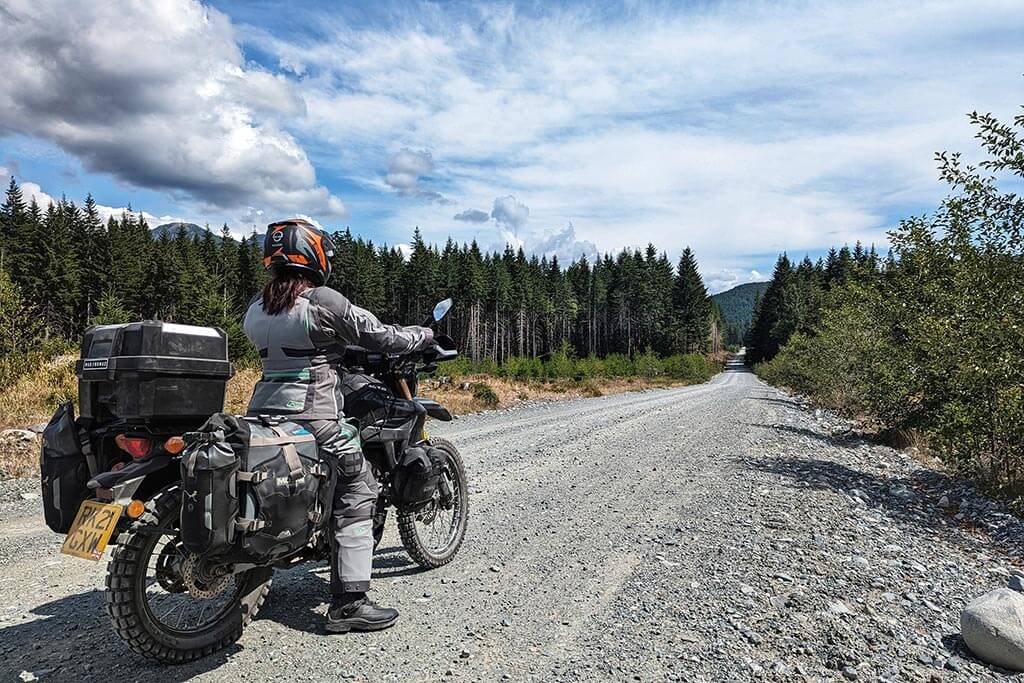 Seat
The standard Honda CRF300L seat is narrow and hard. Fine for short rides and trail riding, but will ruin your butt on a long-distance ride.
It's one of the first changes we made to the CRF. We opted for Seat Concepts from the USA as they make seats especially for the CRF (as well as hundreds of other bikes).
Seat Concepts offer four different options for the L: Comfort, Comfort Low, Comfort Tall and Comfort XL.  
We both went for Comfort XL. We weren't sure which to go for at first. Alissa was tempted by the Low version, but as her bike is lowered anyway, she didn't want to sacrifice bum comfort as the Low won't be as padded. Tall was out because we're both short. I was tempted by standard Comfort as I was concerned the XL would be too wide. But it has turned out to be perfectly shaped and we reckon was the right choice.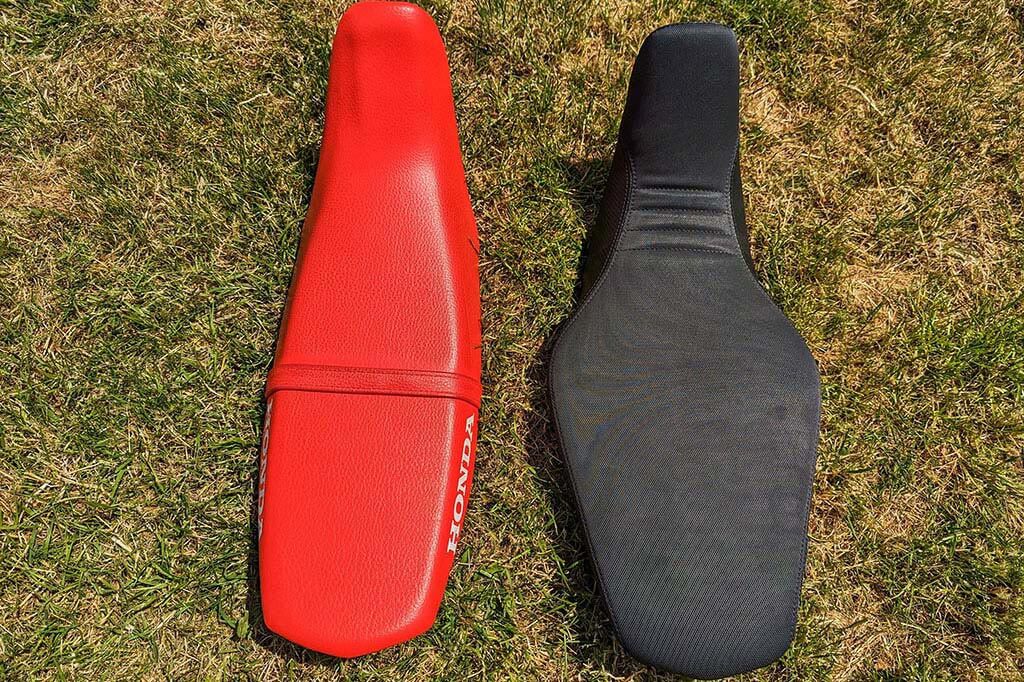 Heated grips
Heated grips are a luxury item, but ride with them once and it's very hard not to want them on every bike. There have been so many times over the last five years of our RTW trip that we wished we had heated grips, so now with our two new bikes it was a no brainer.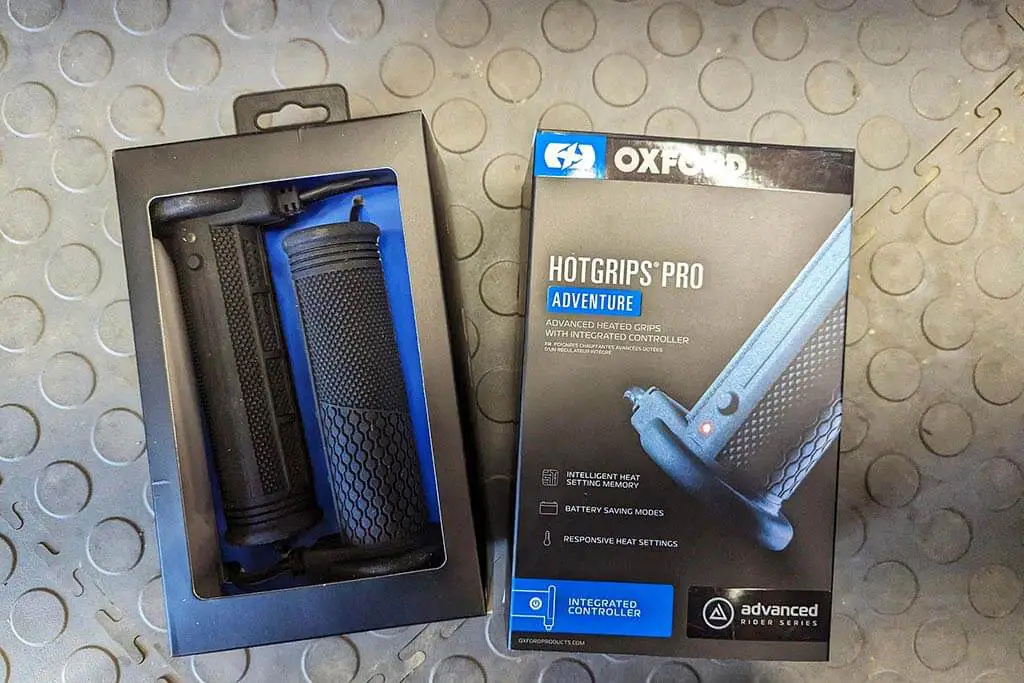 Short side stand
This isn't exactly 'comfort', but it does make everyday life on the bike easier. A shorter sidestand was necessary for Alissa's CRF as her bike was lowered. With the stock stand, the bike stands too tall and vertical, is harder to get on and off and always wants to tip over. It wasn't necessary on my CRF as I didn't fit a lowering link.
We opted for a Rally Raid stand which is 20mm shorter than standard, beefier and comes with a heavier duty spring.
Large foot stand
Another modification that makes everyday life on a bike easier is a wider plate on your kickstand foot. This is a must on most bikes as it stops your side stand from sinking into sand and soft mud – especially when fully loaded.
We went for SRC's wide plate attachment. Easy to install and beautifully made.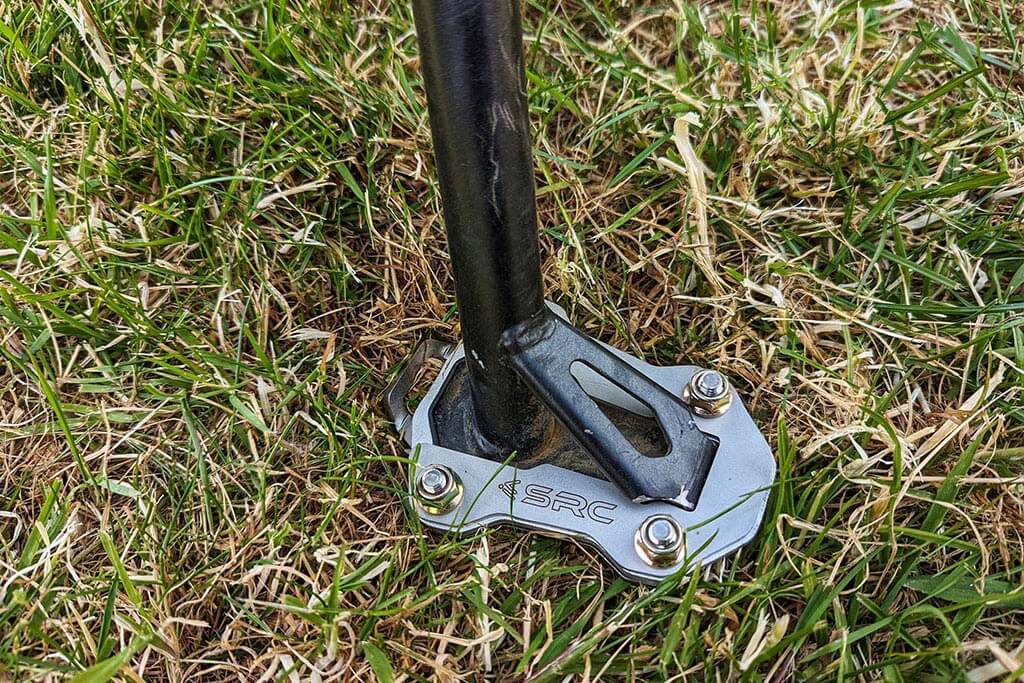 Comfort extras
Here are some more modifications you can make to improve comfort on the Honda CRF300L.
Screen – A screen or windshield attachment is a common addition for a lot of smaller adventure bikes that don't come with one as standard. It removes the brunt of wind and a lot of people prefer it. It's not something we added to our CRFs as we don't ride fast enough to need one. We also find them a pain off-road.
Bar risers – Bar risers are another common modification. Your shoulders and arms need to feel comfortable when you're sat in the seat, if you're tall and the bars feel too low, this may be a good option. Check out the Rally Raid Bar Riser.
Seat choices – There are plenty of choices when it comes to choosing a seat. You can always go for a sheepskin throwover, a gel pad, air seat, air flow etc.
USB
A USB plug for charging your phone, helmet or other devices is a must. There's an auxiliary cable behind the headlight on the CRF and we attached a USB to this so we can keep our phones charged as we ride.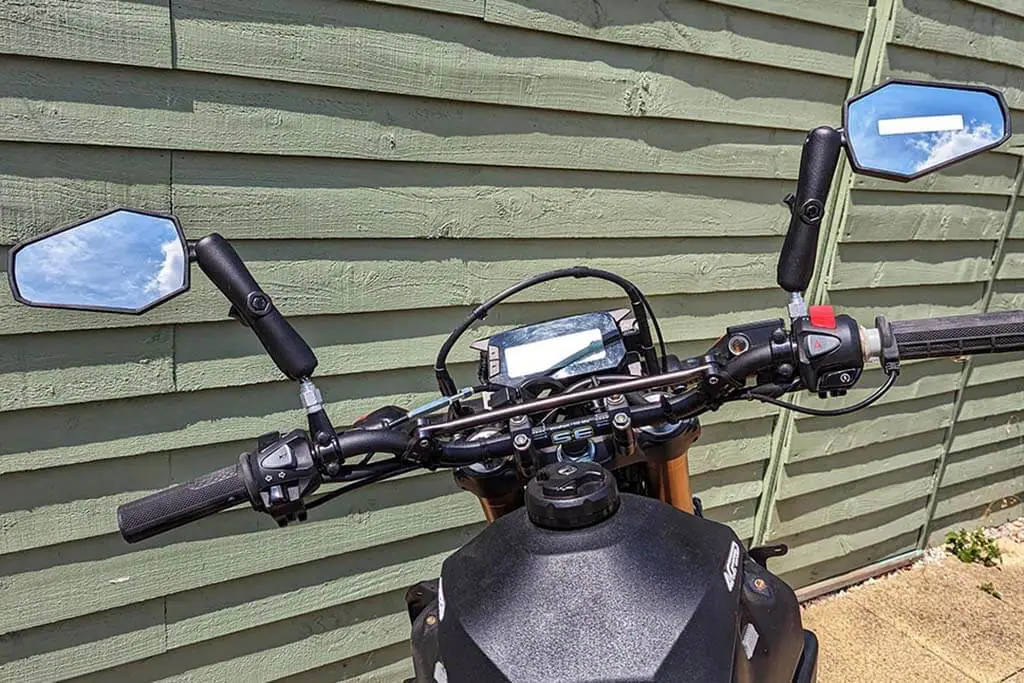 Phone mount
Five years ago, we started our trip with a sat-nav but sent it home after one month. We would spend time finding places and routes on our phone and then spend more time transferring that information to the sat-nav. Cut out the middle man! We now ride with a burner phone in an Ultimate Addons phone case attached to the handlebar.
Sat-navs do have their place though. If you're on a tour, a shorter trip or are heading for a long off-road trip – you may want to upload your GPX files or plot out your daily routes and waypoints. In this case a sat-nav would be invaluable. It all depends on what you're using your bike for. 
Handlebars
The standard handlebars on the Honda CRF300L aren't particularly beefy, so we swapped them out for Pro Taper bars. It's a relatively simple modification to make, but you will need to drill a small hole in each end so the switchgear pin can slot in.
Double Take Mirrors
Double Take mirrors are brilliant. Easy to collapse, will fold away if you drop your bike and are pretty much indestructible. They're a great addition to any adventure bike, especially one with stock mirrors like the CRFs.
Large fuel tank
The CRF300L comes with a 7.7 litre fuel tank as standard. This isn't enough range for long-distance travellers. If you're riding your bike at home or on local trails and tracks, a tank upgrade may not be necessary.
We opted for the Acerbis 14 litre fuel tank, which should return 260 miles (420kms) instead of 140 miles (230kms). And we also changed the breather pipe fuel cap for a lockable Acerbis one too. The fitment was simple, straightforward and fits perfectly with the stock fairings so there's no need for any modifications or alterations. Impressively, it doesn't look too different either. Normally with bigger petrol tanks you're left with a huge bulbous tank and have to remove the OEM tank fairings. But this one seamlessly slots in.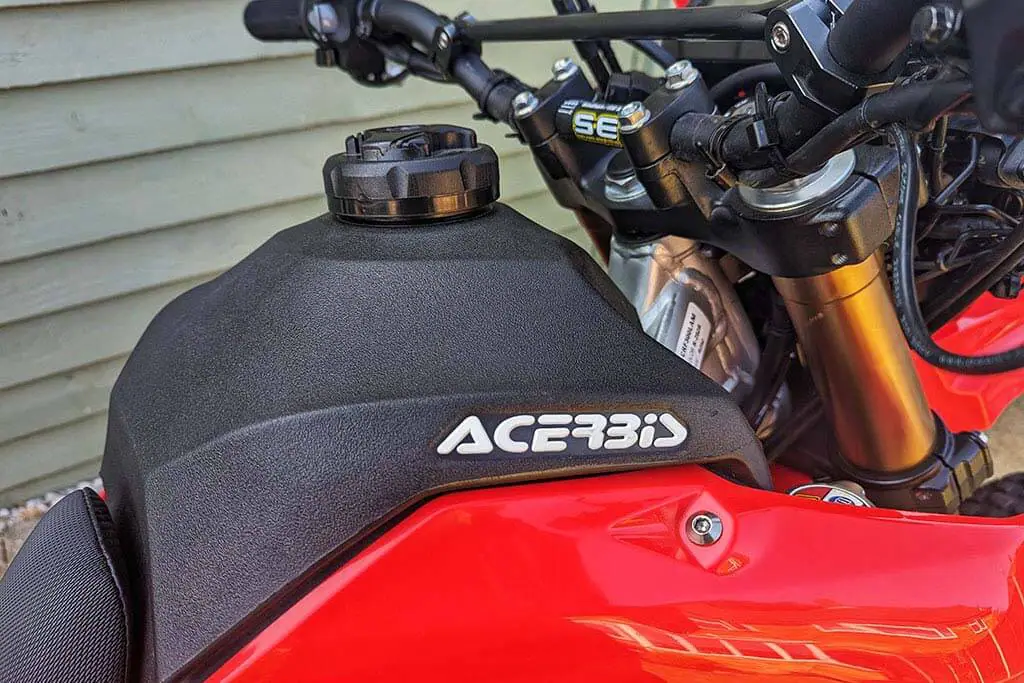 Charcoal filter removal
Instead of running the breather pipe from the new Acerbis fuel tank to the CRF300L's charcoal filter, we just removed the entire charcoal filter instead. There's not much to talk about in weight saving, we just removed it because we heard reports that if the bike is dropped on its side, the filter can fill up with fuel and cause problems with starting the bike. And that's not something we want to deal with in the middle of nowhere. 
Auxiliary fuel
We will often travel places where we'll need more range than the new Acerbis tanks can give us.
So, for the CRFs we fitted one fuel cannister to the inside of one bike's pannier rack and a water cannister to the other bike's rack. The cannisters are made by Overland Fuel, hold 4.5 litres each, are well-made, tough and easily attach to our racks.
For the first few five years of our trip from the UK to New Zealand, we carried spare fuel and water cannisters and they were imperative, especially in countries like Uzbekistan and Mongolia. We camp as we travel and our MSR stove runs on petrol, so we always have enough emergency petrol for the bike and to cook with. The water cannister is also important as we don't always have a fresh supply of water, which we need for drinking, cooking, washing up, cleaning etc.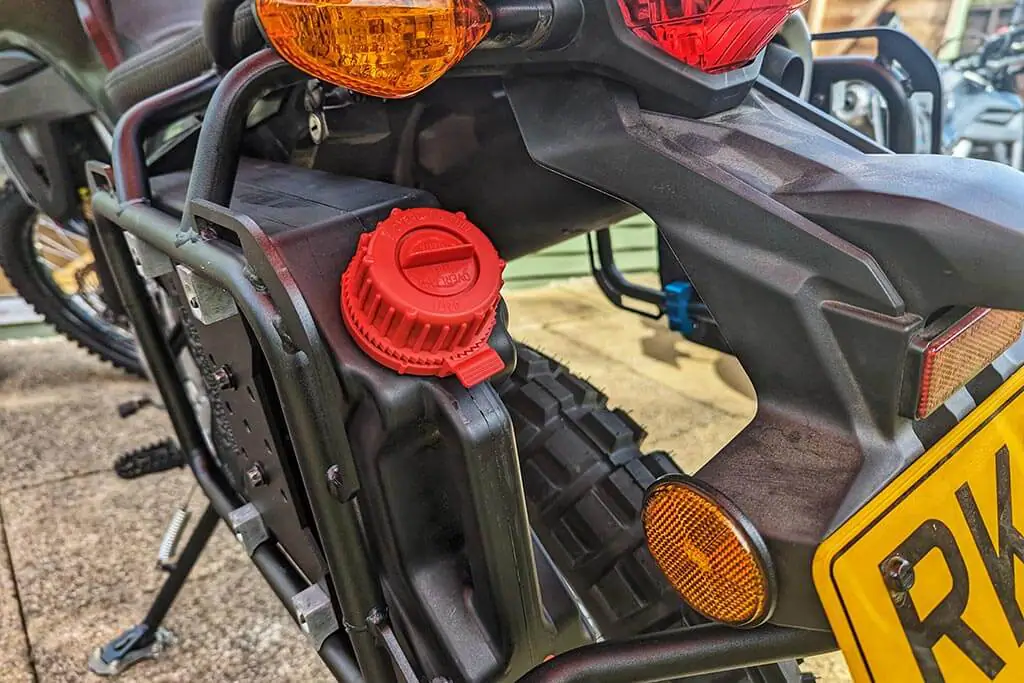 Suspension
This is a big one for the Honda CRF300L. Join any CRF Facebook group and you'll find it full of suspension woes. The go to answer is to change the entire stock suspension unit, which we were very tempted to do. A lot of people are happy with this setup and we have no doubt it'll improve the 300's ride massively.
However, years ago, we changed our Yamaha XT660R's standard shock for a posh aftermarket one and had it perfectly setup for weight etc. We left nearly all our gear in Tajikistan and rode into Afghanistan as we knew it would be a tough ride. By the time we returned, the shock had collapsed and leaked all its oil. It was 500km to the nearest town where we could repair the bike. The ride there over no-man's land into Kyrgyzstan with no rear shock caused the frame and subframe to crack.
Once we arrived in Osh, we couldn't service the aftermarket shock. So we had the OEM shock shipped out from home (luckily we didn't chuck it), fitted it and rode even worse terrain fully loaded through the likes of Mongolia and it hasn't had a single problem in the last four years.
So, instead of changing the entire rear shock, we went for uprated front and rear springs from K-Tech. K-Tech know what they're doing and their components are excellent, so we'll go with beefier springs instead.
The new springs are 20% (front) and 25% (rear) stiffer and 10mm longer so we can apply the correct preload to get the right sag figures.
So, in short, for everyday light road and trail riding, your stock suspension is probably fine. If you want a far better ride, go for a new rear shock. For round the world travel, consider swapping the springs. 
Lowering link
The Honda CRF300L's standard seat height is a whopping 880mm (the Rally is 5mm taller). Alissa is 5,4" and the standard height is just too tall, even on tip toes.
So, we decided to fit a Kouba Link lowering link to Alissa's bike, which dropped the seat by 44.5mm and has made a huge difference to her ride height and comfort.
There are other options here if you don't want to insert a lowering link. You could go for lower rear shock unit or a lower seat. But we have found this option effective. You will most likely need to change the side stand for a shorter one if you lower the bike and potentially drop the front forks – although we haven't dropped them yet.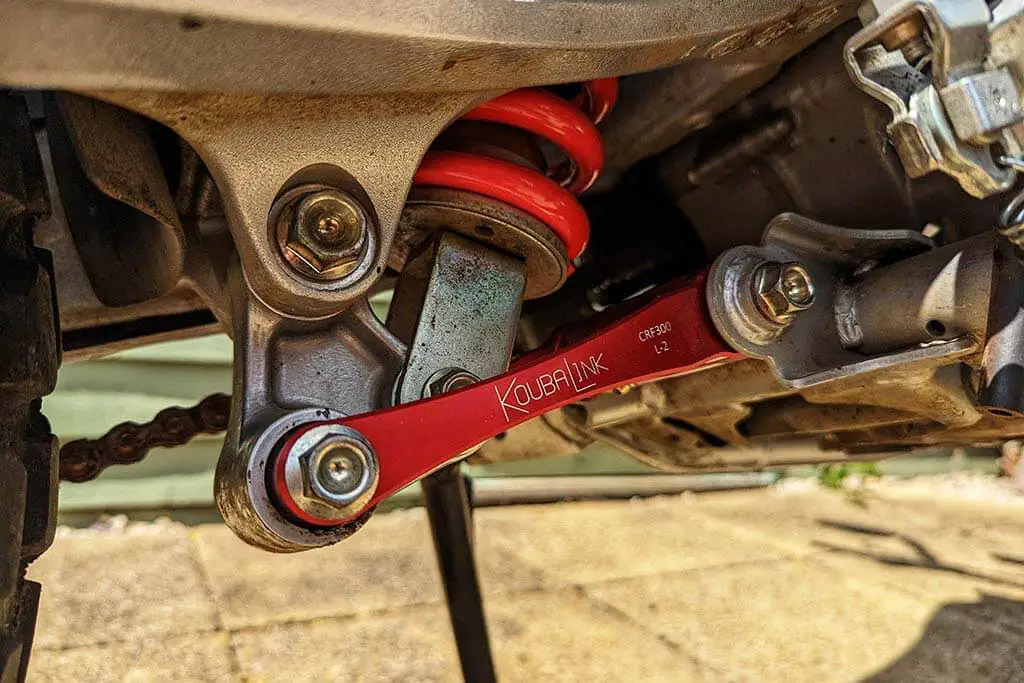 Foot pegs
Wide and grippy foot pegs are important for off-road bikes for comfort when standing and so your boots don't slip off the pegs when the riding gets wet or muddy. The CRF's standard pegs aren't particularly wide or grippy, so we swapped these out immediately.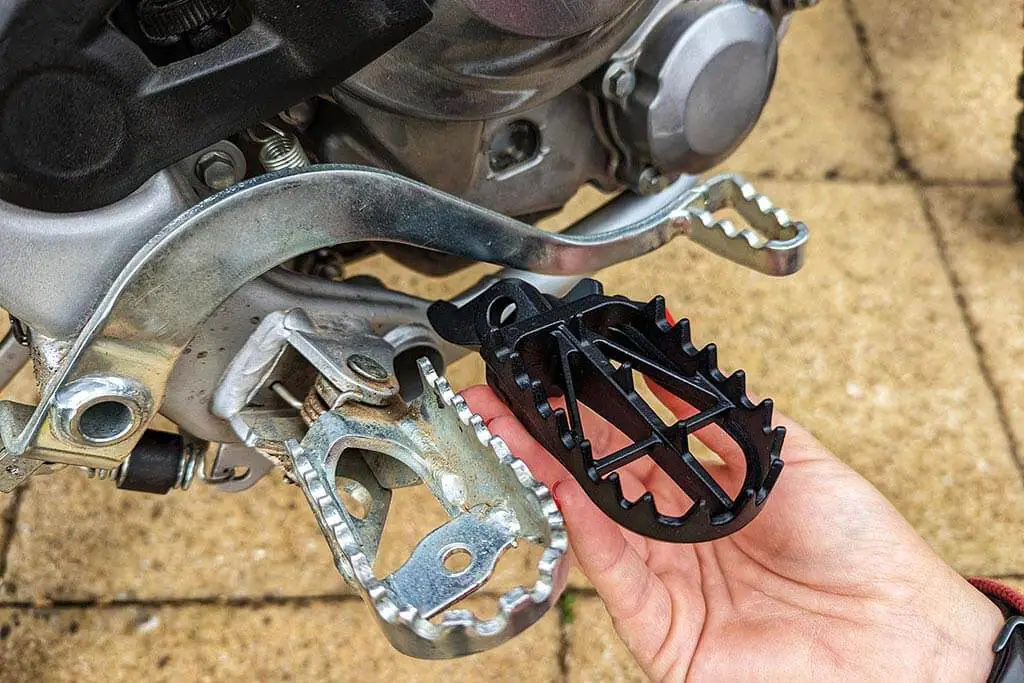 Tyres
We have been running Continental TKC80 tyres for the last ten years. We started our travels on TKC80s and found them to be a great off-road rubber and good on road too. We changed the OEM rubber for these and fitted heavy duty Continental inner tubes too.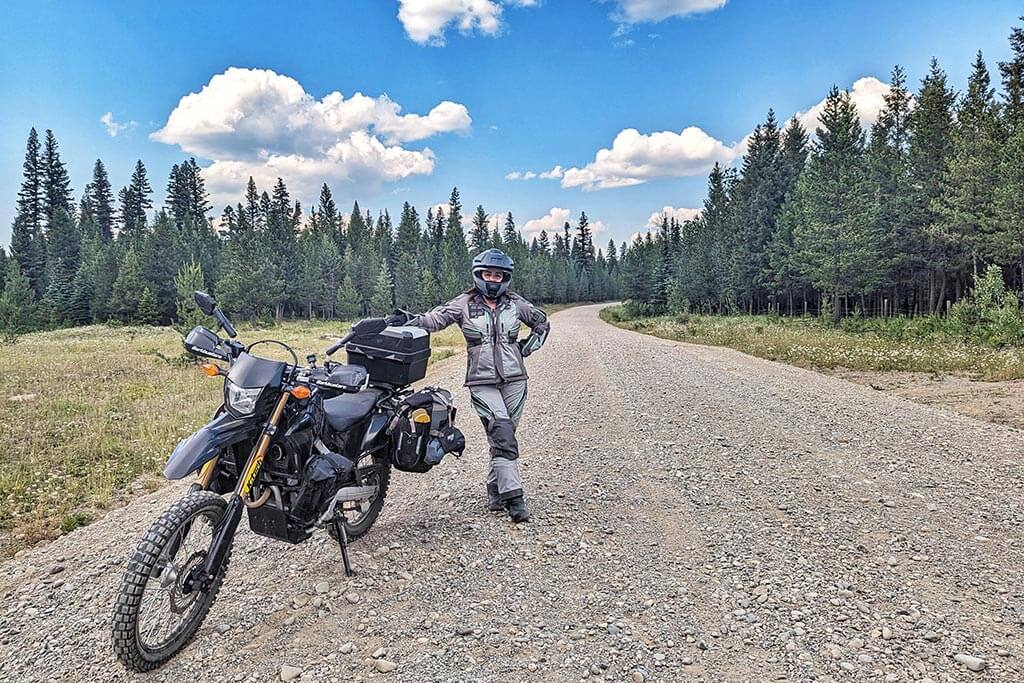 Crash bars
We fitted crash bars from Outback Motortek to the Honda CRF300Ls. These protect the fuel tank, radiator and coolant reservoir. We also tie our Lomo crash bar bags onto them which is handy for redistributing weight and also having easy access to snacks and other items up front.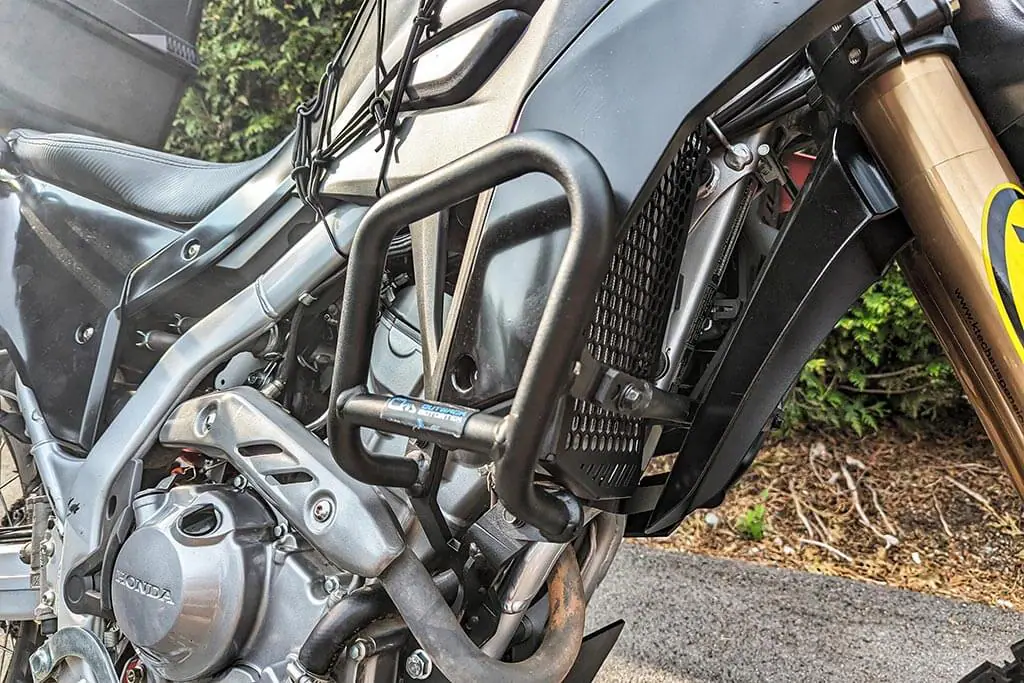 Bash plate
A bash plate (aka. sump guard or skid plate) is one of the most important protection accessories you can get to protect the vulnerable oil pan underneath your motorcycle. This is especially important if your bike is weighed down by luggage and you're riding off-road. We went for Outback Motortek's plate. It's 4mm aluminium, so it's light (1.6kg) but strong – and comes in black.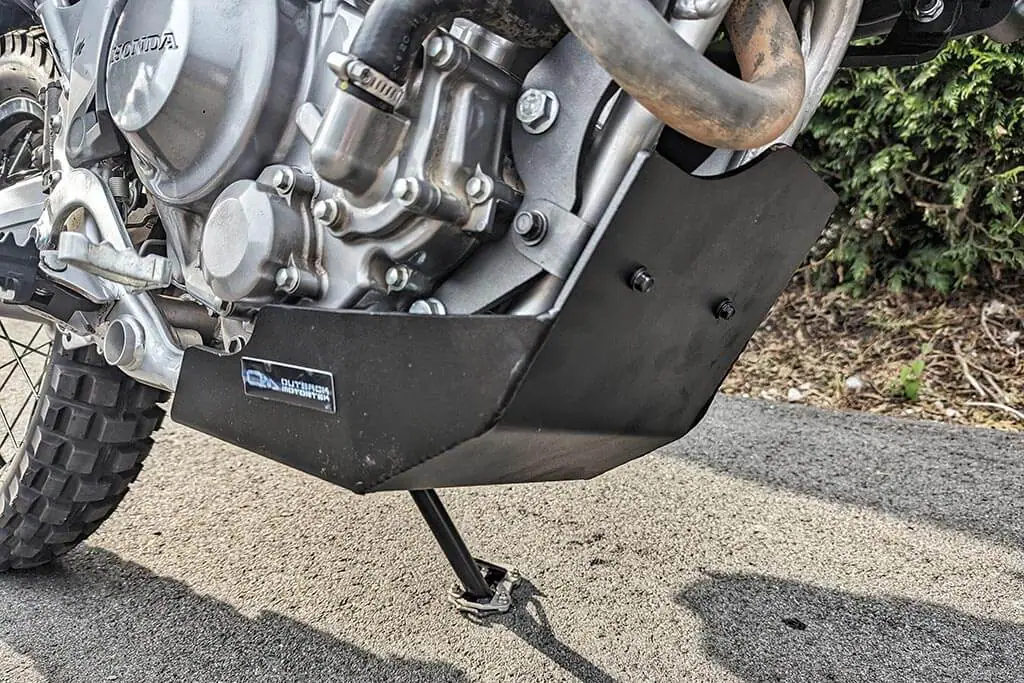 Barkbusters
I've fitted Barkbusters hand guards to all my bikes for as long as I can remember. I wouldn't trust other handguards. The Australian company design and produce exceptionally well-made guards that protect your hands and levers in a fall. And they also protect your hands from the elements on cold rides too. They're simple and easy to fit and you can buy a set specific for the OEM CRF bars or a set made to attach to whatever bars you run.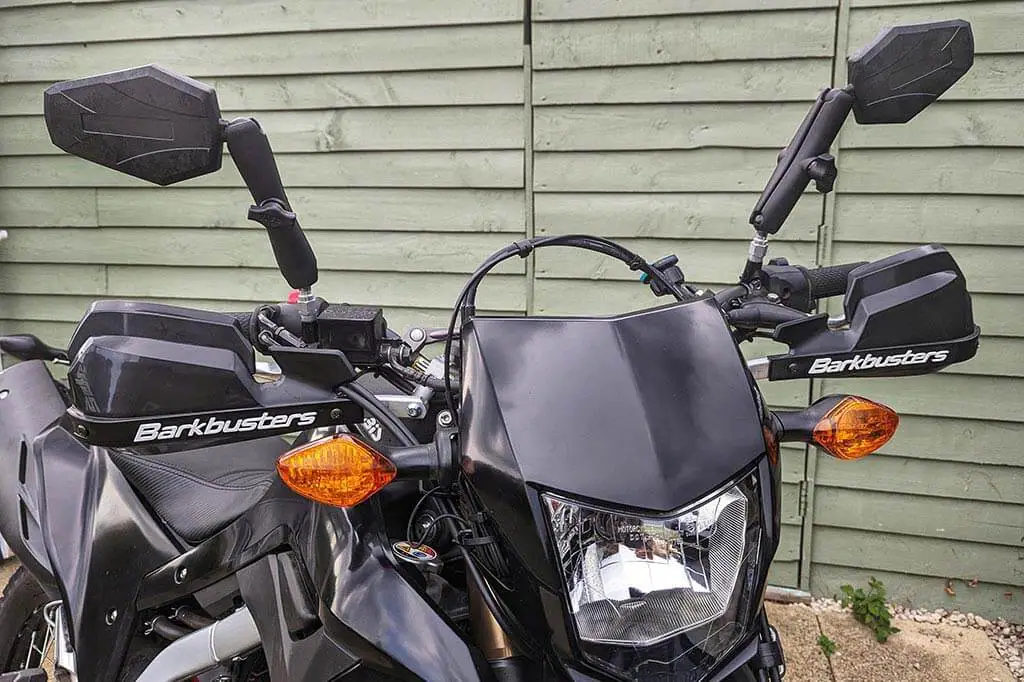 Radiator brace
The CRF300L's radiator is exposed and I don't fancy the radiator's chances if the bike is dropped. As standard, there's a flimsy piece of plastic over the rad to guard against rocks and stones. So, we went for SRC's 2mm thick stainless steel guard instead. It bolts to the frame so adds rigidity and will properly protect the vulnerable radiator against rocks.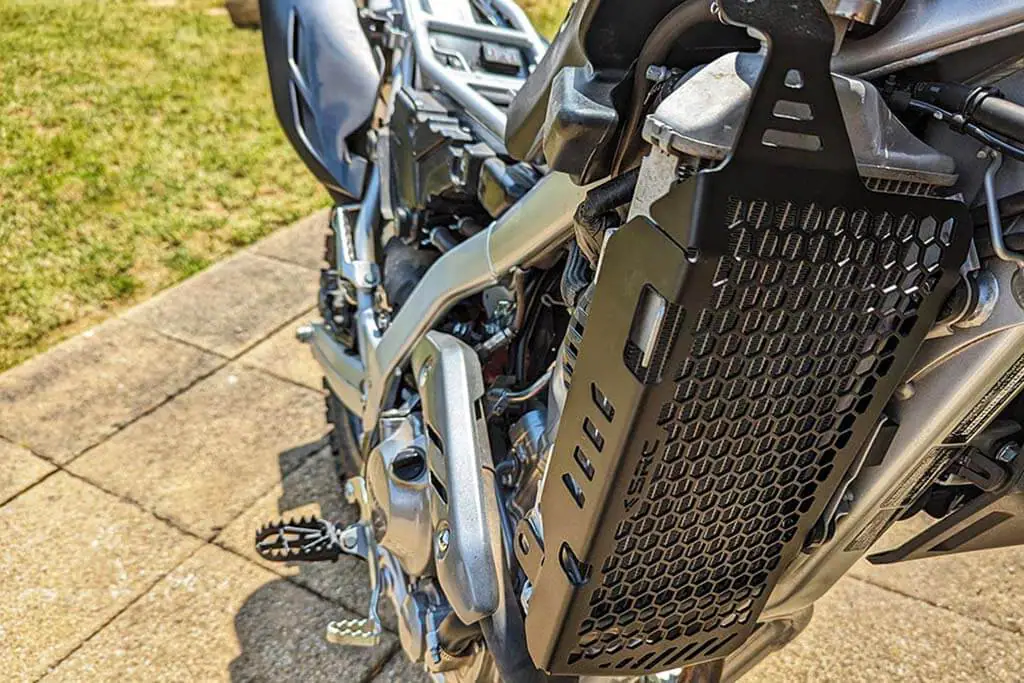 Crash protection extras
Here are a few additional modifications you can make to improve the Honda CRF300L's crash protection.
Collapsible gear lever – the CRF comes with a foldable gear lever, but you can opt for a tougher and better designed option.
Short hand levers – Shorter hand levers are easier to ride with off-road and also reduce the chances of breaking in a drop.
Frame protectors – the paint on the CRF's frame is terrible and scuffs immediately. You may want to protect it with simple frame protectors.
Headlight protector – If you ride with others and sit up close behind them off-road, you may want to protect your headlight with a grill guard.  
Fork protectors – rubber or neoprene gaiters can be slipped over your forks to protect the fork seals from dirt.
Luggage is a tricky one when it comes to small capacity motorcycles. It's all about being as light as possible, keeping the weight low and evenly distributed. And these 300s don't particularly like weight over the rear.
The CRF300L lends itself quite well to a rackless pannier system. The Mosko Moto Reckless 80 (or the smaller variant of Reckless 40) is a popular choice for this bike. There's no need for a heavy rack and the weight of luggage is kept tight to the bike.
It all depends on what you want to use your CRF for. If you're travelling long distances and are going to be off-road a lot, then a rackless system might be for you. Shorter trips could just use a tail bag system or even a strapped down duffle bag.
In our case, for a long distance round the world trip, we always prefer panniers as they're easier to live out of. That means we need a rack and the system will be heavier. But, we value its function over weight saving and style. For all our luggage guides and articles, check out the below link.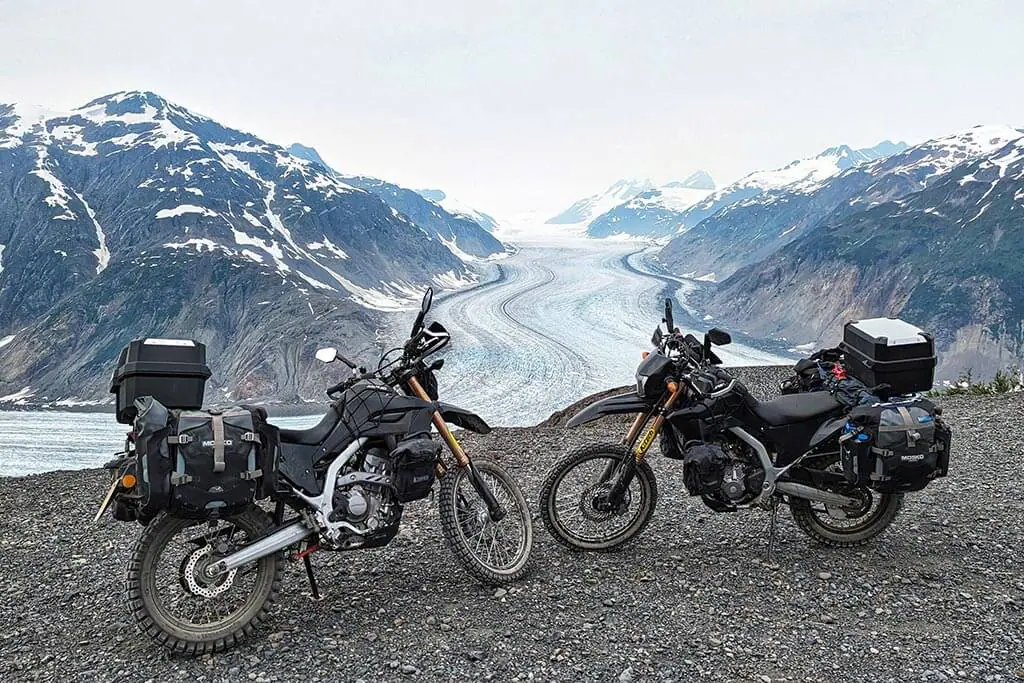 Panniers
We opted for the Mosko Moto Back Country 35L panniers for our Honda CRF300Ls. Incredibly tough, exceptionally well-made, waterproof and can be easily removed from the bikes with a lockable backing plate. They also having a locking bar on the top of the bag, so we can run a security cable through there, deterring opportunistic thieves from being able to open our bags. The attachable side holsters are incredibly handy too.
Again, there are a number of options out there for soft panniers, it depends what you're after and how much you want and need to carry.
Pannier rack
This was an easy choice. Outback Motortek produce bomb proof equipment. Their X-Rack for the CRF300L also works in combination with Mosko Moto's Back Country pannier system and can also fit a spare fuel cannister to the inside of the pannier frame.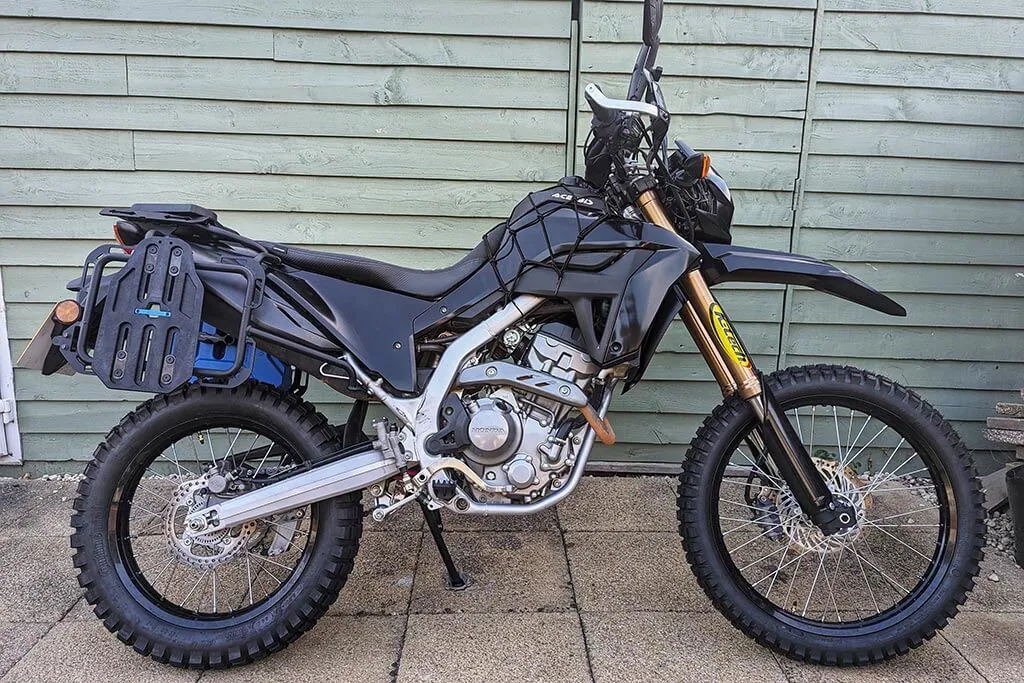 Luggage rack
Outback Motortek's luggage rack fits with their pannier system. Having a rear rack makes it easier and safer to strap luggage to the rear of your machine. In our case, we used the luggage rack to attach top boxes, but if you're using a duffle bag you'll find it easier with a flat rack like this to attach your gear. 
Top box
We decided to add a lightweight plastic top box to each bike. The top box is from Honda, is ultra-lightweight, made of plastic and locks using the ignition key.
A top box is usually a big no on small bikes (because they tend to look awful and because of the weight over the rear) but it's function over style when it comes to travelling. Having a top box makes life so much easier on the road for us.
Outback Motortek say they don't recommend adding a top box to their luggage rack as maximum total weight is 8kg. However, each box only has 2-3kg in it. We always leave our bike to go off walking or exploring and having a lockable box makes it easier. Plus, we can pop our helmets in there too.
To attach the top box, we simply drilled a few extra holes in the Outback luggage rack and bolted it all together.
If you're not carrying valuables like laptops, camera equipment and bike paperwork, then this may not be necessary for you and a duffle and pair of Rok Straps would be the better choice.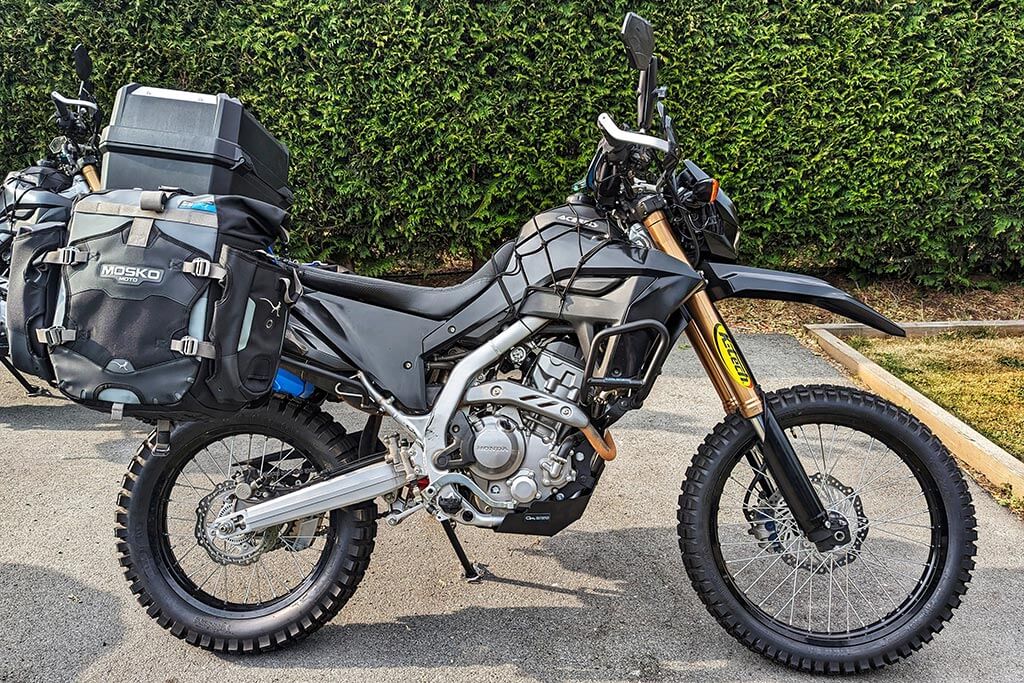 Handlebar bag
A handlebar bag comes in very handy. Quick and easy access to spare change, sunglasses, sanitiser, tissues, toll tickets, a pen etc.
Crash bar bags
We always have two small (5L) bags strapped to our crash bars and have used Lomo bags for years. These bags carry non-valuable items and things we often need quick access to, like food, snacks, waterproofs, spare gloves etc. They help redistribute weight too.
Luggage extras
Here are some more luggage options.
Tool box – on our XT, we bolted an old army ammo box to the bash plate, which held our tools. But we don't think that idea will work well on the CRF. Another thing we did on the XT was make a gutter tube for oils and spares. This seems like a better idea for the CRFs, but one we haven't gotten round to yet.
If you decide to go for the Outback Motortek pannier racks and don't need or want to carry an extra fuel or water cannister, you can buy a lockable tool box which will bolt to the inside of the rack.
Tank bag – tank bags are incredibly convenient for any type of motorcycle trip. Easy access to items and a safe place to store your valuables so you can whip the bag off and take it with you.
Honda released the CRF300L with two colour options: red and white or grey and orange. Grey is too dull for our liking and red is too flashy.
Unfortunately, nobody makes aftermarket plastics for the CRFs – yet. So, we opted to paint our bikes black for two reasons.
Firstly, because it looks cool. And secondly, because we ride our bikes around the world, we don't want to look 'flash'. Riding through poorer areas on a flash looking machine just doesn't sit right with us. Plain black, simple and inconspicuous and doesn't attract attention. And also, the bikes don't look as attractive to thieves.
We had our bikes painted by our local vehicle body shop in Berkshire, UK and they did a brilliant job.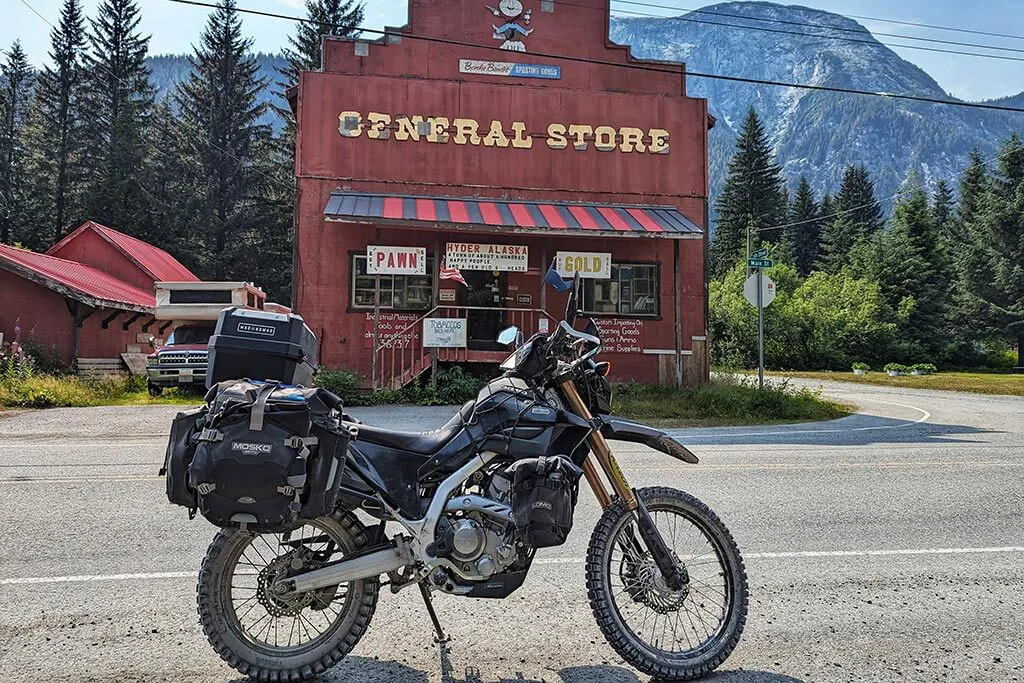 Read more on adventure motorcycles
Thanks for checking out the Ultimate Honda CRF300L Adventure Bike Guide. We hope you enjoyed it! Here's a few more articles on adventure motorcycles that we recommend you read next. 
ps. We may receive a small commission, at absolutely no cost to you, if you purchase any products using the links on this page. We're not sponsored by anyone, are completely impartial and don't run ads. So this helps us keep the site running. Thank you for your support.
Are you prepping your Honda CRF300L adventure bike? Do you have any questions, tips or suggestions? Let us know in the comments below.