Welcome to the Ultimate Guide to MotoVlogging. This packed guide from Marc Travels explains what you need to know about setting up and creating your own motorcycle videos and channel. You'll find info on gear, equipment, planning, editing, content, top tips and so much more. If you want to start a motorcycle vlog on YouTube, start here…
The Ultimate Guide to Starting a MotoVlog
Welcome to the motovlogging guide. This article is for anyone considering making motorcycle videos on YouTube. It doesn't matter if you're just starting out and only want to make a few videos for fun or if it's something you want to take more seriously, you'll find plenty of info here on how to get going, what equipment to buy and my top tips that have helped me build my channel. Here we go!   
Vlogging is video blogging, and moto-vlogging is vlogging about motorcycles. Basically, it's just another form of film creation, but with shorter shorter videos based on stories told from a motorcyclist's perspective.
They can be on anything motorcycle related from travel to mechanics or niche biking subjects. There's something for everyone as us motorcycle enthusiasts can watch and talk about bikes all day long!
I only got into this field four years ago when I bought my Honda Dominator.
There are so many different approaches to making videos, but in my case, for the last two years I have lived and breathed YouTube. I love film making and dedicate most of my time to it. I want to get better at what I do and I've always been that way with everything I'm passionate about.
But, that's not to say you need to be all in to do it, nor do you need the best and latest equipment either. Anyone with a phone can make a start. I made my first European travel series with one action camera and edited it on my iPhone!
If you want to take it more seriously and make a living out of creating motorcycle videos for YouTube, then that's when you'll need to dedicate your whole life to it. It's the hardest job I've ever had.
So, the first thing to consider is what you want to get out of this journey. For me, I want to support myself and my family purely from making films and videos – and see the world while doing it.
Your reasons may be different, so to help you figure out where to start, how to setup your equipment and produce videos, here's what you need to know…
Preparing and Planning Your MotoVlogs
Target audience
You'll hear a lot of people saying 'figure out who your target audience is'. And while that might be good advice, why limit yourself? Target everyone! I want all of my videos to be enjoyable and entertaining for everyone watching. If I get bored for a single second, I'll re-edit. So don't worry too much about who your audience is, concentrate more on making great content than anyone would watch.
Do your own thing
I'm just a normal guy on an old motorcycle that literally anybody who wants to ride can afford. I don't do crazy stuff, instead it's the journey that matters to me. I love seeing things, going places and I don't mind the beaten path. I'm a tourist who shows people my point of view.
So, think about what you want to do and go from there. Don't worry about competition either. I don't believe in it. People just want to watch videos and can't get enough. There's more demand than supply. I personally love watching YouTube and watch all the YouTubers my viewers watch and more – literally anything. Each creator is inspiring and unique and that's what's so great about this platform. There's room for everybody.
Branding
I'm Marc and I travel – Marc Travels. Easy. Keep it simple and obvious and people will remember it. Everyone has social media already and it's very easy to setup a new account for your brand name.
As for websites, I just set mine up with WordPress, which is free. You can use drag and drop builders like Wix too if you prefer. But none of that really matters for YouTube though…
If you want to succeed on YouTube, just make the best videos you can and the algorithm will do the rest. Don't waste too much time on the other stuff. Think up a name and get started with your YouTube channel.
MotoVlogging Setup: Cameras, Gear and Equipment
MotoVlogging gear
Just like in the workshop, only buy the tools you need when you need them. It's the same with motovlogging.
It always depends on the purpose and what you're doing. I need small, lightweight gear that's easy to use and access, but at the same time, state-of-the-art. For example, not everyone will need a drone, but I do because it's important for my videos.
What's the best action camera for MotoVlogging?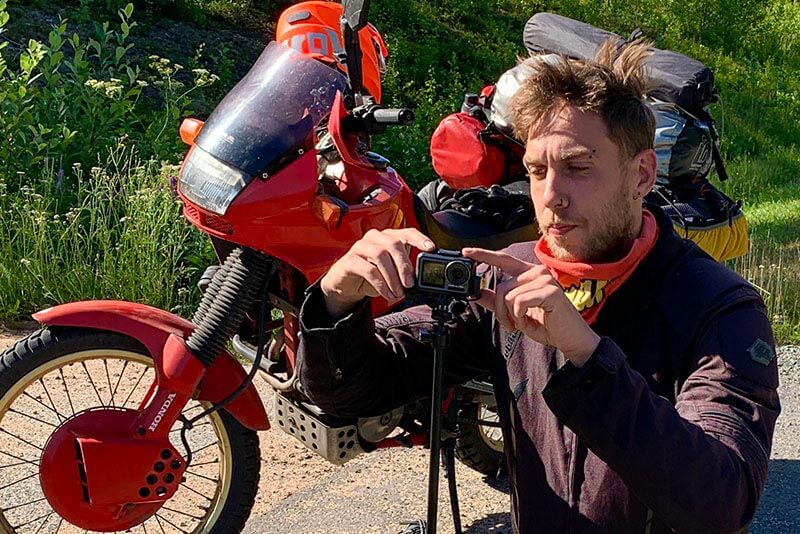 GoPro, DJI, Insta360: they all make great stuff. And I use all of their cameras as each have their own specific purposes in my videos. Choosing an action camera for motovlogging is a very personal decision because it completely depends on what you want to do with it. For example, I don't use a true 360 degree camera because I don't need it. I always know what I want to shoot and target that shot specifically, but other people swear by it.
Either way, it's great being a creator these days because the technology available is so advanced and gives you the freedom to be as creative as possible. And that's what really matters – not what gear you're using.
So, start with something basic or a camera you're comfortable using and as you progress and if you decide you need to upgrade, then do it then.
My favourite camera is my four year old DJI Osmo action camera – and I prefer that to any GoPro. I believe it's still the best action cam out there. But, as mentioned before, they're all good enough to film vlogs and it doesn't really matter which brand you go with.
MotoVlogging action camera recommendations
What's the best microphone for MotoVlogging? 
Choosing a microphone is incredibly important as your audience will want to hear what you have to say.
I record my audio separately and have a Zoom F2 recorder inside my helmet and a lav mic. Sony make very good lav mics, but then again, it's all personal preference.
Many motovloggers prefer to record audio straight from the cameras (GoPro audio adapter) as it saves time gluing audio and video together later in editing.
I separate my audio in post-production anyway as it's just the way I work. So for me, it's not a problem.
MotoVlogging microphone recommendations
Mounting gear and accessories
Helmet mount
A helmet mount is the most important mount for motovlogging. I prefer chin mounts, but others prefer their cameras attached to the side of their helmet – it's your call. I'd also recommend using Sugru moldable glue to keep it attached. Grip mounts are also a good option. 
Tripods
RAM mounts are great for handlebars and you can add additional mounts dependent on whatever is necessary for the type of video you want to create. If you only want to film your ride, then a helmet mount is enough. But if you want to vlog, then you will need a camera facing you so your audience can build a connection with you as a person. And that usually means buying a tripod.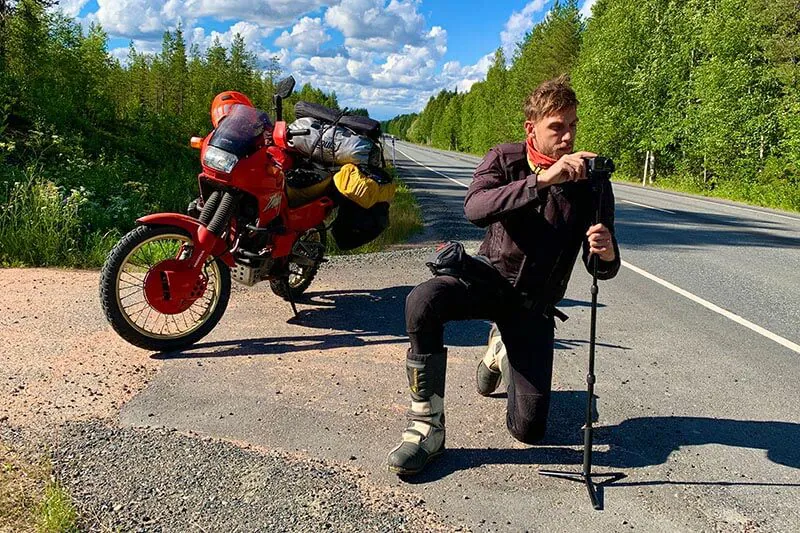 I can't carry a big tripod and I wouldn't need one anyway for my little cameras. So instead, I just carry a little tripod that fits in my leg bag. It's not very tall and is a little shaky, but it's easy and quick to access and setup. There are so many examples on Amazon and any of them will do.
MotoVlogging mount recommendations
How to Edit Your MotoVlog Videos
Camera settings
I shoot everything in 4K 25 fps PAL industry standard (24fps ntsc in US). I believe it's what looks most natural and nothing else looks as good in my eyes. Play around with your camera settings to get a feel for what you do and don't like.
Editing software
I recommend iMovie for beginners and Final Cut Pro or Adobe Premiere for advanced users. I personally edit all my videos on iPad with LumaFusion because I don't want to carry a big laptop.
Video length
There are plenty of YouTube tutorials out there explaining in great detail how to use and get the most out of the software you choose. So, go for one that you like the look off and get your teeth sunk into it.
It takes me 4-5 hours of editing for a one-day vlog episode (me travelling all day) just to give you an idea of the editing timeframe and process.
But YouTube has no rules on how long your video should be. My days are not interesting enough for more than an 8-12 min video. I get bored watching them myself if they're any longer! But there's loads of people out there who love watching 20-30 minute videos these days, so if that's what you want to do, go for it.
Editing tips
I'm a musician so of course I'm never going to produce a video without music on my channel. But some people don't like music, so it's completely up to you.
Also, I live for B-roll and find it the most fun to record like capturing stunning drone footage or awesome scenery and incidentals.
For storytelling, I try to create as many different scenes as I can to make it as interesting as possible.
You don't need to do all of this for vlogging, but I have been an artist my whole life, so the art of filming is what I am most interested in. For you it may be different and that's fine, it's whatever you're interested in creating as art is subjective and your personal expression.
Content, Tips and Advice for MotoVloggers
Content planning
There's no script if you vlog about your life. You shoot as you go. I never make anything up or trying to create certain situations, so everything is just as it is and a natural story will develop.
Of course, there's always ways to set a scene or to focus on certain things more than others, but that's the art of making a good and interesting vlog I guess. And if you do have a specific story you want to vlog about or for example are visiting a certain place with your bike and have a set story you want to tell (a video on a famous biking road for example) then you can easily plan how you want your story to look as a video.
How often should you vlog?
Upload as often as you can. If you want to be a YouTuber, you need to put in the work. One video a week is not going to get you very far quickly. At the moment, I try to upload daily or every other day while travelling. Of course, if I'm not travelling then that is much less.
As mentioned earlier, people want to watch as much as possible. And so you'll need to provide lots of content for your audience. But, at the end of the day you need to do what's workable for you and your lifestyle.
Content type
There's a saying: Story is always king! And the story is always king. As a film maker, that's all you should focus on, no matter if you make a motorcycle vlog, a movie, documentary or whatever you want people to watch. Nothing matters more than the story. Because if the story sucks, your video is not going to get views.
So, whatever I film or what cameras I use is all only to serve the story. In my case, the story starts with an idea during my travel day and mostly manifests in the edit. It's all about how you edit if there's no script like in a daily vlog.
And that can be very challenging, but that's one of the things I love about this. I want to make it interesting and hold my viewer's attention from start to finish. That's all I care about.
Making the perfect video
There is no perfect video. To learn how to make interesting videos you have to actually make the videos first and put them out there for the world to see. There are no short cuts. You will get better with every video – I promise! I'm growing creatively and as a filmmaker with every video I produce.
Your MotoVlogs on YouTube
This is the great thing about YouTube – and it's rather simple: make good videos and YouTube will show it to people. If people don't watch your videos, you're not there yet. But that's okay, you will get there eventually if you put in the work.
There's a lot of talk about what you can do with your videos to increase how well they're seen like with thumbnails etc. But I have literally no idea what works best for the YouTube algorithm. I experimented a lot with it, but found that the best answer is to just come up with a design, make sure the title fits the content and the thumbnail is intriguing.
Of course, social media posts will help too, but it's the hardest thing trying to make people go from one app to another so it's just easier to forget about that.
But make sure when people do interact with you on YouTube that you reply. I try to reply to every comment and will do so for as long as I can keep it up because I enjoy the interaction.
All that matters for YouTube is YouTube, so I study YouTube and try to make good videos. The rest will come.
Making money as a MotoVlogger on YouTube
This is an often-asked question, but the answer is that it's 100% different for every YouTuber. Everybody makes a different amount per view or video. And it changes all the time too dependent on what type of content you create.
The best advice I can give here is that if you want to do it for the money – then don't! Just get any other job. You'll make more money, faster and with way less effort. My "workdays" when I'm out travelling, filming and editing are 18 hours! Not kidding! If you don't absolutely love it, you won't do it for very long.
Even with 40K subscribers, I wouldn't quit my day job just yet.
Be yourself
Be yourself. If you try anything else, you have already lost. You have got to live and breathe what you're doing in your videos – whatever it is, otherwise you won't be doing it for long. I film what I want to see and make videos I enjoy watching. If you do what you love, there will always be people that love you for it. The ones that don't? Well, they won't like you any better for doing what they want.
Your turn…
Take your iPhone out or put a camera on your helmet, film something, put it on YouTube and just see what happens. If you like it, film another one, and another…
It's the same for every creator and most things in life – just make a start. You'll never know where it leads until you give it a go.
Marc Travels
As the world was put into crisis mode in 2020, it became impossible for me to
continue working as a professional musician. I've been a musician for over 15 years now, but since all the tours and concerts have been cancelled I decided to get a motorcycle and ride off into the sunset – quite literally.
With a camera, a YouTube channel and a lot of passion for filmmaking and travel, within two years I managed to create a new life where I can work as a motorcycle vlogger and support myself with this new found passion and have big adventures ahead of me.
Follow Marc's adventures and check out his awesome videos here:
ps. We may receive a small commission, at absolutely no cost to you, if you purchase any products using the links on this page. We're not sponsored by anyone, are completely impartial and don't run ads. So this helps us keep the site running. Thank you for your support.
Read more on motorcycle photography and videography
Thanks for checking out the Ultimate Guide to MotoVlogging. We hope you enjoyed it! Here's a few more articles that we recommend you read next. 
Are you planning on creating motorcycle videos or getting into MotoVlogging? We'd love to hear from you! Let us know in the comments below.