Kazbegi (Stepantsminda) is home to the picture postcard Gergeti Trinity Church and some of the best hiking trails in Georgia. Explore glaciers, waterfalls and even summit Mount Kazbegi – if you're up for the challenge. This guide will show you how to do it all.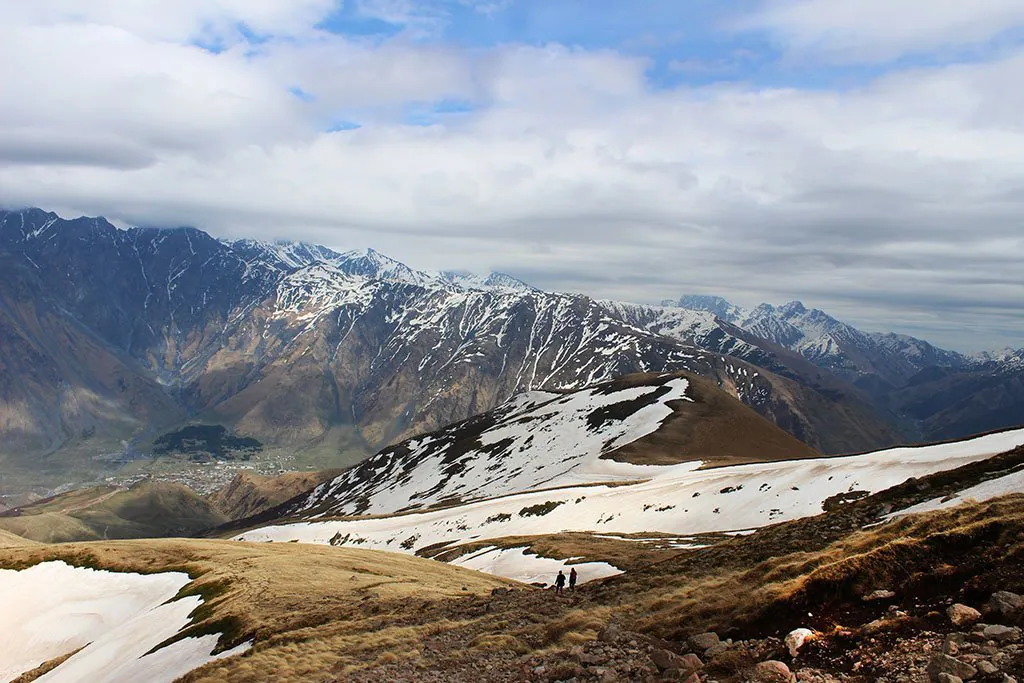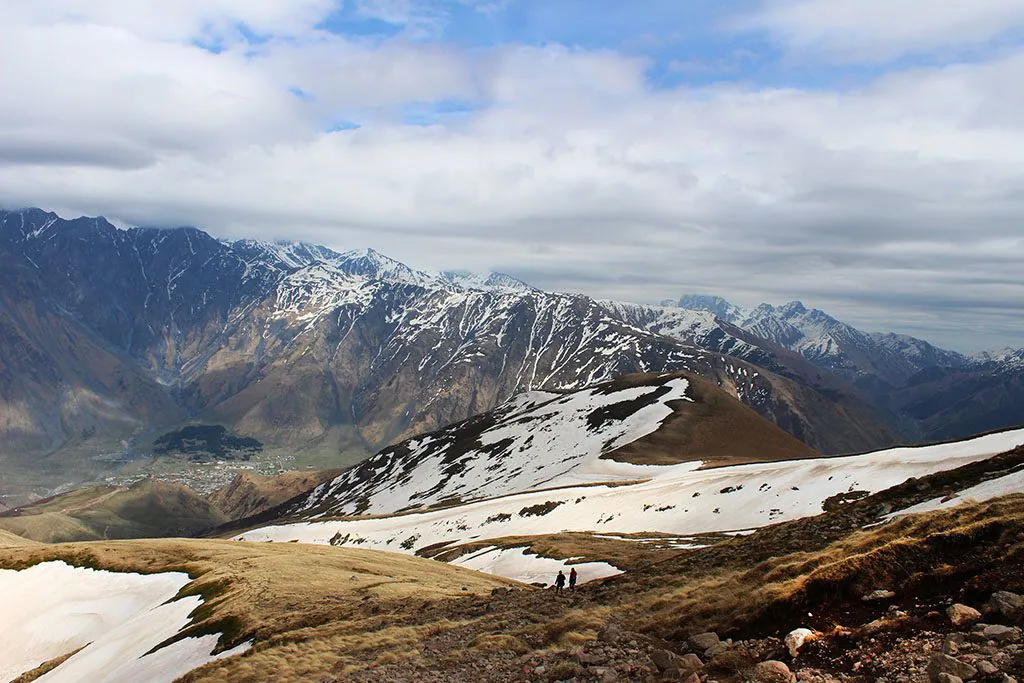 The number one reason people visit Kazbegi is to check out the Gergeti Holy Trinity Church, perched high up on a mountain overlooking Stepantsminda. People make the trip from Tbilisi just for it and then leave the next day. But they're missing out! There's so much to see in Kazbegi and a bunch of hidden gems too. Whatever you want to do there – pack your hiking boots and read on for all the info you'll need.
What you'll find in this guide
Top 5 Things To Do in Kazbegi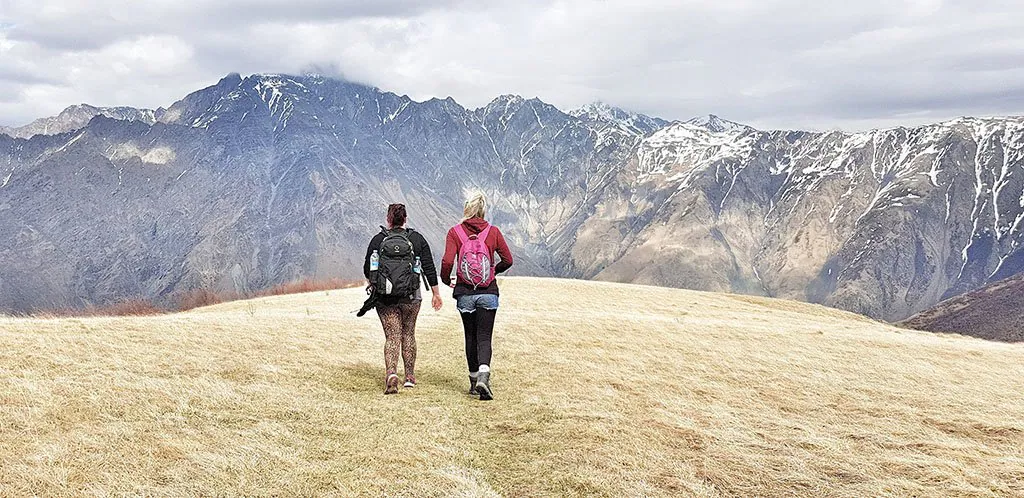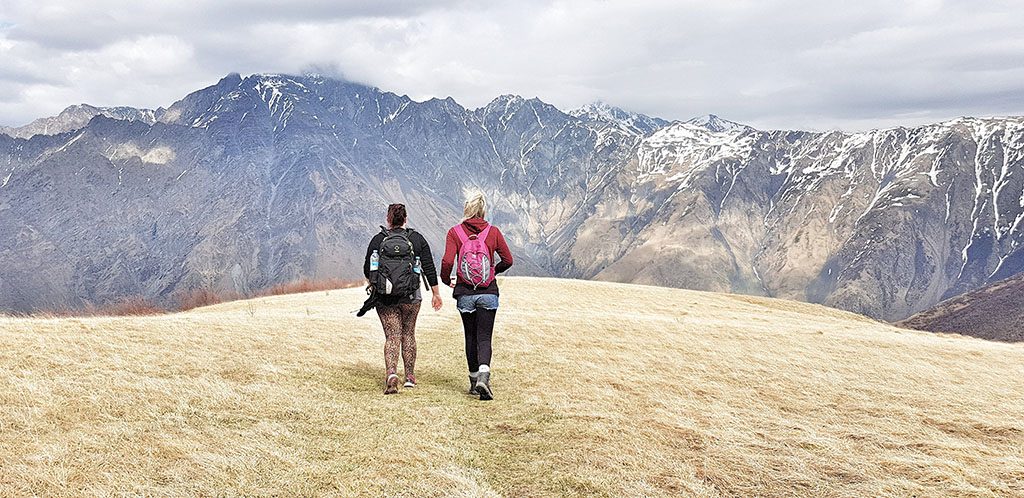 The Gergeti Holy Trinity Church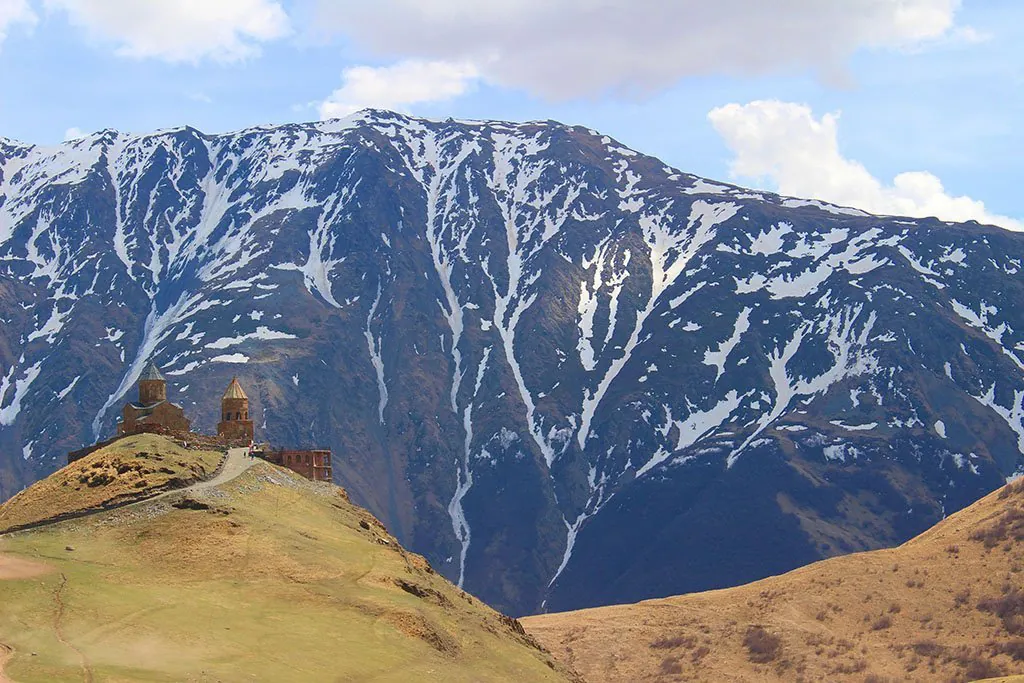 Let's face it, the Holy Trinity Church is one of the best photo ops in Georgia, hence the masses of tourists ploughing in to snap a pic. And to be fair, it is a pretty epic shot and one of the most famous landmarks in Georgia.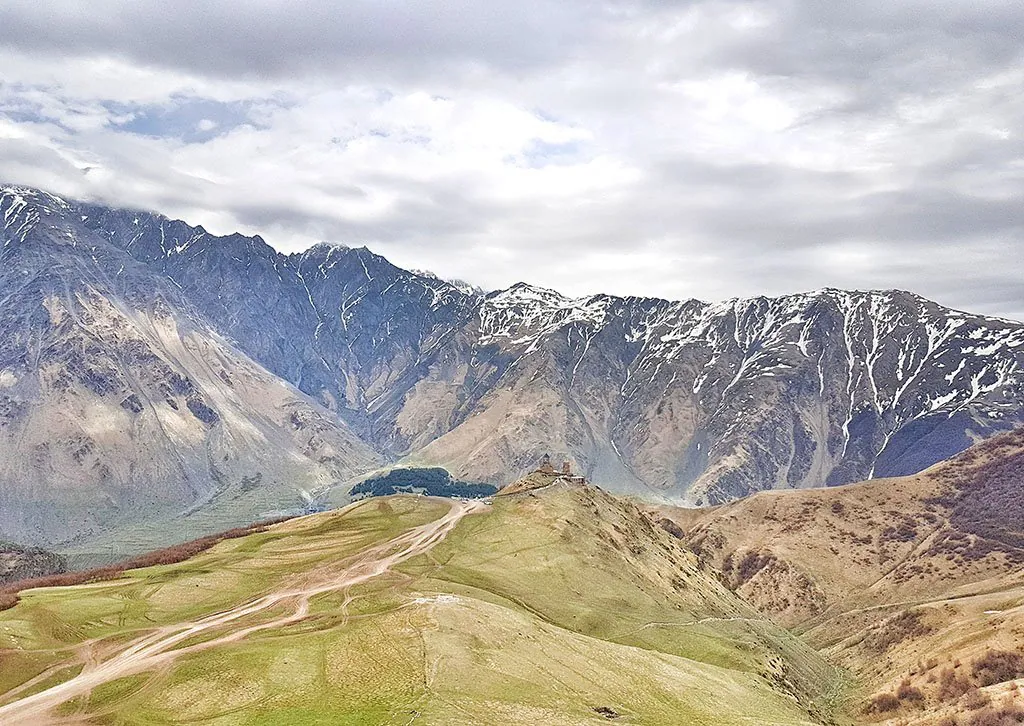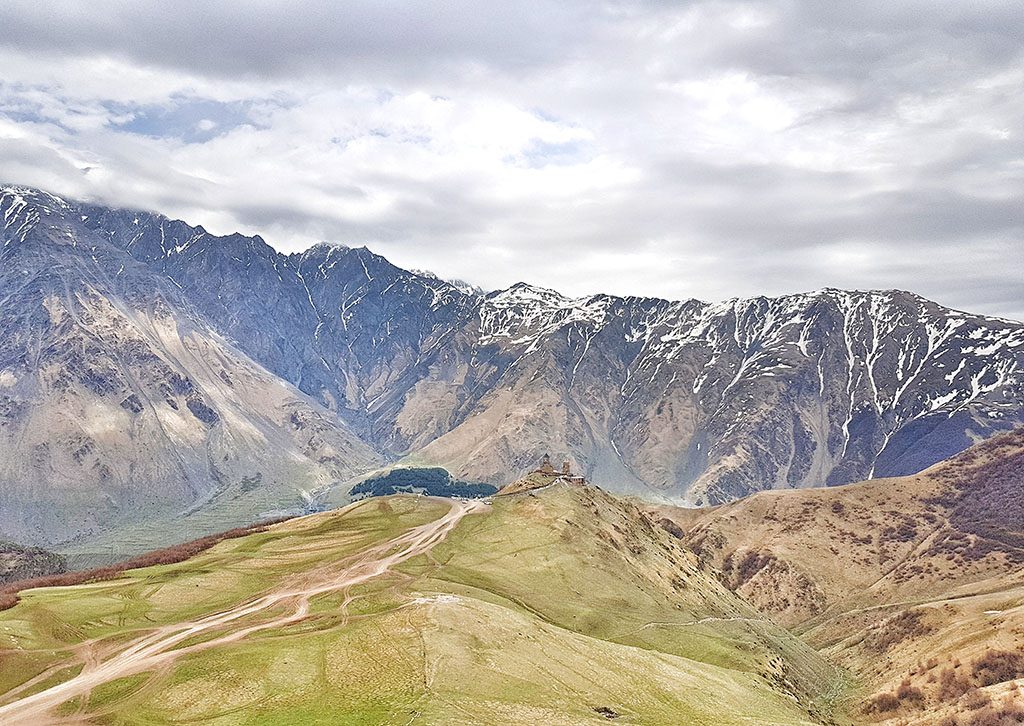 A bit of background on it first though; it sits at 2170m, was built in the 14th century and used to safely store artificats in times of conflict. The church is in use but was being repaired at the time I visited so didn't get to check it out inside. Keep in mind that men and women should wear long trousers and cover up if they want to step inside the church.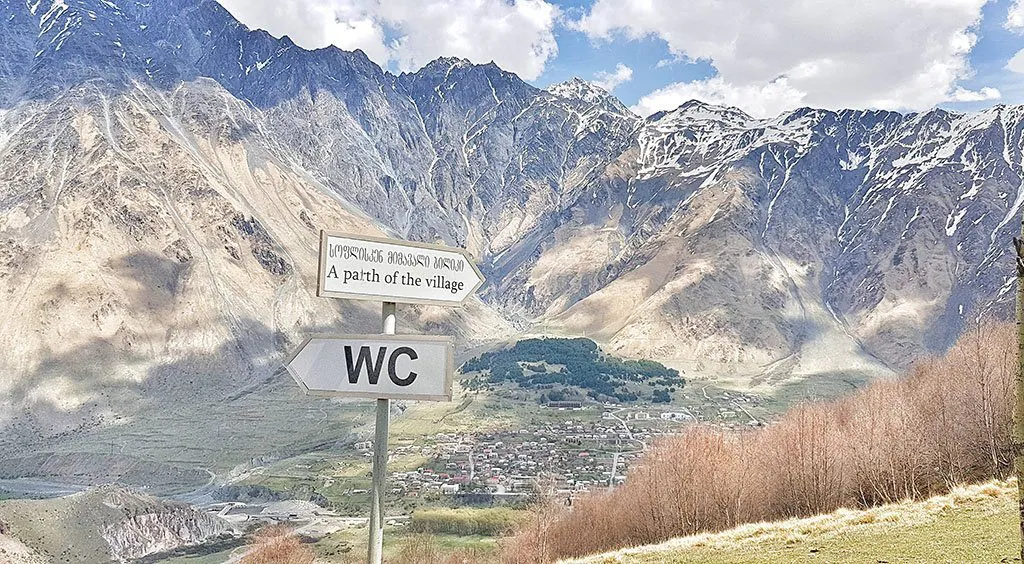 There's a free water fountain next to the church and usually a little van with a sweet lady serving cheap hot dogs and cans of Coke. There are also working toilets at the top and a church gift shop. If you've walked up and don't fancy the hike back then, so long as you're not too late in the day, you can pay the taxi drivers up there about £2 to take you back down.
How to get to the Gergeti Holy Trinity Church
Taxi
You have two options – walk or taxi. If you take the taxi you're in for a bumpy ride in a jacked-up Daihatsu minivan. It's very bumpy but they should get you there in about 20 minutes and it'll cost around 40GEL for four people. The taxi driver will wait for you while you explore the church and take you back after. If they're taking you back they will add 10GEL for waiting and the return fare. Getting one of these minivans is easy peasy; they line the main square waiting for customers.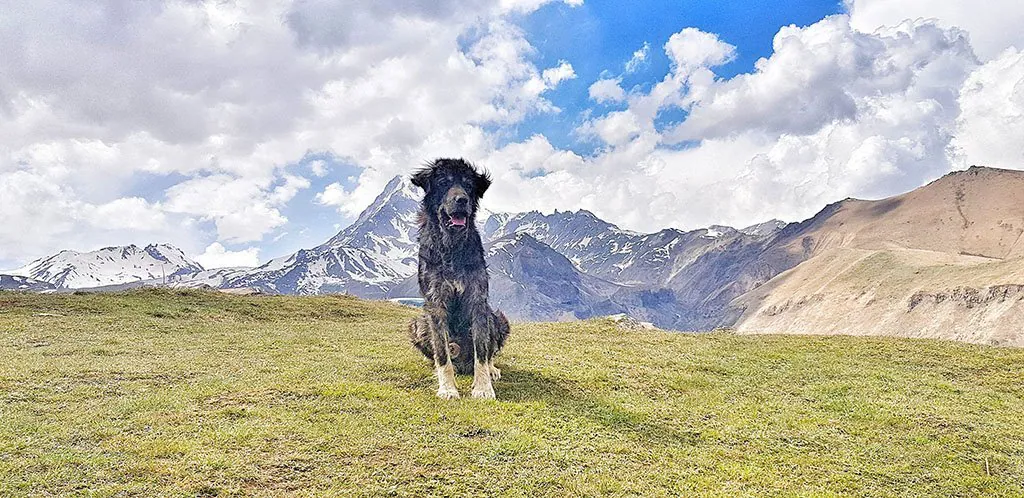 Walk
If you're going to walk then there three routes up. Having walked all three, the one I'd recommend is the far-left route which takes you past the 'Tower'. As you approach the foot of the mountain you'll see a road to the far right (for the taxis), a path up the middle – heading straight for the top and another path which veers very far to the left, almost as if it's going in the wrong direction – that's your path.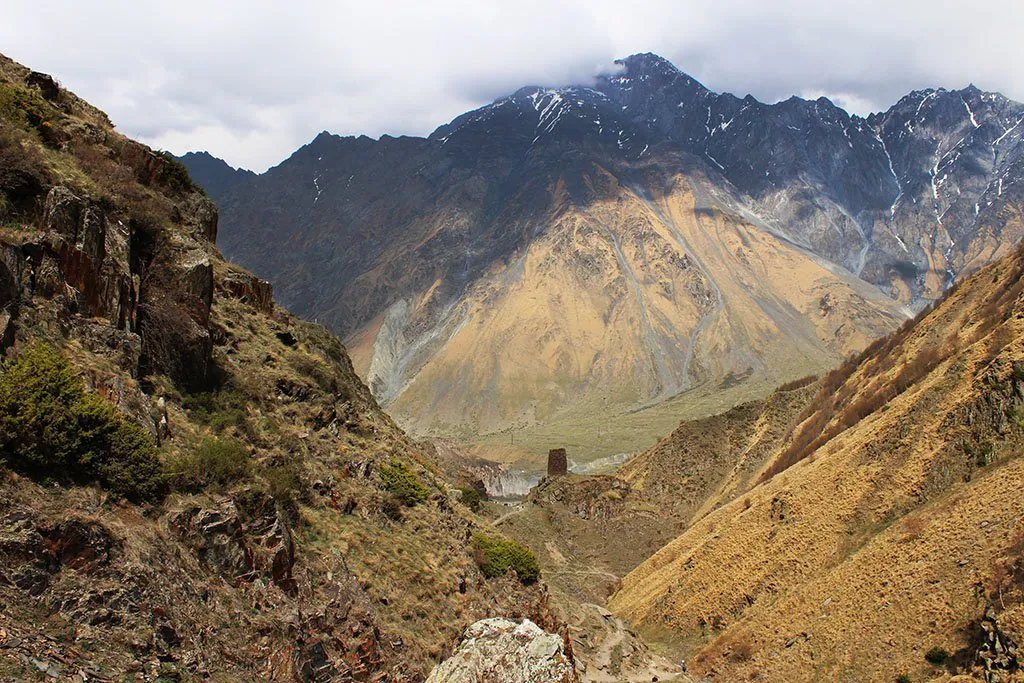 It's so, so much easier than the middle path, which is a torturously steep hike.
The left route is gentle, easy, picturesque and will take you about 45 minutes to get to the top. Just in case you're still not sure how to get to this path, check out the map below and save the way-point on Maps.Me or Google Maps. As you approach the little village and the foot of the mountain you'll see a little café called Gergeti Summer Café, that's the entrance to the path you want.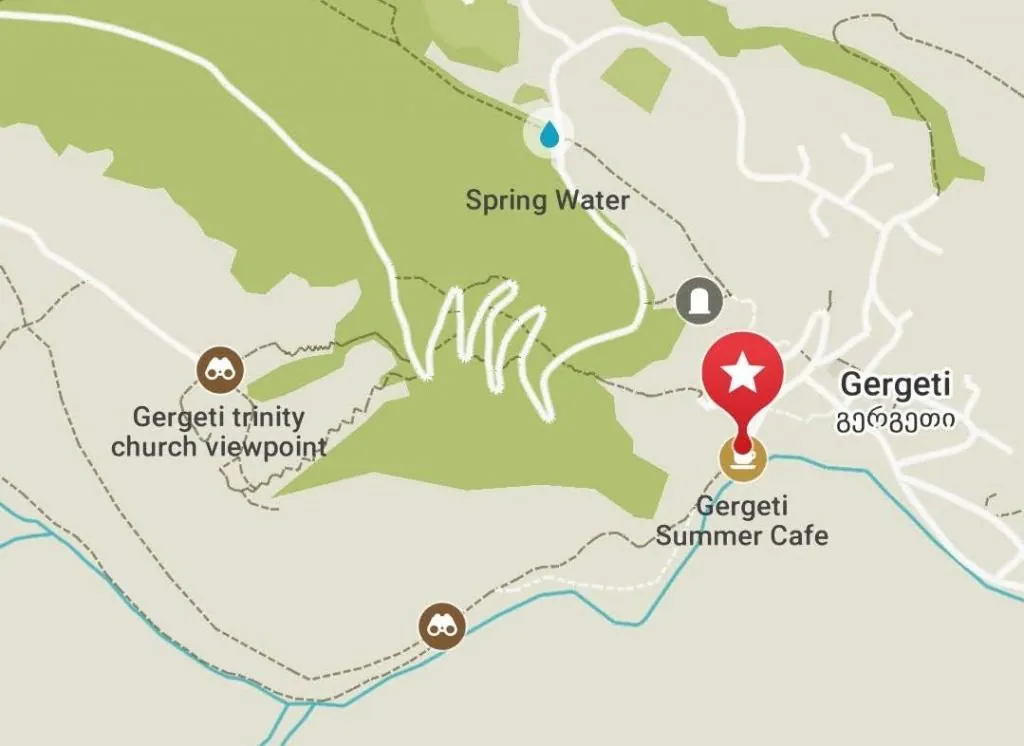 Make sure you head up as early as you can in the morning, by mid-day loads of little minivans will be parked up outside the church, ruining your hard earned shot!
The Hike to Zakagori Fortress and the abandoned villages
This is a really easy hike, it's long – but the terrain is easy peasy. Just make your way to the 'Mountain Freaks' HQ, which is located at the entrance to town. They have a daily minivan which will take you and bring you back for £9 (30GEL) – I'd be really surprised if you find someone cheaper. There is no charge for the actual hike, just for the minivan.
The minivan leaves everyday at 10am and will pick you up from the same place they drop you off at 4:30pm. Mountain Freaks bill this hike as 7 hours, but it's actually 6. Anyway, the only downside to this hike is that there's no loop, you have to walk out the same way you walked in.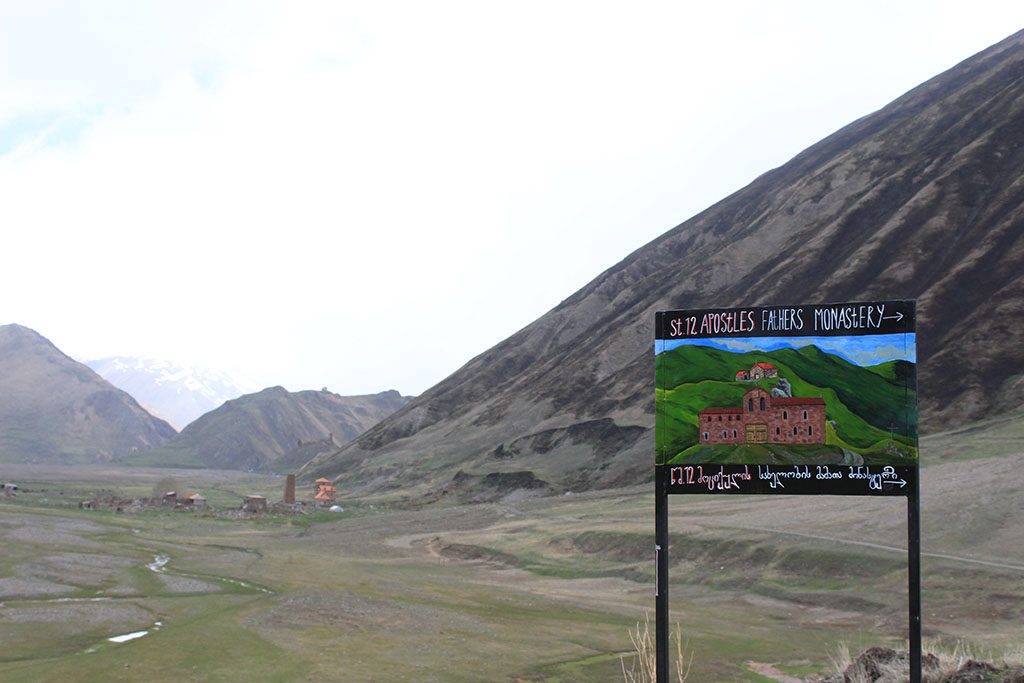 Other than that, the hike is very pretty, taking you past snowy white mountains, eerie abandoned villages, working monasteries and to the old Fortress. It is a long walk, so you will have to keep an eye on the time, it took us 3 hours to walk to the fortress, half an hour for lunch and 2.5 hours back.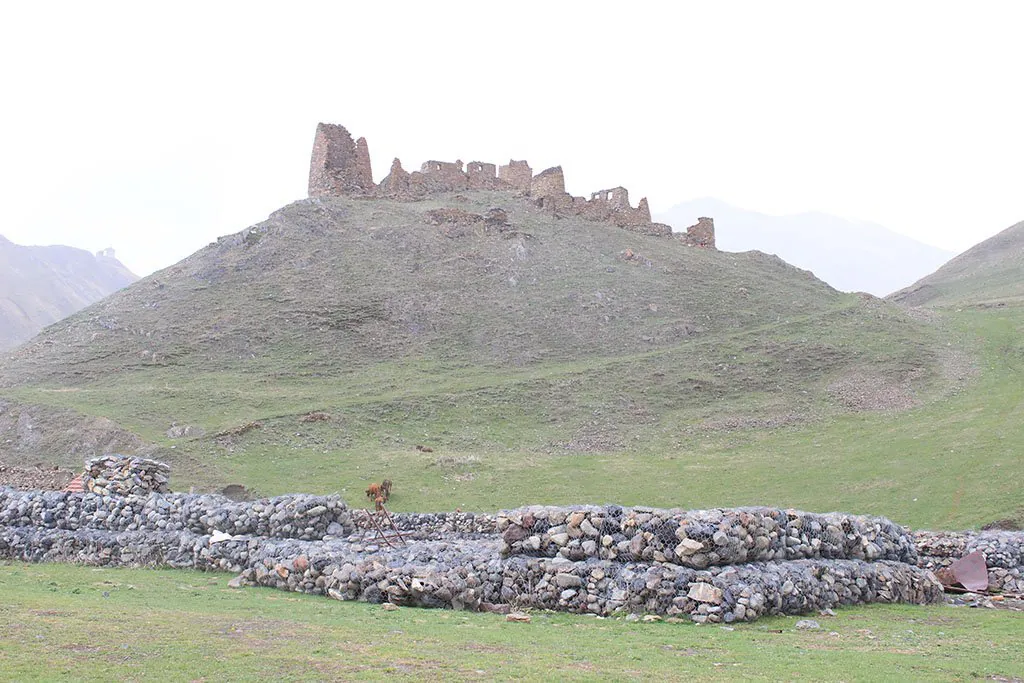 Keep in mind that there are no food or water stops along the way, so bring your own, and a rain jacket as the weather can quickly turn.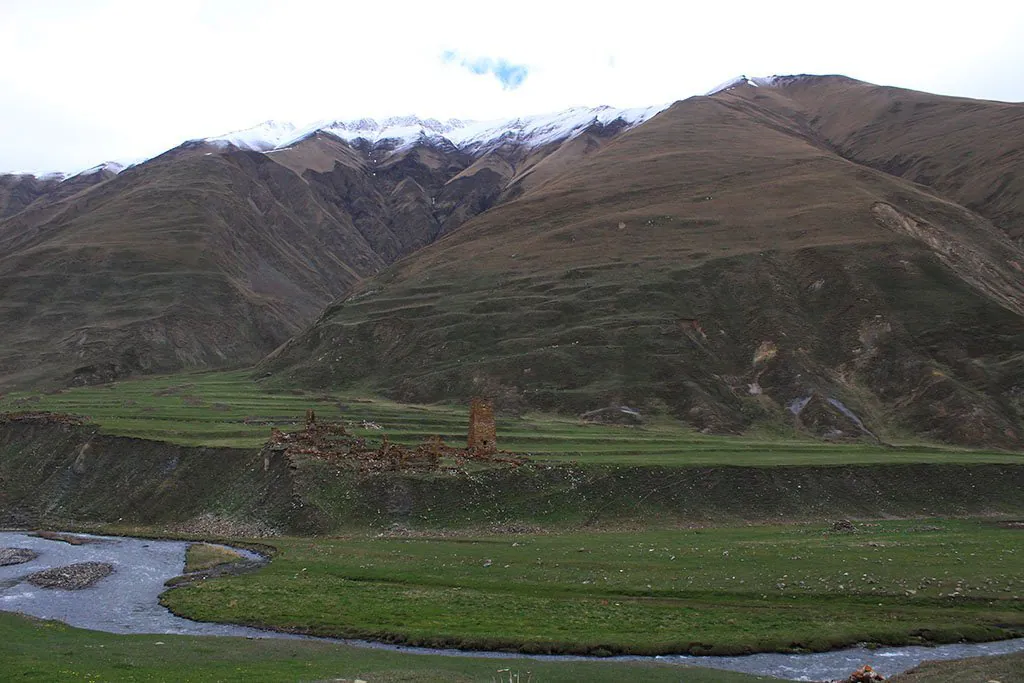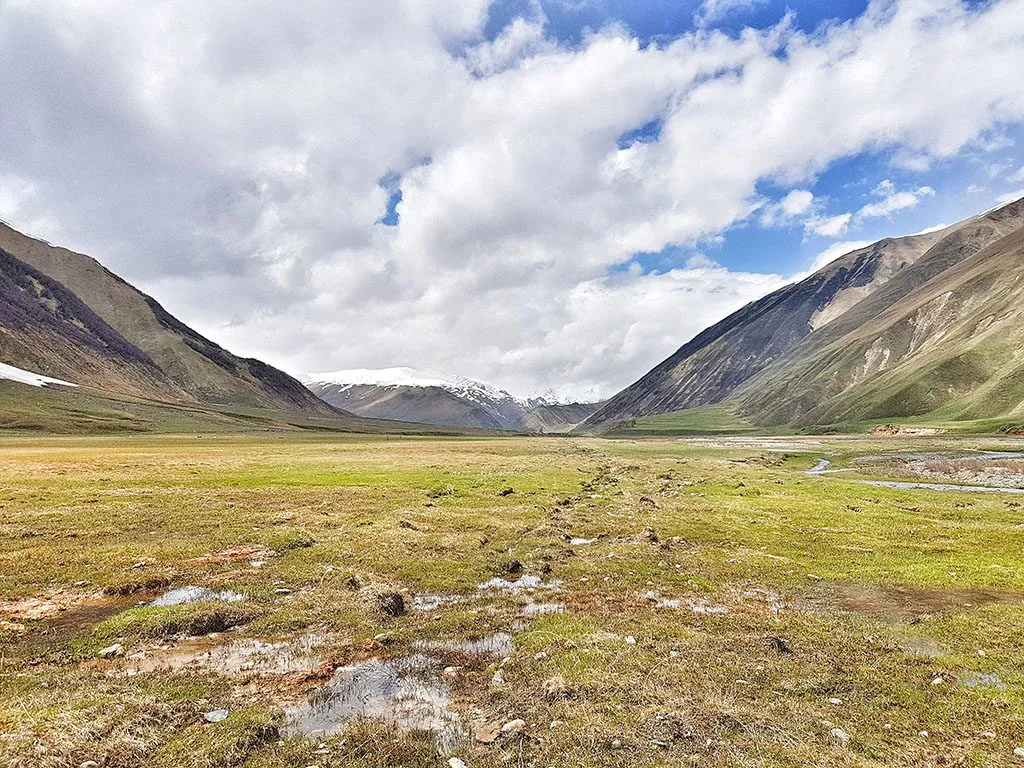 The Kazbegi Waterfall Hike
This isn't so much a hike as it is a gentle climb. The waterfalls are too far away from Kazbegi to walk, so you'll need to hire a taxi to take you there and wait for you to finish. A taxi should cost you £15 (50 GEL) (for three people) including the waiting.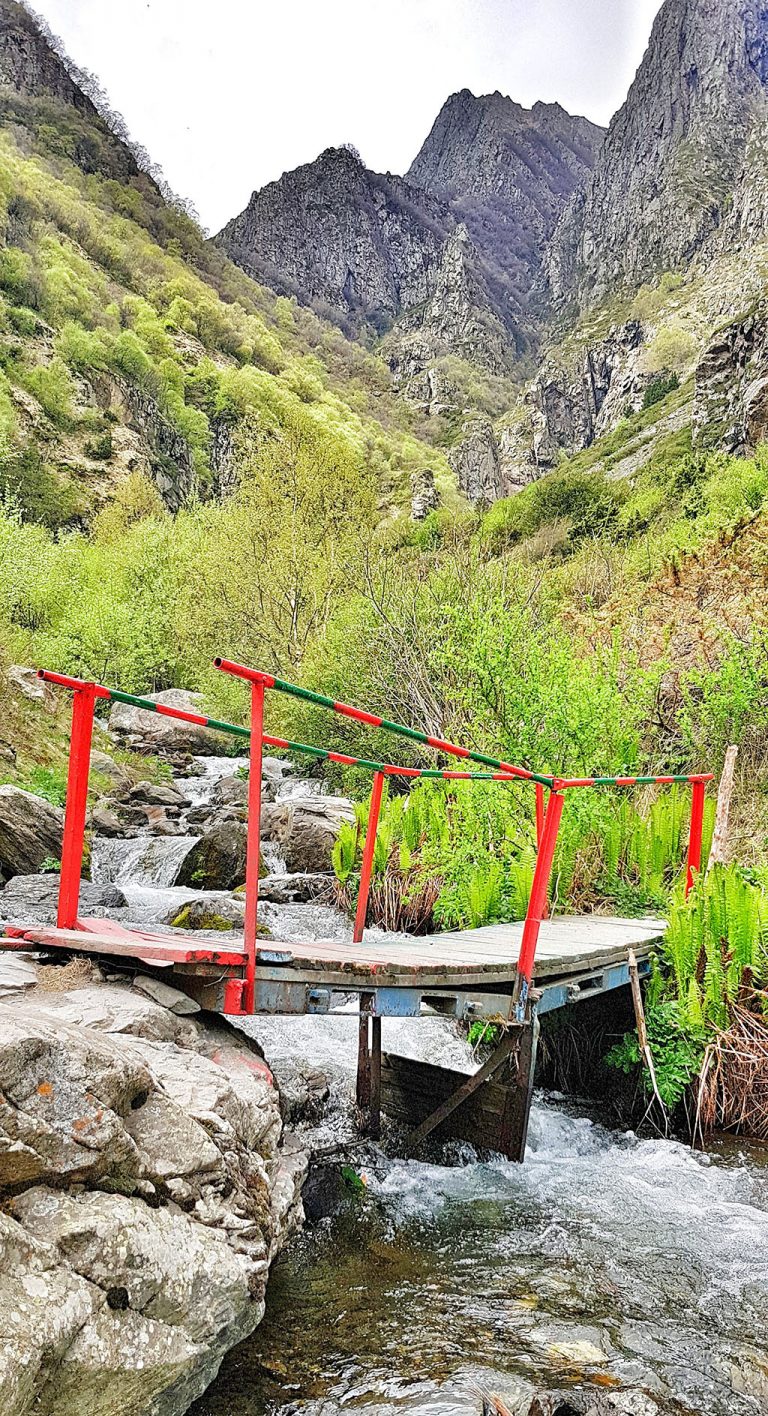 There's only so far the taxi driver can take you before you'll need to jump and walk the rest. It's a 20 minute walk to the 'big' waterfall (we didn't bother with the 'small' waterfall), the driver will expect you to spend around 30 minutes taking pictures and eating lunch, then 20 minutes back. It's an easy up-hill walk.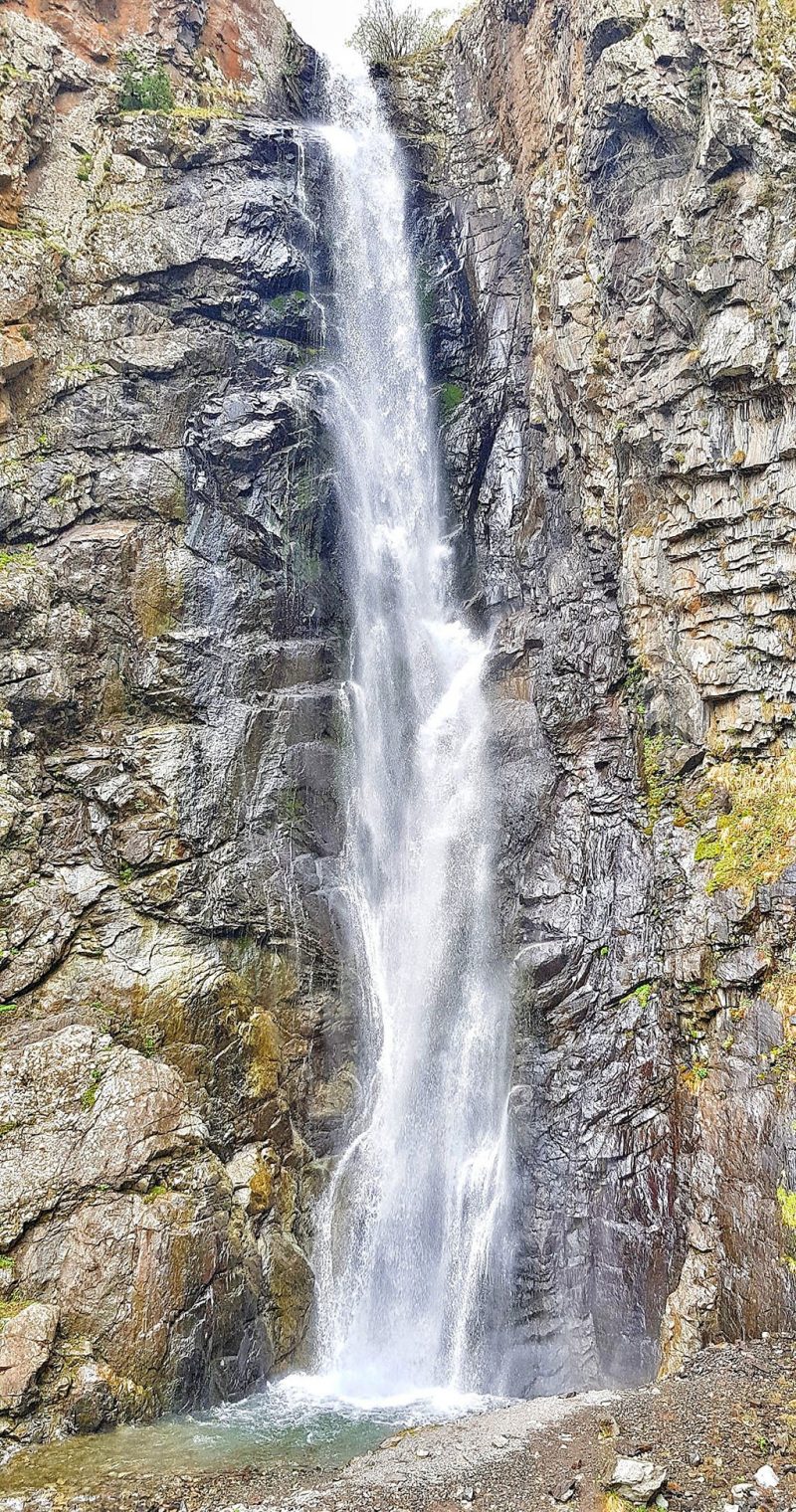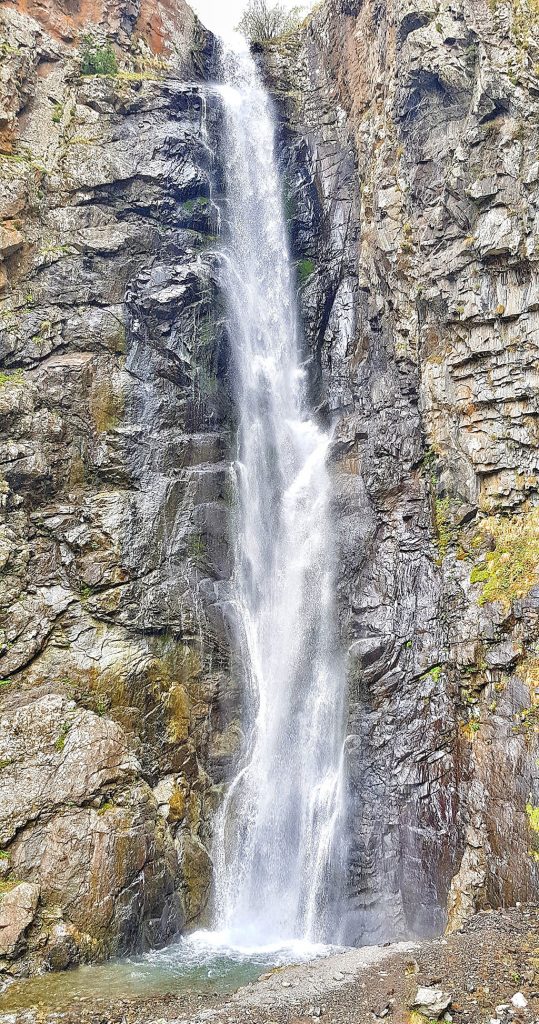 After your hike the driver may offer to take you further up the road to a monastery and to the Georgian border for another £5 (20GEL). It's not particularly worth it unless you really want to see the outside of this monastery.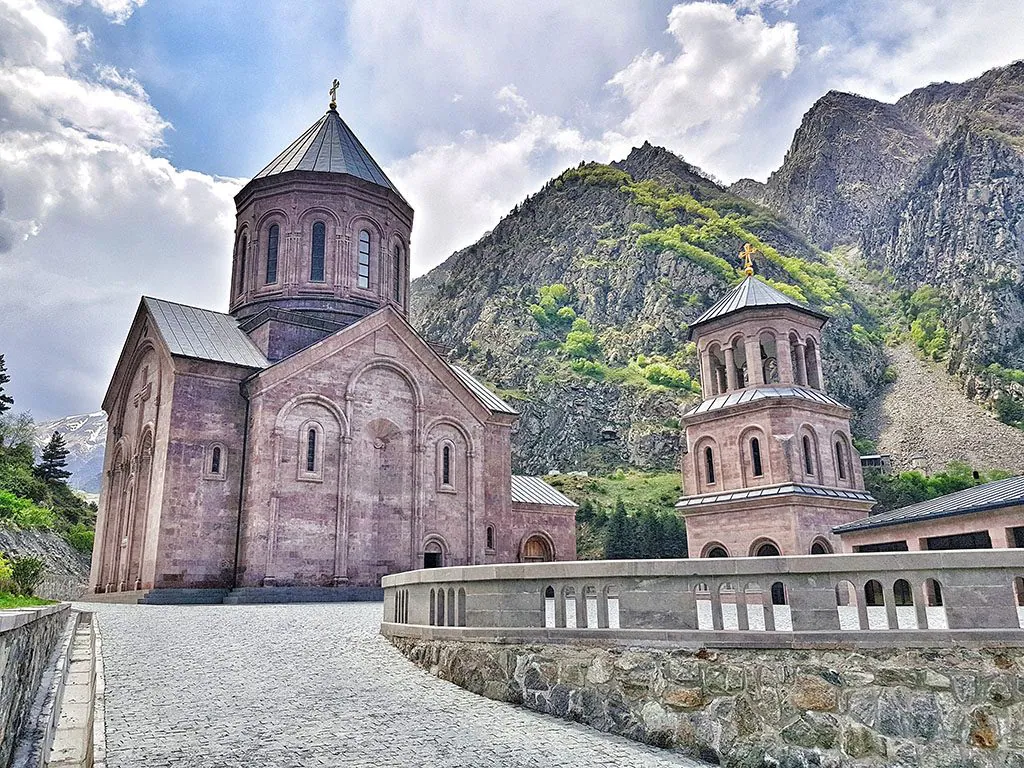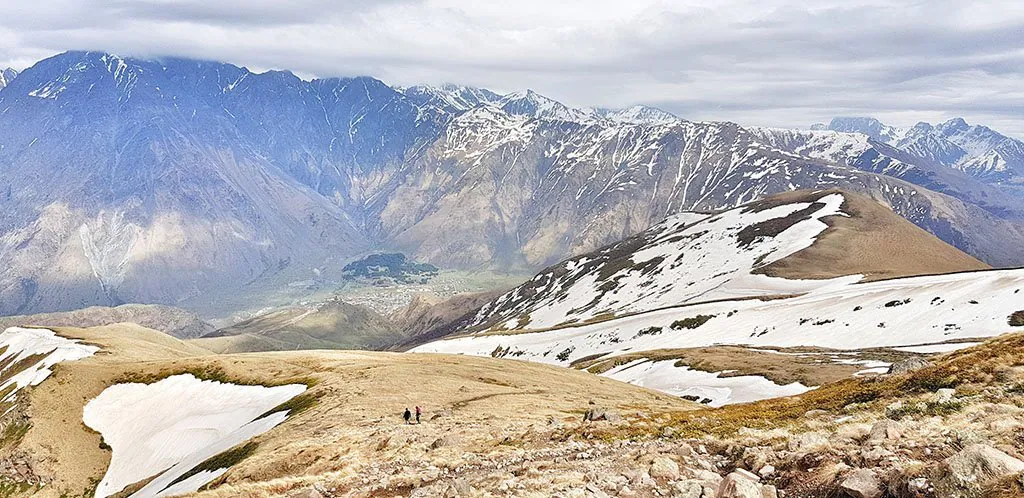 This is a long and arduous hike. It took us around six hours to get to the 'monument', which is a cross on some stone bricks.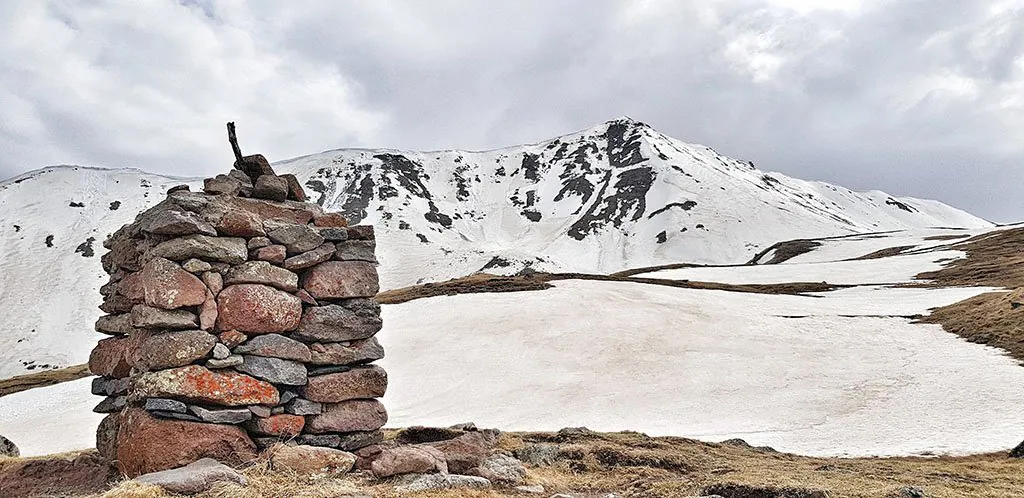 Serious hikers will have snow equipment, crampons and poles and will make it all the way to base camp. If you're just hiking (like we did) then you can only go as far as the monument. It is a long hike and the views are beautiful but they don't change the whole way up so there's no real sense of achievement as you're continuously looking back down the mountain at the same path.
There is also an easy and a hard way up. We took the hard, long way up and the easy way down – unintentionally though. As you stand at the foot of the Gergeti Trinity Church looking at it, do a 180 turn and you'll see a faint trail snaking up a green hill.
Walk to the top and you'll find an information board. From there the trail goes left or right. Left looks easier as it veers round the hill and is flat while right looks harder and shoots straight up. We went left, and it was hard and long. Right turned out to be the easy route! If you like hiking you'll love this walk – so long as you take the right route!
Climbing Mount Kazbegi
Mount Kazbegi is slap bang between Georgia and Russia. The inactive stratovolcano is Georgia's third highest peak. Unfrotunately for us, the weather was too bad to climb to the top (late April) as weather conditions change rapidly in the area. We looked into booking it with 'Mountain Freaks' as they seemed the most professional, on-the-ball agency in the area.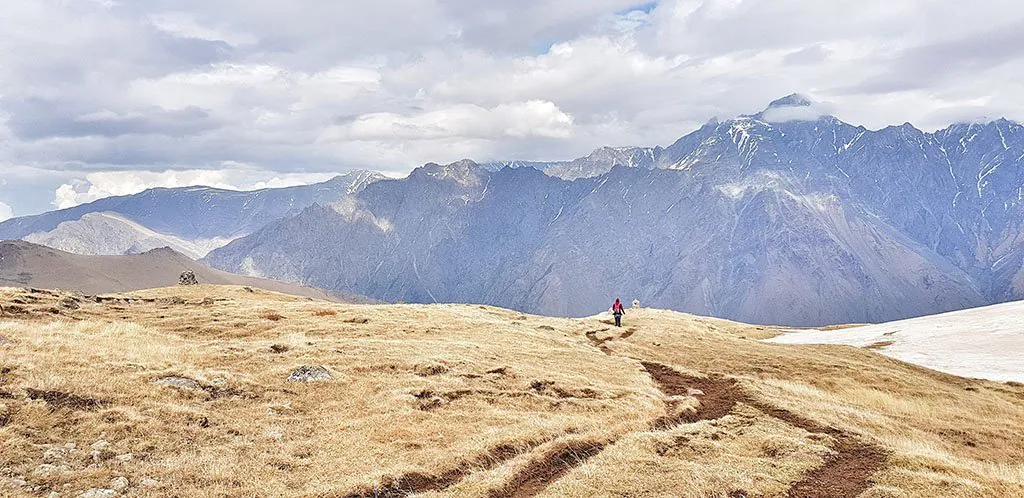 About Kazbegi
While it's now called Stepantsminda (as of 2006), the locals and almost everyone we spoke to still refers to the town as Kazbegi. There are two main reasons people visit, either to see the Trinity Church and then leave immediately or to do some serious hiking. There's not really much else to do there. There's one ATM machine, a bunch of supermarkets (some take card) and a handful of restaurants.
Where to stay
Finding a place to stay in Kazbegi is easy. There are loads of options, however you'll find most of them are a long walk from the main town centre, and unless you have your own transport, you'll need to get to the town centre often to grab a cab. We stayed at
 Soul Kazbegi Guest House,
which is slap bang in the centre. For three people in one room is rather cramped, but they have private bathrooms in each room, a communal area with a washing machine, clean sheets, kitchen and seating area all for £17 a night. This was the best deal we could find in the area. We ended up staying here for 6 nights, looked at other places but still felt this was the best value for money. You can find them easily on
Booking.com.
When you get there you'll need to Whatsapp the owner (wifi password is written on the wall along with the owner's number) and he'll turn up quickly to show you to your room. He speaks excellent English and is a good guy.
Getting there and transport
From Tbilisi a marshutka (minivan) will cost you exactly £2.98 (10GEL), which is ridiculously cheap for a 3-hour drive. Make your way to the main bus terminal in Tbilisi, and as you get bombarded with drivers asking if you want to go to Kutaisi and Batumi, just keep saying Kazbegi and they'll point you in the right direction. The Kazbegi marshutkas are on the east side of the bus terminal. Keep in mind that taxi drivers will offer you a ride as well, but these may not be legit cars, and even if they are (and despite what they say) they'll charge more than 10GEL and wait for more tourists. Your best, and safest bet is to get in a marshutka, which has a Kazbegi sign in the window and a bunch of other tourists waiting to go.
The drive itself is special, so don't nod off. You'll be heading up the Georgian Military Highway, which weaves its way north over mountains and rolling green hills. You'll pass monuments and mountains on the way so have your camera ready. The driver should stop twice for toilet and refreshment breaks too. Typically, buses back to Tbilisi start at 7am and go every hour until 12pm. But do check as this may change dependent on the time of year.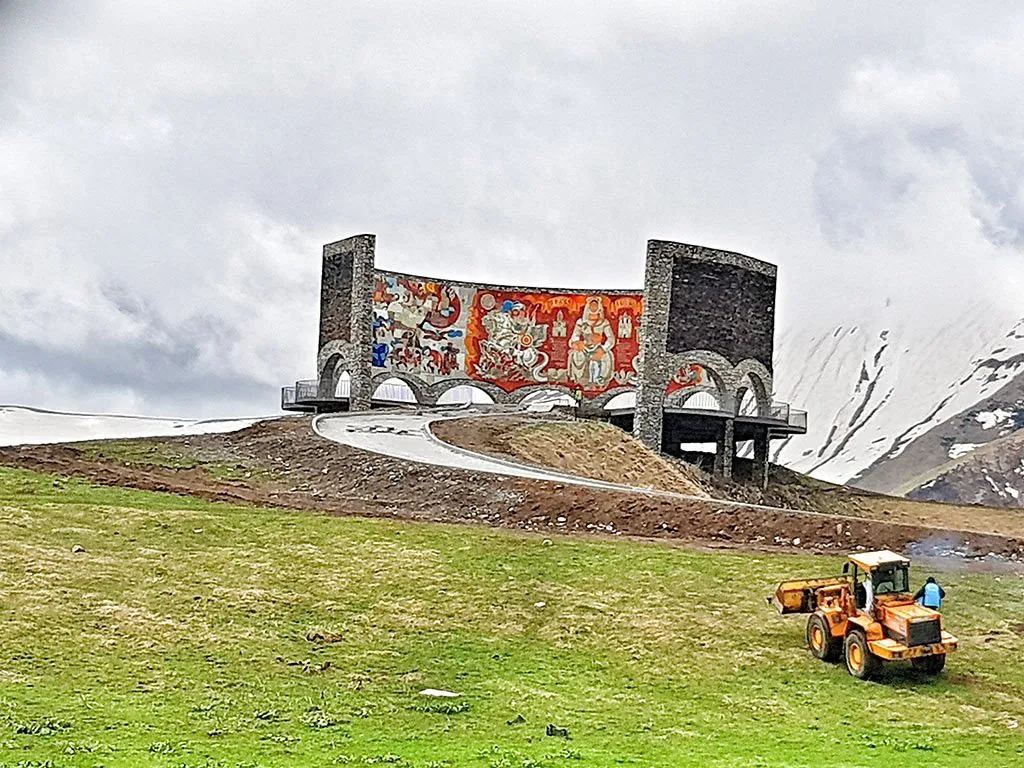 Once you're there you'll be dropped off in the main town centre. This drop off point is where taxi drivers converge all day long to take tourists around Kazbegi. You'll find plenty of drivers speak great English, so communication won't be a problem. Some will also give you their number and you can call them whenever you need to go somewhere. Do shop around as prices vary between drivers.
Extra tips and tricks
Save money on water by filling up at the fountain in the centre of town. Locals drink from here (and so did we for seven days without a dodgy tummy).
Download the Maps.Me app to your mobile phone, and then download the Kazbegi region map. It's free and has all the trails clearly marked on there so you can't get lost.
Don't get caught out without the right gear, the weather can be vary temperamental in Kazbegi.
Do get to the Gergeti Trinity Church as early as you can, the white busses can really ruin a picture.
Don't forget to take the left hand pathway up to the Gergeti Church, you'll regret the middle and far right paths!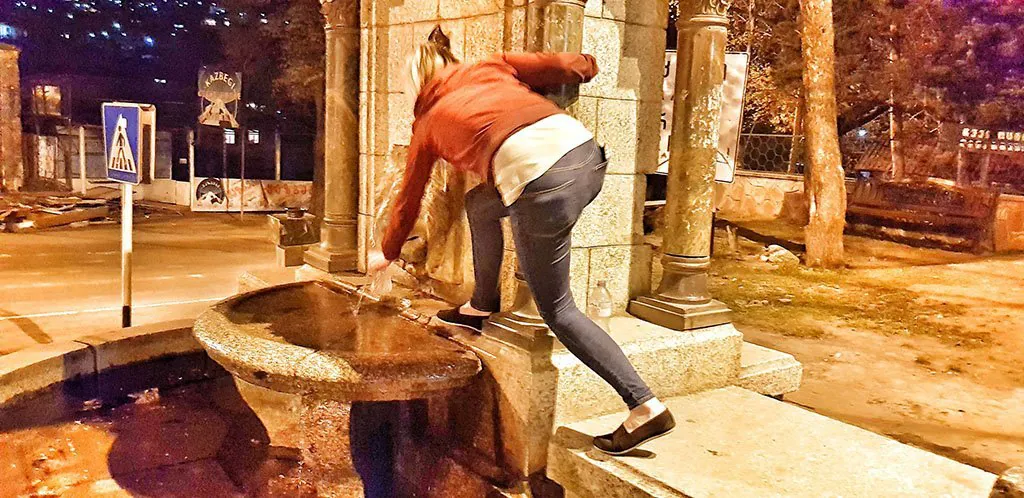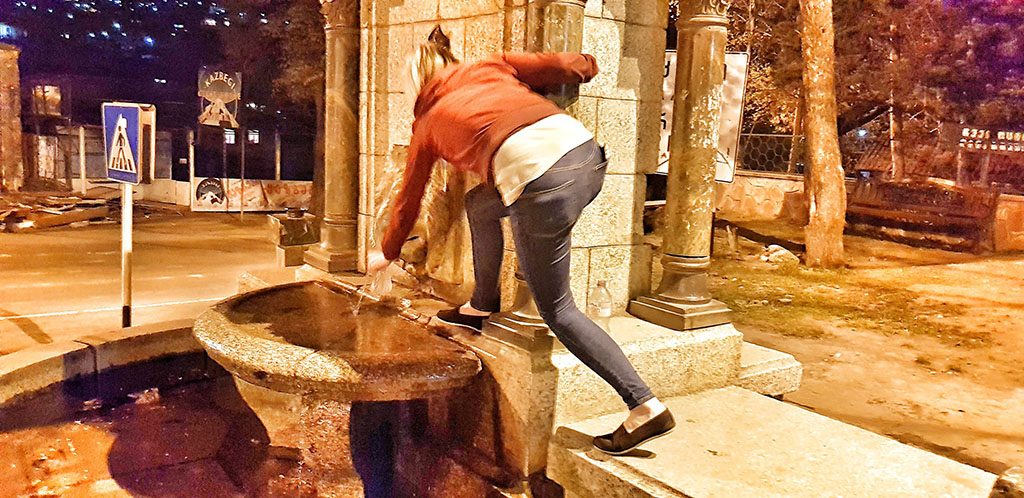 Join an organised tour
Alternatively, if you'd like to join an organised tour to visit Kazbegi in Georgia, we recommend booking on Viator. There's a range of tours to choose from dependent on your budget.  
We may receive a commission, at no cost to you, if you purchase a product using the affiliate links on this page. We're not sponsored, are completely impartial and don't run ads. So this helps us keep the site running. Thank you for your support.