Welcome to the Ultimate Canada Motorcycle Route guide! This ride report details one of the absolute best rides in Canada. It's got it all from bears to mountains, amazing people and out of this world scenery. It's one of the best places on earth to go on a motorcycle tour.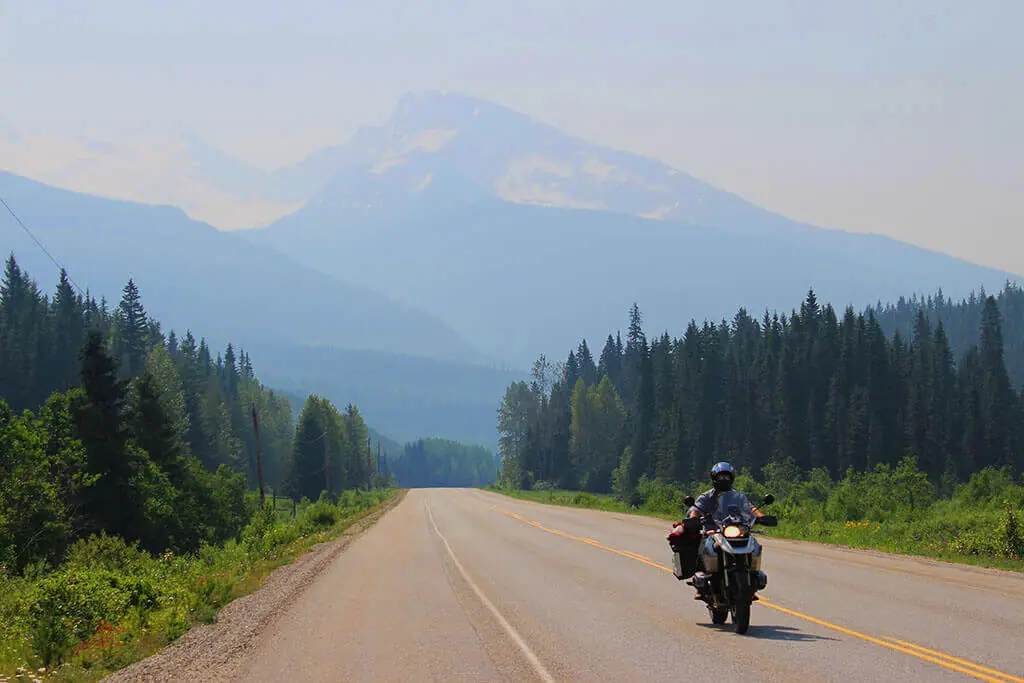 The Best Motorcycle Route in Canada
Wild West Canada
This route is in the West of Canada. My girlfriend and I rode this route years ago and fell in love with the place. 
It took us 14 days and around 1,600 miles. We rode two-up and took our time. It's a comfortable 9-day trip with one rest day in the middle if you haven't got the full two weeks. But you will most likely want at least one extra day either side for picking up and dropping off your bike if you're renting.   
What makes this route special is that it takes on BC and Alberta, along the Gold Rush Trail, to hot springs, waterfalls, Banff, Lake Louise, the boiling hot desert region of Kamloops, the highest mountain in the Rockies and the epic Icefields Parkway route with its overhanging glaciers – the Icefields Parkway are the one thing you cannot miss on your Canada motorcycle tour.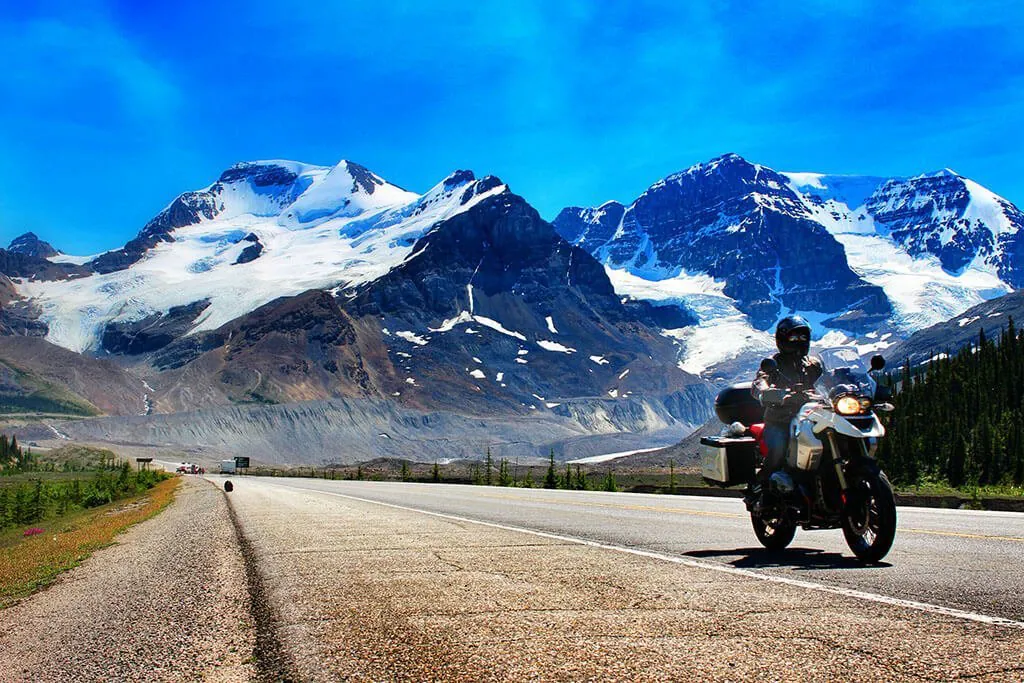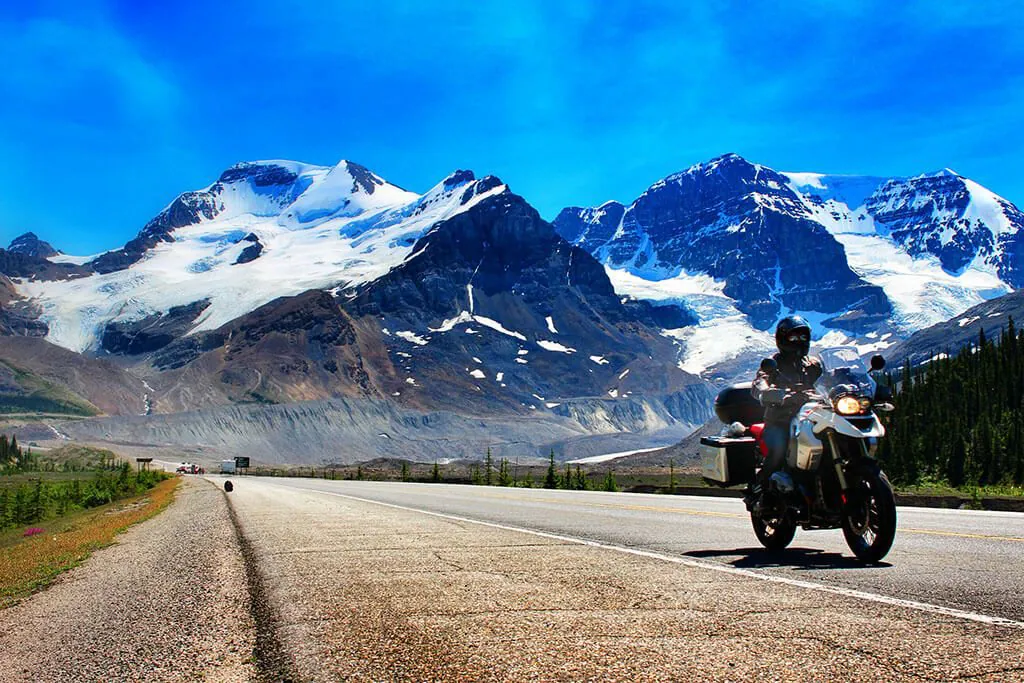 Route map
You can download this map to your phone or desktop by clicking 'More options' under the red pin in the top left hand corner of the map. 
Day by day route
Day 1: Vancouver to Whistler 100 miles
Stanley Park, Lion's Gate Bridge, Highway 99, Sea to Sky Highway to the world-famous ski resort town of Whistler
Day 2: Whistler to Kelowna 260 miles
Pemberton, into the mountains, Coast Range Mountains, cowboy country past cattle ranches to Kelowna.
Day 3: Kelowna to Ainsworth Hot Springs 230 miles
The route changes from hills to mountains. You'll ride through the Kootenay Mountain region, famous for ski resorts, breweries and the hot springs of Ainsworth.
Day 4: Ainsworth Hot Springs to Revelstoke 135 miles
Brilliant roads that flit between tarmac and little ferry crossings over turquoise blue lakes. There are plenty of hidden gems and off-piste routes here, so take a little extra time to dig them out.
Day 5: Revelstoke to Banff 205 miles
Storied Kicking Horse Pass, narrow valleys and plenty of switchbacks.
Day 6: Rest Day in Banff
Day 7: Banff to Mount Robson 235 miles
This one's special. Today is the Icefields Parkway and one of the best roads in the world. Mount Robson is the highest mountain in the Canadian Rockies are the riding around that area is very cool. You'll probably see the most wildlife of your trip on this stretch too.
Day 8: Mount Robson to Kamloops 230 miles
Follow the Thompson River and the Canadian National Railway Line. Kamloops is the wild west part of BC. It was 42C when we arrived. It's an arid desert region.
Day 9: Kamloops to Vancouver 280 miles
Follow the 1800's Gold Rush Trail through Fraser River Canyon from Cache Creek to Hope and stop off at Hell's Gate Canyon, jump onto the Trans Canada Highway before arriving back in Vancouver.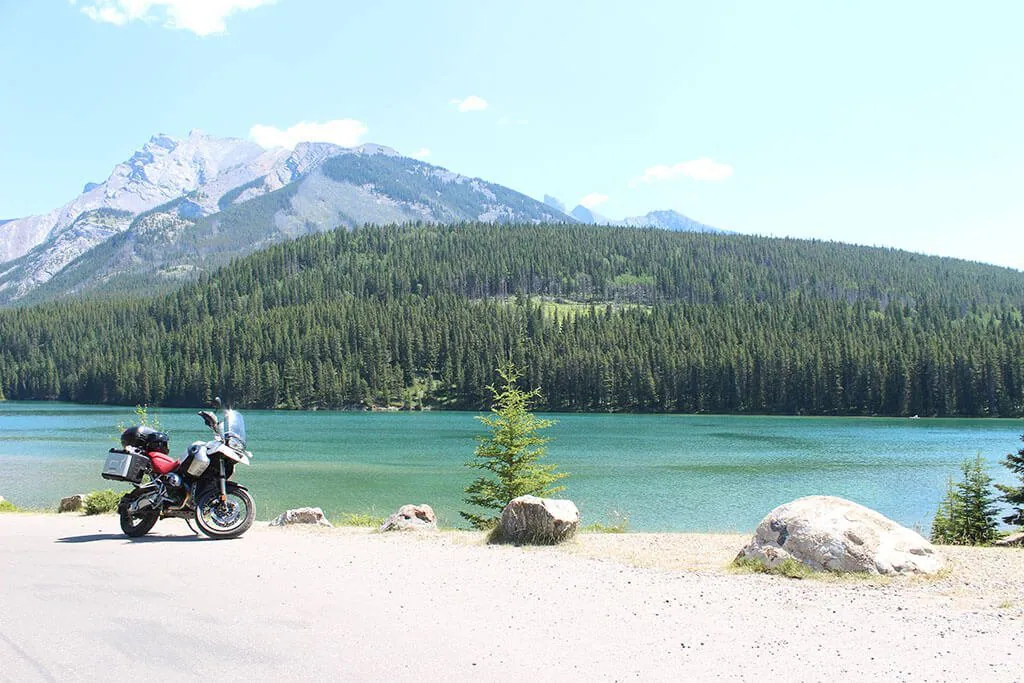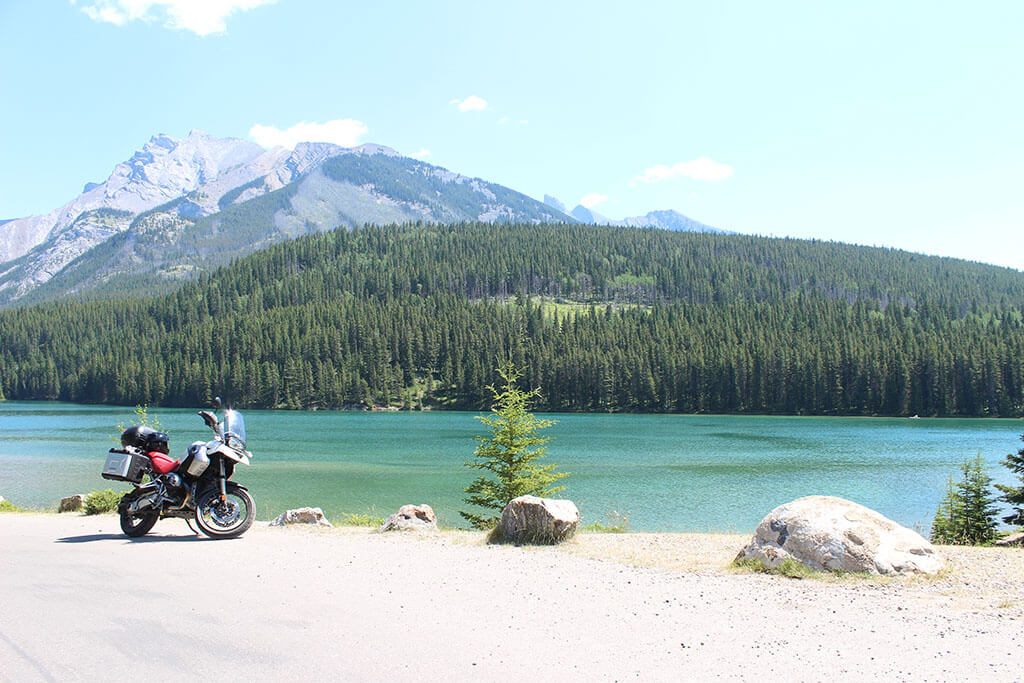 How to rent a motorcycle
Motorcycle rental in Canada is very straightforward. We have a dedicated guide to help you rent a bike there packed with info on the best time to visit, prices, what you'll need etc.
You can also check out our recommended rental and tour companies finder for more companies in Canada. 
For our trip in Canada, we personally used vancouver.cyclebc.ca
READ MORE: How to Rent a Motorcycle in Canada
READ MORE: Recommended Rental and Tour Companies
Read more on Motorcycle Travel in Canada
Thanks for checking out this Canada Motorcycle Trip Report. We hope you enjoyed it! Here's a few more articles on motorcycling in Canada that we recommend you read next. 
Liked that? Try these next…
Are you planning a motorcycle trip to Canada or do you have any questions or tips to share? Let us know in the comments below.